Punjabi Dhaba Daal Instant Pot Recipe – Stove Top Instructions + Small Video Included
As an Amazon Associate and member of other affiliate programs, I earn from qualifying purchases.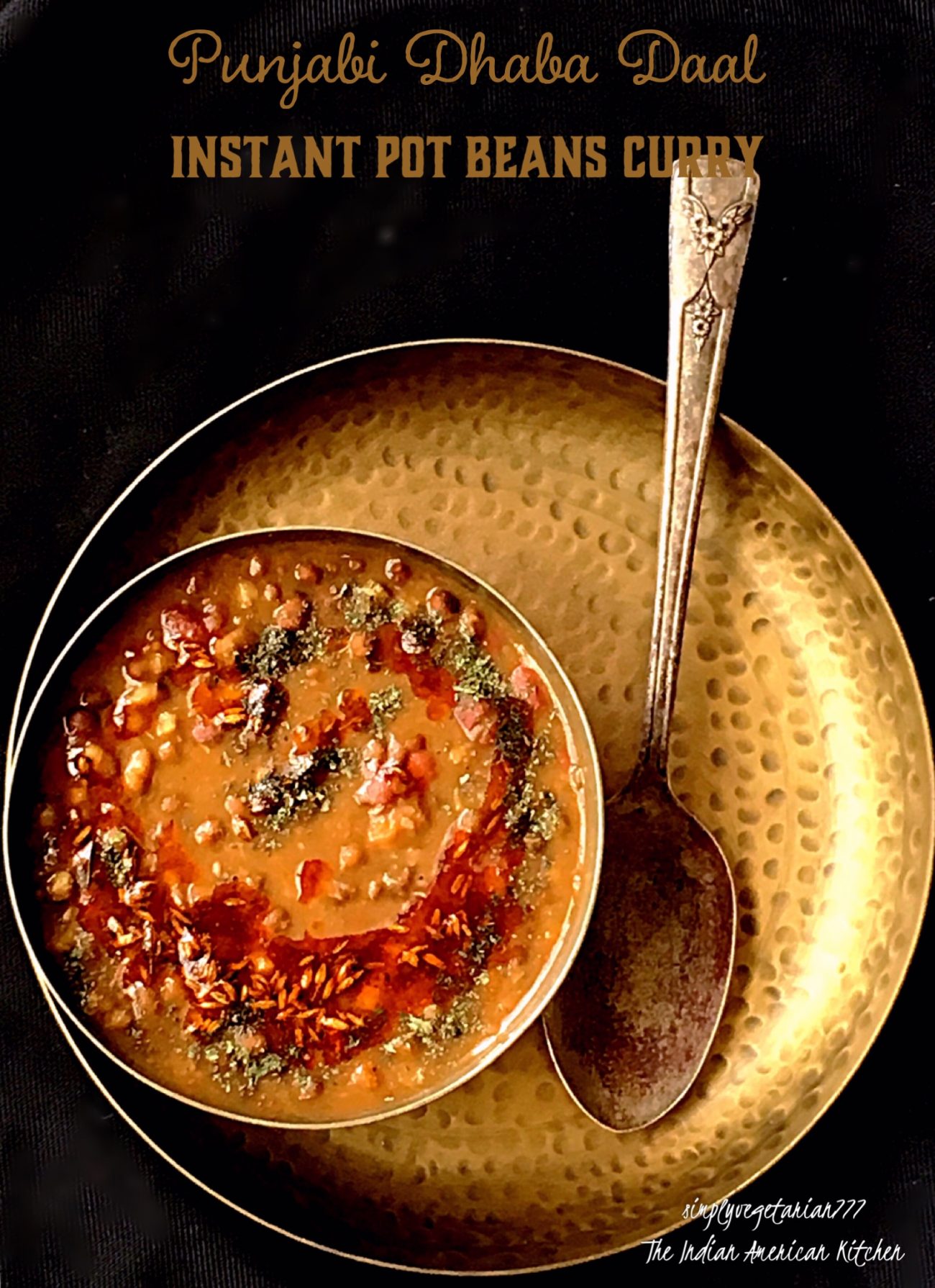 You are going to love this Punjabi Dhaba Daal Instant Pot Recipe if you like Costco Madras Lentils. It is finger licking delish and every bite is worth devouring. Creamy and Decadent and what not. It tastes best with Tandoori Roti in my opinion. But goes very well with Rice and Naan too.
I have included Stove Traditional Pressure Cooker Instrcutions + a Small Video for everyone's benefit.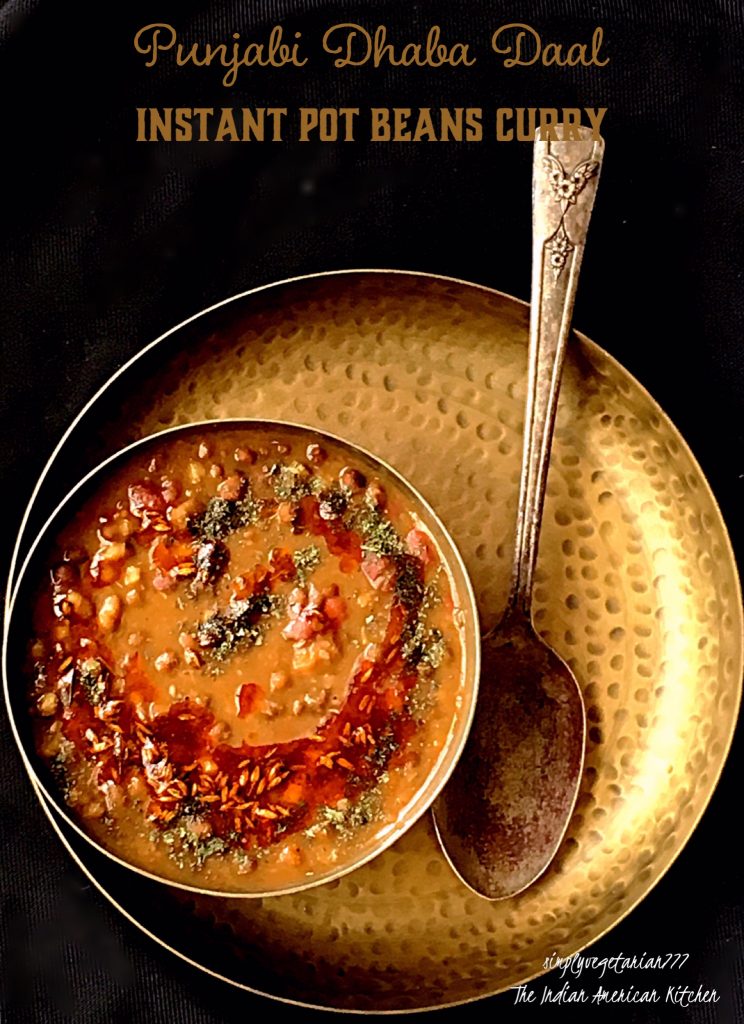 Creamy and Delicious Punjabi Dhaba Daal Instant Pot Recipe
Punjab is an agriculturally rich state of India. The diet of Punjabis (people of Punjab) relies heavily on beans and dry legumes.
Punjab grows a variety of dry beans and legumes which includes – Red Kidney Beans, Split Gram (chana Daal), Whole Black Gram Lentils (sabut urad), Black Lentils (Masoor), Black Eye Beans (Lobiya/Rongi) and many more. Wheat is another large crop from Punjab.
If you are wondering why I am giving an Agriculture lecture on Punjab, then I must tell you that I have a small part of my heritage from Punjab. My Nana Nani (maternal grandparents) grew up in Punjab and lived there till they had to move to Delhi at the time of India-Pakistan Partition in 1947.
As a part of that heritage, my mum introduced and fed us with a variety of beans and legumes. I love my beans and legumes. Since I am a vegetarian, this food group makes a good part of my PROTEIN REQUIREMENT. I try and include as many beans and legumes in my family's diet as possible.
You must include Beans & Legumes in your Diet on regular basis.
These are perfect source of VEGETARIAN PROTEIN and Environmentally Friendly as well.
Beans & Legumes are a rich source of FIBER.
They are good source of Vitamin B.
Rich source of Minerals.
Help combat Blood Sugar levels and cholesterol levels.
Promote Heart & Gut Health.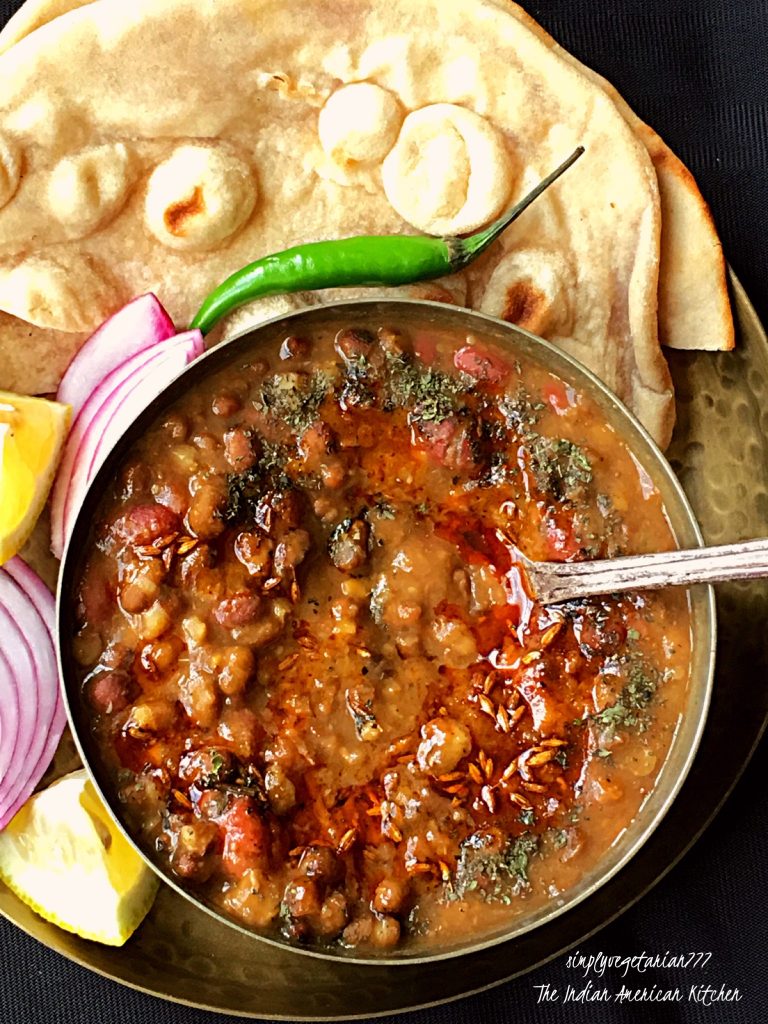 What is Punjabi Dhaba Daal?
To understand that, let me tell you what is DHABA.
Dhaba is an Indian Diner. A small Mom & Pop kinda "Eat in" restaurant on the roadside. It probably doesn't have much of ambiance per say but the FOOD IS FINGER LICKING DELISH. Just like every diner has its own menu and recipe, similarly, every Dhaba has its own recipes and style of cooking. It may vary from region to region.
Food is cooked in the simplest of cookware on top of mud ovens. And it is cooked for long hours on simmer. Sometimes, earthen pots are used to cook.
Especially, the dhaba of Punjab are known for their daals. Masoor, Sabut Urad, Chana, Rajma, and Chhole are used heavily in the diet.
Punjabi Dhaba Daal is a mix of daals cooked together for long hours and with the simplest of ingredients. Mostly Chana dal (split bengal gram), Sabut Urad (Whole Black Gram Lentils), and Rajma (Red Kidney Beans).
Why should you make Punjabi Dhaba Daal in Instant Pot?
OMG, you should totally make Punjabi Dhaba Daal in Instant Pot. The top reasons are –
It gives the creamiest texture of dhaba daal in Instant Pot in much less time. No long hours of cooking any more. A good recipe and good timing is all you need to make this delicious creamy daal in IP.
It is better than that MADRAS LENTILS from COSTCO that you are addicted to.
Making Dhaba Daal or any kind of beans and legumes in Instant Pot is completely a MESS FREE process.
Cooking in Instant Pot is a HANDS-FREE process hence making it EFFORTLESS & CONVENIENT.NO Attending to it at all once you put on the settings.
It is so safe to use that even your teenager can cook without the fear of getting burnt. Instant Pot is COMPLETELY SAFE. It is a great gadget to get your older kids to cooking. Easy Peasy & Lemon Squeazy.
It is the most EFFICIENT form of cooking I have come across. And this is coming from a IP hater convert to IP lover. So, yes you can totally believe me.
IF YOU TRY IT, THEN DO GIVE A SHOUT OUT ON OUR SOCIAL MEDIA – FACEBOOK, INSTAGRAM, PINTEREST, AND TWITTER.
Can Dhaba Daal be VEGAN and GLUTENFREE?
Traditionally Indian Daals are cooked in Ghee or a Ghee Tempering is added towards the end. But you can adapt this recipe to make it Vegan Daal by swapping the Ghee with Vegetable Oil or Olive Oil or oil of your choice.
All the Indian Daals are stew consistency and are naturally Gluten-free, unless there is a recipe that calls for wheat or gluten addition. That is highly unlikely. At least I have not come across any such recipe besides a Daal Dhokli where wheat dumplings are added to Split Pigeon Daal.
Different Indian Daal or Dahl (as many spell it) Recipes
Here are some Daal Recipes from Indian Cuisine from simplyvegetarian777
Punjabi Rajma (Red kidney Beans) in IP, Chana Masala (Indian Chickpeas Curry) in IP, Bukhara Daal in IP, Daal Maharani (Mix Daal), Lehsuni Daal (Garlic Daal with Red Lentils), Punjabi Sookhi Urad Daal , Daal Panchratni (Mix of 5 Beans Daal) and many more.
Oh Boy, I didn't realize that I have so many on the blog and still many more to put there.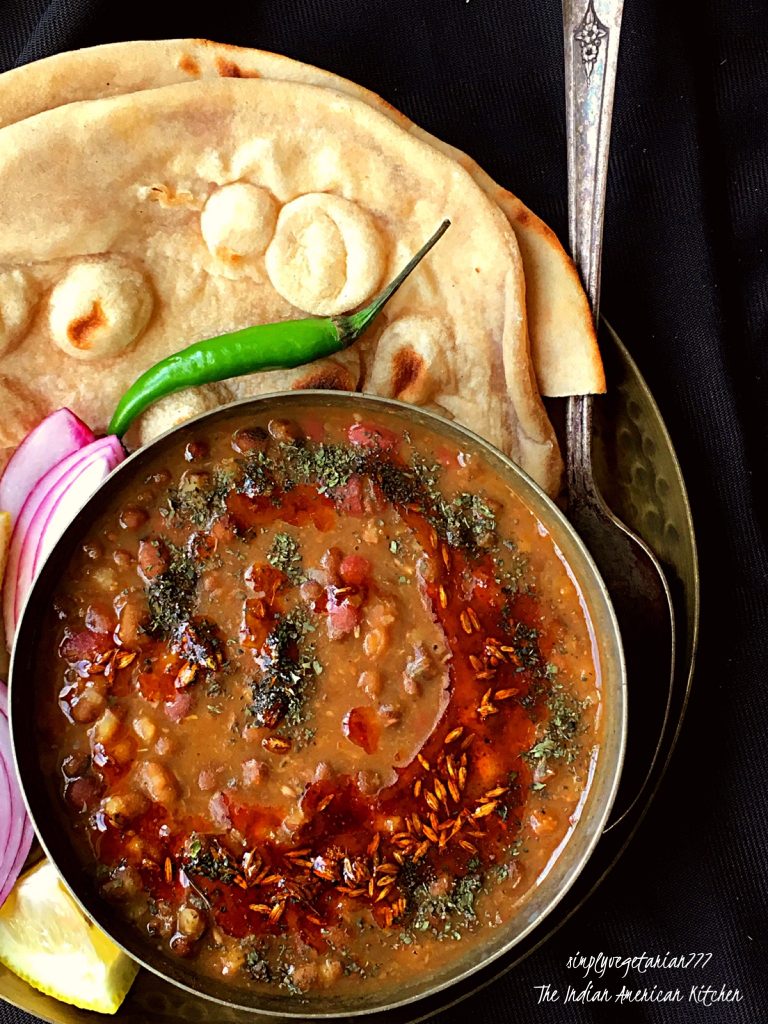 Some Other VEGETARIAN INSTANT POT RECIPES from the blog
Corn Chowder, Creamy Spinach Pasta, Pav Bhaji, Asian Corn Soup, Red Thai Curry, Punjabi Kadhi, Vegetable Pulao and more.
Madras Lentils Ingredients
We use amazon affiliate links. This doesn't cost anything extra for you if you chose to purchase the ingredients via our links. We suggest the ingredients based on our personal favorites.
Check out the playing SMALL VIDEO of Punjabi Dhaba Daal in Instant Pot for better understanding
This is how to make Punjabi Dhaba Daal Instant Pot Recipe
Punjabi Dhaab Daal Instant Pot Recipe
You are going to love this Punjabi Dhaba Daal Instant Pot Recipe. It is finger licking delish and every bite is worth devouring. Creamy and Decadent and what not. It tastes best with Tandoori Roti in my opinion. But goes very well with Rice and Naan too.
Ingredients
Daals (Beans & Legumes)
1&1/2

cups

Whole Urad (Whole Black Gram Lentils)

1/2

cup

Rajma (Red Kidney Beans)

1/2

cup

Chana Daal (Split Gram Beans)
Fresh Produce
1

large

Onion

finely chopped

3 large or

5 small

Tomatoes

finely chopped

1

large piece

Ginger

finely chopped

1-2

Green Chillies (skip it if you want mild curry)

finely chopped

1

clove

garlic (optional)

finely chopped

1/2

cup

Heavy Cream
Oil & Spices
If you do not want the long list of spices mentioned above, then use 1 tbsp or to taste Curry Spice Mix. I recommend MDH or Shaan spices. Or you may use Daal Spice mix bought from the Indian Store or Amazon.
Daal Tempering (optional)
1/2

tbsp

Ghee or Oil

1

tsp

Cumin seeds

1/2

tsp

Red chili powder
Instructions
WATCH THE VIDEO ABOVE FOR BETTER UNDERSTANDING.
Soaking The Beans
Take Whole Urad (black lentils grams), Rajma (red kidney beans), Chana Daal (split gram).

Wash all the daals and soak them together for atleast 6 hours. If you can soak overnight then better. When ready to cook, drain the daal and set aside.



SAUTE MODE on INSTANT POT
Place the Inner Pot inside the Instant Pot and Plug it in. Press SAUTE MODE and set on HIGH.

Once the screen displays HOT, add 1 tbsp ghee or oil. Wait for 2-3 seconds and then add cumin seeds. Once these start sizzling in few seconds, add finely chopped onions, ginger and green chilies to it. Saute for few seconds. Cover with a glass lid and Cook till onions are soft and pink. It will take about 5 minutes. Keep stiring in between to avoid any burning at the bottom. On a side note - I use any glass lid of my large stove top pans.

Open the glass lid. Add finely chopped tomatoes and all the spices mentioned above or 1 tbsp of Daal Masala or MDH Daal Makhani Masala. Give it a good stir. Cover again with glass lid and cook. Saute in between. It will take about another 5 minutes for tomatoes to cook well with onions. Take off the lid and give it a good stir. Add all the SOAKED DAALS and 5 cups of WATER. Stir and Mix. CANCEL THE SAUTE MODE.
MANUAL / PRESSURE COOK MODE
Place the lid of the Instant Pot and place the vent to SEALING. Press the MANUAL/PRESSURE COOK Button and set it on MORE/HIGH for 30 minutes.

Once the timer goes off and it beeps indicating the cooking is done, let it sit. Follow NPR (natural pressure release). Add 1 tbsp Butter & 1/2 cup Heavy Cream to it. Give it a good stir.

Taste test it and adjust salt to your liking.

If it is too thick for you then add

the desired

amount of water and let it simmer on High Saute Mode for about 5-10 minutes. Keep stirring though.

The Daal is practically ready. But if you want to enjoy authentic daal, then Tadka or Tempering is a must.
How to make TEMPERING or TADKA
Take a small pan and heat ghee or oil in it. Ghee is the authentic way to do it. My vegan friends or the folks trying for the first time, go with cooking oil. Okay now, After you heat the ghee/oil in a pan, lower the heat to medium and add cumin seeds to it. Once they start crackling, add red chili powder and switch off the heat.

Add this hot tempering to the Punjabi Dhaba Daal. For garnish, you may add chopped cilantro/coriander leaves or even fresh mint leaves.
Serving Suggestion
Serve it hot with tandoori roti or naan or rice. It tastes divine. It tastes the best the next day since it absorbs all the flavors so nicely.
Traditional Pressure Cooker Method for Punjabi Dhaaba Daal
You will follow all the instructions as mentioned in SAUTE MODE as is. Place the large pressure cooker on stove and heat ghee/oil and then follow the above instructions. The Water quantity will be 6 cups. When you come to Manual / Pressure Cook Mode, you will place the cooker lid with its weight on. Lock it.

Let the pressure build on high heat. Once the whistle or weight of the cooker goes off the first time, lower the heat to medium-low. Let it cook on that heat for about 25-30 minutes. Then switch off the gas stove. Let the pressure escape naturally. Once the pressure is released, open the lid. Stir and add Tadka or Tempering.
I am sure you are going to try this out soon. It is the best dream woven around a lazy weekend. I promise that this will be a regular Daal cooked in your kitchen.
Can't make it now? PIN PUNJABI DHABA DAAL FOR LATER!

In my kitchen, you will always EAT HAPPY & STAY HAPPY!
Sonal