Creamy Spinach Pasta Instant Pot Recipe
As an Amazon Associate and member of other affiliate programs, I earn from qualifying purchases.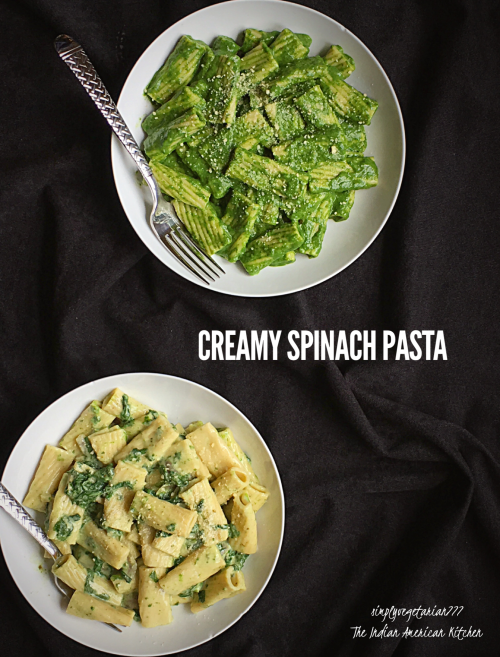 Creamy Spinach Pasta Instant Pot Recipe is an easy and delicious Pasta recipe made in Instant Pot. Tips to make Pasta are also mentioned in the post. You can prepare it in 2 ways. Small Video and Stove Top Pressure Cooker Instructions are also included.
Please read the whole post to learn the tips and other suggestions about the recipe.
Can't make it now? PIN IT FOR LATER!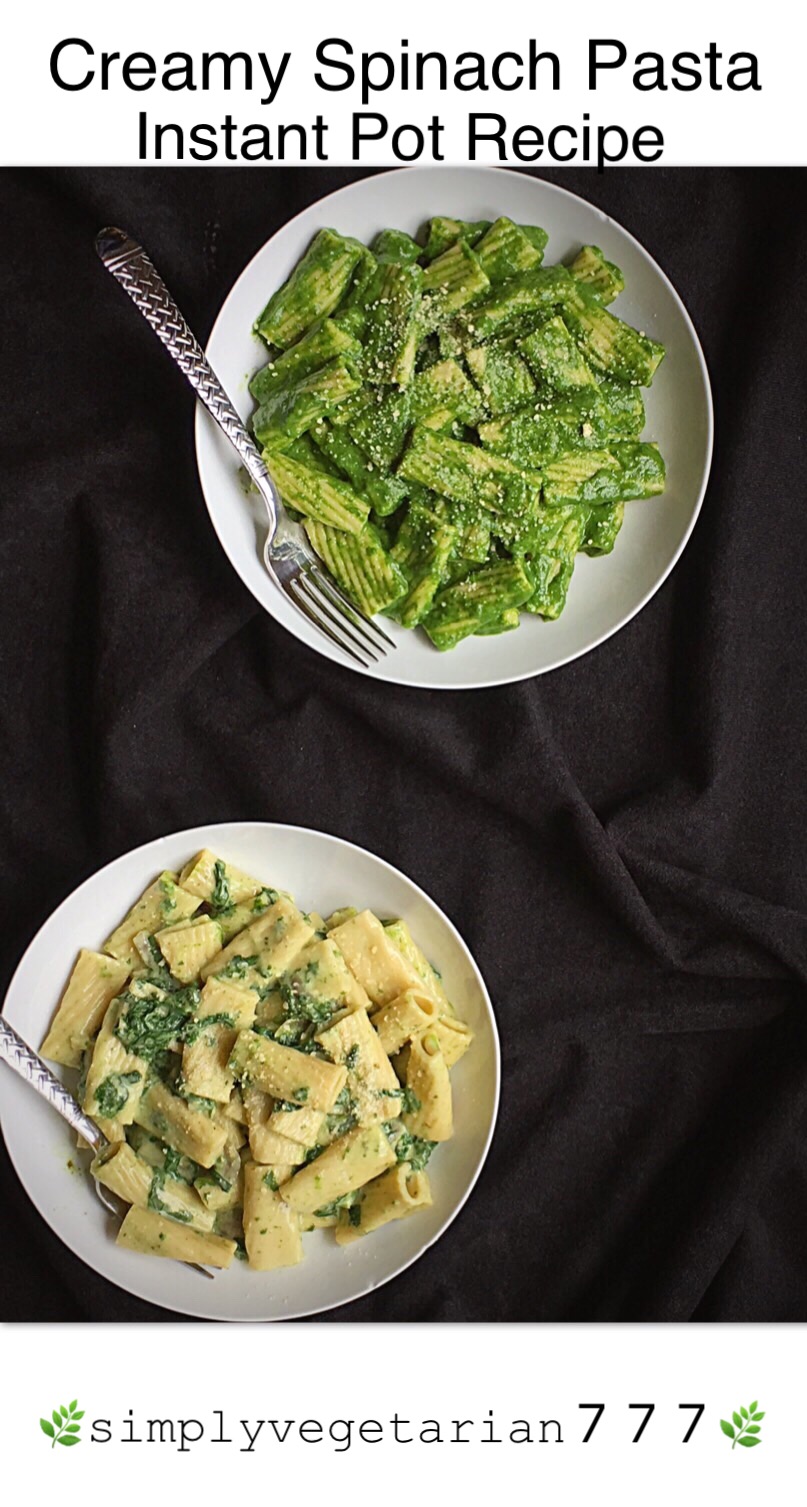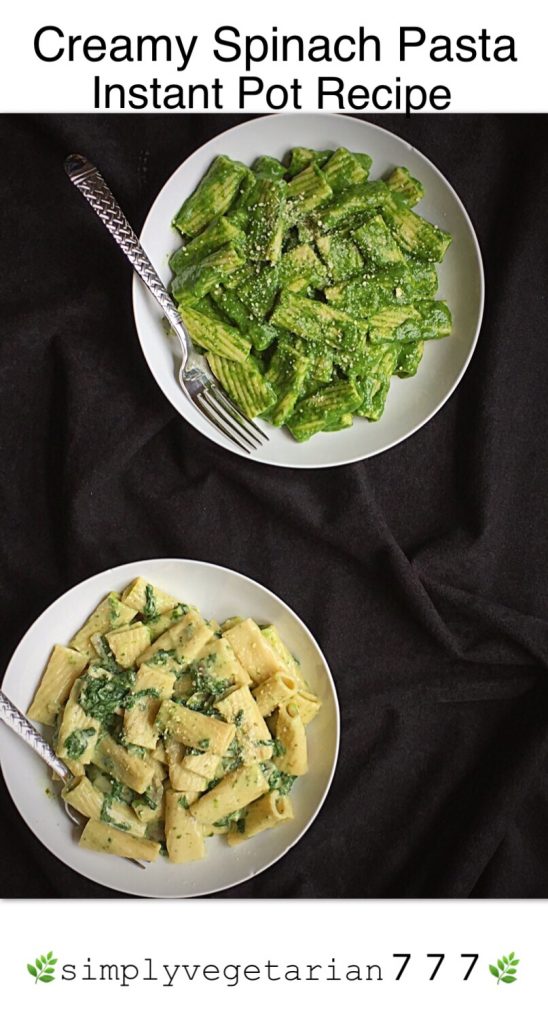 Delicious & Easy Creamy Spinach Pasta Instant Pot Recipe
I am one lucky mom since my kids do not make a face at the sight of the vegetables. Or you can give me the credit for being a strict disciplinarian when it comes to making sure that the girls are eating their vegetables and appreciating it too. Lol..yes that is me.
Honestly, I do not give them a choice. They either finish their meal with everything on the plate or stay hungry. Obviously, they choose to eat. It's not that I do not spoil my girls. Every weekend I prepare the food of their choice but when it comes to weekdays, they eat what is on the table.
Especially when I am making PASTA, I try my best to add a good amount of fiber to the dish. It balances out their meal in a perfect way and is less stressful for me as a mother.
Weekdays get tough for elaborate meals on the dinner table and Pasta Recipes come in so handy. Like this simple Penne Pomodoro, Pasta Primavera, Baked Pasta in Cheat Sheet White Sauce, Tex Mex Beans & Pasta and more.
My girls love their green vegetables. Broccoli, Bok Choy, Fenugreek Leaves, and Asparagus are their top favorite. I sometimes sneak in hardy greens like kale and mustard leaves. Lately, Spinach has become their favorite Green. Whenever I make pasta, they come up with the request of making it with Spinach instead of regular marinara or tomatoes. This mamma couldn't be happier.
I know many of you mammas must be envious of me right now, but hey it is not the child's fault that he/she doesn't like the vegetables. Do not mind me if I sound preachy, but IT IS YOU.
PRO TIP TO MAKE SURE YOUR KID EATS VEGETABLES
Make them eat vegetables and make them try different vegetables when they are really young, even if they spit it out. DO NOT try to camouflage the vegetables in their meals. Let them touch and feel their vegetables and make choices.
REPEAT. Remember? Perseverance wins in the end.
I think that is enough of my short lecture up there ;).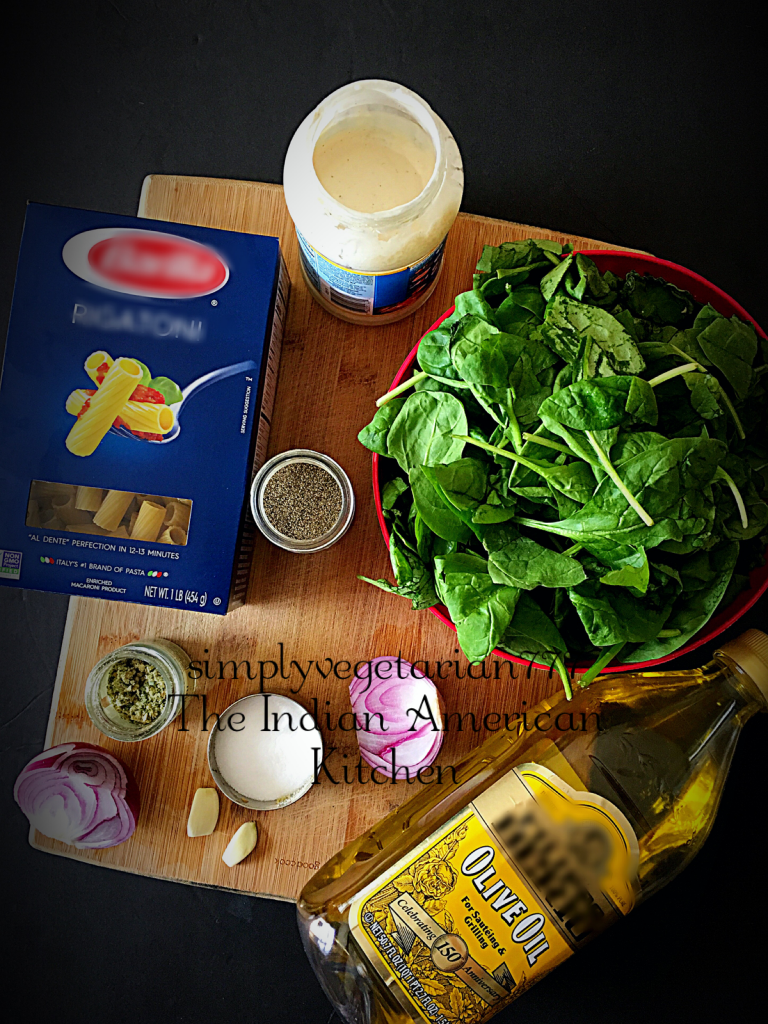 TOP REASONS to make Creamy Spinach Pasta
Here are my top reasons to make this recipe-
It is made in INSTANT POT.
This recipe is so Easy and Simple.
It requires only a Few Ingredients to make this recipe.
This recipe can be well adapted and personalized in 2 suggested ways, as given below in the post.
It is Nutritious with the use of SPINACH in the recipe.
This is a perfect BUSY WEEKDAY DINNER RECIPE.
You can pack it for KIDS LUNCH or your WORK LUNCH.
It is a great recipe for ALL THE SEASONS.
If you try it, then do give a shout out on our social media –  FACEBOOK, INSTAGRAM, PINTEREST, and TWITTER.
Why Should I make Pasta in Instant Pot?
It is a simple and quick process in Instant Pot. Just 1 button, a few minutes and the cooking part is done.
Making Pasta in Instant Pot is completely a MESS FREE process.
Cooking in Instant Pot is a HANDS-FREE process hence making it EFFORTLESS & CONVENIENT.
It is so safe to use that I could instruct my teenage daughter to keep a watch on it, without the fear of getting burnt. Instant Pot is COMPLETELY SAFE. If you have a college going child then recipes like this will come in so handy for her/him.
It is the most EFFICIENT kind of cooking that I have experienced so far. Hence if I can cook curry in it, then why not my pasta.
THESE ARE THE 2 TYPES OF INSTANT POTS THAT I RECOMMEND TO PURCHASE.
Instant Pot Duo Plus 3 quarts 6-in-1 if you do not want to make yogurt at home. It is the cheapest model and works as well as Mini Duo 3 quarts 7-in-1. The 7-in-1 has yogurt setting added.
Instant Pot Duo Plus 6 quarts 9-in-1. I am not sure why it is 9-in-1 since it has 14 functions that you can use for cooking including baking. Amazing, right?
I have both the models and use them regularly. My stove top cooking has become minimal. I use my 6 quarts Instant Pot more often for my PASTA AND RICE Recipes. For this recipe also, I used 6 quarts Instant Pot.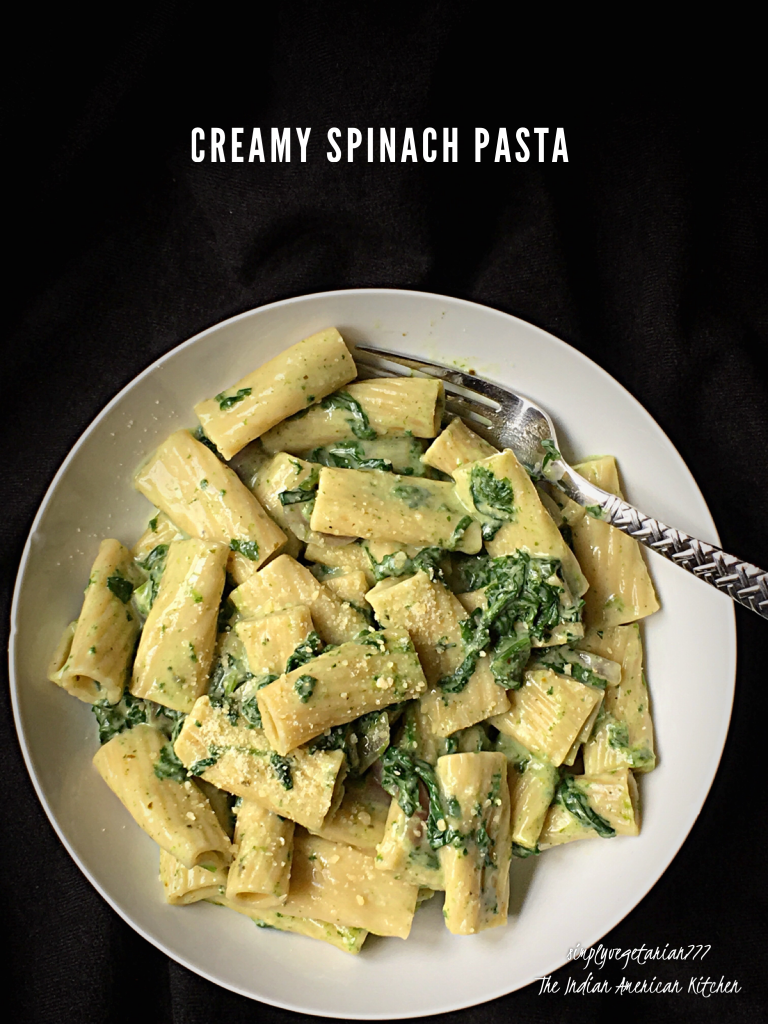 Tips To Make Pasta in Instant Pot
For How Long Should Pasta be Cooked in Instant Pot
Most Important step to remember while making Pasta in IP is the TIME FACTOR. Read the INSTRUCTIONS carefully at the back of the Pasta Box. The time set in IP is usually halved than the original time mentioned.
For Example – If the Instructions ask to boil it for 10 minutes, then Instant Pot cooking will take 5 minutes setting on Manual/Pressure Setting. For Al-Dante this timing is perfect. If you want to make it slightly softer then increase the time by 1 minute.
It has to be followed by QPR which means Quick Pressure Release.
How much Water or Liquid should be used to cook Pasta in Instant Pot
Another important step to remember is HOW MUCH AMOUNT OF WATER/LIQUID IS USED TO COOK PASTA IN INSTANT POT.
I normally fill the water/liquid level just AT PAR/ Till the level of pasta in Instant Pot. Most of the pasta come in 1 pound boxes which is about 16 ounces of pasta. That measures roughly 3 to 3&1/2 measuring cups of dry pasta. Water amount used is approximately 1/2 cup more than the measured pasta.
If you are just making the plain pasta in Instant Pot and find a little water left at the bottom, then drain it out. It really depends upon the brand and type of PASTA used sometimes whether the water gets completely absorbed or a little left over.
If you are making ONE POT COMPLETE MEAL PASTA with sauce in it, then switch on the SAUTE MODE on High. Cook little further if there is any undesired liquid left at the bottom.
How to Keep Vegetables crisp when making Pasta in Instant Pot
When making PASTA with VEGETABLES, I normally saute vegetables in IP first. Take the vegetables out. Cook Pasta in Instant Pot. Open the Pot and then add the sauteed vegetables and stir to complete the dish. It avoids the vegetables from being all mushed and soggy.
How to make Pasta in Stove Top Pressure Cooker?
I understand that not every body has Instant Pot. Having said that I became an IP user recently. I used to make Pasta in Traditional Gas Stove Top Pressure Cooker that has weight on it and blows off when pressure is built. Pressure Cooker still is commonly used in many South Asian countries.
This is how I have made Pasta in Pressure Cooker that has saved time for me on so many occasions. It is an effortless method.
Take the pressure cooker. Add pasta to it. Now pour water to the cooker till the level of pasta, neither less nor more. Place the lid and the cooker's weight/whistle on top. Put it on the gas top on high heat.
Once the pressure builds and weight/whistle goes off, switch off the gas stove. Immediately release the pressure. This gives Al Dante pasta. If you want slightly softer pasta, then release the pressure after 5 minutes.
Open the lid carefully, stir in the sauce of your choice, heat in the cooker for few minutes while stirring and serve.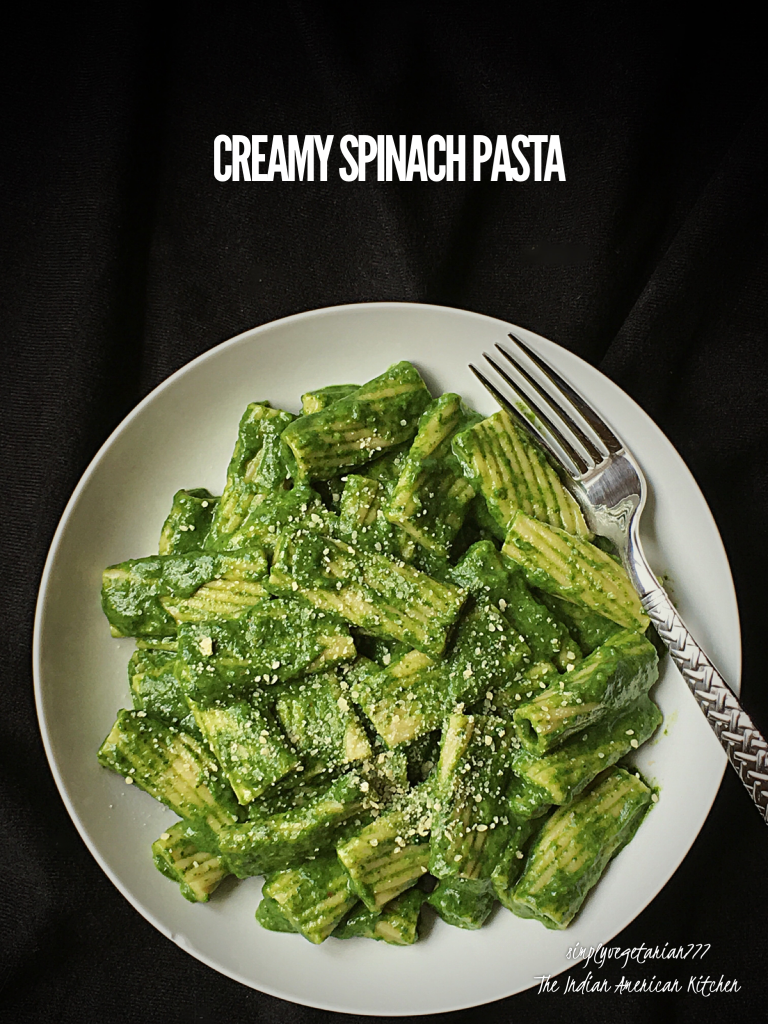 Some other VEGETARIAN INSTANT POT RECIPES from simplyvegetarian777
Salsa Verde Instant Pot Recipe, Tuscan Soup in Instant Pot, Saag Aloo Instant Pot Recipe, Red Thai Curry in Instant Pot, Perfect Punjabi Kadhi in Instant Pot, Punjabi Rajma Masala in Instant Pot and many more.
Check out this SMALL VIDEO on making Creamy Spinach Pasta in Instant Pot
This is how you make CREAMY SPINACH PASTA INSTANT POT RECIPE
Creamy Spinach Pasta Instant Pot Recipe
Creamy Spinach Pasta Instant Pot Recipe is an easy and delicious Pasta recipe made in Instant Pot. Tips to make Pasta are also mentioned in the post. You can prepare it in 2 ways. Small Video and Stove Top Pressure Cooker Instructions are also included.
Ingredients
1 box/

1 pound

Pasta

I used Rigatoni. Penne or Fussili can be used.

10 ounce/

280 grams

Spinach

fresh and finely sliced/chopped

1/4

cup

Red Onion

thinly sliced

2-3

cloves

Garlic

thinly sliced

1

tbsp

Olive Oil

1&1/2 to

2 Cups

Alfredo Sauce

You may use Light Alfredo Sauce

2

tbsp

Pesto

optional

1

Tsp

Italian Herb Seasoning

To

Taste

Salt & Black Pepper

Water

Topping

Parmesan Cheese

optional
Instructions
PLEASE READ THE WHOLE POST. I HAVE INCLUDED MANY TIPS AND SUGGESTIONS TO MAKE PASTA IN INSTANT POT. ALSO, WATCH THE SMALL VIDEO POSTED JUST ABOVE THE RECIPE CARD FOR BETTER UNDERSTANDING.
SAUTE MODE
Place the inner pot inside the Instant Pot. Plug it in. Press the SAUTE MODE and set on HIGH for 10 minutes.

Once the screen displays HOT, add Oil to it. Wait for 5 seconds and then add garlic and onion to the pot. Saute for 2 minutes till garlic and onion look slightly cooked and soft.

Now add finely chopped spinach to the pot. Saute it till it is wilted and soft. It will reduce in volume. Now add Italian seasoning, salt, and black pepper to taste.

Switch off the Saute Mode. Take out the sauteed spinach and keep it aside.
MANUAL / PRESSURE COOK MODE
In the same inner pot, add your dry pasta. Fill the pot with water to the level of pasta. Pasta should be barely merged in water. Add 1 tsp salt and some olive oil to the pasta.

Close the lid and set the floating valve to SEALING. Now set the timer on pressure cook/manual mode on more and high pressure.

Read the back of Pasta back for time instructions. If the time for al dante pasta says 12 minutes, then set the timer for 6 minutes. If your pasta box says 10 minutes, then set the timer for 5 minutes. Just half the time as instructed on the pasta box.

As soon as the timer goes off, follow manual QPR (quick pressure release). Immediately release the pressure for that perfect al dante (biteful) pasta. If you want slightly softer pasta, then wait for 5 minutes and then manually release the pressure from IP.

Open the lid. Drain extra water, if any. Now add the sauteed spinach, alfredo sauce, and pesto sauce. Give it a good stir. Switch on the saute mode again. Cook for 5 more minutes. Your Creamy Spinach Pasta in Instant Pot is ready. Adjust salt and black pepper if required. Add parmesan cheese and serve it warm.
CREAMY SPINACH PASTA VARIATION
Here is a variation of the Creamy Spinach Pasta. Instead of adding sauteed spinach as is, you can blend the sauteed spinach first into a fine puree. Then add this spinach puree to the cooked pasta along wiith alfredo sauce and pesto.

It tastes so rich and creamy like Palak Paneer or Saag Paneer. That lush Green sauce looks beautiful. I make it both ways and my girls love either of these variations.
I am sure you will be trying this recipe soon from my blog. It is a perfect dish to make for busy weeknights and you are trying to incorporate some effortless richness in your meals.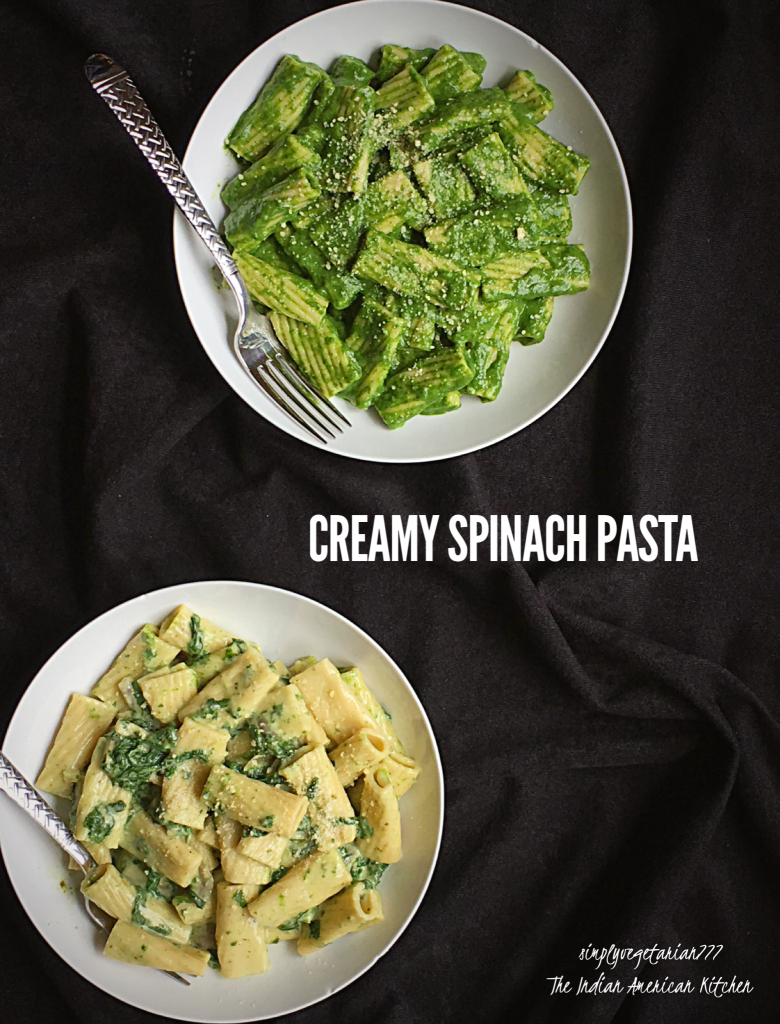 In my kitchen, you will always EAT HAPPY & STAY HAPPY!
Sonal
Save 15.0% on select products from Dealight with promo code 151BSD9Y, through 8/31 while supplies last.