Mexican Spicy Bean & Pasta Salad
As an Amazon Associate and member of other affiliate programs, I earn from qualifying purchases.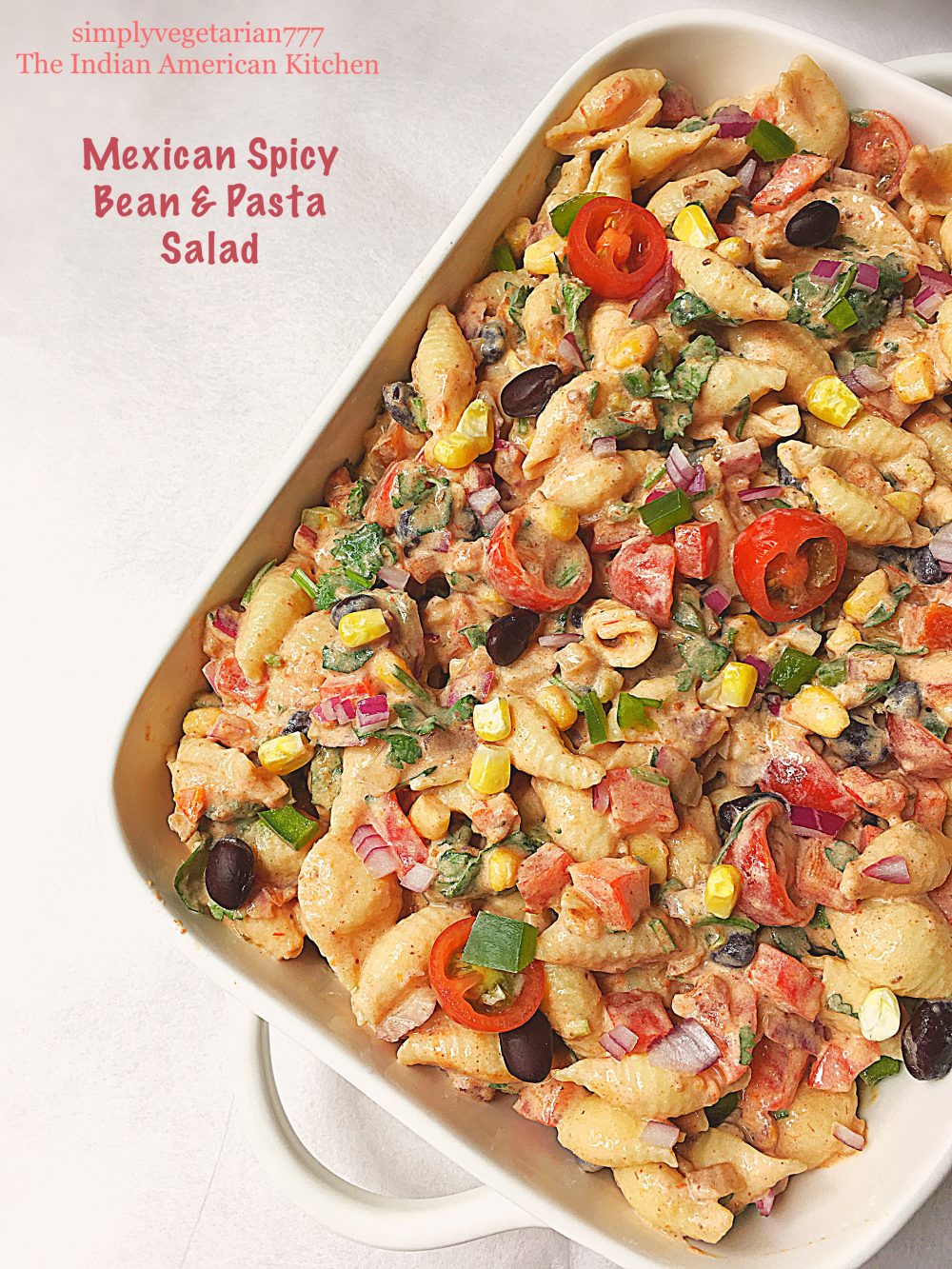 Mexican Spicy Bean & Pasta Salad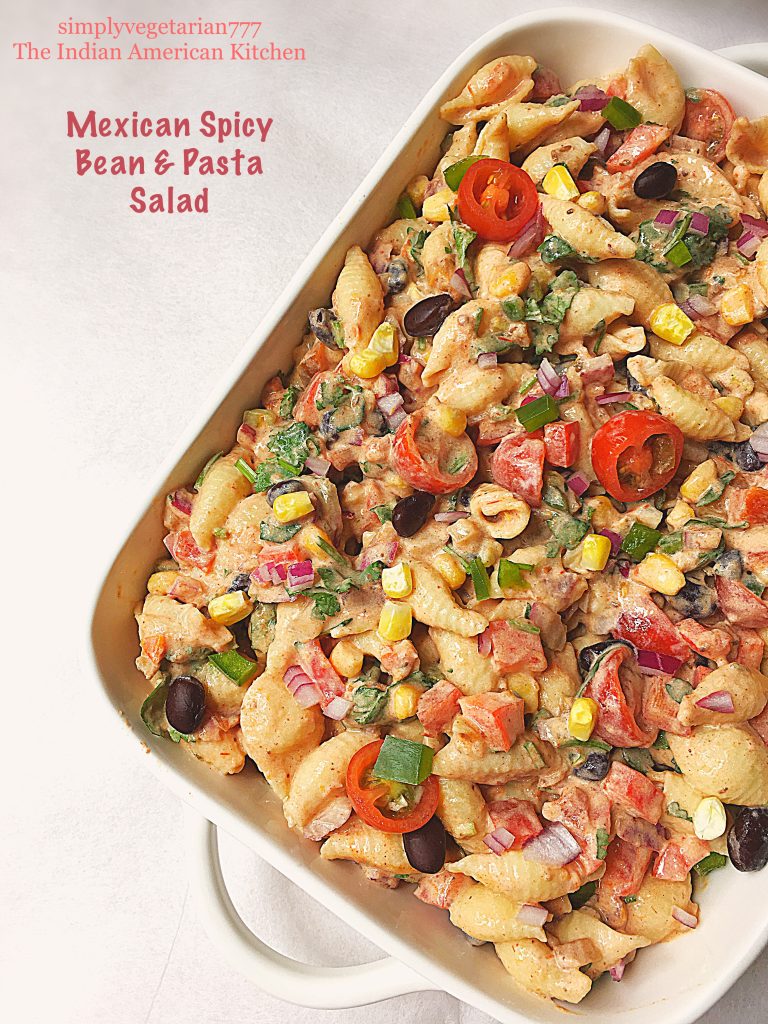 You are in for an absolute delight today. Mexican Spicy Bean & Pasta Salad is such a delightful recipe that is perfect to celebrate Cinco de Mayo.
Cinco de Mayo = May the 5th
Literally, it means that ⇑. The date is observed to commemorate the Mexican Army's unlikely victory over French forces at the Battle of Puebla on May 5, 1862, under the leadership of General Ignacio Zaragoza. [wikipedia]
In the States, the date has become associated with the celebration of Mexican American culture.
And for me MAY THE 5TH is important because it marks the day I got married to the most amazing man on the earth. If nothing else, he knows how to make me laugh. So, cheers to that too !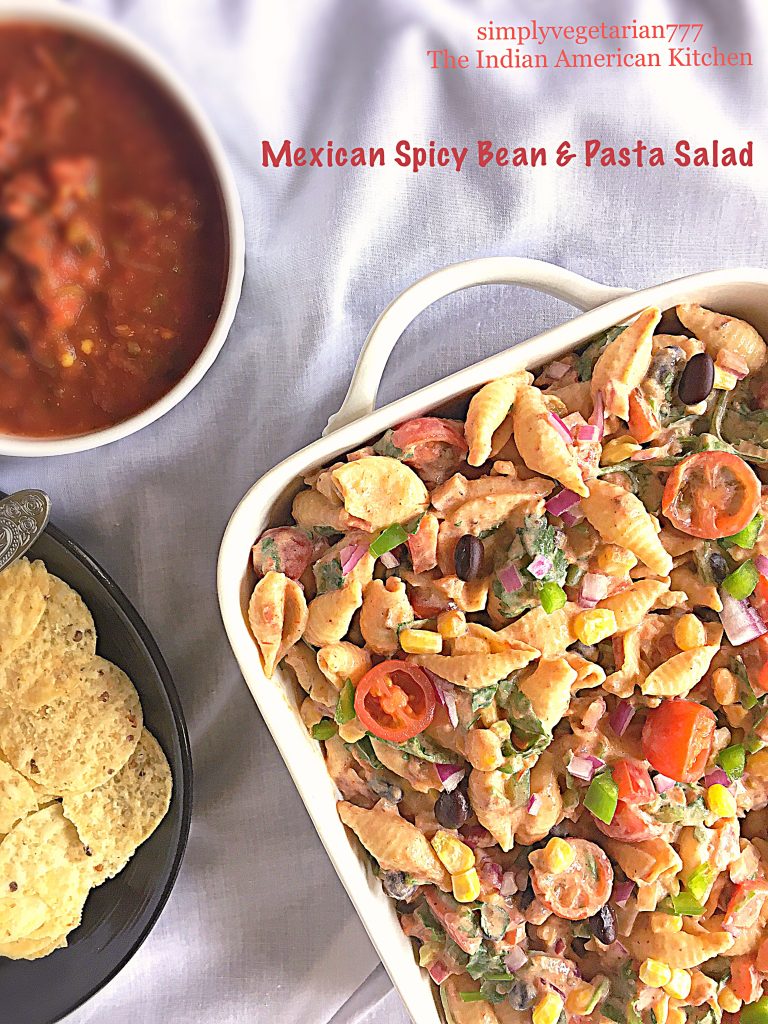 Something very funny happened yesterday which I would like to share. I was at my hair stylist and was waiting for my turn. Another customer was getting a hair cut and he was all excited to celebrate Cinco de Mayo. The hair stylist asked him very confused – sounds exotic, but what exactly is it? The guy started laughing and said it is May the 5th celebration and Parrrrty Time. She asked more and got enlightened that is a Mexican Festival. They started laughing out loud – We Americans can condemn anybody but when it comes to Parrrty, we are game!
Well that actually stands true. Americans love Partying, any given day. We just love the happy party spirit.
Some Mexican, Tex Mex and Cinco de Mayo Recipes  to try for the weekend party – Spicy Mexican Skillet Potatoes , Caramelized Onions and Black Beans Quesidellas , Tropical Margarita , Vegetable Fajita Platter , Restaurant style Salsa , 22 Festive Mexican Inspired Recipes, as compiled by Tamara of Beyond Mere Sustenance .
It is such a great salad. The tang and spice along with the crunch of fresh ingredients sets the perfect stage for fiesta. You have to try it once to understand what I mean. I promise it will become the favorite salad instantly among your family and friends.
This is how I made it.
Mexican Spicy Bean & Pasta Salad
Spicy Mexican inspired salad, perfect for Cinco de mayo celebration, great for picnics and summer parties.
Ingredients
Pasta Shell - 3 cups cooked . You may use any other small pasta

Black beans - 1 cup

boiled or use boiled kidney beans

Onions

red - 1/2 cup, chopped fine

Tomatoes - 1/2 cup

chopped fine

Corn kernels - 1/2 cup

boiled and cooled

Jalapeño - 1

chopped fine

Red Bell pepper - 1/2 cup

chopped fine

Cilantro/Coriander leaves - 1/2 cup

Lime Juice of 1 Lime
Spices & Condiments
Cumin powder - 1 tsp

Salt - to taste

Salsa - 1 cup

use spicy

Sour cream

low fat - 1/2 cup. You may use Greek yogurt or thick yogurt

Tobasco or any spicy sauce - 2 tsp
Instructions
Take a large bowl and add all the fresh ingredients and pasta to it. Mix the ingredients gently with a spatula. Save the lime juice for later.

Take a small bowl and add spices and condiments to it. This is the dressing for salad. Mix well. Save salt for later.

Now add the dressing to the pasta salad. Squeeze lime juice and salt, as required.

Chill the salad for 2-3 hrs before serving.
I ate it for 2 days and honestly I loved the salad the next day better.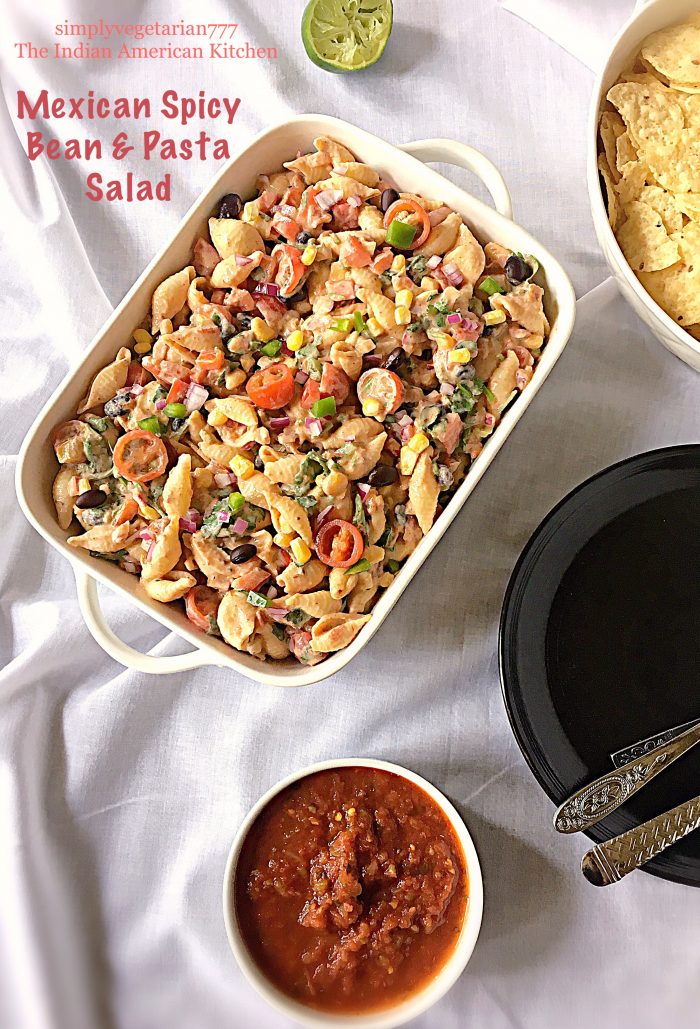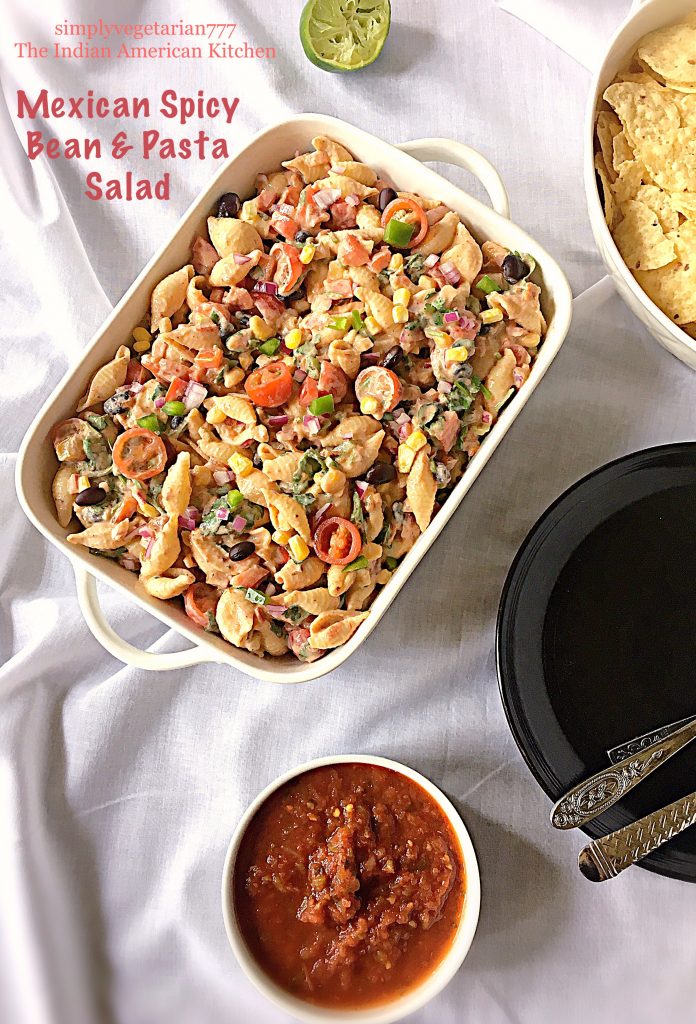 Take it for your picnics and get together. It is perfect for summer barbecues. Mexican Spicy Bean & Pasta Salad will become your best friend in need, when you still want pasta salad but not the regular Italian style. It is simple delicious. Do try it. I got the inspiration from Pioneer Woman.
Can't make it now? PIN IT FOR LATER!


In my Kitchen, you will always EAT HAPPY & STAY HAPPY!
Sonal