Tropical Margarita – Cinco de Mayo
As an Amazon Associate and member of other affiliate programs, I earn from qualifying purchases.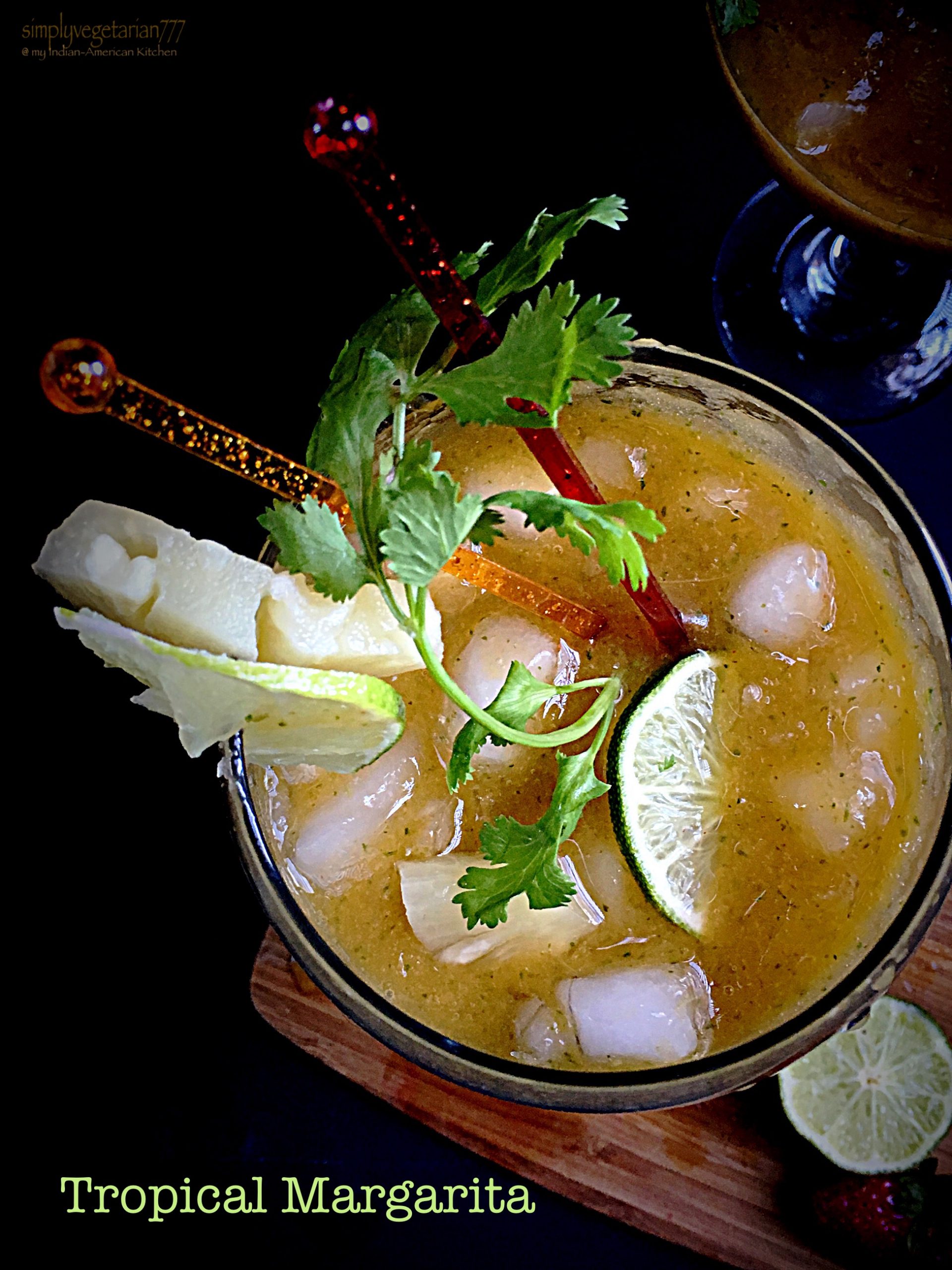 Tropical Margarita – Cinco de Mayo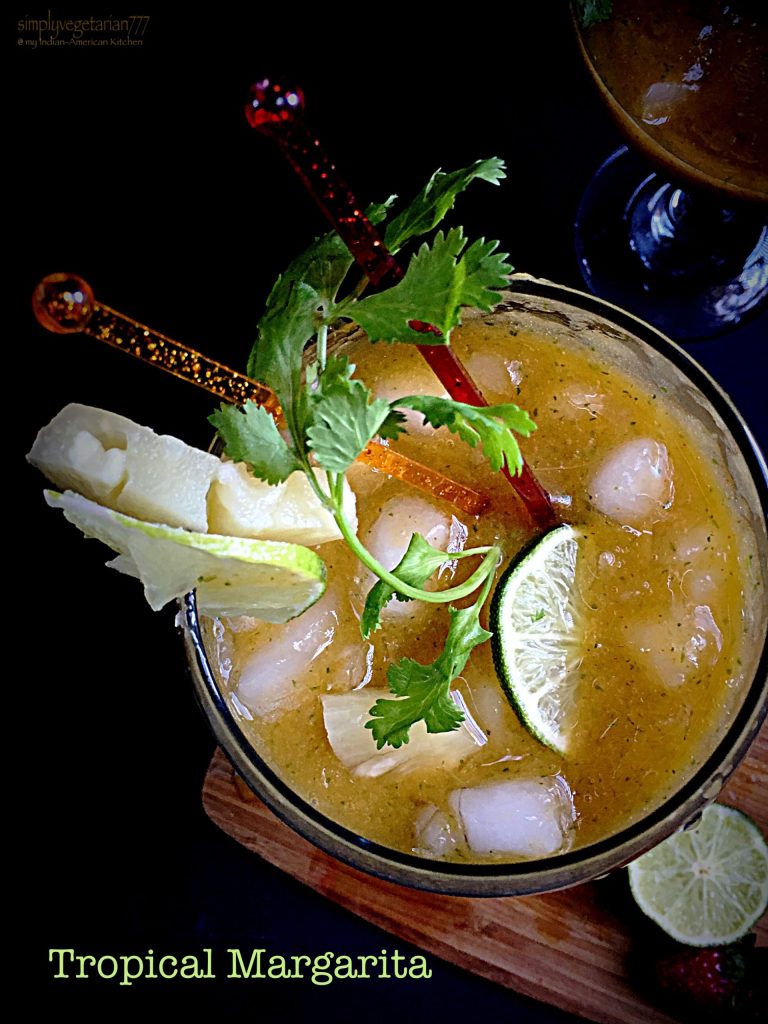 Tropical Margarita is a perfect drink for Cinco de Mayo. If you ask me what is CInco de Mayo, then you must know that Cinco de Mayo literally means Five of May. The date is observed to commemorate the Mexican Army's unlikely victory over French forces at the Battle of Puebla, on May 5, 1862.
Well, as they say that the rest is history, CInco de Mayo continues to be celebrated widely in Mexico and USA. If you ask, many people would not know the significance of Cinco de Mayo and would often confuse it with Independence of Mexico.
In America, Cinco de Mayo means celebrating the day with some good Mexican food and some chilled Margaritas.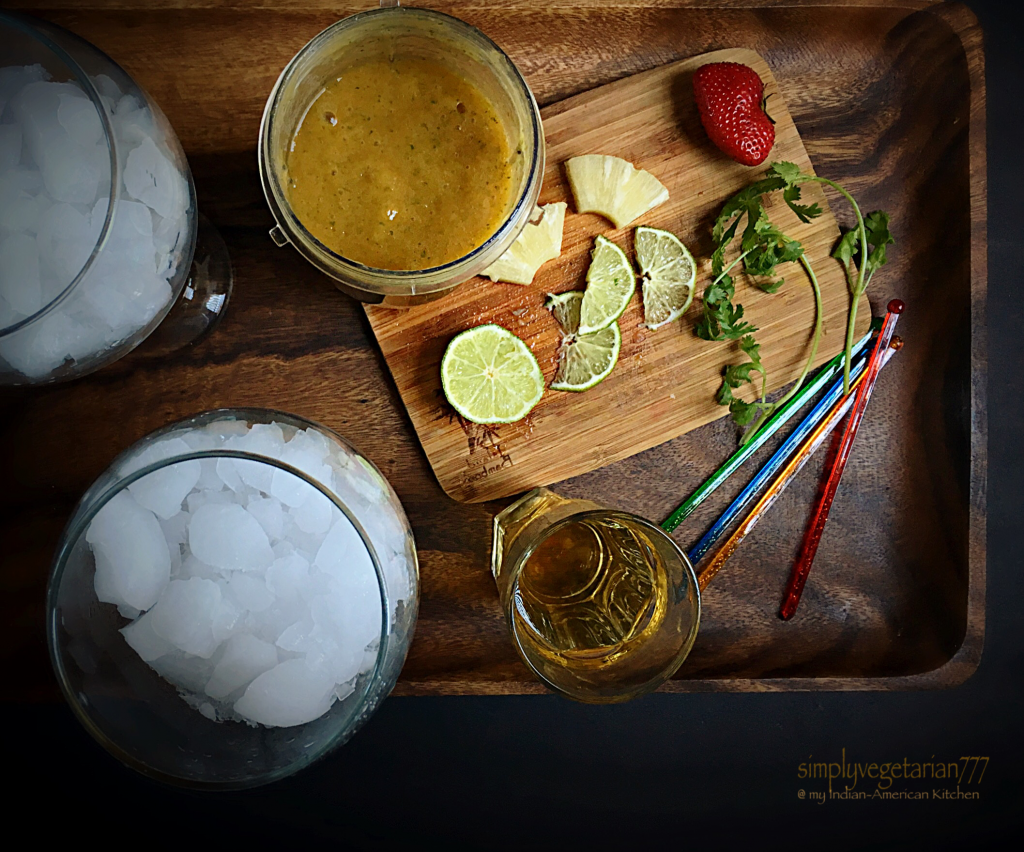 So, here I am, celebrating Cinco de Mayo with my kind of Margarita.
A margarita is a cocktail consisting of tequila, triple sec and lime or lemon juice, often served with salt on the rim of the glass. The drink is served shaken with ice, on the rocks, blended with ice or without ice. Though that is a guideline to making a Margarita but not the hard and fast rule.
I am a very easy going person and make-do with what ever is easily available on hand and that is exactly what I did with this recipe. I created a tropical mocktail using pineapples, mangoes, papaya, lime & orange juice and blended with some good quality tequila, jazzed it up with some red chili, brown sugar and rock salt, enhanced with handful cilantro/coriander leaves, and tada…an excellent Margarita was ready.
You should totally try the mocktail version of it by skipping the tequila. Either way, serve it on the rocks and enjoy a chilled drink on a hot summer day.
Some other Mexican recipes to celebrate the Cinco de Mayo, from the blog are –
Caramelized Onions & Black Beans Quesidellas
Smokey Veg Taco Soup
This is what you need for this super easy cocktail.
Tropical Margarita - Cinco de Mayo
A tropical flavored Margarita, that can be easily made alcohol free.
Ingredients
Mango pieces - 1/2 cup

Papaya pieces - 1/2 cup

Pineapple pieces - 1/2 cup

Orange Juice - 1 cup

Lime Juice - of 1 big lime

Tequila

good quality - 2 ounces
Spices & Condiments
Rock Salt - 1/2 tsp

Red Chili powder or Paprika - 1/4 tsp or to taste

Brown Sugar - 2 tbsp or to taste. You may use simple syrup instead.
Instructions
Take a blender and add all the above ingredients to the blender. Blend till pureed fine.

Fill 4 Margarita glasses with crushed ice up till their half depth.

Pour the tropical puree in all the 4 glasses equally.

Stir with stirrer. Decorate with some fresh cilantro twigs, pineapple and lime wedges. Serve chilled.
Notes
You can make it non alcoholic by skipping the tequila.
You may adjust the consistency by adding or decreasing the amount of orange juice.
You may decorate the rim of the glasses with some salt and chili for more effect.
I had a great time shaking this Margarita up in my Indian American Kitchen. You must try it too.
Drink Happy! Stay Happy!
Taking my Margarita to Throwback Thursday by Moliie and Fiesta Friday by Angie.
Sonal