Pasta Primavera Easy Recipe
As an Amazon Associate and member of other affiliate programs, I earn from qualifying purchases.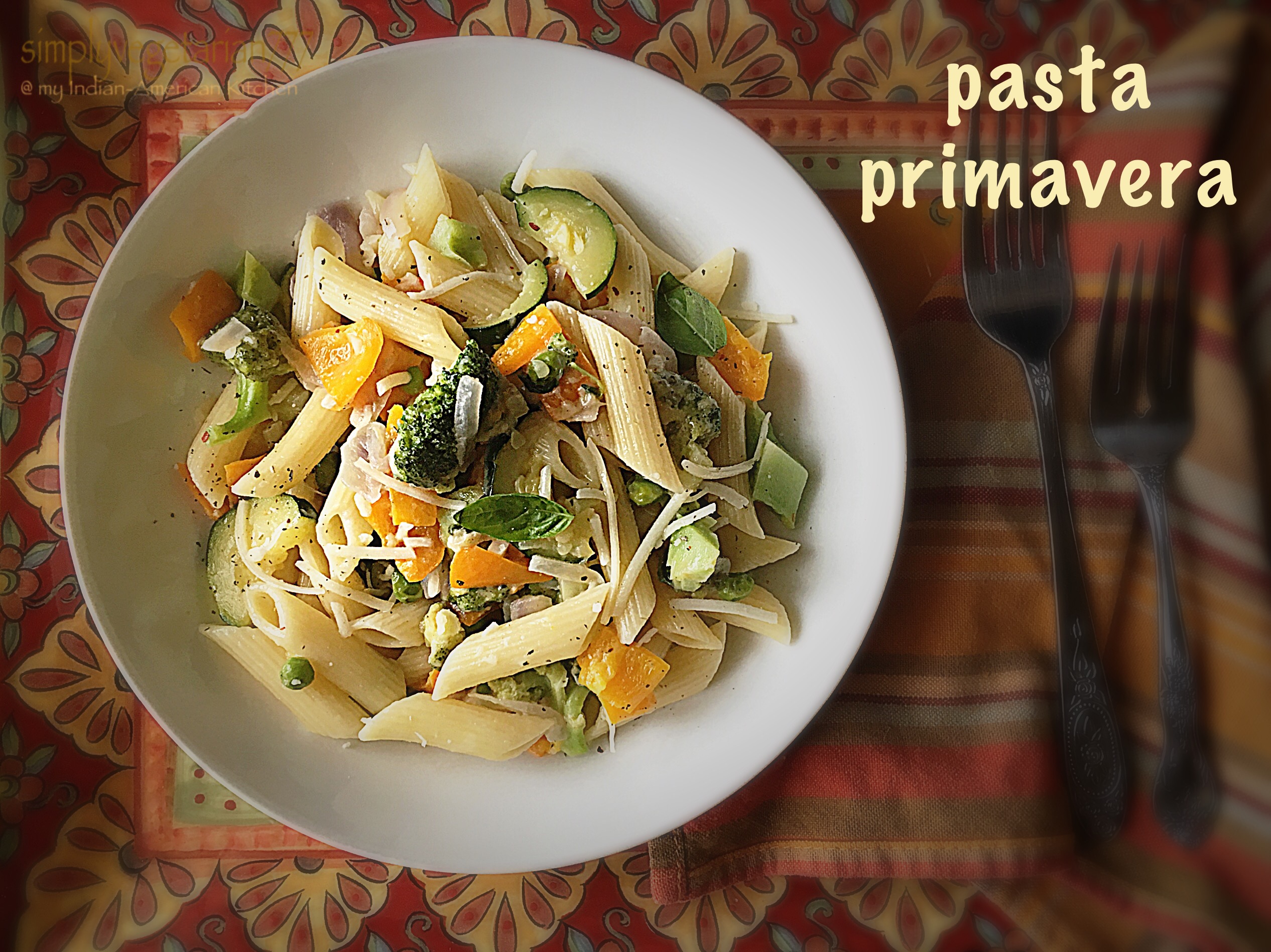 Pasta Primavera Easy Recipe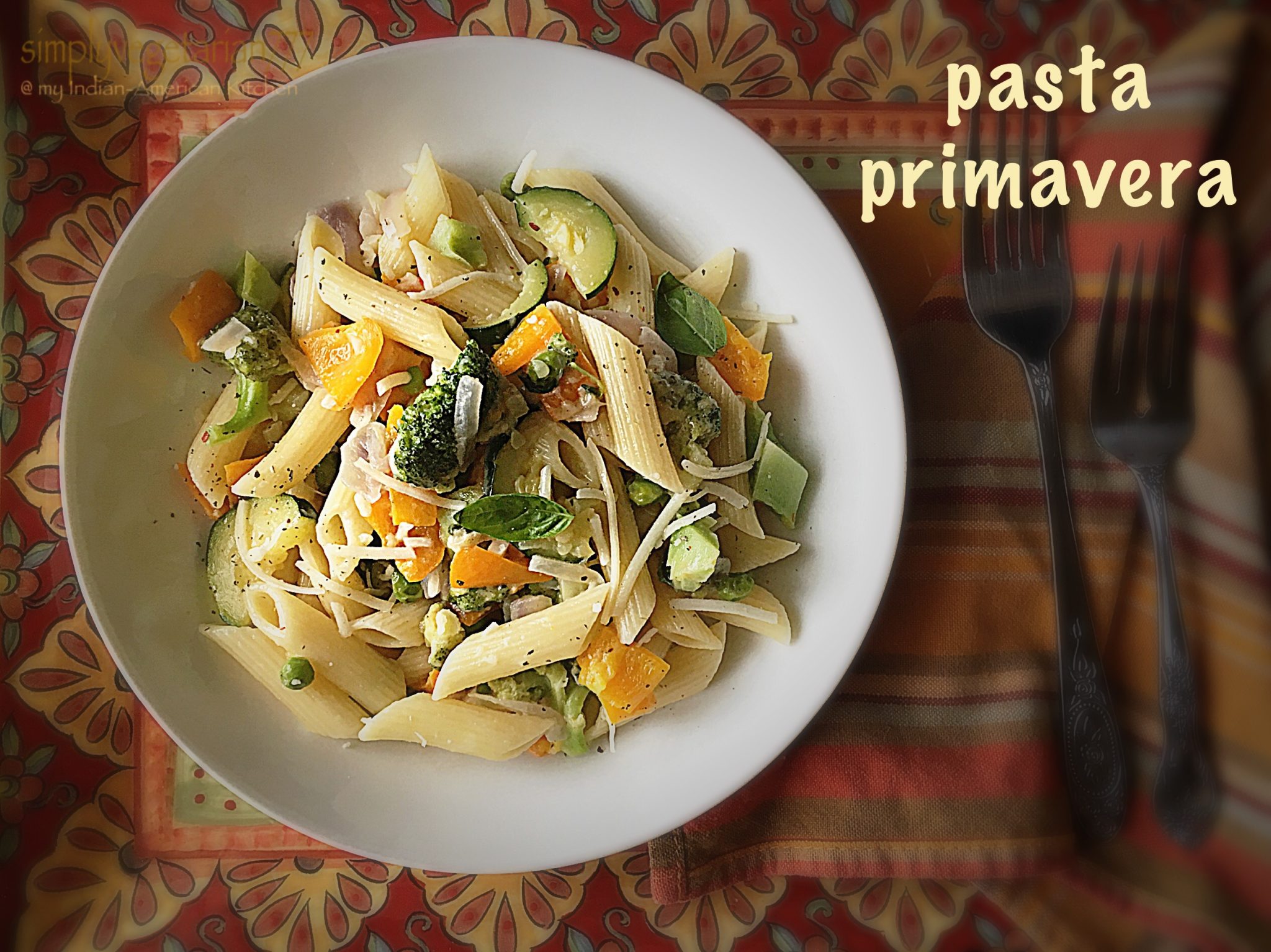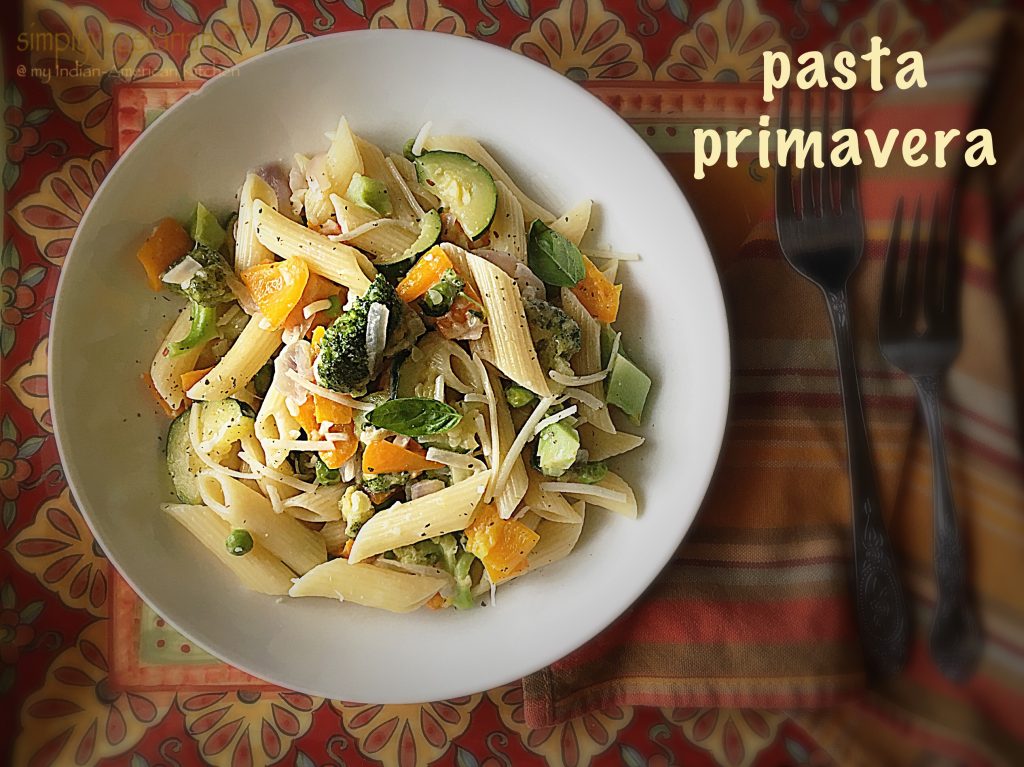 Pasta Primavera Easy Recipe suggests the blog post content. Doesn't it? This is a great recipe for Pasta lovers. It is easy, convenient and the best part is that it can be packed for lunch box with just little preparation.
Pasta is often made at our home, to treat kids. My girls can eat pasta even if they are not hungry, just like that, at the drop of the hat. The smell of boiling pasta drives them happy crazy.
While the pasta pot is on the gas stove, the girls keep dancing around, asking – "mom, is it done yet?" The moment I strain it, they grab handful of hot pasta and gulp it down giggling. I keep shooing them away, saying "leave some for dinner"!
You got to love your little munchkins or else the life would be so boring.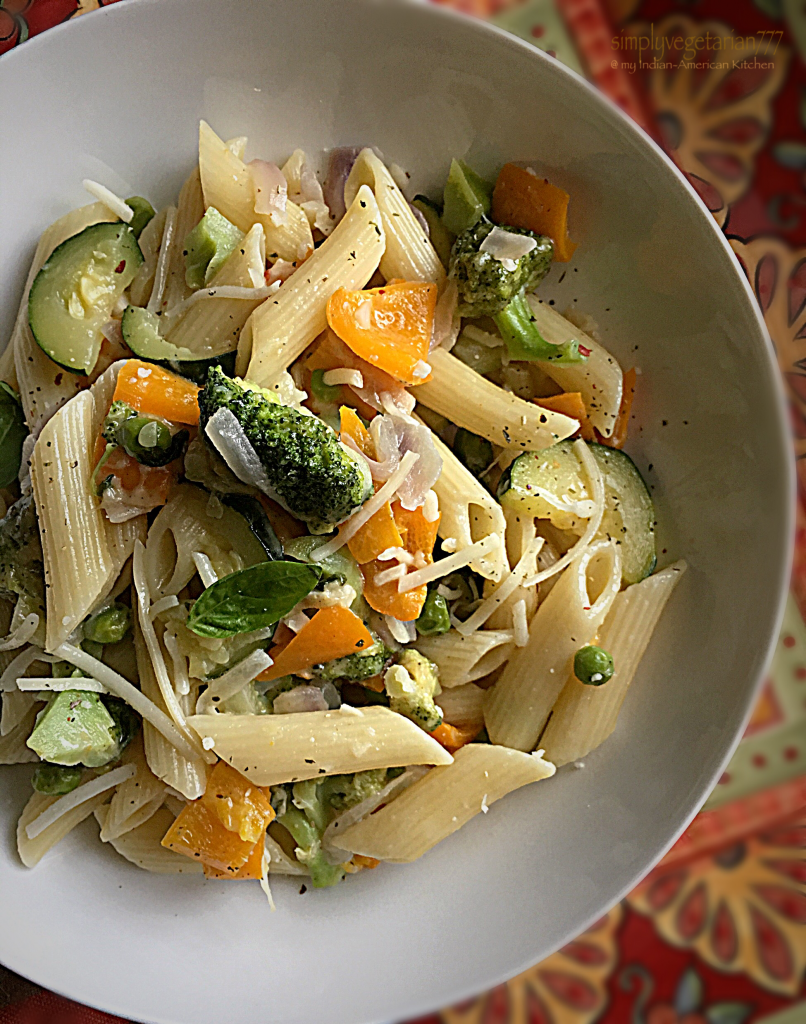 Pasta Primavera is a delicious recipe and surprisingly not from the land of Italy.
In 1975, New York chef Sirio Maccioni of Le Cirque (restaurant), created this recipe in the quest of creating something different. Since the quest, therefore he used butter, cheese and cream in combination with pasta and vegetables and crafted a signature dish called – Pasta Primavera. [1]
Pasta Primavera is an American dish since it was created by an American Chef.       It is believed to have been created in Nova Scotia, Canada by Chef Sirio Maccioni.
Delicate flavors created with butter and cream, thickened with cheese brings out the flavors in the tenderly cooked vegetables.
Though broad noodle shaped pasta is used mostly for the dish but I did not find any hard and fast rules to the use of type of pasta and vegetables.
It is a pretty open ended recipe where you can use any kind of pasta along with the seasonal vegetables available.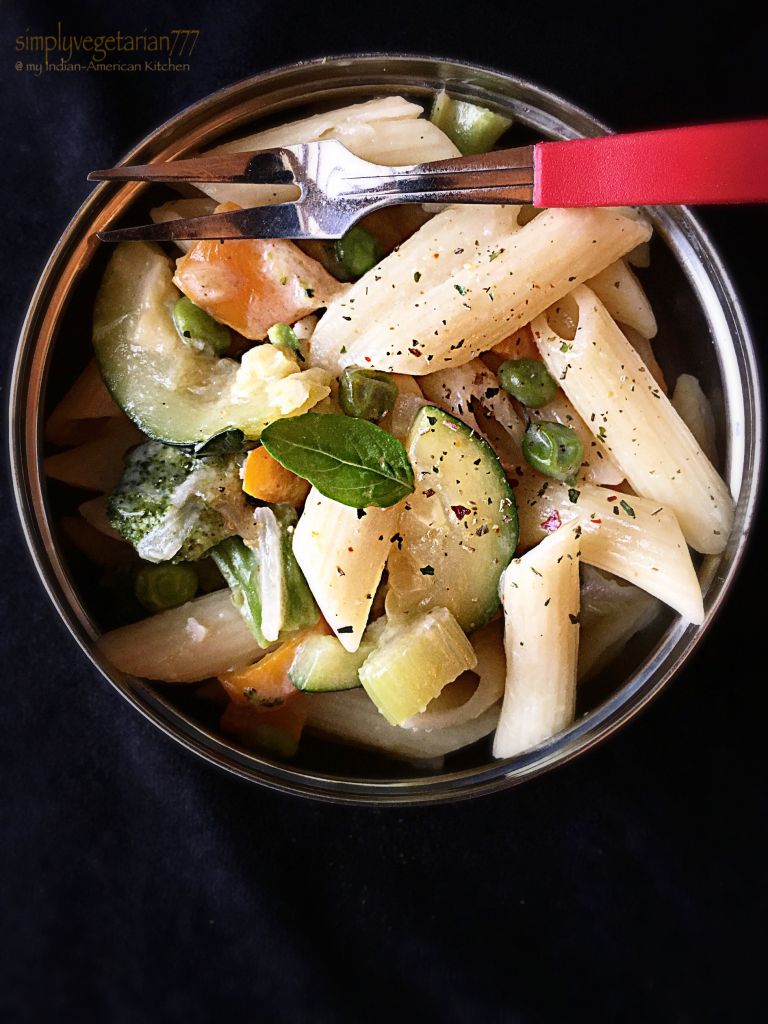 I am doing a Vegetarian Lunch Box Collective on Facebook with some Blogger Buddies and organize such collectives pretty often. It is a fun exercise to build up community and create more ideas together. Contact me if you want to be included further.
World sure is a better place when you are sharing, especially the love for food!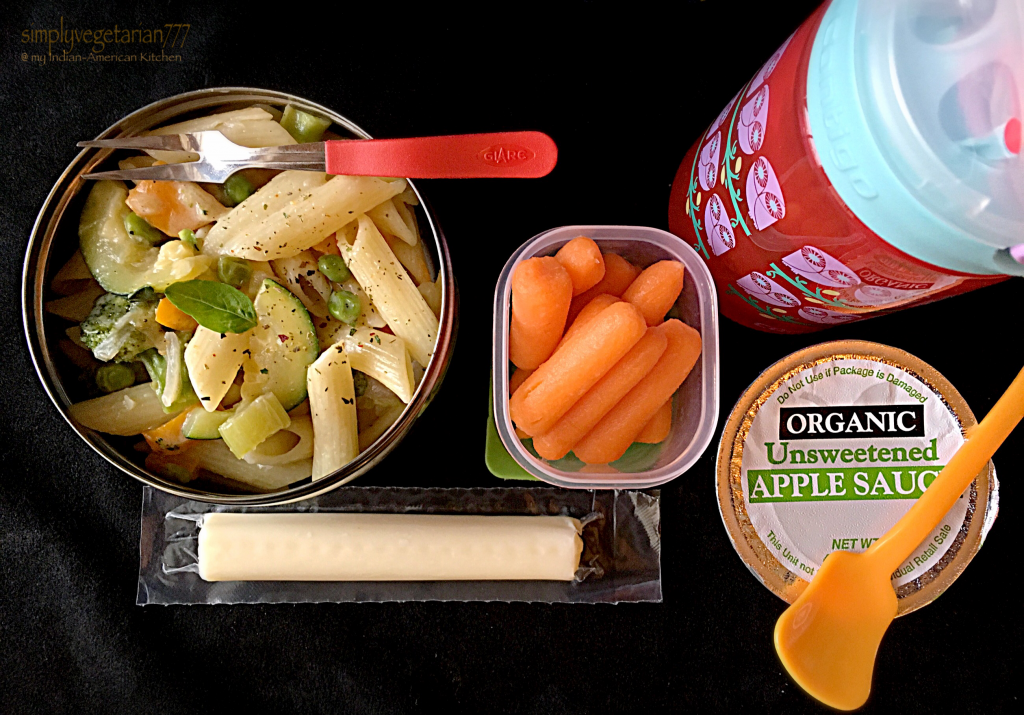 I had made Pasta Primavera Easy Recipe for the dinner and cooked extra keeping in mind the lunch to be packed for the next day for the kids' and hubby's lunch.
As you can see the picture above, I packed a complete lunch with Pasta Primavera in a steel lunch box, carrots, cheese stick and apple sauce.
Ofcourse I didn't pack apple sauce for the hubby for obvious reasons…lol.. 😉
I used broccoli, bell peppers/capsicums, zucchini and peas as main vegetables along with Penne Pasta. The recipe given below is modified from the original since the original calls for heavy cream, where as I used 2% milk.
This preparation is simplified as well since I cooked everything in 1 pot. Your kids are going to love you for this comforting meal during the long school hours.
If you are wondering how can you accomplish this recipe for a Lunch Box in the morning, then here are the tips –
Wash, Cut and cook the vegetables a night before and refrigerate.
Cook and drain the pasta a night before and refrigerate.
Prepare the quick sauce in the morning and add the cooked vegetables & pasta to it. Warm it up and pack.
Very Important – If you are packing the pasta hot or warm, please use the appropriate container like that of steel, glass or insulated. I do not recommend the use of plastic lunch boxes for hot/warm lunches.
Some other Pasta dishes from the blog are – Summer Pasta Salad , Baked Pasta with Mushrooms & Spinach , Pasta Masala (oil free) , Canellini Farfalle and many more.
This is how I made it!
Pasta Primavera Easy Recipe
Pasta Primavera Easy Recipe is an American Pasta dish which is easy, comfortable and great for dinners plus lunch boxes.
Ingredients
Pasta

penne - 4 cups, cooked al dante as per packet instructions (al dante = cooked till done and not very soft)

Garlic - 2 cloves

chopped fine

Red Onions - 1/2 medium

thinly sliced

Zucchini - 1 cup

sliced

Bell Peppers / Capsicums

colored or green - 1 cup, sliced

Broccoli - small florets from 1 small head

Celery stalks - 2

sliced

Green Peas - 1/4 cup

Vegetable Broth or plain water - 1/2 cup. You may use boiled pasta water also.

Milk 2% or Heavy cream - 1/2 cup

Parmesan Cheese

shredded - 1/2 cup plus more for garnish
Oil, Herbs & Spices
Olive oil - 1 tbsp

Butter - 2 tbsp

Salt and Black pepper to taste

Basil leaves - 8 to 10
Instructions
Heat 1 tbsp Olive oil + 2 tbsp Butter in a deep saute pan Add garlic and onions to it and cook on medium heat till slightly pink. Don't turn them golden.

Add celery stalks, zucchini, broccoli, peas, bell peppers to the pan. Cook on medium heat for about 2 minutes till slightly tender.

Add 1/2 cup of vegetable broth or water + 1/2 cup of milk or cream to the pan. Add salt + black pepper to taste. Add Basil leaves. Cook on high heat for about 5 minutes.

Add boiled pasta. Toss well and cook till the liquid is reduced.

Add parmesan cheese to the pan. Mix well gently with a spoon.

The cheese will melt in the heat. Switch off the flame.

Serve it hot with extra cheese sprinkled on the top.

For Lunch Box - Cool it down slightly and then pack in the boxes.
Notes
You may use any kind of pasta available. You may use any vegetables that are available. You may spice it up more with Italian herb seasoning. You may make it diet friendly by using whole grain pasta and reducing the amount of oil and butter.
I am sure you are going to try the Pasta Primavera Easy Recipe this week and pack the leftovers for lunch as well.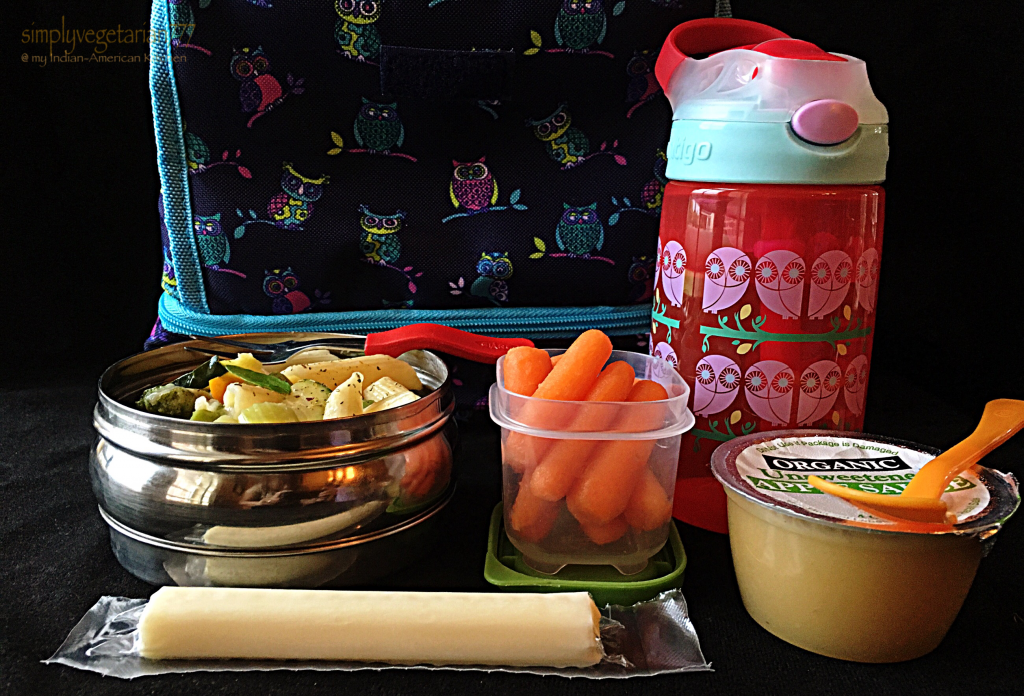 As I say – Eat Happy! Stay Happy!
Sonal
[1] – wikipedia reference
Pin this for later.