Dal Panchratni (5 dry beans in a stew)
As an Amazon Associate and member of other affiliate programs, I earn from qualifying purchases.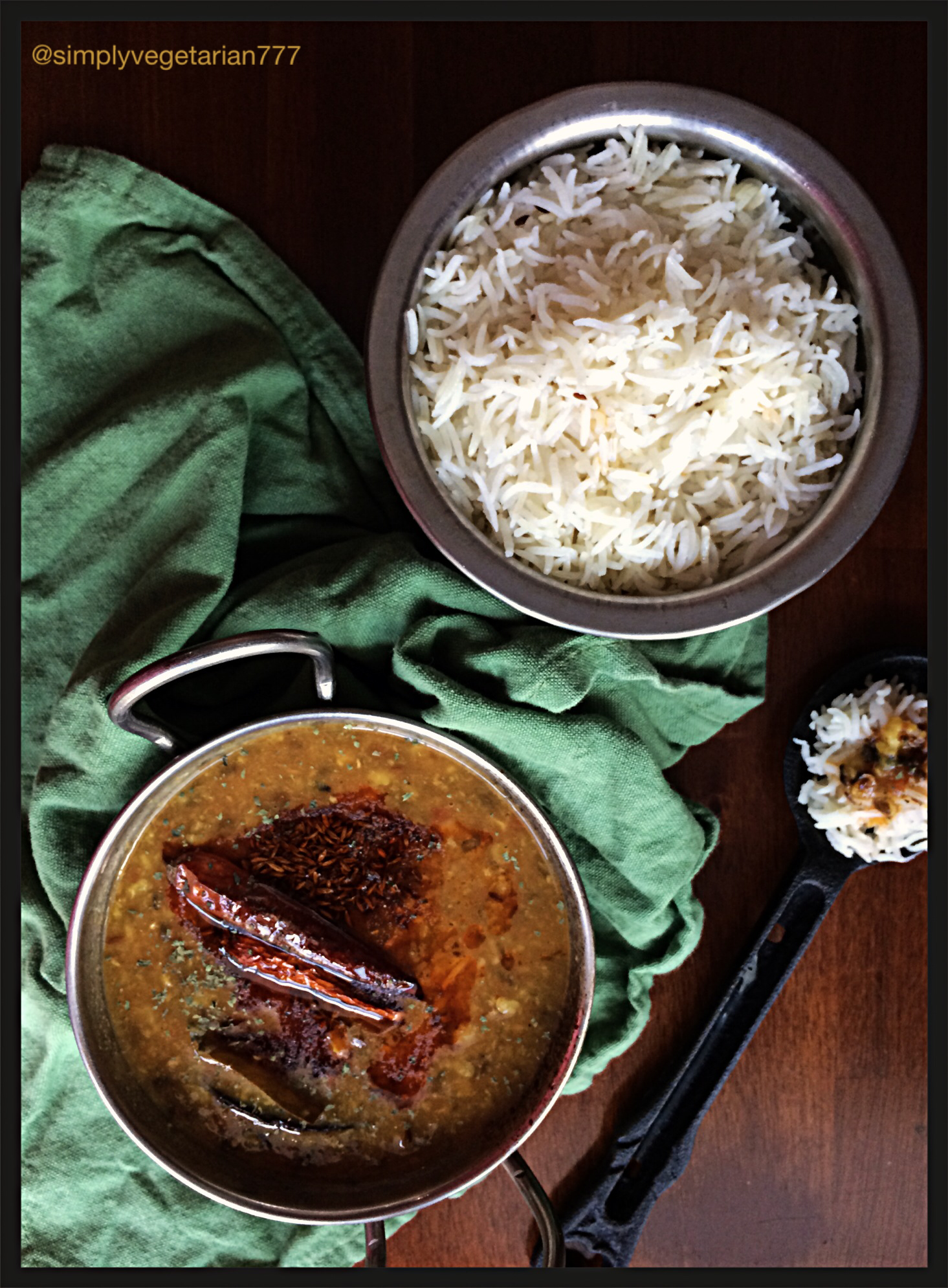 Dal is Dried Beans and Panch+Ratni means 5+Gems .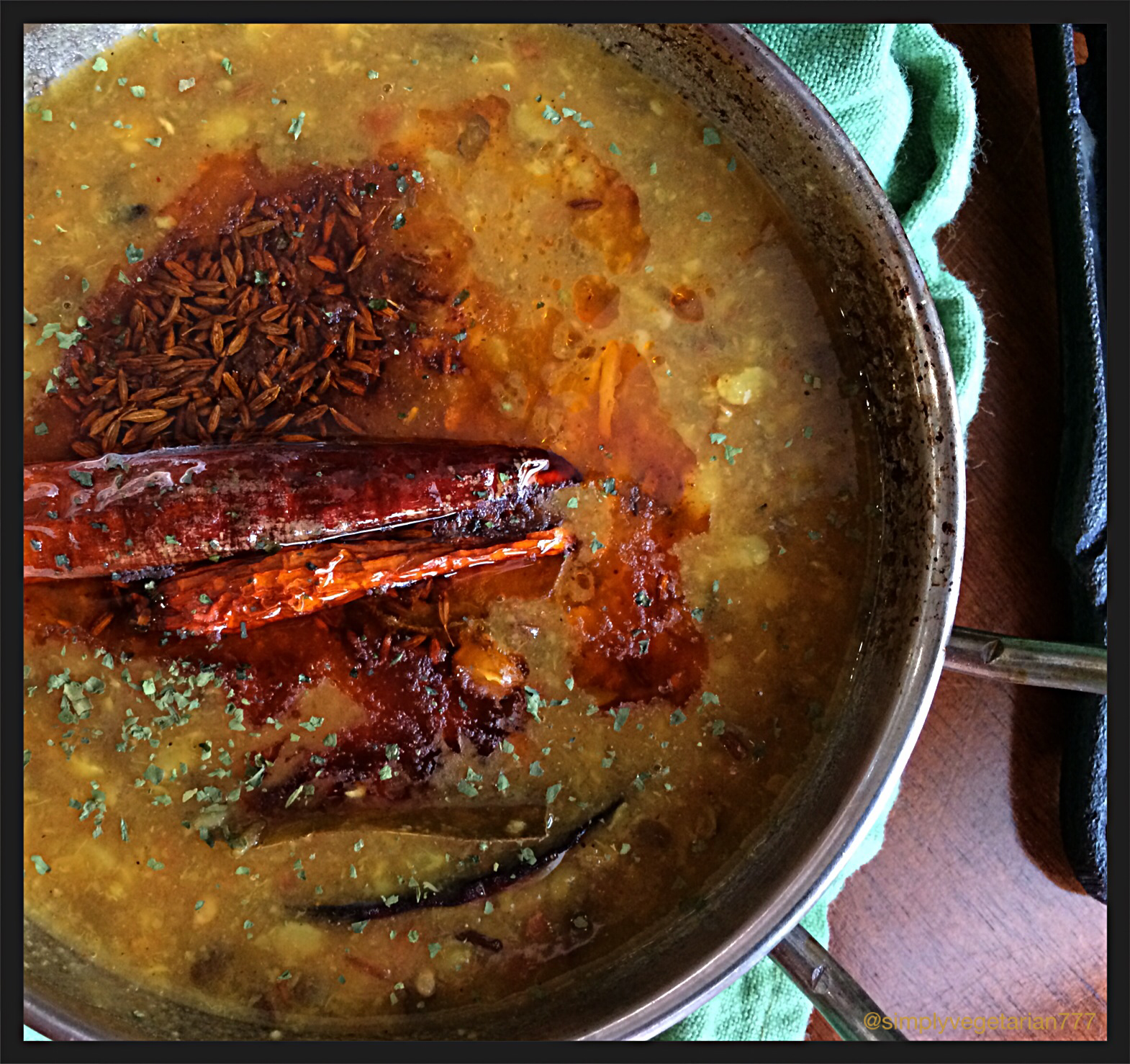 I love my dals and keep a variety of at least 10-12 different dry beans in my storage. The list includes, whole lentils, red lentils which are dehusked and split black lentils, mung with husk, mung without husk, pigeon peas or Toor or Arhar dal, rajma/red kidney beans, chhole/chickpeas, Lobiya/black eye beans, black grams, chana dal / split n dehusked black gram, urad with husk, urad dehusked and split, urad whole, chauri, pinto beans, black beans, navy or butter beans….phew!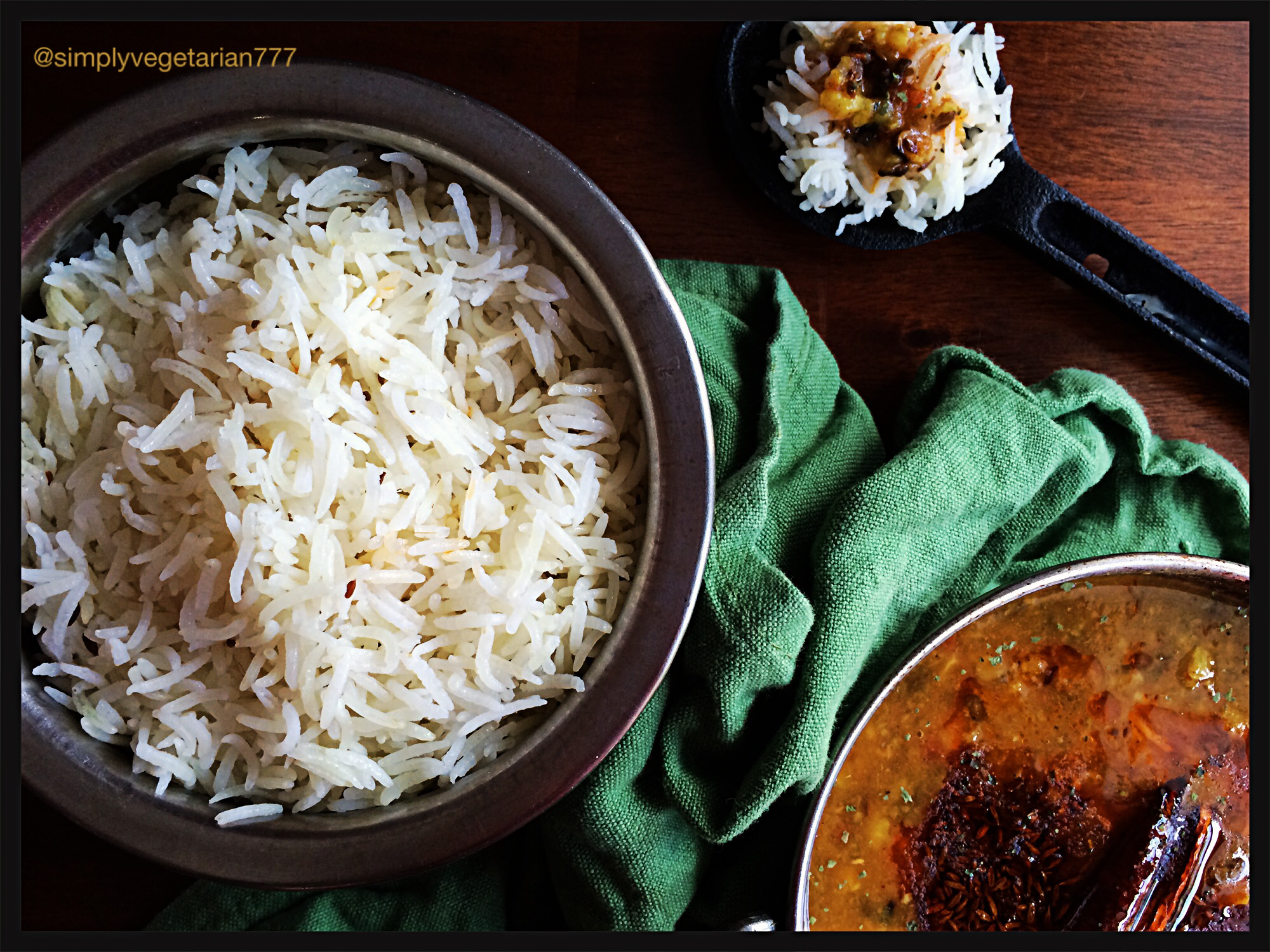 And the best companion to any dal or dry beans in "my opinion", is Chawal or Rice as more commonly known ;).
Cumin Rice with every single grain separated loaded with a generous helping of dal on the top is soul food for me :).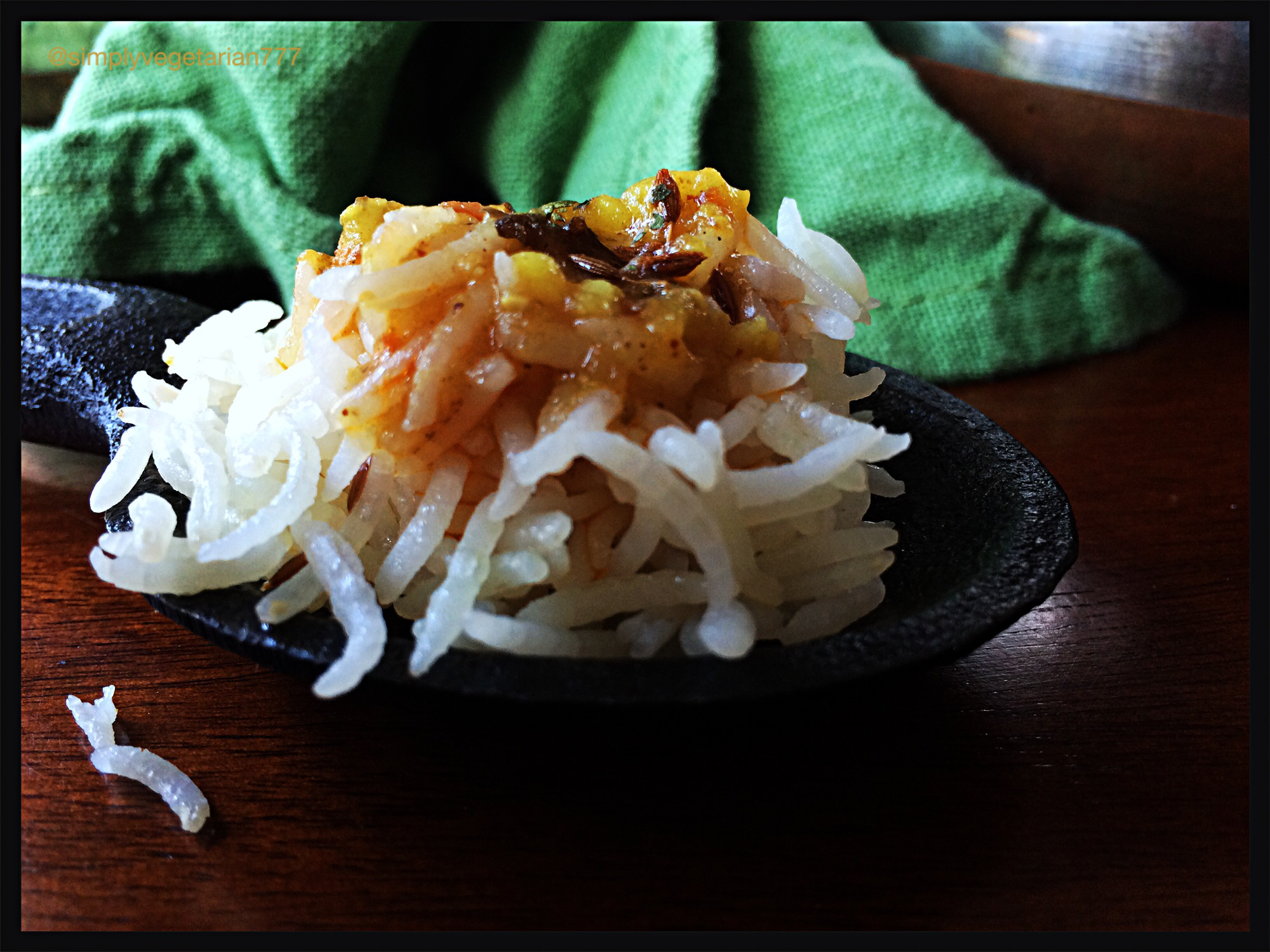 And yes I do indulge sometimes with Ghee and the tadka or a generous tempering.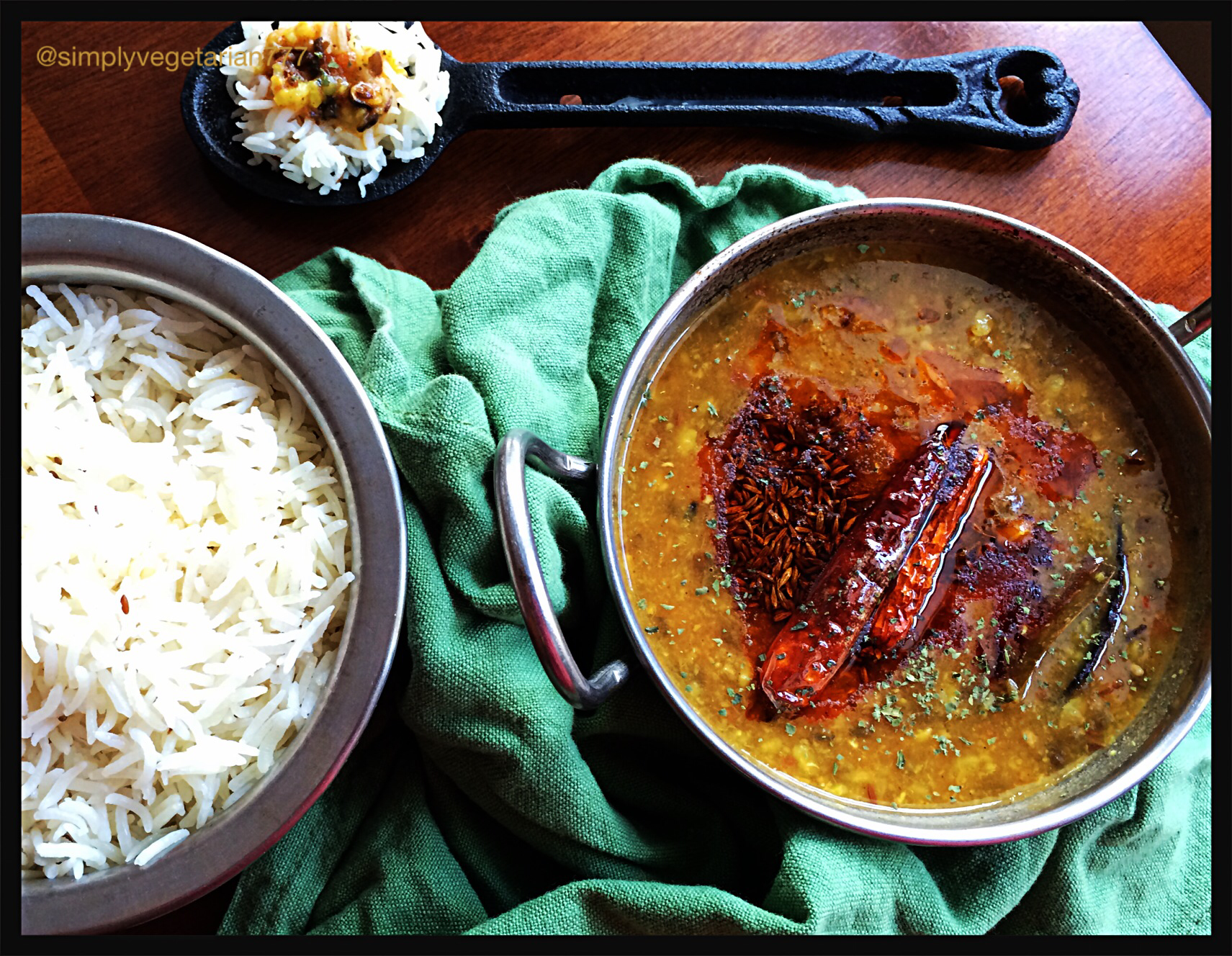 Recipe ! Try making it this Dussehera. A Vaishnav Dhaba style Dal with no onion and garlic.
Serves : 8
Ingredients :
Dals
Mung Chilka / yellow mung : 1/4 cup
Mung dhuli / green mung split : 1/4 cup
Masoor dhuli / red lentils : 1/4 cup
Chana dal / split black gram and dehusked : 1/4 cup
Urad Chilka / black urad split : 1/4 cup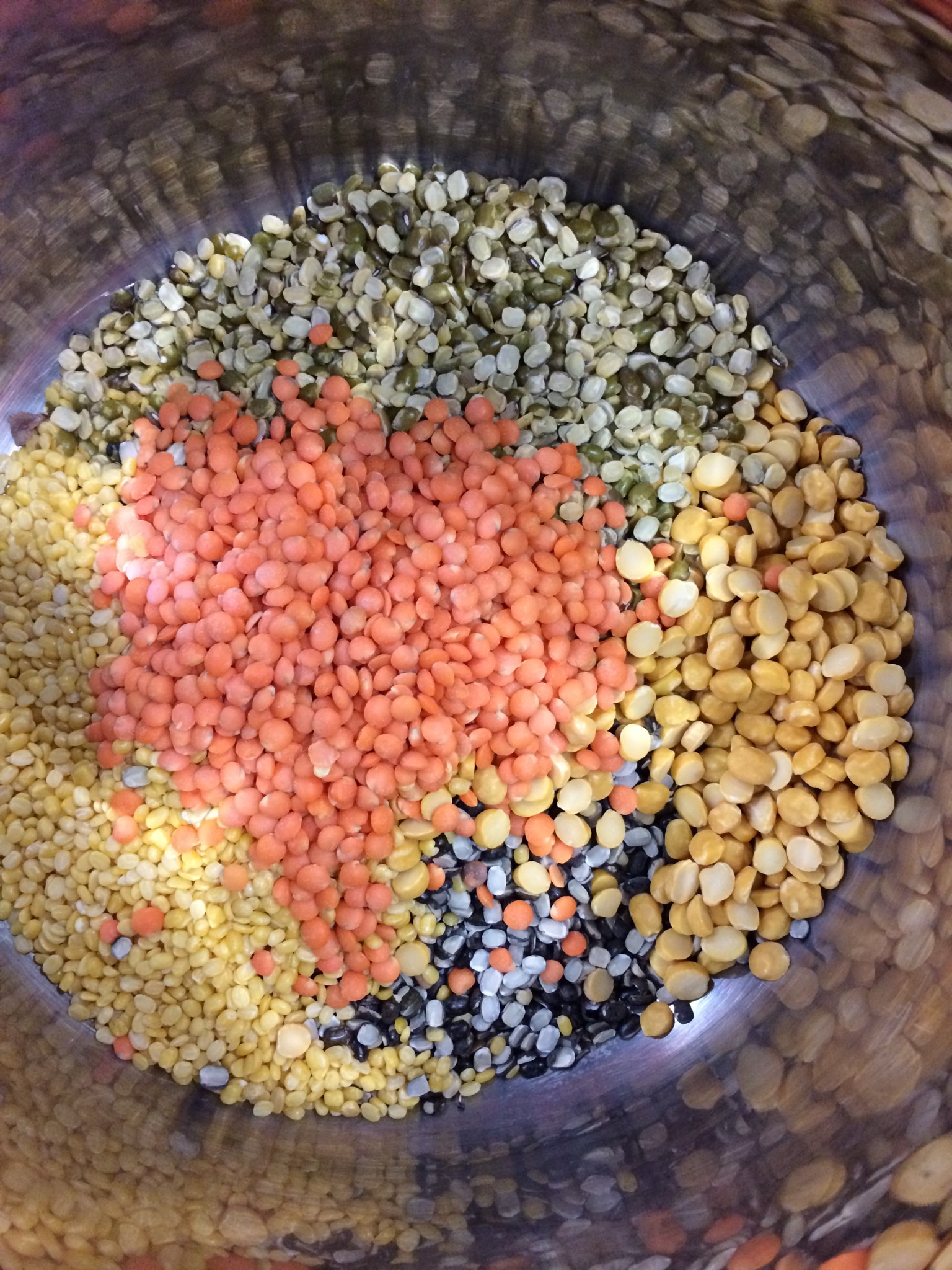 Oil : 1 tbsp
Ghee : 2 tsp to 4 tsp for tadka / tempering.
Spices
Cumin seeds : 1 tsp + 1 tsp
Cinnamon stick : 1 small
Bay leaf : 1 small
Dry red chillies : 2
Black pepper pods : 4-5
Cloves : 4-5
Green cardamom : 2
Garam masala : 1/2 tsp to 1 tsp as per taste
Turmeric : a fat pinch or 1/4 tsp
Salt : to taste
Red chili powder : 1/4 tsp
Tomatoes : 2 medium, ripe
Green chillies : 1-2
Ginger : 1 big piece
Fresh cilantro to garnish
Method :
Boiling the Dal
Take a bowl. Add all the dry beans or dals to it. Wash them till the water is clear.

Soak for 1/2 an hour in 2 &1/2 cups water.

Boiling in a Pressure cooker : Boil the dal in the same water with a big pinch of turmeric and little salt. After the first whistle of the cooker, reduce the flame and continue boiling on simmer for 10 minutes. Then take it off the flame and do not open till all the pressure is released on its own.

Boiling in a pan : Take a deep pan. Boil the dal with the same soaked water and additional 1 cup of water along with a fat pinch of turmeric and salt. Bring it to a boil. Then put the flame on slow and keep cooking till it's mushy and thick. Adjust water accordingly.

Dal is ready.
Making the Tomato Purée
Take a blender. Add chopped tomatoes, ginger and green chili and blend them to a purée.

Take a thick bottom pan and heat 1 tbsp oil in it. Once hot, lower the flame and add cumin seeds, cinnamon stick, bay leaf, cardamom, cloves, black pepper cloves to it.

Sauté for 2-3 seconds till the cumin seeds start crackling.

Add the puréed tomatoes to it. Stir well. Cover and cook on slow flame till all the water from the tomatoes is evaporated. It takes 7-8 minutes.

Switch the stove off. The tomato purée is ready.
Putting the Dal together
Add the tomato purée to the boiled dal. Add garam masala, some water if the dal is too thick and adjust the salt.

Stir well. Cook on medium low flame for another 5-7 minutes.

Dal is ready.
Preparing the Tadka or Tempering
Take a small pan. Add ghee to it. Heat the ghee.

Once the ghee is super hot, add cumin seeds. Once the seeds crackle and come to the top, add dry red chillies and chili powder. Switch off the flame.

Add it on the top of the dal or as we say "temper the dal".

Add chopped cilantro leaves.
Now serve it with Cumin Rice .
Taking it to the Fiesta Friday ! I hope Angie and the co-hosts Selma and Elaine like it.
Sonal