Vegetable Pulav Instant Pot Recipe
As an Amazon Associate and member of other affiliate programs, I earn from qualifying purchases.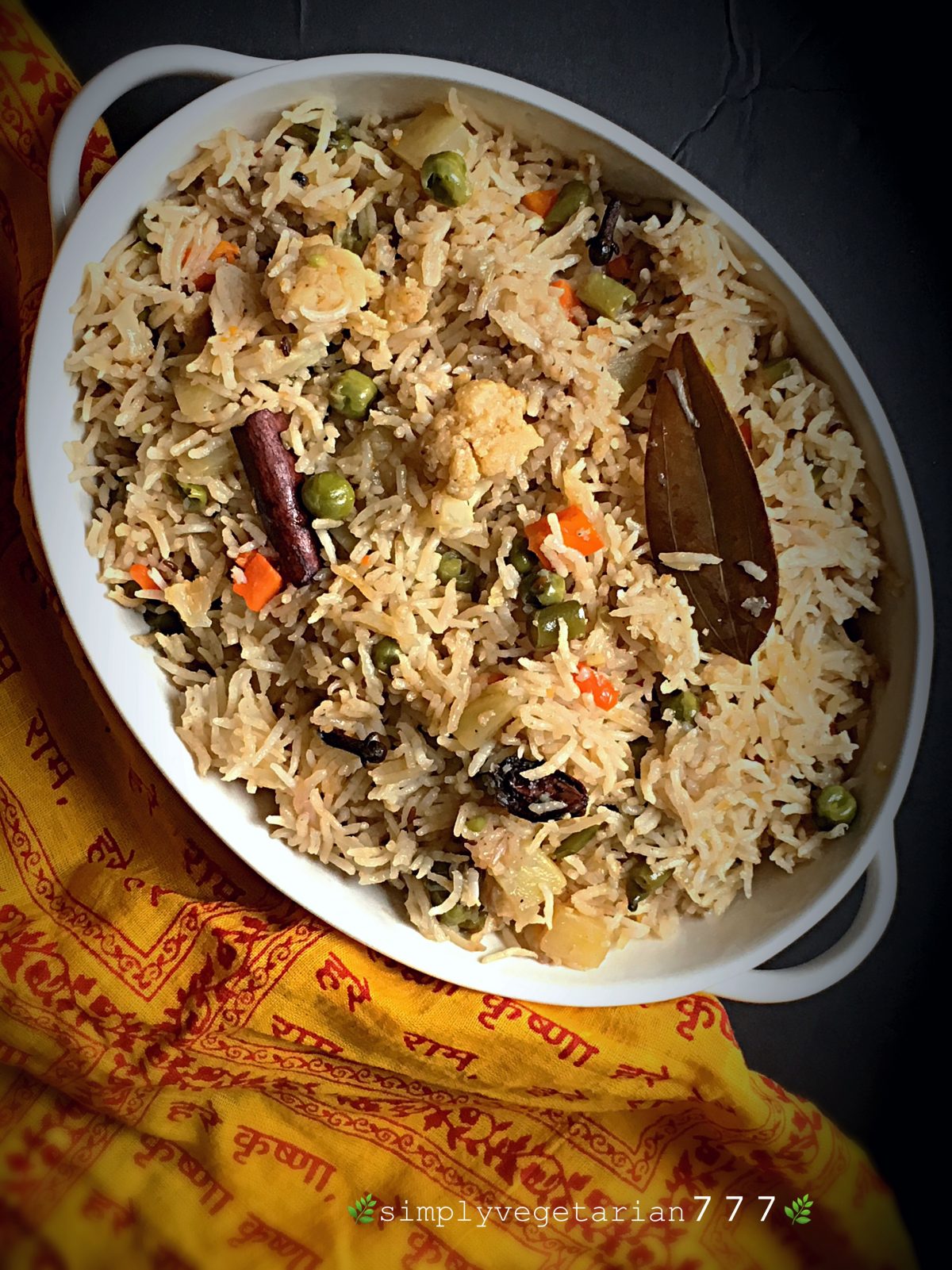 Vegetable Pulav Instant Pot Recipe is perfect for all the Pulav and Instant Pot Fans. You will get perfect texture Pulav every time when cooked in an Instant Pot. It is an easy, simple and efficient method. cooking in Pan & Pressure Cooker methods given too.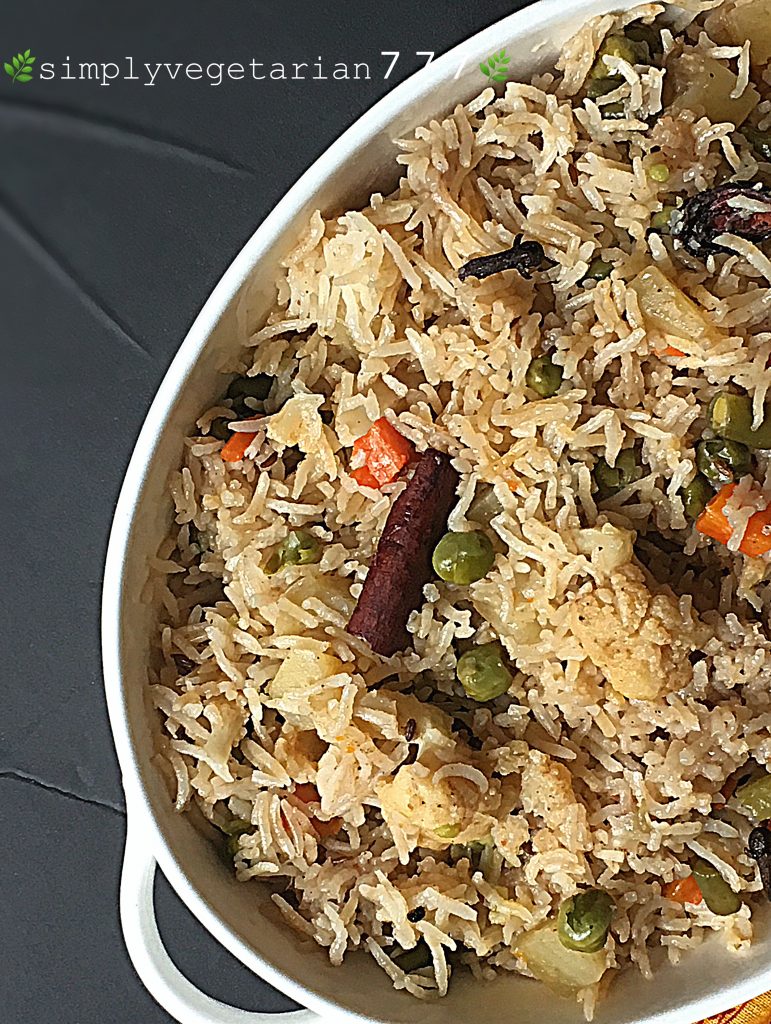 Vegetable Pulav Instant Pot Recipe
Pulav is a weekly feature on the menu. It is an amazing rice dish filled with the warm flavors of Indian whole spices and enriched with mostly different vegetables in my kitchen. Pilaf is a wholesome dish that is a complete meal in itself and is often enjoyed with Raita (Yogurt Dip) and Pickles on the side.
I have fond memories of Pulav from my growing up years. My mom would make it on several occasions, like when she ran out of time or was too tired to cook an elaborate meal. It was more of a weekend meal for the family since she got a break from the kitchen too.
A piping hot serving of Pulav can do wonders for you. It is not only comforting and delicious, there is something about the aroma and texture of this dish that sends you into a sweet spot where you are a happy person. I think it is the carbs from rice and the goodness of the spices.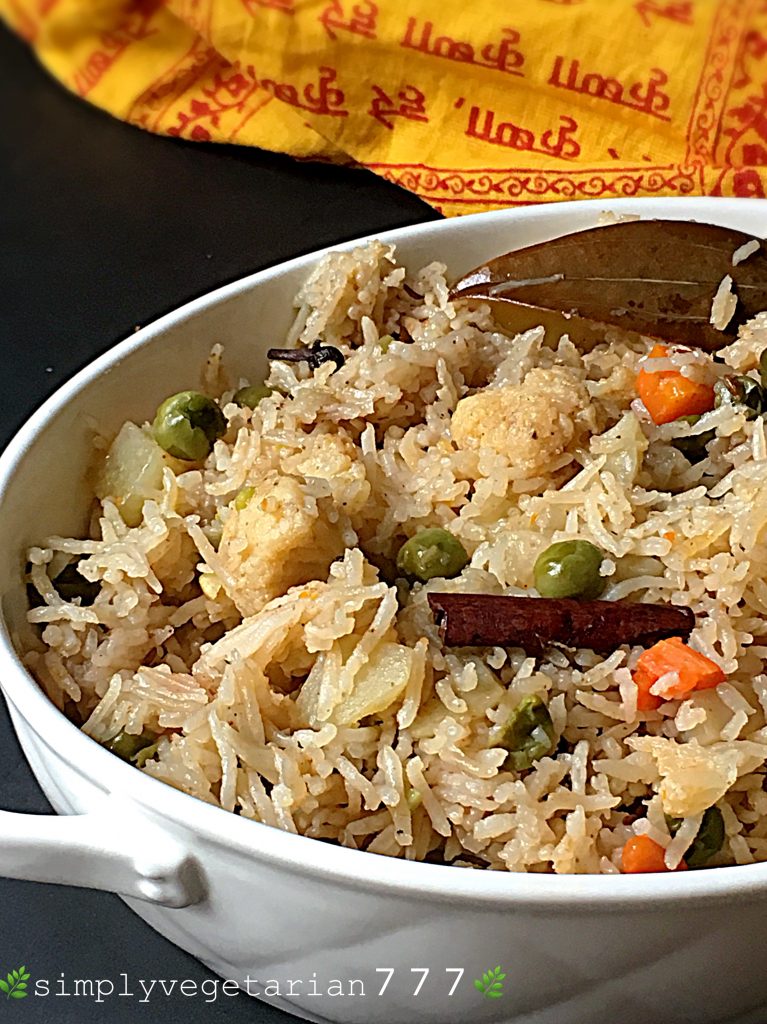 Here is why you should include PULAV or PILAF or PULAO in your weekly Menu
Pulav is made with Rice as its main ingredient. Rice is a cereal or grain that is good in fiber, rich in minerals like calcium, phosphorus, magnesium, potassium and iron. It is rich in vitamins like Niacin and Thiamin. It is high in Carbohydrates though. So people who are under weight, can consume it heartily but the people looking to lose weight, should go easy on Rice. The best part is that is is GLUTEN FREE.
Pilaf is a ONE POT MEAL and nothing can beat a good delicious and nourishing one pot meal.
Pulao is a wholesome complete meal.
Pulav is a recipe that saves you when you are running out of time or sick, or in no mood to cook elaborately.
You can alter the ratio of rice to vegetables and cook with more vegetables and less rice for the healthier take.
Pulav can be cooked with basmati rice (ideal) or brown rice or wild rice or mixed rice or short grain. Possibilities are unlimited.
Now making this Vegetable Pulav has become a breeze in my Instant Pot. I have made Pulav in Open Pan and Pressure Cooker with good results. But making Pulav in my Instant Pot is so easy and every time the results are fabulous. If you are thinking of investing in an Instant Pot, then I must tell you that it is a good investment.
I do not go about buying every new gadget on the market. It is my money and I spend it wisely. Instant Pot is one investment that is paying me back in leaps and bounds in sense of TIME MANAGEMENT.
Here is why you should buy an INSTANT POT
Have I told you that I am an Instant Pot Convert from a Hater to Lover? Yes, you got me right. Now I own 2 Instant Pots –6 quarts 10-in-1 Insta Pot and 3 quarts Duo Mini. The mini one is used more, as it is perfect for daily cooking for a family of 4-6 people. The 6 quart comes out mainly for party preps or when I am making whole beans, chili or Rice Pulav. Here is why you should also cook in Instant Pot –
No Baby Sitting or Attending to the Kitchen Gadget is required. You saute, you put the lid and close and set the timer and done.
The cooking in Instant Pot is ONE POT COOKING.
It is a MESS FREE Cooking.
The food preparation and cooking is VERY EFFICIENT and is perfect for busy moms and professionals in today's day and age.
It is so SAFE TO USE, that even your teenager can use it like my daughter does.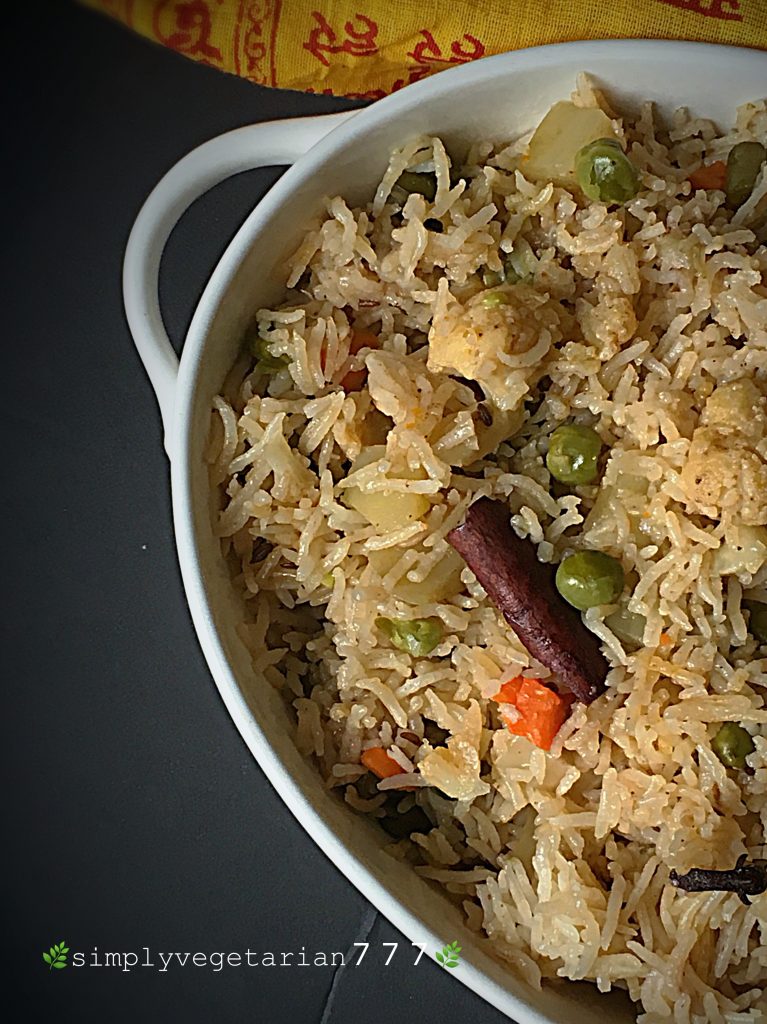 Some other Pulav and Rice Recipes from my BLOG are
The popular INSTANT POT RECIPES from the blog are
Tuscan Vegetable Soup in Instant Pot
This is how you make VEGETABLE PULAV in 6 quart Instant Pot
Vegetable Pulav Instant Pot Recipe
Vegetable Pulav Instant Pot Recipe is perfect for all the Pulav and Instant Pot Fans. You will get perfect texture Pulav every time when cooked in an Instant Pot. It is an easy, simple and efficient method. cooking in Pan & Pressure Cooker methods given too.
Ingredients
3

cups

Basmati Rice

washed 4-5 times and soak in water for 30 minutes

3&1/2

cups

Water to cook

1

Large

Onion

sliced thin

1

small piece

Ginger

chopped fine or grated

5

Cups

Mixed Vegetables including Potatoes, Cauliflower, Green Beans, Carrots, Peas

Cut all the large vegetables in 1 inch pieces
OIl & Spices
1&1/2

tbsp

Cooking oil or Olive oil

if you are not Vegan, use Ghee for best results

1

tsp

Cumin seeds

1

large

Bay leaf

1

small

Cinnamon stick

6

Cloves

6

Black pepper corns

1

Black Cardamom

4

Small Green Cardamom

1&1/2

tsp

Garam Masala

1/2

tsp

Red Chili powder

4

tsp

Salt

or to taste
IF YOU WANT TO USE LESS SPICES, THEN SKIP WHOLE SPICES AND JUST USE THE GARAM MASALA, RED CHILI POWDER AND SALT OR 2 TSP OF STORE BOUGHT PULAV/BIRYANI MASALA + SALT.
Instructions
Preparing the Rice and Vegetables for Pulav
Take rice in a bowl and wash under cold water till water runs clear. It will take 4-5 washes. After that, soak the rice in 4 cups of water for 1/2 hour. Meanwhile, the rice is soaking, wash, peel, chop the vegetables and keep them ready to use. After 1/2 an hour, drain the water out of rice and keep aside for cooking.
COOKING ON SAUTE MODE
Place the inner pot inside the IP. Plug it in and Press SAUTE MODE on HIGH. Once the screen displays HOT, add oil/ghee to it. Also, add cumin seeds, bay leaf, cinnamon stick, cloves, black pepper corns, green cardamom, black cardamom to the pot. Saute for few seconds.

Now add thinly sliced onions and ginger to the pot. Saute for about 5 minutes, till onions are pink in color. To speed up the process, cover the IP with glass lid and let onions cook and crisp while covered. Saute in between to avoid burning.

Once the onions are pink, add all the other vegetables in the pot + garam masala, red chili powder and salt. Give it a good stir. Add soaked rice to the pot. Stir all the ingredients together gently. Add 3&1/2 to 4 cups water. Stir again. SWITCH OFF THE SAUTE MODE.

NOTE - The water quantity can be adjusted between 3&1/2 to 4 cups of water. The point is that water should be slightly above the rice, so that all of the rice is submerged inside it for even cooking. DO NOT ADD MORE WATER than that. Start with 3&1/2 and add little at a time to accomodate.
COOKING ON MANUAL/PRESSURE COOK MODE
Place the lid of the IP and lock it to NO VENTING. Press the PRESSURE COOK/MANUAL MODE and set it to 4 MINUTES on MORE and HIGH PRESSURE.

It will take about 7-8 minutes for IP to kick in. Once the timer goes off after 4 minutes, do QPR (quick pressure release). As soon as the safety pin drops down. Open the Lid. Let it sit un-covered for about 5-7 minutes. Then take a fork and fork it through to separate the rice grains gently. VEGETABLE PULAO IS READY.
SERVING SUGGESTION
It is best enjoyed with kachumbar Raita or Boondi Raita + Pickles + Green Chutney.
If you try this recipe, do give me a shout out on facebook, instagram and Pinterest.
Can't Make it NOW? PIN IT FOR LATER!

In my kitchen, you will alwasy EAT HAPPY AND STAY HAPPY!
Sonal