Vegetable Korma and Onion Pulav
As an Amazon Associate and member of other affiliate programs, I earn from qualifying purchases.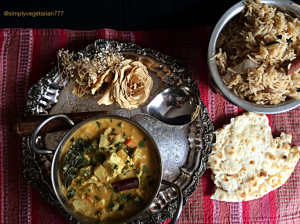 Vegetable Korma and Onion Pulav is a delicious and delicate combination of Ingredients, Spices and Textures. Korma is a flavorful curry base with addition of vegetables or protein of choice. Onion Pulav is a delicate rice preparation made with ghee, onions and basmati rice.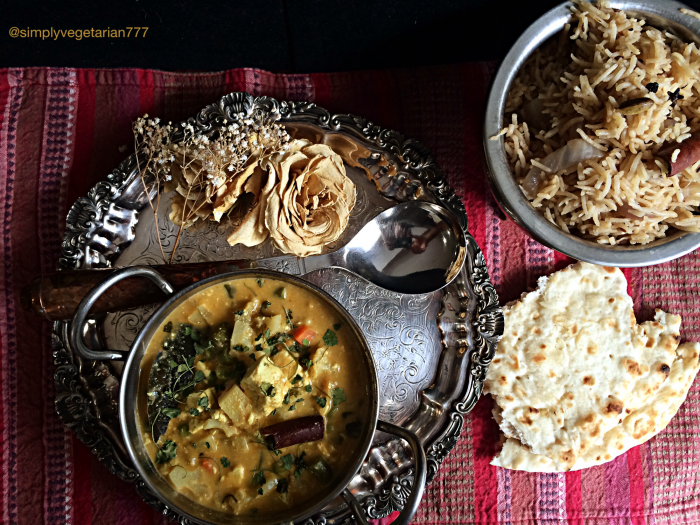 Vegetable Korma and Onion Pulav
This is a guest post for Gina. Gina is a self published Author of the series, which I have started reading. The first in the series is The Dreaming. A gripping book, written with passion and honesty, straight from the heart. A story about a Lady who cooks, publishes cook books and is very successful and then ……….. Yes you have to pick that book to see the excitement building :).

NOTE – This meal combination has been created by me, keeping in mind the spices and ingredients available easily in American stores.
Vegetable Korma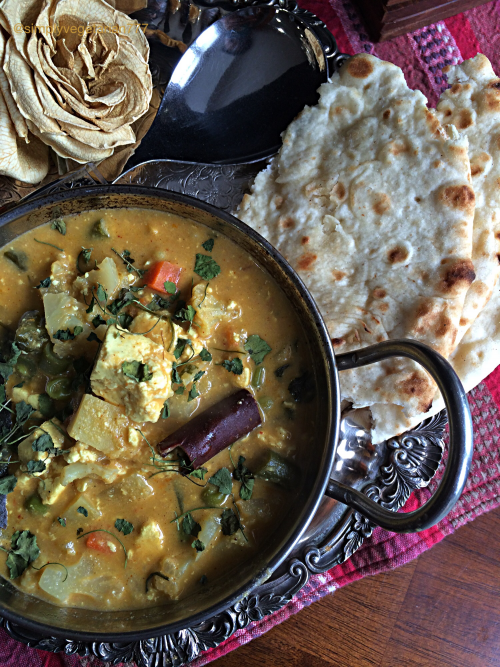 Korma is a Moghul dish, which traces back its origin to 16th century when Moghul rulers traveled to India. To be precise, it has it's roots from Turkish Cuisine, where it is called Kurmah, which means braising of meat with a gravy or curry. It then got adapted in India and has lots of regional versions, from the use of cream, coconut milk, yogurt and the paste of the nuts.Delicately textured and rich in taste, is the characteristic of a good Nawabi Khana. This curry has beautiful flavors of coconut and cashews, where as accompanied with some hearty vegetables.
Some similar recipes are – Peas Pulav, Aloo Akbari, Paneer Jhalfrezi, Cauliflower Pulav and more.
This is how to make it.
Serves – 6 to 8 people
Kitchen Equipments Required
Chopping board, knife. microwave safe bowl, a hard anodized pan or non stick pan, stirrer,  and blender.
Ingredients 
Vegetables 
Cauliflower : 1 cup, chopped into 1-inch pieces
Potato : 1 medium, chopped into 1-inch pieces
Carrots : 1/2 cup, chopped into 1-inch pieces
Green beans : 1/2 cup, chopped into 1-inch pieces
Paneer or Extra Firm Tofu : 1 cup, chopped into 1-inch pieces
Korma Paste 
Cashews – 2 tbsp, soaked in 1/4 cup of warm water for 10-15 minutes.
Coconut shreds, dried – 1&1/2 tbsp, unsweetened
Milk powder – 2 tbsp. Vegan friends can use 2 tbsp of almond milk or soy milk.
Onion – 1/2 cup, chopped roughly
Garlic – 2 small pods or 1 big.
Oil & Spices 
Turmeric powder – 1/4 tsp
Garam Masala – 1 tsp to 1&1/2 tsp
Red chili powder – 1/4 to 3/4 tsp, as per taste
Cilantro leaves for garnish.
Method 
Prepping the Vegetables
1. Make sure that all the vegetables are the same size.
2. Take a microwave safe bowl. Add all the chopped vegetables. Cover it partially. Microwave on high for 8 to 10 minutes until they are par boiled and not soft.
Making the Paste 
Take a blender. Add all the ingredients mentioned under Korma Paste and make a fine paste until there are no lumps or pieces left.
Making the Curry
2. Reduce the heat and add the bay leaf and cinnamon stick to it. Sauté for a few seconds and then add the korma paste to it. If it is too thick, add little water and stir. Add turmeric powder, salt, garam masala, and red chili powder to it. Stir.
3. Cook on low flame while stirring often. After 7-8 minutes, the paste will thicken and come together. We are not browning the paste. We are retaining its delicate  yellow color.
4. Now add steamed vegetables to it. Add 1&1/2 cups of water and mix well.
5. Let it cook for 10-15 minutes on low flame until everything looks married well.
6. You may add some raisins and cashews to it, if you like.
The curry is ready to be served with Naan or Onion Pulav / Pilaf!
Onion Pulav / Pilaf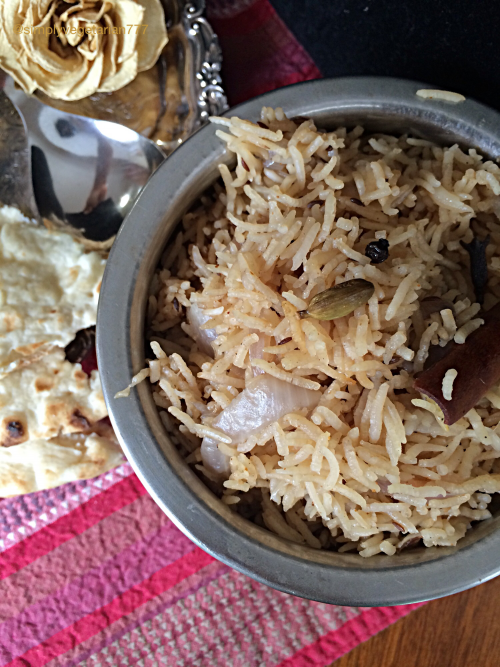 Onion Pulav is a flavorful rice preparation. The onions are Caramelized delicately and then rice is cooked with onions and some whole spices. It is exotic as well as an easy preparation with clean and tender flavors. The aroma is unmatched. I make it quite often with other curries a as well.
This is how to make it.
Serves : 6 to 8 people
Kitchen Equipments Required
Chopping board, knife, heavy bottom sauce pan with lid, stirrer,  and fork.
Ingredients

 
Basmati Rice : 2 cups, cleaned and soaked in just enough water to cover these for 15-20 minutes.
Onions : 1&1/2 cups, peeled, washed and chopped thin into slivers.
Garam masala : 1/2 to 3/4 tsp
Method 
1. Heat oil in a heavy bottom sauce pan. Once it becomes hot, lower the flame. Add cumin seeds, bay leaf, cinnamon stick, green cardamoms, cloves and black pepper corns. Sauté on low flame till cumin seeds crackle.
Note: Keep your face back since cloves can be notorious and jump out.
2. Now add sliced onions and sugar to the pan. Stir well. Cook on medium low heat, stirring occasionally, until the onions become pinkish golden. It takes about 7-8 minutes. The sugar helps in giving onions a good caramelized color.
3. Now drain the water from the soaked rice and add the rice to the pan carefully. Add garam masala and salt. Stir well and sauté for 30-45 seconds like that.
4. Add water. Stir and close the lid. Cook on low flame until the water evaporates. It will take approximately 10 minutes. Switch off the flame. Let it stand covered, without touching it for another 7-8 minutes.
5. Open the lid and let stand for 2-4 minutes. Now take a fork and fluff it gently. This gives you a great texture and beautiful looking rice.
Serve it warm with the Veg Korma.
I had a great time creating this dish in my kitchen. I am sure you will love it too :).
Sonal