Gobhi Anaar Pulav with Spinach Garlic Raita – Diabetes Friendly Thursdays
As an Amazon Associate and member of other affiliate programs, I earn from qualifying purchases.
Creating Recipes with a Cause! I am a proud DFT blogger. To learn about DFT, Read this link! To view more DFT recipes, Click here!
Gobhi Anaar Pulav with Spinach Garlic Raita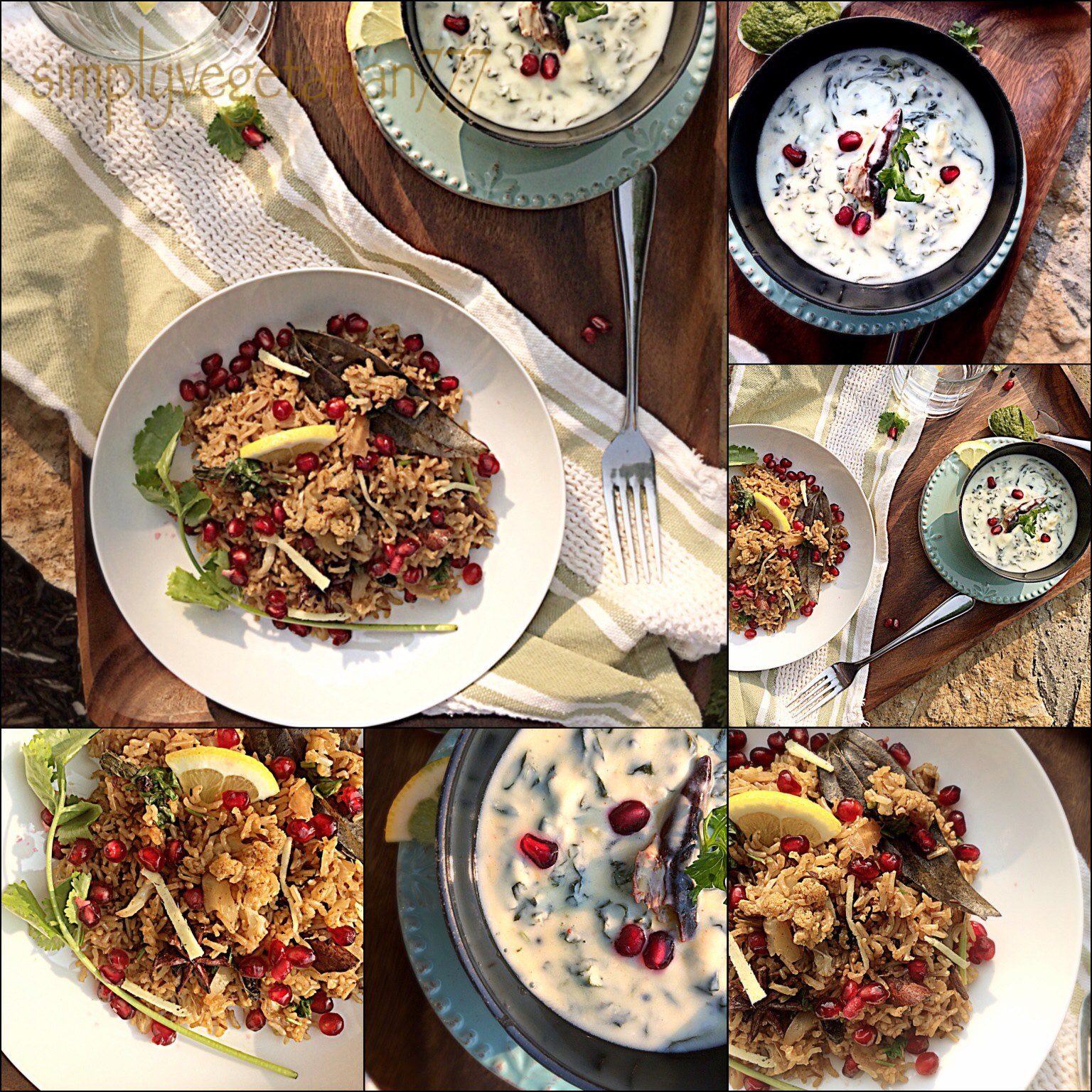 Celebrate the Eid Dinner with Team DFT's Biryanis and Pulavs! Eid Mubarak!
It is the celebration time for many across the world. Eid is around the corner and people are getting ready with the lists and menus and some warm gatherings. But we should not forget that amidst the festivities, we have a group of diabetics, who are a part of this huge celebration and still want to eat it all!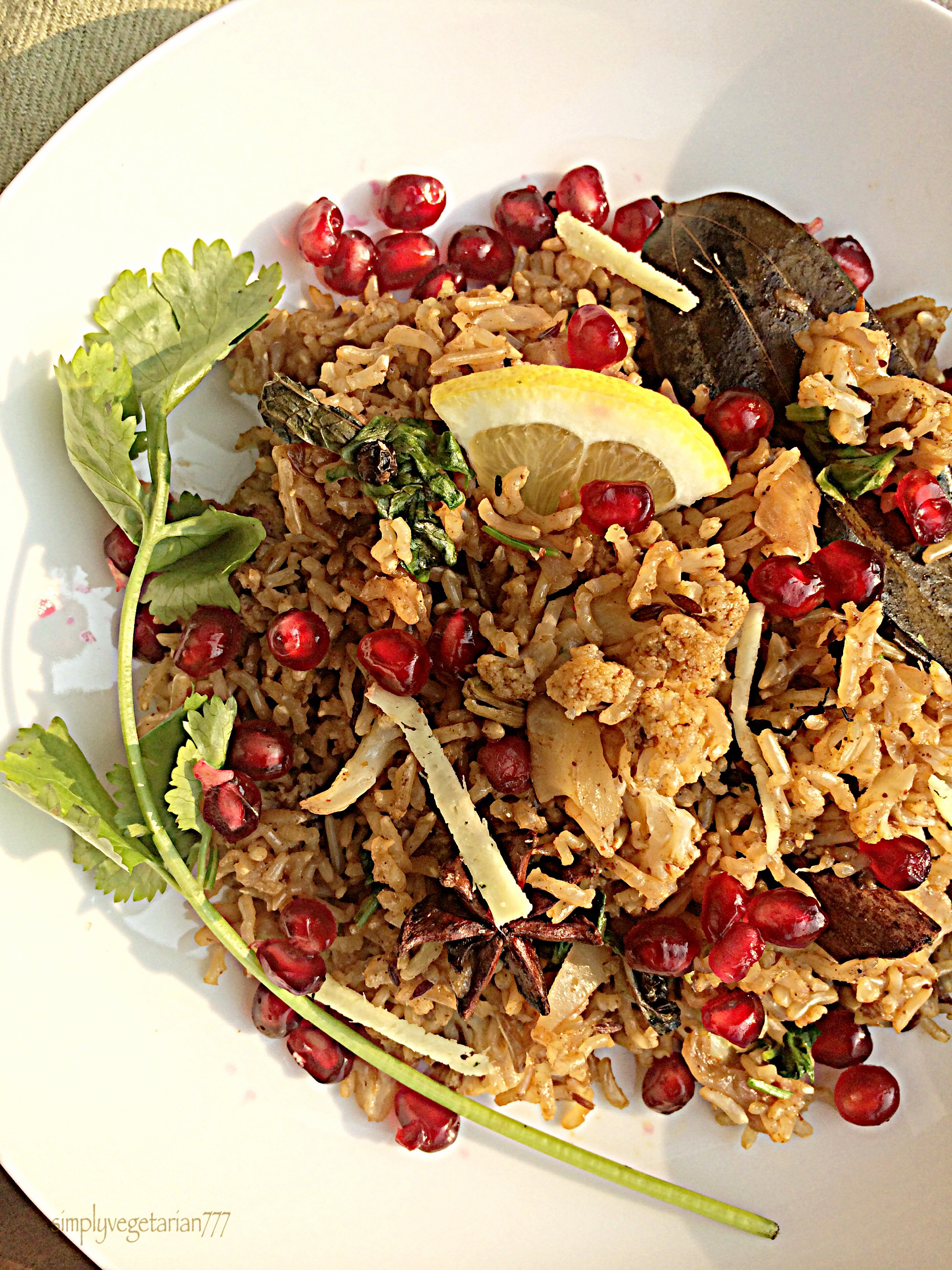 I grew up in a community which was rich in both Hindu and Muslim Cultures. Being a Hindu, we didn't celebrate Eid directly but our Muslim friends either invited us over or brought their feasting dishes to home for sharing. Loved their sewai ki kheer and dahi wada. They made sure that everything was vegetarian for us to share. As kids, it was one more festival to have fun and get excited about.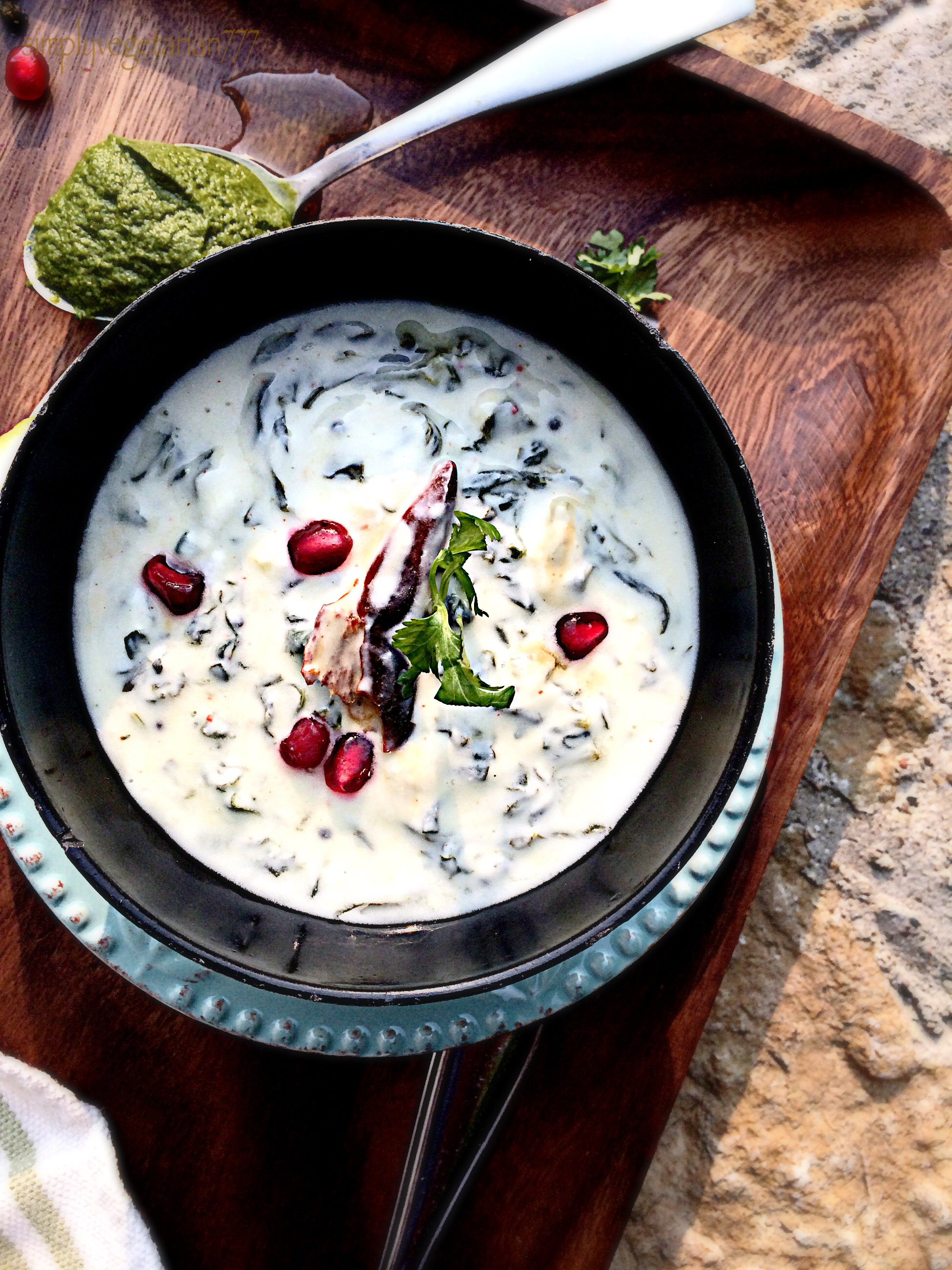 Biryanis and Pulav/Pilaf were introduced to India through Middle eastern culture. These are an integral part of any feast across the "dastarkhan". Dastarkhan is a spread of dishes and is often served in big bowls and plates for communal eating. Very similar to Mezze!

Gobhi is humble cauliflower and Anaar is Pomogrenate.
For the benefits of main ingredients on diabetes, used in the dish, please refer to the Foot Notes!
This is how I made it!

Gobhi Anaar Pulav with Spinach Garlic Raita
Servings: 4
Difficulty: easy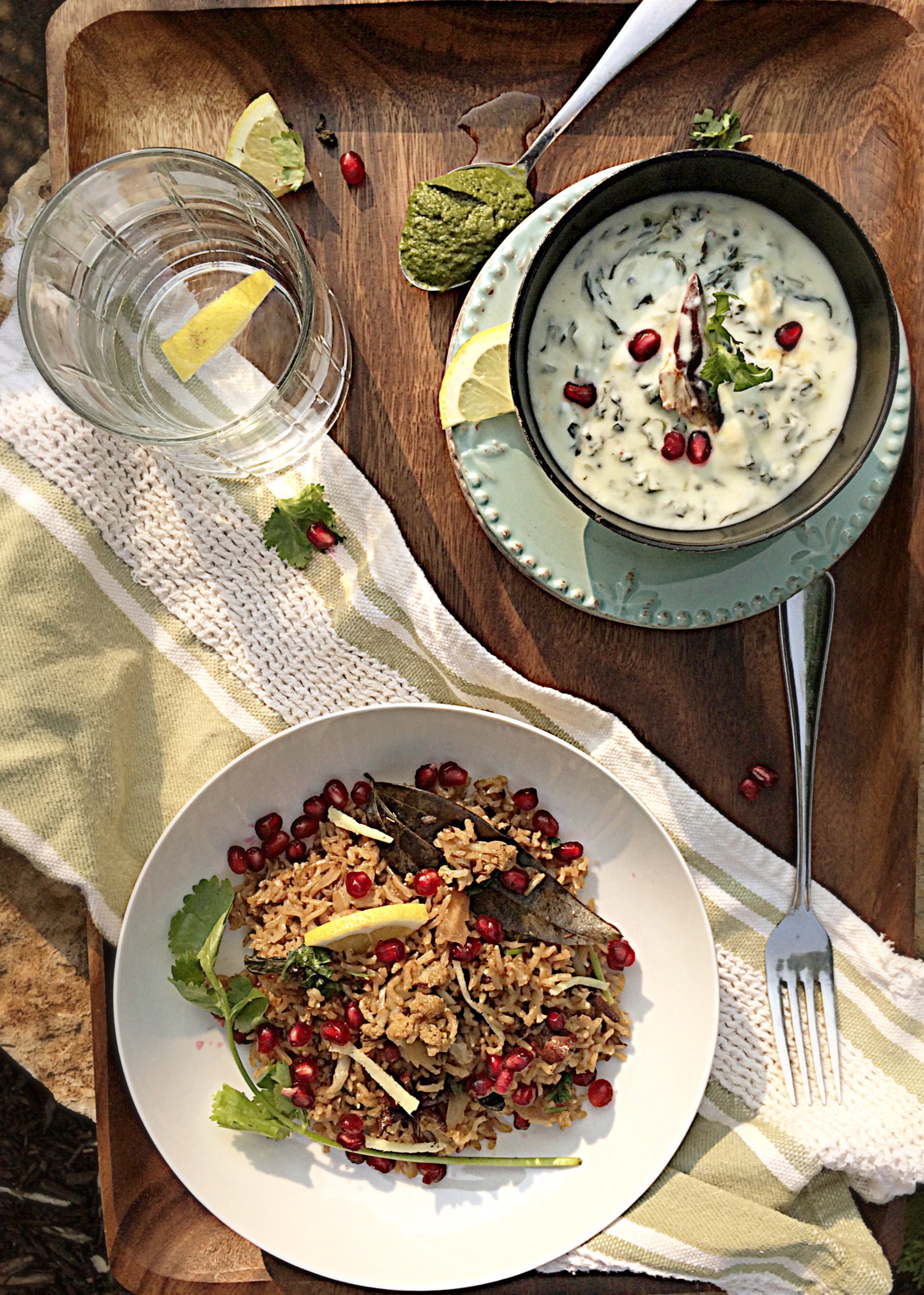 Suggested serving size – 1 cup cooked Pilaf with 3/4 cup Raita.
Kitchen Equipments Required
Chopping board, knife, a heavy bottom sauce pan with lid, stirring spoon, a bowl to soak rice, a sieve to wash the vegetables, a bowl for raita, stirrer, fork, a sauté pan for raita.
Ingredients for Pulav
Oil – 1 tbsp
Brown Rice – 1 cup, soaked for 1 hr.
Onions – 1/2 cup, chopped thin and lengthwise
Cauliflower – 2 cups, cut into small florets and packed tight.
Mint – 1 tbsp, chopped fine
Cilantro / Coriander leaves – 1 tbsp, chopped fine
Anaar / Pomegranate seeds – 6 tbsp
Lemon juice – 1 tbsp
Spices
Bay leaf – 1
Cumin seeds – 1 tsp
Cloves – 4
Black pepper corns – 4
Cinnamon stick – 1 small
Anise star – 1, optional
Green Cardamom – 2, slightly cracked
Garam Masala – 1&1/2 tsp
Red chili powder – 1/4 to 1/2 tsp
Salt to taste
Water – 3 cups
Ingredients for Raita
A recipe adapted from Story of Cooks by Dolphia !
Non fat Yogurt, thick – 1&1/2 cups diluted with 1/2 cup water. That makes 2 cups of yogurt.
Oil – 1/2 tsp
Mustard seeds – 1/2 tsp
Red chili whole – 1
Garlic – 2 cloves, finely chopped
Spinach – 2 cups, finely chopped
Lemon juice – 1 tsp
Salt and red pepper powder to taste
Method
Gobhi & Anaar ka Pulav / Pilaf
1. Heat oil in he at bottom pan. Add cumin seeds, bay leaf, cardamom, anise star, cinnamon, black pepper corns, cloves to the pan. Lower the heat to minimum and sauté for few seconds till cumin seeds crackle and the whole spices become aromatic.
2. Add chopped onions to it and increase the flame to medium heat. Sauté the onions till they are browned, for approximately 6-7 minutes.
3. Now add cauliflower florets and cook for another 2-3 minutes on medium heat.
4. Strain the soaked brown rice and add to the pan. Sauté these for a minute in the pan with other ingredients.
5. Add garam masala, salt, red pepper powder and water to the pan. Stir with a spoon. Bring the ingredients to a rolling boil and then decrease the heat to the lowest. Cover with the lid. Cook it till all the water is soaked up by the rice. It takes good 20-22 minutes to cook brown basmati well.
6. Switch off the gas stove. Do not touch the rice for another 8-10 minutes. After 10 minutes, open the lid and fork the rice gently with a fork.
7. Add lemon juice, chopped mint and coriander leaves. Mix gently with the fork.
8. Add Anaar / Pomegranate seeds to the pilaf before serving and stir well. The fresh Anaar seeds add not only nutritious value but a nice texture and flavor to the Pilaf.
Spinach & Garlic Raita
1. Heat oil in the pan and add mustard seeds to it along with whole red chili. Lower the heat and once the seeds crackle, add finely chopped garlic. Sauté for a minute on low flame till slightly golden.
2. Now add chopped spinach, salt & red chili powder and cook till spinach is wilted. Add lemon juice and cool for 5 minutes.
3. Add this to the diluted non fat yogurt and stir. Chill before serving.
Your complete meal of Pilaf and Raita is done!
Enjoy a hearty and healthy Pilaf and Raita this Eid with your family and friends.
—————————————————
Foot Notes
Brown Rice – Brown rice contains 150 calories per 1/2-cup of dry rice, which nets an average of 1 cup of cooked rice. The single gram of fat per serving contributes only 10 calories from fat. There is an average of 30 g of carbohydrates in each serving. The 2 g of dietary fiber per serving contribute to digestive health and slowed carbohydrate absorption. Every 1 cup of cooked rice is the equivalent of two carbohydrate choices on the diabetic meal plan. Each carbohydrate choice will cause a moderate rise in blood sugar, and brown rice is no exception. The added whole grains and dietary fiber will slow the process, however, causing a more gradual increase in blood sugar. Diabetics who use insulin should account for each serving of brown rice, measuring insulin accordingly. For more info, click here! The good news is that this recipe gives only 1/2 cup of cooked rice so te carb intake is further reduced, still making the dish very filling.
Gobhi / Cauliflower – It is one of the super foods for diabetics. 1 cup raw or 1/2 cup cooked is almost free carb, as per American diabetes Association. It suggests 3-5 servings of non starchy vegetables a day. It is rich in nutrients like minerals, vitamins, fibers and phyto- chemicals.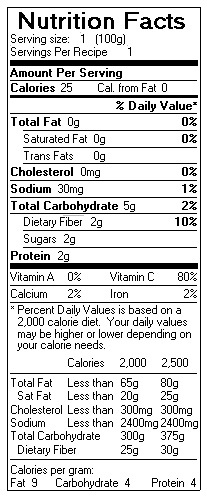 Image source – diabetes care
Refer here on benefits of non starchy vegetables!
Palak / Spinach – The American Diabetes Association calls spinach a diabetes superfood and recommends that you regularly include this dark green leafy non-starchy vegetable in your diet. Besides being rich in vitamins, minerals and phytochemicals, spinach possesses a low glycemic index, which means eating it will help support healthy and stable blood glucose levels. All non-starchy vegetables are low in carbohydrate — about 5 grams per cup — but spinach is particularly low in carbohydrates, containing only 0.83 grams per cup. The fact that spinach contains so few carbohydrates makes it an excellent choice on a diabetes diet. Refer here for more benefits!
Anaar / Pomegrenate Seeds – People with diabetes have increased risk for atherosclerosis, which contributes to coronary heart disease, heart attacks, strokes, and other circulation problems. Pomegranate juice, although high in sugar, may contain antioxidants that help protect the inner lining of blood vessels from being damaged by free radicals and free-floating glucose. Used moderately with other approaches like medicine, exercise and a proper diet, pomegranate may show promise in future diabetic treatments. We have used only 1 tbsp per person which is a really controlled quantity adding to the health benefits and texture and taste of the dish!
Non Fat Yogurt – Milk has a low glycemic index so choose lower-fat dairy products to fit into your meals. 6 ounces / 1 cup of non fat or low fat (1%) yogurt is advised as one serving. Researches show that daily consumption of non fat yogurt can reduce theek am of Type 2 diabetes.
—————————————————
Disclaimer


I am not a nutritionist or dietician. My knowledge and information is based on my research and reading from different resources. Please consult your doctor or dietician before making any changes to your diet.
—————————————————
Other Biryanis and Pilafs by DFT Team!