Punjabi Sookhi Urad ki Dal
As an Amazon Associate and member of other affiliate programs, I earn from qualifying purchases.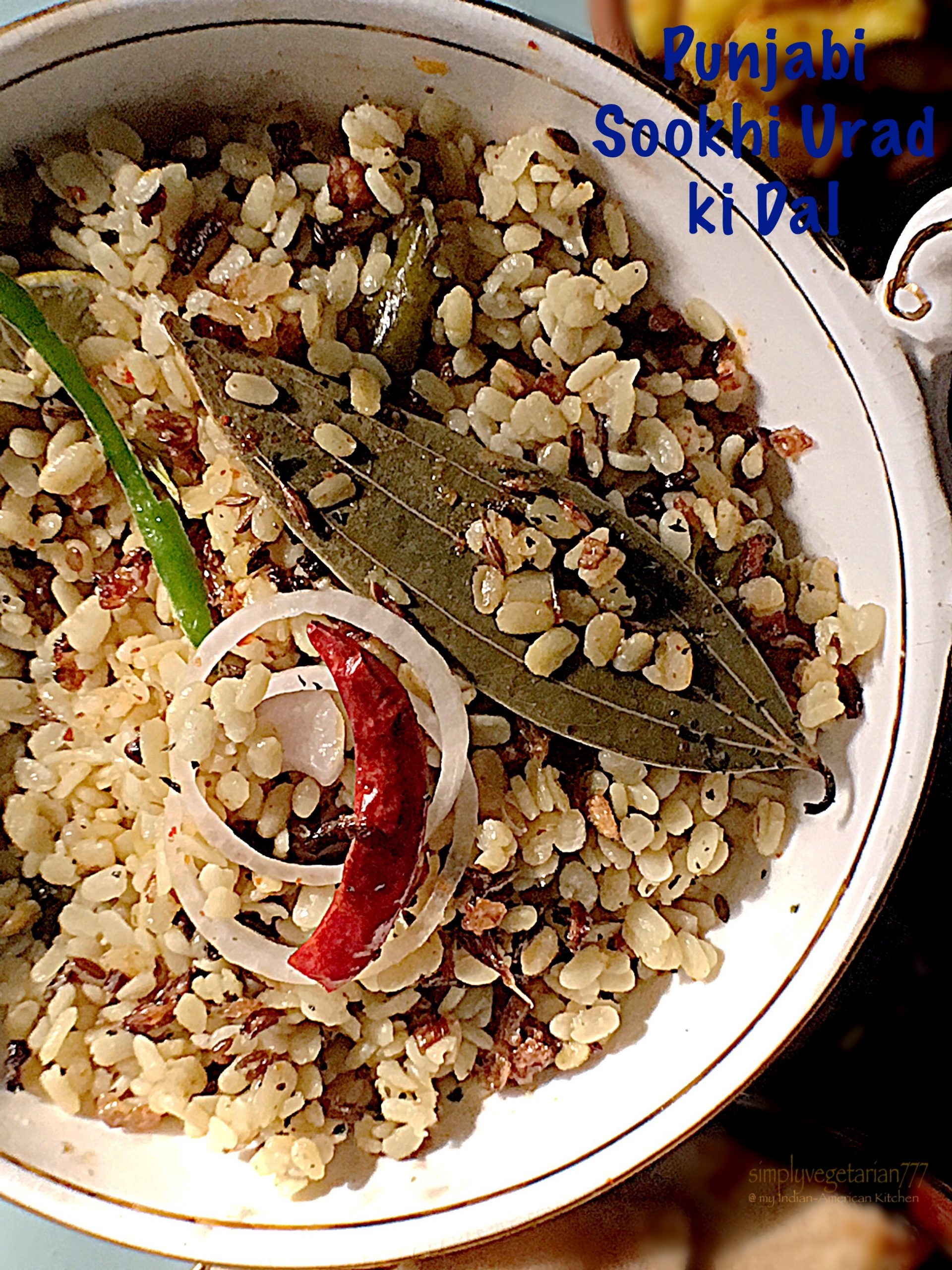 Punjabi Sookhi Urad ki Dal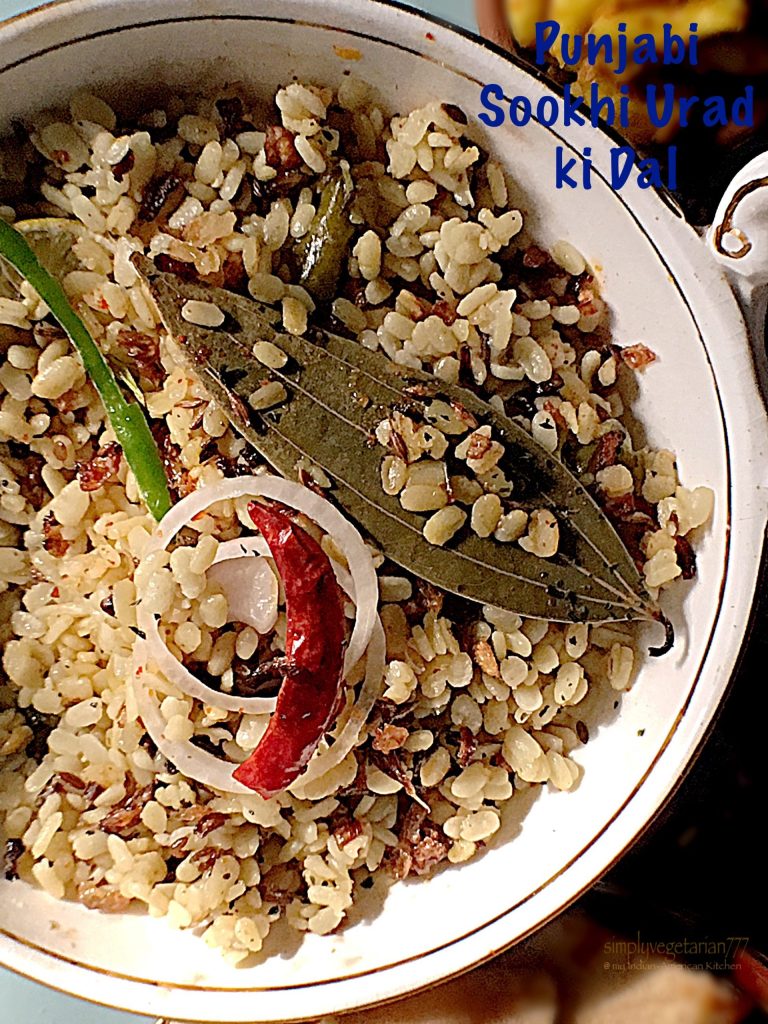 Punjabi Sookhi Urad ki Dal has an interesting impact on my growing years. This dal was made often in my mum's kitchen. It frequented our school lunch boxes along with the paranthas, especially during cold winter days.
Punjabi Sookhi Urad ki Dal was fixed on our menu, whenever we went out to our favorite restaurant in the town. The delicate aroma of barista (golden onions), whole spices and ghee is irresistible. The grainy texture of Urad Dal is magical when combined with spices, ghee and eaten with rumali roti.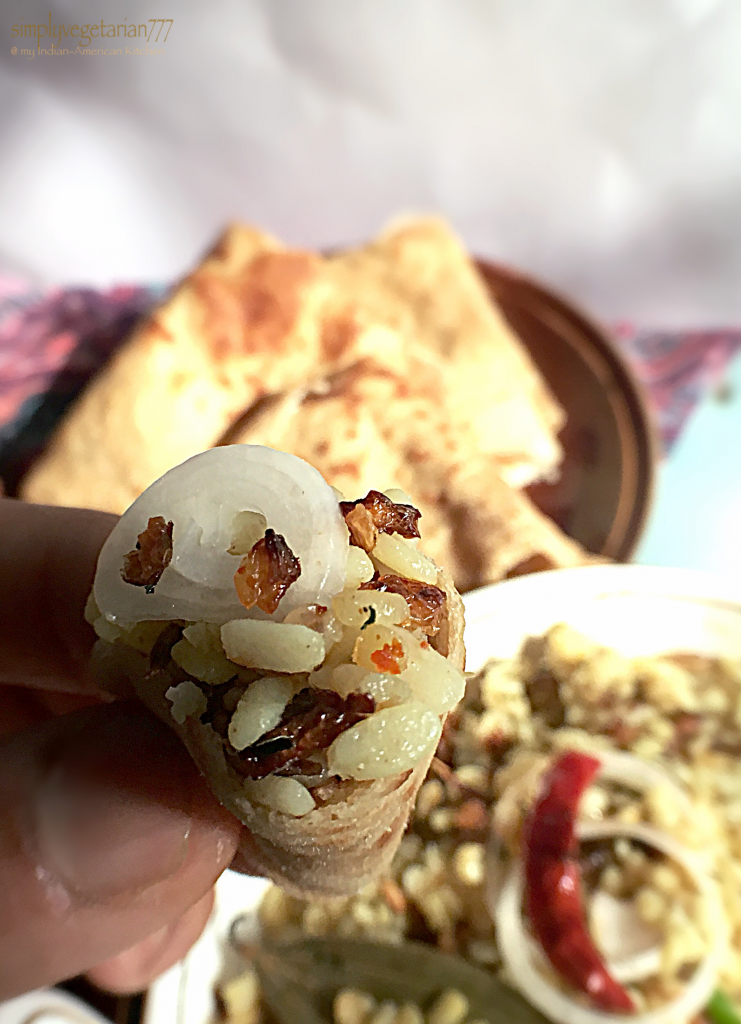 There is a story how this dal got introduced to my mum's kitchen. I grew up in a small town where the population of Hindus & Muslims is at par, which means that it has an equal impact of Hindu and Muslim cultures. My baba (grandfather) was very fond of this Sookhi Urad ki Dal, which was often made in the Muslim Kitchens of his friends. He loved it so much that he asked my Ammaji (grandmother) to go and learn it from the Muslim neighbor. Then the rest is history. Since then, my whole family feasts on it. The combination of sookhi Urad ki Dal and Rumali Roti goes without saying. I am calling it Punjabi to stamp the origin of this dish. It originated from the region of Punjab, pre-independence, therefore it is quite popular in India and in Pakistan, across the border. If I call it a family heirloom recipe since it is followed as is since 3 generations, then it would be fair. I still ask my mom to make Sookhi dal and Baingan ka Bharta for me along with Haath ki Moti Roti, whenever I am visiting home.
Food connects us, despite our differences. Isn't it true? 
Punjabi Sookhi Urad ki Dal is very easy to assemble. It has 3 steps. First, to boil the dal with spices perfectly, where it is soft but not mushy and still retains its grain texture. Secondly, to make Barista, which is crispy golden fried onions which is used for garnish in many Indian Mughlai/Punjabi dishes. Thinly sliced or finely chopped onions are fried in ghee. Thirdly, to flavor it with desi ghee ka tadka, which is also called as Chhaunk in northern parts of India. Ghee is heated with cumin seeds and then tempered with a bit of red chili powder. To finally put it together, layer the prepared dal with barista and tadka and serve it hot with fresh and warm rotis or naans or paranthas.
Some other dals from the blog are – Dal Lehsuni , Dal Maharani and many more.
This is how I made it!
Punjabi Sookhi Urad ki Dal
Dry preparation of Urad Dal, form the region of Punjab in India and Pakistan. It is bite-ful in texture and has bold flavors of dal and whole spices. It goes perfectly well with rotis and naans.
Ingredients
Ingredients for Dal
Urad dhuli

split & de husked - 1 cup

Ginger / Adrak - 1 small piece

julienned
Oils & Spices
Ghee - 2 tsp

Cumin seeds / Jeera - 1/2 tsp

Asafetida / Hing - a small pinch

Cinnamon stick / dal chini - 1 small piece

Cloves/Laung - 2

Bay leaf / tej patta - 1

Turmeric / Haldi - a small pinch

optional

Salt - to taste

water - 1 cup
Ingredients for Onion Barista
Onions - 1 big

chopped fine

Ghee - 1&1/2 tbsp
Tadka Ingredients
Ghee - 1 tsp

Cumin seeds - 1/2 tsp

Red chili powder - 1/4 tsp or to taste

Red chillies

dry & whole - 2
Instructions
Take the Urad dal in a bowl and wash it till the water runs clear. Soak it in 1 cup of water for 1 hour.
Preparing Dal
This Dal can be prepared either in a pressure cooker or in an open pan.

When ready to cook, drain the water out of the soaked dal and set aside.
For Pressure Cooker
Take the pressure cooker and heat 2 tsp of ghee in it. Add asafetida, cumin seeds, cinnamon stick, cloves and bay leaf to the hot ghee. Lower the heat to medium.

Once the cumin seeds crackle, add ginger and soaked & drained dal to it. Add turmeric and salt to the dal. Stir gently. Add 1 cup water. Stir again. Put the pressure cooker lid on with the weight of the cooker.

Cook for 1 whistle and release the pressure/steam of the pan immediately. Open the cooker carefully. If there is more water in the dal, cook the dal on medium high heat till water evaporates. Handle the dal very gently, without breaking the dal.

We want khilwa (separated) texture.
Preparing Onion Barista
Heat 1&1/2 tbsp ghee in a heavy bottom pan. Add the finely chopped onions to it and fry on medium heat, till they are golden and crisp. Set aside.
Prepapring Tadka
Heat ghee in a small pan and add cumin seeds to it. Once the seeds crackle, add dry whole red chili and chili powder to it. Turn off the heat.
Serving Punjabi Sookhi Urad ki Dal
Take the serving bowl and fill it up with the cooked Sookhi Urad ki dal. Handle it gently so that the grains are not broken. Now top it with the Onion Barista. Mix it with the dal lightly. Now pour the hot Ghee ka Tadka/Tempering on the top.

Serve it hot with fresh and hot rotis and paranthas of your choice.
Punjabi Sookhi Urad ki dal is perfect to entertain guests, when you invite them over for lunch or dinner. I am tired of making Dal Makhani or Dal Maharani. If you are looking for a good change in menu, this dal is the answer to your confusion and introducing more flavors to your party menu. This dal is not only rich in proteins but also in taste and texture.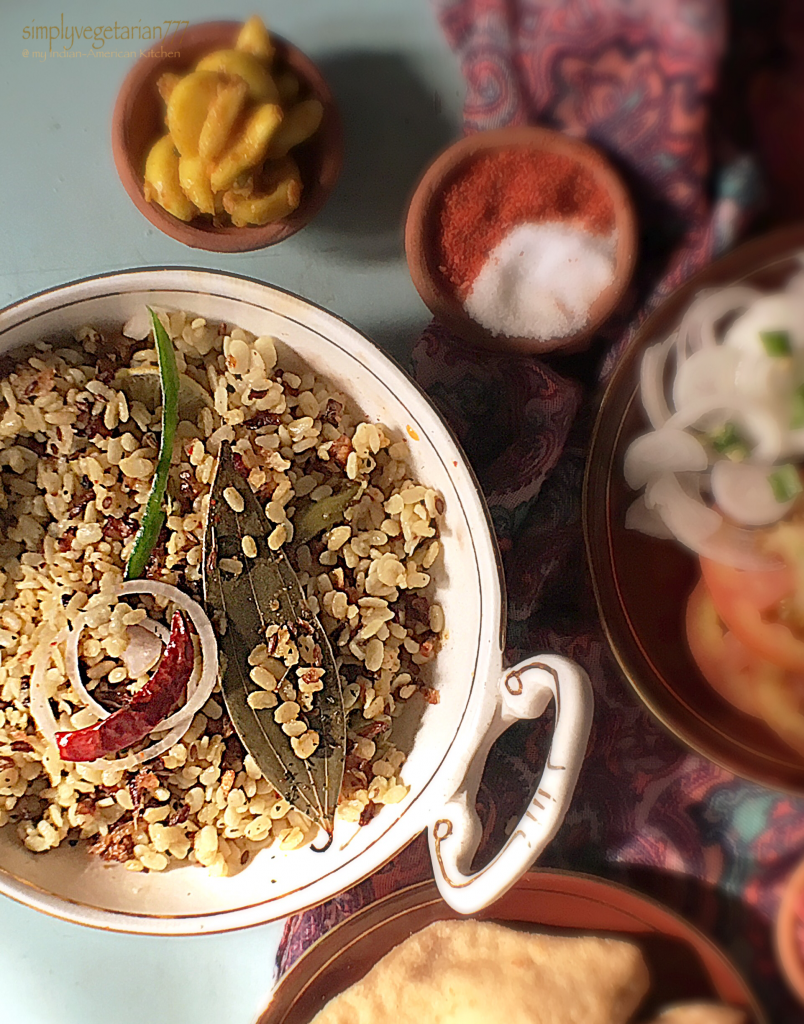 As I always believe and re-iterate – EAT HAPPY ! STAY HAPPY!
Sonal