Baingan ka Bharta / Roasted Eggplant Mash
As an Amazon Associate and member of other affiliate programs, I earn from qualifying purchases.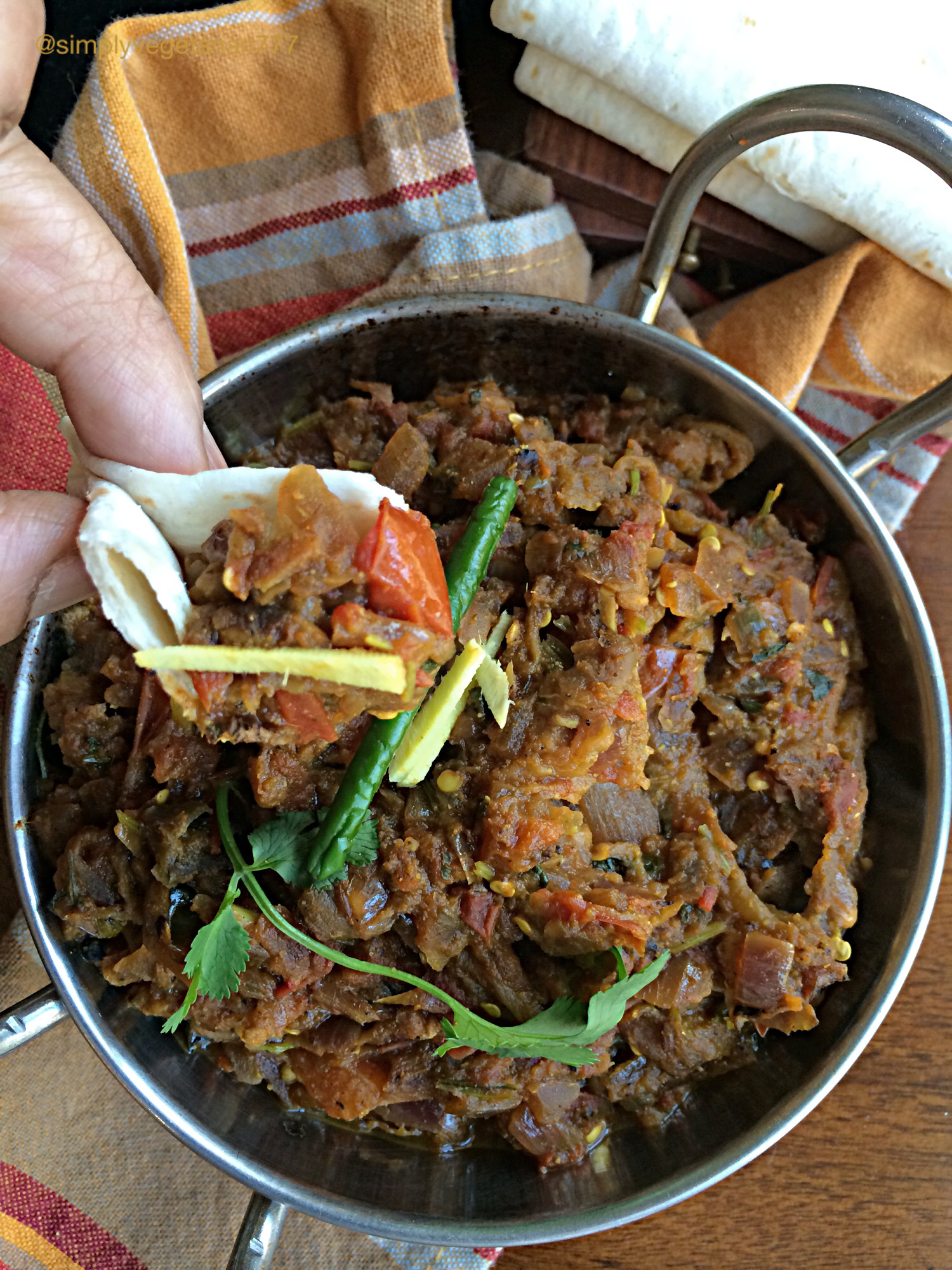 Baingan means Eggplant or Aubergine or Brinjal or Bademjan in different parts of the world! Bharta means Mash!

A rustic and finger lickingly delicious dish from the state of Punjab in Northern India. Punjab used to have a culture of Saanjha Chulha, which means Common Stove. A neighborhood would have a big clay oven and the women of the neighborhood would gather in the evening there to cook their rotis / breads together. It is still prevalent in very small towns called pind but a rare commodity. That stove was lit with wood and other natural ingredients, so after the breads were done, they would put a big vessel of lentils to cook overnight on that and would bury potatoes, sweet potatoes, yams, eggplants etc in the lower portion of that stove which has sand at the bottom. By the morning, they would have a nicely done slow roasted vegetables available for cooking. Interesting? I think so :).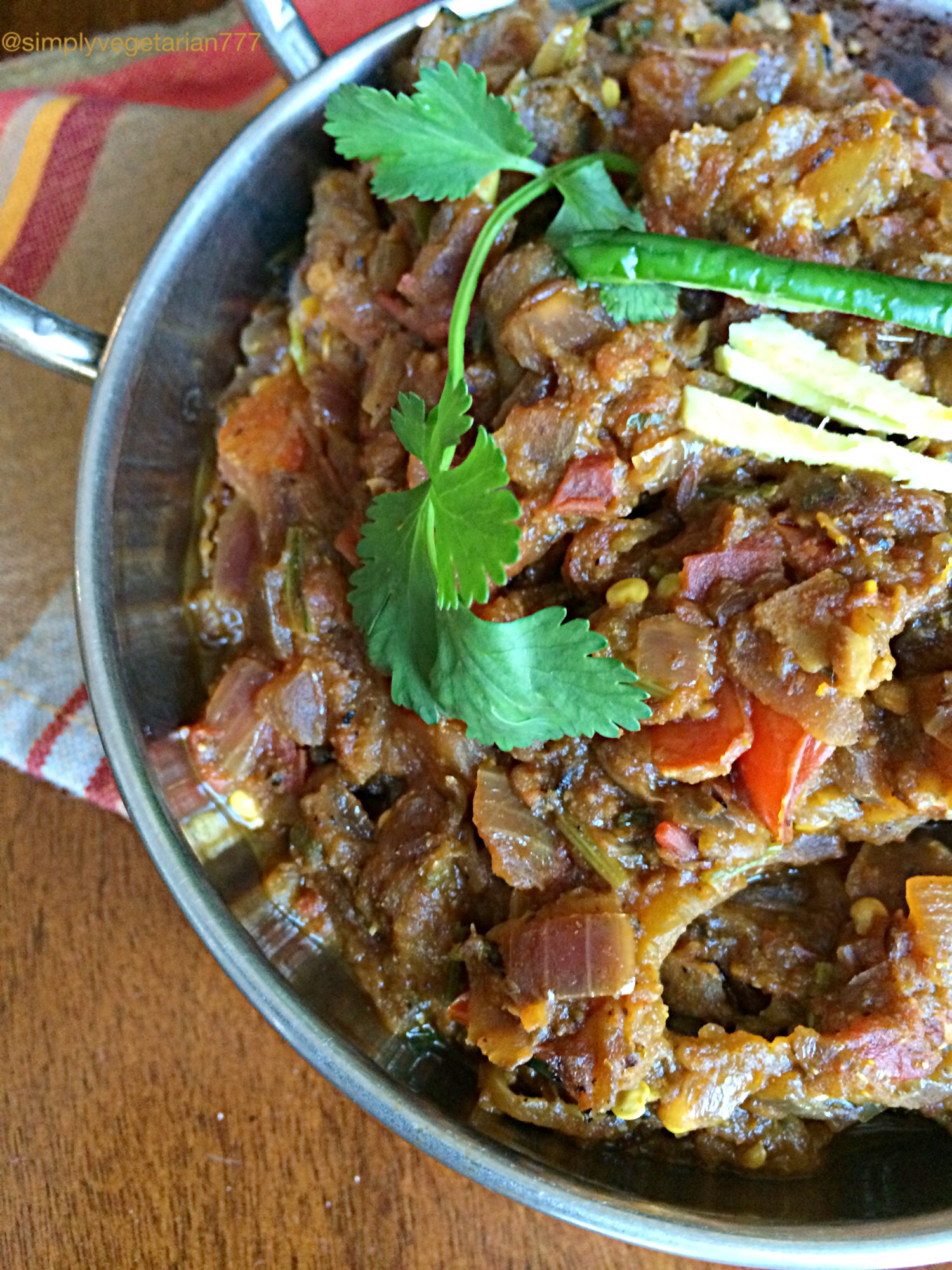 I am dedicating this post to Sue of Birger Bird for her love of Bharta, as she mentioned to me last time on my korma post! I hope you enjoy this Sue as much as I do! One of my favorite dishes in the whole wide world :).
Kitchen Equipments Required : chopping board, knife, big pan with lid or Kadhai (nonstick or hard anodized preferred), potato masher or a stir spoon, baking tray, oven.
Ingredients :
Eggplants : 800 gms or 1 big or 2 medium.
Onions : 2 big, chopped fine
Tomatoes : 4 big, chopped fine
Ginger : 1 big piece, minced
Garlic : 3 big pods, minced
Green chilies : 1 to 2 or 1/2 of jalapeño, minced
Cilantro / coriander leaves : 1/2 cup packed, washed and chopped fine.
Oil : 2 tbsp
Cumin seeds : 1 tsp
Turmeric : 1/4 tsp
Coriander powder : 2 tbsp
Red chili powder : 1/4 to 1/2 tsp, as per taste
Fennel powder : 1/4 tsp, optional
Garam Masala : 1 to 2 tsp, a super taste
Salt : as per taste. I used 1&3/4 tsp and my food is not very salty.
Method :
Prepping the Eggplants / Brinjal / Aubergines : Traditionally the eggplants are roasted in tandoors (clay ovens). The slow roasting releases juices and gives them a smoky flavor with charred skin which is a peculiar trait of this dish. In the absence of tandoors for home preparations, people roast them over direct and low flame of the gas stove.
Another way, that I follow is I broil or grill the eggplants in the oven. Put the oven on Broil / Grill setting and line a baking tray with foil. Grease it lightly. Cut the eggplant in small pieces and roast or broil them in the oven from 2 sides till they are golden. Now while broiling or grilling , it is important to be alert so that the eggplant pieces do not burn. It takes about 8 to 10 minutes for the whole procedure. Once done, take them out and cool them slightly. Then peel the skin from the pieces. Yes, it's skin free ;). Refer to the picture below.
Heat oil in the pan. Add cumin seeds and let them crackle. Once these crackle, lower the flame. Add ginger, garlic and green chilies. Sauté for few seconds.

Now add the chopped onions to the pan and sauté on medium flame till they turn reddish. It takes about 10 minutes. Note : Do not stir constantly since it leads to the loss of heat and takes it longer to brown the onions.

Add chopped tomatoes and mix well. Let it cook for 4-5 minutes till the tomatoes become soft. Now add all the spices besides garam masala. Mix well and cook on medium flame for another 7 to 8 minutes till onions and tomatoes look happily married.

Now add the peeled eggplant pieces. Mix well. Use the potato masher and mash the whole thing well to bring it together as a mash.

Cover the pan with lid and cook for 10 more minutes on lower medium flame. Stir occasionally. Note : The key to the taste of this dish is, longer you roast it on low flame, more flavors !
Serving Suggestions :
1. This can be a fantastic dip like baba ghanoush along side of some cut naan pieces for any party.
2. Best eaten with rotis, paranthas and naan.
3. I can eat it as is and another of my favorite is eating this with a thick slice of rustic bread. Yum!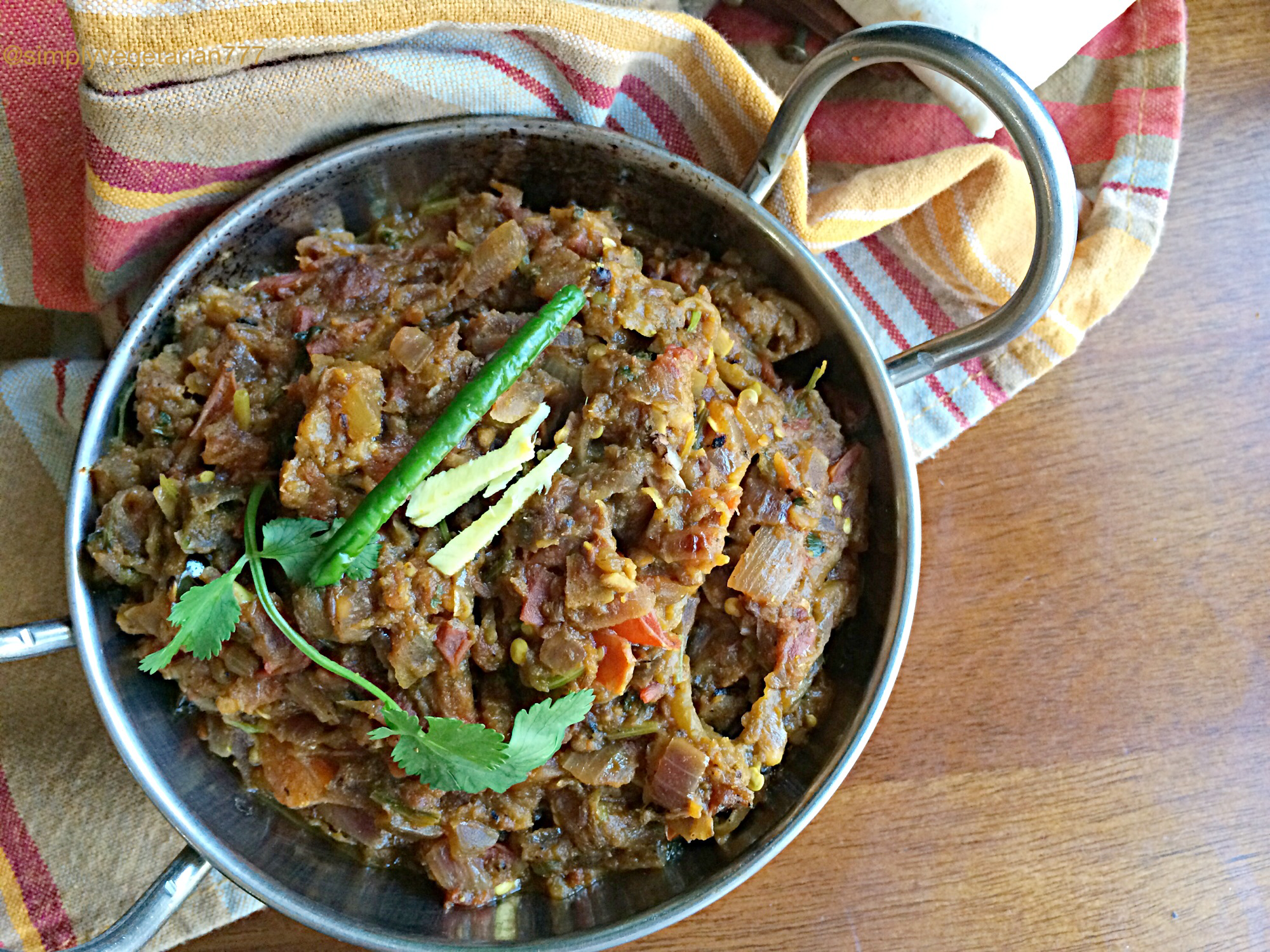 Taking it for the share at Angie's Fiesta Friday, co hosted by Marghy and jhuls
I hope you enjoy it as much as I do :).
Sonal