Arrabiatta Sauce – Spicy Italian Sauce
As an Amazon Associate and member of other affiliate programs, I earn from qualifying purchases.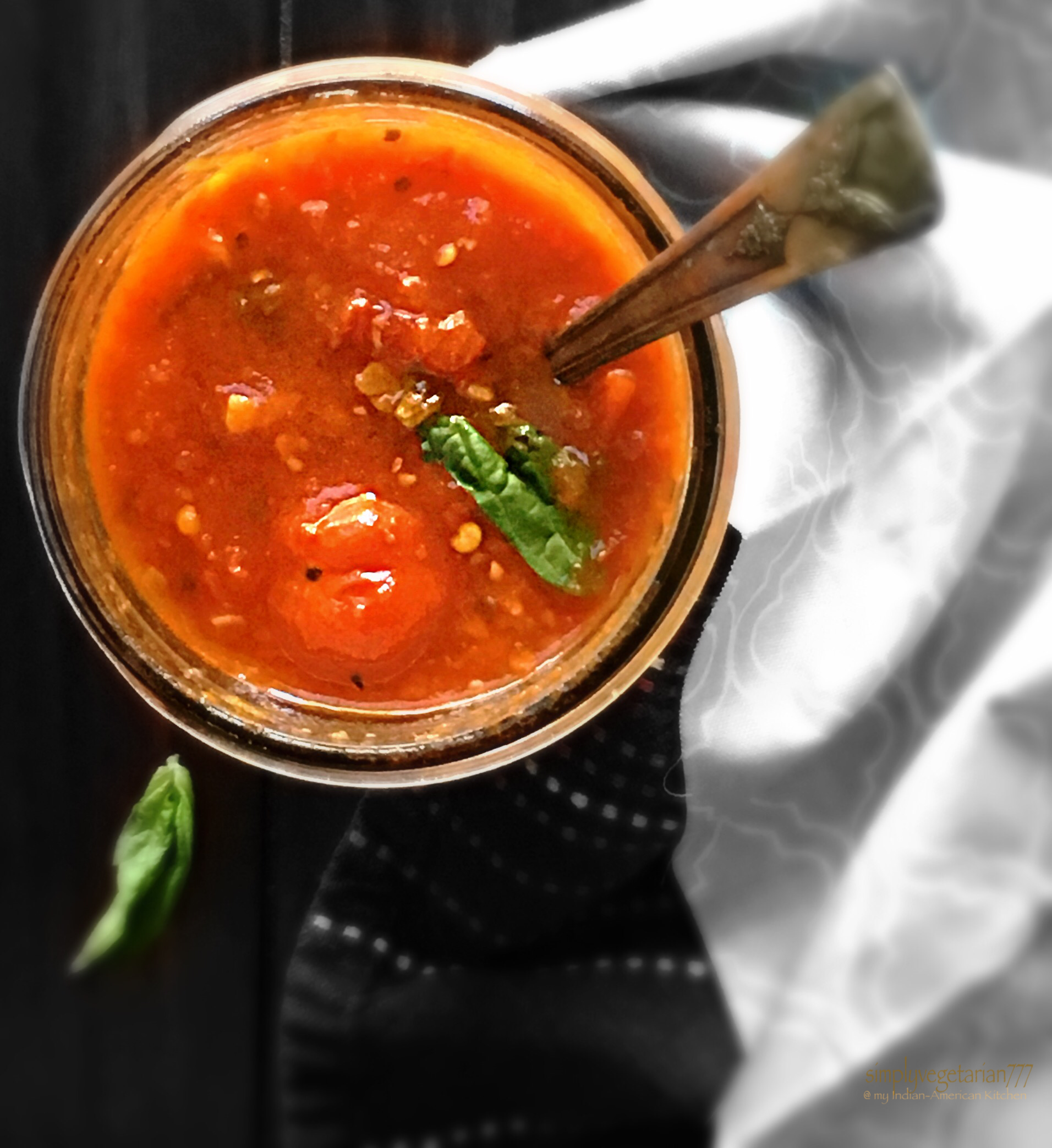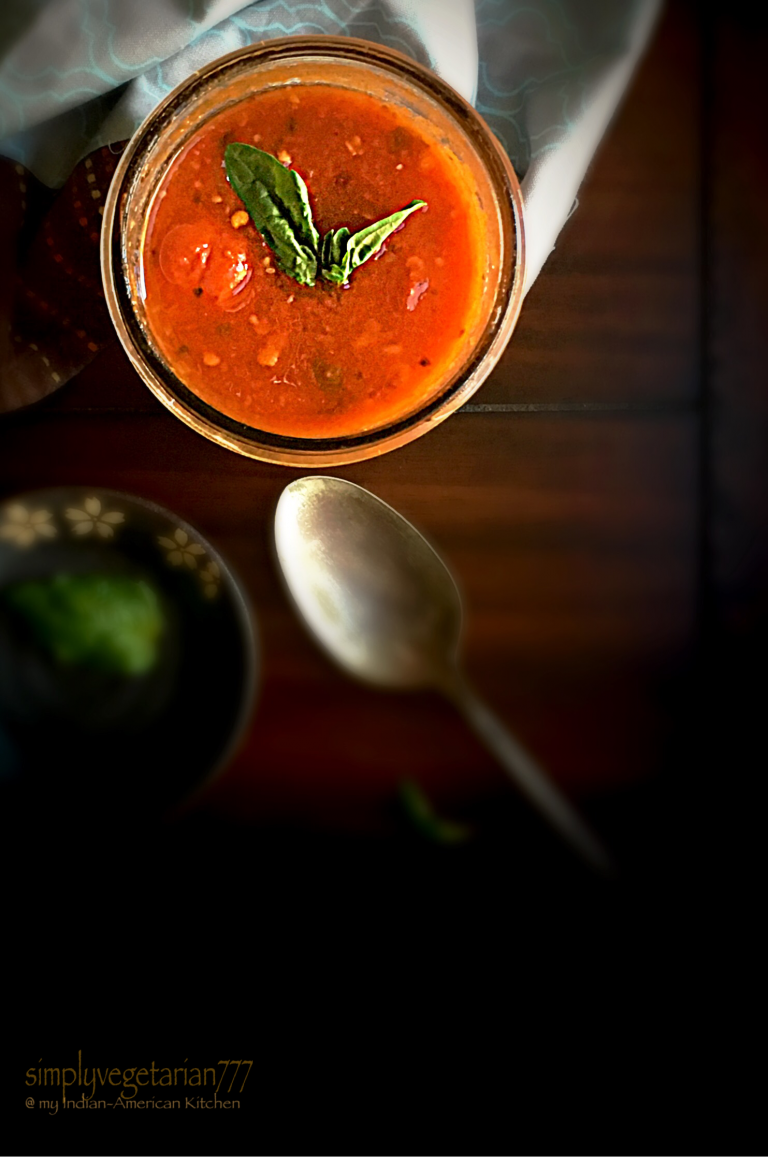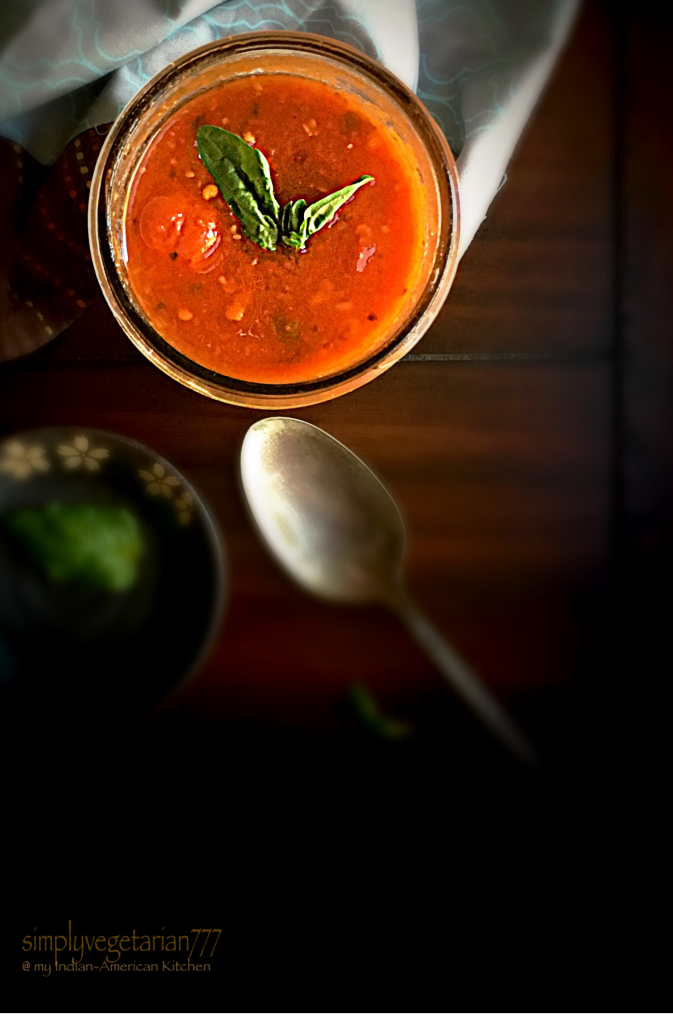 Arrabiatta Sauce – Spicy Italian Sauce, is much loved sauce by the spice lovers in Italy. Made with tomatoes, garlic and good spoonful of chili flakes and cooked till thick, delicately flavored with oregano and fresh basil, this Italian sauce is so different from Marinara Sauce . But one thing is so right in either cases here, that home made sauces are the best kinds, preservative free, artificial colors free and no artificial flavors either. Fresh, indulging, organic and available in best of the form.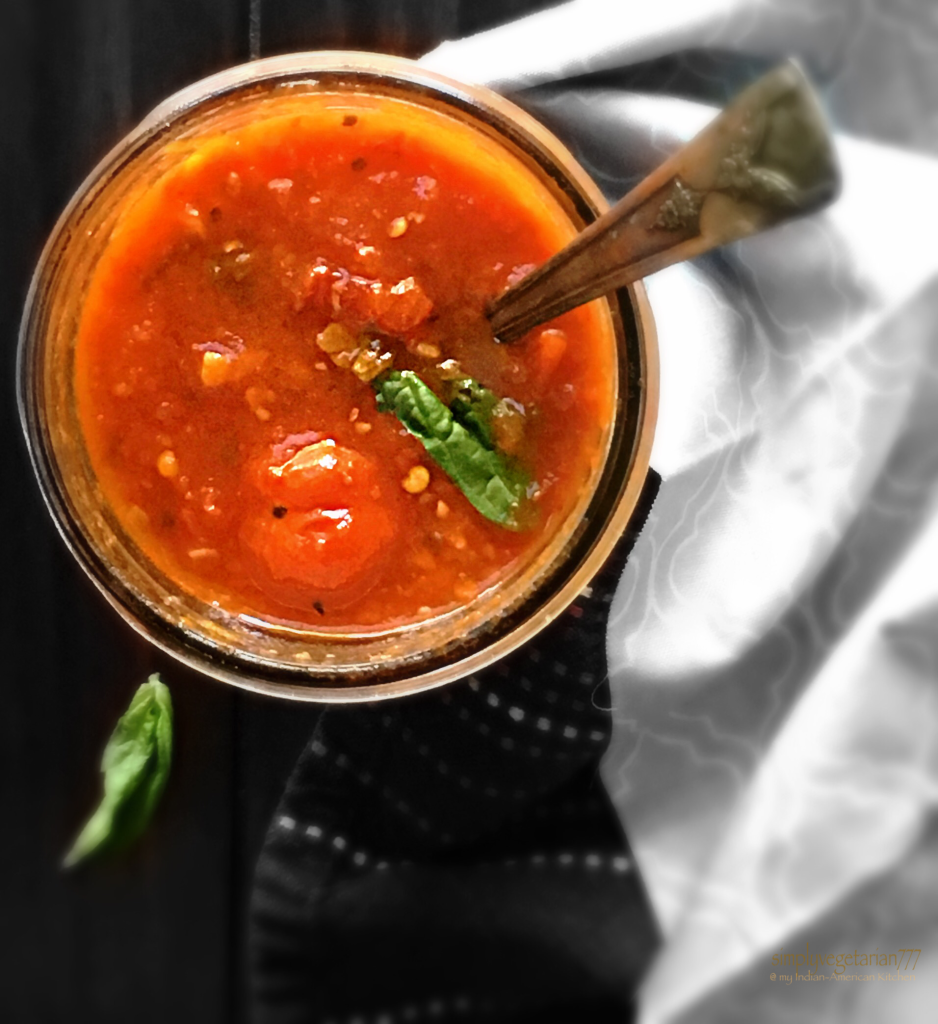 Arrabiatta also written as Arrabbiata or Arabiata, literally means angry in Italian and originated from Rome. The name is sought after the addition of red chillies to the sauce, making it hot and spicy. It is a perfect sauce for penne, though can be served over any pasta and sprinkled heavily with Parmesan cheese.
The preparation of Arrabiatta sauce is very regional and varies with every household.
This sauce had been haunting me for long. I wanted to make it at home and enjoy the real flavors minus the preservatives and keeping it healthier. The Italian sauces use a lot….I mean a lot of olive oil to cook. But I have kept the oil in check and created a good saucce.
I love my Italian sauces slightly chunky, so I left some tomatoes as is, and didn't purée the whole thing. I adapted this recipe from here !
I loved it more than the marinara sauce and poured over some spaghetti and grated some cheese and enjoyed a bowl of good hearty pasta with Arrabbiata sauce. So easy to put together and so delicious to savor!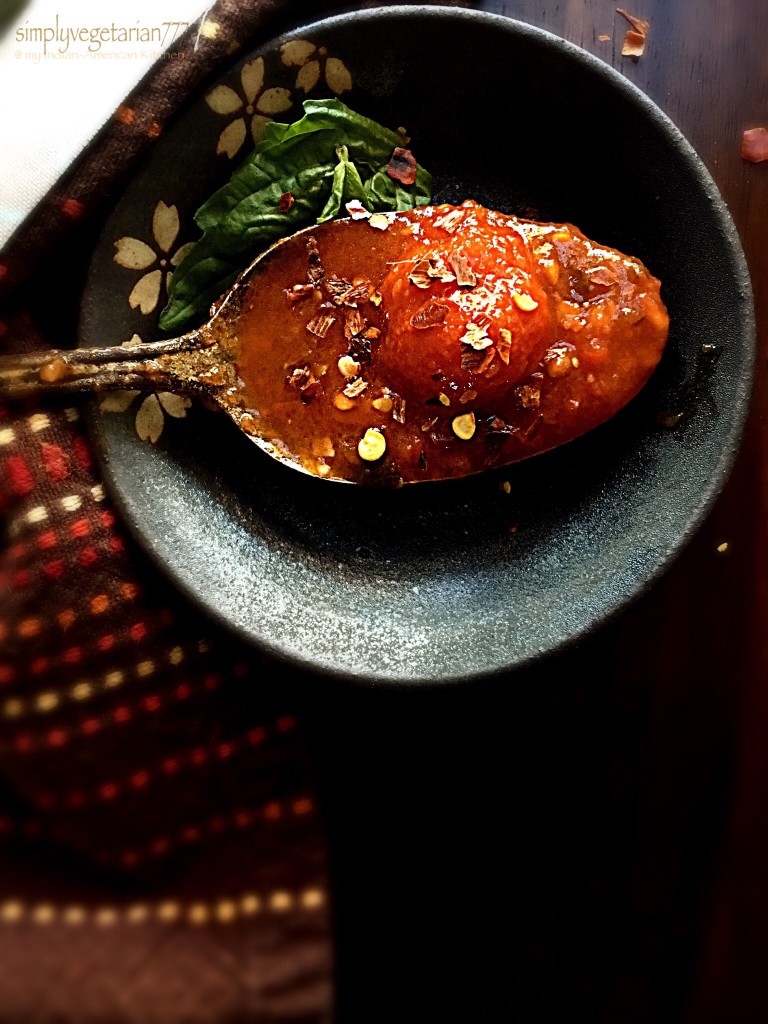 Here are some more Italian recipes from my blog – Summer Pasta Salad , Baked Pasta in cheat sheet White Sauce , Fusion Pasta Masala (oil free) , Home style Minestrone Soup .
Arrabiatta Sauce - Spicy Italian Sauce
Servings: 4-6
Difficulty: easy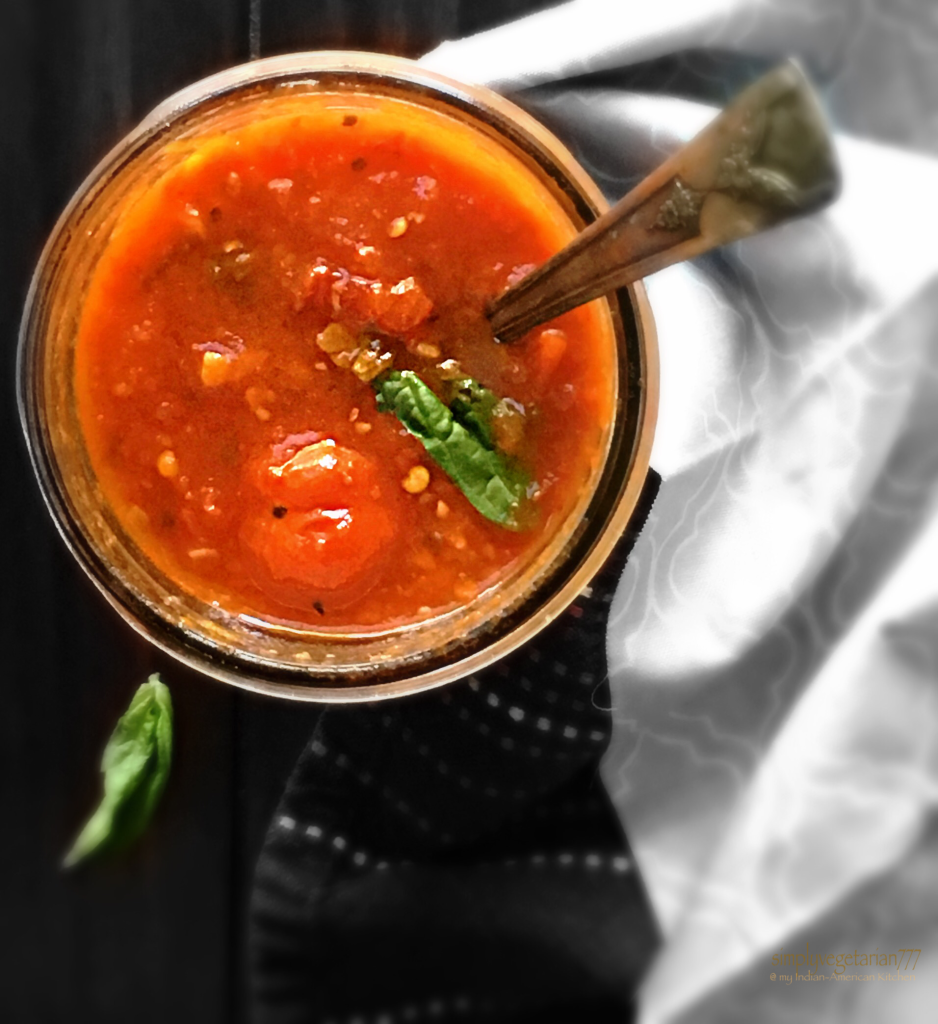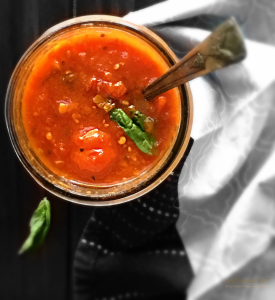 Kitchen Equipments Required
Chopping board, knife, blender, heavy bottom deep sauce pan with lid, stirring spoon.
Ingredients
Tomatoes – 5-6 medium or 500 grams, ripe and juicy (washed)
Red Cherry Tomatoes – 1 cup or 250 gms, washed
Garlic – 6 pods, chopped fine
Basil leaves – 5 to 6, finely chopped
Oil & Spices
Olive Oil – 2 tbsp (table spoon)
Red Chili Flakes – 1&1/2 tsp (tea spoon)
Oregano, dry – 1/2 tsp
Salt – 1 tsp or to taste
Sugar – 1 tsp
Method
Take the blender and puree the big ripe tomatoes in it. Chop the washed red cherry tomatoes in halves.
Heat Olive oil in the pan and add garlic to it. Saute on low flame till slightly pink.
Add the pureed tomatoes, halved cherry tomatoes, sugar, salt, oregano, basil, red chili flakes to the pan together. Yes together.
Stir. Close the lid. Let it cook on simmer for good 20-25 minutes. Stir occasionally to avoid burning. The hot and spicy Arrabiatta is ready without much effort.
Serving Suggestion
You may use it on the top of the pasta.
You may use it as a dipping sauce for your bread sticks.
Use it as a base for some grilled flat bread pizza.
Storage
You may make a big batch and after cooling it completely to the room temperature, store in a clean and dry glass bottle. Refrigerate it. It shall stay good for a week. If you want to keep it longer, add 1 tbsp of vinegar while cooking. Refrigerate.
I had a fabulous time cooking the hot and spicy arrabiatta in my Indian American Kitchen. I am sure you will make a batch and enjoy it too.
Sonal