Spaghetti in Mushroom Sauce – Happy Thanksgiving
As an Amazon Associate and member of other affiliate programs, I earn from qualifying purchases.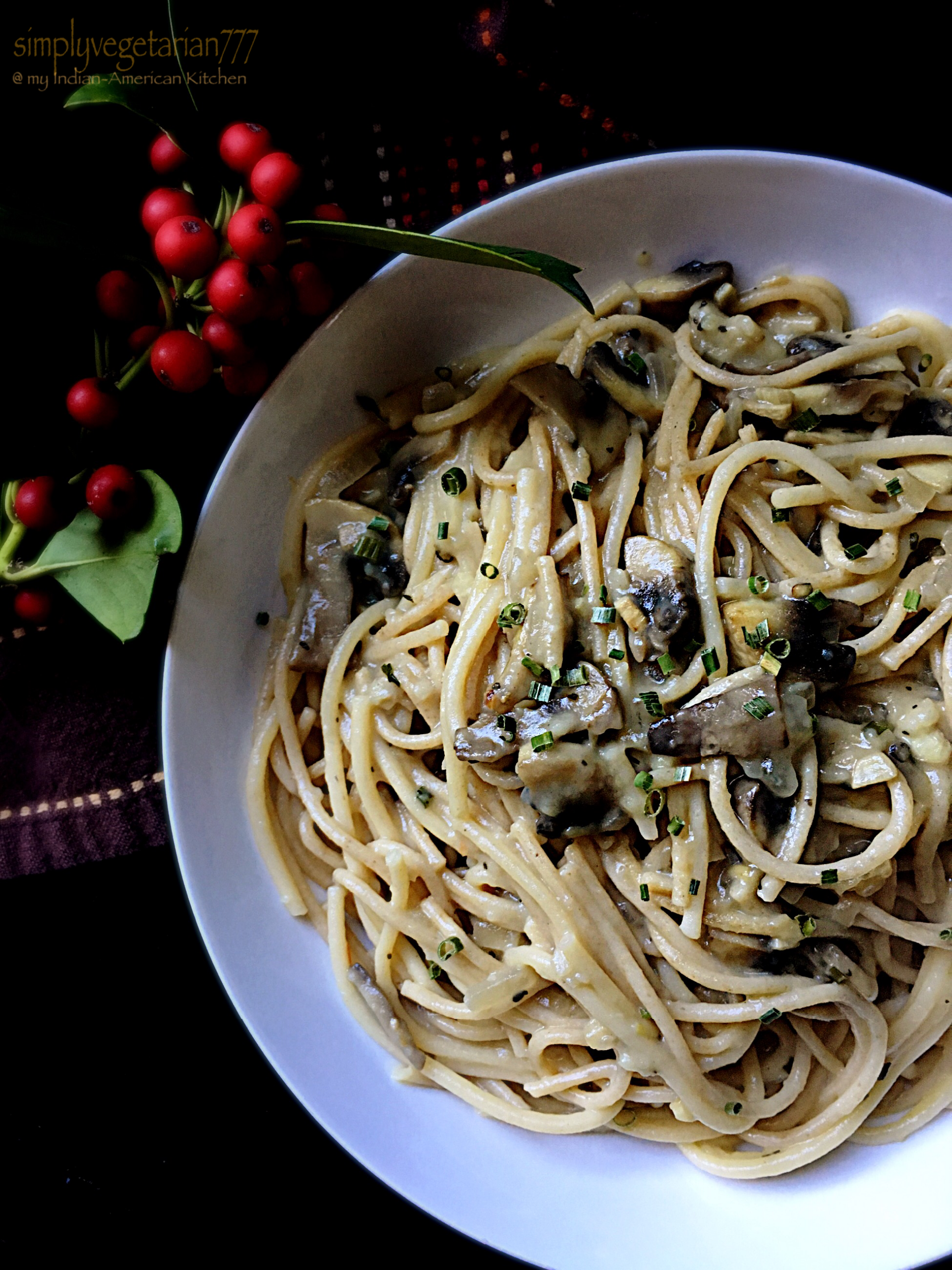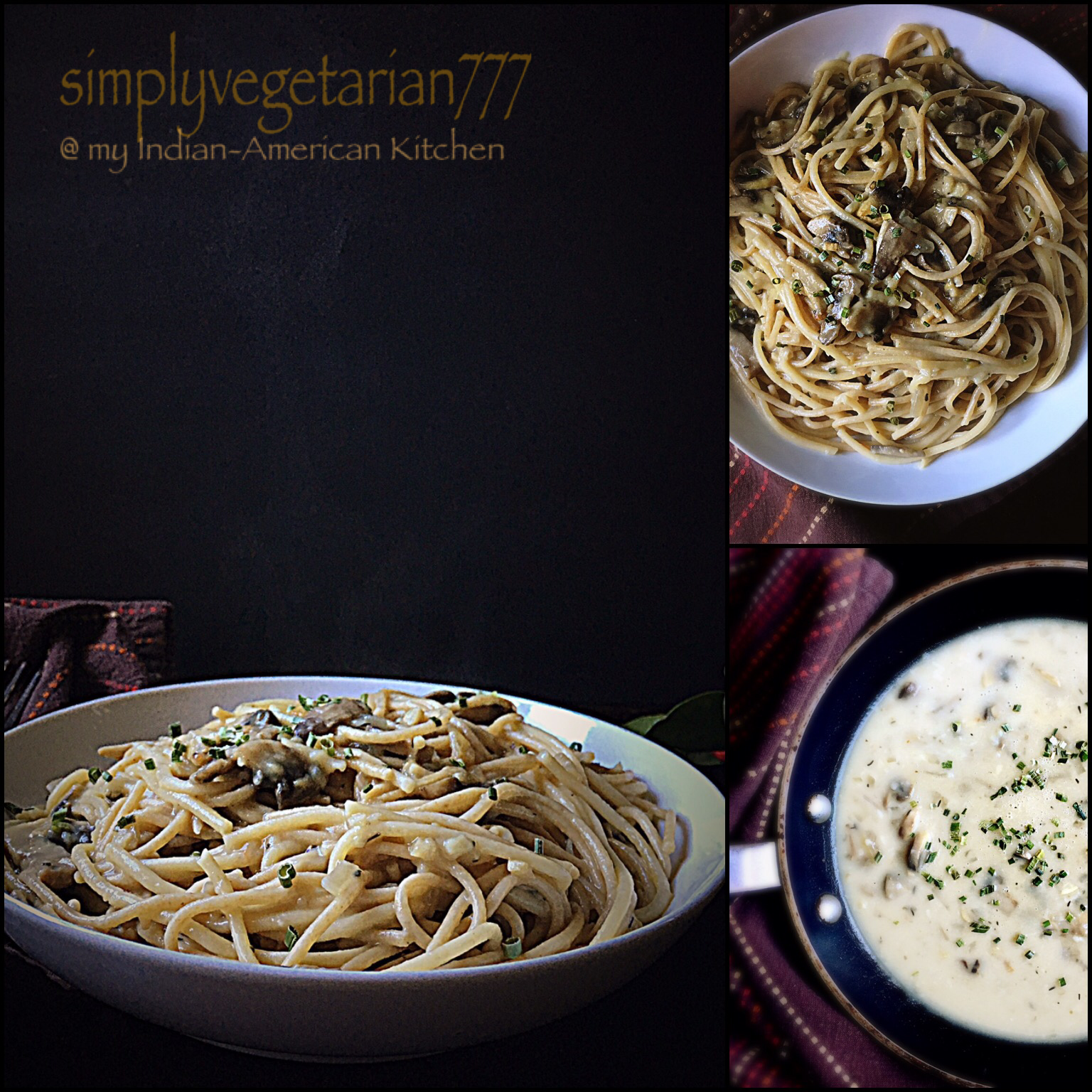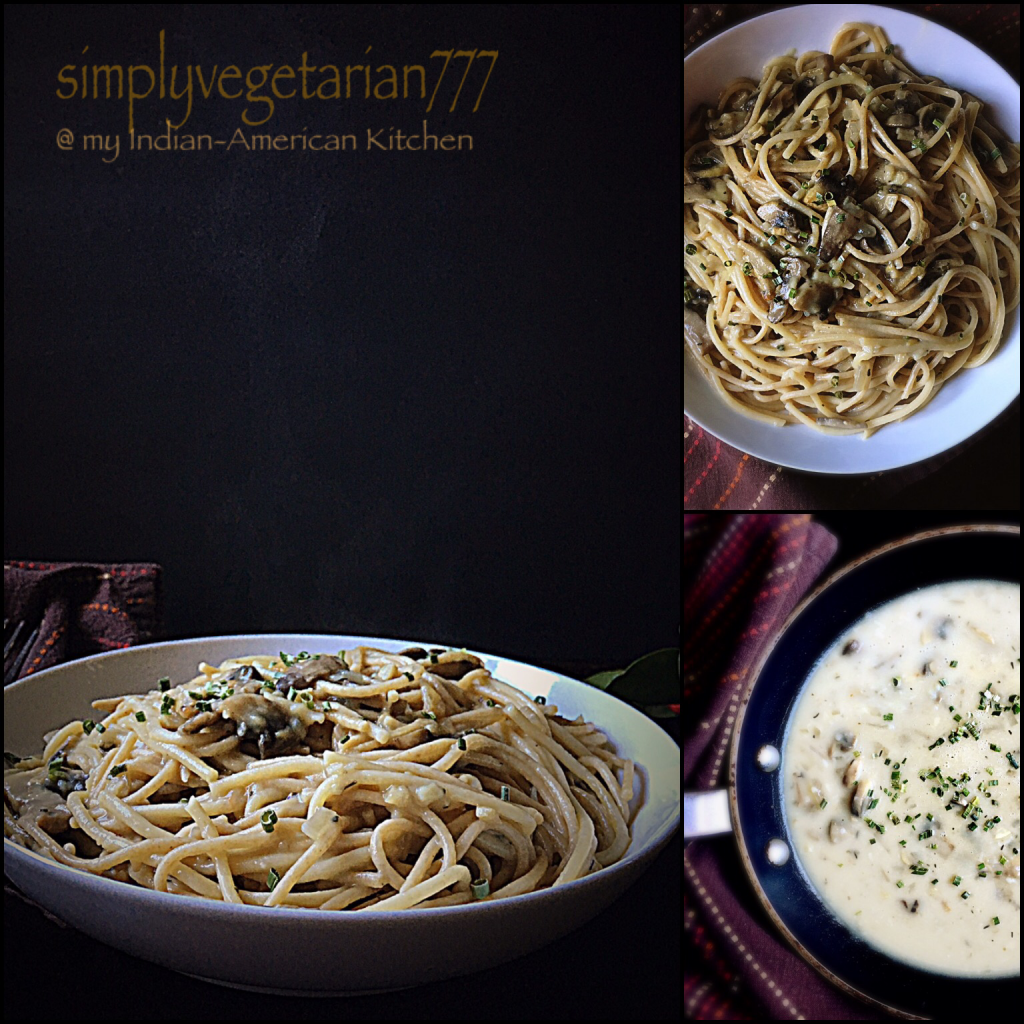 Warning – Pictures Overload ;)!! You may skip it all and go to the recipe directly or go slowly and increase your cravings for the dish and read more about Thanksgiving through my eyes!!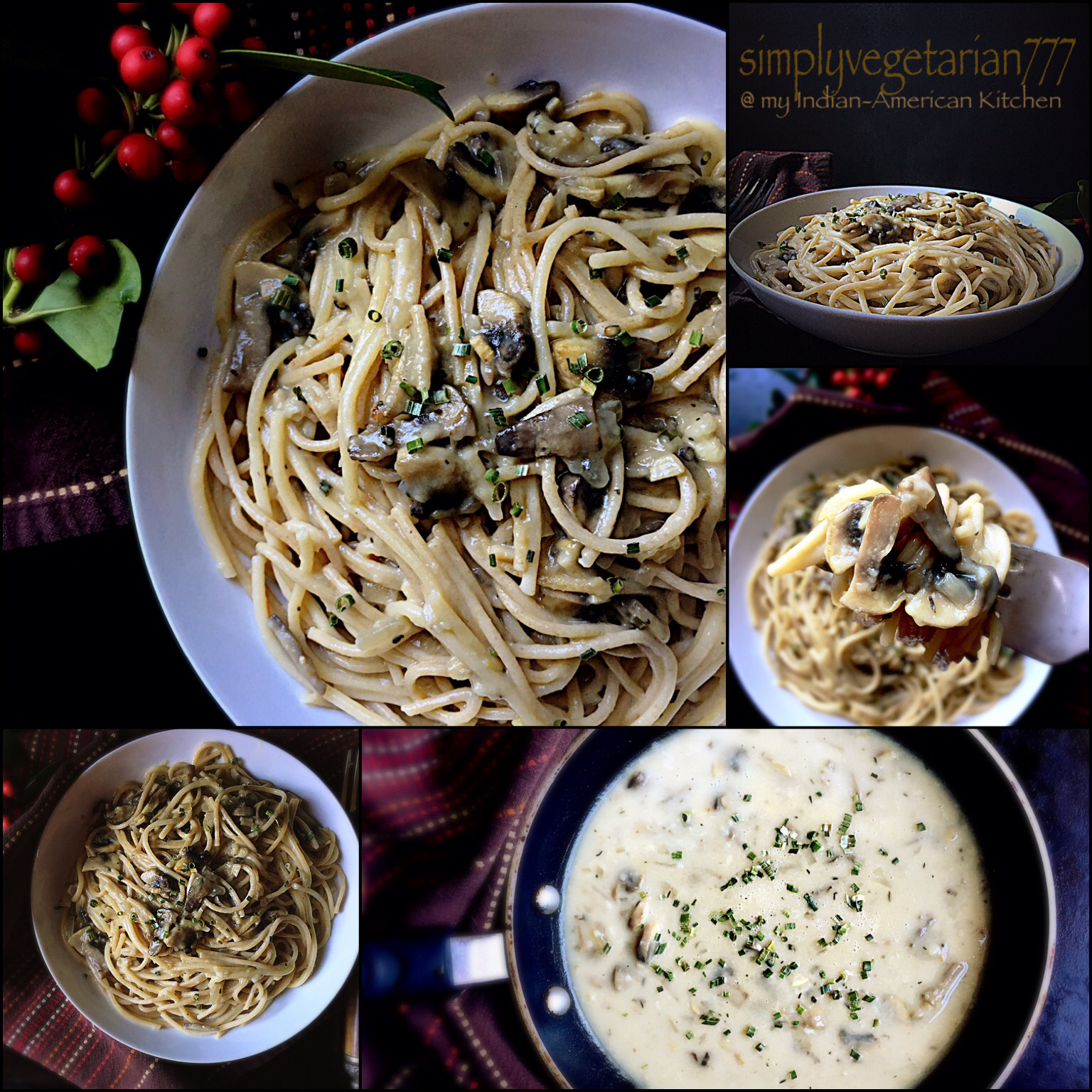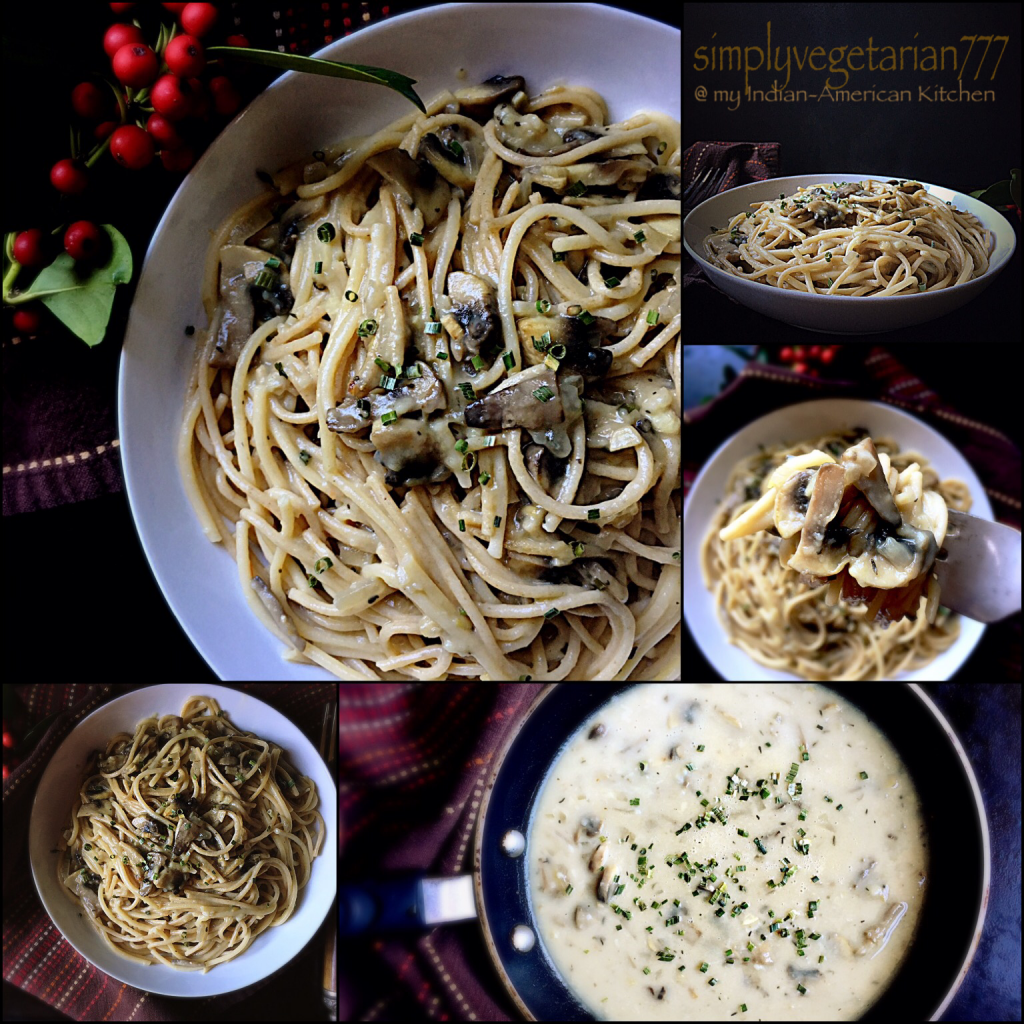 Thanksgiving is fast approaching! And for those of you who are wondering what is it about and why am I talking about it? Well, I am talking about it because first of all, it is a beautiful celebration of being together, being supportive of each other in the community, being thankful of each other's existence. Secondly, because I live in United States of America and I have graciously adopted this "festival" as mine. While living away from the family in India, this land gave me friends and neighbors and some good people to be thankful about. My husband and 2 lovely daughters top the list!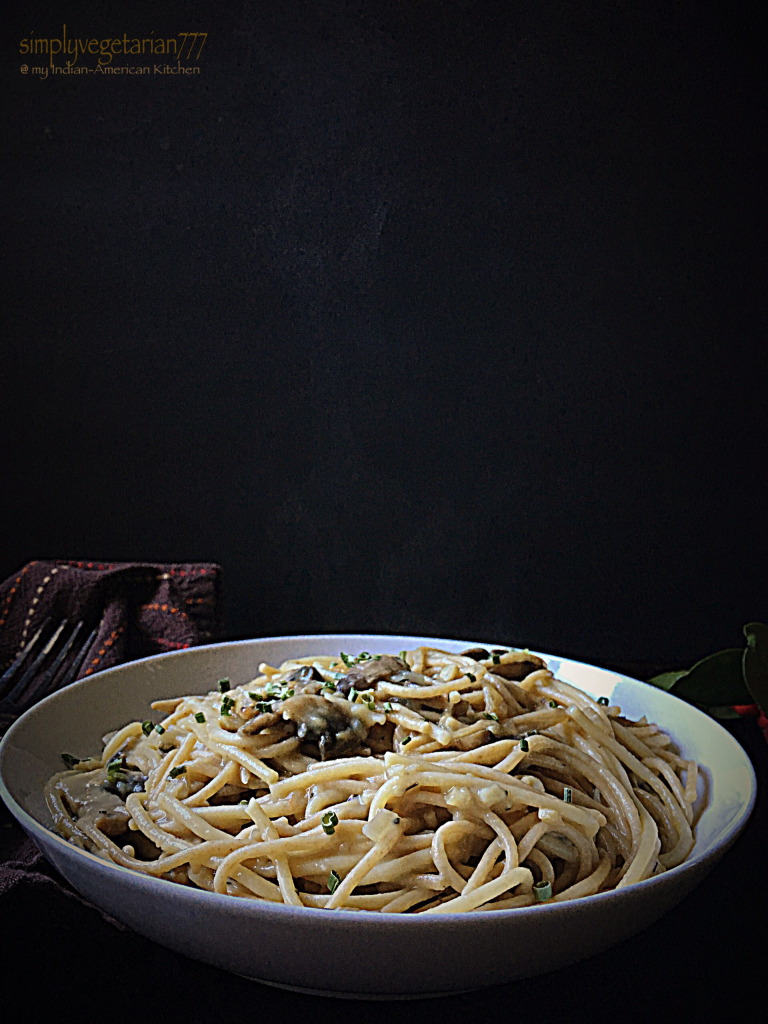 When the European Settlers (pilgrims) came to the land of North America, the Native Americans welcomed them and they had their first feast together. That embarked this beautiful celebration. There are lot of controversies created about what followed after that feast etc, etc, but I want to focus on the present and not the past. In the present day, I celebrate it with family and friends and many of us do not have our families here. Isn't this similar to the original Thanksgiving? I am thankful to have met all the wonderful people who became friends and many embraced us as their own family!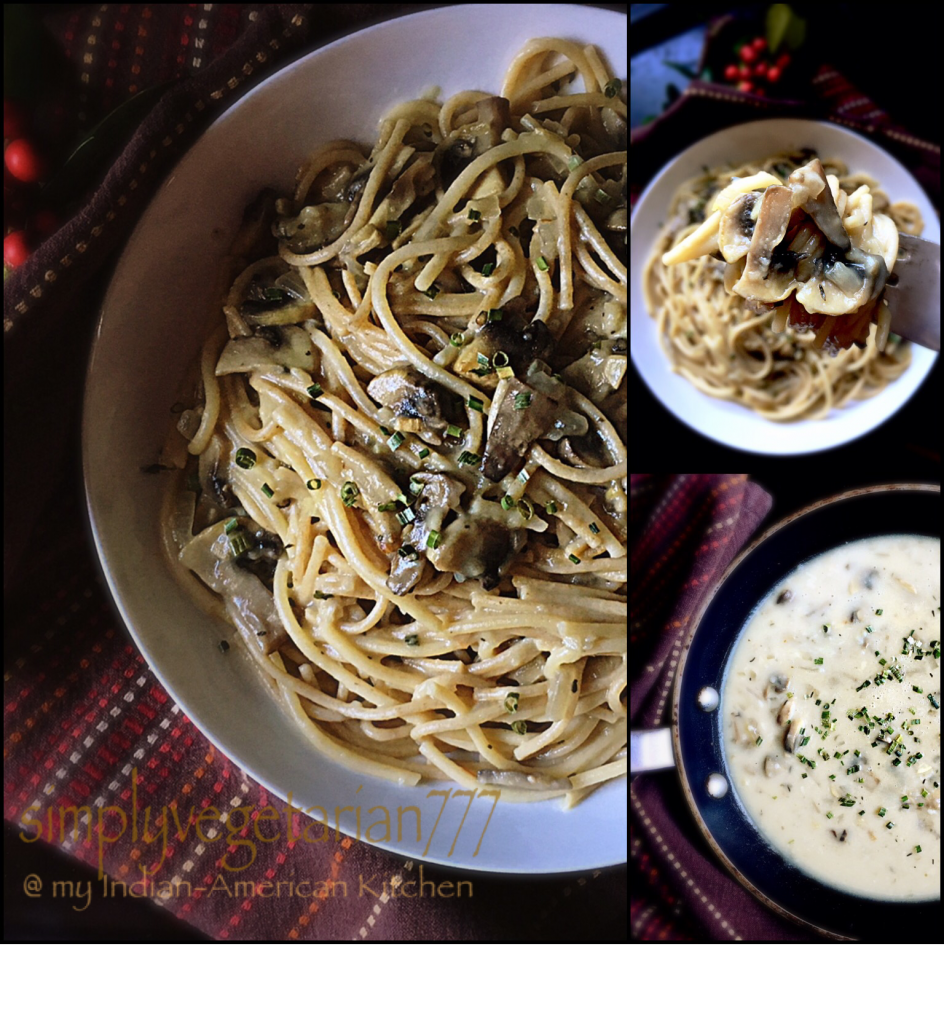 Coming to this recipe, it is a super simple recipe made with only handful easily available ingredients. You will be surprised by the rich and lush flavors and texture of the dish! My youngest is a huge Mushroom fan and we just celebrated her 5th birthday. She requested me to make this and I thought that it would be a great share for Thanksgiving!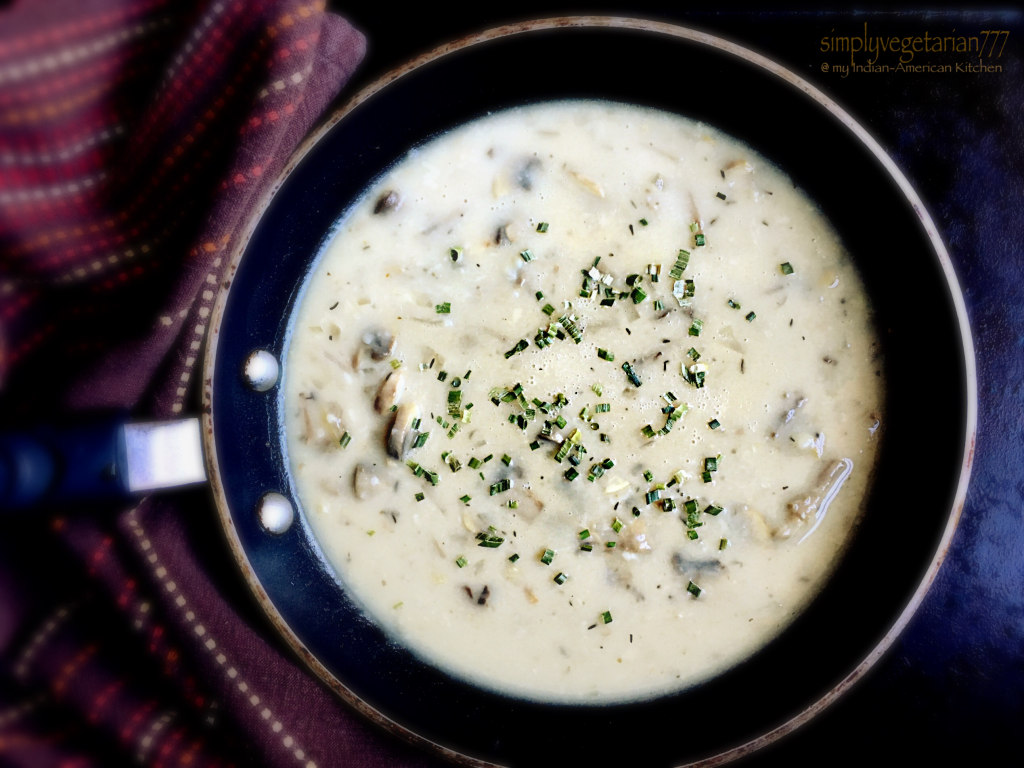 A simple rue based Mushroom sauce, which is cooked in no time  and can be used either with pasta or spaghetti or blend further to create soup, or even better can be served as a side to the mashed potatoes!
Click here to find out how to clean the mushrooms effectively!

Let us get cooking this super easy and delicious dish, without further delay!
Spaghetti in Mushroom Sauce
Servings: 4-6
Difficulty: easy
Kitchen Equipments Required
chopping board, knife, a heavy bottom pan, stirring spoon, a big pot to boil the spaghetti, stirring spoon, bowl and Spoon.
Ingredients
Spaghetti – 1 packet, cooked as per instructions, al-dante. I used whole wheat.
Garlic – 2 big cloves, finely chopped
Onion – 1/2 cup, finely chopped
Button Mushrooms – 3 cups, sliced. You may use porcini or other wild variety.
Refined Flour – 3 tbsp
Water – 3 cups. You may use vegetable stock or mushroom stock or retained pasta water.
Oil & Spices
Olive Oil – 1&1/2 tbsp
Salt & Black pepper to taste
Fresh cream – 1/4 cup
Parmesan Cheese – to garnish
Parsley or Chives to garnish
Method
Preparing the Spaghetti
Boil the spaghetti as per instructions on the back of the packet. You may use any kind of pasta for this. Al-dante means cooking pasta till done and not mushy. It still has "kani" in it like rice. Drain it and wash under cold water. Keep aside.
Making Mushroom Sauce
Heat olive oil in the heavy bottom pan. You may use butter instead of oil. Lower the flame to medium and add chopped garlic. Sauté till they are slightly golden.
Now add chopped onions. Cook further for 2 minutes till the onions are soft and slightly pink.
Once the onions are cooked, add sliced mushrooms. Cook them on high heat for 3 minutes till they are nicely browned.
Lower the flame and add 3 tbsp refined flour and mix fast. Cook further for 30-45 seconds. Add water, cream, salt and black pepper. Mix vigorously and well to blend. Bring it to a boil. Lower the flame and simmer for 3-5 minutes.
Mushroom Saucs is ready!
Assembling the Dish
Add the boiled Spaghetti to Mushroom Sauce. Add the Parmesan cheese and toss well. Plate it in the serving dish and garnish with parsley or chives. Serve warm!
Bringing a Simple, Elegant and Delicious Pasta Dish for Thanksgiving Main Course, from my Indian-American Kitchen to yours!
Happy Thanksgiving! Keep thanking the people in your life who make you smile, laugh, guide, mentor and shower you with unconditional love!
Sonal