Spaghetti Aglio E Olio – Easy Delicious Pasta Recipe
As an Amazon Associate and member of other affiliate programs, I earn from qualifying purchases.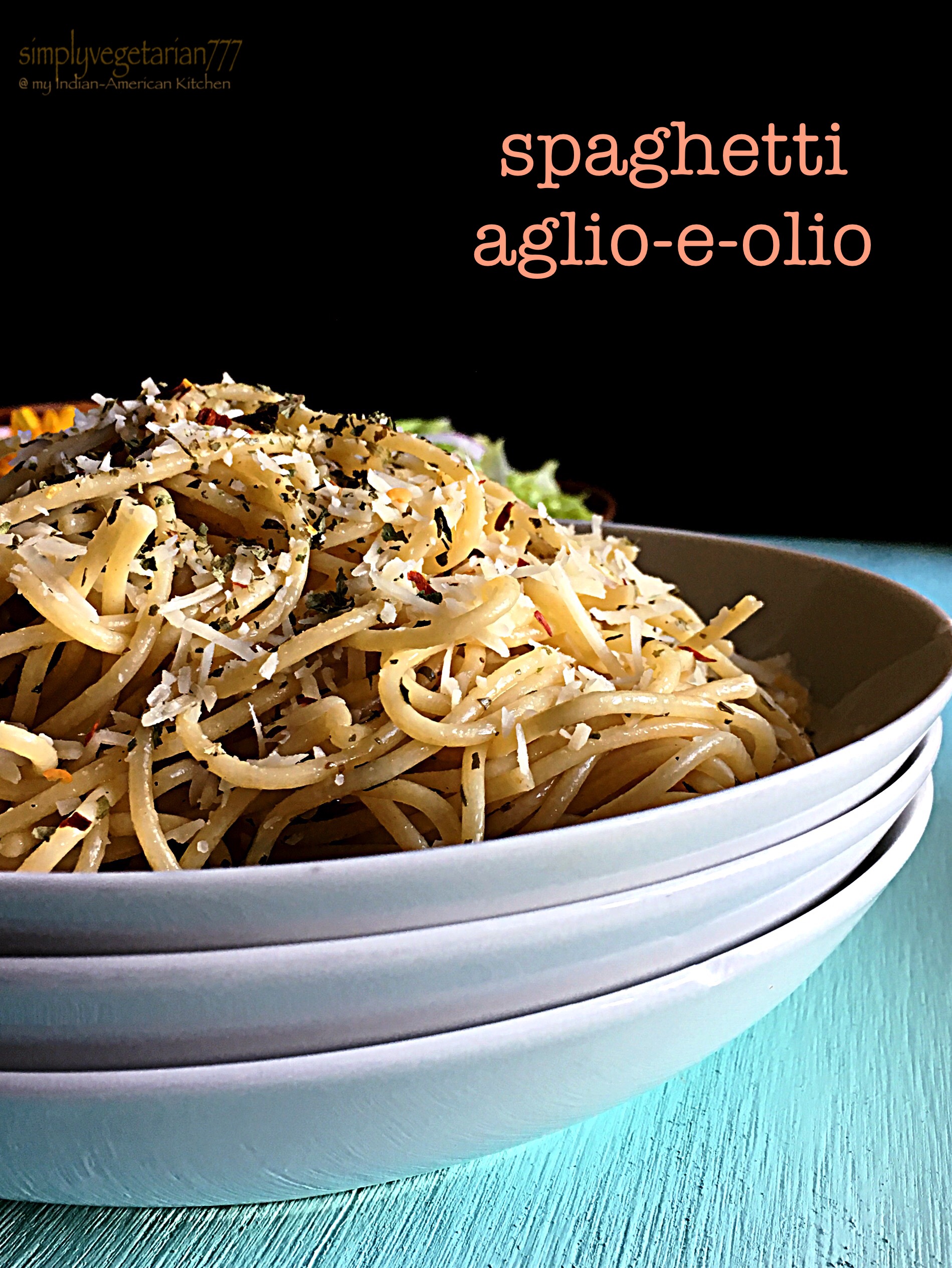 Spaghetti Aglio E Olio – Easy Delicious Pasta Recipe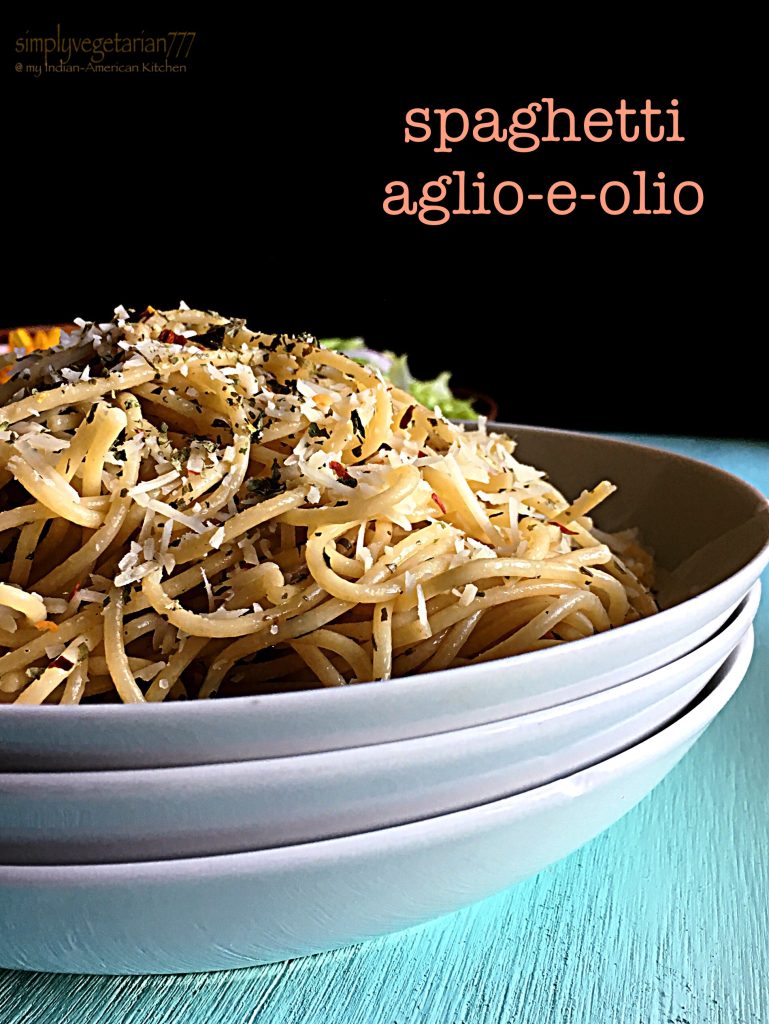 Spaghetti Aglio E Olio – Easy Delicious Pasta Recipe! The name of the recipe sounds like a tongue twister. Doesn't it? My apologies but whenever I say the name, I say spaghetti and just make a rolling tongue sound to say the complete name – spaghetti a..lalala…o.. No kidding!
I can probably say the name right if I try hard enough, but man…it is too freakin complicated and loooooong. I have to manage my time rather than saying it all loud and clear.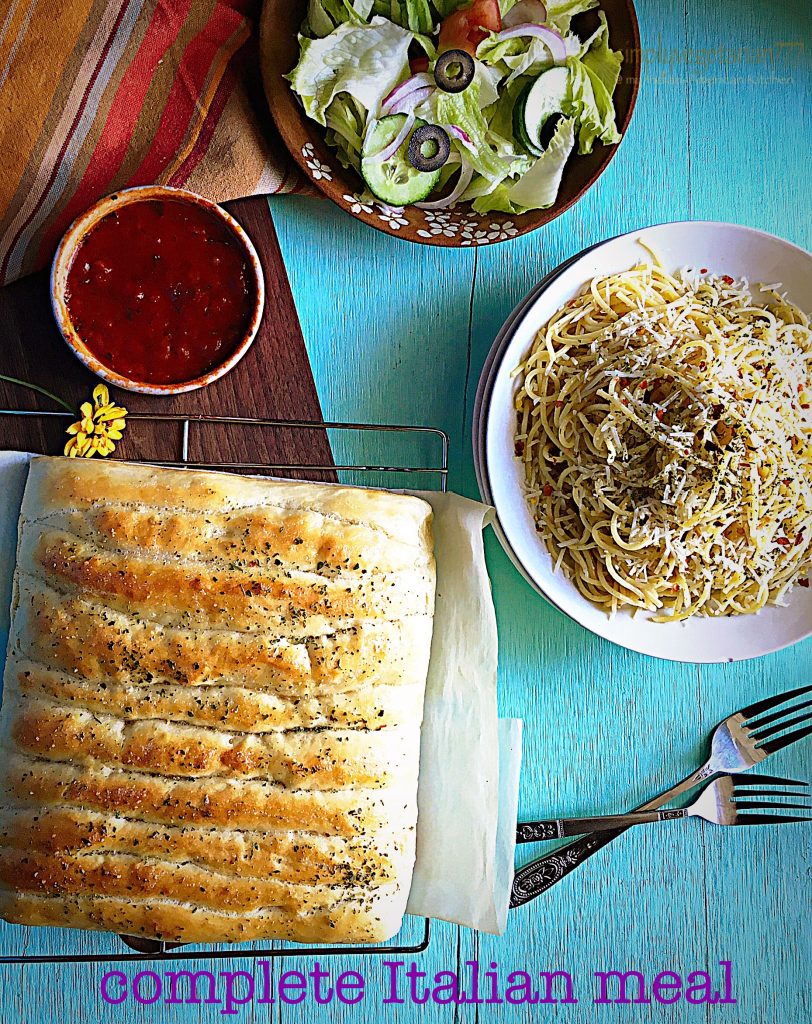 Few weekends ago, I had prepared the complete Italian Meal from scratch, The pull apart Bread-sticks (right out off the oven) , Crispy garden salad (with market bought ranch) and the Spaghetti Aglio E Olio  made to the lunch table on one of those glorious sundays.
Can I praise myself a little bit? It was better than the Olive Garden meal and practically at no cost. The pull apart bread-sticks recipe is coming up soon.
Also, I am compiling a list of 20 Vegetarian Spaghetti/Linguini recipes on the BUZZFEED! You might want to save it once it is out. Will link it back to the post, once that is featured.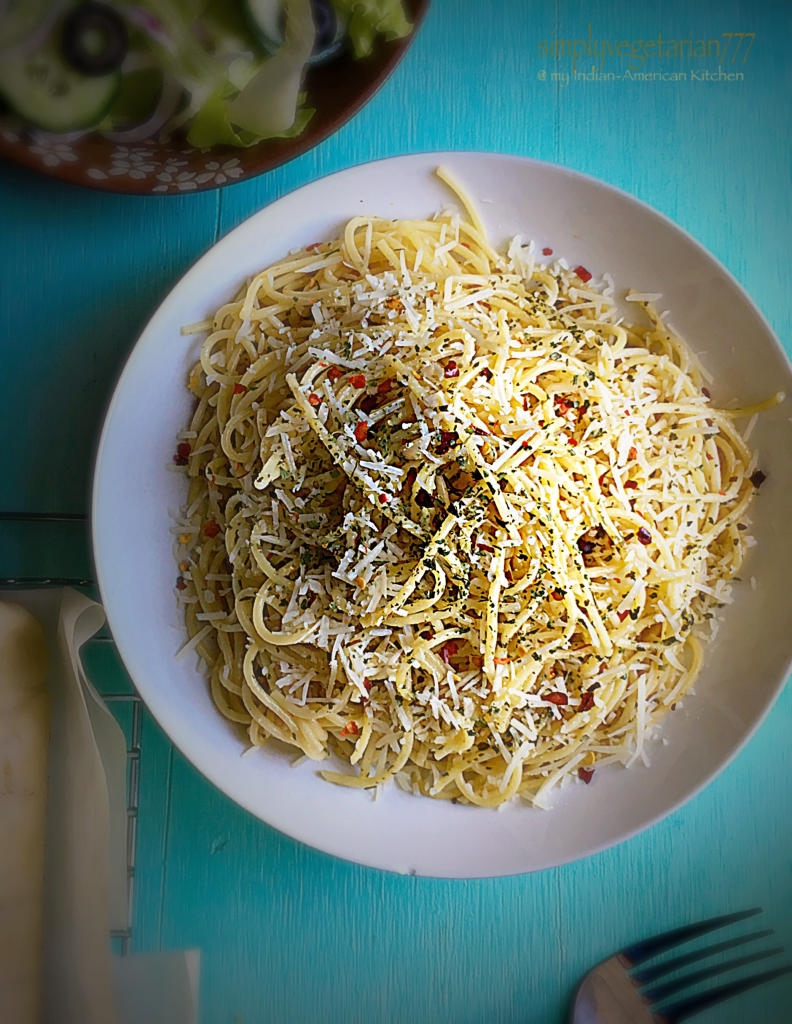 Spaghetti Aglio E Olio is a traditional Italian Pasta Dish from Naples. This dish is prepared by sauteing garlic lightly in olive oil. Spaghetti is then tossed in this oil and garnished with parsley and sometimes red chili flakes and grated parmesan or pecorino cheese.
Did you know that, many New York Italian-Americans refer to the dish as "alla-ul" due to the influence of Southern Italian pronunciation in the area. [1]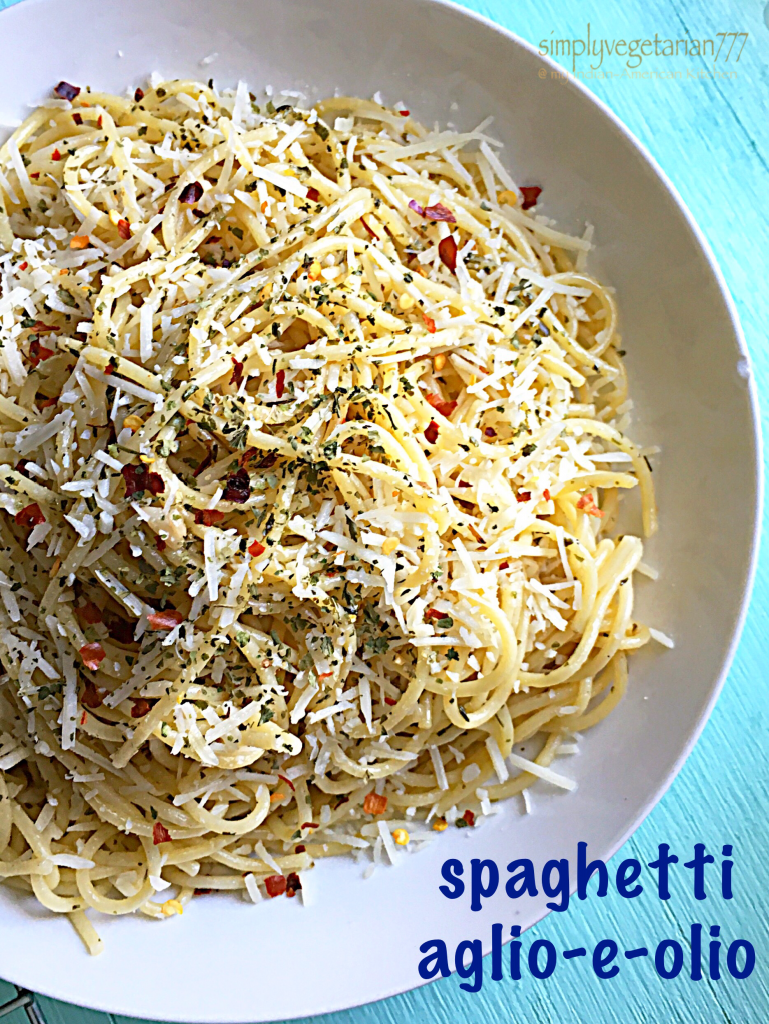 My daughters are absolutely crazy about Spaghetti Aglio E Olio. Most of the times, I am sneaking some vegetables in their pasta. They make a face and I overlook that little frown on their face.
Being a mom is soooo hard most of the times. That Sunday was a gloomy Sunday and all of our were moods were low and dampened. Nothing seemed to be working right. As soon as I announced that Spaghetti Aglio E Olio is on the lunch menu, I could see girls cheering up and getting chirrupy.
The whole house smelled of freshly baked breadsticks and garlic in spaghetti. It was just amazing.
I have adapted this recipe from Ina Garten . I love her recipes since they are simple and elegant. This is one such recipe – simple, elegant and easy.
Some other pasta recipes from the blog are – pasta primavera , Baked Pasta with mushroom & spinach , pasta masala , penne pomodoro and many more.
Spaghetti Aglio E Olio - Easy Delicious Pasta Recipe
Easy comforting recipe of Spaghetti aglio e olio, made with olive oil and garlic.
Ingredients
Spaghetti

dry - 1 pound (whole packet)

Garlic - 7 to 8 large cloves

chopped roughly

Parsley - 2 tbsp

fresh and chopped
Oils & Spices
Olive Oil - 1/4 cup

Red Chili flakes - 1/4 tsp

Salt to taste

Parmesan cheese - 1/2 cup

grated
Instructions
Preparing the Spaghetti
Boil the spaghetti as per the instructions given at the back of the packet. Keep it al-dante (slightly firm).

Reserve 1&1/2 cups of spaghetti water in a cup, that will be used to make the delicate sauce.

Drain the pasta and set aside. Do not run under cold water.
Preparing the Spaghetti aglio e olio
Take a wide pan and heat olive oil in it.

Add roughly chopped garlic to it and fry on medium low heat for about 2 minutes, till it turns golden on the edges. Do not brown it all.

Add red chili flakes and saute for few more seconds. Add the pasta water carefully to the hot pan. Add salt to taste, about 1 tsp.

Boil and then simmer till the pasta water is reduced to 1/3rd.

Add the boiled spaghetti, fresh parsley and parmesan cheese.

Toss it well and let rest for 5 minutes for the flavors to be absorbed well.

Serve it warm with fresh House Salad and some super soft bread sticks on the side, for complete meal.
Notes
You may use 1 tsp of dry parsley instead of fresh parsley. Also, you may use freshly milled black pepper instead of red chili flakes.
I know you all are drooling by now and surely surprised at how easy it is to put together. Few ingredients and just few tosses, that's it! 🙂
Can't make it now? Pin it for Later!


If you try this recipe, do share your feedback with me on Facebook by tagging me. Follow me on Pinterest !
In my Kitchen, EAT HAPPY & STAY HAPPY !
Sonal
[1] – wikipedia