This Instant Pot Mediterranean Quinoa Salad is a yummy, easy & quick Healthy Salad Recipe. Since this Instant Pot Quinoa Salad is done in only 2 minutes, it is great for your light lunches or busy weeknight meals.
You also get the Recipe for Spicy Roasted Pepper Sauce along with a short video. Did you check my Quinoa & Black Bean Salad made in IP yet?
Subscribe today to get Easy and Delicious recipes directly in your mailbox. You can follow us on Facebook, Instagram, Pinterest & Twitter for regular updates.
Important – Scroll down till the end for complete Quinoa Salad Recipe. In between there are tips & info about the recipe.
Pin this Healthy Instant Pot Recipe for Mediterranean Quinoa Salad for Later.
Healthy Instant Pot Mediterranean Quinoa Salad Recipe
Have I ever mentioned that Pittsburgh gets warm days? Yes, it does. We are enjoying late 70s these days.
And you know what it calls for? Yes you got it.. SUPER YUMMY SALAD RECIPES that are not only delicious but healthy also.
Where winters push us to eat all the comfort food and go nuts, thankfully summers push us to eat better. I guess it is a nature's way to balance our lifestyle. As the days get warmer, Mother Nature starts churning plentiful bounty for all her children. There is enough for all of us.
I love a good hearty Salad with lots of crunch to it. Also, I like it more when it is not only healthy but a wholesome salad. Adding Quinoa or other whole grains to my salad is the way that I chose to go.
What is Mediterranean Diet?
I simply love Mediterranean Diet. Since the diet is more vegetables focused, it has so many options for vegetarians and vegans.
As it speaks of the region – Mediterranean, this diet is typical of the countries of the region. The Mediterranean diet is characterized by consumption of more Vegetables and Olive oil and a moderate consumption of Protein.
Though Quinoa is not a Mediterranean Ingredient but addition of this Hearty and Complete grain balances the protein quotient of the Salad for Vegetarians and Vegans.
Ingredients for Mediterranean Quinoa Salad
These are the main ingredients that I have used in the Healthy Instant Pot Recipe
Feta Cheese (skip it to make it VEGAN)
Lemon Juice
Cucumbers
Tomatoes
Radish
Fresh Spinach
Once you cook your Quinoa, all the toppings and Garnishes are pretty much optional except cucumber, tomatoes and olives.
You can add it all ort pick and choose whatever is handy. I normally have all of it handy since I use these in my sandwiches and salads quite often.
How to Cook Quinoa in Instant Pot?
You will love it when you will know that how SIMPLE IT IS TO COOK QUINOA IN INSTANT POT.
I always follow this measurement and method in my IP to cook quinoa and it always comes out PERFECT.
HOW? – 1 cup Quinoa in 1 cup Water and cook for 2 minutes on High Pressure on Manual/Pressure Cook Mode. Follow NPR (natural pressure release). Open the lid and fork it gently to fluff it up.
ALWAYS COMES OUT PERFECT.
When I add canned beans along to cook, then also the time and water quantity remains the same.
Even if you use other bottled or canned or fresh ingredients to cook with it like vegetables, or salsa, or any other sauce, then also the time and water quantity remains the same.
Kitchen Tools Used to make Healthy Vegan Instant Pot Greek Salad Bowl
Can I make Vegan Mediterranean Quinoa Salad?
The answer is YES. Any recipe can be easily veganized, and that is my opinion. I have done it many times and successfully too.
Just skip the FETA CHEESE in the recipe and it is a completely VEGAN GREEK QUINOA SALAD.
For How Long can I store this Healthy Instant Pot Quinoa Salad in Refrigerator?
This Healthy Vegan Quinoa Salad stays good in the refrigerator for a week.
Simplyvegetarian777 Healthy Instant Pot Recipes
Detox Lentil & Vegetables Soup, Saag Chana, Mexican Black Beans, Tom Yum Soup, Refried Beans
Simplyvegetarian777 Quinoa Black Bean Salad Recipe
Simplyvegetarian777 Vegan Instant Pot Recipes
Red Thai Curry, Kung Pao Noodles, Thai Curry Noodles, Green Thai Curry, Spicy Pinto Beans
Check out this small Instructional Video for quick understanding.
How to make Healthy Mediterranean Quinoa Salad in Instant Pot?
Yield: 8 People
Easy Instant Pot Mediterranean Quinoa Salad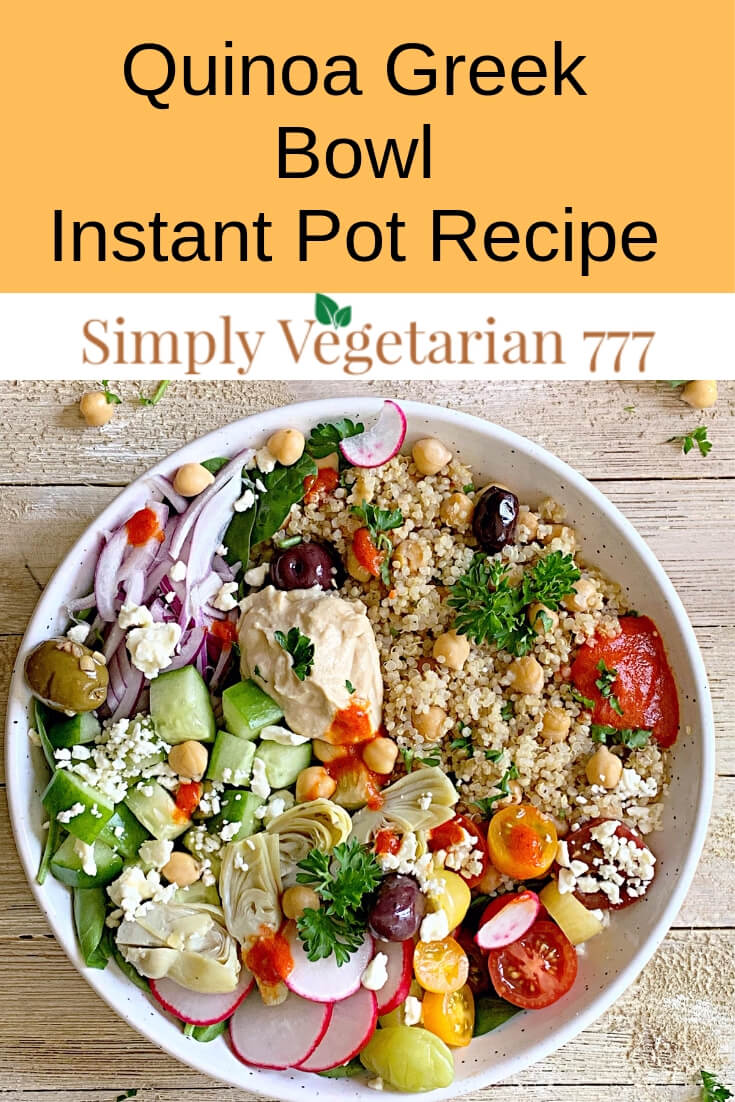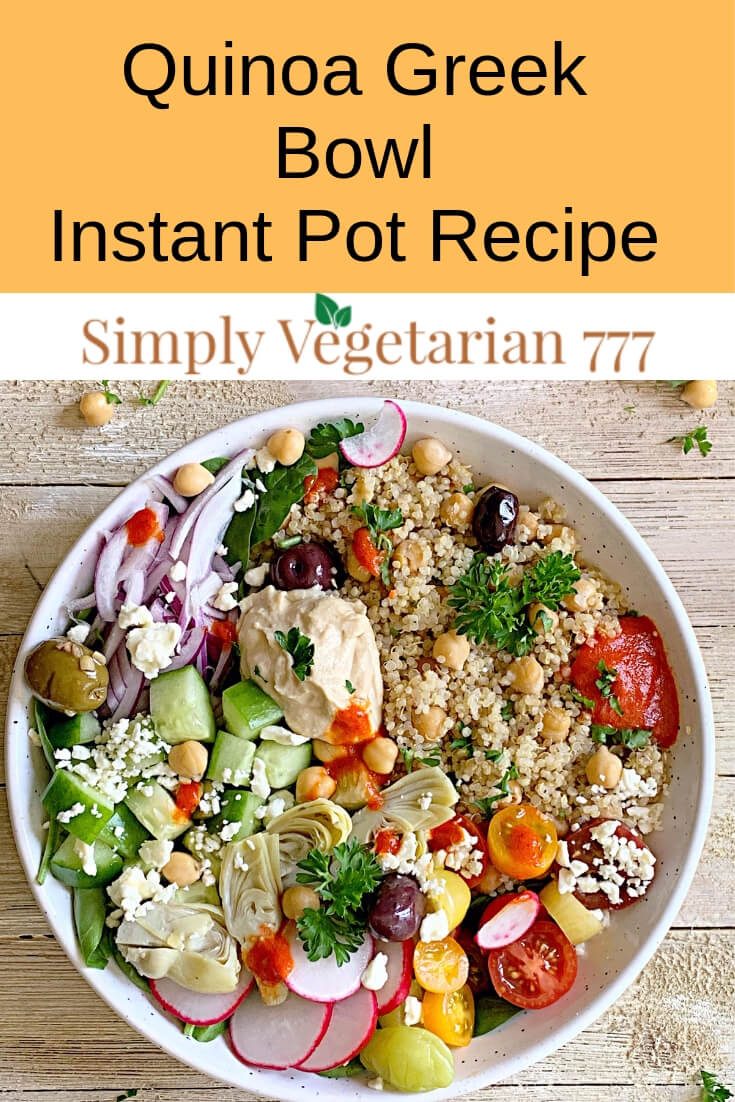 This Instant Pot Mediterranean Quinoa Salad is a yummy, easy & quick Healthy Salad Recipe. Since this Instant Pot Quinoa Salad is done in only 2 minutes, it is great for your light lunches or busy weeknight meals.

Prep Time: 10 minutes

Cook Time: 2 minutes

Total Time: 12 minutes
Ingredients
1 Cup Quinoa
1 can (15 ounce) Chickpeas, Low Sodium
1 Cup Water
Salt & Pepper to Taste
Garnishes & Toppings
5 Olives (Black or Green or Mix)
3 Pepperoncini, sliced
1/4 Cup Red Onions, sliced
1/2 Cup Cherry Tomatoes, halved
4 Handfuls of Baby Spinach Leaves or any Greens
2 Tbsp Cup Feta Cheese (skip for Vegans)
1/2 Cup Radish, sliced
1 Cucumber (regular size), sliced
1 tbsp Curly Parsley, chopped
SPICY ROASTED RED BELL PEPPER SAUCE INGREDIENTS
1/4 Cup Rosted Bell Peppers (bottled)
3 Pods of Garlic Cloves
2 Tbsp Lemon Juice
1 Tsp Hot Sauce
Salt to Taste
Instructions
Take the strainer and wash QUINOA under running cold water till water runs clear. Set aside.
Now strain the can of chickpeas and run under water. Set aside.
Plug your Instant Pot and place the inner pot inside. Add 1 cup washed quinoa + 1 cup water + 1 can chickpeas along with salt and black pepper to taste.
Place the lid of the IP. Close it and set the valve to SEALING. Press Manual/Pressure Cook Mode and set it on High for 2 Minutes.
After the timer goes off, follow NPR (natural pressure release). Open the Lid. Take a fork and gently fork through the Quinoa. It will come out fluffy and soft. Let it come to the room temperature before you make SALAD out of it.
Meanwhile, Quinoa is cooking in the IP, prepare the garnishes and SPICY ROASTED RED BELL PEPPER SAUCE.
Chop or Slice your Toppings. Olives need to be pitted. You may use them whole or sliced. Half the cherry tomatoes
SPICY ROASTED RED BELL PEPPER SAUCE RECIPE - Take your high speed blender. Add 1/4 cup roasted bell peppers from the jar + 3 garlic pods (peeled) + Lemon juice + Hot Sauce + Salt to taste. Blend it till smooth. Your SAUCE IS READY.
SERVING SUGGESTIONS - Once the Quinoa & Chickpea Mix is cooled down to the Room Temperature, add the toppings and garnishes of your choice. Top with the Spicy Roasted Red Pepper Sauce and Indulge.
Notes
I used canned and low sodium artichoke hearts, olives, pepperoncini for the recipe as extra toppings. You may use it all or use just 1, as per your choice.
This Instant Pot Mediterranean Quinoa Salad is perfect as a complete meal on your busy weeknight. So easy to make that you will love it. Serve with warm pita pocket on the side and have a hearty meal.
This stays good in the refrigerator for a week. You can pack your lunch with it.
It is perfect for your SUMMER PARTIES and POTLUCKS.
You can cook quinoa ahead of time and when ready to eat, just mix with fresh toppings and sauce and enjoy.
Recommended Products
As an Amazon Associate and member of other affiliate programs, I earn from qualifying purchases.
Nutrition Information
Yield 8 Serving Size 1
Amount Per Serving Calories 136Total Fat 3gSaturated Fat 1gTrans Fat 0gUnsaturated Fat 2gCholesterol 2mgSodium 663mgCarbohydrates 22gFiber 6gSugar 6gProtein 7g

I am not a Nutritionist. All the Nutrition Info provided is an estimate. You can play around with the quantity of canned products to bring the sodium level down OR use lesser quantities for better results.

I am sure many of you will be trying this out soon. Please leave your feedback under the comments section. Would appreciate a lot.
In my kitchen, you will always EAT HAPPY & STAY HAPPY!
Sonal