3 Ingredients Refried Beans Instant Pot Recipe – Vegan & Oil Free
As an Amazon Associate and member of other affiliate programs, I earn from qualifying purchases.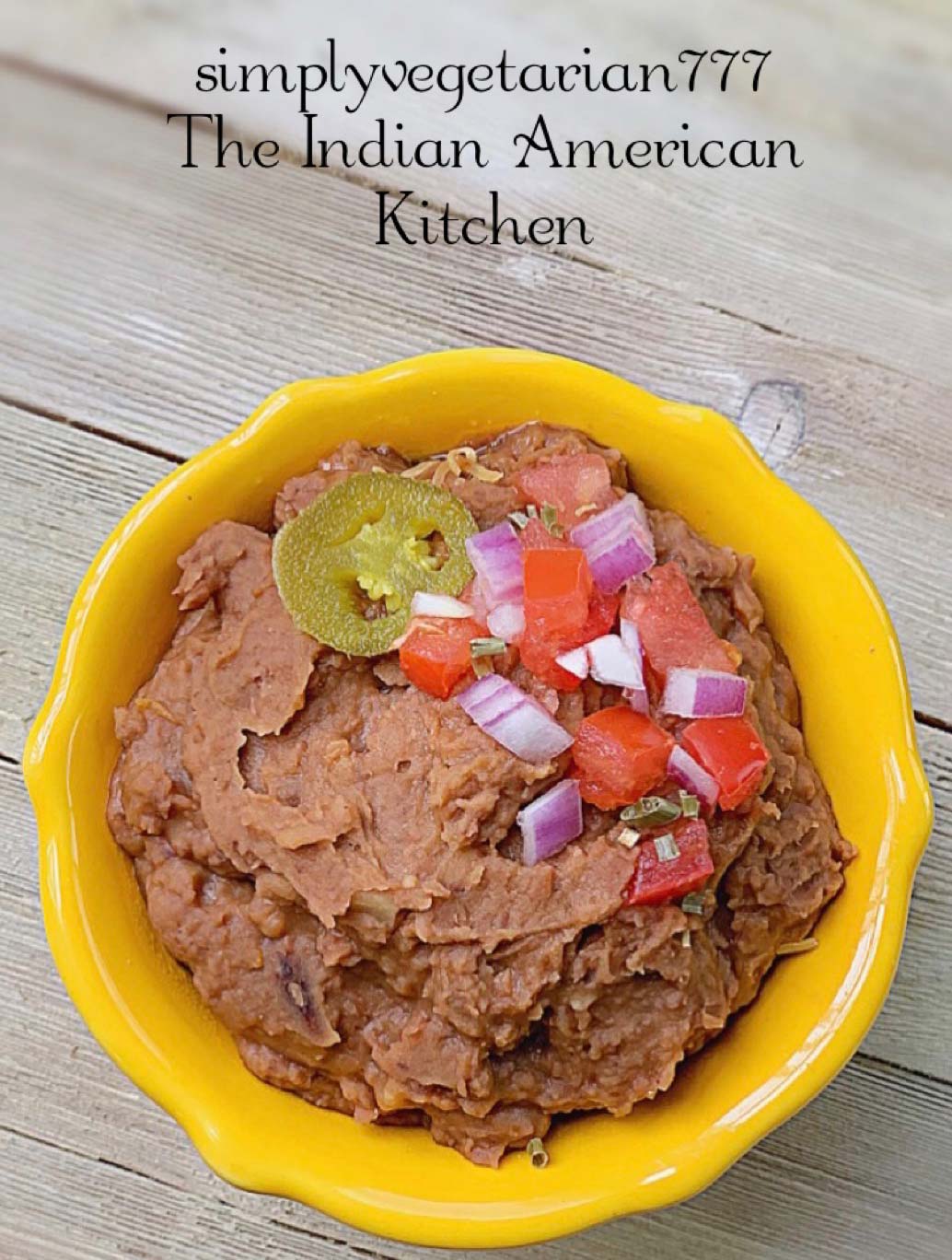 This 3 Ingredients Refried Beans Instant Pot Recipe is a keeper recipe. All the Tex Mex food lovers will love this VEGAN REFRIED BEANS recipe. It is quick, easy and needs no prep at all. Just dump it all in your Instant Pot and you have the best REFRIED BEANS ever.
SCROLL DOWN TOWARDS THE END FOR COMPLETE RECIPE. In between, you will find some of my ramblings, the tips and other important information regarding the recipe.
PIN this ⇓Vegan Refried Beans Instant Pot Recipe for Later to Try.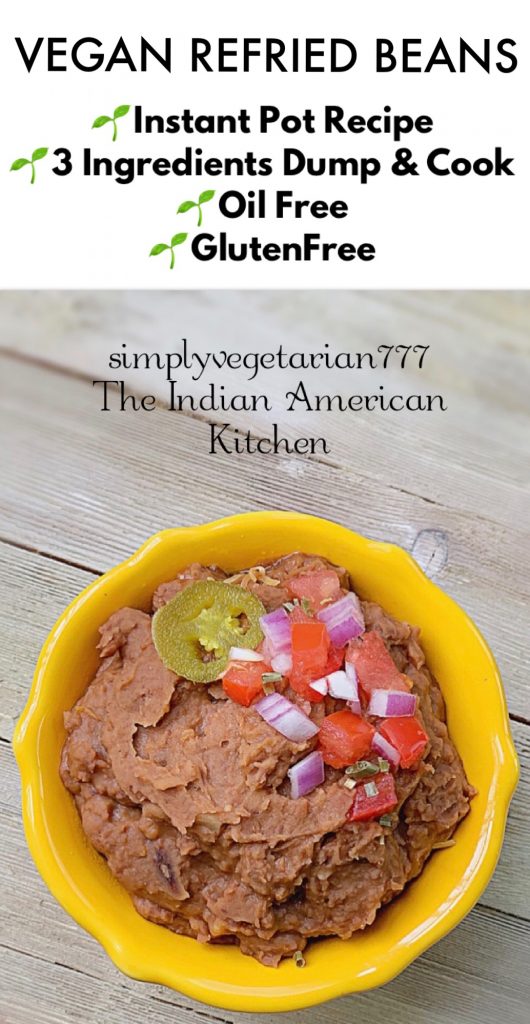 EASY & VEGAN 3 INGREDIENTS REFIRED BEANS INSTANT POT RECIPE
It's been 2 months since I published anything new on the blog that made sense to me.
I published either what was required due to campaign deadlines or just to keep going like 20 Plus No Bake No Cook Valentines Day Dessert Collection or this 20 plus Vegetarian Mexican Instant Pot Recipes.
Honestly, nothing made sense to me since I was doing it in an automated motion. Losing mom suddenly was not only shocking but it took away a huge part of my heart.
My source of inspiration and comfort was suddenly gone. I had no clue what to do or rather how to do anything without her.
Not that I still am 100% sure what I am doing. But I know mom would have encouraged me to get back to work and do what I cherish the most – my blog.
This is for you ma, your guidance and love that I am gathering the courage to get back to the new normal.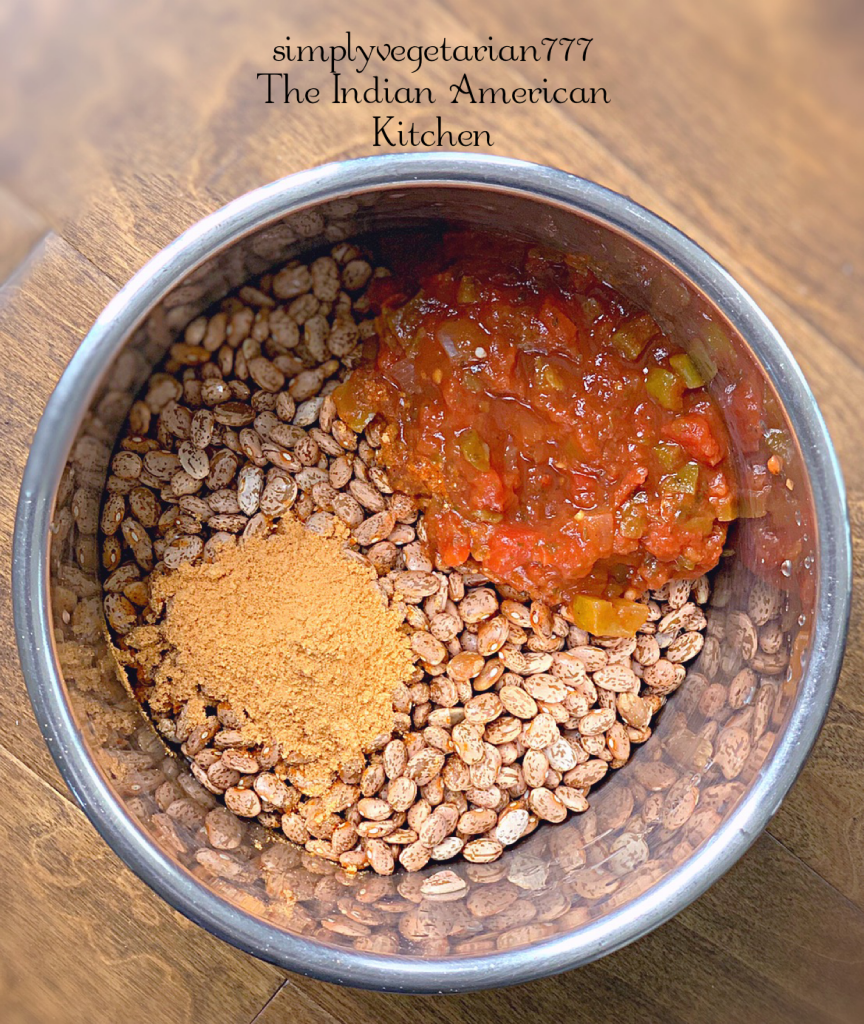 And getting back to new normal means easy, and quick recipes that need little or no prep. The recipes that kinda dump it all and cook happiness out of it. This 3 Ingredients Vegan Refried Beans is first of those recipes that will come handy for all the Tex Mex lovers.
My family loves Tex Mex food. Probably because of the history of living in Texas for a few years. The girls can actually eat Tacos, Burritos, and Nachos every single day of the week.
Since the Tex MEx is on high demand in our house, REFRIED BEANS go by cans from cans here.
Even though the canned refried beans are so convenient, these taste so blah. No matter whichever brand, these lacks flavor. Yes!
INGREDIENTS used in REFRIED BEANS
I have made these Vegan Refried Beans with only 3 Ingredients.
Salsa, medium hot. I used Chichi's Medium hot chunky salsa. You may use Hot or Mild as desired.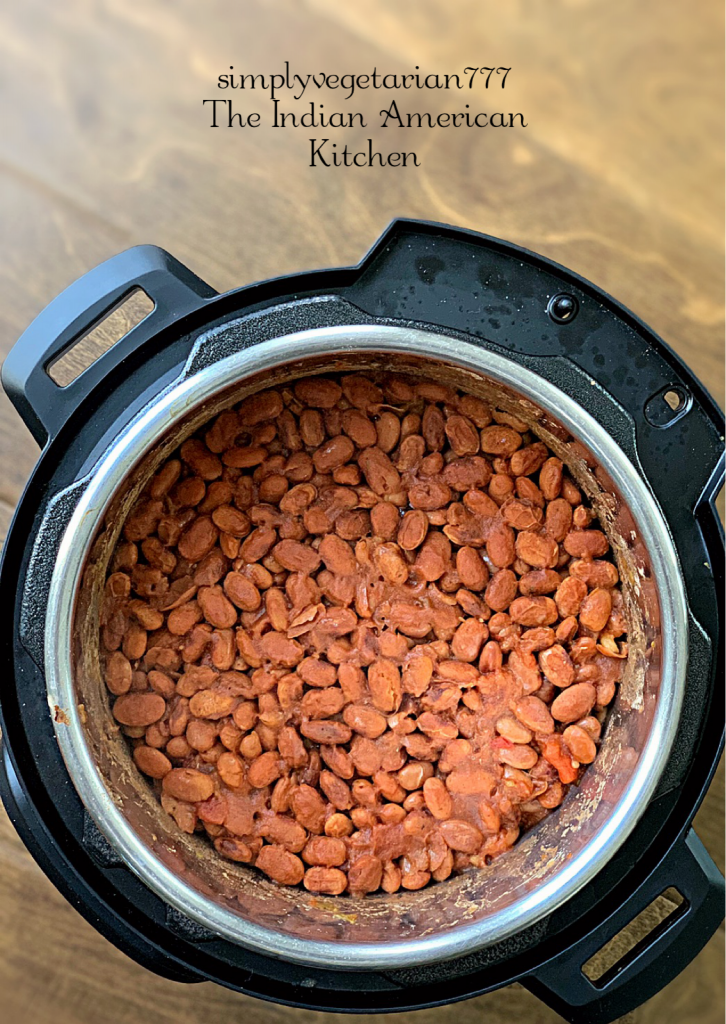 BEST RECIPE OF REFRIED BEANS in INSTANT POT
Therefore I decided to make my own batch of REFRIED BEANS in INSTANT POT. And I am shamelessly calling it the best recipe of Refried Beans in Instant Pot.
Why? Here are my TOP 10 REASONS to call it the BEST VEGAN REFRIED BEANS RECIPE. Because it is –
Made in Instant Pot. I used my 3-quart mini for the recipe and worked beautifully. No mess & Easy to Clean.

Dump & Cook Refried Beans Recipe. No preparation needed at all. Brilliant, isn't it?

Just 3 Ingredients Refried Beans Recipe. Yes, that's right. Just 1.2.3 ingredients.

WEIGHT WATCHERS FRIENDLY. It is worth 0 smart points per portion. Amazing, right?

VEGAN REFRIED BEANS RECIPE. It is so much more flavorful than the Canned Refried Beans.

OIL FREE or FAT-FREE

GLUTEN FREE

FREEZER FRIENDLY

This Recipe can easily be halved.

This Recipe can be easily adapted by increasing or decreasing the heat quotient.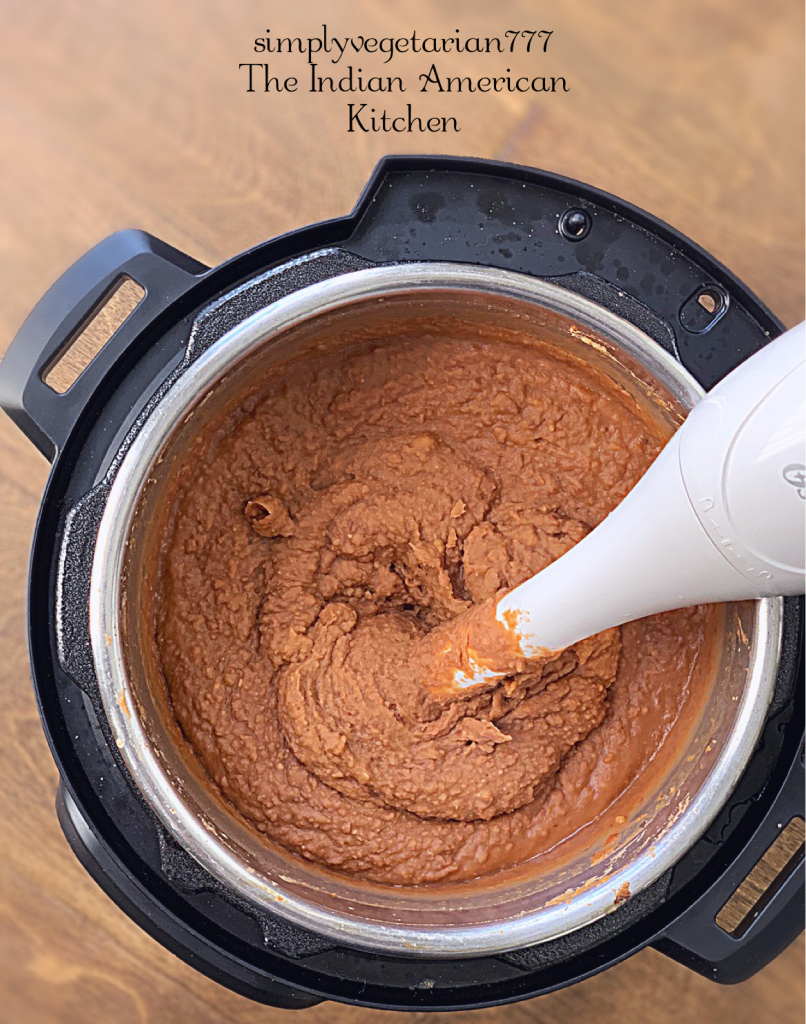 The Kitchen Gadgets Required to make VEGAN REFRIED BEANS in INSTANT POT
3-quarts or 6-quarts Instant Pot
Immersion Hand Blender or High Power Blender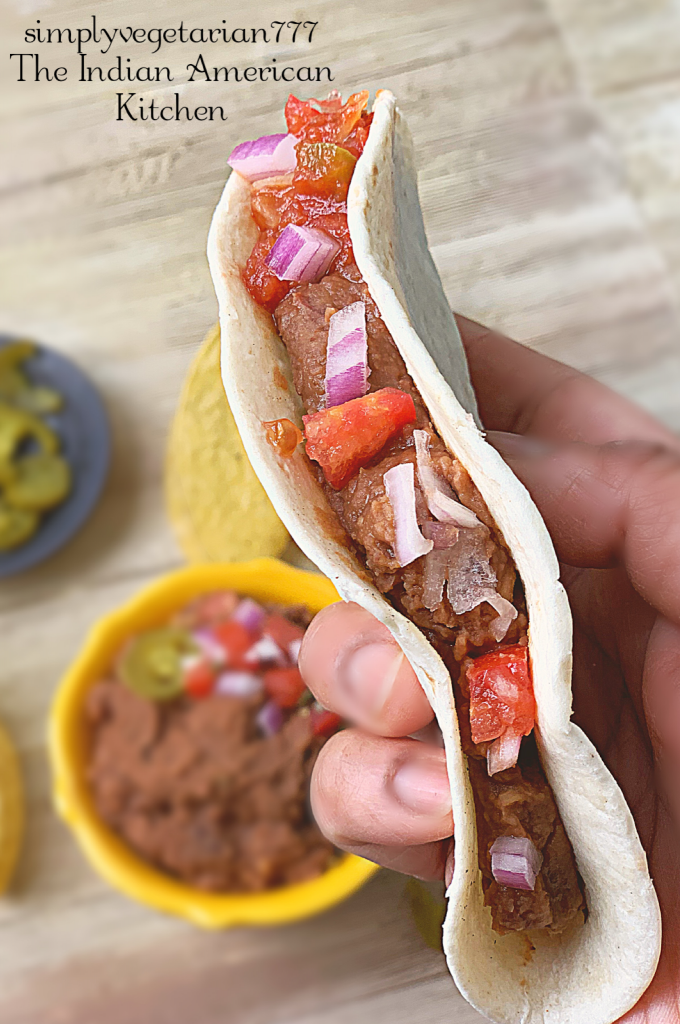 HOW TO USE REFRIED BEANS IN A RECIPE?
These Vegan Fat-Free Refried Beans are so easy to use in any recipe. Here are some suggestions as I use these-
You can use these as a DIP. Create a nacho platter and put a bowl of refried beans as a dip along with salsa and guacamole.
The Refried beans are used as a filling inside the BURRITO.
These fat-free refried beans make an excellent filling for SOFT TACO also.
Use these refried beans to make your 7 LAYER DIP.
Fill your TACOS with it.
These can be easily used as a filling for vegetarian/vegan TAMALES.
HOW TO FREEZE HOME MADE REFRIED BEANS + How to Thaw frozen beans + How to REHEAT the Frozen Refried Beans?
Bring the Refried Beans to Room temperature. Place in individual serving or small or big serving FREEZER FRIENDLY CONTAINERS. Place the lid tightly and freeze these. These should be good for a few months in the freezer.
When you are ready to use the frozen refried beans, take the container out. Leave it either in the refrigerator overnight for thawing so that these can be used the next day. Or take it out and place it on the countertop for 3-4 hours till these come to the room temperature.
Freezing might dry out the Refried Beans a bit. When you are ready to use the THAWED REFRIED BEANS, add a little amount of water in a pan along with the refried beans. Heat it up. You may adjust the seasoning accordingly at this point.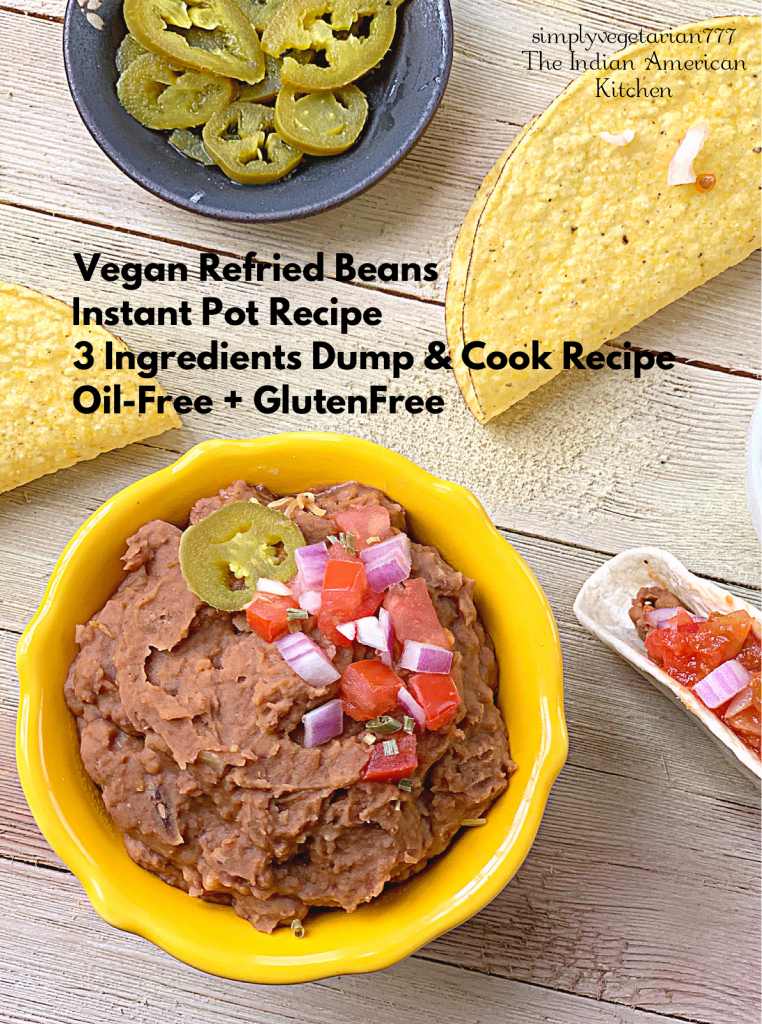 VEGAN INSTANT POT RECIPES FROM SIMPLYVEGETARIAN777
Red Thai curry, Green Thai Curry, Asian Sweet Corn Soup, Tuscan Soup, Taco Soup, Baby Kale & Potato Curry, Coconut Curry Rice and more.
VEGETARIAN INSTANT POT RECIPES FROM SIMPLYVEGETARIAN777
Madras Lentils, Chana Masala, Corn Chowder, Punjabi Kadhi (Buttermilk curry), Dal Bukhara, Cajun Pasta, Spaghetti Primavera, and more.
INSTANT POT EGGLESS DESSERTS FROM SIMPLYVEGETARIAN777
Fig Walnuts Halwa, Red Velvet Cake, Banana Bread, Chocolate Cake.
Save 25.0% on select products from Caramel Cantina with promo code 25OD22FO, through 3/13 while supplies last.
VEGAN REFRIED BEANS INSTANT POT RECIPE
3 Ingredients Refried Beans Instant Pot Recipe - Vegan & Glutenfree
This 3 Ingredients Refried Beans Instant Pot Recipe is packed with flavors. It is Easy, Vegan, Glutenfree and Oil-free & are cooked in Instant Pot.
Ingredients
4

cups

Pinto Beans

dry

3

tbsp

Taco Seasoning

1

cup

Salsa, medium hot

use mild or hot

6

cups

Water
Instructions
Place the inner pot inside the Instant Pot and plug it in.

Rinse the dry pinto beans in clean water. Add these to the Inner pot along with Taco Seasoning and Salsa. I have used chunky medium hot salsa. You may use any kind and brand salsa. Also you may choose to use mild or hot salsa.

Add 5 cups of water to the pot. Close the lid. Set the valve on SEALING. Press the Pressure Cook/Manual Button and set it to HIGH/MORE. Set the timer for 60 minutes.

If you are wondering that 60 minutes is too long, then it is not. For refried beans, we need beans to be cooked soft and ready to be mushed. Hence 60 minutes.

Once the time is up and you hear the beep, follow NPR (natural pressure release). When the pressure valve goes down, open the lid carefully.

If you think your beans look dry and need more water, then add 1 cup of water. Stir it. Cool it down to room temperature. The quality of beans vary. Some beans use more water and some not that much. The point if to have beans with little water so that they can be easily turned into REFRIED BEANS. If they are too dry, it would be difficult to blitz them through with the blender. Use your judgment a little and add more water as desired or required.

Once the Pinto Beans are cooled down a bit, blitz these cooked beans with either immersion hand blender or use a high-speed blender. Blitz the beans till you obtain a coarse paste kind of consistency. It means most of it is turned into pasty beans with some coarse pieces of beans in it. You decide the consistency of your REFRIED BEANS.

Your flavorful REFRIED BEANS are ready. You can store these in the refrigerator for up to a week. You can easily freeze these beans in individual portions. Read the post above the recipe card on instructions on freezing, thawing and reheating the refried beans.

This recipe is made with 4 cups dry pinto beans so it is a lot of beans. I made a big batch to freeze some since we use a lot of it. You may easily half the recipe. Season as required.
I am sure you are going to try this recipe soon. Keep me posted with your feedback under comments section or tag me on Facebook and Instagram with @simplyvegetarian777.
Save 25.0% on select products from Cakes of Eden with promo code 25OFFSWEETS, through 4/4 while supplies last.
In my Kitchen, you will always EAT HAPPY & STAY HAPPY.
Sonal