Eggless Chocolate Cake Instant Pot Recipe – Easy & Super Moist
As an Amazon Associate and member of other affiliate programs, I earn from qualifying purchases.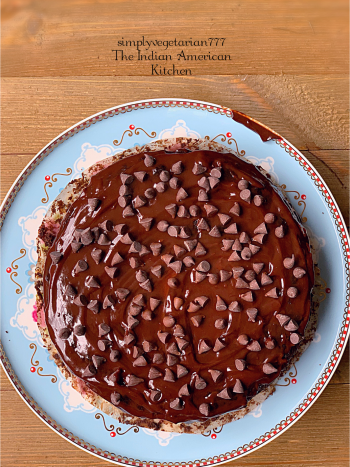 Eggless Chocolate Cake Instant Pot Recipe is Easy & Super Moist Recipe. It is a simple recipe made with few ingredients and really delicious. A perfect Holiday Recipe to make with your kids.
THE COMPLETE RECIPE IS GIVEN TOWARDS THE END OF THE POST. And in between, there are recommendations, tips, and other important info regarding making this CAKE.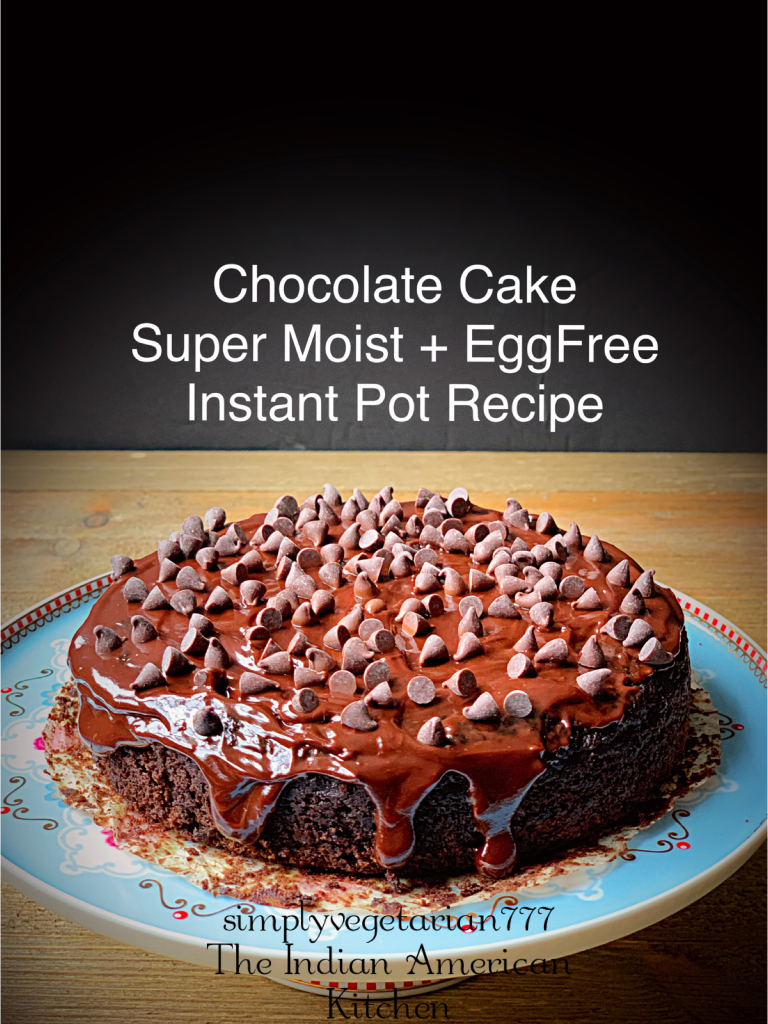 The Best & Easy Eggless Chocolate Cake Instant Pot Recipe
Finally, the CRAZY MONTH of the year is here. 😀 HELLO DECEMBER and bring on all the HOLIDAY FUN.
Have you noticed that people driving on the road, shopping at the stores, walking on the streets and everywhere else are DAZED? Too much to plan, way more to shop and so much more to catch up. We become multi-multi-taskers during this month.
But when we have fool-proof recipes like this DELICIOUSNESS dripping with sin, then I bet a little bit of our work is sorted. Right? Especially with Instant Pots in our lives.
I fall in love with my Instant Pot every time a bit more when I can BAKE in it as well. This Chocolate Cake came out so good that I might be IPing the chocolate cake from now on.
Yes, IPing is a word. I made it up and I absolutely love using it.
This is a MUST MAKE CHOCOLATE CAKE in INSTANT POT. Why?
Because it uses only a handful of ingredients that are easily available.
This recipe is a DUMP & MIX kind of recipe. No separate steps are needed.
It is the easiest & simplest recipe to follow and use. You can follow it blindly.
Since it is a CHOCOLATE CAKE RECIPE, it is perfect for any occasion.
Because the size of the cake is much smaller, it helps with your portion control eating. It is Baked and consumed. FINISHED.
The best part is that it is EGGLESS CHOCOLATE CAKE or EGGFREE CAKE recipe. Believe it or not, there are many people looking for egg-free bakes because of either they are allergic or do not eat eggs.
It is a super moist chocolate cake made in Instant Pot.
You get a bonus recipe for making QUICK CHOCOLATE GANACHE with just 2 Ingredients.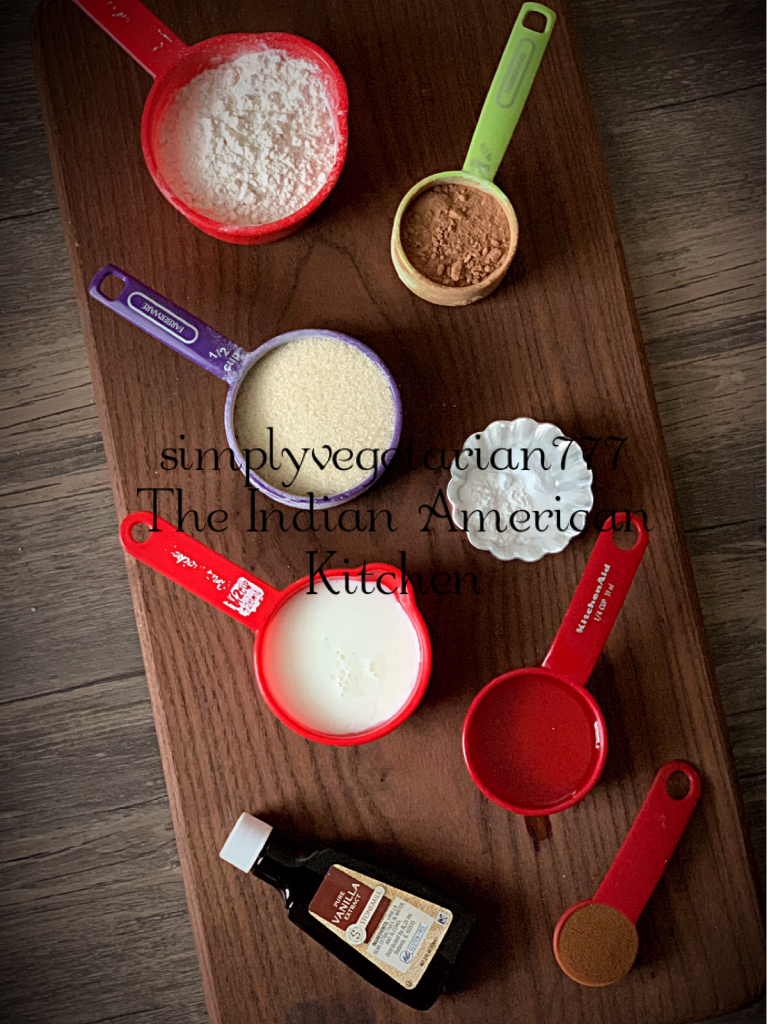 The Easy Chocolate Cake Instant Pot Recipe Ingredients
Disclaimer – We use Amazon affiliate links to recommend products. It does not cost you anything extra if you purchase via our links. We recommend some of the best and reasonably priced ingredients available.
This chocolate cake recipe uses only a few ingredients –
Milk
QUICK CHOCOLATE GANACHE INGREDIENTS
It is the simplest recipe that I have used numerous times to make QUICK GANACHE.
Semi-Sweet Chocolate Chips, and Milk.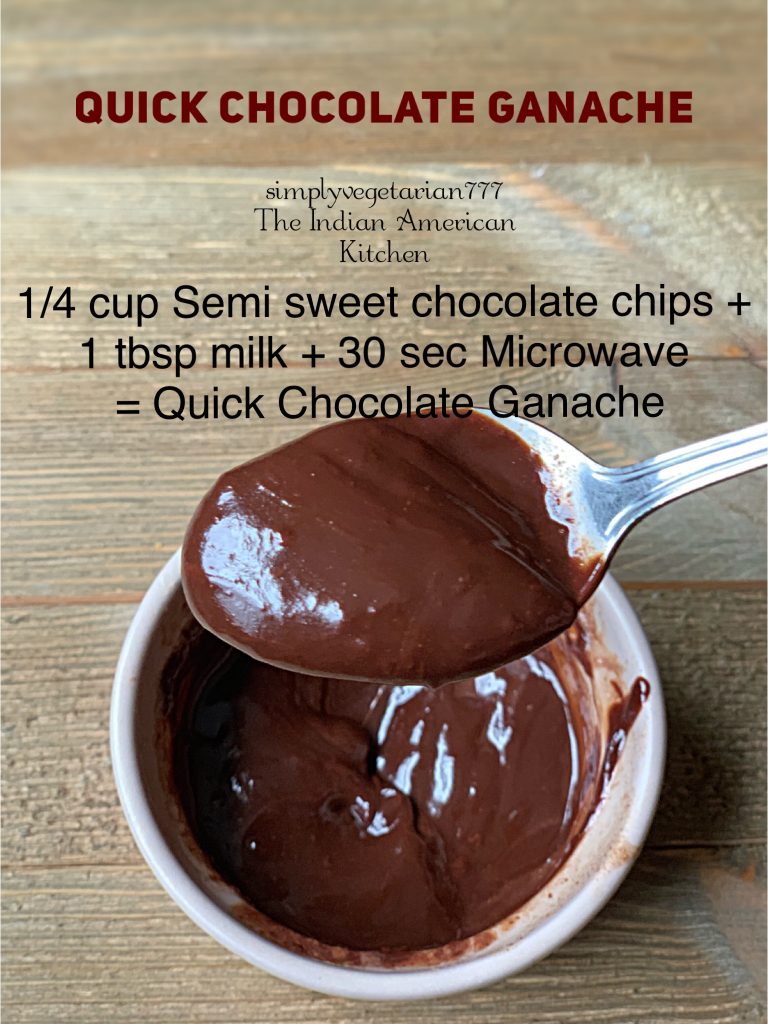 The Instant Pot Accessories used in making CHOCOLATE CAKE in INSTANT POT
Instant Pot – 6 quarts or 8 quarts (both the models are on sale)
Instant Pot Steamer Rack with handles
6 inches Cake Baking Pan (Fat Dadido's preferred)
and
If you do not have the Steamer Rack, then here is how you can work it out.
My Instant Pot came with the rack with side handles. There is a slight chance that yours' didn't.
No need to delay baking this cake if you don't have this rack. Follow this –
Take a 2 feet long aluminum foil. Fold it lengthwise to make a 2 feet long 1-2 inch wide belt out of it.
Now fold that belt lengthwise.
This is the sling or handle of your cake pan. It will help you put the cake pan inside and then take it out of the IP.
Simple, isn't it?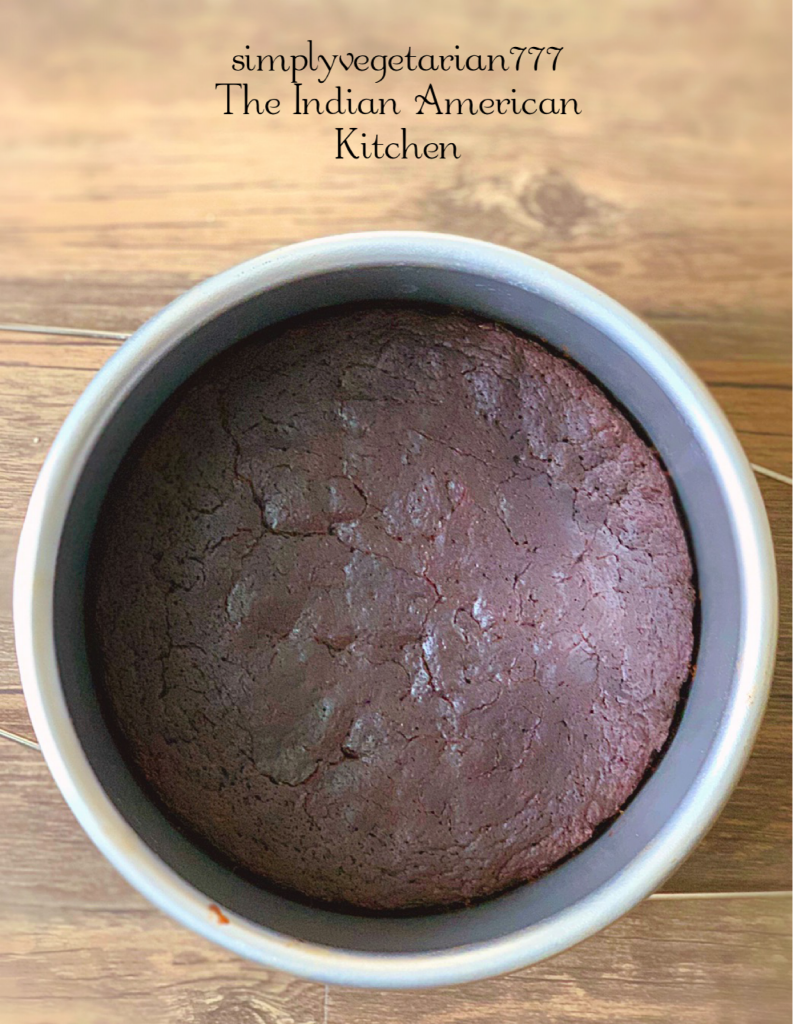 Steps Included in making Chocolate Cake in Instant Pot
It is a few steps simple recipe.
Add vinegar to Milk. Set aside for a few minutes.
Take a large bowl. Sift all the Dry Ingredients to it. Mix.
Add sugar. Mix.
Now add the Wet Ingredients. Mix again.
Pour the contents into the prepared pan. Level it out. Cover with aluminum foil.
Place it inside your IP and Bake on CAKE MODE.
It is adapted from my Very Popular MOIST EGGLESS CHOCOLATE CAKE. Use this recipe for your OVEN BAKED CHOCOLATE CAKE.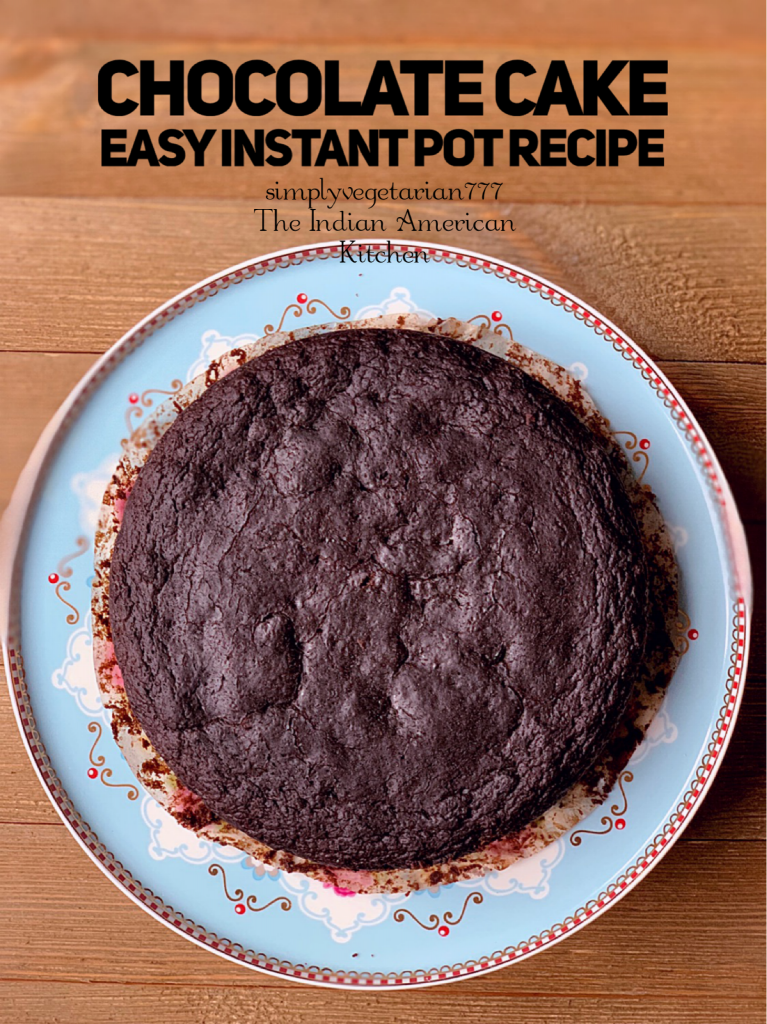 Some other HOLIDAY EGGLESS BAKES from Simplyvegetarian777
Thumbprint Cookies, Walnut Chocolate Crisp Cookies, Cranberry & Orange Shortbread, 1 Dough & 4 Cookie Recipes, Naan Khatai, and more.
VEGETARIAN INSTANT POT RECIPES from Simplyvegetarian777
Red Thai Curry, Tuscan Soup, Taco Soup, Enchilada Soup, Chana Masala and many more.
Save 50.0% on select products from CZCITY with promo code 507W6P1N, through 12/4 while supplies last.
Can I bake a VEGAN CHOCOLATE CAKE using this Recipe?
Yes absolutely. Just substitute regular milk with PLANT MILK to veganize it. Simple.
Save 50.0% on select products from Jolajola with promo code 50LMNM34, through 12/9 while supplies last.
Can I make an eggless Cake in instant pot from cake mix?
Yes. Substitute the eggs as mentioned in the box with yogurt. 1 egg = 1/4 cup yogurt. For 3 eggs, it will be 3/4 cup yogurt.
The Cake Mix will give you a larger quantity of the batter. Fill only 1/2 of the cake pan with batter and bake.
Rest of the batter can be used for a quick Microwave Cake. Pour rest of the batter in a greased microwave safe bowl and microwave for about 2-3 minutes till the center comes out clean.
Check out this QUICK VIDEO showing steps to make CHOCOLATE CAKE in INSTANT POT
Easy & Quick Eggless Chocolate Cake in Instant Pot Recipe
Eggless Chocolate Cake Instant Pot Recipe
Eggless Chocolate Cake Instant Pot Recipe is Easy & Super Moist Recipe. It is a simple recipe made with few ingredients and really delicious. A perfect Holiday Recipe to make with your kids.
Ingredients
Wet Ingredients
1/2

cup

Milk

1/4

cup

Cooking Oil

1

tsp

Vanilla Essence

1

tsp

Vinegar, Distilled
Instructions
Watch the Video for Better Understanding
Cake Pan Size and Depth
Use 6 inches Cake Pan for the Instant Pot cakes. Normally Fat Daddio's Cake Pans are popular for IP cakes. These are 6 inches wide in diameter and 3 inches high. I use this pan regularly and get good results.
Preparing the Baking Pan.
For 6 inches Baking Pan, cut out a 7 inch round parchment paper. Grease the cake pan lightly with oil. Place the parchment paper at the base of the pan. Set it aside.
Preparing the CAKE BATTER
Place the inner pot inside IP. Pour 2 cups of water inside the inner pot. Plug it in. Move onto making the batter now.

Add vinegar to the milk and set aside. It will curdle a bit. This is normal and desired for the recipe.

Take a large bowl. Use a cake sift/sieve and sift flour + cocoa powder + coffee + baking soda and powder + salt through it. Now add sugar to the bowl. Mix all these ingredients well with a fork. 

Make a well in the center of the dry ingredients. Add milk with vinegar in it + cooking oil + vanilla essence to the bowl. Give it a good mix with a spatula or fork till it becomes a batter.

Transfer this batter to the prepared pan. Level the batter with a butter knife or spatula. Cover it with the aluminum foil creating a slight dome in the middle. Check the video.
Making Eggless Chocolate Cake in Instant Pot
Place this covered pan on the rack and slide it gently inside the Instant Pot. Cover the IP with its Lid. Set the floating valve to SEALING. Follow NPR (natural pressure release).

Press the CAKE button and set it to Normal Mode/ High Pressure for 40 MINUTES.

Once the timer goes off and the safety valve drops, open the lid. Carefully take the cake pan out with the rack holding by its handles.

Now carefully remove the aluminum foil from the top, making sure that the water on it does not drop on the cake inside. Blot the excess water from the top of foil, if any.

Let the cake sit in the pan for 10 minutes. Now run a butter knife around the edges and carefully take the cake out. Let it cool on the cooling rack for another 10 minutes. Meanwhile, prepare the Quick Ganache.
Quick Ganache Recipe
Take a microwave safe bowl. Add chocolate chips and milk to it. Microwave for 30 seconds. Take it out. Mix till both the ingredients become one into ganache.
Smearing Ganache on Cake
Pour ganache over the cake. Take a butter knife and spread it around gently. Top it further with either chocolate chips or frosting of your choice, or fresh fruits.

Your chocolate cake in instant pot is ready to be devoured. Mine was gone in an hour. I promise there will be no need to store it. It will be attacked as soon as it is out.
NOTES
Few things to note about this cake -

1. Since it is an eggless cake, the texture is not sponge-like. It is a denser cake.

2. If you have to store it, then store in an airtight container. It can dry out fast.

3. This cake can be easily veganised by substituting regular milk with plant milk of your choice.

4. If you want to add an egg in it for a slightly fluffier texture, then add 1 egg to it along with wet ingredients. Make sure it is at the room temperature before adding.
I am sure you will be trying this recipe soon. If you try then do leave your feedback in the comments.
Can't make it today? PIN this EASY EGGLESS CHOCOLATE CAKE INSTANT POT RECIPE for Later.

In my Kitchen, you will always EAT HAPPY & STAY HAPPY!
SONAL