Instant Pot Coconut Rice with Curry Spice – Easy Recipe with Video
As an Amazon Associate and member of other affiliate programs, I earn from qualifying purchases.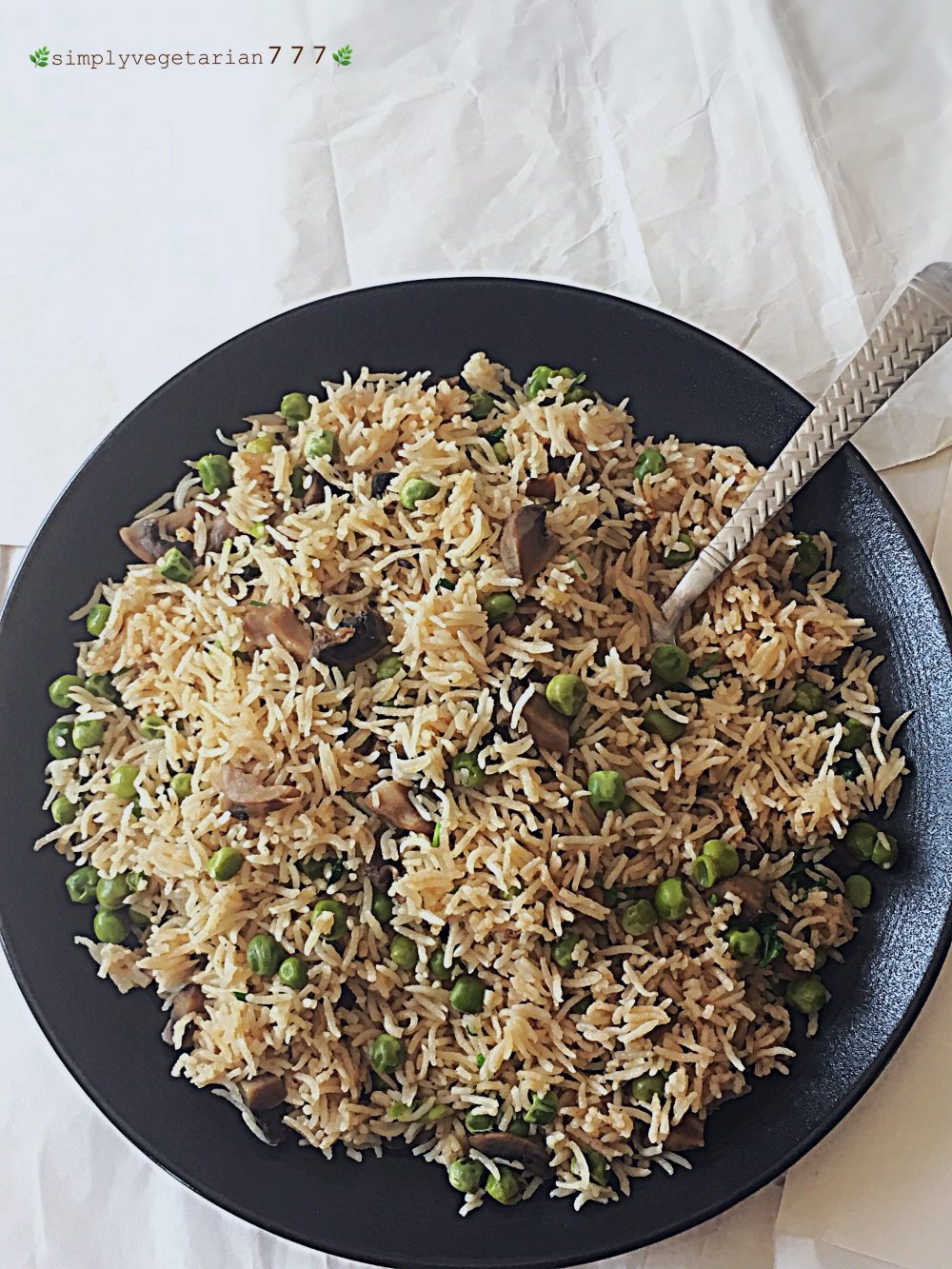 This Instant Pot Coconut Rice is cooked with only 5 main ingredients. It is a fail-proof recipe that is Easy, Efficient and Deliciously Vegetarian cooked in Instant Pot. The best part is that you can personalize it any way that you like. Coconut Milk Rice tastes best when served Hot. This Rice is mild in taste and can be easily paired with korma, curry or savored as is. Stove Top and Pressure cooker instructions are also included in the description. A video snippet is included for the better understanding.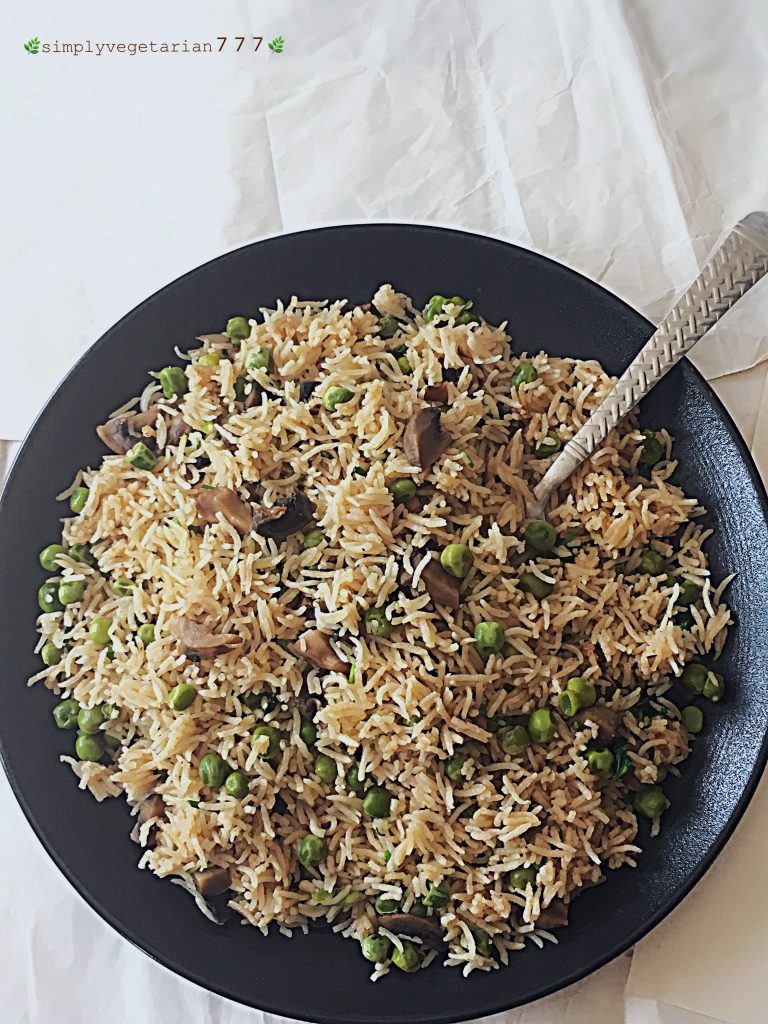 Instant Pot Coconut Rice with Curry Spice annd Mushrooms + Peas
I have been meaning to cook the Rice with Coconut Milk for the longest time. Not sure why it took me this much time to post it out for you guys. Maybe because it is too EASY AND SIMPLE. But Easy & Simple is the 2nd name for my blog. Isn't it?
I have always believed that our LIVES ARE TOO COMPLICATED, OUR RECIPES NEED TO BE SIMPLE. I am sure that you agree with me.
Thanks to INSTANT POT, life has become much simpler. If you haven't bought one yet then it is the time to invest in one.
These are the 2 types of Instant Pots that I recommend to purchase.
Instant Pot LUX Duo 3 quarts 6-in-1 if you do not want to make yogurt at home. It is the cheapest model and works as well as Mini Duo 3 quarts 7-in-1. The 7-in-1 has yogurt setting added.
Instant Pot Duo Plus 6 quarts 9-in-1. I am not sure why it is 9-in-1 since it has 14 functions that you can use for cooking including baking. Amazing, right?
I have both the models and use them regularly. My stove top cooking has become minimal. I use my 3 quarts Instant Pot more often for my daily cooking of Instant Pot Vegetarian and Instant Pot Vegan Curries and other Recipes.
Why should I buy an Instant Pot?
Have I told you that I am an Instant Pot Convert from a Hater to Lover? Yes, you got me right. Now I own 2 Instant Pots –6 quarts 10-in-1 Insta Pot and 3 quarts Duo Mini. The mini one is used more, as it is perfect for daily cooking for a family of 4-6 people. The 6 quart comes out mainly for party preps or when I am making whole beans, chili or Rice Pulav. Here is why you should also cook in Instant Pot –
No Baby Sitting or Attending to the Kitchen Gadget is required. You saute, you put the lid and close and set the timer and done.
The cooking in Instant Pot is ONE POT COOKING.
It is a MESS FREE Cooking.
The food preparation and cooking is VERY EFFICIENT and is perfect for busy moms and professionals in today's day and age.
It is so SAFE TO USE, that even your teenager can use it like my daughter does.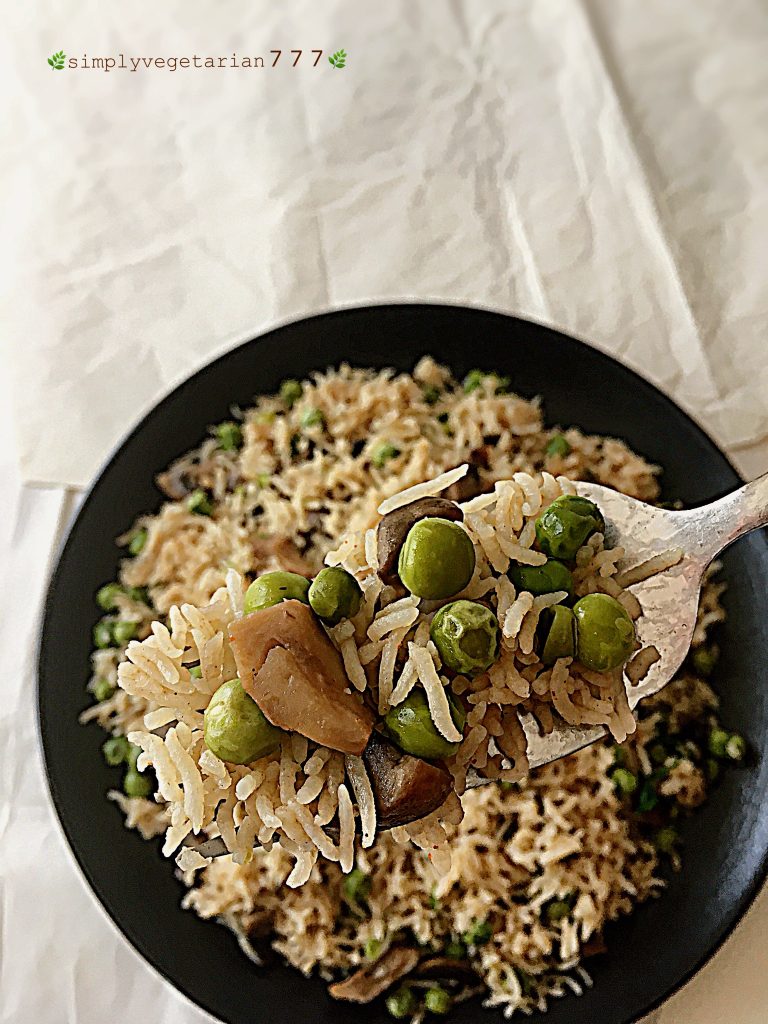 Though this is an Instant Pot Recipe, I am going to give instructions for STOVE TOP and PRESSURE COOKER Coconut Curry Rice Recipe also in the Recipe Card.
How to personalize Coconut Curry Rice Recipe?
I have used white basmati rice in this recipe. You can use small grain rice, or long grain rice, brown rice, red rice or mixed wild rice for this recipe. The timings of cooking may vary. But I am sure Instant Pot Resources and Google can help with the timings.
You can totally substitute the rice with other grains like QUINOA, a mix of Quinoa & Rice, Millets or any other grain of your choice. Again timings might vary.
I have used the combination of mushrooms and peas in this recipe to add some required vegetable goodness. You can totally swap it with any vegetable of your choice. I am 100% sure that broccoli, carrots, corn, zucchini, bell peppers etc, will be wonderful with this recipe.
I have used Light Coconut Milk. You can use Full fat coconut milk in this recipe. It will surely be more coconut-y.
To personalize the flavors, swap the curry powder with Indian Garam Masala or add a tablespoon of Thai Red curry paste or Green curry paste.
A combination of Pineapple and cashews would be an awesome addition to this flavorful rice.
The best part is making it as a side and cook it simple minus any vegetables. Serve it along the side of a curry or korma. It will make the best meal ever.
Some popular INSTANT POT VEGETARIAN RECIPES from the BLOG are
Instant pot Tuscan soup, Instant pot SAAG ALOO, Instant pot PUNJABI RAJMA (red beans curry), Instant pot PAV BHAJI.
Check out this VIDEO for STEP BY STEP PROCESS for Instant Pot Coconut Rice with Mushrooms & Peas in Curry Spices.
Here is the DETAILED & EASY written Recipe of Instant Pot Coconut Rice.
If you try this recipe, then give a shout out and Tag us on FACEBOOK, INSTAGRAM, PINTEREST, and TWITTER.
The 5 main ingredients of this recipe are – Rice, Coconut Milk, Oil, Salt & Curry Powder.
Instant Pot Coconut Rice with Curry Spice and Mushrooms + Peas
This Instant Pot Coconut Rice is cooked with only 5 main ingredients. It is a fail-proof recipe that is Easy, Efficient and Deliciously Vegetarian cooked in Instant Pot. The best part is that you can personalize it any way that you like. This Instant Pot Coconut Milk Curry Rice is mild and tastes best when served Hot.
Equipment
Instant Pot or Mealthy Multipot
Ingredients
1

cup

Rice

Basmati

1

cup

Coconut Milk

Light

1/2

cup

Water

1

cup

Mushrooms

button

1

cup

Peas

1

tsp

Oil

1

tsp

Salt

1/4

tsp

Red Chili powder

optional

1/2

tsp

Garam Masala or 1 tsp Mild Curry Powder
Instructions
Preparing for the Recipe
Watch the Video posted above for a quick understanding of the procedure. Gather all the ingredients as mentioned above. Place the inner pot inside the Instant Pot. Plug it in.
COOKING ON SAUTE MODE
Set the saute mode on MORE. When the screen displays HOT, add oil to it. Wait for few seconds and then add Mushrooms and Peas. Saute for few seconds. In case you are using some other vegetables, add those vegetables now. Saute for a minute or so.

Now add Rice + salt + spices. Give it a good stir.

Add coconut milk and water to the inner pot. Stir again. Switch off the Saute Mode.
COOKING ON MANUAL/PRESSURE COOK
Switch the Instant Pot Manual/Pressure Cook Mode and set it for 5 MINUTES on HIGH Pressure and More.

Once the Timer goes off, do QPR that is Quick Pressure Release. This is important for perfect textured rice.

Once the pin drops down, open the lid. Take a fork and gently fork the rice. Basmati has to be eaten grain separated. Do not mush it with a stirring spoon directly. Always fork the rice gently before serving.

Serve it warm as is or alongside a curry or korma.
INSTRUCTIONS WHEN USING A TRADITIONAL PRESSURE COOKER, NOT AN INSTANT POT
All the steps remain the same. The liquid amount remains the same too. Switch off the gas stove after the first whistle or when the steam blows off. Quick releases all the pressure manually. Open the lid. Fork the rice and serve as suggested.
INSTRUCTIONS WHEN COOKING ON STOVE TOP IN AN OPEN PAN
When cooking in an open pan. the liquid will be 2&1/4 cups to 1 cup of rice.

The saute instructions remain the same. Add the liquid. Bring it to a boil. Reduce the heat to simmer and close with a lid. Cook till all liquid is absorbed. Switch off the gas stove. Remove the lid. Let rest for 5 minutes. Fork the rice now. Serve hot.
I am sure you are going to try it soon. It is Simple, Easy, Efficient and Delicious with the goodness of Coconut.
Can't make it now? ⇓PIN ⇓ IT FOR LATER!

In my kitchen, you will always EAT HAPPY & STAY HAPPY!
Sonal