Instant Pot Quinoa Burrito Bowl Easy Recipe
As an Amazon Associate and member of other affiliate programs, I earn from qualifying purchases.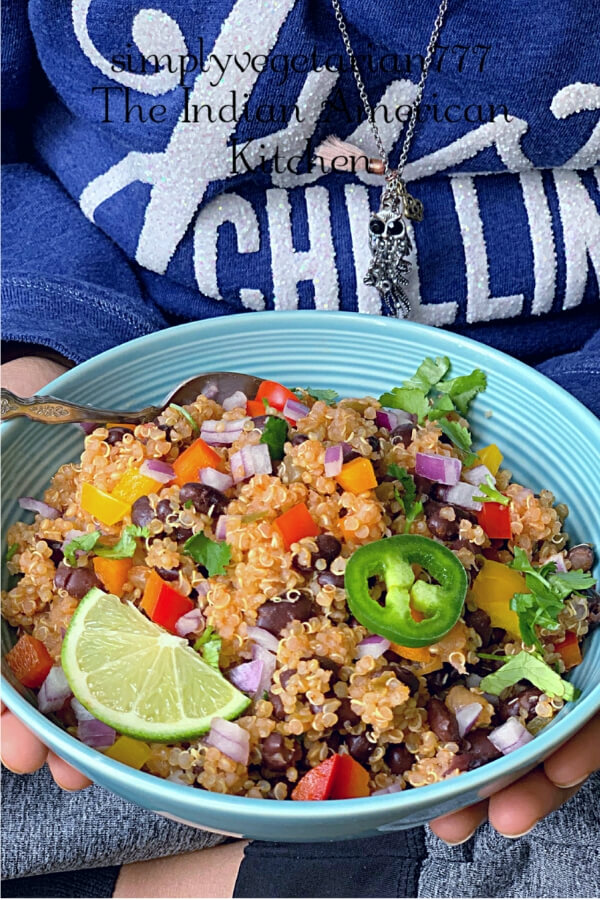 This Instant Pot Quinoa Burrito Bowl Recipe is Super Yummy, Very Easy, Really Quick, and made with only 5 Main Ingredients. The best part is that it is a VEGAN & GLUTENFREE Quinoa Recipe.
You can scroll down towards the end of the post and above comments for the complete recipe. In between, there are tips and more information about the recipe.
PIN THIS VEGAN QUINOA TEX MEX BOWL RECIPE FOR LATER.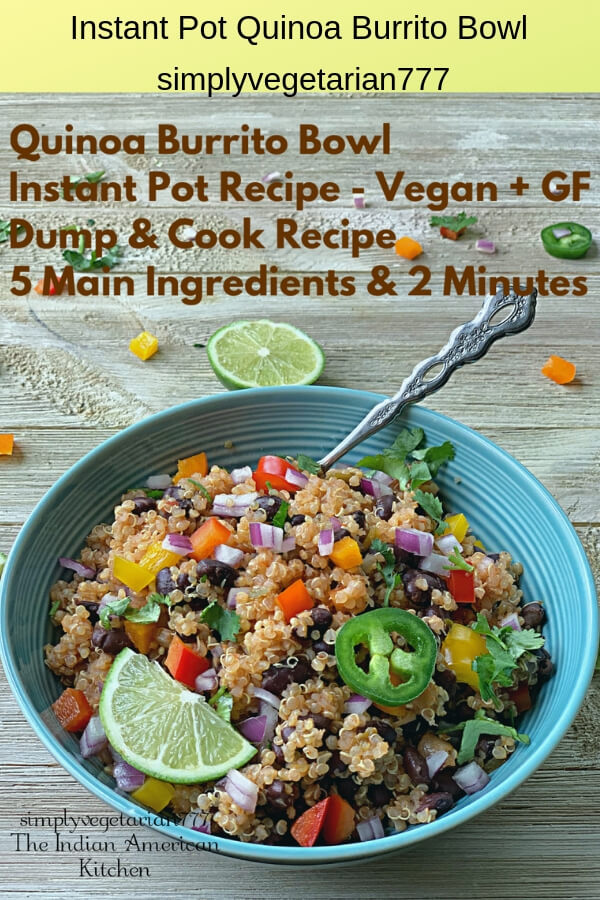 Easy Dump & Cook Instant Pot Quinoa Burrito Bowl
My family is a huge Tex Mex Food Buff. Isn't it pretty evident from the recipes that I post?
Every 3rd or 4th recipe on my blog is Tex Mex Inspired. And Instant Pot makes it so easy and convenient for me to make it often.
Since Spring is here, my mind is racing to create some Spring Flavor Inspired Recipes. My body is craving for meals that are lighter on the palate and delicious in my mouth.
This TEX MEX TACO BOWL aka Quinoa Burrito Bowl is just what spring is calling out for. Robust, Bold, Delicious, Nourishing, and COMPLETE MEAL.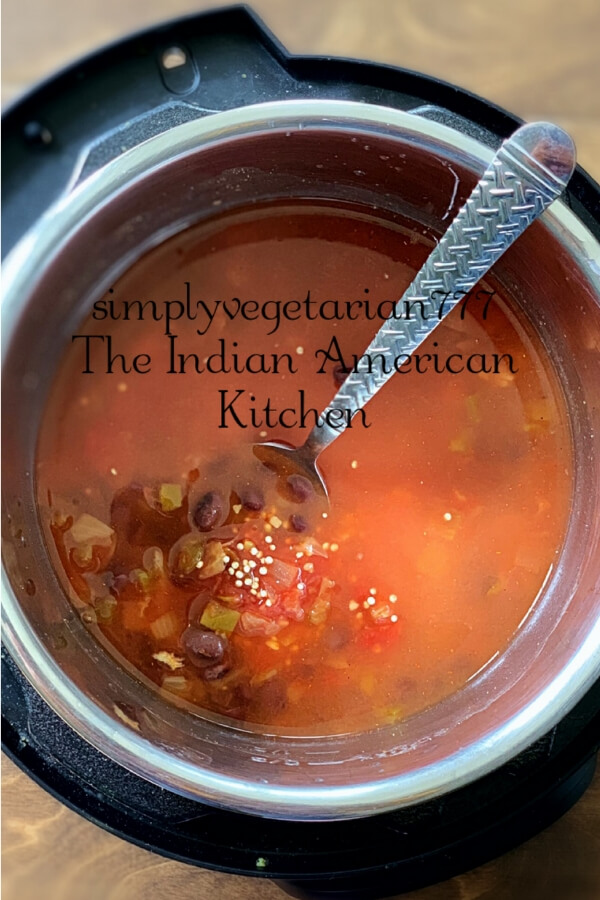 Mexican Quinoa Salad
Though this recipe is good in fall & winter, I highly recommend making this Mexican Quinoa Salad in Spring & Summer. My reasons are fairly simple.
This recipe is made in Instant Pot. Which makes your cooking effortless, hands-free and mess-free. The best part is that you can make it in 3 quarts IP as well as 6 quarts IP. And you can easily make it on Gas Top too.
It is a DUMP & COOK Quinoa Burrito Bowl Recipe. Which means it needs no preparation at all.
Since this recipe is done in just 2 minutes, it is a perfect recipe for any time of the day.
Mexican Quinoa Bowl is yummy and very healthy as well. It is a Protein and Fiber Rich Recipe with complex carbs.
This recipe is OIL FREE, VEGAN & GLUTENFREE BURRITO BOWL RECIPE.
It is made with easily available 5 main ingredients staple in most American Households.
Since this recipe is SO QUICK & EASY, it is perfect for the lunch box as well.
Mexican Quinoa Burrito Bowl is KIDS APPROVED.
You can enjoy Vegan & Gluten-free Burrito Bowl as a warm meal or as a Cold Salad. It refrigerates well for a few days.
Mexican Quinoa Bowl will become your once or maybe twice a week kind of meal for the family.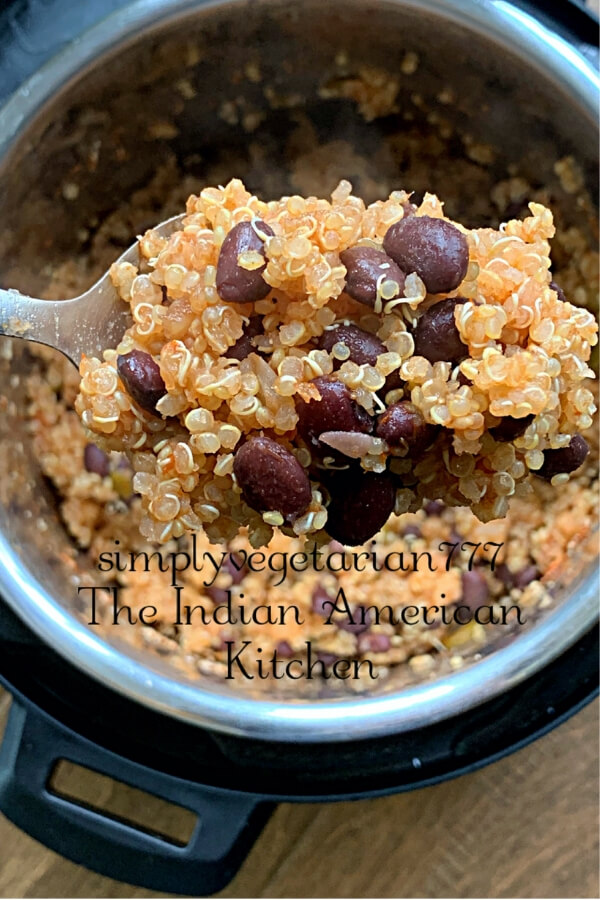 Ingredients used in Quinoa Burrito Bowl
(We use amazon affiliate links in the post. You can read the disclosure in our privacy policy.)
I have used 5 simple ingredients to make this DUMP & COOK INSTANT POT QUINOA BURRITO BOWL recipe.
Quinoa

– Since this grain is rich in protein, B Vitamins, dietary fiber, and complex carbs, it has gained popularity amongst health-conscious people. You may purchase Quinoa from your local store or order quinoa from here.

Black Beans

– These beans are commonly used in Latin & South American cuisine. The beans are also rich in protein, dietary fiber and minerals. I have used low sodium canned Black Beans in the recipe. And I always wash my canned beans under cold water before using in the recipe. You can order Black Beans here.

Taco Seasoning

– Since mine is a TEX MEX food loving family, I always keep my pantry stocked with TACO SEASONING, and FAJITA SEASONING. Make sure that it is Gluten-free to make Gluten-free Burrito bowls.

SALSA (MEDIUM HOT & CHUNKY)

– This is another pantry staple in my house. We finish bottles of it every month. You may use mild or hot salsa as well. I suggest using chunky to add texture to the recipe. Oder Medium Chunky Salsa here.
Water & Salt to taste are the other ingredients to make this recipe.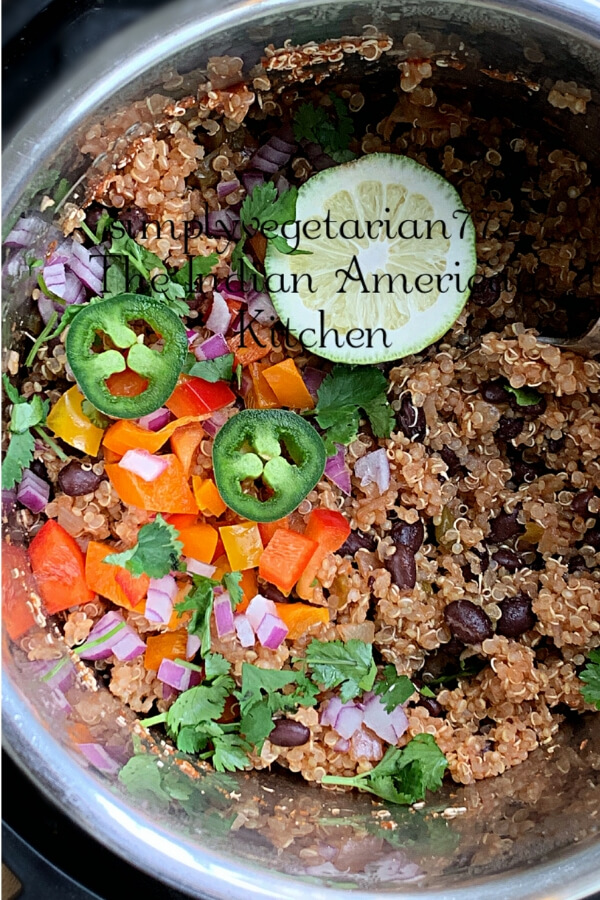 Stove Top Mexican Quinoa Burrito Bowl
Though this recipe is for INSTANT POT Quinoa Burrito Bowls, it can be easily made on the Stove top.
Stove top recipe uses double quantity of water for quinoa. For 1 cup of Quinoa, we will use 2 cups of water on the stove top.
Instructions – In a sauce pan, combine all the ingredients as mentioned under the RECIPE CARD (given below). Use 2 cups of water instead of 1&1/2 cups. Bring to a boil. Cover & Simmer till all the water is absorbed. Fluff with a fork. Add the garnish, squeeze some lime and done. Serve it warm or chilled.
How to Cook Quinoa in Instant Pot?
Making Quinoa in Instant Pot is the easiest thing. I always keep cooked quinoa in my refrigerator for last minute meals or snack time small hunger pangs. Mix with some other ingredients and you have a nourishing yummy meal.
This is a great way to cook Quinoa in Instant Pot for your meal plans.
Always WASH QUINOA under cold running water before cooking. It takes away that slight bitterness from the taste.
Place Quinoa & 1&1/2 times more the quantity of water in the Inner Liner of Instant Pot. For 1 cup Quinoa, we need 1&1/2 cups of water.
Add salt and oil if desired.
Place the lid. Set the valve to SEALING. Pressure Cook HIGH for 2 minutes and then follow QR (quick pressure release).
Open the lid when safety valve drops down. Fluff it through with a fork. For better results, let it stand for 5 minutes in open Instant Pot after cooking and then fluff it.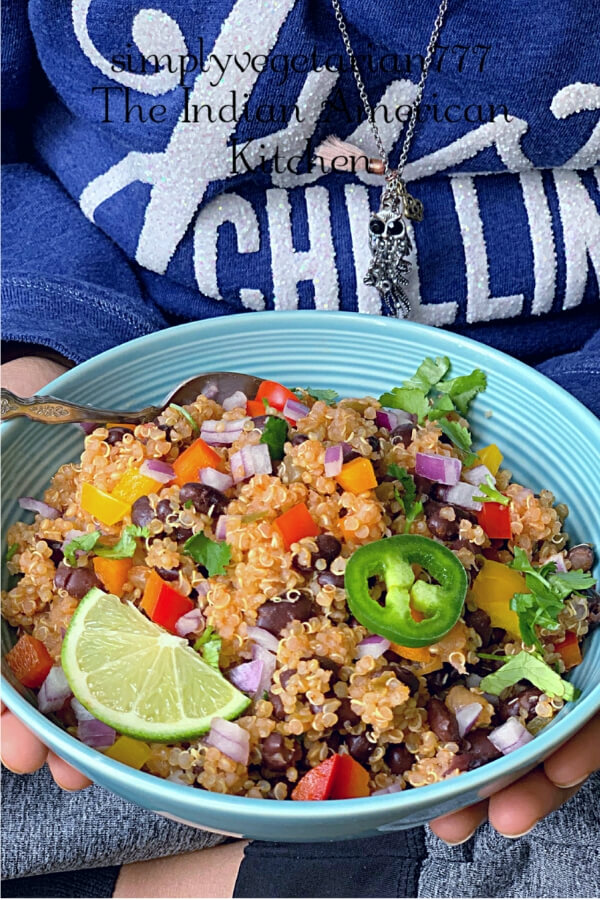 Simplyvegetarian777 Vegan Instant Pot Recipes
Spicy Pinto Beans, Tex Mex Black Beans, 3 Ingredients Refried Beans, Taco Soup, Enchilada Soup, Tuscan Soup, Chana Masala, Red Kidney Beans Curry, Red Thai Curry, Kung Pao Noodles, Thai Curry Noodles and more.
Simplyvegetarian777 Vegetarian Instant Pot Recipes Collections
20 plus Mexican Instant Pot Recipes, 20 plus Instant Pot Desserts, 20 plus Vegetarian Instant Pot Soups
How to make Instant Pot Mexican Quinoa Burrito Bowls?
Instant Pot Quinoa Burrito Bowl
This Instant Pot Quinoa Burrito Bowl Recipe is- Super Yummy, Dump & Cook, made with 5 Main Ingredients & Done in 2 minutes in IP. Perfect Busy Week Meal.
Ingredients
1

cup

Quinoa (regular white one)

washed under cold water

1

can (15 ounce)

Black Beans

low sodium or salt free or washed under cold water

1

cup

Salsa

Medium Hot & Chunky

2

tbsp

Taco Seasoning

glutenfree

1&1/2

cups

Water

To

Taste

Salt

if required
GARNISHES & TOPPINGS- use few or all
1/4

cup

Bell Peppers, colorful

finely chopped

2

tbsp

Red Onion

finely chopped

2

tbsp

Cilantro leaves

finely chopped

1

jalapeno

sliced or chopped

1

tbsp

Lime Juice

Salsa and/or Pico de Gallo, Guacamole, Hot Sauce

if desired

Few

Taco or Nacho Chips

for extra crunch
Instructions
Wash the QUINOA under cold water for 2 minutes in a strainer and set aside. Wash the canned Black Beans under cold water and set aside. Place the inner liner inside the 3 quart or 6 quart Instant Pot. Plug it in.

Add washed quinoa, salsa, washed canned black beans, chunky medium hot salsa, Taco seasoning and water to the inner pot. Give it a good stir.

IMPORTANT - Now do a taste test for salt. If you think you need salt, then only add it. Since taco seasoning, canned black beans and salsa already have good amount of salt, you have to be careful about the quantity of salt you add. I normally wouldn't add salt in this since I can always top it with more salsa or sprinkle more salt later on.

Place the lid of the instant pot and close it. Set the Valve to SEALING. Press the Pressure Cook/Manual button and set it on HIGH & MORE for 2 minutes.

Once the timer goes off, follow NPR (natural pressure release). When the safety valve drops down, carefully open the lid. Let stand for 2 minutes.

Take a fork and fluff it up. Your MEXICAN BURRITO BOWL or QUINOA BURRITO BOWL is ready to be served.

Add the garnishes of your choice. I have used finely chopped colorful bell peppers, onions, jalapenos, cilantro to top it. And then a good squeeze of lime to make it perfect.
STORAGE & REFRIGERATION
This recipe is perfect to be eaten warm or served as a COLD SALAD.

Bring it to the room temperature. Store in air tight container in the refrigerator. Eat it as a cold salad with all the garnishes and salsa or pico de gallo and a squeeze of lime.
SERVING SUGGESTIONS
Take it for a spring or summer potluck.

Make a quick and easy QUICK MEAL. Serve it with some Nachos chips on the side.
I am sure you are going to love this recipe so much that it will be on your weekly menu. Please leave your feedback under comments. We would love to hear back from you.
In my Kitchen, you will always EAT HAPPY & STAY HAPPY!


Sonal