Kung Pao Noodles Vegan Instant Pot Recipe
As an Amazon Associate and member of other affiliate programs, I earn from qualifying purchases.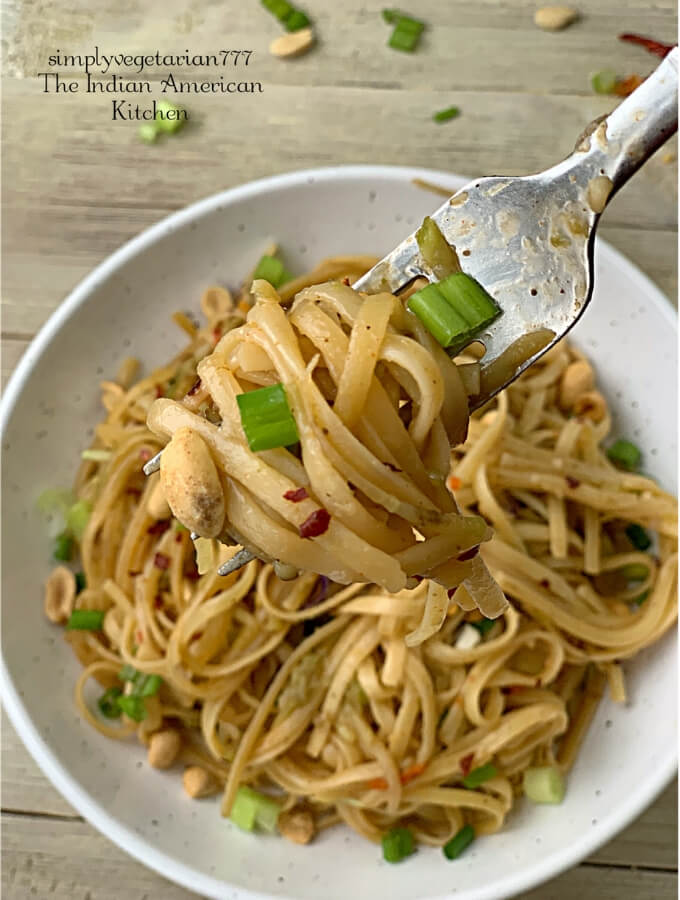 Kung Pao Noodles is a delicious, easy and addictive recipe. When you make it in Instant Pot, it is the best One Pot Meal Noodle Dish. Also, Kung Pao Sauce Recipe is given in the post.
Instructions to cook the perfect pasta/noodles in Instant Pot are given as well.
As always, the complete recipe is given towards the end of the post, above the comments. Scroll down to get it. In between, you will find some tips & info about the Recipe.
!!PIN THIS IMAGE FOR LATER USE!!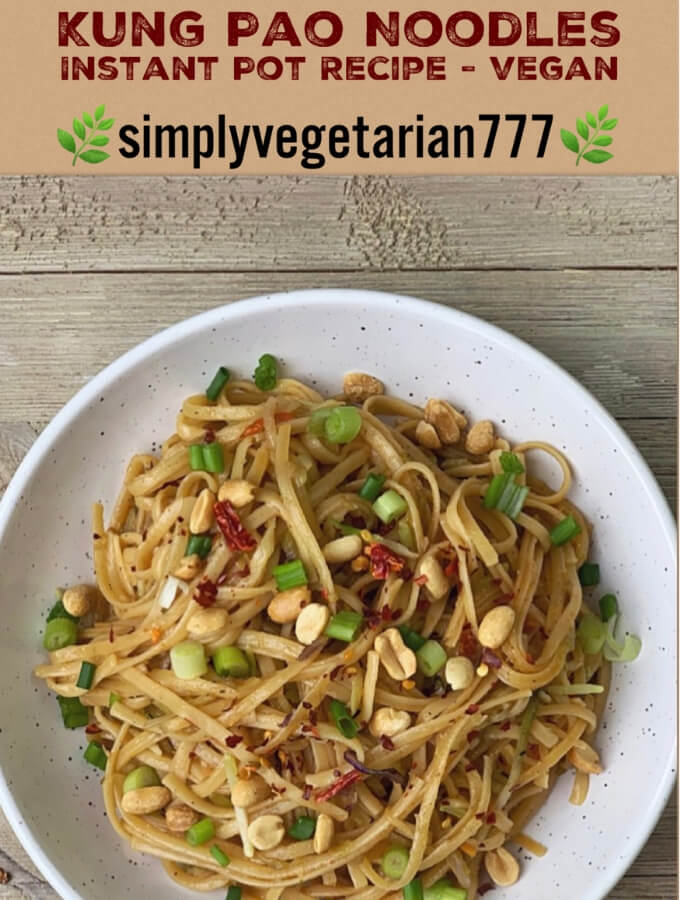 Easy Kung Pao Noodles Vegan Instant Pot Recipe
I am a huge Kung Pao Buff. And if you know then American eat outs do not offer much of Vegetarian Kung Pao Options. Right? Or am I the only one who can't figure it out?
Though I would love to get a good Kung Pao take-out, I end up making it at home. And believe me, the recipe and preparation are so easy, that you would be tempted to make KUNG PAO at HOME.
Well, I didn't say that my recipe is authentic. But hey, it is finger-licking delicious for sure. I modify and personalize the recipes to suit the available ingredients, my cooking style, and my family's preferences.
Are you ready?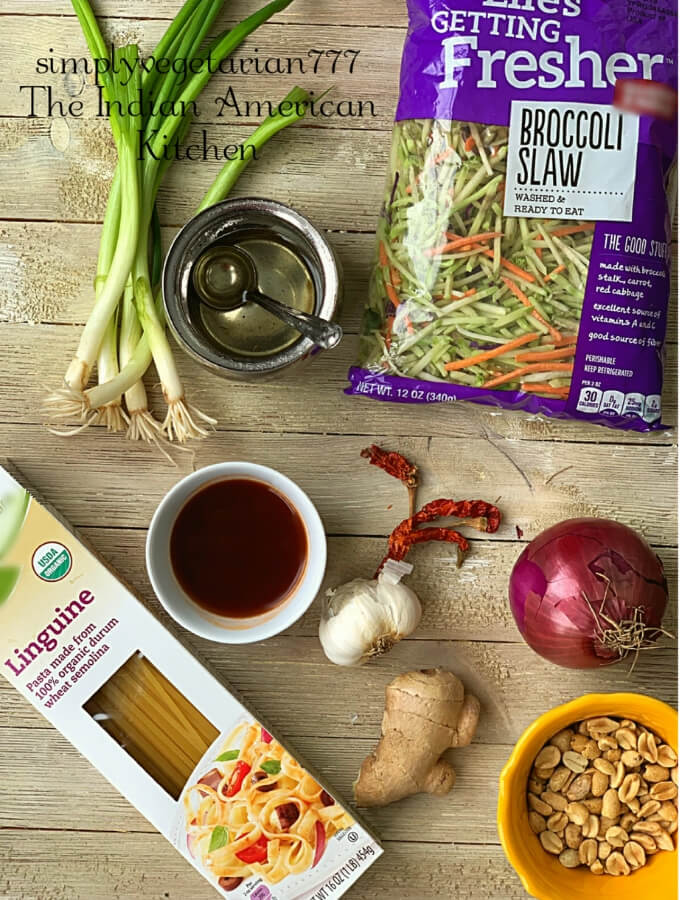 Ingredients used in making Kung Pao Noodles
Noodles – Well, I have used Linguine here. You may choose any kind of noodles or pasta here. Learn how to make perfect pasta/noodles in the post below. Spaghetti works really good as well.
Cooking Oil – Sesame Oil is the best kind. But I go with any cooking oil that is handy.
Ginger & Garlic – No Asian dish is complete without Ginger & Garlic. They come together in a package. These are a must.
Onion & Scallions (Green Onions) – I have used Red Onion but you may use Yellow or White. Scallions aka green onions add a nice texture and flavor to the recipe. Also, the green part is perfect for garnishing.
Whole Dry Red Chilies – Kung Pao is not complete without these hot red chilies. You can buy these from any Asian/Indian grocery store. You can make it as spicy or as mild as you want. Also, if you do not have whole dry red chilies then use Dry Chili Flakes instead.
Kung Pao Sauce – Now you have all these sauces available easily in the market. But you must know that to make a quick KUNG PAO SAUCE at home is a child's play. Find the Recipe below in the post.
Peanuts, dry roasted – This is a MUST HAVE & MUST ADD ingredient unless you are allergic to it. Kung Pao for me is HOT RED CHILIES & DRY ROASTED PEANUTS. Or it is not Kung Pao.
Fresh Produce – I use a packet of BROCCOLI SLAW in all my Asian Noodles Recipes. This adds crunch and color to the recipe. Though, this is optional but do give it a try. It works like magic.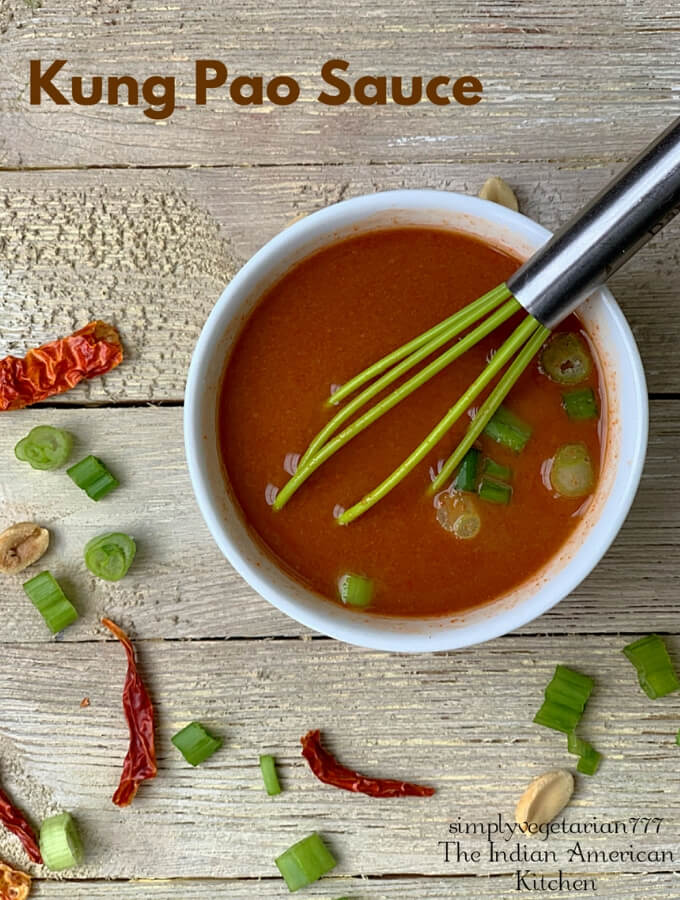 How to make Vegan Kung Pao Sauce?
It is a fairly simple recipe. I keep it handy as a dip or a quick sauce to pour over stir-fries.
Here are Ingredients and the Method.
1/3 cup Soy Sauce
1/4 cup Distilled White Vinegar
2 tbsp Chili Sauce or Sriracha
1 tbsp Sugar
1 tbsp Corn Starch/Corn Flour
3/4 cup Cold Water
Method – Mix everything together in a bowl. Pour in a saucepan and bring it to a simmering boil till it thickens a little bit. Take it off the heat. Your Easy Kung Pao Sauce is ready.
Important – To make this recipe one pot meal, I skipped water & corn starch in it. It won't make any change in the flavors. Since corn starch/flour is used just as a thickening agent.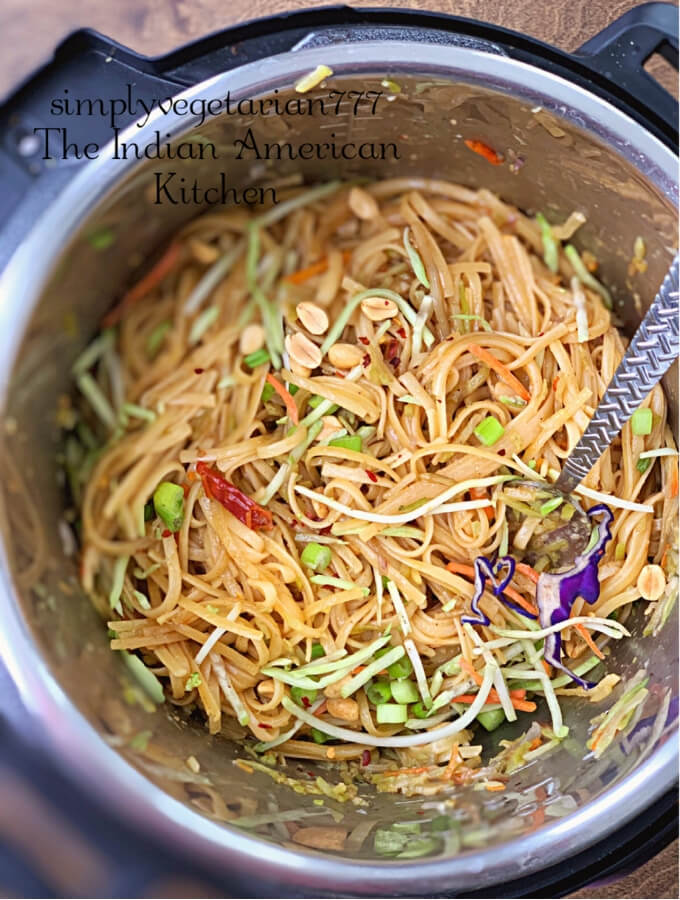 How to Cook Perfect Pasta/Noodles in Instant Pot?
Here are some of my tried and tested tips to make Pasta in Instant Pot.
Quantity – 1 pound of pasta needs to be cooked in 6 quarts or 8 quarts Instant Pot. Do not use mini IP for this recipe or any pasta recipe unless you are cooking very less quantity.
Spreading & Layering Pasta in IP Liner – When using pasta like penne, shells, bowtie, and such, spread them out evenly at the base of the inner pot of the Instant Pot. And when you use noodle shaped pasta like Linguine or spaghetti, then I suggest breaking the pasta into the half lengthwise. Then spread the pasta out in different directions like a criss-cross. Make sure it is not all clumped up at one spot. You may spray it lightly with oil spray to avoid sticking.
Water – Add water to the Pasta. Normally 3&1/2 cups of water is perfect for shaped pasta. Or the Rule of Thumb is filling just enough water in the pot so that it covers the pasta right at the brim of it. Pasta needs to be submerged in the water/liquid just enough till its top layer in the inner pot.
Timing – The basic rule is to cook pasta in IP for half the time from what is mentioned at the back of the pasta packet. If your Pasta packet says 12 minutes, then you will cook it for 6 minutes.
Cooking Mode – Cook it at High-Pressure Manual/Pressure Cook Mode. Follow QR that is Quick Pressure Release.
What to do when the noodles or linguine or spaghetti is stuck together?
Since it is imperative that it will happen, this is what I do. I take 2 forks one in each hand and go through the Noodles/Long Pasta in the Instant Pot. I quickly separate the clumped up pasta if any and gently fork it through. Seriously that is all it is there in it. And it does not take any extra time when it is still hot.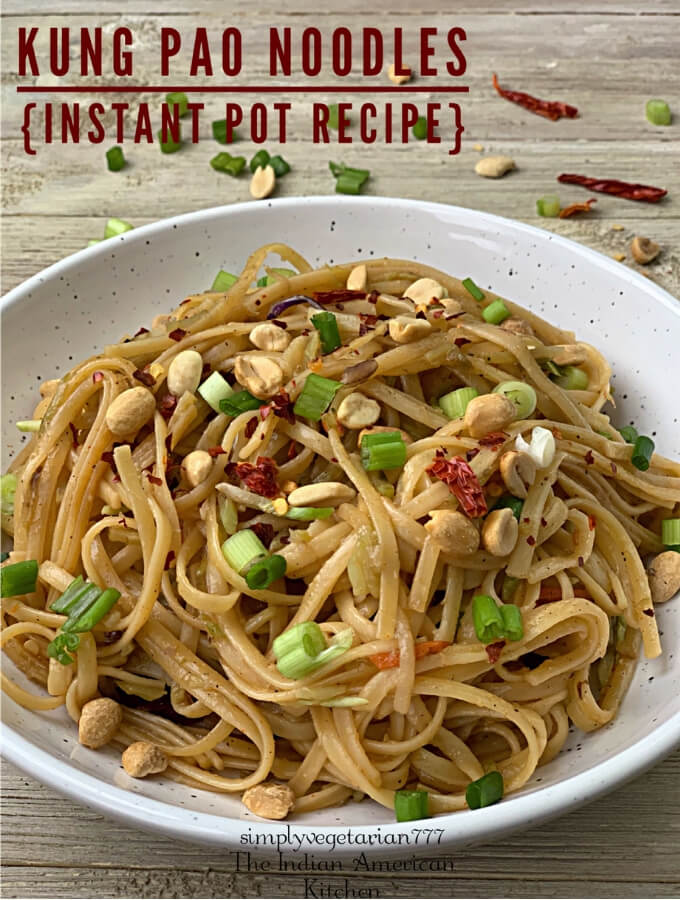 If you want STOVE TOP KUNG PAO SPAGHETTI recipe, then CLICK HERE. It is California's Pizza Kitchen Copy Cat Recipe.
Simplyvegetarian777 Instant Pot Noodle & Pasta Recipes
Cajun Pasta, Creamy Spinach Pasta, Pasta Primavera, Thai Curry Noodles and more.
Simplyvegetarian777 Instant Pot Asian Recipes
Red Thai Curry, Green Thai Curry, Tom Yum Soup and more.
Easy Kung Pao Noodles Recipe
Kung Pao Noodles Instant Pot Recipe Vegan
Kung Pao Noodles is a delicious, easy and addictive recipe. When you make it in Instant Pot, it is the best One Pot Meal Noodle Dish. Also, Kung Pao Sauce Recipe is given in the post.
Ingredients
1 pack of

16 ounce or 1 pound

Linguine or Spaghetti

1

tbsp

Cooking Oil

4 to 5

whole

Dry Red Chilies

broken roughly

1

tbsp

Ginger

minced

1

tbsp

Garlic

minced

1/2

Large

Onion

thinly sliced

5 to 6

Scallions or Green Onions

thinly sliced and greens & whites separated

1/2

packet of

Broccoli Slaw

optional

1/2

cup

Peanuts

dry roasted

To Taste

Salt & Pepper

1

tbsp

Lime Juice

Optional
Kung Pao Sauce Recipe
1/3

cup

Soy Sauce

use low sodium if desired

1/4

cup

Distilled white vinegar

1&1/2

tbsp

Hot Sauce or Paste

use less or more as desired

1&1/2

tbsp

Sugar

use more if desired.

1

tsp

Red Chili Flakes

optional for garnish
Instructions
If you get a chance then read the whole post. It has many tips about the recipe.
Place the inner liner/pot inside the instant pot. plug it in. Press and set the SAUTE MODE for 5 minutes on High. Once the screen displays HOT, add oil + minced Ginger + minced Garlic + Whole Dry Red chilies to it.

Saute for 30 seconds. Add thinly sliced onions and white part of the scallions. Saute for 2 minutes till onions are wet down. Cancel the saute mode.

Break the Linguine or Spaghetti into halves lengthwise. Spread these noodles out evenly in the pan. Add 3&1/2 cups or just enough water to cover the top of the noodles so that there is no noodle peeking out of the liquid. Add salt & pepper to taste. Give a gentle stir.

Place the lid of the IP and lock the valve to SEALING. Press PRESSURE COOK / MANUAL MODE and set it for 6 minutes. The back of the pasta packet mentioned cooking for 12 minutes. That is why I did for 6 minutes. Read the cooking instructions of your pasta bag. JUst half the time from what is mentioned. For 12 minutes, go for 6 minutes. For 14 minutes, go for 7 minutes. FOr 10 minutes, go for 5 minutes and so on.

Once the timer goes off, follow QR that is Quick Pressure Release. Release the pressure manually.

Meanwhile, take a bowl. Add the ingredients of the KUNG PAO SAUCE to it and stir till sugar is dissolved.

Now as the pressure is released, open the lid carefully. Use 2 forks, one in each hand and separate the noodles from each other gently.

Once the noodles are separated, add the kung pao sauce (homemade or store bought). Also, add broccoli slaw to it. GIve it a good stir with a fork. Now add dry roasted peanuts and green scallions and little lime juice if desired.
I am sure you are going to try this recipe soon. Right? If you do, then leave your feedback under comments below. You may tag us on Facebook @simplyvegetarian777 and Instagram with #svg777.
In my Kitchen, you will always EAT HAPPY & STAY HAPPY.
Sonal