Thai Tom Yum Soup Instant Pot Recipe
As an Amazon Associate and member of other affiliate programs, I earn from qualifying purchases.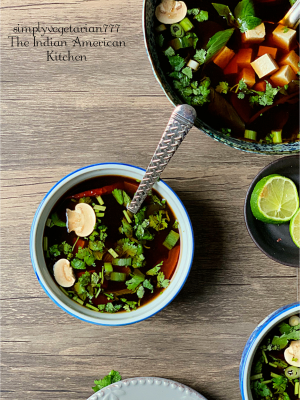 This recipe of Thai Tom Yum Soup is a super yummy and easy soup recipe made in Instant Pot. The best part is that my recipe is Vegan, and light + filling. Stove Top Recipe link included.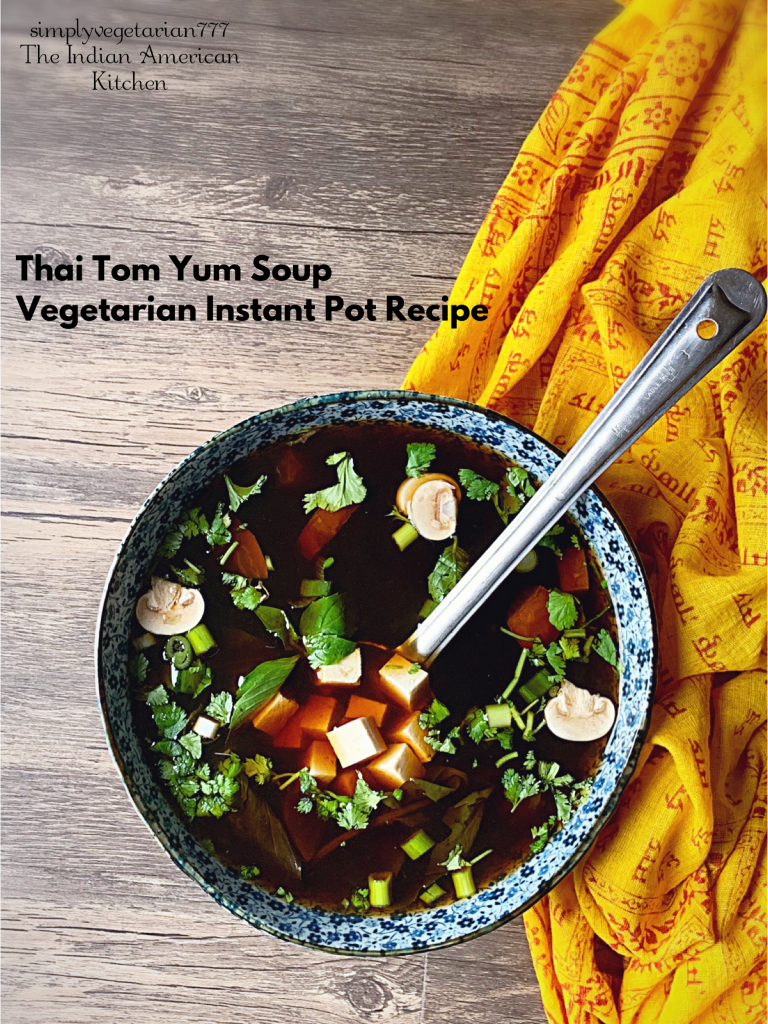 Easy & Yummy Thai Tom Yum Soup Recipe in Instant Pot
Every time that we go out to eat Thai food, Tom Yum is undoubtedly our first choice to order.
There is something so delicate yet complex about this soup. The Sour & Spicy flavors are bold and every sip is like putting more life in the body. It is so healing, at least for me.
The flavors of lemongrass and galangal are so soothing. I think it is a perfect Fall Season Soup. Actually, it is more of a broth.
Since it is our favorite soup from the cuisine, I make it often at home. I am not claiming it to be an authentic recipe but tastes pretty close to what we get in our local restaurant. Or maybe it is an Americanized version of Tom Yum Soup.
The soup looks like a beautiful lake with so much floral in it. The sight of this soup is very pleasing to eyes.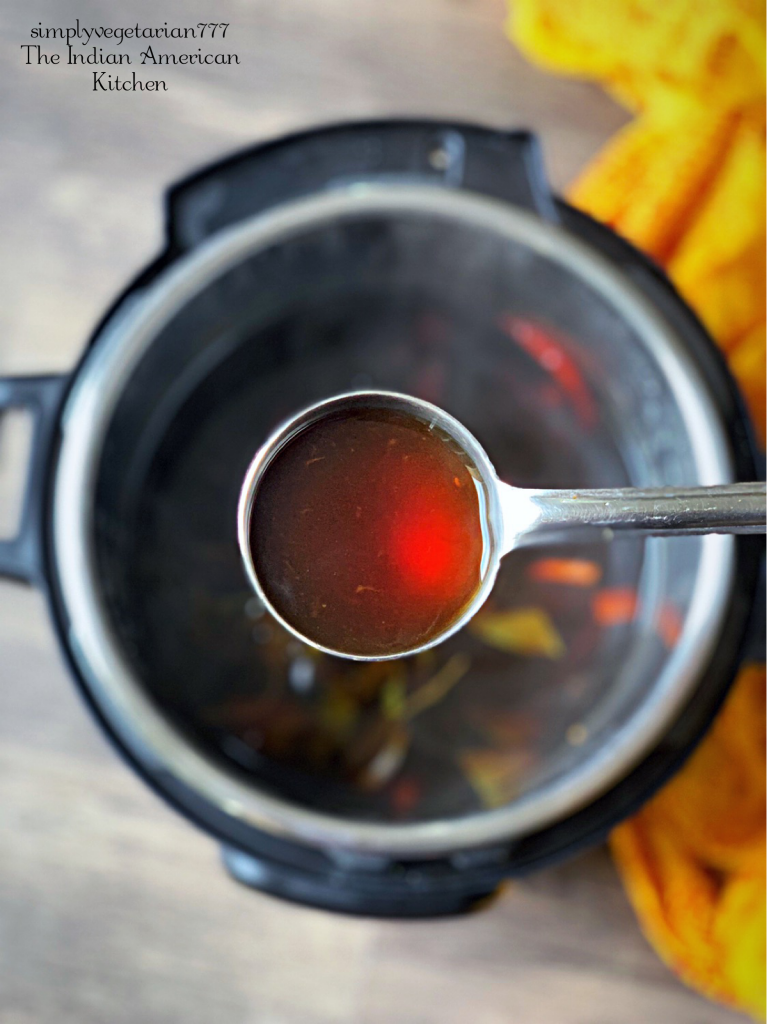 What is Tom Yum Soup?
Tom Yum is also known as TomYam and has its origin from Thai Cuisine. It is a Sour and Spicy Soup usually cooked with Shrimp.
Tom Yam is a combination of 2 words from Thai. Tom means Boiling and Yam means Sour & Spicy Thai Salad.
Originally, Tom Yum Soup is not vegetarian. But I have adapted the recipe over the years and make vegan Tom Yum at home.
What are the Ingredients used in Tom Yum Soup?
Important – We are Amazon affiliates and use their links for the product recommendation. If you buy through these links, you do not pay anything extra but it helps us keep the blog running. Thank you.
Following are the Basic Ingredients of a Tom Yum Soup in my recipe. I am mentioning the Substitutes as well, just in case –
Vegetable Broth. I use Low Sodium. Water can be used in place of broth but broth lends more flavor.
Lemon Grass. It is easily available in most of the grocery stores where boxed herbs are kept in fresh produce.
Galangal. It can sometimes be hard to find galangal. Use Fresh Ginger to substitute galangal. I do it all the time.
 Kafir Lime Leaves. You may order these dry from amazon. Use Lime Zest instead to make this recipe. I use it all the time.
Cilantro or Coriander Leaves. These are easily available anywhere.
Red Chilies, Dry and Whole. You may use fresh Thai Red chilies too. Use them carefully.
Sugar
Tomatoes
Mushrooms
White Onions
Garlic
Lime Juice
Thai Basil Leaves. Use Dry Thai Basil Leaves if you want to order online. These are easily available in most of the stores. If you can not find it then use regular basil.
How to Make Tom Yum Soup?
It is fairly a simple recipe. This soup is literally 1 step recipe –
Boil the ingredients together with the broth. That's it!
Serve it HOT.
Serving the Tom Yum Soup
Once the boiling is done, you may –
Serve it as is with the addition of some firm cut Tofu and mushrooms
Or you can strain the Tom Yum broth and then serve with some more fresh-cut vegetables and tofu.
Julienned Carrots, Edamame, Button Mushrooms, small broccoli florets, baby corn, napa cabbage, bamboo shoots, water chestnuts are some vegetables that go very well in this soup. You do not have to boil these vegetables. Add these raw and ladle steaming hot soup on top of these.
This broth can be served with some ramen or noodles in it to make it more filling.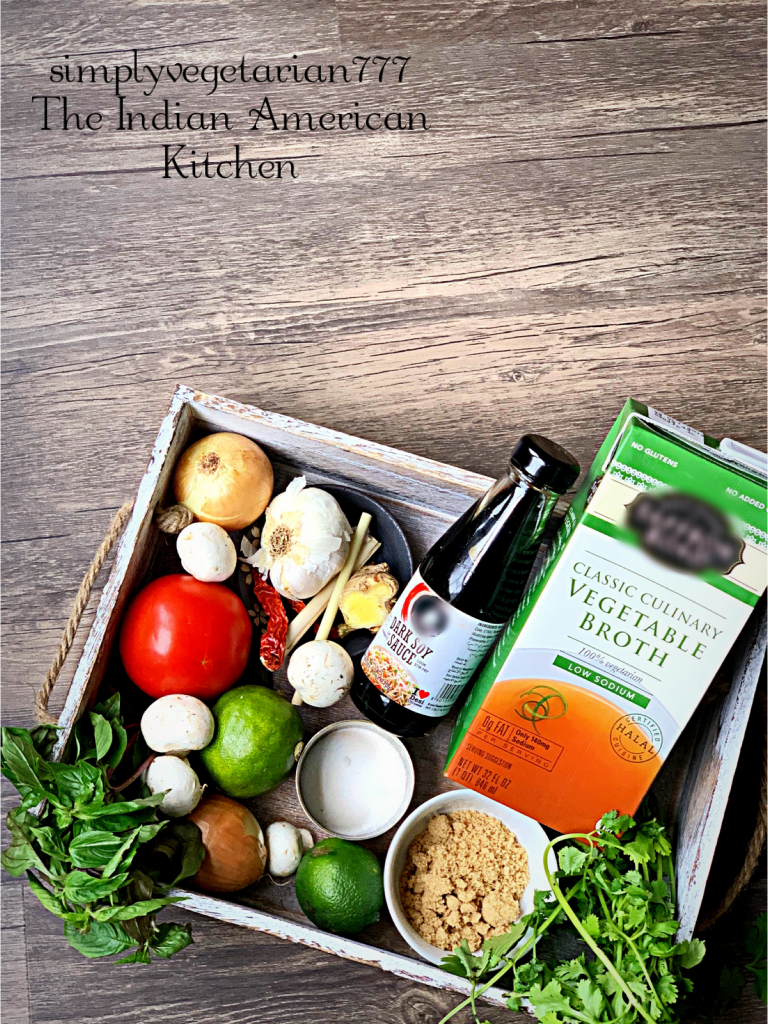 Why should you make this Thai Tom Yum soup?
These are my TOP 5 Reasons to try this soup –
It is a simple and easy soup to make. You literally have to throw everything together and let it boil. The best part is that you can adapt the spice and sour level in this recipe.
This soup or broth can be made in advance and in bulk and can be used as heat & go. You can easily refrigerate it for a week without losing its flavors. You can easily DOUBLE UP the recipe.
One can personalize this soup by adding so much more. For example – vegetables and protein or noodles and make it a complete meal.
The best part is that Thai Tom Yum Soup comes out beautiful in Instant Pot.
Since this soup uses so many herbs, it is very soothing and nourishing. The best part – IT IS OIL FREE & VEGAN TOM YUM SOUP.
What are my adaptations in this soup?
I have adapted to make it –
VEGAN TOM YUM SOUP
Made in Instant Pot
Why should I make it in Instant Pot?
I have made it in Gas Top Sauce Pans also for years. Now I cook it in my 6 quart Instant Pot DUO only, because –
It is a mess-free cooking for me. No splattering and no cleaning.
Instant Pot lends such deep flavors to it as if the soup has been cooking for hours. More you cook it, deeper the flavors of course.
The best part is that even after cooking for 20 minutes, the amount of liquid didn't decrease much and I could still make the desired serving. I didn't have to adjust the servings later.
CLICK HERE FOR GAS TOP RECIPE OF THAI TOM YUM.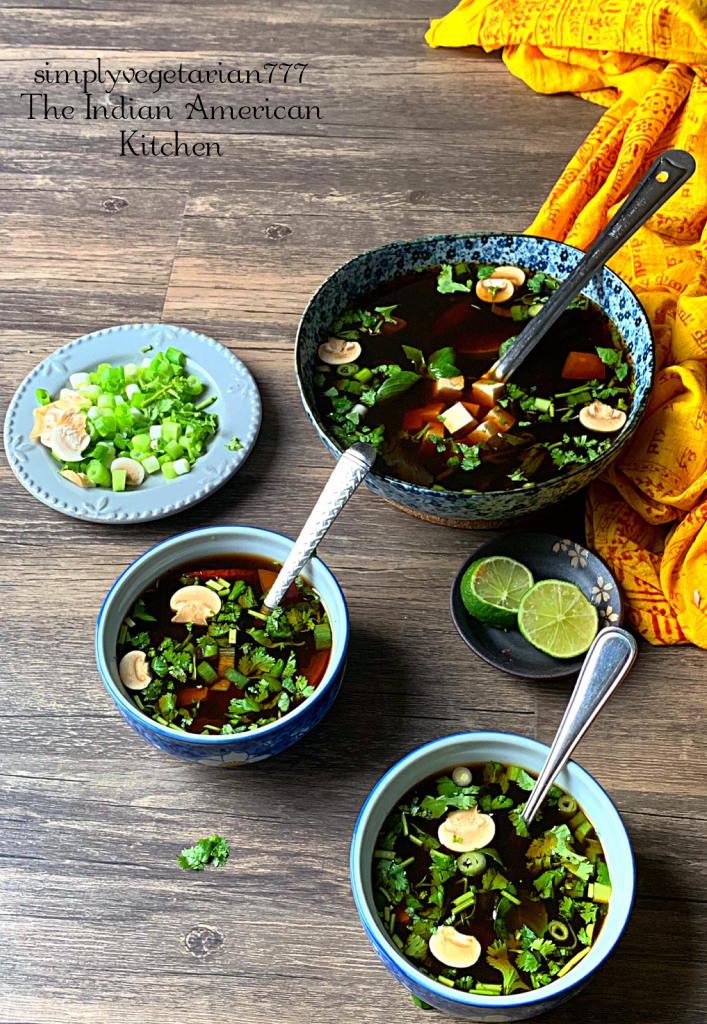 IF YOU TRY IT, THEN DO GIVE A SHOUT OUT ON OUR SOCIAL MEDIA –  FACEBOOK, INSTAGRAM, PINTEREST, AND TWITTER.
Some Vegetarian Instant Pot Recipes from simplyvegetarian777 are –
Red Thai Curry, Corn Chowder, Red Kidney Beans Curry, Chana Masala, Coconut Curry Rice and much more.
CHECK OUT THIS SMALL VIDEO ON MAKING THAI TOM YUM SOUP IN INSTANT POT.
Here is how to make Thai Tom Yum Soup in Instant Pot?
Thai Tom Yum Soup Instant Pot Recipe
This recipe of Thai Tom Yum Soup is a super yummy and easy soup made in Instant Pot. The best part is that my recipe is Vegan + gluten-free, and light + filling.
Ingredients
6

cups

Vegetable Stock or 4 cups stock + 2 cups water

use low sodium stock

3 to 4

Lemon Grass Stocks

cut into small pieces

1

large piece

Galangal or Ginger

cut into thin slices

5 to 6

Kafir Lime Leaves or 1/2 tbsp Lime Zest

use fresh leaves or dry

2 to 3

Red Chili, dry and whole

you may use fresh thai red chilies too. use less for less heat

8 to 10

Button Mushrooms or Shitake Mushrooms

sliced

2 medium or

1 cup

Tomato, juicy and ripe

chopped in even pieces

1

medium

White Onion

sliced thinly

1/2

tbsp

Sugar,

use brown or white. I like using brown for its deeper flavor

4 tbsp Light or

2 tbsp Dark

Soy Sauce

1/4

cup

Thai Basil

torn roughly

1/2

cup

Cilantro or Coriander leaves & stems

torn roughly
GARNISH OR EXTRA INGREDIENTS
1/2

cup

Tofu, extra firm or medium firm

cut into small cubes

1/2

cup

Button Mushrooms

thinly slicd

4

stocks

Green Onions or Scallions

thinly sliced including green and white

1

Lime Juice
Instructions
WATCH THE VIDEO ABOVE FOR GOOD UNDERSTANDING.
Place the inner pot inside the Instant Pot. Plug it in.

Pour the Vegetable Broth and/or water inside the Instant Pot. Now add all the above mentioned ingredients except the Garnish to the broth.

Place the lid of the instant pot. Set the floating valve to SEALING.

Press the Soup/ Broth Mode. Set it for 20 minutes on Normal Mode & Less Pressure.

When the timer goes off, follow NPR (Natural Pressure Release). Open the Lid. Stir well. Check for Heat, Salt, Sour & Sugar.

Add chili flakes or sriracha or hot chili sauce to make it spicier. You may add a little bit of salt if it is not salty enough for you. Broth and Soy sauce are already salty in nature so be careful when you add salt to the broth. Taste and go from there.

If you think you would like it little sweeter, then go ahead and add a bit more sugar to the broth. For the sour part, tomatoes add to the tartness of the soup. But you will add about 1 tbsp or more of Lime juice to give it adequate sourness.


You see how adaptable this soup is. Adjust your seasonings. Your Tom Yum Soup is ready.
Serving Suggestion
This soup has to be served boiling hot. You may serve the broth as is with everything in it or you may strain the broth and serve it with other ingredients. I love my Tom Yum with everything in it but my family likes it clean. So I strain it most of the time after taking my share out.

Take a soup bow. Add cubed tofu, green scallions, sliced mushrooms to the bow. Ladle hot soup and pour over the ingredients. Garnish with some more cilantro leaves and basil leaves. Squeeze some lime juice if desired. Enjoy a HOT & SPICY THAI TOM YUM at home.

You may add some Udon noodles to it if you would like.
I am sure you are going to try this recipe soon. Please share your feedback under the comments section when you try it.
Save 60.0% on select products from Sidefeel with promo code 601I4FIE, through 10/17 while supplies last.

Save 70.0% on select products from Berta with promo code 70JJMQGH, through 10/17 while supplies last.
Can't make it now? Pin Thai Tom Yum Soup Instant Pot Recipe for later.

In my kitchen, you will always EAT HAPPY & STAY HAPPY!
Sonal