Easy Dinner Rolls Recipe
As an Amazon Associate and member of other affiliate programs, I earn from qualifying purchases.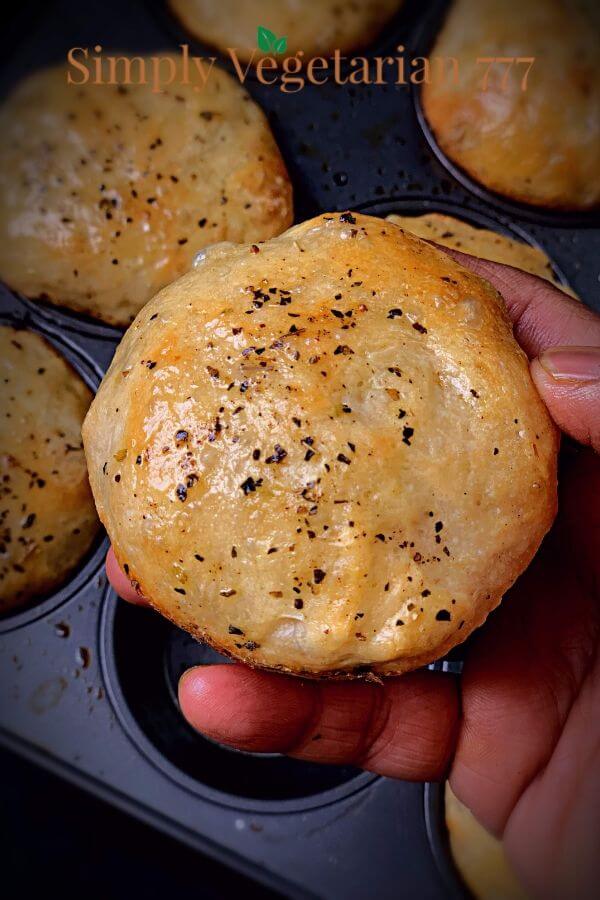 Everyone needs an Easy Dinner Rolls Recipe. And the best part is that even an amateur like me and you can make it. These are NO KNEAD DINNER ROLLS that are effortless to make.
Perfect for a snack or a side to any meal, these dinner rolls are crusty from outside and super soft from inside.
Can't make it now? PIN THIS DINNER ROLL RECIPE FOR LATER.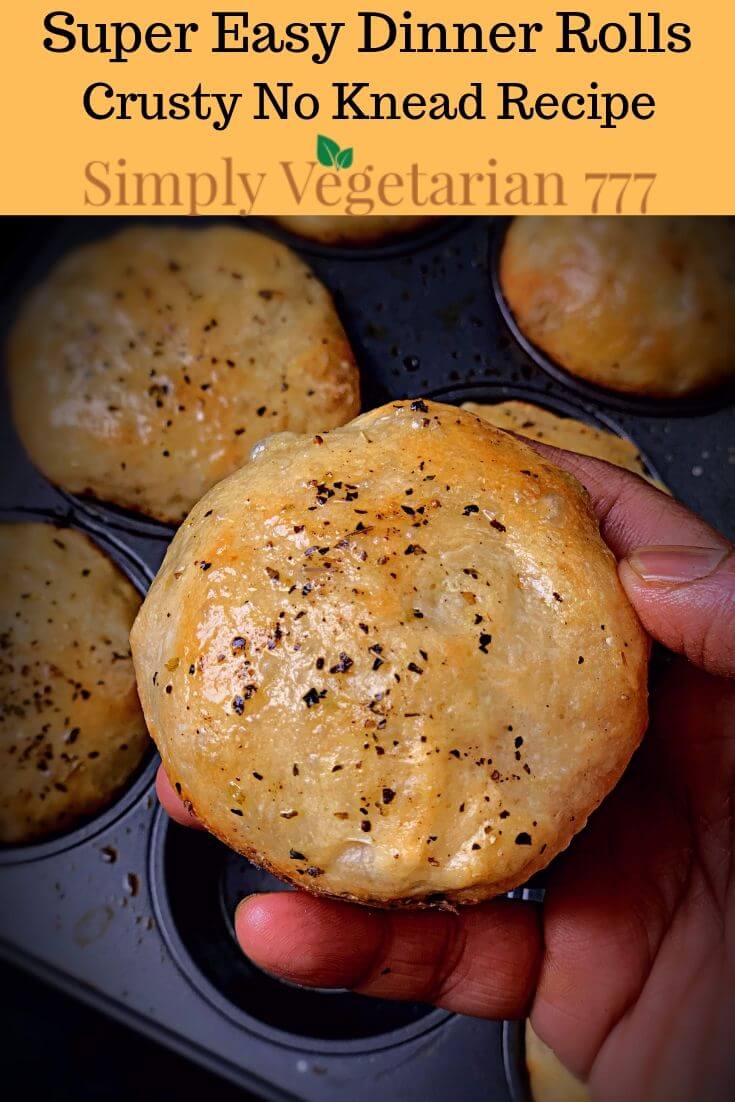 Muffin Tray Easy Dinner Rolls Recipe
Yes, I made these Dinner Rolls in a Muffin Tray. Why? Because it is so easy to make these in a Muffin Tray.
Since I am not a professional baker, I struggle with the perfect rise of the rolls. The main reason is that I do not have adequate baker tools. So what do I do? I make the best use of the tools that I have.
Muffin Tray helps the dinner rolls rise beautifully and retain the shape as well. Now that done, I do not have to worry about anything else.
Have you checked my NO-KNEAD FOCACCIA BREAD RECIPE yet? Oh, you will love it. It is so pain-free to make that you will make it often.
You must check out my Garlic Knots, Pull Apart Bread Sticks, Caramelized Onions & Rosemary Focaccia, Cheese Spinach & Walnuts Braided Bread and more.
You have to try these EASY DINNER ROLLS at home.
Why? Because –
These are VEGAN DINNER ROLLS.
Since It is a No-Knead Dinner Rolls Recipe, it is super easy.
Anybody can bake these.
The best part is that these are Muffin Tray Dinner Rolls.
How to make Dinner Rolls at home?
It is a 4 step simple procedure (complete recipe is given at the end).
Place all the ingredients in the inner pot of the Instant Pot. Mix well and make a dough.
Now press the Yogurt Setting and set it for the 1st Rise for 2 hrs. (Do not have Instant Pot? No worries. Find the No Instant Pot procedure below).
Take the dough out. Divide into 12 equal parts. Gently roll each part into a ball. Place the rolls in the muffin tray. Set for the 2nd Rise for 1 hr in a warm spot.
Bake in the oven till done.
Simple. isn't it?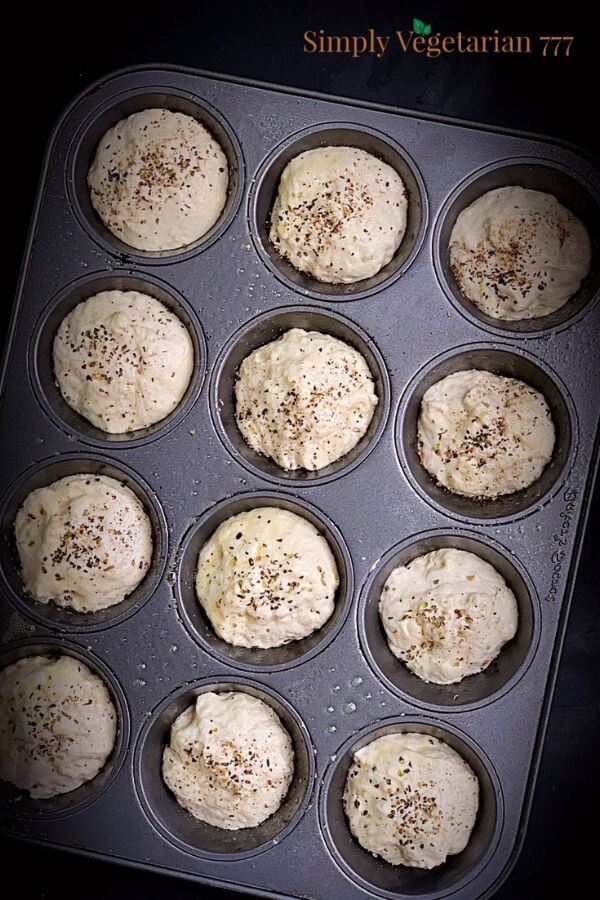 How to Rise the Bread Dough without Instant Pot?
If you do not have Instant Pot then no worries. You can easily Proof or rise your bread or dinner roll dough without it.
Mix all the ingredients in a large deep bowl. Cover the bowl with the cling wrap. Place it in a warm spot of your kitchen and rest for about 2 hrs till the dough doubles in size.
Follow the instructions from the recipe for the 2nd rise and then baking these.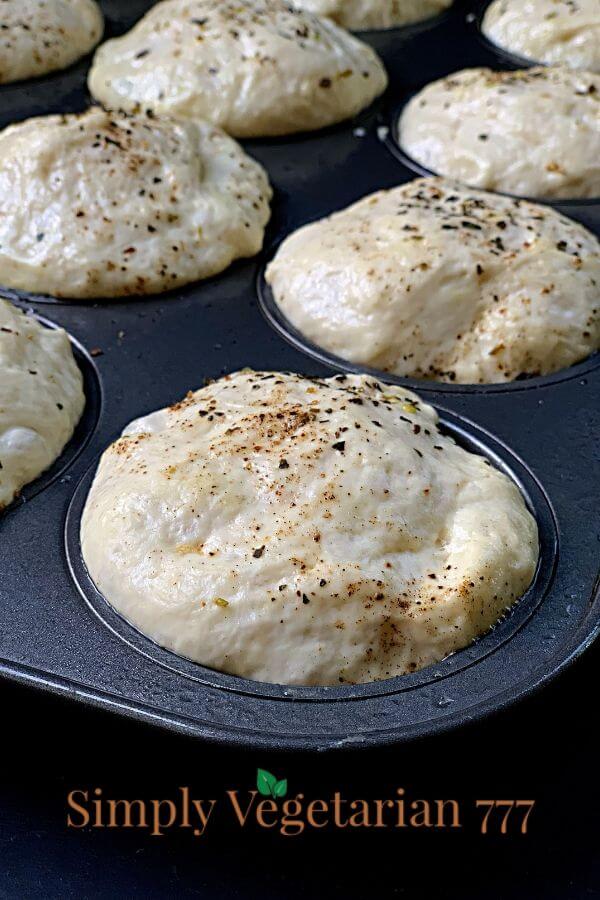 Dinner Rolls Ingredients
Important – We use amazon affiliate links to suggest the ingredients and gadgets. Please read our privacy policy for more information.
Since Dinner Rolls Recipe has the least amount of Ingredients, it is very easy to make.
Bread Flour – Because of its High Gluten ratio, I use Bread Flour to bake breads. You may use All Purpose Flour also.
Instant Yeast – I have always used Instant Yeast while baking a bread and it has never disappointed me. I love Fleischmann's brand. Buy the solo packets since they are perfect. These are designed for one time use. You can use Dry Active Yeast also. But you have to activate it before using.
Table Salt + Granulated Salt – I love Real Salt for it does not have a huge grain and yet granular. You may use any brand. Granulated salt is more for topping. Table salt goes inside the dough.
Sugar – Though when you are using instant yeast, you do not require sugar as a must but still add it. Since sugar brings out the flavors of the bread. If you are using dry active yeast, add sugar as a must to activate it.
Olive Oil – Though I highly recommend Olive Oil, you may use any other cooking oil too.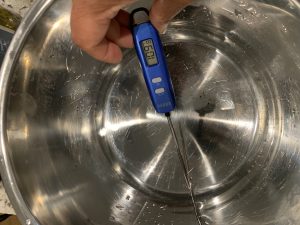 Kitchen Gadgets Used in making No Knead Dinner Rolls in Instant Pot
To Proof the Dinner Rolls – 6 quart Instant Pot or You can easily make it in MEALTHY MULTIPOT as well. If you would like, you must check out Mealthy Crisp Lid. It works as an air-fryer and broiler over your 6 quart lid of IP as well.
Kitchen Thermometer – I highly recommend to use it. Rather you must have it in your kitchen if you are a cooking enthusiast. I have this and this one is really cheap and works as efficiently. Of course you can buy an expensive one too.

Muffin Tray

– I have used this 12 hole regular size Muffin Tray to bake the rolls.
And yes you need an Oven to bake it.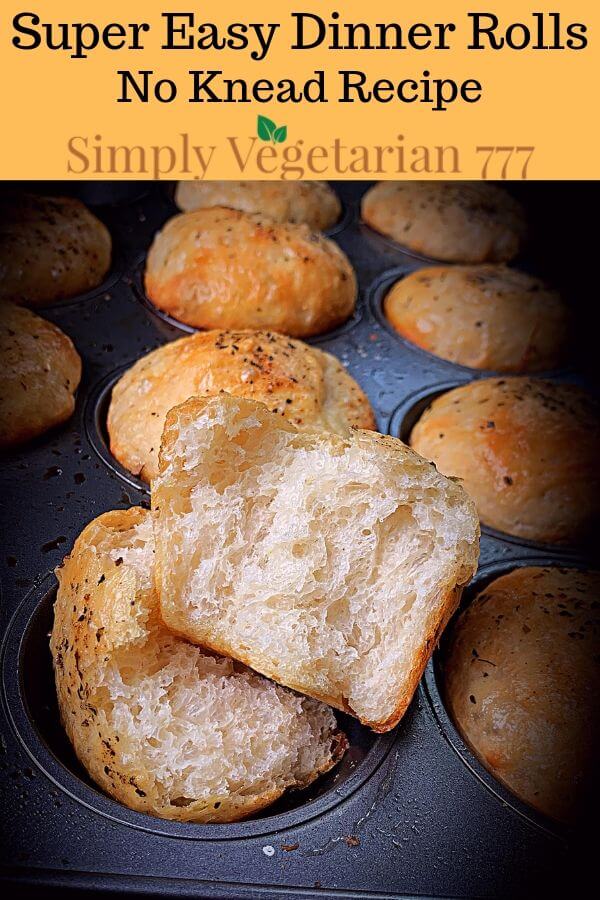 Check out some Commonly asked Questions/FAQs answered here –
How to Store Leftover Dinner Rolls?
I normally wrap my room temperature dinner rolls in butter paper/wax paper. Then I place it in a plastic Bread Bag. You may also wrap it in a Brown Bread Bag.
How Long do Dinner Rolls Stay fresh?
It stays good up to 3 days on cold days and about 1-2 days on hot summer days given the humidity. I would advise to store it in refrigerator if you have any leftovers after the 2nd day.
What do you serve Vegan Dinner Rolls with?
These Rolls taste amazing on its own. You can slice it and make sandwiches with it. Serve these on the side of any meal.
Is Yeast Vegan?
Yeast is a single celled organism that is classified as a fungus. That makes YEAST 100% VEGAN. If you can east mushroom as vegan, then you can easily consume Yeast.
What is the best temperature to work with YEAST?
The Yeast acts best at the lukewarm temperature which is 105-110*F. I highly recommend keeping this under 10 bucks KITCHEN THERMOMETER at home. It comes very handy for all your kitchen needs where the temperature of the liquid matters.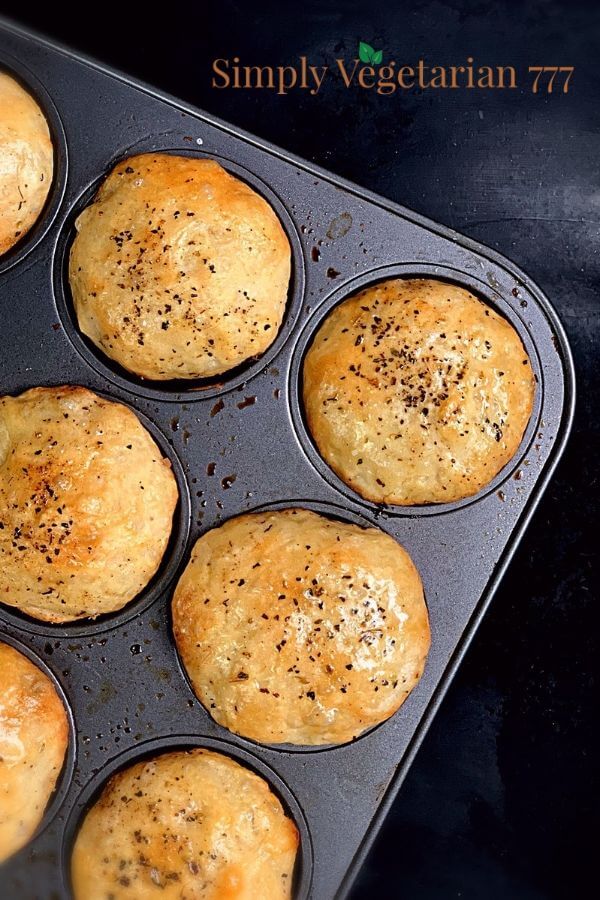 Simplyvegetarian777 Vegan Instant Pot Recipes
Chana Masala, Saag Aloo, Rajma Masala (red kidney beans curry), Aloo Baingan ( potato eggplant curry), Lobiya (Black eye Peas curry) and more.
Simplyvegetarian777 INSTANT POT VEGAN ASIAN RECIPES
Red Thai Curry, Green Thai Curry, Kung Pao Noodles, Thai Curry Noodles, Tom Yum
You can follow us on Facebook, Instagram, Pinterest & Twitter for regular updates. And don't forget to sign up for our E-Letter whenever we publish a new post.
Do not forget to check out the VEGAN NO KNEAD FOCACCIA RECIPE.
NO KNEAD DINNER ROLLS RECIPE
Easy No Knead Dinner Rolls - vegan
Learn how to make easy no-knead dinner rolls in a muffin tray. These are proofed in Instant Pot and then baked to perfection.
Equipment
Instant Pot 6 quart or Mealthy Multipot

Measuring Cups & Spoons

12 Hole Muffin Tray

Mixing Spatula

Kitchen Thermometer
Ingredients
3&1/2

cups

Bread Flour or All-Purpose Flour

1

tbsp

Sugar

1/2

1/2

tbsp

Salt

2

Cups

Luke Warm Water

(105-110*F)

1 packet

or 7g

Instant Yeast

3

tbsp +1 tbsp

Olive Oil

1/4

tsp

Black pepper

freshly ground

1/2

tsp

Crystal rock salt
Instructions
Keep all the measured ingredients ready.

Take your 6 quart Electric Pressure Cooker and place the inner pot. Plug it in. Add water to the inner pot and Press the Saute Mode and set it on Normal.  Place your Kitchen Thermometer in the pot and warm it up between 105-110 degrees Fahrenheit. Cancel the Saute Mode. Take out the inner pot. Make sure that the water is between the mentioned temperature, neither less nor more.

Now add Sugar + Salt and whisk it well. Open your Instant Yeast packet and add it to the water. Mix again. Add Bread Flour + Olive Oil and mix all of it together with a wooden spatula. Keep mixing till everything is mixed and comes together as Sticky dough. Take some olive oil in your hand and gather the dough inside the pot. Leave it inside the inner pot.

1st Proof/Rise of the Dough - Place the inner pot in IP. Set it for 2 hrs on NORMAL YOGURT MODE. Cover the inner pot with a kitchen towel on the top and then place a heavy plate or glass lid on top. After 2 hrs, you will find the dough has proofed and doubled.

Take your 12 hole Muffin Tray and grease it lightly. Set aside.

Dump out the dough on a floured surface or container. Bring it together gently with oiled hands. And divide it into 12 equal parts with a knife. Roll each dough portion into a ball shape. Place the dough balls in the muffin pan. Important -The dough will be loose and sticky so oil your hands and then tackle the dough.

2nd Rise/Proof of the Dough - Cover the muffin tray with a damp cloth and set in a warm corner for 1 hour for SECOND PROOF.

Meanwhile, 15 minutes before the second proofing gets over, Preheat the oven at 450*F and then reduce the temperature & set it on 400*F.

Once the second proofing is done, you will notice that the Dough balls have doubled in size in the muffin pan.

Place the muffin tray in the oven and bake for 15-20 minutes till the top gets golden. Bring it out and brush it with oil lightly. Sprinkle some salt & black pepper.

Your delicious and effortless dinner rolls in a muffin tray are ready.
Notes
The temperature of water is important. It should be between 105-110*F to work with yeast.
You  can add any herb of your choice to the dough.
If you do not have Instant Pot to proof the bread, you can easily proof the dough without it. Take a steel or glass container and make dough in it. Cover with a damp cloth/kitchen towel and place a lid. Place it in the warm spot of your kitchen. Closed oven is the best bet. Wait for 2-3 hrs till it doubles up. And then follow the instructions as mentioned above.
I am sure you are going to try this recipe soon. Please share your feedback in comments section if you try it.
In my kitchen, you will always EAT HAPPY & STAY HAPPY.
Sonal