Aloo Baingan Curry Instant Pot Recipe
As an Amazon Associate and member of other affiliate programs, I earn from qualifying purchases.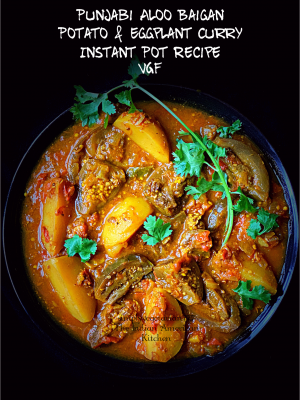 Aloo Baingan Curry in Instant Pot is simply delicious and finger licking curry for all the eggplant lovers. Potato and Eggplant are the main ingredients of this recipe. It is best enjoyed with naan and rice.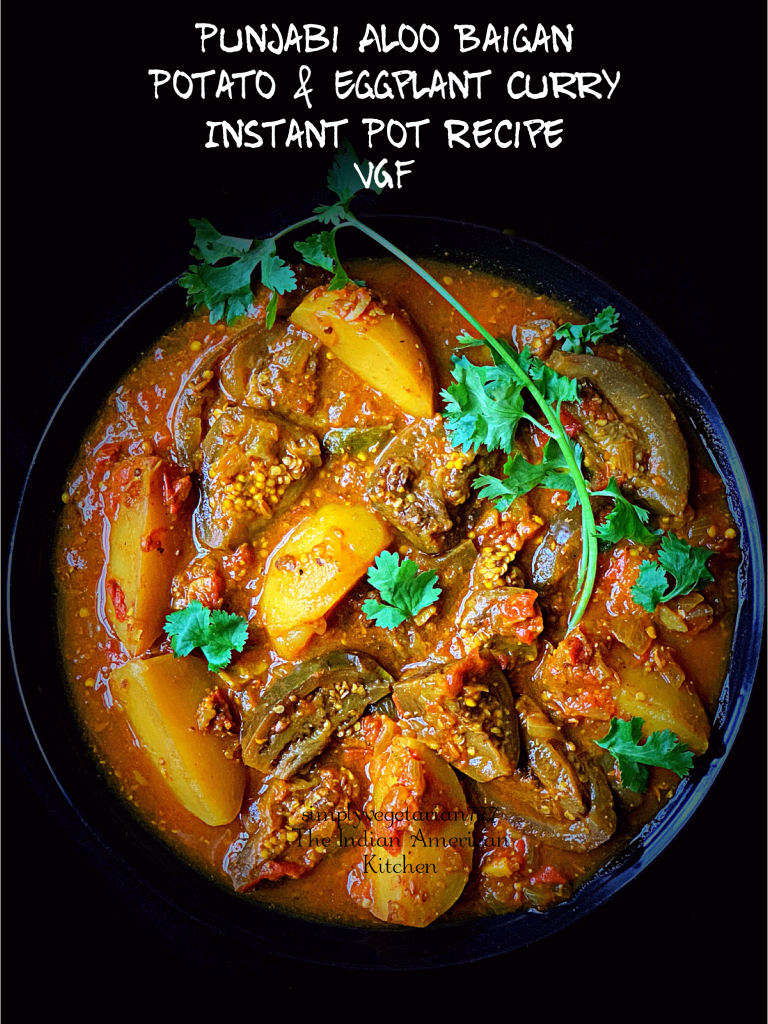 Delicious Punjabi Aloo Baingan Curry in Instant Pot Recipe
I am not sure if you know, but I am a self-acclaimed Eggplant Maniac. The sight of eggplant makes me a happy girl. Crazy, right? But that's me. Guess, I can eat eggplants almost every day.
Now, I also realize that there are people who absolutely do not like Eggplants. My husband is one of those people. Yup, I deal with that dilemma of cooking eggplant or not.
The good news is that when I make this curry, there is something for all of us in the dish. Where I happily pick the eggplants from the curry, the rest of the family goes for the potatoes.
I still give my girls a piece of eggplant along with the potatoes to get them comfortable with the taste of it. That's just the mom in me.
My favorite way of eating this Aloo Baingan Curry is along the side of some delicious crispy parantha (an Indian flatbread). Plain rice also goes very well with this curry.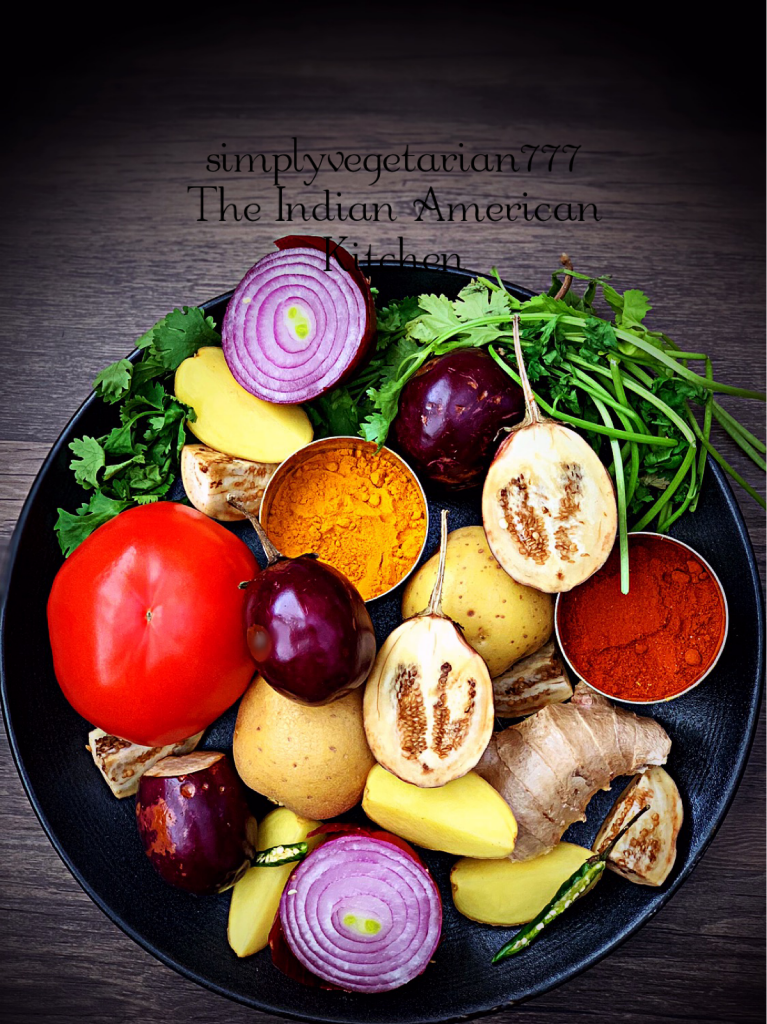 What is Punjabi Aloo Baigan Curry?
For those of you who are wondering what is Aloo Baingan Curry and to top that what is Punjabi Aloo Baingan, then this is for you.
Aloo = Potatoes & Baingan = Eggplant. Punjabi Aloo Baingan = Potatoes & Eggplants simmered in the curry sauce which is from the state of Punjab in Northern India.
A simple and very common North Indian Curry Sauce owns it to the Punjabi Style cooking. You might want to bookmark this post for the reference to a Basic Indian Curry Sauce. It is simple yet rich and very flavorful.
Basic Ingredients of a North Indian Curry Sauce
This North Indian Curry Sauce is a basic curry made using –
(Amazon affiliate links used for your convenience. If you purchase it via links, it will not cost you extra but help us earn a small commission to keep this blog running.)
You can buy this 8 pack Indian Spices for your basic curry needs from amazon.
Onions
Tomatoes
Ginger
Green chilies
Ghee/ Oil
Cumin seeds
Coriander Powder
Turmeric powder
Red Chili powder
Garam Masala (must)
Salt
Mostly garnished with cilantro or coriander leaves
The number of onions and tomatoes can vary from recipe o recipe or personal preference.
How can I make a simple Indian Curry?
Thanks to all the creative genius in the market, that now we have all the readily available SPICE MIXES in the market.
If you get intimidated by the list of spices in Indian cooking, then your best bet is INDIAN CURRY SPICE MIX. For North Indian Recipes, do not use Madras Spice Mix.
For a Family of 4, use 1 tsp Sice Mix for Medium Heat. If you are not sure then start with 1/2 tsp spice mix. Taste test it and then add as required.
Some Good Brands that I can recommend for CURRY SPICE MIX are –
Kitchen Gadgets used to make this Aloo Baingan Curry
Save 15.0% on select products from ALICE with promo code 15DSMNFN, through 10/25 while supplies last.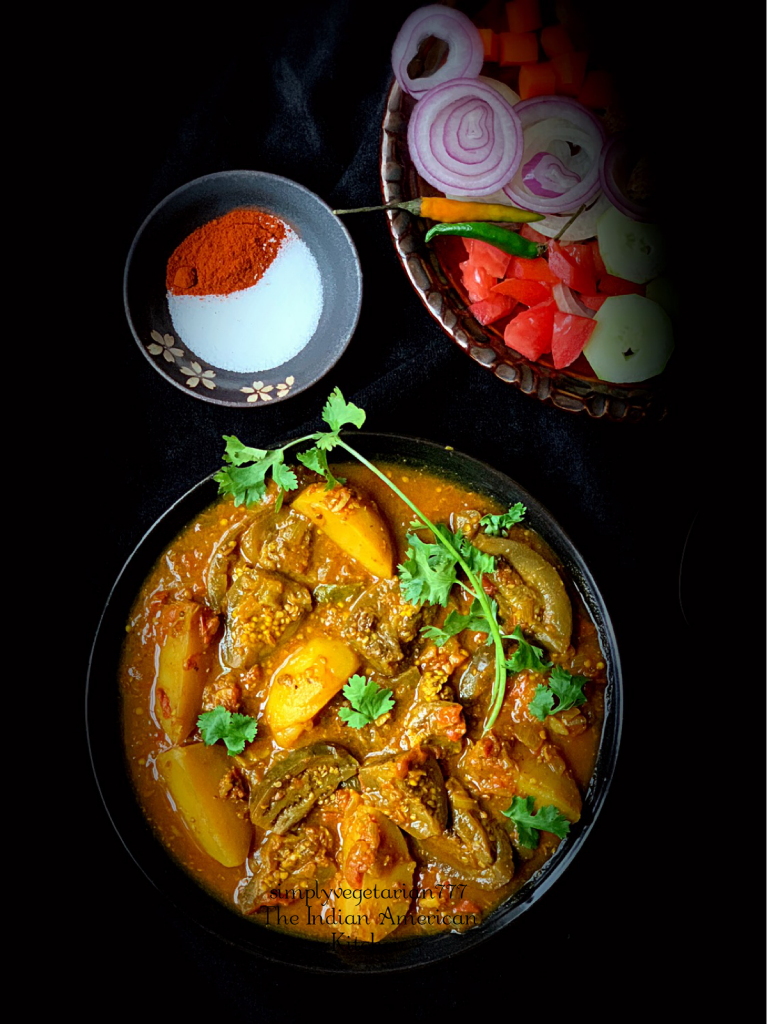 Why should I make Aloo Baingan Curry or Potato Eggplant Curry in Instant Pot?
I am a busy mom who is a full-time blogger by the day and a mom who is a cook + chauffer + homework help by the evening. Needless to say that 24 hrs get less for me. I am sure many of you agree to that.
I love cooking my meals in Instant Pot. The reasons are simple –
It is a HANDS-FREE COOKING. Cut, chop, add to the Instant Pot + season it. Set the timer and forget. This gives me so much more time to focus on kids and family needs when evenings get tight. My home made MEAL is ready even if I am busy.
It is a MESS FREE COOKING. I hate it when I am cooking a curry and it splatters all over. Since Instant Pot is a deep pot cooking, there is no splattering. Therefore, there is no cleaning the surfaces and around later.
It is an Efficient & Convenient Method of cooking for me.
Is Punjabi Aloo Baingan (Potato & Eggplants Curry) Vegan & Gluten-free?
This Potato & Eggplant Curry is absolutely Vegan & Glutenfree.
It is completely Plant Based.
I have used Canola Oil to make this recipe. You may use any oil of your choice to cook it. Some other oil choices can be Mustard Oil or Olive Oil.
This recipe is free of any Wheat or wheat & gluten products. When served with Rice or Quinoa, the whole meal can be glutenfree.
Save 20.0% on select products from PUPPYOO with promo code 202WR55Z, through 11/23 while supplies last.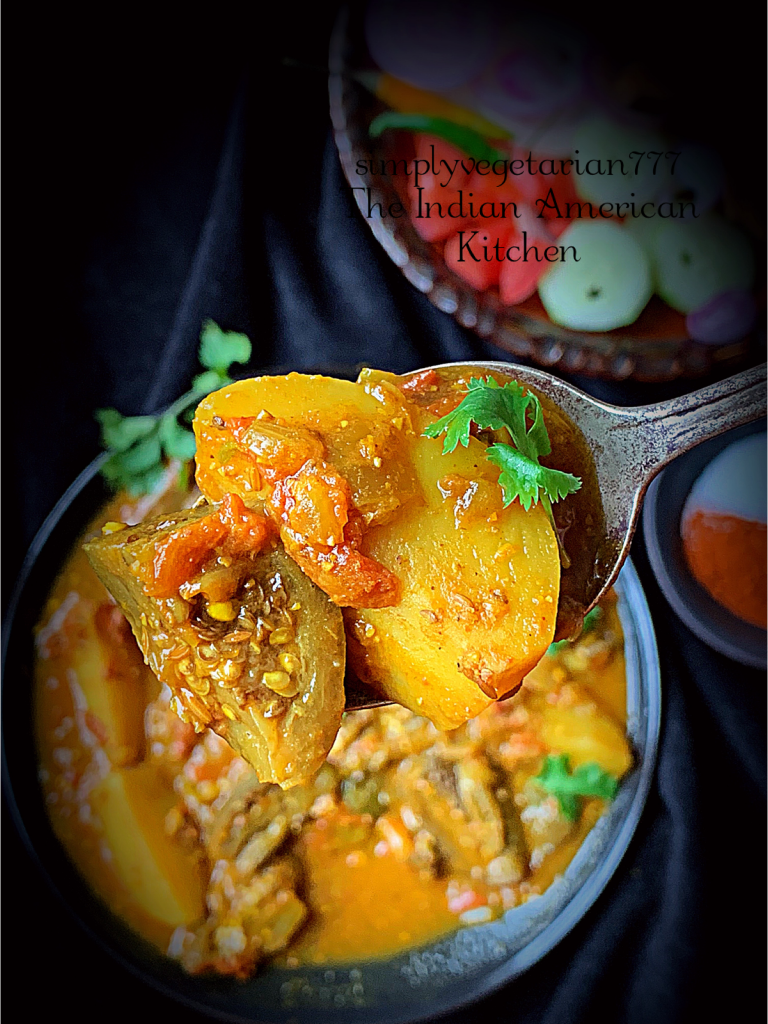 What are the variations of this Aloo Baingan or Potato & Eggplant Curry?
I cook this recipe in many ways. Some suggested ways to adapt this recipe are –
Add 1/2 tsp sugar and 1 tsp distilled vinegar to the recipe to make it sweet & sour along with spicy.
Cook it just with Tomatoes and skip the onion.
You may skip the tomatoes and cook it just with onions.
This recipe can be made without the use of either tomato or onion.
You may add some shredded coconut later to the curry for some added flavors.
Some other Instant Pot Curries from simplyvegetarian777 –
Punjabi Kadhi, Punjabi Rajma, Punjabi Chana Masala, Aloo Saag, Dal Bukhara, Madras Lentils and many more.
Check out the small Video on how to make Aloo Baingan Curry in Instant Pot
Here's how to make Baingan Aloo Curry (Potato Eggplant Curry) in Instant Pot
Aloo Baingan Curry or Potato Eggplants Curry in Instant Pot
Aloo Baingan Curry in Instant Pot is simply delicious and finger licking curry for all the eggplant lovers. Potato and Eggplant are the main ingredients of this recipe. It is best enjoyed with naan and rice.
Ingredients
6 to 8

Baby

Eggplants

or 1 medium eggplant

3 to 4

Small

Potatoes

Yukon Gold Preferred

1

medium

Red Onion

1 large or

3 small

Tomatoes

I used Beefsteak tomato variety

1

tsp

Ginger

minced or grated

1

small

Green Chili

optional

1/2

cup

Water

1

tbsp

Cilantro/Coriander leaves

chopped
Oil & Spices
1/2

tbsp

Cooking Oil

1/2

tsp

Cumin seeds

1/2

tsp

Turmeric powder

1

tbsp

Coriander powder

1/4 to 1/2

tsp

Red Chili powder or Cayenne powder

1/2 to 1

tsp

Garam Masala

1

tsp

Salt or to taste
Instructions
Prepping for the Curry
Wash Baby Eggplants. Remove the stems. Slice these baby eggplants into 4s. Now we have quartered eggplants.

Wash and Peel the Potatoes. Cut these potatoes in slices as thick as eggplant slices.

Peel and wash the Onion. Chop it fine. Wash the Tomato. Chop it fine. Wash Green Chili & Ginger and chop it finely.
Cooking on SAUTE MODE
Place the inner pot inside the Instant Pot and plug it in. Press the SAUTE MODE. and set on HIGH for about 15 minutes. Once the screen displays HOT, add oil to the inner pot.

Wait for few seconds and then add cumin seeds to the hot oil. Once the seeds sizzle, add chopped onions, green chili, and ginger to the pot. SAute for few seconds. Cover with a lid and let it cook for about 5 minutes till onions become slightly brown. Keep sauteeing in between for even cooking.

Now add chopped tomatoes + all the above mentioned spices.

Mix well with onions. Cover and cook again for about 3 minutes till tomatoes are well blended with onions.

THIS IS YOUR BASIC CURRY SAUCE for NORTH INDIAN COOKING. It is good for a serving of 4 people. You can use this curry base and make any kind of vegetable with it.
COOKING ON MANUAL/PRESSURE COOK MODE
Add cut potatoes and eggplants to the curry sauce. Add 1/2 cup water to the curry. Give it a good stir.

Place the Instant Pot Lid. CLose it tight. Set the floating valve to SEALING. Press the PRESSURE COOK/MANUAL MODE and set it for 5 minutes on HIGH/MORE.

Once the timer goes off, follow NPR (natural pressure release). Open the Lid carefully when the safety valve drops down. Check for salt. Add chopped Cilantro leaves and stir again.

Punjabi Aloo Baingan or Potato Eggplant Curry is ready to be served.
SERVING SUGGESTIONS
It goes best with Indian flatbread called Parantha or Naan. It tastes really good with Rice as well. I love it with a slice of rustic bread like sourdough.
STORAGE
This curry does well in the refrigerator for a week.
I am sure you will be making this soon. Do leave your comments and feedback in the comments section if you try it.
Can't make it now? PIN this Potato Eggplant Curry Instant Pot Recipe for later.

You will always EAT HAPPY & STAY HAPPY in my kitchen.
Sonal