Chana Saag Instant Pot Recipe – Vegan & Glutenfree
As an Amazon Associate and member of other affiliate programs, I earn from qualifying purchases.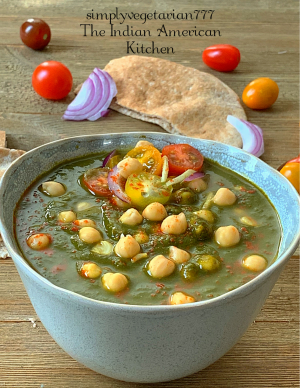 Chana Saag Instant Pot Recipe is finger licking delicious. It is very easy to make Chana Saag in Instant Pot. You can serve it with Rice or Naan.
Check out the small instructional video attached above the RECIPE CARD, for better understanding.
Scroll down to the end of the post to get the complete recipe. In between, there are tips and more information about this recipe.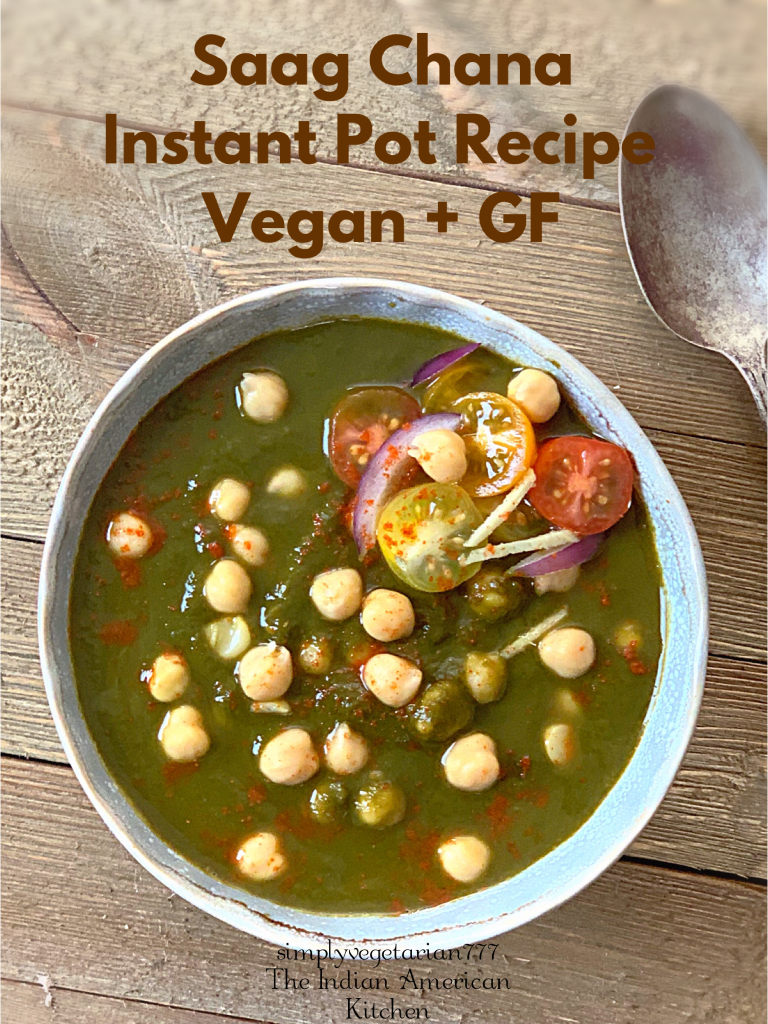 Vegan & Gluten-free Chana Saag Instant Pot Recipe
Chana Saag or Saag Chana is a popular dish from Northern part of India. You can easily find it served on Indian Lunch Buffets in the USA as well.
Now I had this habit of discussing all of my recipes with ma. Some of those conversations would be loud thinking or understanding the techniques of executing a recipe with ease.
She was a brilliant and an adaptive Cook and always had my back. Sometimes I listened to her and other times not so much.
Chana Saag was the last recipe that I discussed with her, around the 20th of December. I had it all ready and photographed to be published for the New Year. But she was gone without warning on 31st December 2018. And I couldn't muster the courage to put it out immediately after.
Finally, the recipe is out. I should not fail to mention that Amit & the girls loved it. I served it with hot Naans and it was a perfect meal.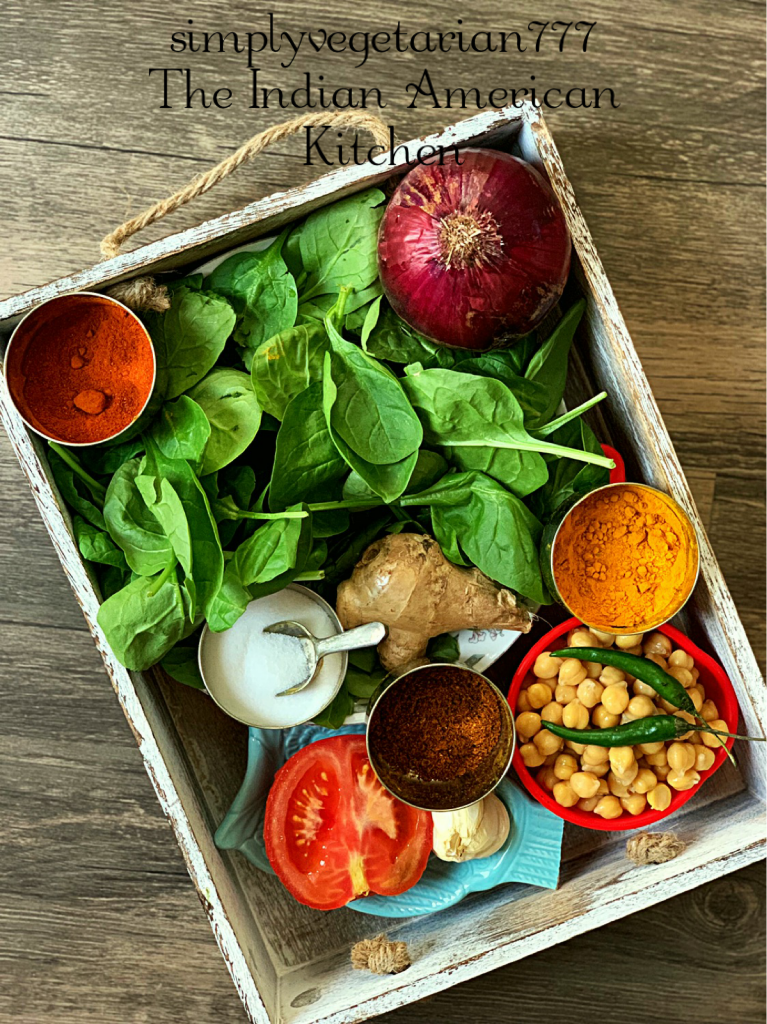 What is Chana Saag?
Chana is Chickpeas.
Saag is the Indian Green Curry made with the seasonal greens. Palak or Spinach is the most commonly used greens for this recipe.
It is popularly known as Palak Chhole or Saag Chhole. Chhole is another Indian name for Chickpeas.
Therefore CHANA SAAG is chickpeas cooked in Spinach Curry.
Every household has a different way of cooking it. There is nothing wrong or right about it.
Ingredients Used in Chana Saag
The Basic Ingredients used in making Chana Saag are –
Fresh Produce – Spinach, Onion, Tomatoes, Green Chilies, Ginger, Garlic
Canned Ingredients – Chickpeas
Indian Spices – Turmeric, Cayenne Pepper/Red Chili powder, Garam Masala, Salt
How to Cook Chana Saag or Saag Chana?
There are 2 ways that I choose to cook Chana Saag in my Instant Pot.
First Method is this recipe of Chana Saag. I cook Spinach Saag with spices separately in my 6 quarts Instant Pot. Then blend it to perfect silk puree. Later add canned Chickpeas. Cook for little more and done. I find it faster and very convenient to cook it this way.
Second Method is where I cook Spinach and soaked chickpeas together with spices in IP. It makes a very rustic Saag Chana. This method takes a longer time than the first method. But delivers delicious Chana Saag.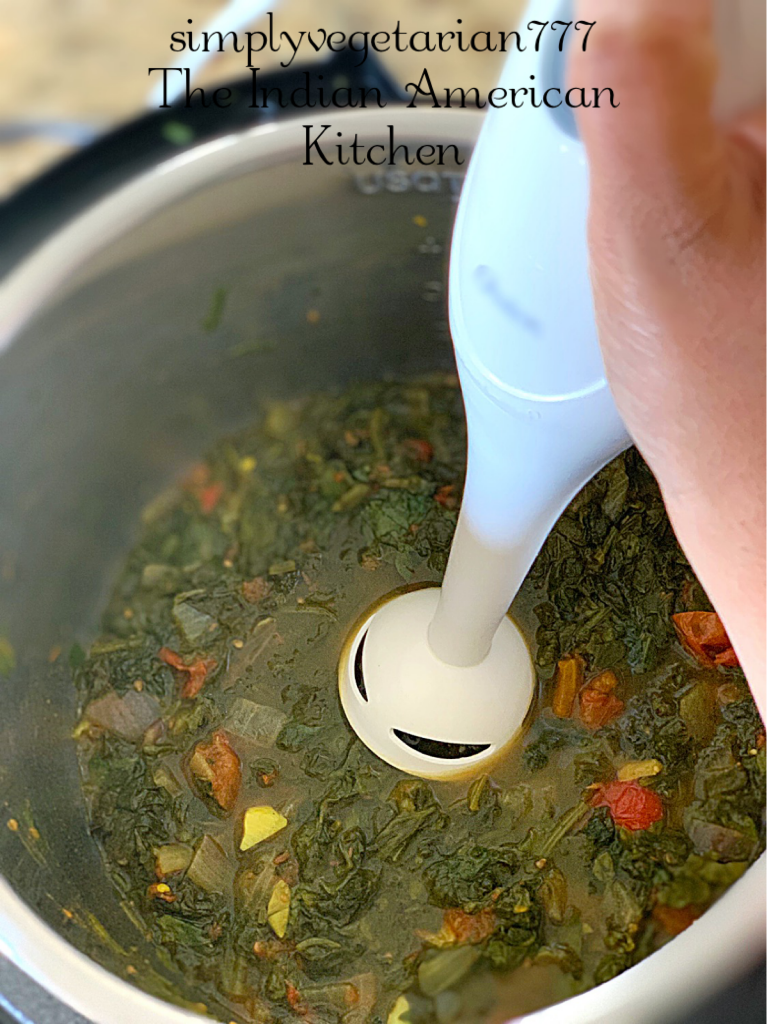 Variations of Chana Saag
As I mentioned above, this Chana Saag recipe is made with Spinach and Chickpeas. But there are many ways that this recipe can be easily adapted with readily available ingredients.
Here are some variations that I will suggest in case you want to try something new every time you make it.
Though the recipe calls for SPINACH for the Saag part, you may use any greens that you want. I have used Baby Kale to make Saag. You can use collard greens, mustard greens, a combination of different greens to make SAAG. A popular combination is Spinach and Mustard Greens in India.
You can control the heat level of the recipe. Green chilies can be easily omitted. You can reduce the amount of cayenne pepper used.
Jalapenos can be used to substitute the Indian Green Chilies. 1 Jalapeno is enough for this recipe. Use with seeds for the heat or chuck the seeds out to make it milder.
Though the recipe uses CHANA or CHICKPEAS in the recipe, here are some more options to get creative – you may use corn kernels, cauliflower, extra firm tofu, paneer (Indian Cottage Cheese), Seiten, vegetable meatballs, koftas/kaftas, zucchini bites, cauli bites, halloumi, baby corn, mixed vegetables and more.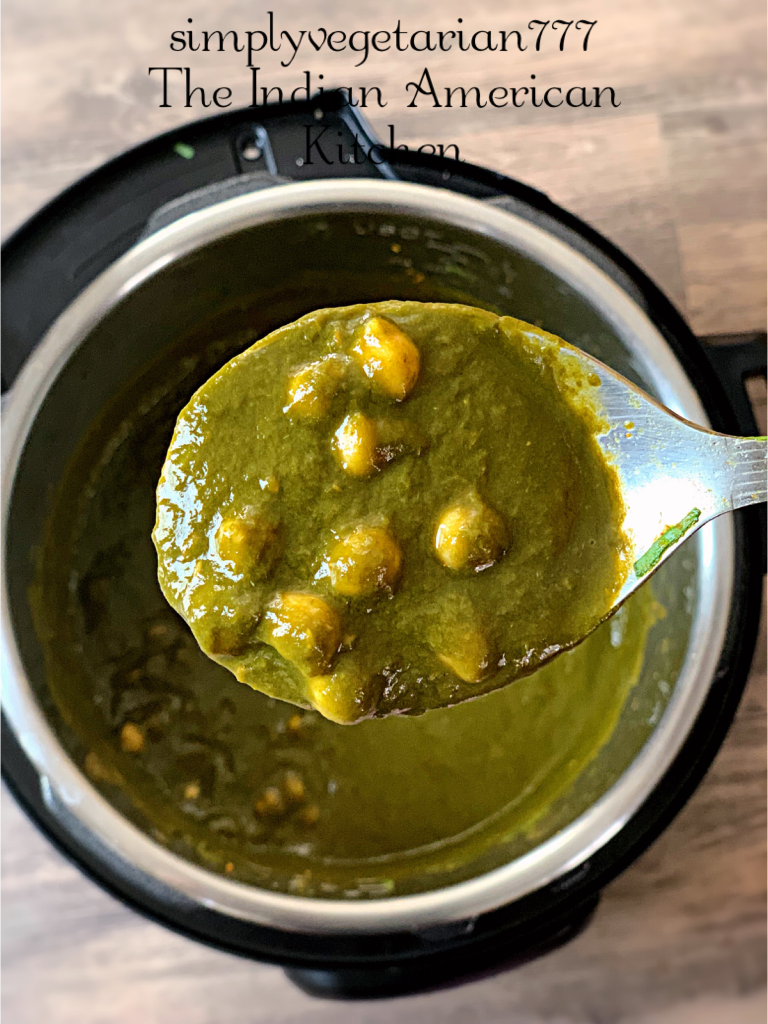 VEGAN INSTANT POT RECIPES FROM SIMPLYVEGETARIAN777
Irish Potato Soup, Thai Curry Noodles, Red Thai curry, Green Thai Curry, Asian Sweet Corn Soup, Tuscan Soup, Taco Soup, Refried Beans, Tex Mex Style Black Beans, Coconut Curry Rice and more.
VEGETARIAN INSTANT POT CURRY RECIPES FROM SIMPLYVEGETARIAN777
Madras Lentils, Chana Masala, Rajma Masala (Red Kidney Beans Curry), Punjabi Kadhi (Buttermilk Curry), Lobiya Collard Curry (Black Eye Beans & Collard Greens Curry), Saag Aloo (Baby Kale & Potato Curry), Potato & Eggplant Curry, and more.
Simplyvegetarian777 Instant Pot Egg Free Desserts
Fig Walnut Halwa, Red Velvet Cake, Chocolate Cake, and Banana Bread.
Kitchen Equipment Used in making Chana Saag Recipe
Hand Blender or Immersion Blender
Can Opener to open Canned Chickpeas
Check out the Chana Saag Instructional Video for better understanding.
Saag Chana or Chana Saag Instant Pot Easy Recipe
Chana Saag Instant Pot Recipe
Chana Saag Instant Pot Recipe is finger licking delicious. It is very easy to make Chana Saag in Instant Pot. You can serve it with Rice or Naan.
Ingredients
16 ounce or

450 grams

Spinach leaves

fresh

2

cups

Chickpeas

canned

1

medium

Onion, red

chopped

1 large or

1 cup

Tomato

chopped

1

tsp

Ginger

chopped

2

cloves

Garlic

choppped

1

small

Green Chili or 1/2 Jalapeno

optional

1/4

cup

Water
Oil & Spices
1/2

tsp

Cooking Oil

1/2

tsp

Cumin seeds

1/2

tsp

Turmeric powder

1/4

tsp

Red Chili powder or Cayenne powder

Use 1/2 tsp or more for more heat.

1/2

tsp

Garam Masala

1&1/2

tsp or to taste

Salt
Instructions
Check out the Instructional Video above for better understanding.
Check out Other options given above in the post. Also, I am going to mention the OIL FREE version as well as the method using soaked chickpeas and the method using finely chopped spinach. Cook whichever way you desire.
THE ORIGINAL RECIPE OPTION that I have used in this post.
Place the inner pot inside the Instant Pot. Plug it in. Press SAUTE MODE and set on high for 5 minutes. Once the screen displays HOT, add cooking oil and cumin seeds to it.

Now add onion, garlic, ginger, tomatoes to it. Give it a good stir. Also, add all the spices to the pot. Give another good stir. Add roughly chopped spinach leaves & water to the pot. Stir again. Cancel the Saute. Close the lid. Set the valve on SEALING.

Press PRESSURE COOK/MANUAL mode and set on HIGH/MORE for 5 minutes. Once the timer beeps, follow NPR (natural pressure release). Open the lid carefully once the safety pin drops down.

Take an immersion blender or hand blender and puree the spinach inside the Pot. Wash the canned chickpeas under cold water. Add these chickpeas to the puree. Cook for 2 more minutes on saute mode.

Adjust salt and garam masala if required. Chana Saag is ready. Serve it warm with naan or rice.
RECIPE OPTION 2 USING SOAKED CHICKPEAS - Cooking time in IP is about 40 to 45 minutes.
If you are not a fan of canned chickpeas, then this is the recipe for you. In this case, wash and soak 1 cup of raw chickpeas overnight or for 6-8 hours.

Also for this recipe, you have to chop all the fresh produce fine including spinach, ginger, garlic, onion, and tomato. Why? So that we can still make it a one pot recipe.

Set the Instant Pot to SAUTE MODE on HIGH for 10 minutes. Add oil to the inner pot, when the screen displays HOT. Add cumin seeds and after few seconds, add onion, ginger, garlic, and green chilies. Saute for 2 minutes till onion becomes soft.

Now add finely chopped tomatoes and other spices. Cook for further 2-3 minutes till tomatoes are soft and mushy. Keep stirring in between.

Once the tomatoes are soft, add spinach. Saute for 1 minute.

Drain the soaked chickpeas and add to the Instant Pot. Add 3 cups of water. Stir again. Cancel the Saute. Close the lid. Set the valve on SEALING.

Press PRESSURE COOK/MANUAL mode and set on HIGH/MORE for 30 minutes. Once the timer beeps, follow NPR (natural pressure release). Open the lid carefully once the safety pin drops down.

Take a heavy ladle. Smush the chickpeas around a bit to add weight and volume to the curry. Adjust salt & Garam Masala if desired. Serve it warm with Naan or Rice.
OIL FREE VERSION
OIL-FREE CHANA SAAG is pretty easy. Skip the oil and cumin seeds from the recipe. Add all the ingredients together and cook in either way as mentioned in original or Recipe option 2 methods.
Since I am sure that you are going to try Chana Saag soon, please leave your feedback in the comments section. Also, you can tag me on Facebook & Instagram for the feedbacks with @simplyvegetarian777.
In addition, you can sign up via email for regular updates on my blog. Not only that, you can follow me on Facebook.
Can't make it now? Pin Chana Saag for Later.

In my Kitchen, you will always EAT HAPPY & STAY HAPPY.
Sonal