Instant Pot Irish Potato Soup – Vegan & Glutenfree
As an Amazon Associate and member of other affiliate programs, I earn from qualifying purchases.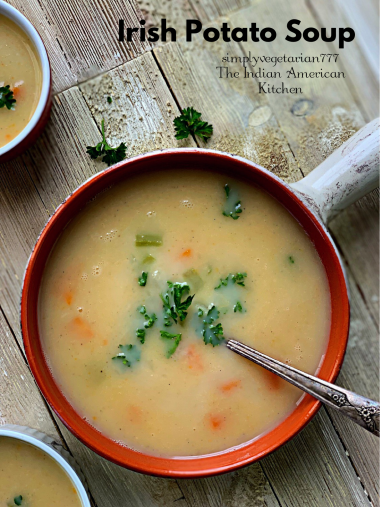 Instant Pot Irish Potato Soup is a Delicious recipe, that is Easy & Quick. Irish Potato Soup is a filling soup inspired from Irish Cuisine. This Soup is a complete meal in itself.
For complete Recipe, please scroll down towards the bottom of the post. The recipe is given there. In between, you will find some more information re the soup, tips, and suggestions.
Short VIDEO is posted above the recipe card for better understanding.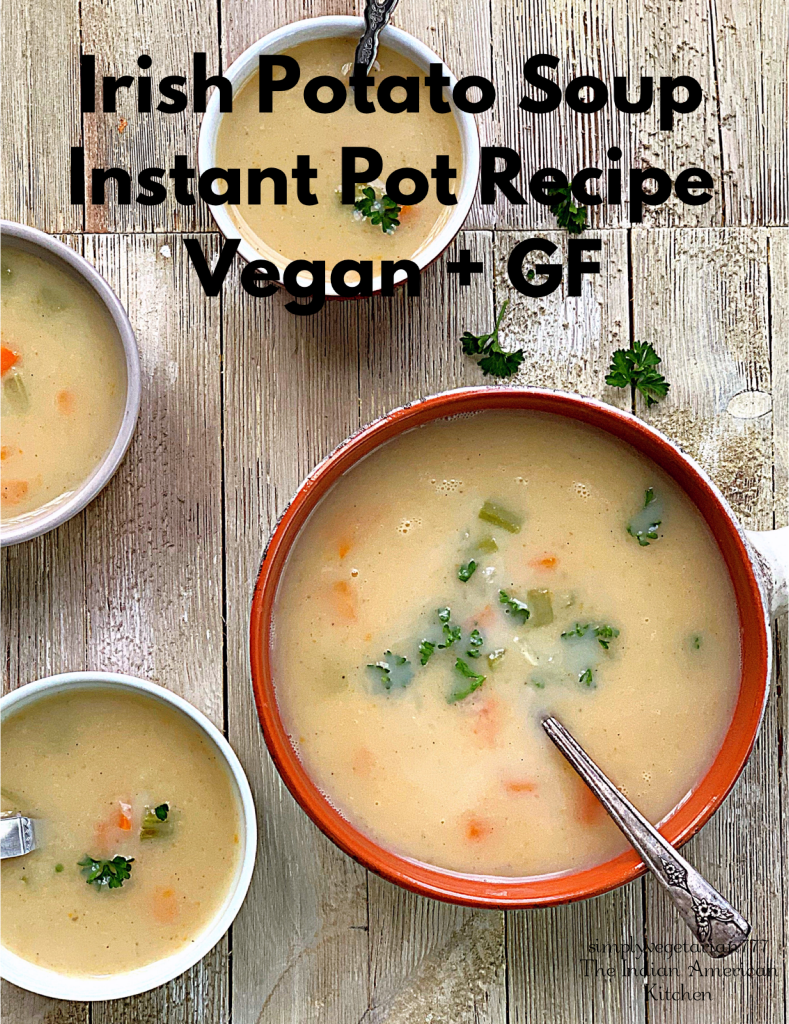 Easy & Quick Instant Pot Irish Potato Soup – Vegan & Glutenfree
Hello people – St. Patrick's day is right around the corner. My little Miss Myraa is all set to build a trap with her dad to catch the leprechaun. Yes, that is what she plans to do.
The school celebrated St. Patrick's day today and had a grand assembly. Apparently, it was a lovely day at school today. I am so glad since she had no complaints and was in an unexpected cheerful mood. Well, that worked out in my favor. Phew. 😀
What is St. Patrick's Day?
St. Patrick was the foremost patron saint of Ireland. St. Patrick's Day is a cultural/religious celebration observed on the 17th of March every year on the death date of St. Patrick.
Celebrations involve Parades & Festivals, Irish traditional music, and the wearing of Green Attire or Shamrocks. Hence you see a lot of Green Merchandise on the countertops of all the stores around that time.
To learn more about this celebration & history behind, you may refer to the Wikipedia, here.
You have to check my very famous IRISH APPLE CAKE on the blog. It is one of the best cakes that I have made and indulged.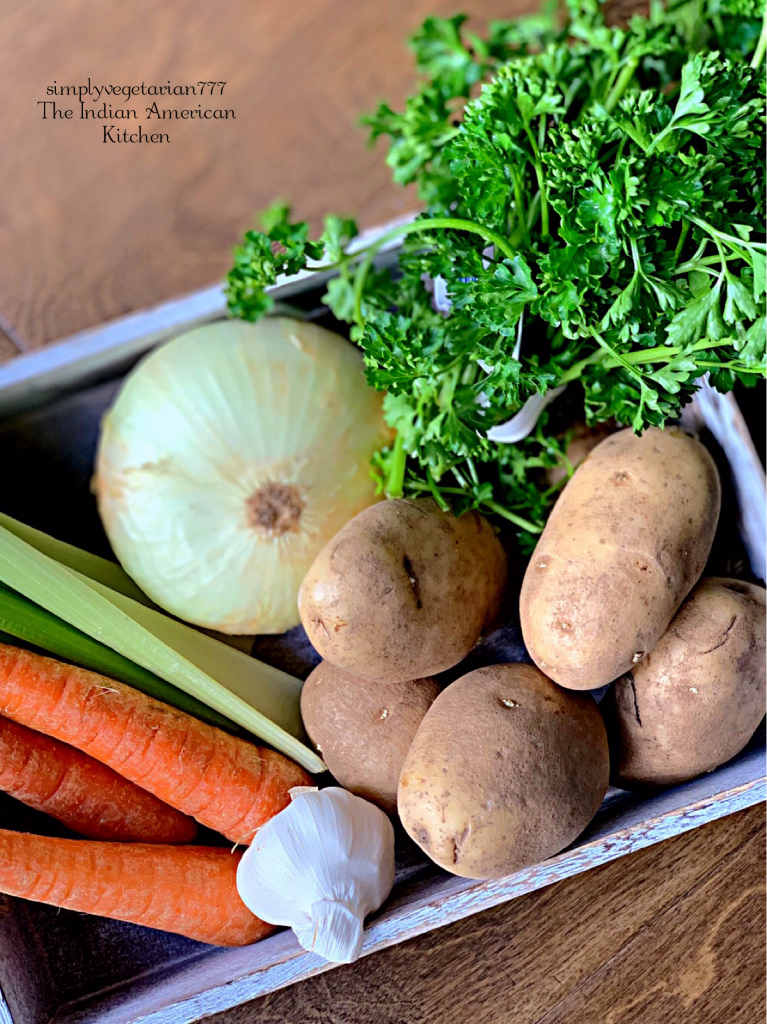 What is Irish Potato Soup?
It is believed that POTATO was made famous in North America by Irish people. The use of Potatoes in Irish Cusine is very evident.
Contrary to popular belief that Potatoes are synonymous to Ireland, It was not until the 15th century that Potatoes were introduced in Europe.
Anyhow it is an important part of the staple diet of working-class families of Ireland.
Potato Soup is a commonly prepared Warm & Comforting Soup in Ireland. Every house may have its own recipe with a little bit of this and little bit of that. But one common ingredient in all the preps is POTATO.
Irish cuisine is not known for using a lot of flavoring agents and spices. It is practically a very simple and easiest soup yet so delicious.
I have to add that though it does not look like the most pretty soup, the tastes and flavors are a bomb and so so so comforting. You have to try it once to get hooked to it.
Irish Potato Soup Ingredients
As mentioned above, the recipe is very simple and requires only a handful of ingredients. Though it can have many variations. For this VEGAN & GLUTENFREE IRISH POTATO SOUP in INSTANT POT, I have used the following –
Potatoes
Celery
Carrots
Onion
Garlic
Bay Leaf
Salt & Pepper to taste
Plant-based Milk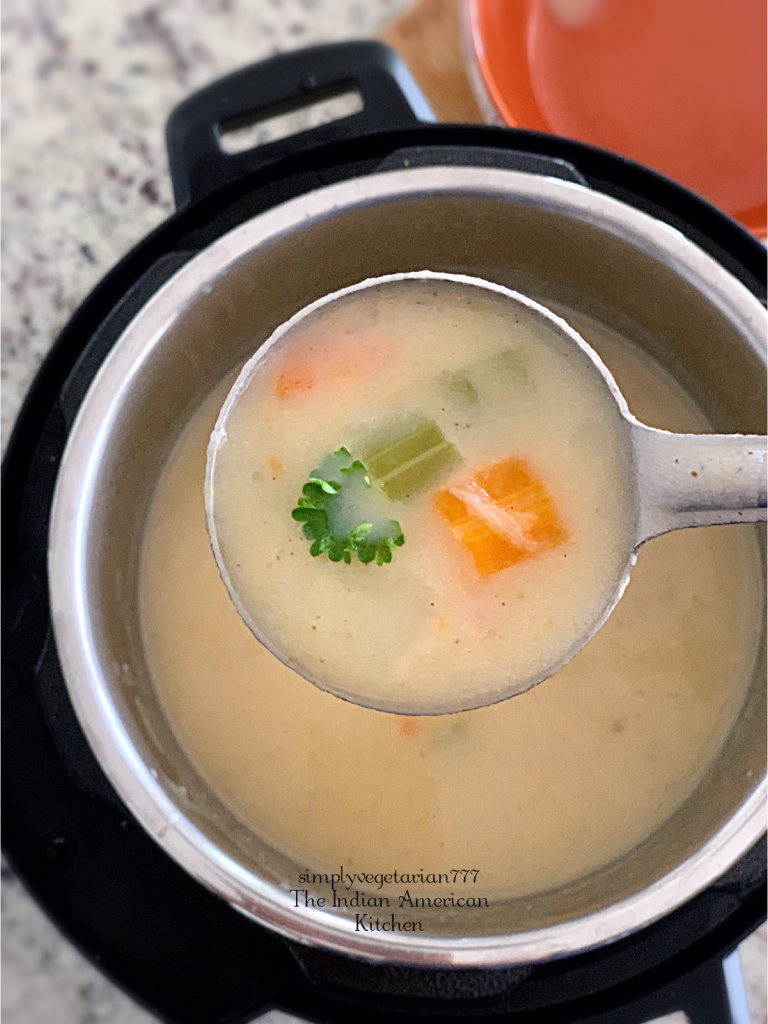 Why should I make this IRISH POTATO SOUP in INSTANT POT?
My reasons are pretty simple when I suggest making this soup.
The Irish Soup is made in Instant Pot. That means mess-free, easy, and convenient cooking on fingertips. I used my 3 quarts Instant Pot Duo for this.
The recipe can easily be doubled and refrigerated well for a few days.
It is a SIMPLE, EASY, & QUICK RECIPE. Needs just 5 minutes and done.
Instant Pot Irish Potato Soup is VEGAN & GLUTENFREE.
You can easily adapt the recipe with the toppings of choice.
Perfect to include in your weekly or monthly MENU PLAN.
Since it is so filling, it can serve as a COMPLETE MEAL.
You can feed this soup to your babies. Avoid black pepper and make it BABY FRIENDLY.
THE MOST IMPORTANT REASON IS – IT IS SUPER YUMMY.
It is the perfect St. Patrick's Day Recipe to celebrate with.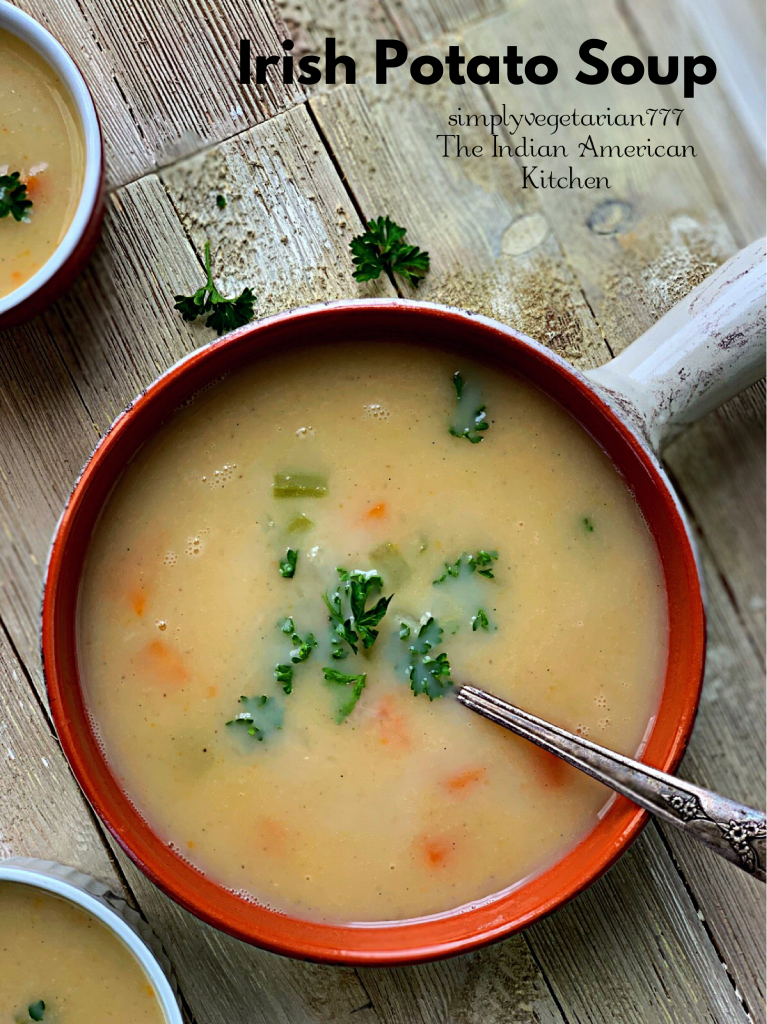 Instant Pot Irish Potato Soup Variations
I have made this Irish Potato Soup partly Chunky by patly blending it. Therefore you may call this recipe – VEGAN CHUNKY IRISH POTATO SOUP as well.
The variations that I suggest are –
You may leave it completely CHUNKY with no blending at all.

The other popular variation is blending all the ingredients to a fine smooth puree after cooking. It can get a bit pasty. But if you like it, then go for it.

You may add cheddar cheese towards the end and swirl to make it Cheesy Potato Soup.
I have used Parsley to garnish. You may use chives or herbs of choice.
I added a pinch of cayenne pepper for a little kick. You may do it or skip it.
I have seen people using all kind of herbs like Italian herbs. If you want, then go for it. Basically, personalize to your choice.
Can I use regular Milk in this Recipe?
If you are not Vegan, you may go ahead and use the milk of your choice – fat-free or full fat or 2%. You may also use heavy cream to it for more filling soup.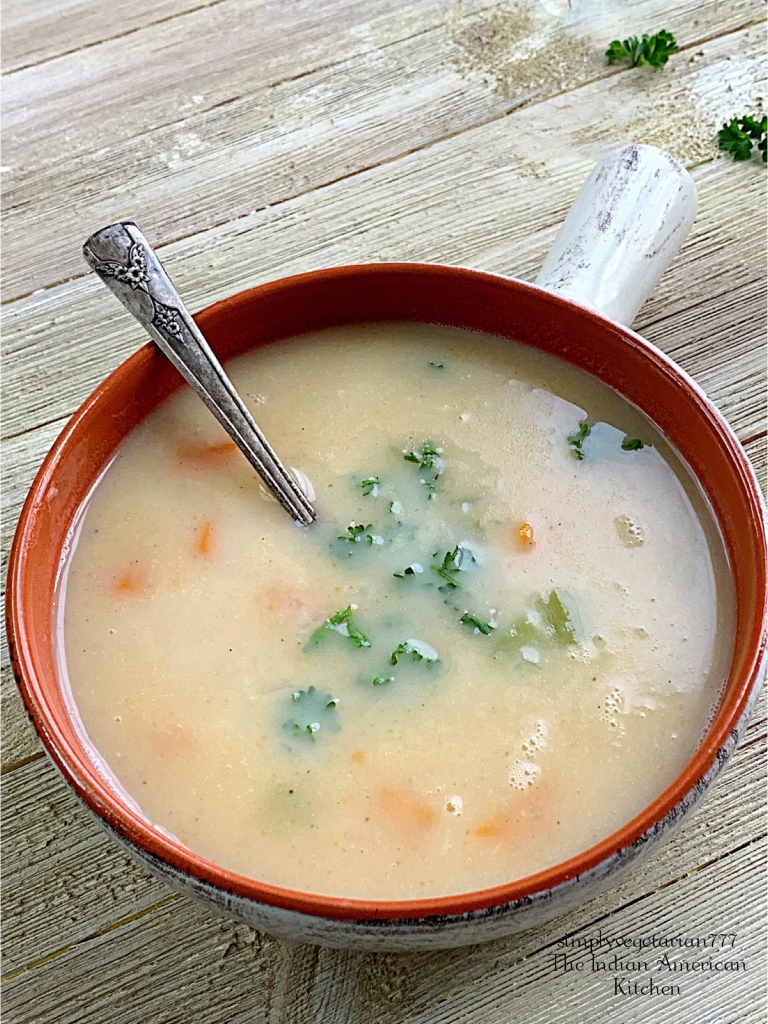 VEGAN INSTANT POT RECIPES FROM SIMPLYVEGETARIAN777
Red Thai curry, Green Thai Curry, Asian Sweet Corn Soup, Tuscan Soup, Taco Soup, Baby Kale & Potato Curry, Coconut Curry Rice and more.
VEGETARIAN INSTANT POT RECIPES FROM SIMPLYVEGETARIAN777
Madras Lentils, Chana Masala, Corn Chowder, Punjabi Kadhi (Buttermilk curry), Dal Bukhara, Cajun Pasta, Spaghetti Primavera, and more.
INSTANT POT EGGLESS DESSERTS FROM SIMPLYVEGETARIAN777
Fig Walnuts Halwa, Red Velvet Cake, Banana Bread, Chocolate Cake.
Kitchen Equipment Required to make Irish Potato Soup
You will need –
Scroll further down for complete recipe.
Irish Potato Soup Instant Pot Recipe Video
Instant Pot Irish Potato Soup Recipe – Vegan & Glutenfree
Instant Pot Irish Potato Soup - Vegan & Glutenfree
Instant Pot Irish Potato Soup is a Delicious recipe, that is Easy & Quick. Irish Potato Soup is a filling soup inspired from Irish Cuisine. This Soup is a complete meal in itself.
Ingredients
4 Medium or

2 Large

Potatoes, Russett

Peeled & Cut into 1 inch Cubes

2

Sticks

Celery

Cut into 1 inch pieces

2

Medium

Carrots

Peeled & cut into 1 inch pieces

1/2

Cup

Onion, white or yellow

Chopped fine

1

clove

Gsrlic

Chopped fine

3

cups

Water

1

cup

Plant based Milk

I used almond milk
Oils & Spices
2

tsp

cooking Oil

To

Taste

Salt & Black Pepper

1

small

Bay Leaf
Garnish
1

tbsp

Curly Leaf Parsley
Instructions
Refer to the Video posted above for better understanding. Also, refer to the Variations suggestions given in the post above to personalize it. The soup serves 4 small portions or 2 large ones.

Place the inner pot inside Instant Pot. Plug it in. Press the SAUTE MODE and set it on MORE for 10 minutes.

Once the Screen displays HOT, add oil to it. Add finely chopped onion & garlic. Saute for 2 minutes till onions become soft.

Now add chopped Potatoes, Celery & Carrots to the Inner Pot. Stir and add salt & pepper & bay leaf. Stir again.

Add 3 cups water. Place the Lid on top. Lock it to valve setting to SEALING.

Press the PRESSURE COOK/MANUAL MODE and set it on HIGH/MORE for 3 MINUTES.

Once the timer goes off, and you hear the beep, release the pressure immediately also known as QPR.

Open the lid carefully. The Potato Soup is watery at this point. Add plant-based milk to it and give it a good stir.

Use an immersion Blender and run through the potato soup roughly. I wanted my Potato soup slightly chunky, therefore I ran it roughly. You may blend it to puree.

Add some chopped parsley and serve it warm. It is the simplest and most delicious and comforting soup I have ever tasted. Sometimes Simple is good.
I am sure you are going to try it soon. Please leave your feedback under the comments section. You may also tag my page on Instagram and Facebook with @simplyvegetarian777 with your feedback.
Can't make it now? PIN this Vegan Irish Potato Soup in Instant Pot for later.




In my kitchen, you will always Eat Happy & Stay Happy.
Sonal