Penne in Red Wine Garlic Thyme Mushroom Sauce
As an Amazon Associate and member of other affiliate programs, I earn from qualifying purchases.
 

Penne in Red Wine Garlic Thyme Mushroom Sauce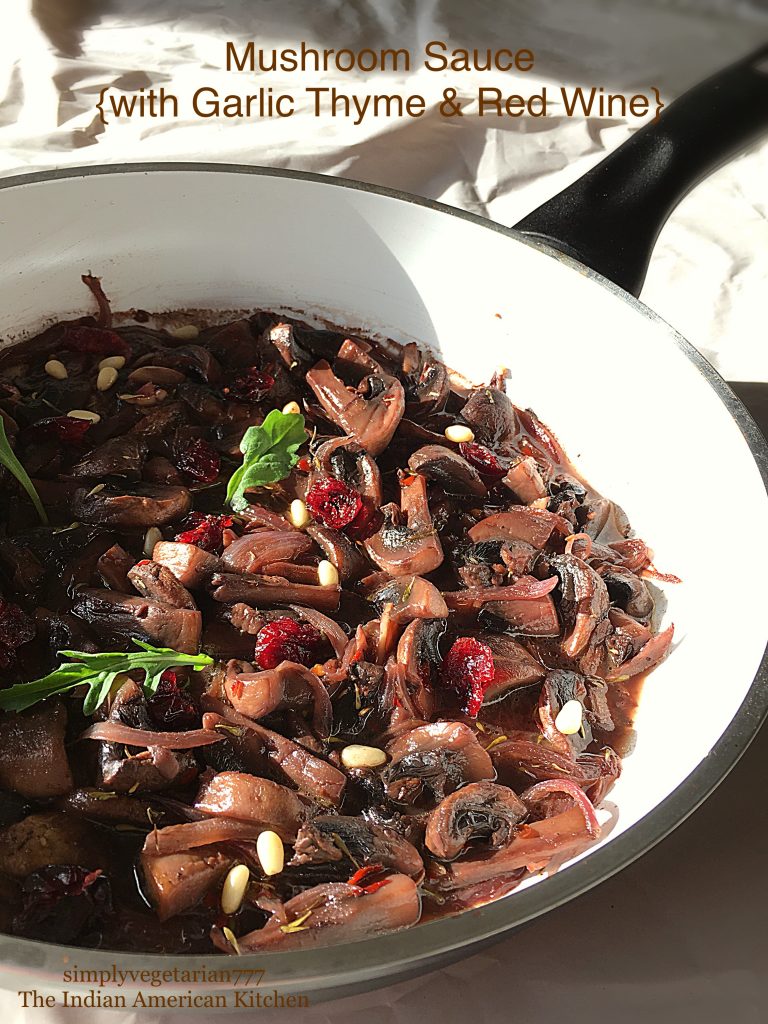 For the month of November, I will be running a lot of side dishes to go on your Thanksgiving Dinner Table. Red Wine Garlic Thyme Mushroom Sauce is the ultimate recipe that would be raved about and much loved by all the MUSHROOM LOVING GUESTS. Toss it with some PENNE and you have an amazing hearty meal for your vegetarian guests.
Believe me, it is not early to plan for your Thanksgiving Menu, especially if you have the guests who have different food preferences. You want to make sure that if you are hosting, there is something for everybody on the table, so they do not go hungry. It is about being joyful together, after all. Food brings happy faces and happy memories from the time spent well.
I promise that this mushroom sauce is so gorgeous to look at and then to savor that your mushroom loving guests will be pouring it on everything on their plate. It can't get better with all that garnish of dried cranberries, pine nuts and parmesan cheese to make it more festive and fit for Thanksgiving feast.
I have seen only 2 kinds of people when it comes to mushrooms – People who Love Mushroom and then the people who absolutely not like the mushroom. I fall in the category who loves everything about the mushrooms – the earthy texture, the rustic taste, its availability to absorb the flavors and the ease of cooking it with another love of y life – red wine.
Thomas Carlyle famously mentioned ⇓
Nature alone is antique, and the oldest art a mushroom!
And then there is another famous saying⇓
I enjoy cooking with wine, sometimes I even put it in the food…..
And then there is me who combined the 2 and said 
Let me brew the beautiful art of nature "the mushroom" in wine and cook along the lines…..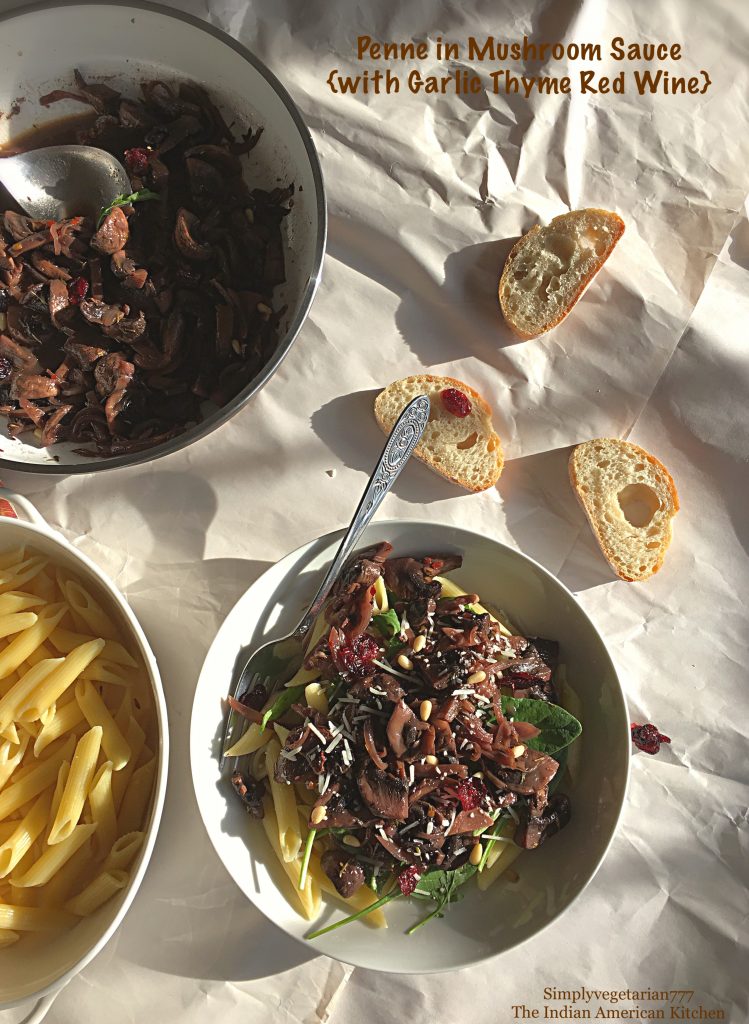 Mushroom Cleaning is a task. Find a helpful article about how to clean the mushrooms ⇒HERE!
This is such an easy and quick recipe that you can plan it for any weekday or you can make it just for 2 of you as a romantic date night meal. The best part is you can puree it and make a soup or gravy for your garlicky creamy mashed potatoes .
Some other Mushroom Recipes from my blog are – Mushroom Skewers, Burnt Garlic Mushrooms , Mushroom Matar Makhani , and many more.
Here is how to make Penne in Red Wine Garlic Thyme Mushroom Sauce !
Penne in Red Wine Garlic Thyme Mushroom Sauce
An amazing side for your Thanksgiving Table, made with mushrooms and red wine.
Ingredients
Button Mushrooms - 12 oz / 350 grms

Garlic - 4 Large cloves

chopped fine

Onion

red - 1 small, chopped into thin slices

Red Wine - 1 cup. I used my leftover Souvignon
Oil & Spices
Butter - 2 tbsp

Salt & Black Pepper to taste

Thyme - 1/2 tsp dried

or 2 tsp fresh

Red chili flakes - 1 fat pinch

optional
Garnish
Dry sweet Cranberries - 1 tbsp

Pine nuts - 1 tbsp

Parmesan cheese

shredded - as desired

Some Baby Greens like spinach and arugula to add more texture to the dish

if desired.
Penne Pasta or Pasta of your choice - boiled al dante for 4 people
Instructions
Heat Butter in a heavy bottom pan on medium heat. Do not burn or brown the butter.

Add garlic and red onions. Saute on medium flame for about 1 minute, till onions become soft.

Now add mushrooms, thyme, salt and pepper. Saute for good 4-5 minutes on medium flame, till mushrooms are done.

Add a cup of red wine and let it simmer on slow till most of the wine is absorbed, for about 4-5 minutes.

Your gorgeous looking and delicious Mushroom Sauce is ready. If you like it spicy, then sprinkle a fat pinch of red chili flakes and stir.
Mushroom Sauce Pairing
Plate the Boiled Penne in a pasta dish. Layer some greens on it. Top with Mushroom Sauce.

Garnish with sweet dried cranberries, pine nuts and parmesan cheese.
Other uses
This is an amazing sauce to pour over any of your protein.. or mashed potatoes.

Or just blend it and make a thick sauce or soup.
I hope that you do try this recipe and share it with your mushroom loving friends.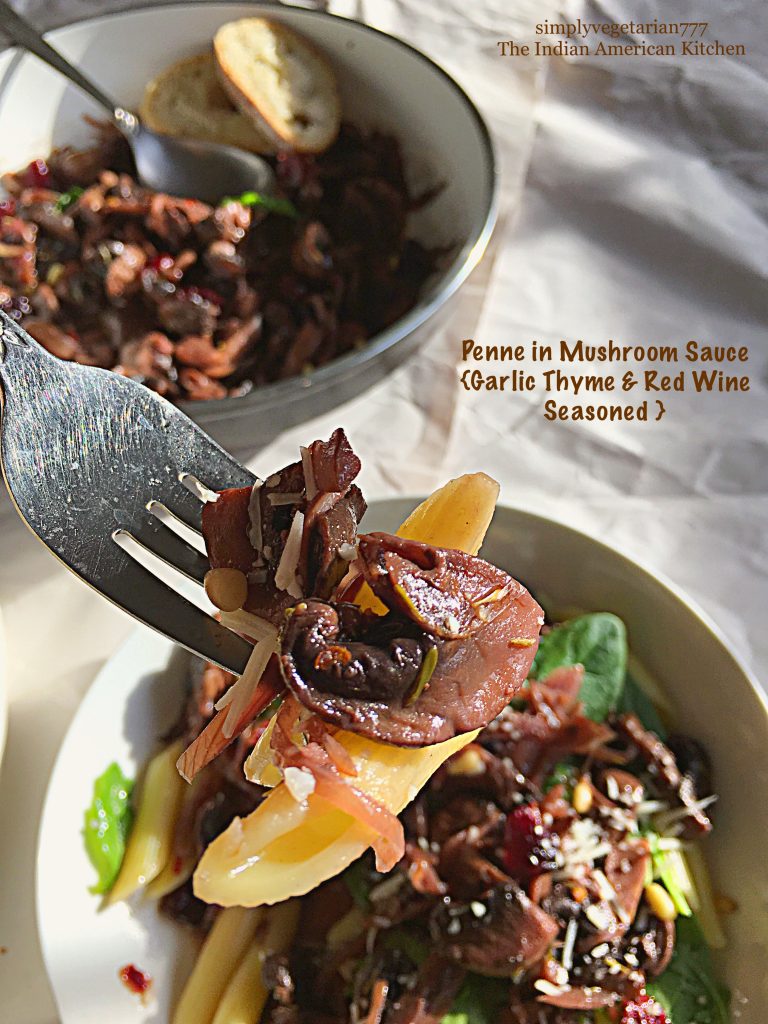 Have I told you that lately I am enjoying cooking in ceramic coated pans? These pans are so convenient to cook and maintain and are easily available in any store or can be ordered online. The stirring and sauteing has never been so easy. Food literally dances in the pan.
The ingredients required to make this Penne in Mushroom Sauce can be ordered with Amazon, as mentioned below.
Can't make it now? PIN 

Penne in Red Wine Garlic Thyme Mushroom Sauce

FOR LATER!!


If you do try this recipe over next few weeks, then please send me the feedback. I would love to hear back from you.
In my kitchen, you will always EAT HAPPY & STAY HAPPY!
Sonal