Garlicky Creamy Mashed Potatoes
As an Amazon Associate and member of other affiliate programs, I earn from qualifying purchases.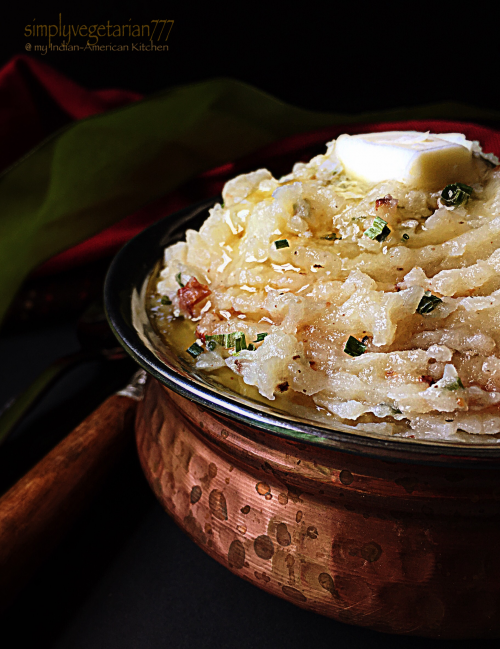 Garlicky Creamy Mashed Potatoes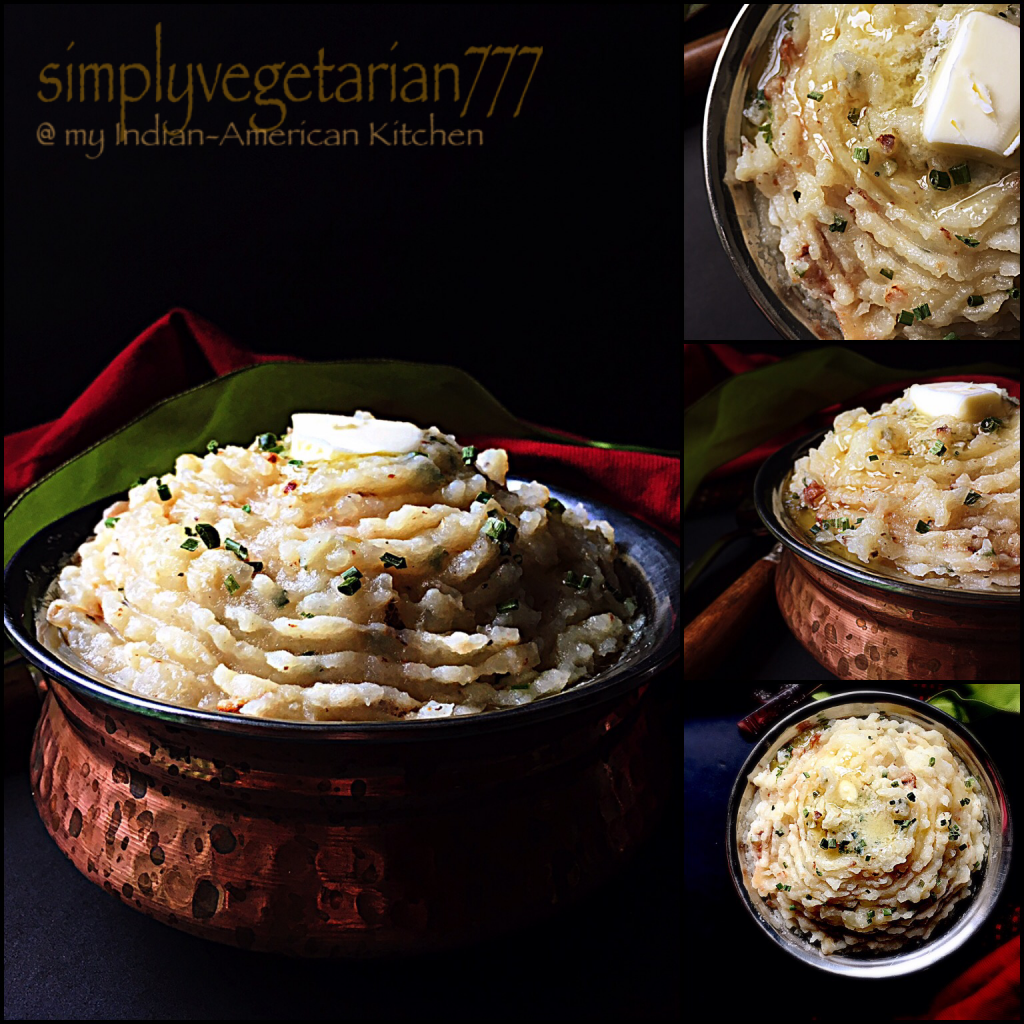 Garlicky Creamy Mashed Potatoes is the ultimate comfort food. It is creamy, rich, indulging and heart warming.
America's favorite food has to be Mashed Potatoes, for sure! No American meal is complete without the side of mashed potatoes! They are creamy, delicious, buttery, delicious, rich, delicious….and way too much delicious! I used "delicious" way too many times! 😱😂. But that's the only way to describe these comforting potatoes. No fried potato can match this kind.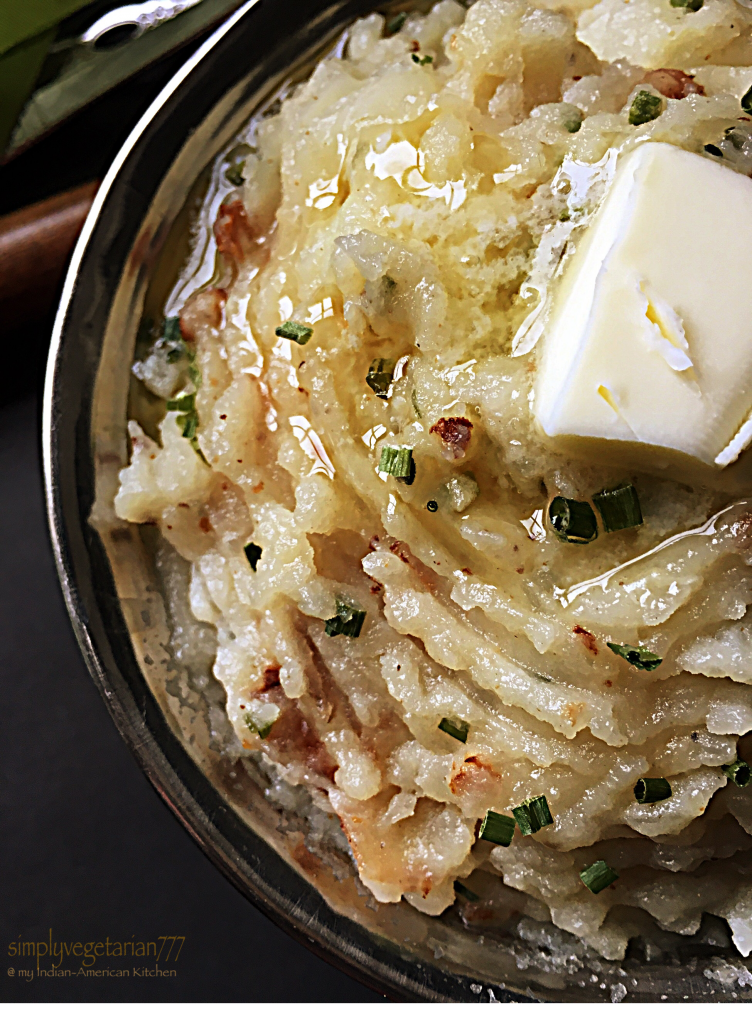 These potatoes are cooked with butter, garlic, milk, salt, freshly crushed black pepper and some chives and voila you end up with decadence in a pot! 6 simple ingredients and a pot full of comfort! Now mashed potatoes have several recipes to follow. They are cooked in different ways, throughout the country. But this is the way my oldest daughter loves it and this is the way I cook it! If you are looking for last minute mashed potatoes recipe, this is the one! Yes! It beats the flavor of Bob Evan's mashed potatoes! I swear!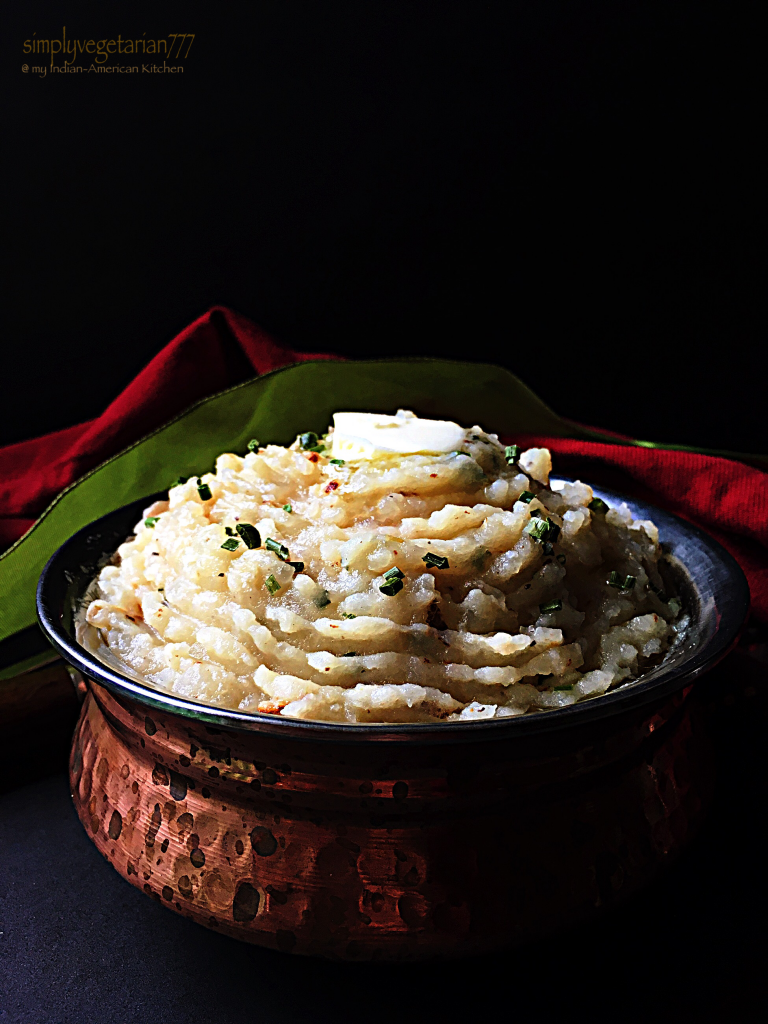 My oldest daughter is a big fan of Mashed Potatoes and can savor a bowl of it anytime. The crinkles of happiness with every bite shows the contentment. This dish will cheer you up when you are down in dungeons, or make you happier in a good company. This can make the quietest of your guest moan with pleasure and the quiet the loudest of them to savor the warmth and comfort in each bite.
Garlicky Creamy Mashed Potatoes is a regular dish for my Thanks Giving Meal. Served along side the fancies of the food like roasted vegetables, jeweled rice etc, it manages to steal the show.
Some other Potato Dishes on the blog are –
Pan Fried Garlic & Rosemary Potatoes
Double Baked Potato Jackets
Time for the recipe!
recipe title="Garlicky Creamy Mashed Potatoes" servings="6-8″  difficulty="easy"]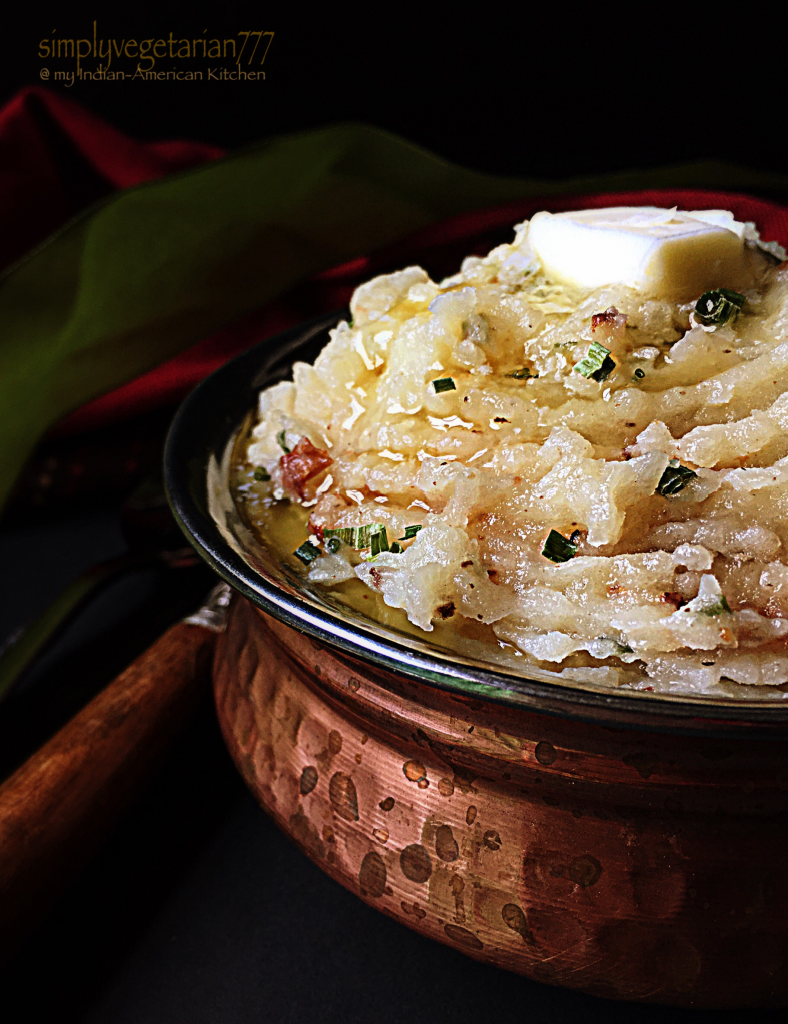 Kitchen Eauipments Required
Chopping board, knife, heavy bottom non stick or hard anodized big pot with lid, stirring spoon, potato masher.
Ingredients
Potatoes – 2 large or 4 medium. Almost 3 &1/2 cups chopped roughly. I used Russet Potatoes because of their firm and less watery texture. You may use "purana aloo" in place of russet. Or for that matter, any potato would do!
Garlic – 4 big pods or 6 small, chopped fine
Milk – 4&1/2 cups
Oil & Spices
Butter – 2&1/2 tbsp
Salt to taste. Potatoes need to be salted slightly on the heavy side. Taste and add slowly.
Black pepper, freshly ground, to taste.
Chives – to garnish. You may garnish these with parsley or Rosemary or thyme, an herb of your choice.
Method
Wash and peel the potatoes roughly, leaving some skin on. Chop them into rough pieces.
Heat butter in the pot. Add garlic to the pot and sauté till slightly golden.
Add the chopped potatoes to the pot. Toss and cook for a minute.
Now pour 3&1/2 cups of milk to the pot. Stir. Lower the flame to lower medium.
Cover with lid. Let it cook till potatoes are tender. Keep stirring and mashing often to avoid any burnt bottoms.
Once the potatoes are tender, take the potato masher, work through the potato pieces and mash them. I like my mashed potatoes slightly chunky, so I do a rough mash. If you like yours smooth, run a hand blender though the pot.
After mashing, they might look slightly dry. Add the rest of the 1 cup of milk and cook for another minute.
Pour in the serving dish, garnish with some chopped chives and top with more butter.
A deliciously warm, creamy and comforting side of mashed potatoes is ready!
[/recipe]
A comforting bowl of goodness from my Indian American kitchen to yours!
Have a great day of gratitude and appreciation people!
Love
Sonal