Potato Semolina Cutlets
As an Amazon Associate and member of other affiliate programs, I earn from qualifying purchases.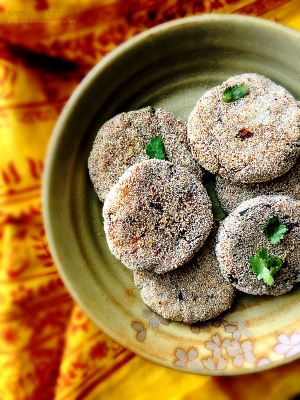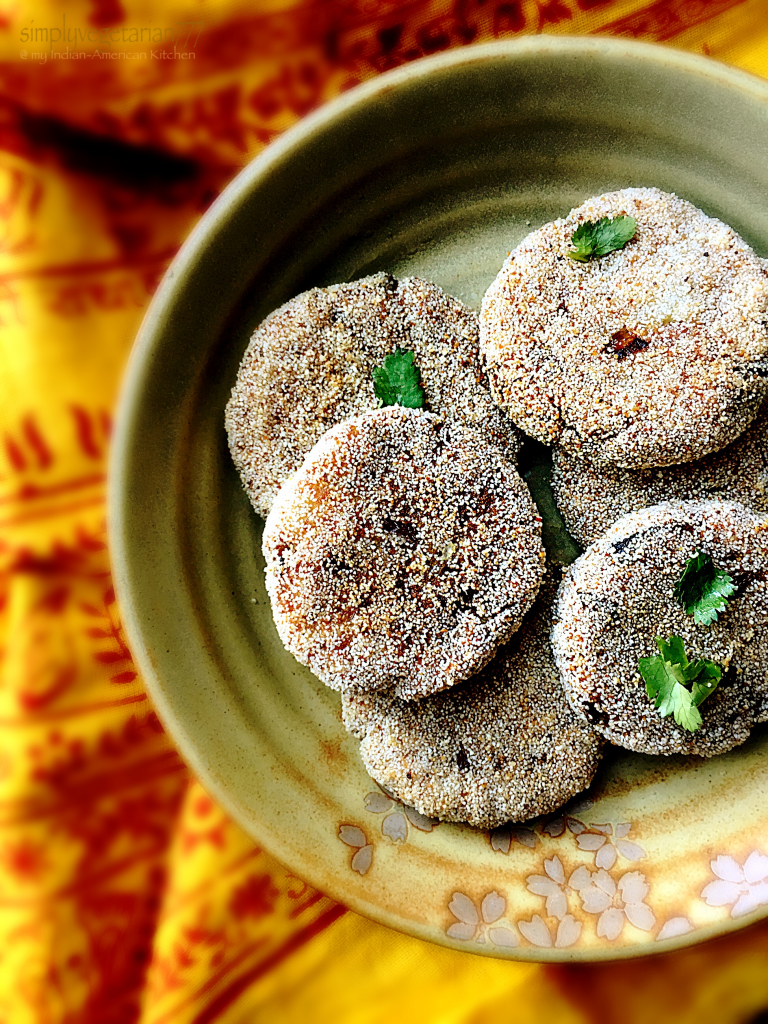 Potato Semolina Cutlets or Aloo Sooji Cutlets are mind blowingly delicious. Crispy from outside and tender from inside, flavored boldly with curry spices, these make an ideal breakfast for a relaxed weekend.
Some weekends are for happy and comforting indulgences and this sure is one among those!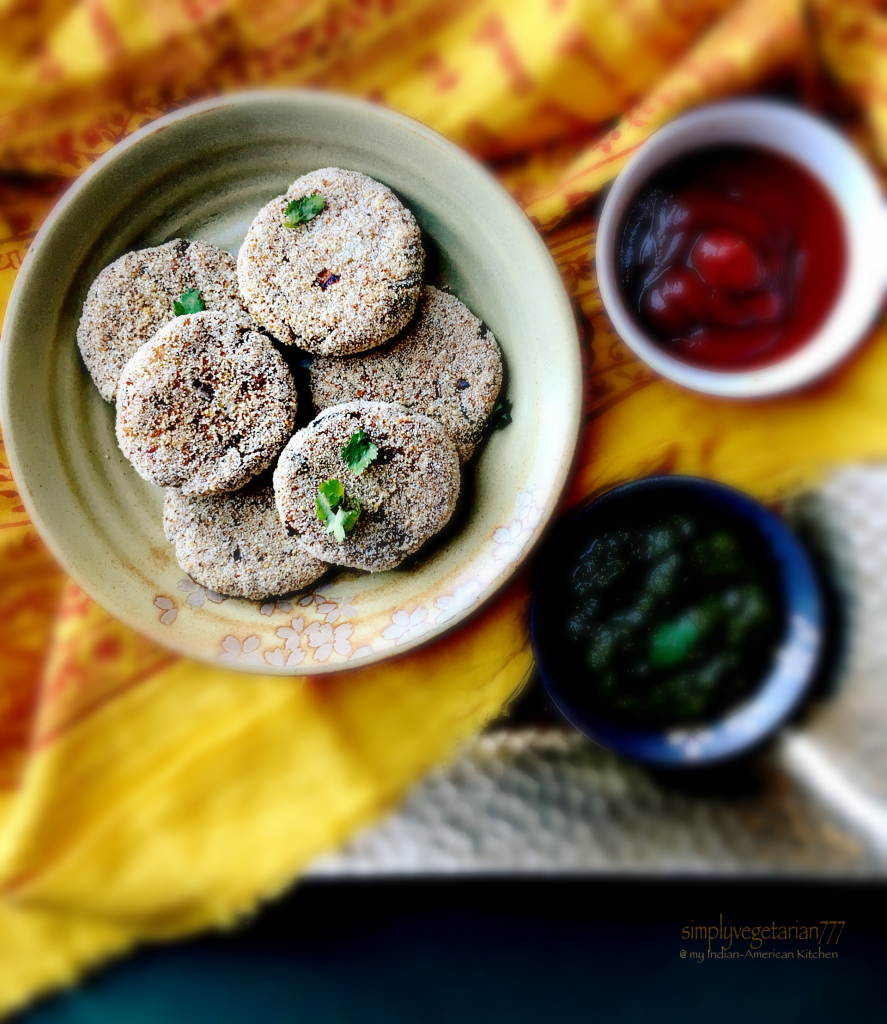 Boiled and grated potatoes, are  enhanced with the flavors of  Amchur, coriander powder, garam masala, red chili powder, salt, grated ginger, green chillies and onions. These are then formed into patties, rolled into fine semolina, stored in freezer or refrigerated for sometime and finally deep fried till golden crisp. Served along with the side of Coriander / Cilantro Chutney and Ketchup, the weekend breakfast never looked so enticing.
If anything will make you more confident about the recipe, then you must know that I and Amit got just 2 each of these cutlets to eat and the rest of them were finished by my 2 little munchkins in no time. I had to stop them in between to click the pictures quick. Yes, such is an irony of the life of a food blogger's family ;).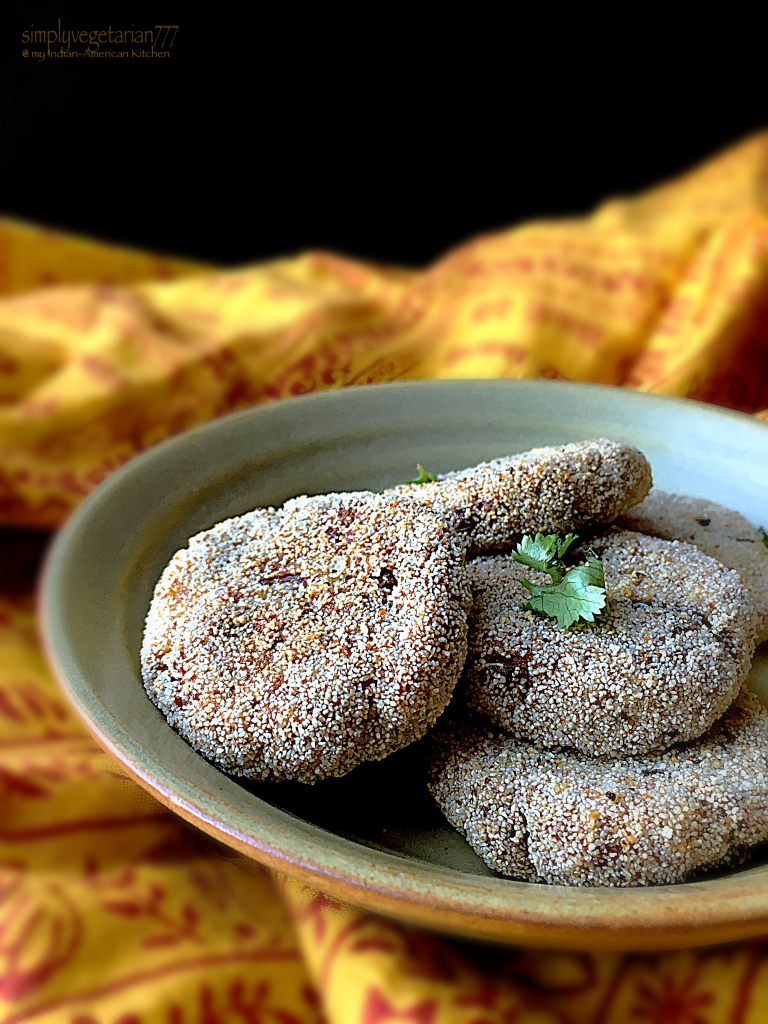 If you are wondering at the whitish look of these, don't be alarmed. It is a coating of semolina which stays whitish, even after deep frying and adds the crispy texture to these cutlets.
To be honest, these are perfect for any party, be it a get together, a birthday party finger food, a kitty party, drinks night, game night, movie time or whatever. It just makes a perfect appetizer for any cocktail party and make you more comfortable and warm in the fun of the event.
This is how I made it!
Potato & Semolina Cutlets
Servings: 4
Difficulty: easy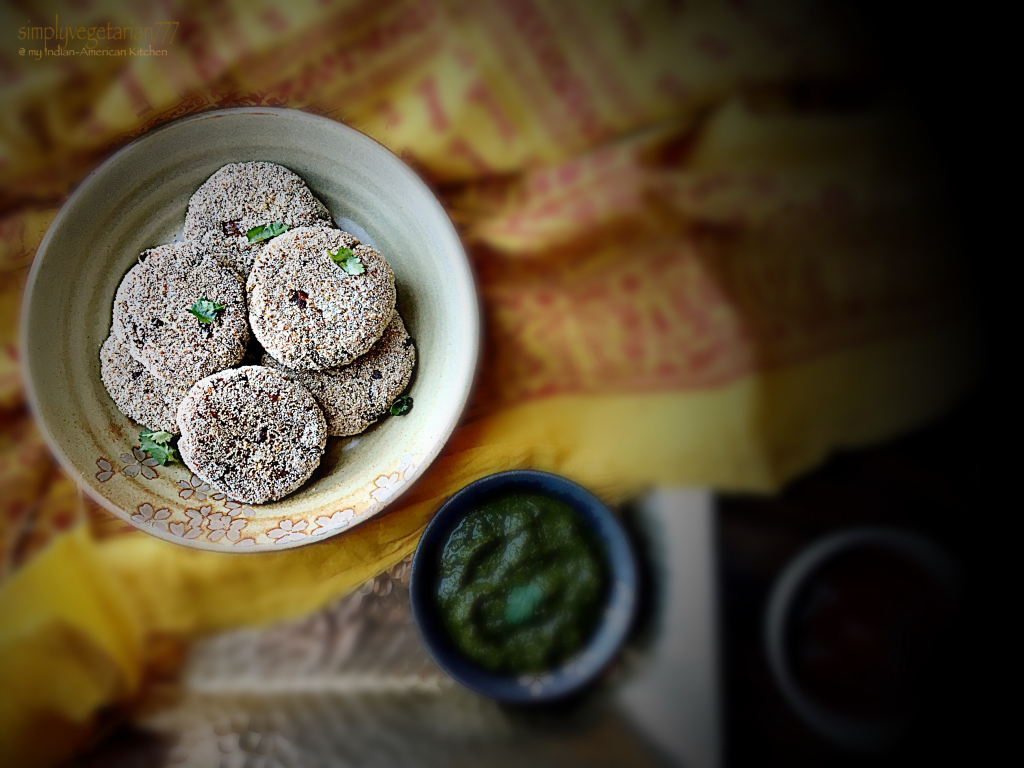 Kitchen Equipments Required
Grater, small frying pan, mixing bowl, chopping board, knife, a deep frying pan or Kadhai, a slotted spoon for deep frying, a baking sheet with parchment paper on it, a large plate with couple of layers of kitchen paper towels, a small bowl of water, a small plate.
Ingredients
Potatoes – 7 to 8 small or about    2 &1/2 cups of boiled and grated potatoes. I recommend using new potatoes or golden Yukon.
Onions – 1/4 cup, finept choppe
Green Chili – 1, finely chopped
Ginger – 1 big piece, finely grated
Semolina, fine – 2 tbsp + 4 tbsp for rolling
Oil & Spices
Peanut Oil – 1 cup for frying. Use an oil which has high smoking point. Vegetable and Canola are not good for deep frying since they turn toxic at higher temperatures.
Amchur/Dry Mango Powder – 1/2 tsp
Corinader Powder – 1 tbsp
Red Chili powder – 1/4 tsp
Garam Masala – 1/2 tsp
Cumin powder – 1/2 tsp
Salt to taste
Method
Refer to this pictogram 👇 for better understanding: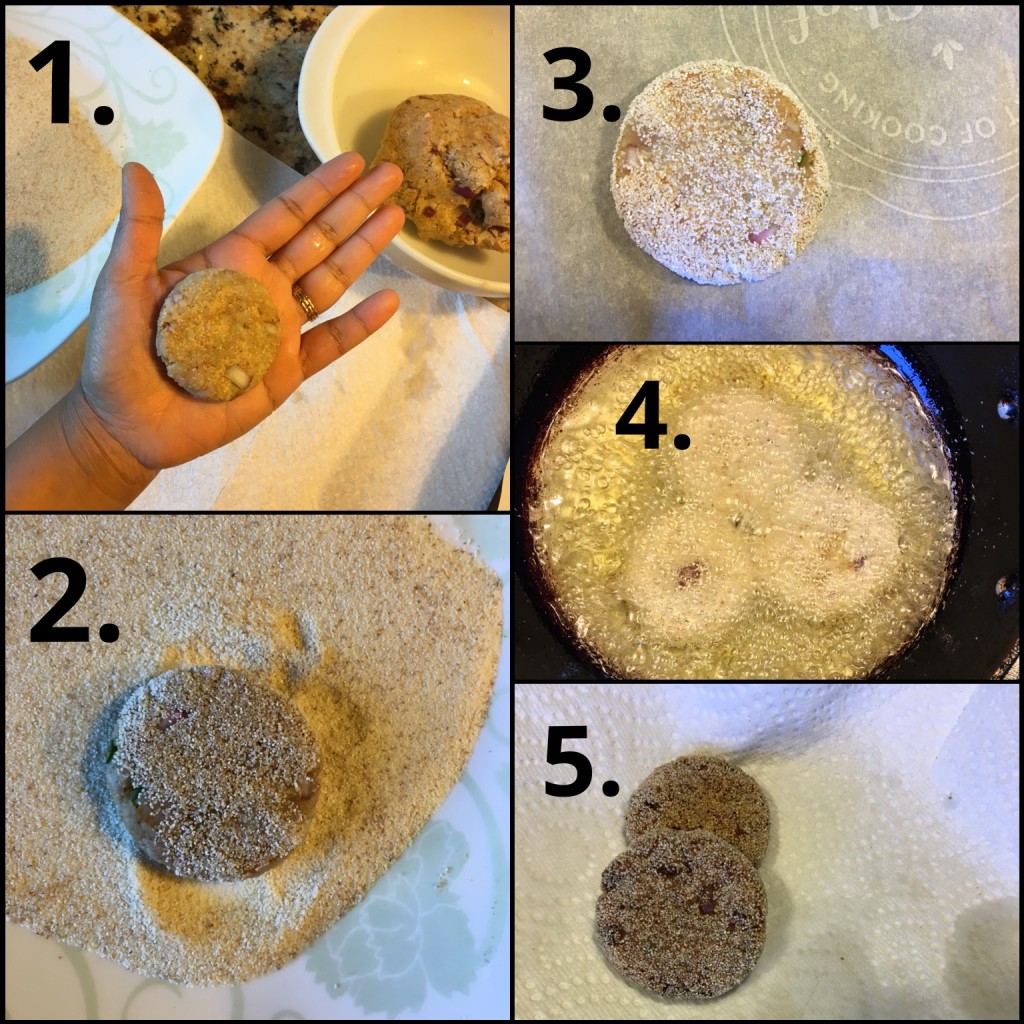 Making the Potato Mix & Prepping the Cutlets
Dry roast 2 tbsp of semolina for about 2 minutes on lowest flame. Set aside.
Take the mixing bowl. Add grated potatoes, ginger, chili, finely chopped onions, roasted semolina and all the spices to the bowl.
Mix all the ingredients well and bring them together in the bowl like a dough.
Prep your working counter – Keep the bowl with cold water, a plate with 4 tbsp of semolina near by. Line a baking sheet with parchment paper and keep near by the dough bowl. Keep a dry paper towel near by for drying your hands if needed.
Dip your fingers in the cold water. Divide the potato semolina dough in 14-16 equal balls.
Dampen your hands lightly with cold water and take one dough ball. Roll it tight and flatten it into 2&1/2 inches wide round patty between your palms.
Place it on the plate with semolina. Press it lightly from both the sides in semolina and roll the sides also in the semolina. Set this patty aside on the lined baking sheet.
Finish preparing all the dough balls into patties likewise.
Refer to the pictures 1,2&3 above in the pictogram.
Now a very important step – Refrigerate these patties or cutlets in the baking sheet for about 2 hrs. If you do not have time for that, put that tray in freezer for about 20 minutes.
Deep Frying the Cutlets
Take the patties out from the refrigerator or freezer.
Heat peanut oil in the deep frying or kadhai. The right temperature is when you drop a small piece of the potato dough and it springs back immediately.
When you reach that temperature, add 1 patty first. Fry it from both the sides on medium high heat till it is golden crispy. The semolina should not turn black on top. Once that first patty is out of your way, you may fry 2-3 patties at a time. Fry all the patties like wise and drain over the plate lined with paper towels. It takes good 5-6 minutes for each lot to fry properly.
Important Notes for frying the Cutlets
DO NOT OVER CROWD THE FRYING PAN. Fry only 2-3 cutlets at a time, depending upon how big your pan is.
If you are frying 1 patty at a time, control the heat at medium high.
If you are frying 2-3 patties at a time, keep the heat high but in check and if required, bring it down a bit in between.
Make sure that the oil is always hot in between 2 lots.
Do not touch the cutlets with the slotted spoon often or else they can break. Touch them only to turn or drain out.
For Extra crispy cutlets, you may double fry them.
You may shape them in the desired shapes like rolls or croquettes.
Serving Suggestion
Serve these hot with Green Coriander Chutney and Ketchup.
I had a great time frying these in my Indian American Kitchen. I am sure that this will be your Sunday breakfast and your family is going to love you more for this.
Sonal