Rajgira ke Wade / Amaranth Flour Savory Dumplings (Gluten Free)
As an Amazon Associate and member of other affiliate programs, I earn from qualifying purchases.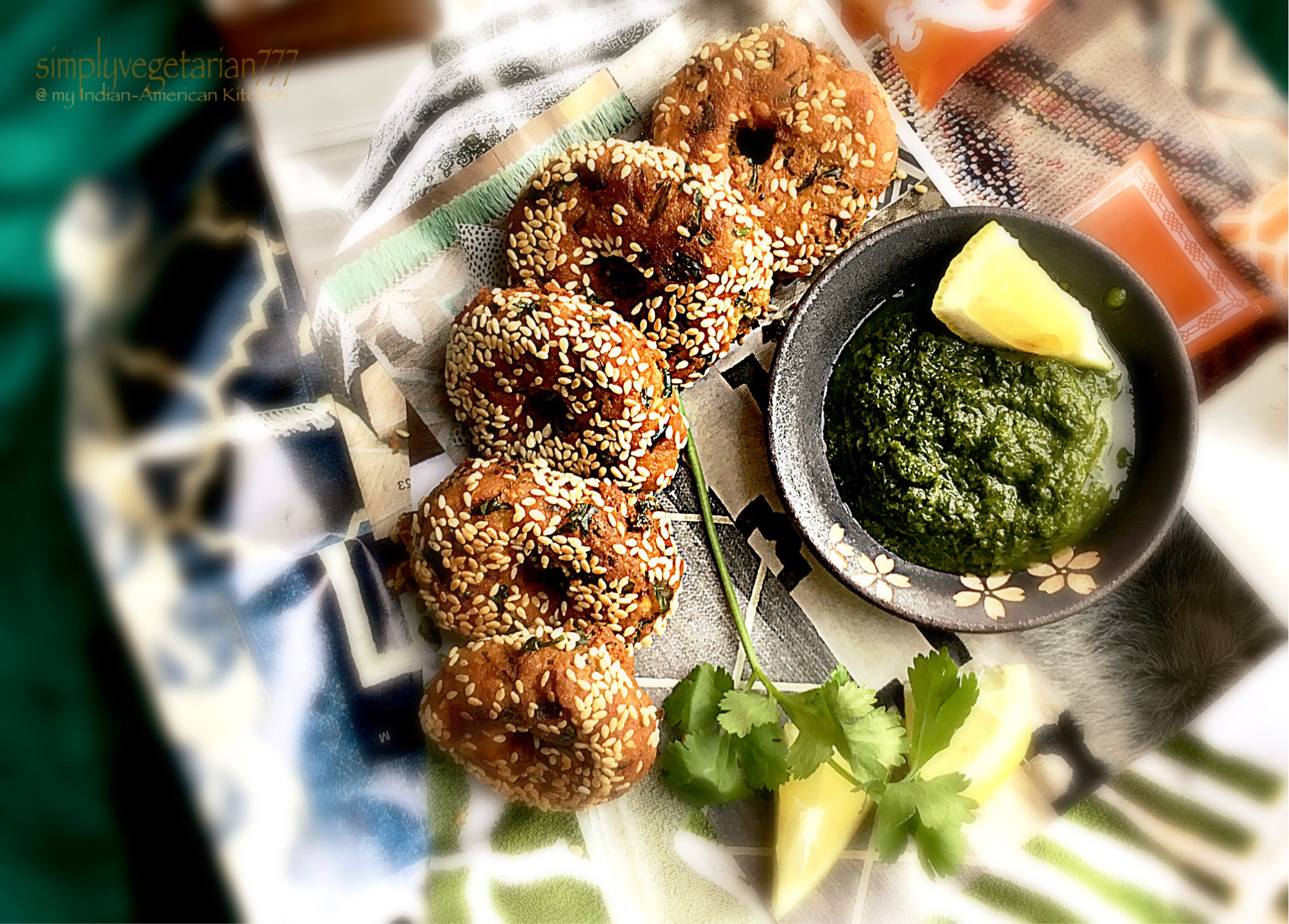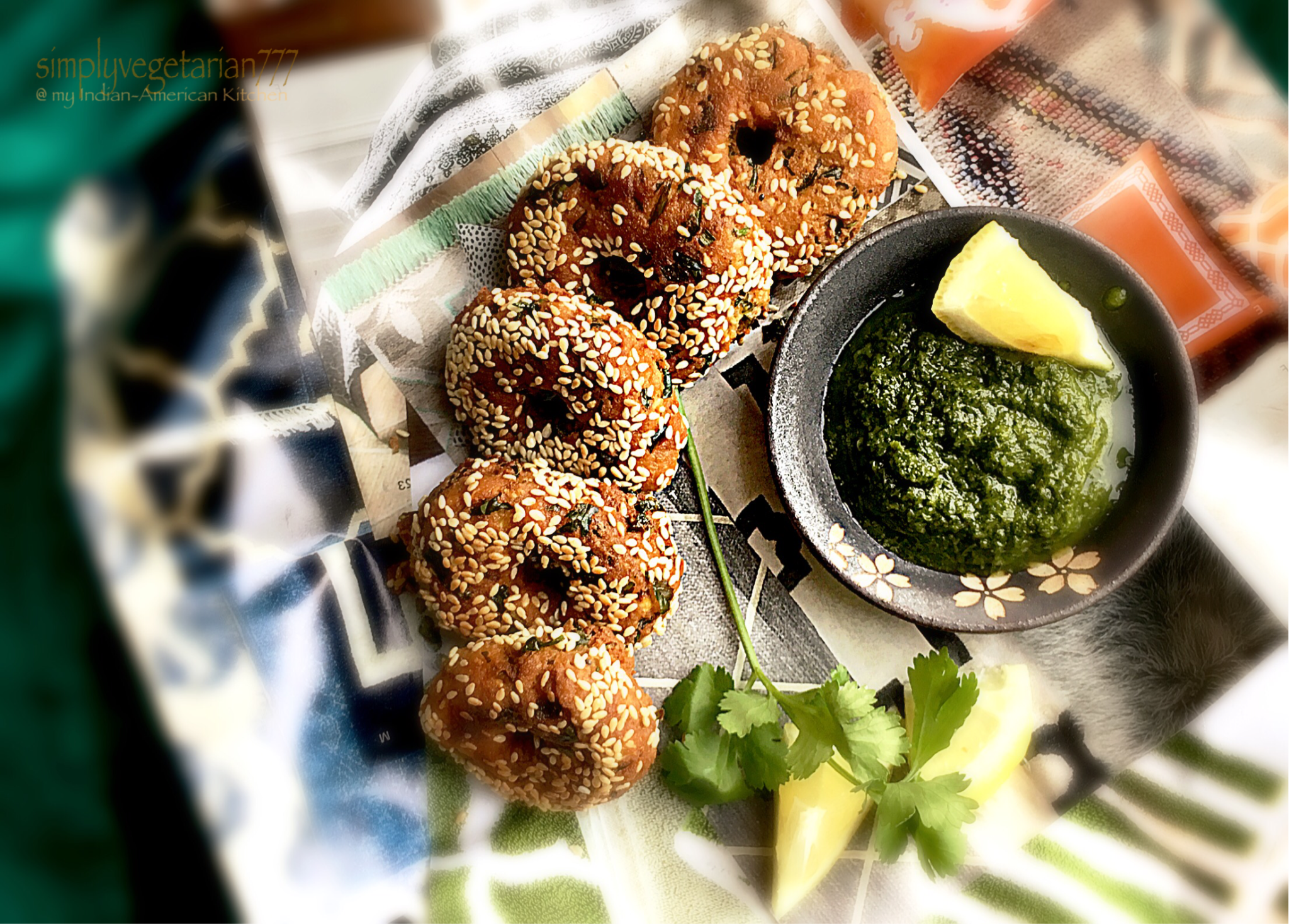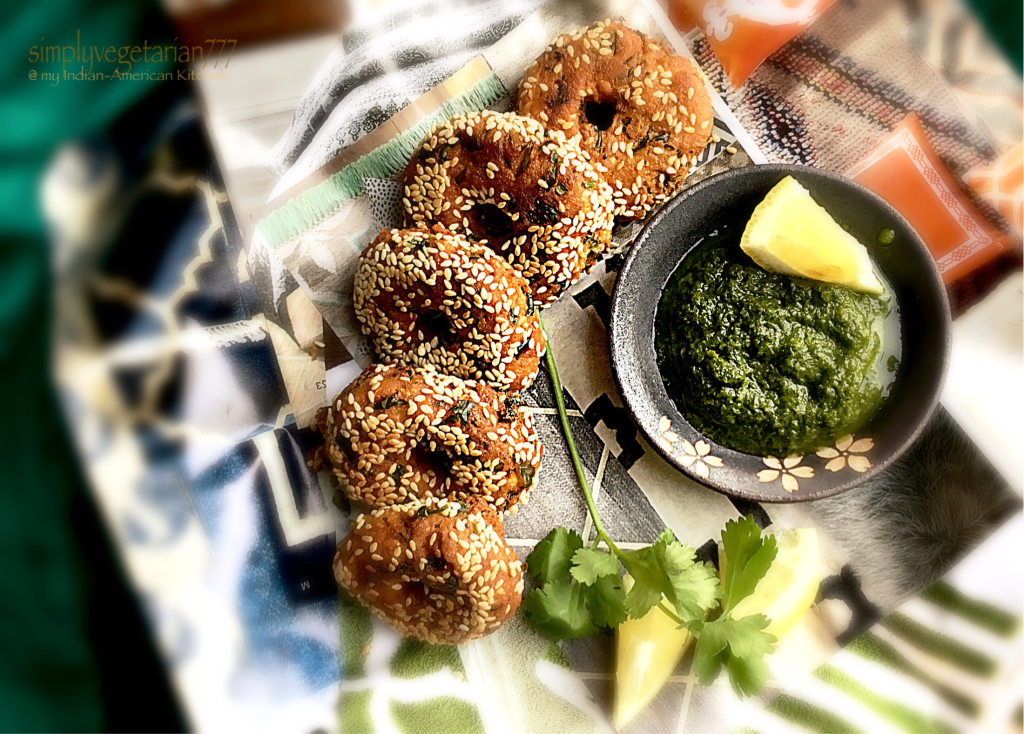 Rajgira ke Wade / Amaranth Flour Savory Dumplings (Gluten Free) is an excellent snack to treat your family or friends over a cup of chai. Crispy from outside with sesame seeds adding to the texture and soft and comforting from inside. When I popped the first one in my mouth, my heart took a happy leap. I have made these for the first time and wasn't sure of the taste, but man…..these are out of this world. Since the rajgira or amaranth flour is gluten free, it is perfect to be consumed during Navrati fasting as well.
As I mentioned before that I am a mentor at one of the groups on Facebook? Inaaya Anjali Irfan Shaikh is the founder of this live and happening group. It entails different aspects of life and is always bubbling with enthusiasm and creativity. I always find something inspiring on the group, be it fitness, music, parenting, gardening, jokes, of course food and good friendships. I am amazed how Inaya Anjali has worked hard and build this community, bringing people, cultures, regions and boundaries together. The forum is called Chai pe milte hain (let's meet over a cup of chai). Check out the group here.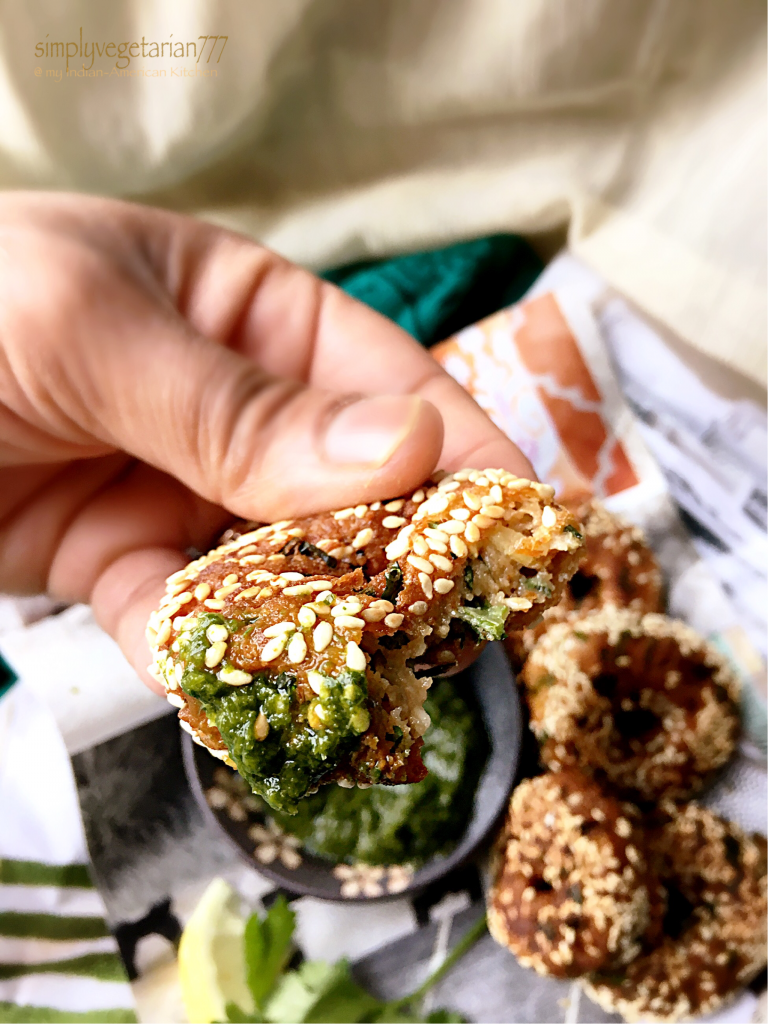 Coming back to the recipe, as a mentor on the group, I offered to pick 2 recipes from the navratri collection from the forum. I dived to pick 2 and came back with 3 instead. Boy, it was a hard choice.Yesterday I blogged Sabudana Kheer by Aayushi and today I am here with another beautiful post by Monal Patel and hold on your reigns for the last but not the least one, that I will bring by tomorrow. I am loving this solo marathon. I promise that you would want to be a regular visitor at Chai Lounge, after these posts.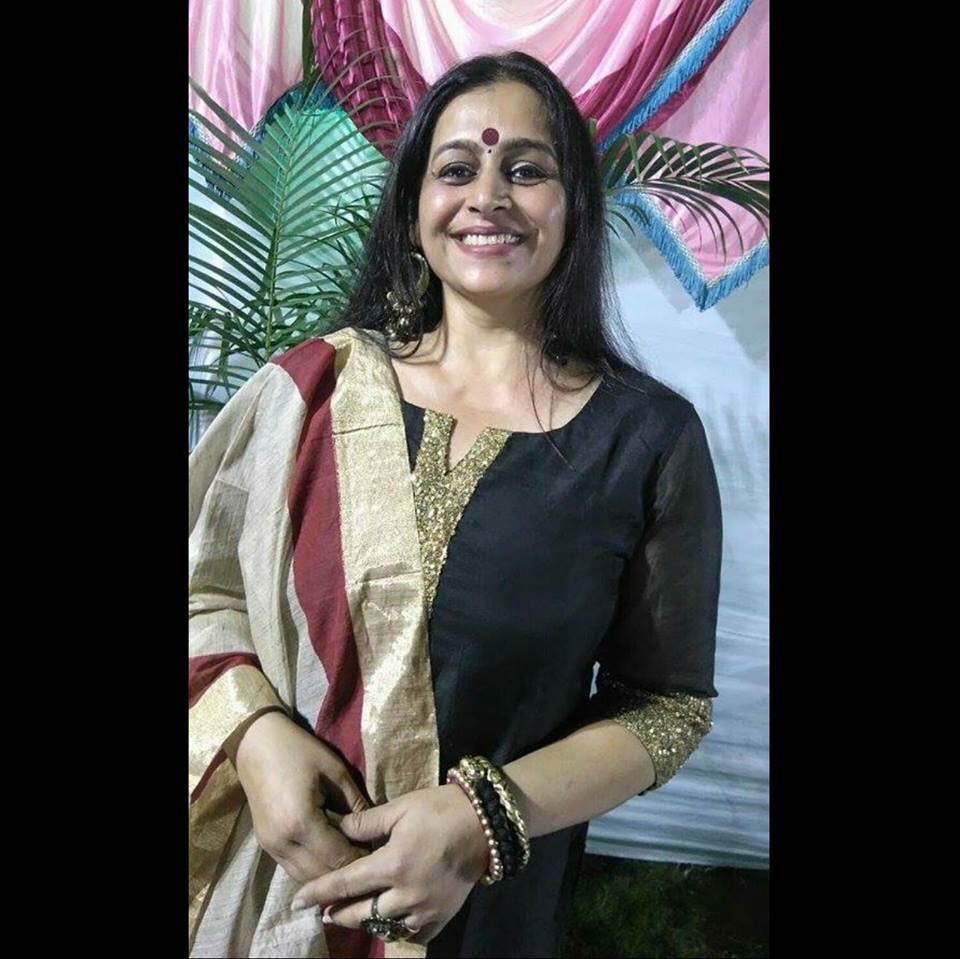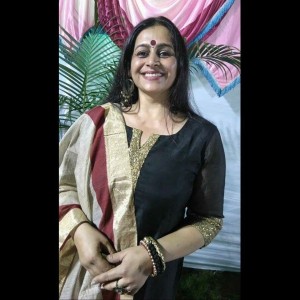 Monal Patel – Recipe Contributor
The credit to this recipe goes to Monal Patel. What do I say about this gorgeous lady? Super talented, Amazing home chef, A Doting Mother, A Beautiful Wife and she owns many more feathers to her hat. I asked Monal, who is the inspiration behind her cooking ? She immediately retortsed back with "my mom" on the tip of her tongue. She is a huge fan of her mother's cooking. Well all the moms are made of good amount of comfort, lot of love, bit of discipline and with a heart of Gold. Monal explains that she started cooking when her son was born (now a grown up man), to feed him healthy and balanced meals. She is big on neat presentation, hygiene and perfection in all her dishes and everything else that she is in-charge of too. She cooks from heart, be it simple home food or a novelty. The food has to be home made, healthy and well balanced. You have to visit the Chai Lounge to observe her flawless work.
I didn't tweak her recipe at all, there was absolutely no need for it. It was tested in my Indian American Kitchen, tried on my breakfast table and was praised with the songs pf glory. Do try this recipe, if you are fasting or not. It will make a perfect gluten free snack or appetizer for your parties or get togethers. A scrumptious treat for those lazy weekend breakfast and brunches.
More Deep fried snacks on my blog – Sooji Aloo ki Tikki, Aloo Poha Tater Tots, Achari Mathri.
This is how you make it!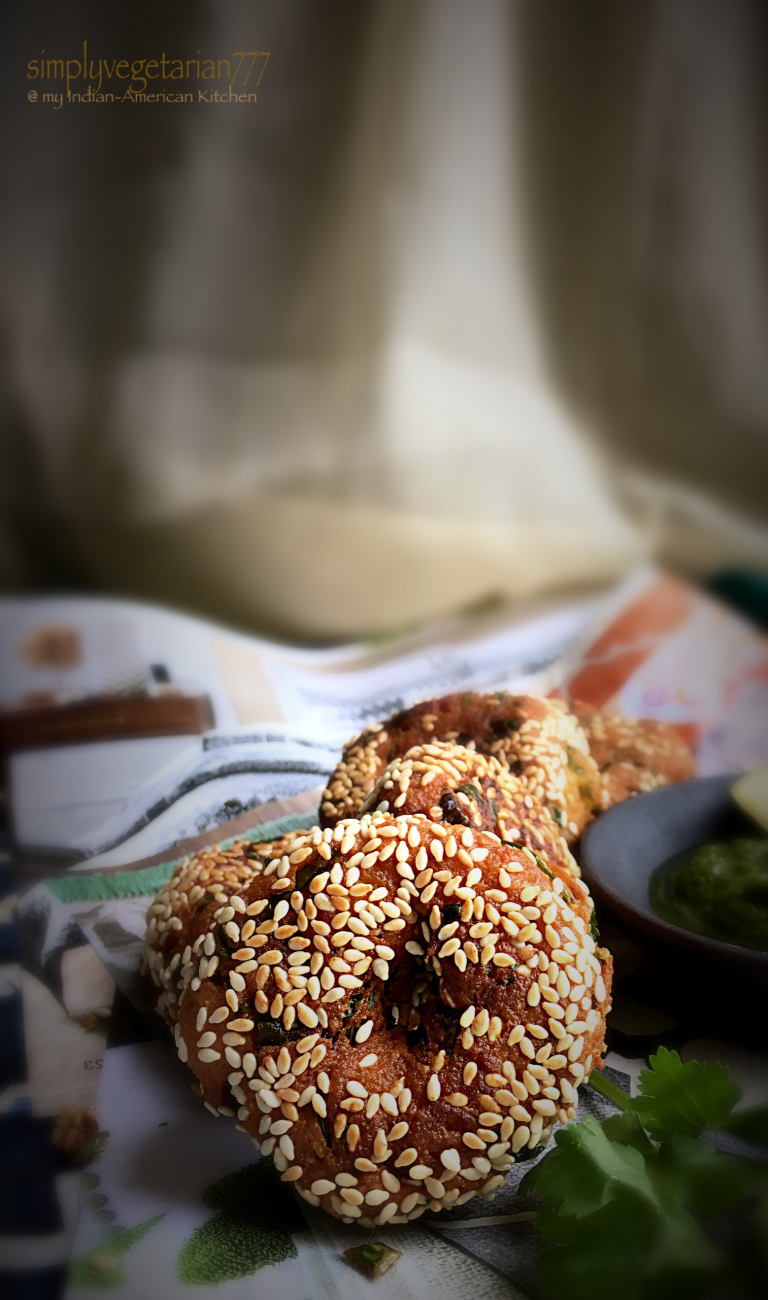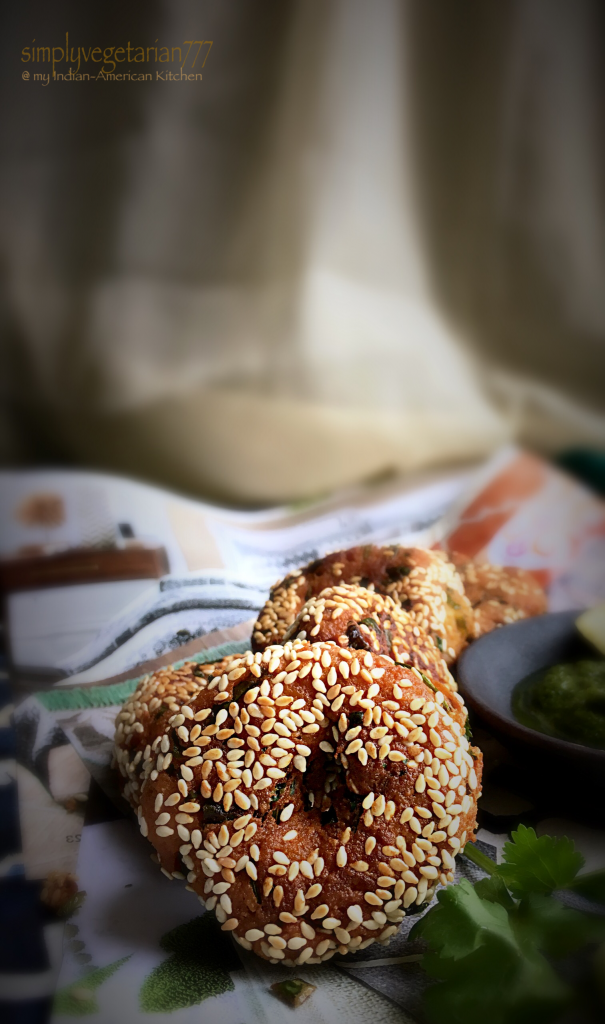 Rajgira ke Wade / Amaranth Flour Savory Dumplings (Gluten Free)
A delicious snack made for fasting or otherwise with gluten free rajgira atta, also known as amaranth flour. It is deep fried but can be pan grilled as well.
Ingredients
Rajgire ka atta / Amaranth Flour - 1/2 cup

Sesame seeds - 1 tsp + 1 tbsp

Yogurt - 2 tbsp

Cumin seeds - 1 tsp

Red chilli powder - 1/2 tsp

Coriander / Cilantro leaves - handful

Green chillies - 1

chopped fine

Sendha Namak or regular salt to taste

Oil for Deep frying
Instructions
Mix all the above ingredients and only 1 tsp sesame seeds.

Spread the 1 tbsp sesame seeds in a small plate.

Meanwhile heat oil in the pan or kadhai.

Make a dough, using 1 tbsp water.

Divide the dough in 6 equal parts and form balls. Set aside.

Take a ball from the dough, pat it flat into a small disc shaped wada, using your fingers. Wet your fingers slightly to handle the dough. Make it even on all sides.

Using your index fingers, make a hole in the middle of this wada. This step is optional.

Now roll this wada in sesame seeds lightly from both the sides.

Reduce the heat of the oil in kadhai to medium and place all the wadas together or depending upon the size of your kadhai.

Deep fry these wadas on medium heat by turning these twice. It will take about 4 odd minutes to fry these on medium low heat.
Notes
Do not fry these wadas on high heat or the will be raw from the center.
A gorgeous recipe, contributed by Monal and tested and savored by me. I am sure that you will love creating this magic in your kitchen, as much as I did :).
Stay Happy! Stay Blessed!
Sonal