Olive Garden Style Garden Salad
As an Amazon Associate and member of other affiliate programs, I earn from qualifying purchases.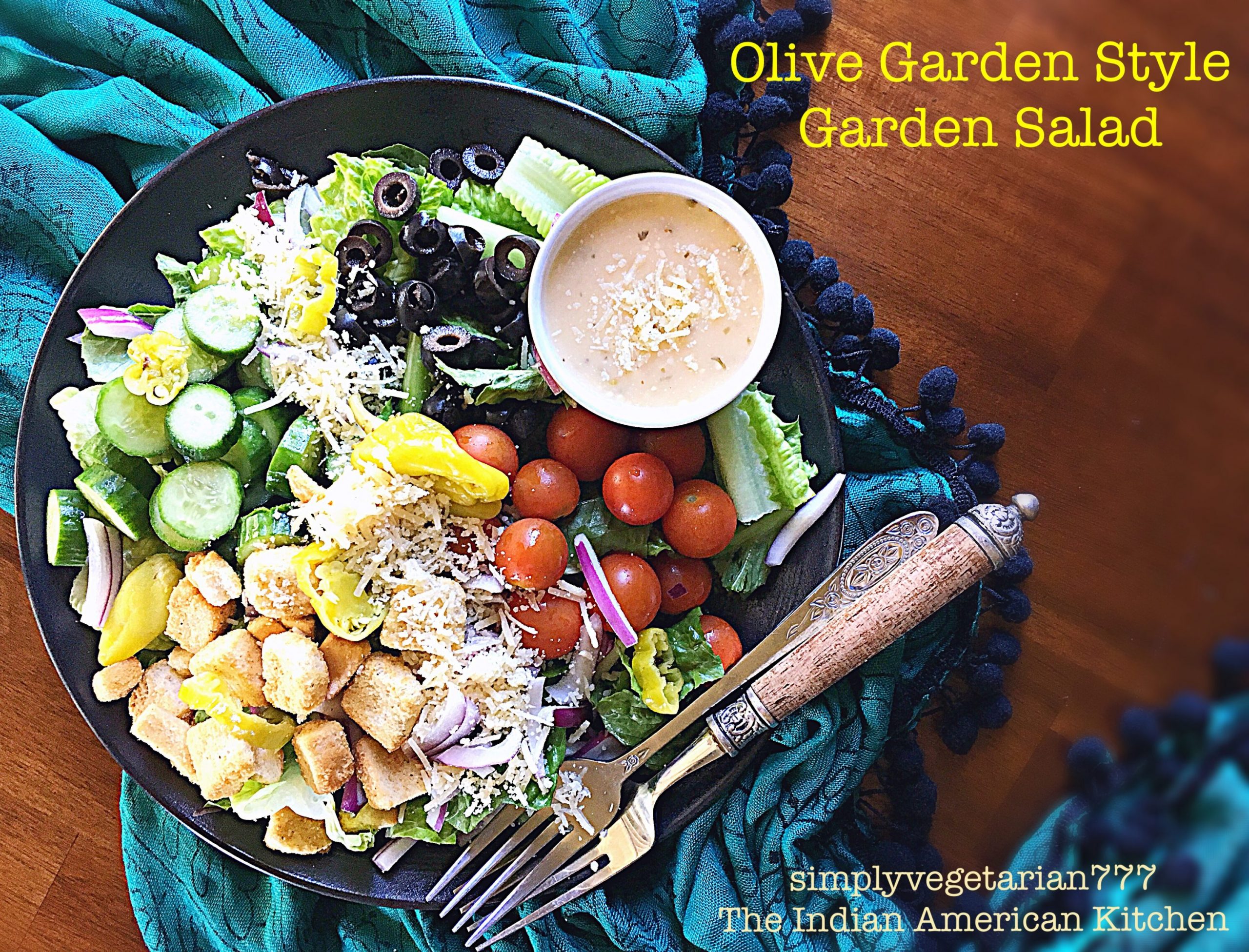 Olive Garden Style Garden Salad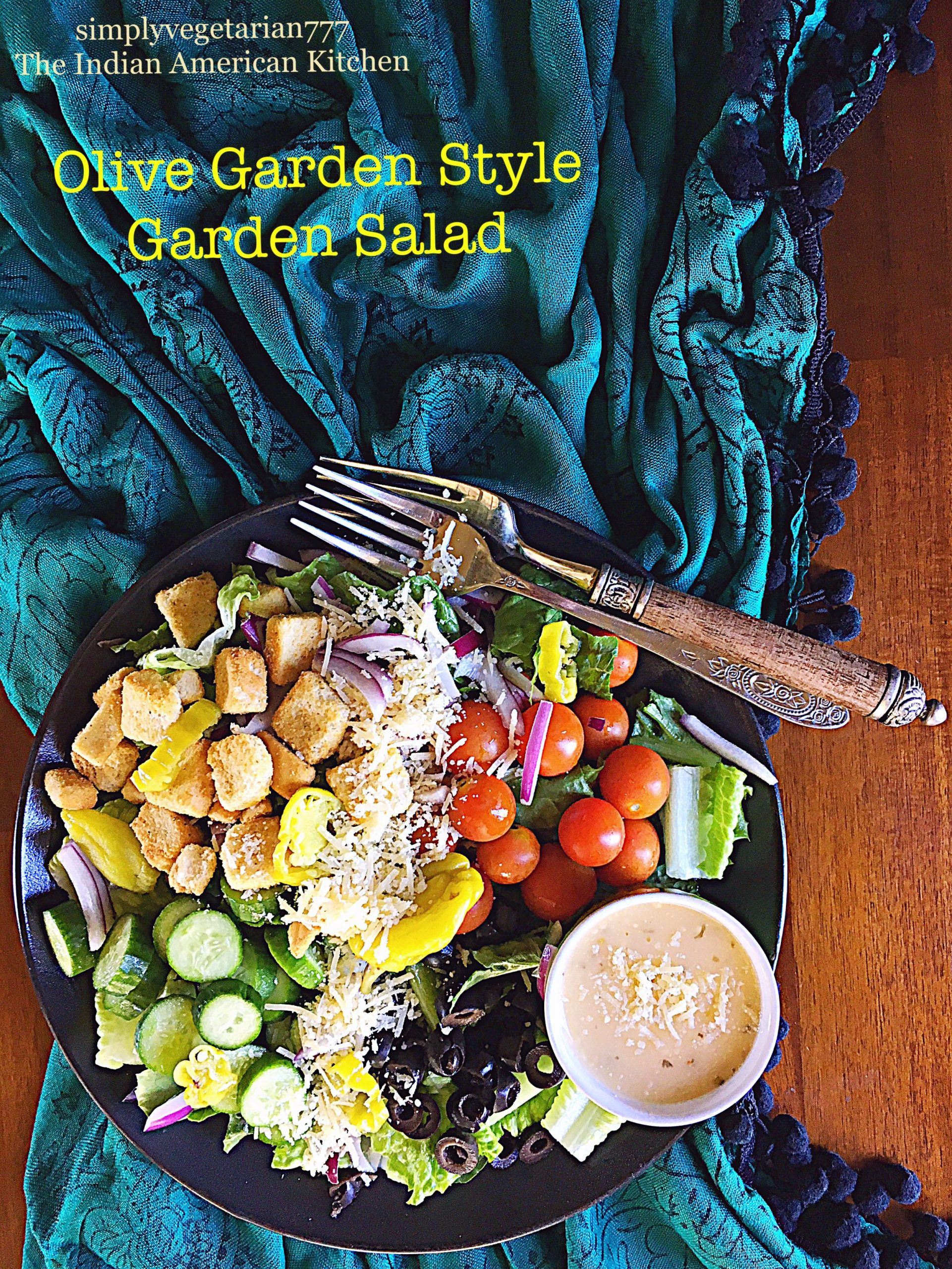 How many of you are the fans of Olive Garden? Well, my family definitely is. We love going to the Olive Garden, especially for the lunch, to enjoy their unlimited offer of Salad and Bread-sticks. Of course, we order more for Main Entree, but their House Garden Salad is the rock-star. It is crisp, refreshing, creamy with parmesan and dressing and more so a complete meal in itself. This Olive Garden Style Garden Salad is a copy cat recipe, which needs to be saved by each one of you who are Salad Enthusiast.
Olive Garden is Chain of Restaurants which offers good Italian food at moderate price. It is affordable and offers good range of dishes to pick from. Being a vegetarian, I never come out disappointed from the restaurant, since it has some good options for our kilns as well.
I have some very fond memories attached with Olive Garden. 16 years ago, when we migrated from India to this Land of Dreams, Amit was a student of MBA at Pennstate. The College Town of NIttany Lion is beautiful, set in the valley and surrounded by picturesque nature in Pennsylvania. We went back couple of times to visit with kids later.
There is a special incidence or you may say a memory attached with Olive Garden. When we lived as students, we didn't have much money, so much so, that many times, we didn't have money to buy groceries for the last week of the month. Hey, no complains there. We were young, no kids and very strong. Came out better after that journey. We were penny poor but experience rich.
Anyways,  Amit completed his 2 years and finally got a job in the times when 9/11 was still fresh and F1 students were facing a tough time finding a job. It was the month of May and we were at the verge of celebrating our 4th marriage anniversary. Finally, we had some money in the pocket and guess what… yes, Olive Garden was the first restaurant that we explored in certainty and confidence. Finally, we could celebrate with warm pocket and not at McDonald's $1.00 Burger.
Life is a great teacher and it has its own plans for everybody. No matter how hard you try to take the charge of life, there is somebody up there pulling the chords of your life. So, FLOW with it. It will definitely take you to the point, where you are meant to be.
So much to my close association and fondness with Olive Garden, coming to Salads – I am a Salad Person and I completely believe that a Salad can be a complete meal when executed with skill. As Fran Lebowitz says – "A salad is not a meal. It is a Style". I absolutely agree with him. Salad is not everybody's cup of tea. It needs to be savored in its each bite with flavors of its dressing and textures of the ingredients.
A Salad is not a meal. It is a Style. 

Fran Lebowitz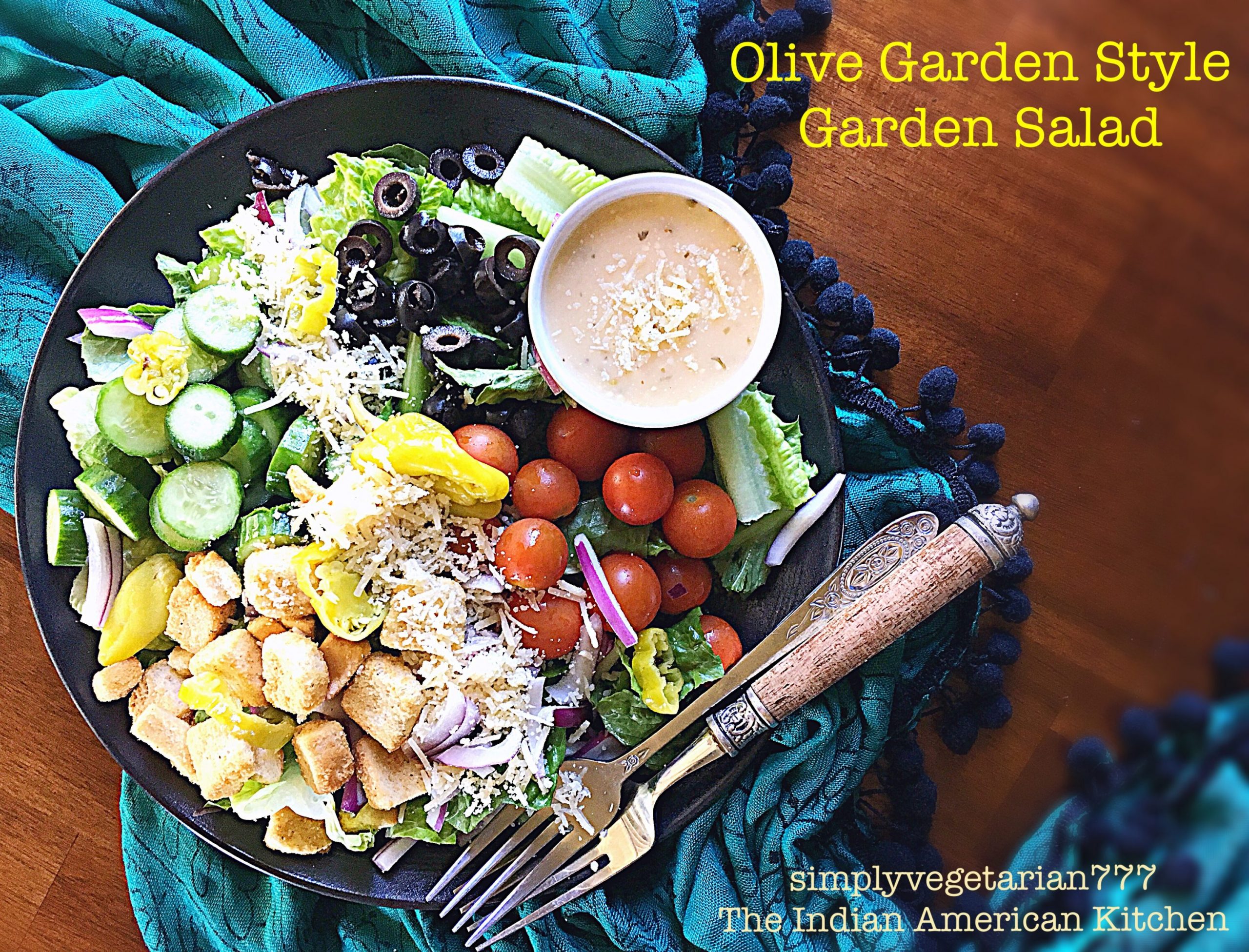 The recipe that I am going to mention below is an open ended recipe, left to be balanced as per your personal taste and liking. This Salad can be served as a complete meal or as a starter to any Italian Meal. The key to this salad is not only its main ingredients aka fresh vegetables, but also the Olive Garden Italian Dressing and Croutons along with Parmesan Cheese. Olive Garden Style Garden Salad is such an easy and basic recipe to follow that this will become your favorite salad for the whole family.
If you do not find the Olive Garden Italian Dressing, then here is the recipe by CopyKat. Adjust and adopt to the ingredients available. If you do not want to use Mayonnaise in the recipe, use sour cream or greek yogurt and skip the corn syrup.
This is a perfect salad for Spring or Summer Time, that is refreshing, cooling and soothing plus filling.
Some other Salads from the blog are – Mediterranean Warm Salad , Cold Noodle Salad , Tex Mex Salad , Fattoush and many more.
This is how you make it!
Olive Garden Style Garden Salad
Olive Garden Style Garden Salad is an easy and refreshingly crisp salad made with greens, salad vegetables, croutons, dressing and parmesan cheese.
Ingredients
Romaine Lettuce - 1 head

cleaned+washed+base removed. Chopped roughly.

Black Olives - 2 to 3 tbsp sliced or 10 to 12 whole & pitted. You may use Green Olives if you like.

Cucumbers - 1/2 cup or 1 medium

sliced medium thickness or chopped into medium pieces

Cherry Tomatoes - 12-15 or as less or much you like. You may use 1 large tomato chopped instead.

Red Onions - 1/4 cup

sliced thin or few thinly sliced rings of onion. Again you may use as much or as less, to your liking.

Croutons - handful or 1/2 cup. Use ceasar croutons or any other

either store bought or home made.

pepperoncini pepper - 3 to 4

optional. These are pickled and peppery small yellow colored peppers relished much with Italian salad, pizza and sandwiches.
Condiments & Dressing
Parmesan Cheese - 1/4 to 1/2 cup grated

as per your liking.

Olive Garden Italian Creamy Dressing - 1/4 to 1/3 cup

as desired. You may make it at home, as per the recipe link given above by copykat or buy from the market. You may use regular or light version.
Instructions
Take a large bowl and literally dump all the main ingredients together. Toss well.

Add parmesan cheese and Olive Garden Italian Dressing. Toss once more with tongs.

You may refrigerate the salad for 20-30 minutes for flavors to marinate well or serve immediately.

Whichever way, you have an amazing salad to savor upon. Simple and Easy.
NOTE
If you made the dressing at home, refrigerate the leftover.
Isn't this Salad amazing and so easy to make? It works perfectly well for spring and summer potlucks and get togethers as well along side with a good grill.
Can't make it now? PIN IT FOR LATER!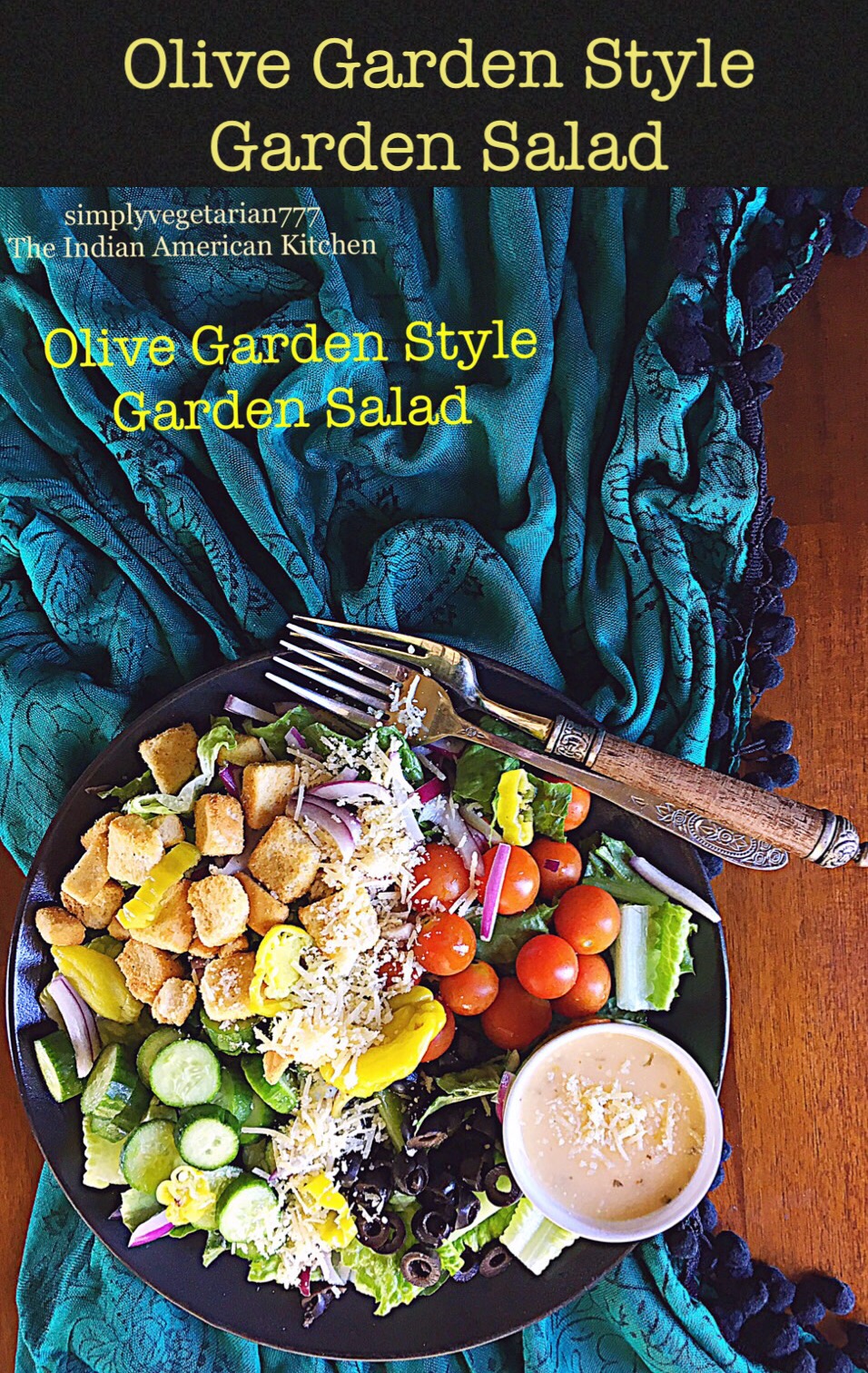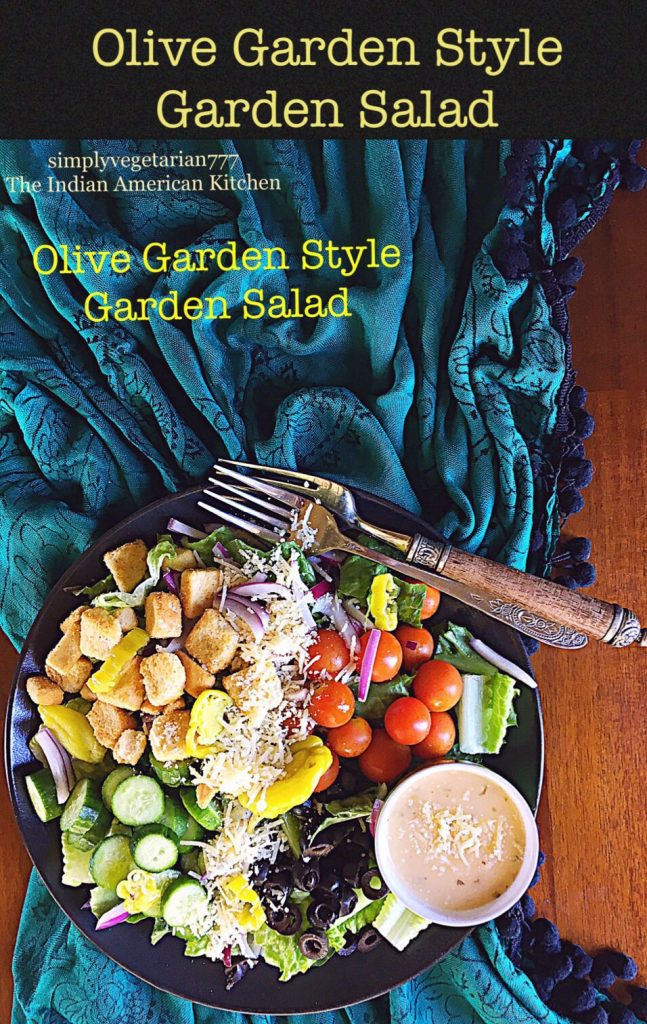 In my Kitchen, you will always EAT HAPPY & STAY HAPPY!
Sonal