Spinach Fattoush with Zaatar, a Salad with Middle Eastern Flavors : Recipe with lot of options.
As an Amazon Associate and member of other affiliate programs, I earn from qualifying purchases.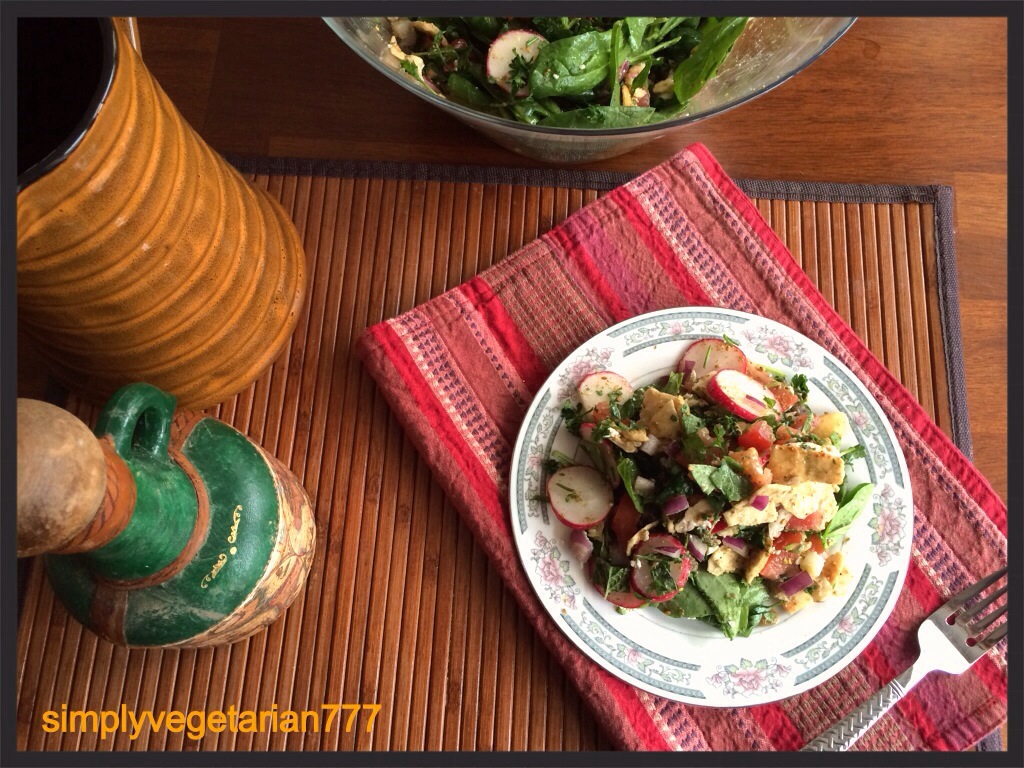 Elaine from foodbod has got me hooked on Middle Eastern Flavors. Her posts inspired me to explore more on middle eastern cuisine and spices and when I asked for her help, she just showered me with so much love with loads of information and references. This post is for your Elaine ! Also, sit tight for her guest post tomorrow.
Yes this is my guest post week for February. I have 2 beautiful bloggers already signed up for the month of April. Dimple and Aditi-Nikhil!! Anybody else, please contact me :).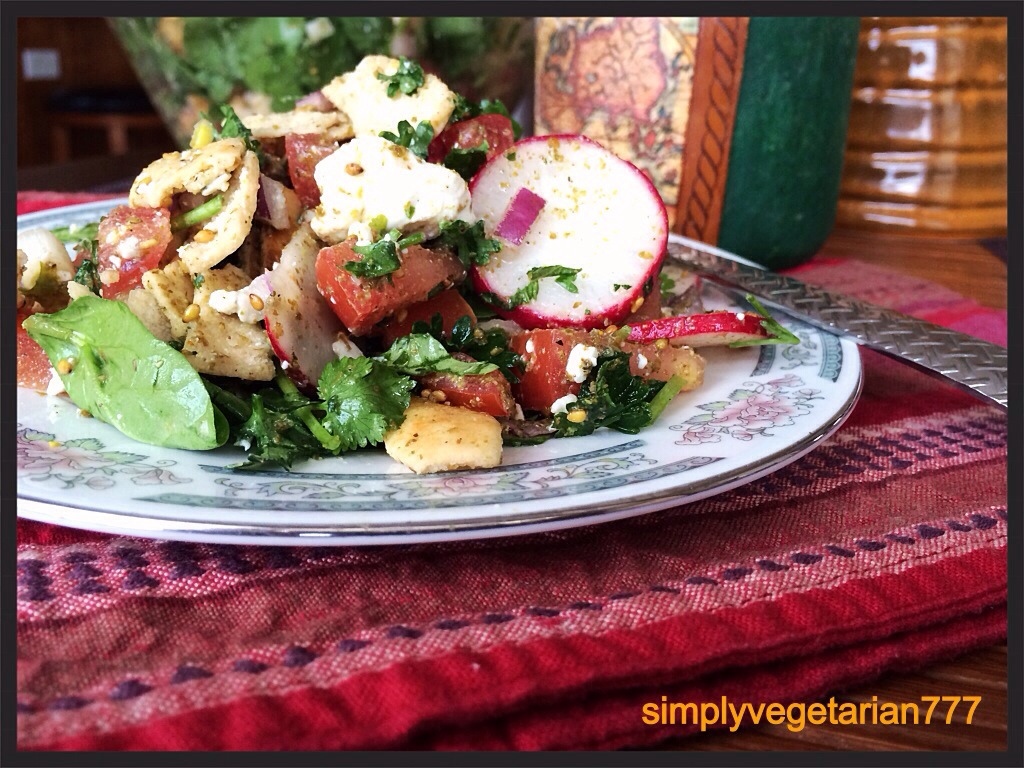 "Fattoush is one of the most well-known of Arabic salads and a standard dish on the 'mezza' (smal dishes). Fattoush is a Levantine bread salad made from toasted or fried pieces of pita bread (khubz 'arabi) combined with mixed greens and other vegetables. Fattoush belongs to the family of dishes known as fatta, which use stale flatbread as a base.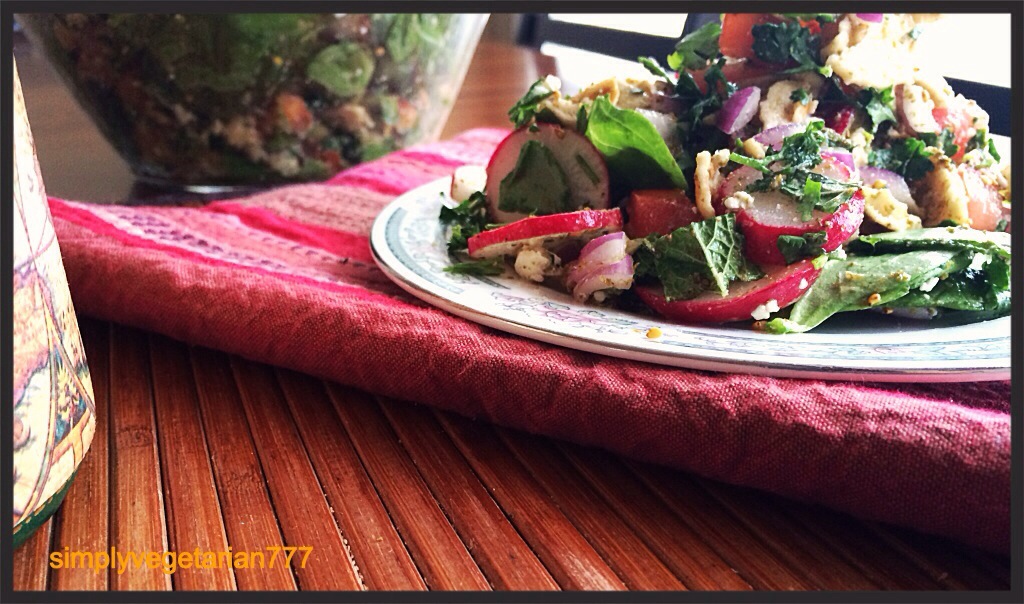 This salad is tangy, flavorful and aromatic. It is spiced with Zaatar, a middle eastern spice where in Sumac is the main ingredient. The original recipe calls for sumac only, whereas Zaatar is my addition. Sumac is a berry which grows wild in middle eastern states and some parts of Italy. It has sesame, oregano, cumin etc. I did mention the recipe of Zaatar in my older posts . In case, Sumac is not available you may substitute it with lemon rind and paprika mix. Sumac has a very distinctive tang. If not exact, the lemon rind will be very close to it.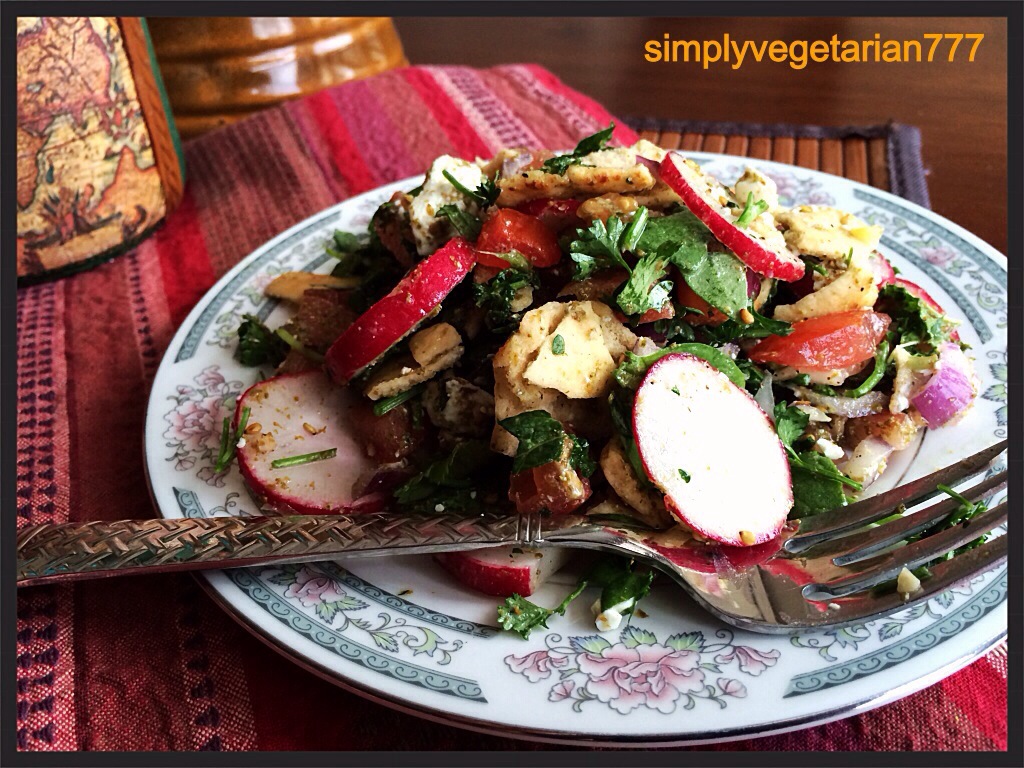 Do you want to learn this wonderful salad? It is an excellent meal for lunch. I am going to give everybody a lot of options so that my dear readers can try this gorgeous salad in any part of the world :). If I get stuck, I am sure Elaine is going to help me out….. :).
Ingredients :
Baby Spinach : 2 handfuls. You may use any greens available or not at all.
Red radishes : 5-6 in number. You may use white radish or daikon.
Tomatoes : 1&1/2 cups chopped in small pieces or cherry tomatoes, halved
Red Onion : 1/2 chopped fine
Cucumber : 1 cup, cubed. I didn't have any so I didn't use it ;).
Curly Leaf Parsley : 1/4 cup, washed and chopped. You may use 1 tbsp dried.
Mint : 1/4 cup, washed and chopped. You may use 1 tbsp dried.
Pita Bread : 1 cup in crouton size pieces. I used baked ready made pita chips. You may use croutons. Also, if you have any kind of flat bread, you may use it either by roasting or baking it to crisp.
Feta cheese : 2-3 tbsp. you may use any salty crumbled cheese like paneer, queso and even mozzarella or drained cottage cheese.
Lemon Juice : 1/2 lemon or 1 tbsp
Salt and black pepper to taste
Zaatar spice mix : 1 tbsp. You may use Sumac alone. In case either is unavailable, use 1/2 tbsp lemon rind mixed with 1/4 tsp paprika for color. Paprika is dried bell pepper powder or alternately use Kashmiri mirch in absence of paprika.
Note : If you like to balance the tartness of the salad, add some raisins or dried apricots or any other sweet dried fruits.
Method :
No rocket science! Just toss everything together and tada. Isn't that fantastic? No steps….no instructions…just few tosses and it's done….just like that :).
When you try it, do let me know. I enjoyed mine in a pita pocket, a perfect light and delicious lunch for a wonderful day which feels like the start of Spring.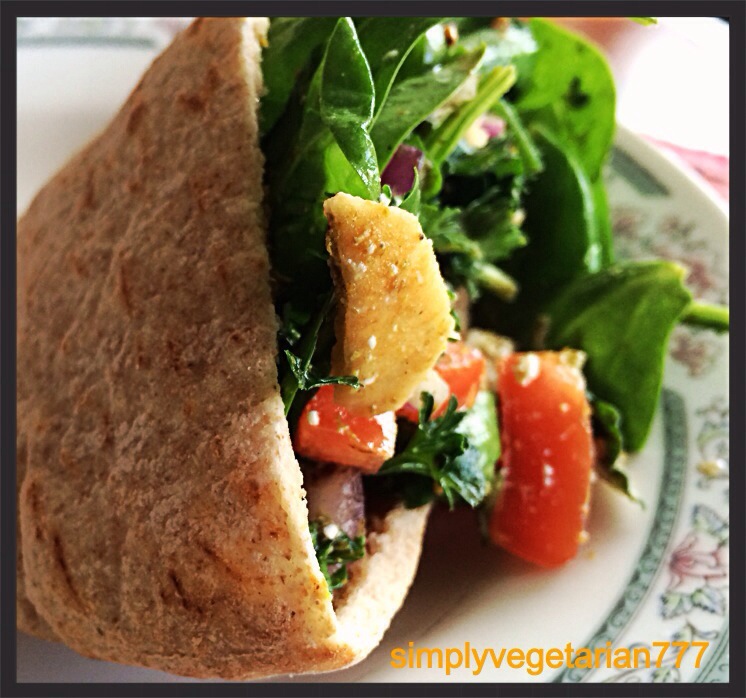 Linking this post to Veg in my box – Spinach event hosted by Citrus spice UK and Chef Mireille's east west realm !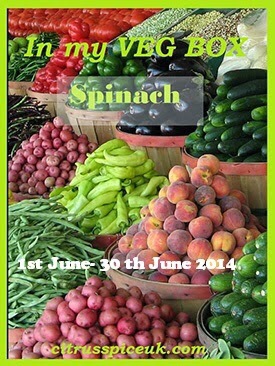 Linking this to Sarika's and Swathi's Salad Event !