Mediterranean Warm Salad
As an Amazon Associate and member of other affiliate programs, I earn from qualifying purchases.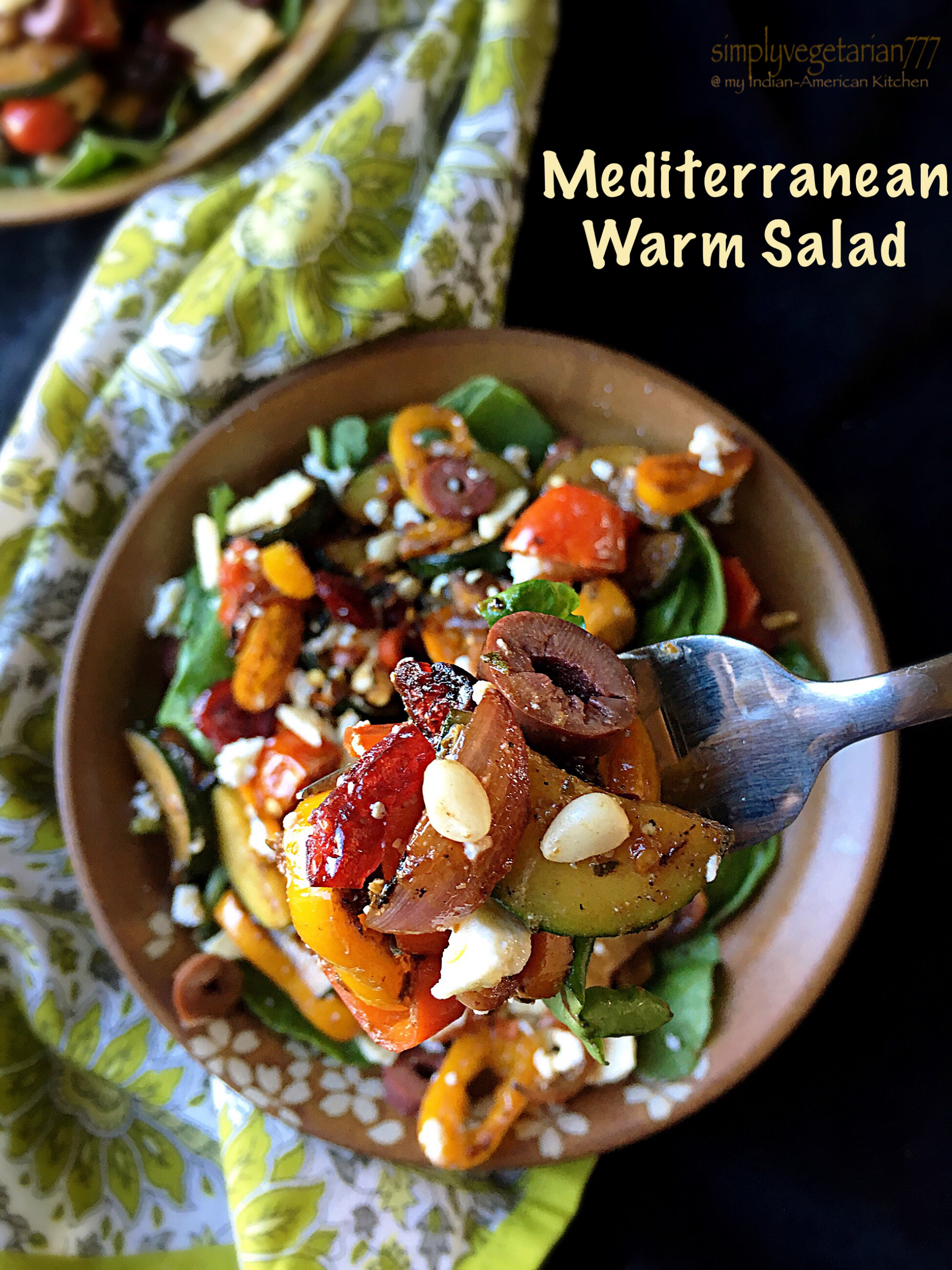 Mediterranean Warm Salad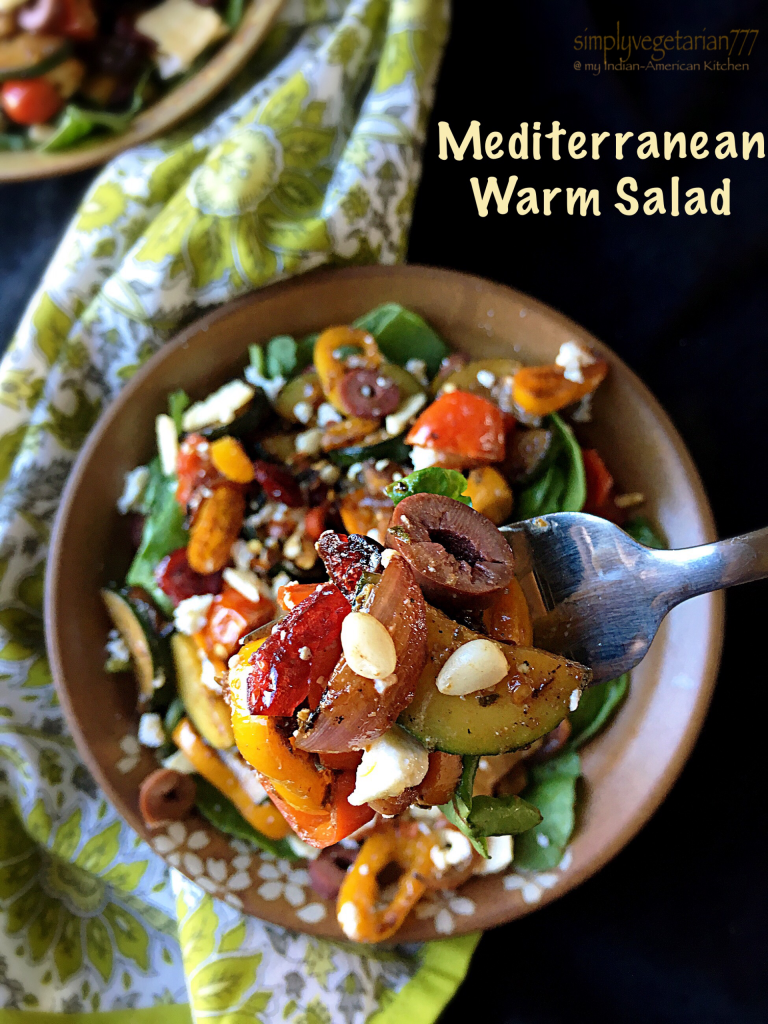 Are your days getting cold and nights getting colder now? Winter is almost here in my part of the world. I need more nutritionally replenishing meals to keep my metabolism in good bracket and yet get that cozy comforting feel. Mediterranean Warm Salad is one such complete meal.
I woke up on Monday and I knew that I wanted to eat something Mediterranean-ish. Sent the kids off to school. Amit had already left early that day for work. I had a regular doc's appointment in the morning, finished that and then set to the Market Street (grocery store) to buy some fruits and vegetables for the week.
I love market street since their prices are very reasonable and the quality of produce is excellent. Some Apples, Pears, Parmesan, Zucchini, few bell peppers, herbs and pine-nuts (chilgoza in Hindi) made to my shopping cart. I always get excited around fresh produce. Do you?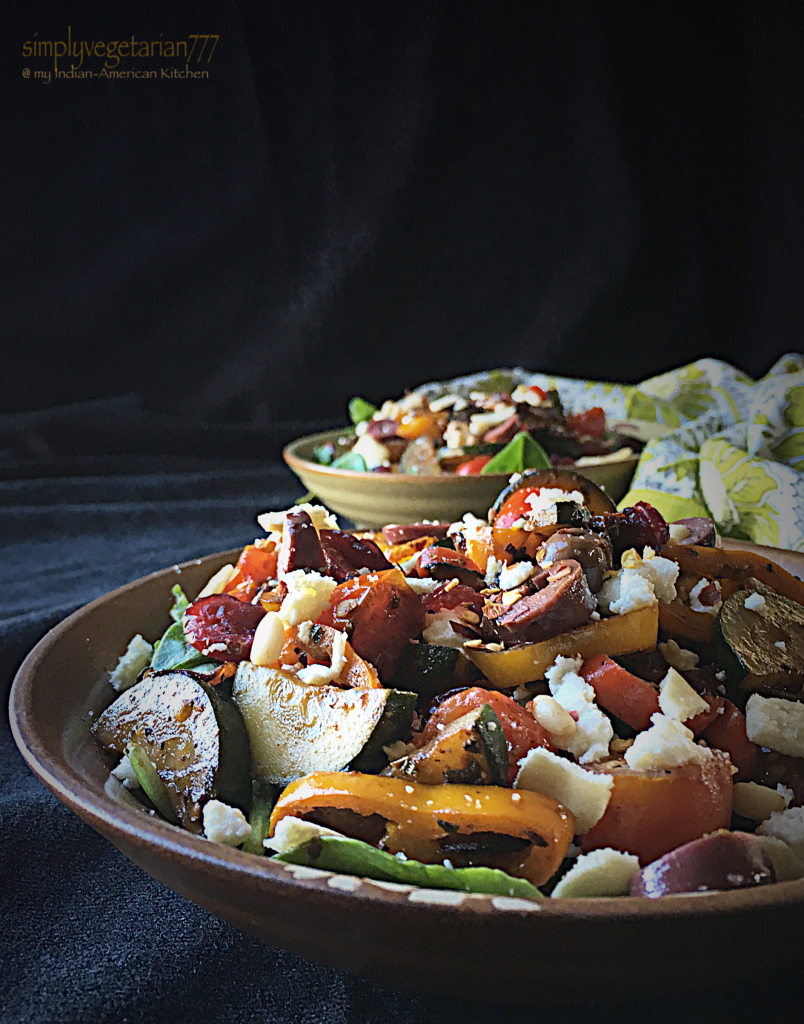 Mediterranean diet is one of the most well balanced diet in all the cuisines of the world. It is rightly balanced in flavors and nutrition quotient. The cuisine can be easily adapted in your regular menu planning. The olives, nuts and vegetables along with their salty Feta cheese can make any meal fancy.
I savored every bite of this salad. And if you are thinking – how can a salad be warm? Then, you must make a note that a salad can still be a salad and can be warm too. That's the beauty of curating and evolving food.
I used fresh and raw baby greens for the salad as a bed and then tossed some vegetables in olive oil to stash on top of the greens. The toppings were delicious dried cranberries, pine-nuts, olives, feta cheese and some pita chips, drizzled with some balsamic vinegar. Simple, Elegant and Flavorful – 3 true words for this Mediterranean Warm Salad.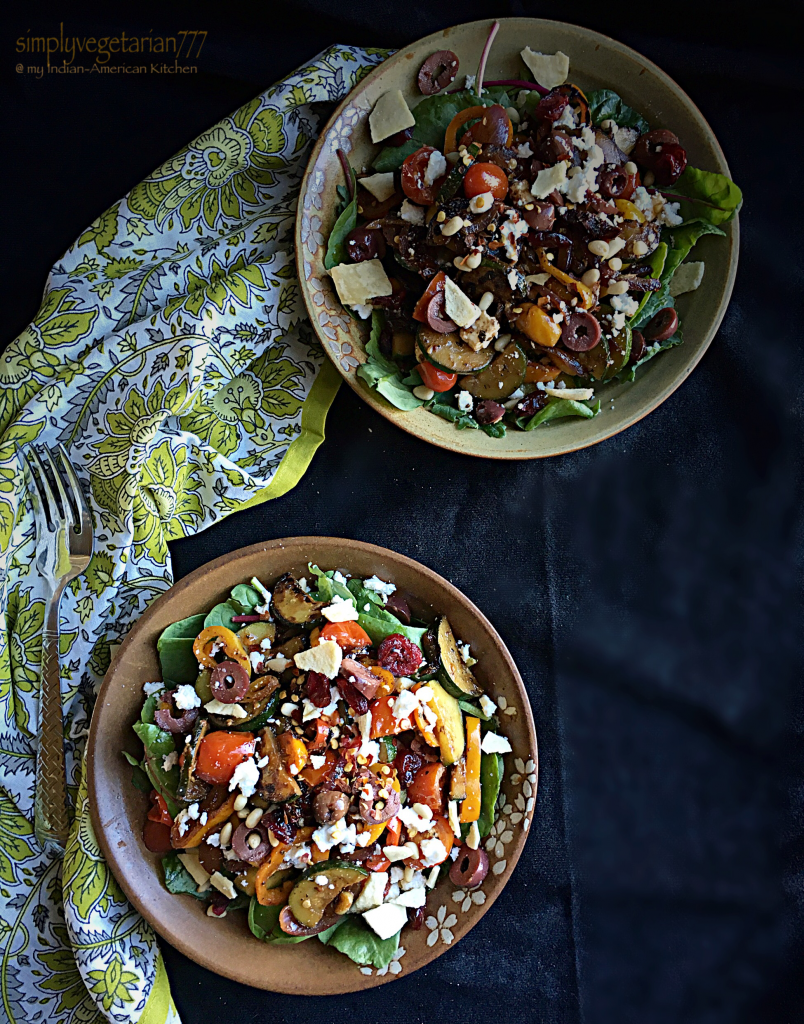 You have to give it a try to know the comforting flavors of the dish. The Mediterranean Warm Salad was bursting with flavors.
For those of you who are wondering where is Mediterranean on our Geographical map, then FYI, Mediterranean is the region including all the countries that encircle Mediterranean Sea. The sea is many times considered as a part of Atlantic Sea since it is connected to it. Few countries that have constituted the Mediterranean cuisine are France, Italy, Greece, Spain, Tunisia, Turkey and more. The common distinctive feature about this Mediterranean Region is Olives and Olive Oil.
Some other salads and Mediterranean dishes from my blog are – Cold Noodle Salad , Raw Mung Salad Kosumbari , Asian Mung Sprout Salad , Freekeh Tabbouleh Salad , Fattoush and many more.
This is how to make Mediterranean Warm Salad.
Mediterranean Warm Salad
Hearty vegetable salad for winters, from Mediterranean region.
Ingredients
Onion Red - 1 small

thinly sliced

Zucchini - 1 small

washed and cut into thin half moons

Bell peppers

colored - 5, cut into thin discs

Cherry Tomatoes - 1/4 cup

halved

Black olives - 10

sliced

Tomatoes

sun dried - 3 slices, cut into small pieces, optional

Feta cheese - 1/4 cup

crumbled

Salad Greens - 2 handful. I used a mix of baby chard

baby kale and baby spinach.

Pine nuts - 2 tsp

optional

Cranberry dry - 2 tsp

optional
Oils & Spices
Olive Oil - 1/2 tbsp

Balsamic Vinegar - 1/2 tbsp

Oregano

dry - 1/2 tsp

Sumac - 1/2 tsp. See notes for substitute

Salt and black pepper powder to taste

Red chili flakes

optional to add more kick
Instructions
Wash the baby greens and dry completely. Divide them in 2 salad plates/bowls.

Take a heavy pan and heat 1/2 tbsp. olive oil in it. Once hot, reduce the heat to medium and add onions to it. Cover and cook for 2 minutes till it becomes soft. Now cook for 1 more minute uncovered and brown lightly.

Add zucchini slices and bell peppers. Toss them and cook for another 3 minutes till the zucchini is slightly cooked. Add oregano, salt and black pepper. Toss well.

Add cherry tomatoes, balsamic vinegar and sun dried tomatoes. Toss well on high heat for few seconds and turn off the heat. Sprinkle Sumac and toss again.

Divide the warm vegetables in 2 equal parts on greens in the bowl.

Sprinkle with dried cranberries, toasted pine nuts, feta cheese and sliced olives.

You may either crush the pita chips on top or serve on the side.

This is a great stuffing for Pita Pockets as well.

Enjoy a Mediterranean warm salad.
Notes
In case you can't find sumac, use lemon juice. Sumac is a berry found in Mediterranean region.
Now you see that you can still eat hearty and yet healthy in winter season. A warm Mediterranean salad will make you fall in love with it. You may also call it Greek Warm Salad, since it is closer to the ingredients used.


In my kitchen, you will always EAT HAPPY & STAY HAPPY !
Sonal