Kosumbari, a raw mung salad – Diabetes Friendly Thursdays
As an Amazon Associate and member of other affiliate programs, I earn from qualifying purchases.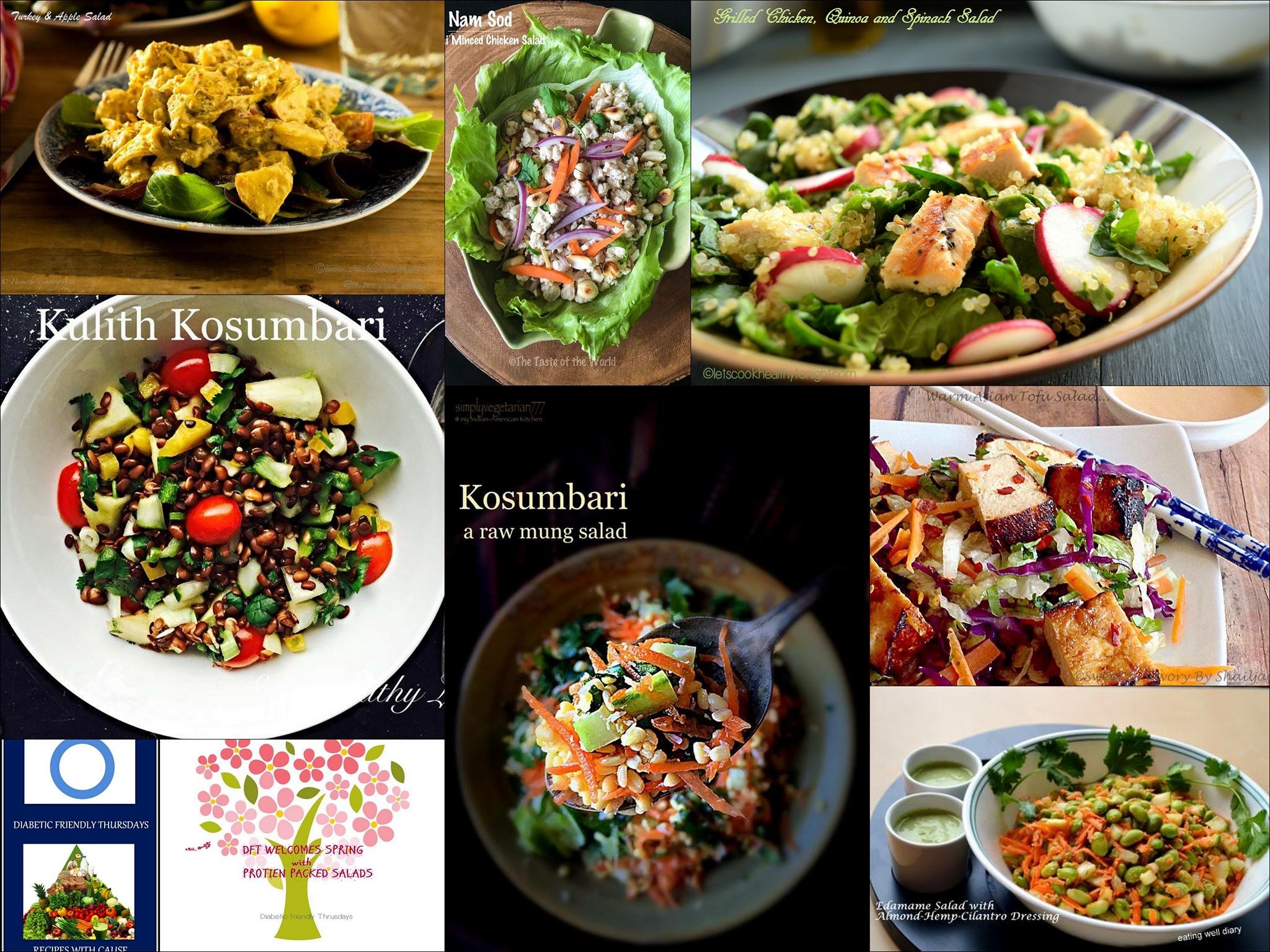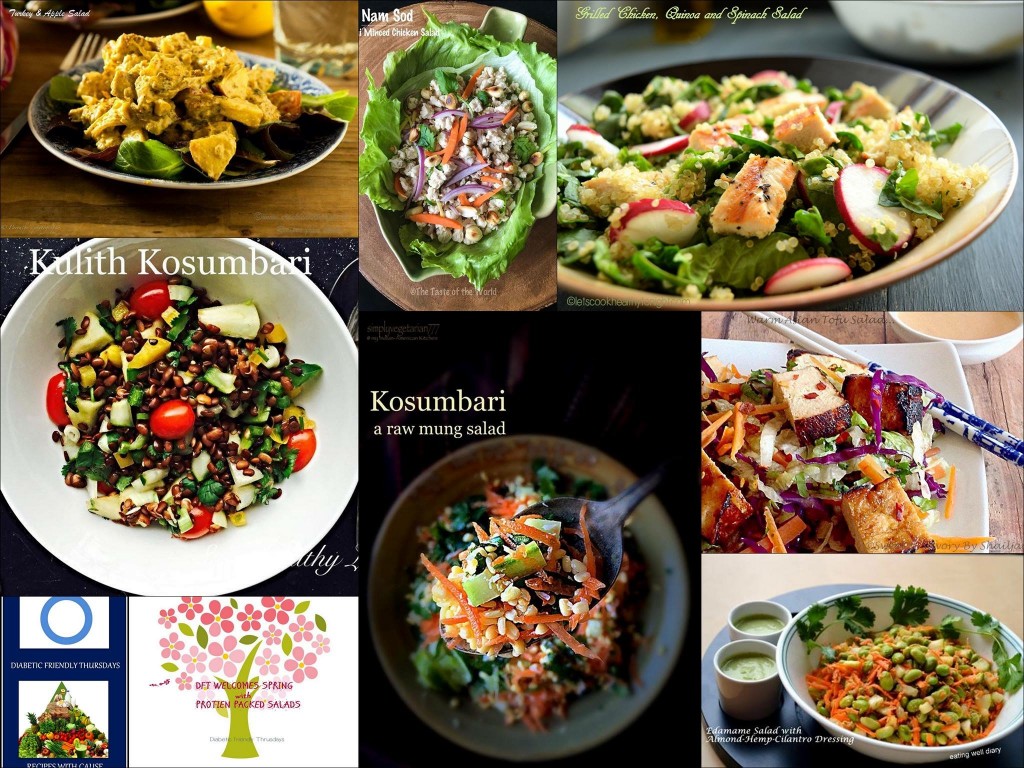 Creating Recipes with a cause! I am a proud DFT blogger. To learn more about Diabetes Friendly Thursdays, Read this Link! For more DFT recipes, Click here!
Kosumbari, a raw mung salad – Diabetes Friendly Thursdays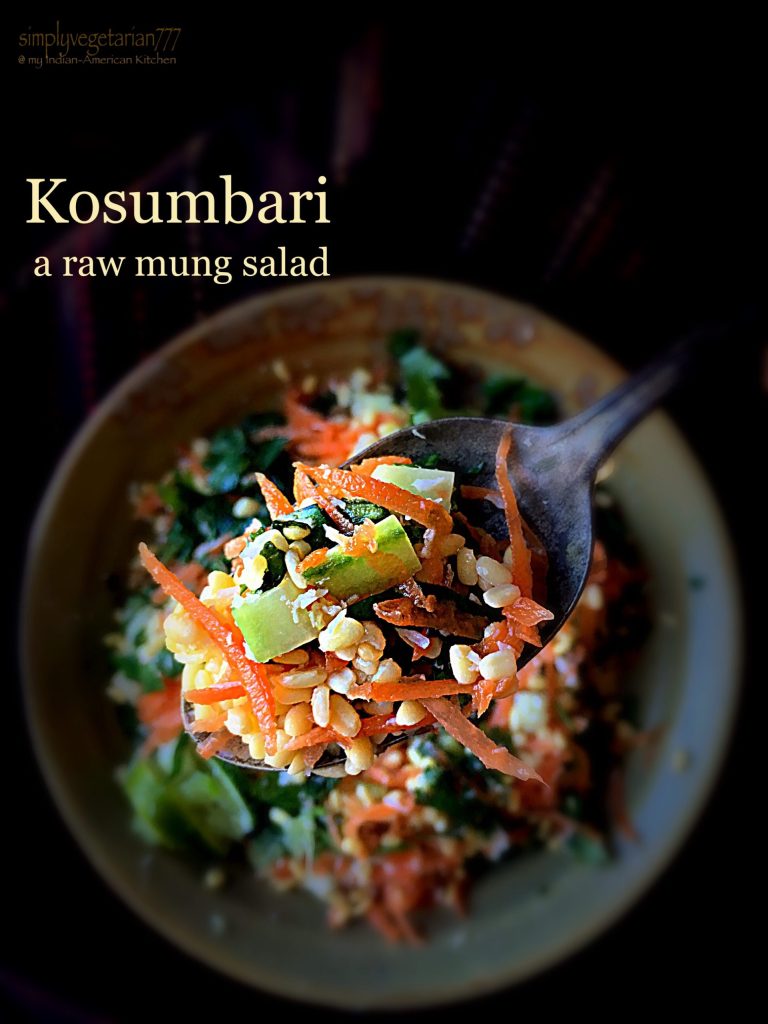 Kosumbari sounds exotic. Doesn't it? You will be surprised to know that behind the exotic name, there is a very simple, very humble, very nourishing, very filling, very weight-watchers friendly and a very diabetic friendly recipe.This Salad is all raw and Vegan. A perfect meal.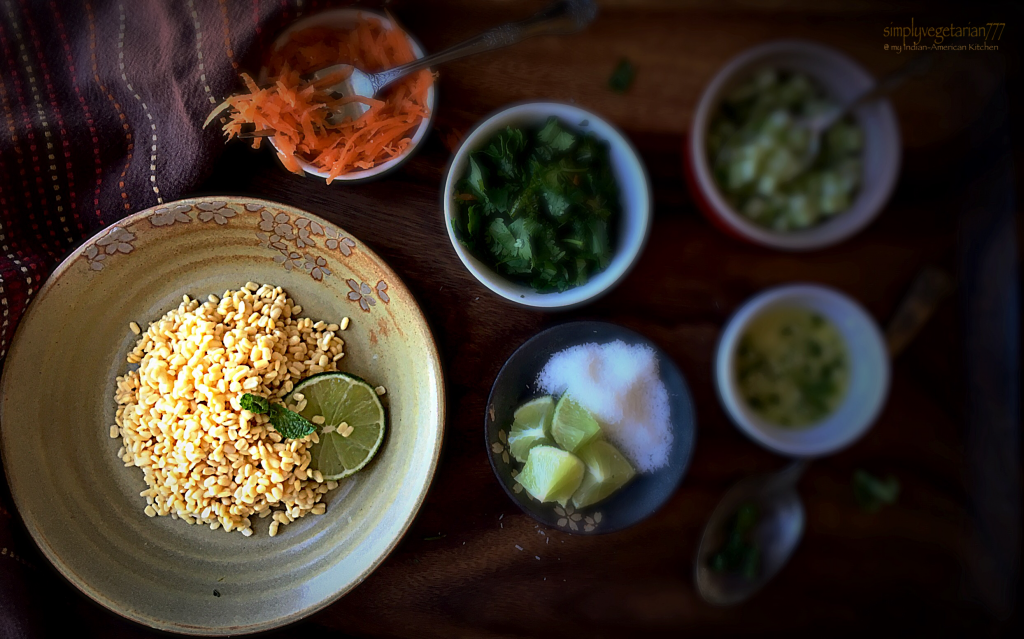 Kosumbari is a very popular salad from the state of Karnataka, India. Split Mung is soaked then tossed with fresh ingredients like carrots, cucumbers, cilantro/coriander leaves, etc. and then tempered lightly. I made few changes to make the recipe not only Protein rich, but also fiber rich and delicious to match the taste buds of a common man.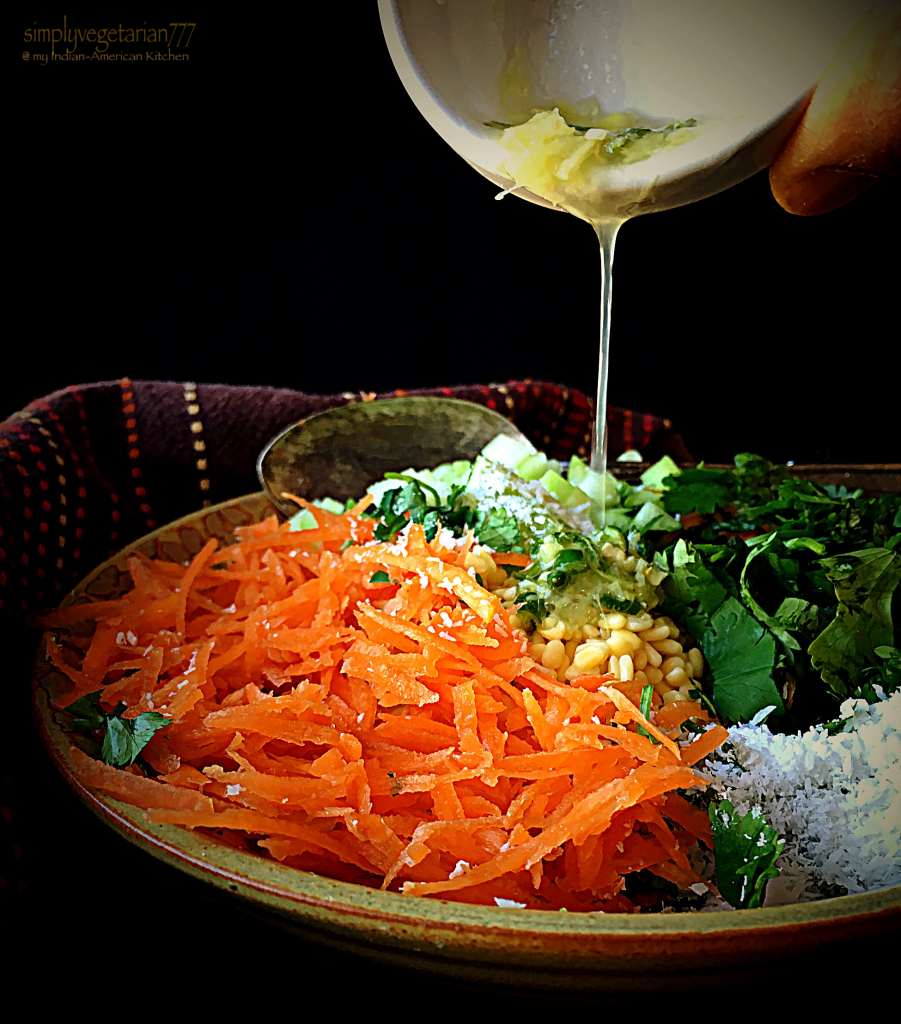 This salad is a complete meal, not only for the diabetics but for a person with good health. You may totally layer it up in the mason jar and take it for your work lunch. It is delicious. It is biteful. It is full of flavor and texture and is so very refreshing. You are going to love the dressing for this salad. It is so simple and can be used in many salads with beans and greens.
Some other popular Diabetes Friendly recipes from my blog are – Spicy Paneer Grilled Skewers , Asian Mung Bean Sprout Salad, Vegetable Cocktail Cutlets , Paneer/Tofu Keema Lettuce Wraps and more.
This is how I made it.
Kosumbari, raw mung salad
Servings: 1
Difficulty: easy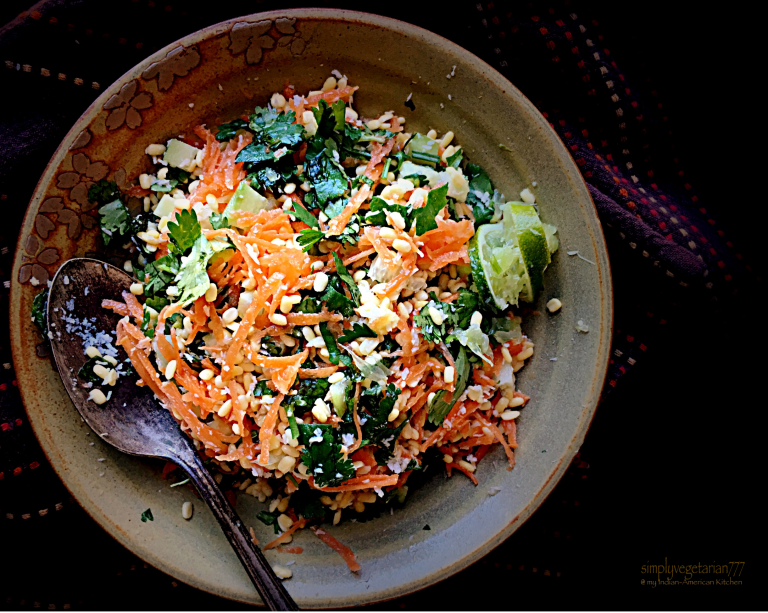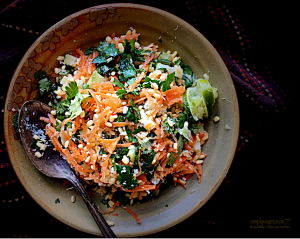 Author – Sonal @ simplyvegetarian777
Category – Salad, Diabetic Friendly, Protein rich.
Kitchen Equipments Required
Mixing bowl, a spoon or fork to mix, chopping board, knife.
Ingredients
Mung Dhuli / Split Yellow Mung – 1/4 cup
Carrots – 3 tbsp, shredded and measured packed
Cucumbers – 1/4 cup, chopped really fine
Coriander / Cilantro leaves – 2 tbsp, chopped fine
Mint leaves – 4 to 5, chopped fine
Coconut, shredded fresh – 1 tbsp. I used 1 tsp dry and it worked fine.
Dressing
Olive oil – 1/2 tsp
Lemon juice – 1 tbsp
Ginger – 1 small piece, finely grated
Green chili – 1/2 small. finely chopped
Salt – 1/4 tsp or to taste
Method
Making the Dressing
Combine all the ingredients in a bowl and mix well together. Set aside to infuse the flavors.
Making the Salad
Wash and Soak 1/4 cup of mung in 1/4 cup of water for about 2 hrs. Drain the water from the beans after soaking, which is not really that much. The soaked dal is soft and ready to be used raw.
Take the mixing bowl. Add all the ingredients as mentioned above. Add the dressing. Give a good toss and eat.
Notes
If you have a problem with raw beans like gas and bloating, you may microwave the dal for about 2 minutes, with out draining the water.
You may add more raw salad vegetables to this salad.
There are many variations to this salad. You may personalize it and is agreat salad for parties and work or lunch.
You may soak the dal in the morning and refrigerate before leaving for work. When you come back in the evening, You may just take it out and make the salad quick and easy for a complete meal.
You may accompany some roasted papad alongside.
I enjoyed making this vegan and raw salad in my Indian American Kitchen. I hope you will try it as well and enjoy a protein packed delicious salad.
Sonal
---
Foot Notes
Mung Beans are low on the glycemic index at 25 and have a low glycemic load of 4 making them a smart food choice for diabetics. Diabetics can safely eat Mung Beans. The low glycemic index, fiber and protein help to regulate blood sugar.
Carrots and Cucumbers are non-starchy vegetables and filled with fibers and beneficial vitamins and minerals. Carrots are loaded with beta-carotene, which has been linked to lower risk of cardiovascular disease and diabetes. A study found that individuals with high blood levels of beta-carotene have 32 percent lower insulin levels (suggesting better blood glucose control). Cucumbers are a cool, crisp, low-carb choice for people with diabetes. You can get your fill of this low-carbohydrate vegetable without worrying about raising your blood sugar too much. Cucumbers are a good source of vitamin K and they also contain potassium and vitamin C.
Coconut is good to be consumed, if eaten fresh. A daily recommendation 2 inch square and 1/2 inch thick piece of fresh coconut is allowed. Coconut still has fats so you need to consume it mindfully.
---
Disclaimer
I am not a nutritionist or dietician. My knowledge and information is based on my research and reading from different resources. Please consult your doctor or dietician before making any changes to your diet.
---
Other Protein Packed Salad Recipes from Team DFT
Apsara's Edmame Salad with Hemp Cilantro Dressing
Suchitra's Horsegram/Kulith Kosambari
Swati's Grilled Chicken & Quinoa Salad