Asian Mung Sprout Salad with Peanut Ginger Dressing – Diabetes Friendly Recipes
As an Amazon Associate and member of other affiliate programs, I earn from qualifying purchases.
Creating Recipes with a Cause!
I am a proud DFT blogger. To learn about DFT, read this link! To view more DFT recipes, click here!
Asian Mung Sprout Salad with Peanut Ginger Dressing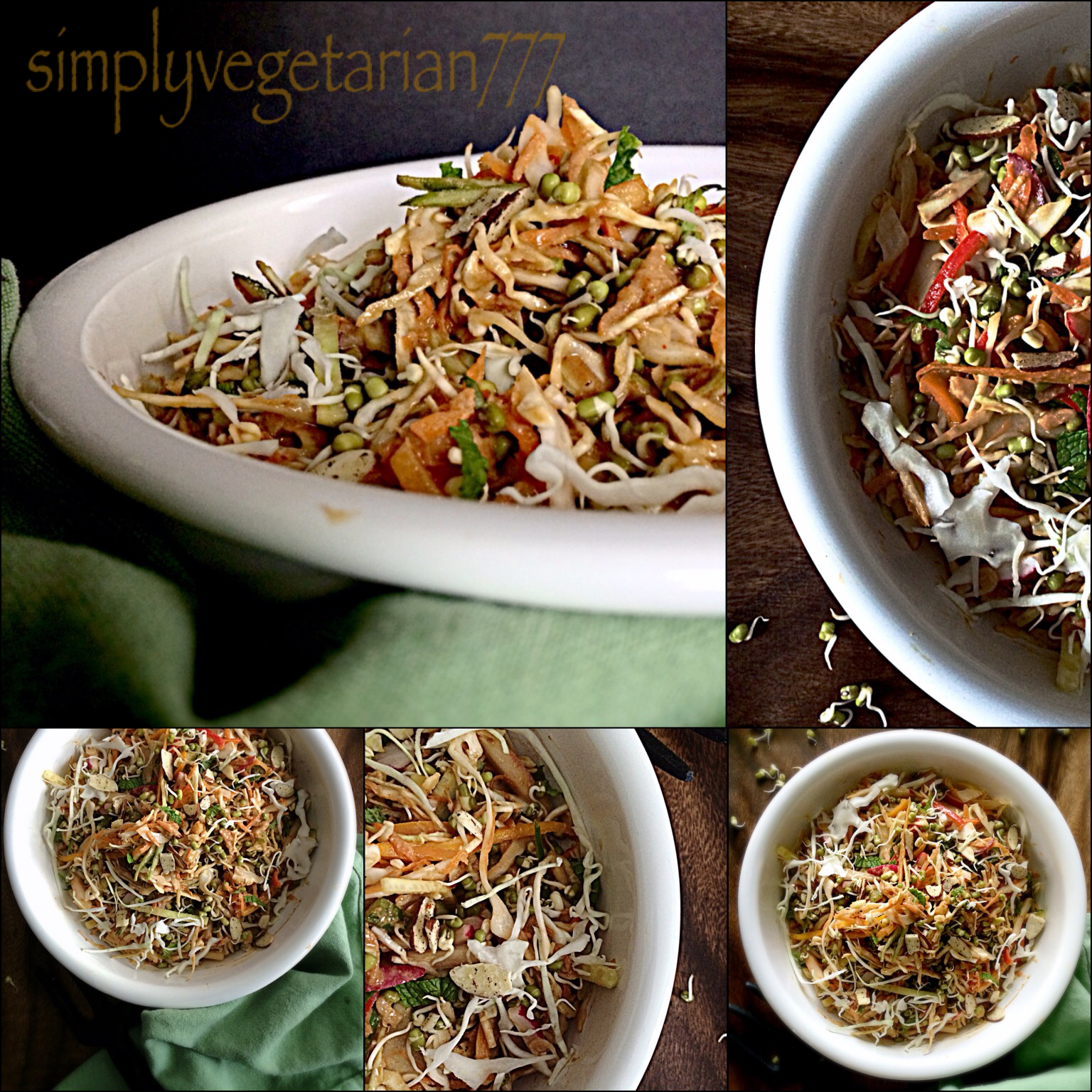 Cleanse your bodies with wholesome Salads with DFT team, this week!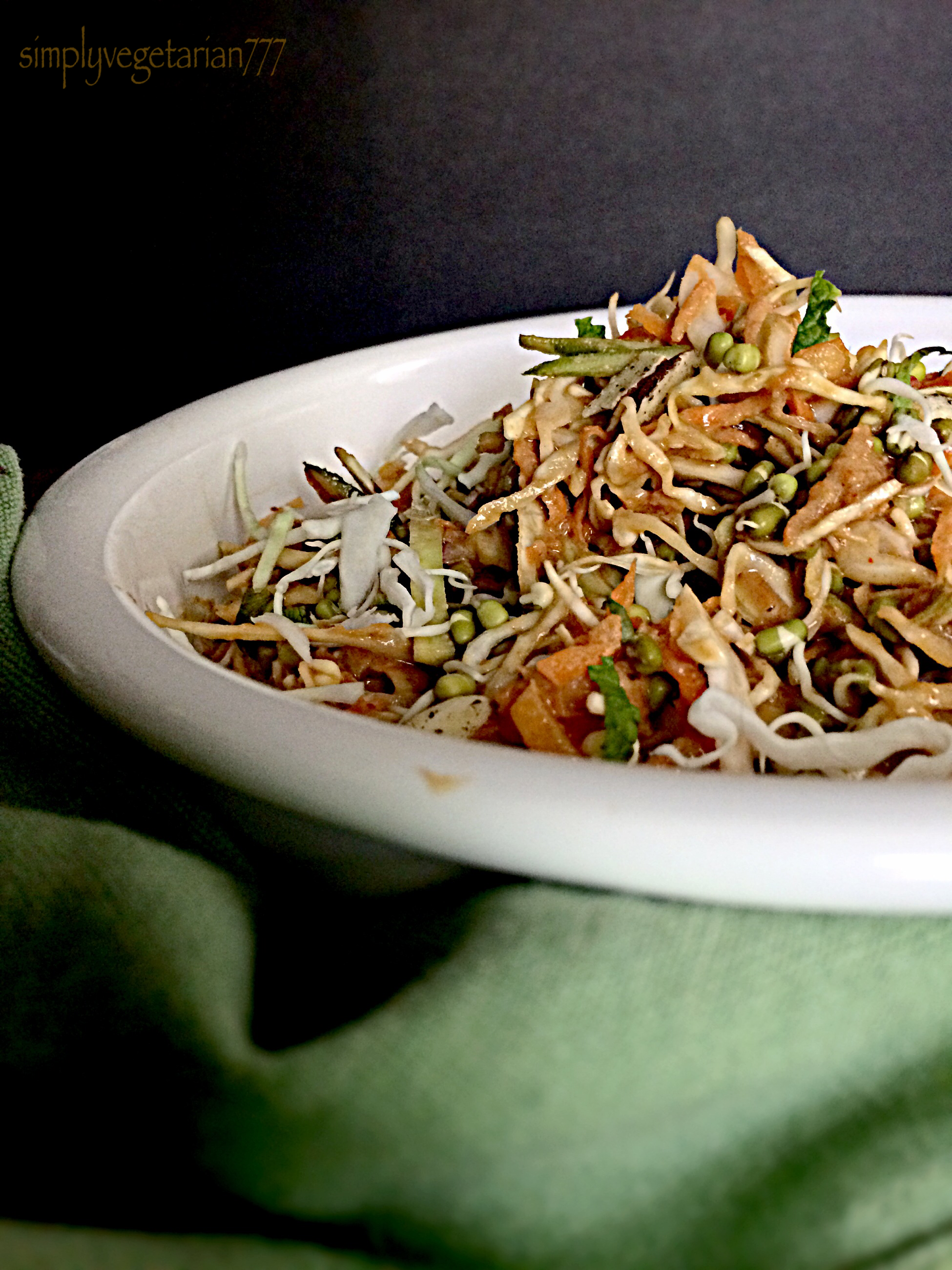 I simply love the crunchy, filling and fresh salads. On top of that, when these salads are combined with peanut and ginger dressing, my eyes and mouth and heart just melt down. That first bite that I dig in and then there is no looking back till I finish the whole salad.
For the benefits of main ingredients on diabetes, used in the dish, please refer to the Foot Notes!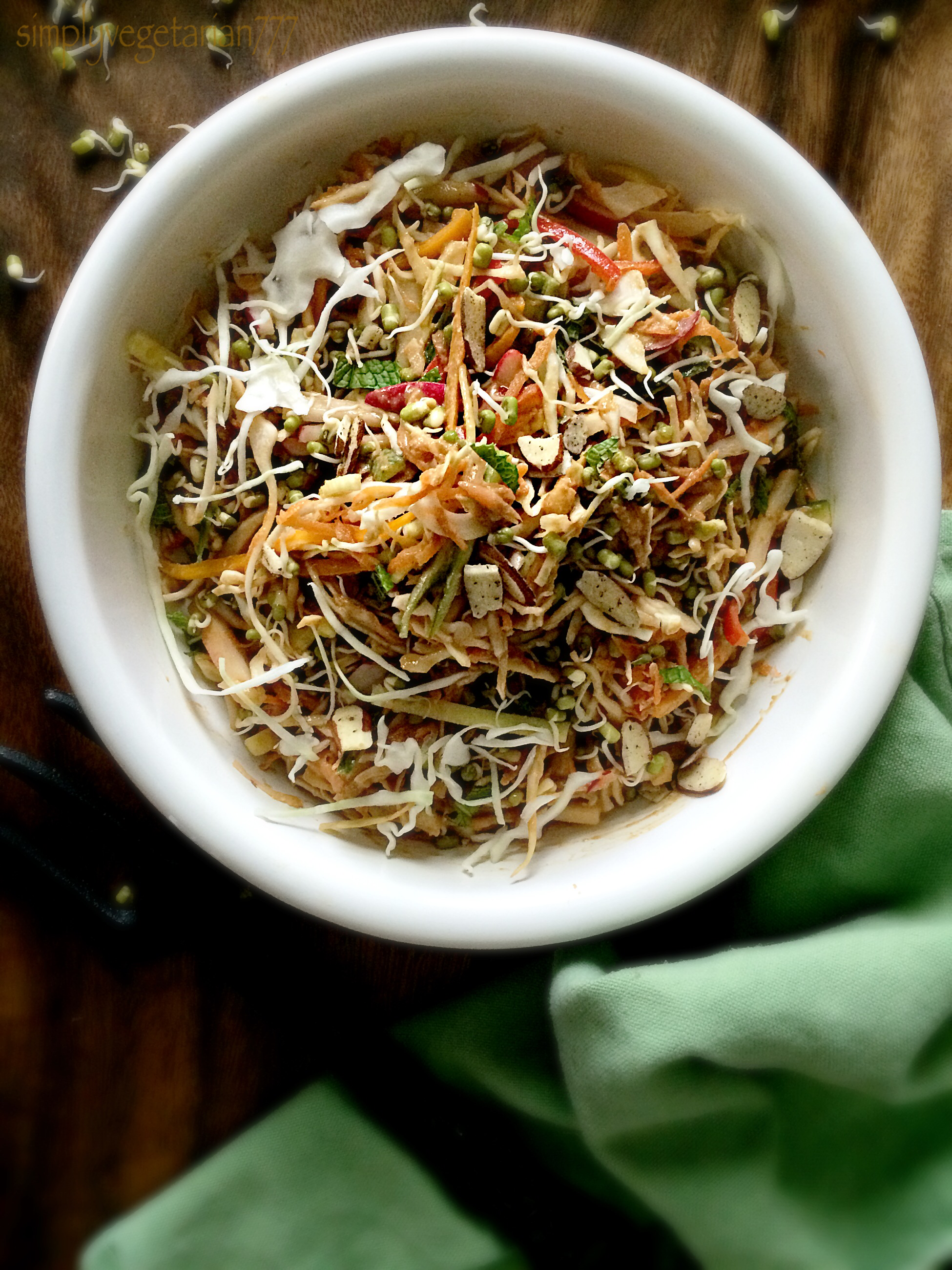 I adapted this salad recipe from here, created by Once upon a chef! The recipe originally was created with kale and the dressing had too much honey, sugar going on which had to be adapted for diabetics. So I subbed the kale with mung sprouts and sugars with dates in the dressing. I swear I am never going to use sugar or honey again in my dressings. Dates added such a delightful flavor to the dressing, without over powering the other ingredients.
Do try my adapted version. I bet you will make it again and again.
Let's get started with the recipe !
Asian Mung Sprout Salad with Peanut Ginger Dressing
Servings: 1-2
Difficulty: easy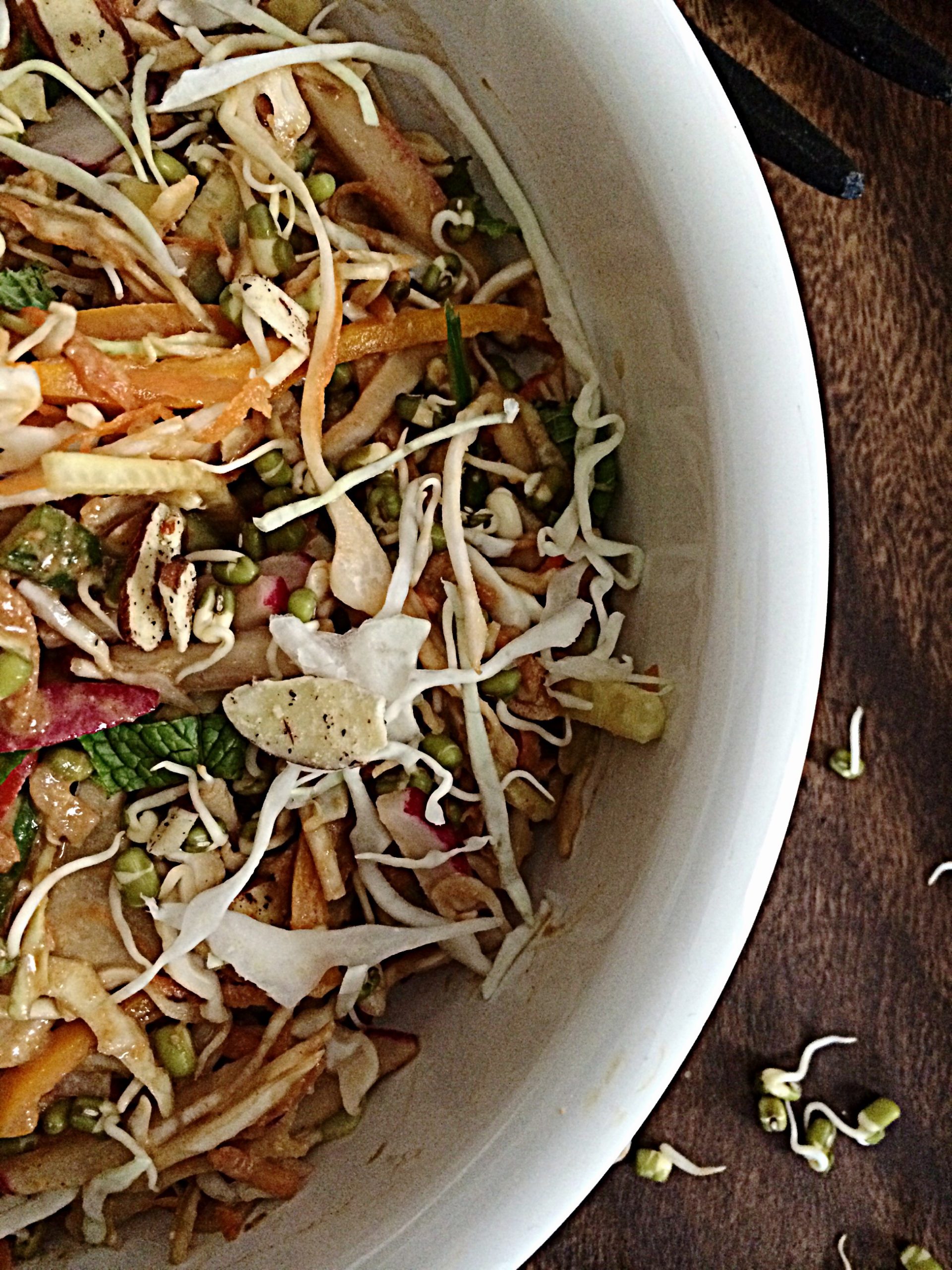 Serving Suggestion – A diabetic can eat the whole bowl of salad as a full meal. Believe me it is way more than filling. Or you may serve it as a snack in 1/3 or 1/2 portion.
Kitchen Equipments Required
Chopping board, knife, grater, mixing bowl, blender, spoon or fork for mixing.
Ingredients
Cabbage – 1 cup finely shredded
Carrots – 1/2 cup finely shredded
Red radish – 2 thinly sliced/julienned
Bell peppers – 2 tbsp, sliced thin/ julienned
Cucumber – 1/4 cup, sliced thin / julienned
Mung sprouts – 1/2 cup, home sprouted or bought from the market.
Almonds slivers – 1 tbsp, dry roasted
Dressing
Peanut butter – 1 tbsp. make sure it is organic and has no added sugars. Instead, you can dry roast 1&1/2 tbsp of shelled and de-skinned peanuts.
Dates – 2, soaked in 1/4 cup of warm water for 1 hr (optional).
Ginger – 1 tsp
Garlic – 1 tsp
Lemon juice – 1 tbsp
Soy sauce – 1/2 tbsp
Vinegar – 1 tsp
Hot sauce – 1 tsp
Salt to taste
Method
Love salads! It's just cut, mix, toss and eat!
1. Take the mixing bowl. Add all the shredded and julienned vegetables to it. Top with mung sprouts. Toss well. Cover. Set aside.
2. Dressing – Take the blender. Add all the ingredients mentioned under the dressing to the blender. Blitz till everything comes together as a sauce and has no lump. You may use 2 tbsp of water from soaked dates for little loose consistency.
Putting the salad together
Pour the dressing over the bowl of mixed shredded salad Veges and mung sprouts. Use spoon and fork and toss well to incorporate the dressing well. Chill for 15-20 minutes. Top with toasted almonds and serve.
————————————————
Foot Notes
The net carbs of this salad are well balanced because of the high fiber content from raw vegetables and mung sprouts. The salad makes a good meal and a scrumptious one. For Carb Counting Tips, click here!
Cabbage, Cartots, Bell peppers, Cucumbers are non-starchy vegetables and filled with fibers and beneficial vitamins and minerals. Cabbages are a rich source of vitamin C, which reduces the risk of developing diabetes. Red cabbage is rich in anthocyanins, a natural pigment that boost insulin production. Carrots are loaded with beta-carotene, which has been linked to lower risk of cardiovascular disease and diabetes. A study found that individuals with high blood levels of beta-carotene have 32 percent lower insulin levels (suggesting better blood glucose control). Capsicums or Bell Peppers are an excellent source of vitamin C, folate, vitamin B6, and the red variety is rich in beta-carotene. Bright orange, green and yellow capsicums are high in carotenoids like zeaxanthin and lutein, which help delay diabetic retinopathy. Cucumbers are a cool, crisp, low-carb choice for people with diabetes. You can get your fill of this low-carbohydrate vegetable without worrying about raising your blood sugar too much. Cucumbers are a good source of vitamin K and they also contain potassium and vitamin C. For more information on Super Diabetic friendly foods, click here!
Mung Bean Sprouts are low on the glycemic index at 25 and have a low glycemic load of 4 making them a smart food choice for diabetics. Diabetics can safely eat Green Mung Beans. The low glycemic index, fiber and protein help to regulate blood sugar. Click here for more benefits and here!
Almonds- Eating almonds along with a high glycemic index food significantly lowers the glycemic index of the meal and lessens the rise in blood sugar after eating. One study found that replacing 20% of dietary calories with almonds led to improved markers of insulin sensitivity and lower cholesterol levels. For more benefits, click here!
Peanuts have been out controversial hero. Though many researches suggest that peanuts are low GI and high fiber "legumes" whiff are actually good for diabetics to include in their diet and menu, but then there are few which suggest the contradictory. My suggestion is to tread this path with moderation. We are using 1 tbsp of peanut butter here with so many other low carb and high fiber ingredients, it is a good marriage in this recipe.
Dates are high in fiber and low in fat, but these are also high in natural sugars. Like peanuts, these not to be consumed with precaution. The dietitians currently state the use of dates in diabetics menu with control and in the pairing with other high fiber and low GI foods.
Ginger is a good option for people living with diabetes; it is low on the glycemic index ,with a score of zero. So eating it will not trigger a spike in your blood sugar.
—————————————————
Disclaimer
I am not a nutritionist or dietician. My knowledge and information is based on my research and reading from different resources. Please consult your doctor or dietician before making any changes to your diet.
—————————————————
Other Salads from this week DFT !