Cold Noodle Salad with Asian Dressing – Meatless Monday
As an Amazon Associate and member of other affiliate programs, I earn from qualifying purchases.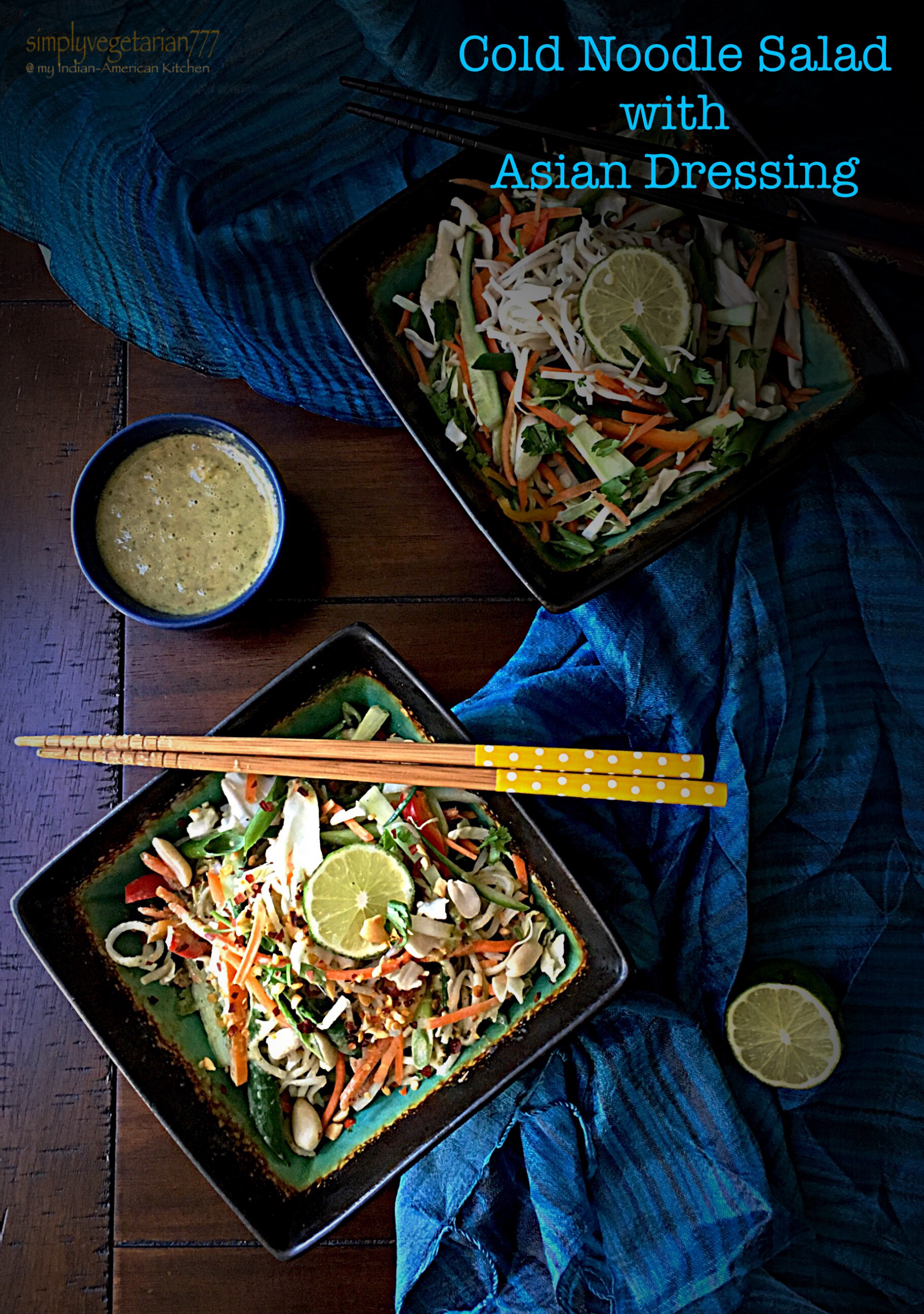 Cold Noodle Salad with Asian Dressing – Meatless Monday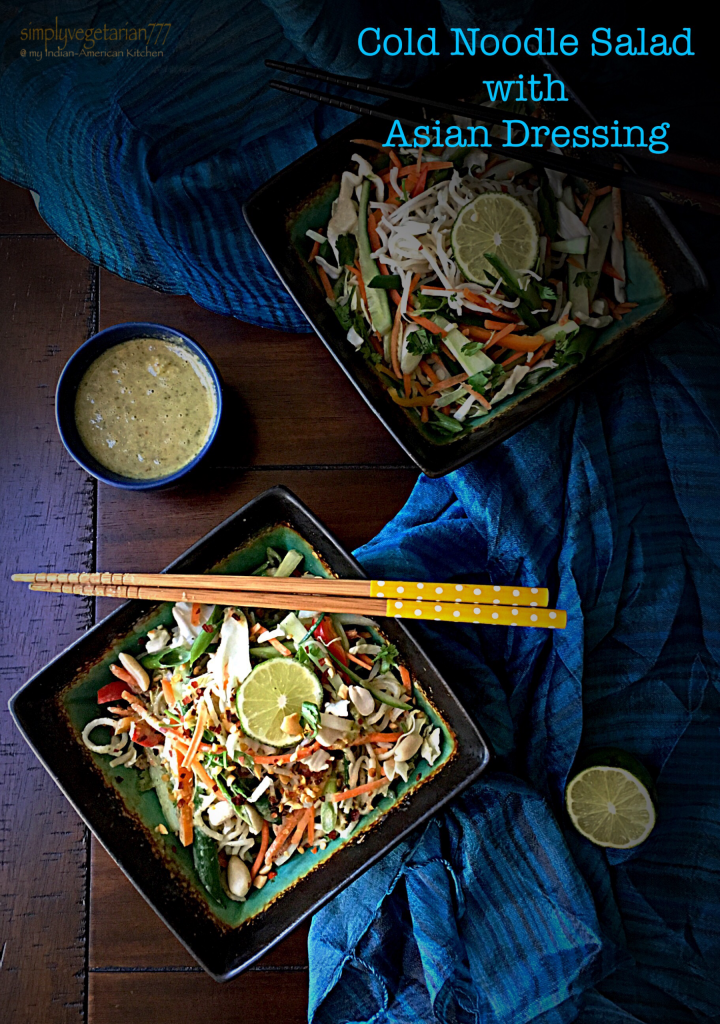 Cold Noodle Salad with Asian Dressing is such a soothing and uplifting experience as a complete meal on a hot summer day. The biteful texture and umami flavors of Asian dressing make this dish desirable and filling. The amalgam of tossed cold noodles and crunchy cold vegetables with peanut and cilantro dressing is extremely comforting. I love Asian flavors from Thailand and surrounding countries. They have that earthy and rustic flavors wrapped around their dishes that makes you feel connected to the nature.
I am sure there are many noodle lovers out there, like me. I can eat noodles every day, believe me, I am not exaggerating. I can have it as a noodle dish or in soups or stuffed in spring rolls or potstickers or dumplings. They hit the right chord in my heart. The long threads of warmth, comfort, mouthful texture and umami flavors….it adds an interesting dimension to the way we eat, be it either, spiraling around your fork with effort to have that bite….or to pick few strands in between your chop sticks…or eat like my Myraa…just dig in with hands and face down in the bowl…lol…she is an absolute foodie and when she gets something she loves…the ettiquettes and forks and spoons go flying outside the window. It's like I have arrived..bring it on baby.. 😀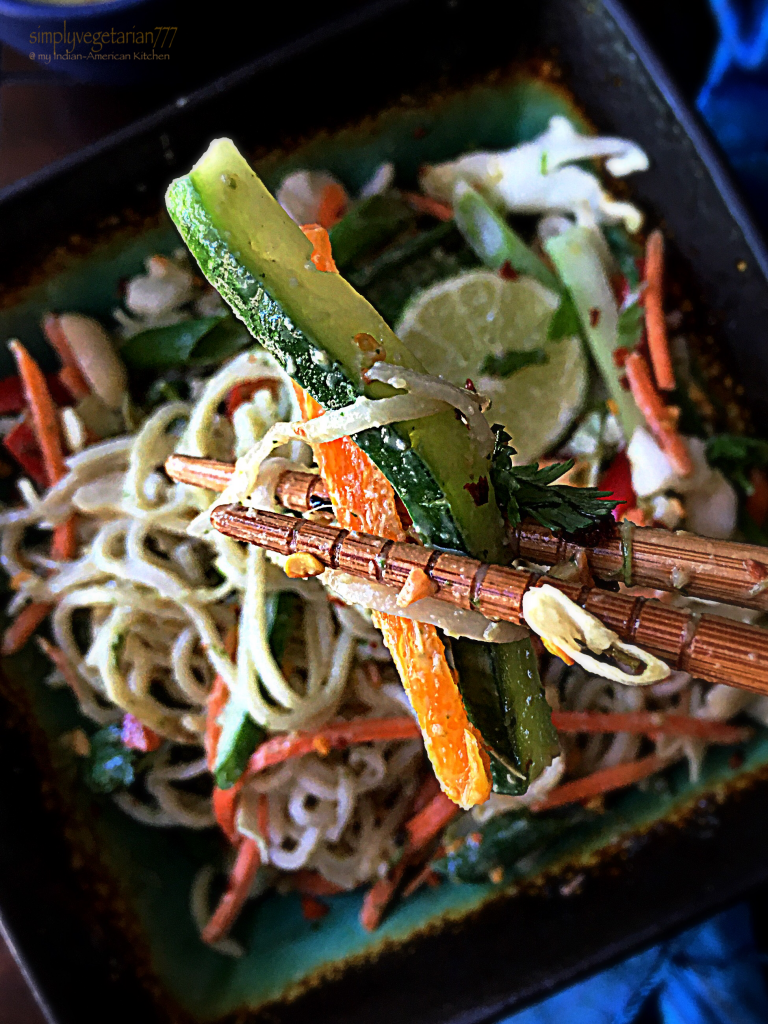 I make Hakka Noodles often at home for dinner. Many times, I boil extra for next day quick snack or lunch box meals. The other day, when I made a huge batch to take it for a get together, I boiled more than required. I used some the next day for lunch boxes and still left with a portion to use which I didn't want to throw away.  So next time, when you have left over noodles, make this salad and enjoy a hearty meal the next day. I promise that after reading the recipe and trying it once, you will always make some extra noodles to get this meal handy the next day. You will forget the market bought blah and boring cold noodle salad which is mostly drenched in sesame oil and soy sauce…ohhh not soooo good at all…
Some Asian recipes from my blog are
Cambodian Buddha Curry – copy paste this link in browser for recipe -https://simplyvegetarian777.com/meatless-monday-cambodian-vegetable-stir-fry-with-peanut-sauce/
For the Asian Dressing, Click here!
Cold Noodle Salad with Asian Dressing
A quick and easy salad filled with good bold flavors and perfect for summer lunch.
Ingredients
Noodles - 1 cup

cooked and cold. I used leftover noodles.

Cucumber - 1 medium

cut into thin match-stick shape and length

Carrots - 1 medium

shredded thick

Scallions / Green Onions - 4

cut diagonally

Cabbage - 1/2 cup

shredded

Cilantro / Coriander leaves - handful

Lime slices - few on the side
Oils & Spices
Asian Salad Dressing - 1/4 cup or as desired

Peanuts - 2 tbsp

dry roasted

Chili flakes - 1/4 tsp
Instructions
Take a big salad bowl. Add cold noodles in it. If they are stuck together, then gently separate them with either chop sticks or a fork.

Now add all the chopped vegetables to the bowl.

Drizzle with Asian salad Dressing. Throw in some dry roasted and coarsely crushed peanuts. Sprinkle some chili flakes for extra kick. Squeeze a small lime. Toss with salad tongs or forks and mix well.

That's it, cold noodle salad is ready.
Notes
You can skip the noodles to make it healthier.
You may use rice noodles or buck wheat noodles to make them gluten free.
You may use broccoli or beans and edamame seeds if desired.
You may toss with some sesame seeds as well.
It is great for light lunch.
You can pack it for your work lunch.
Great for entertaining also.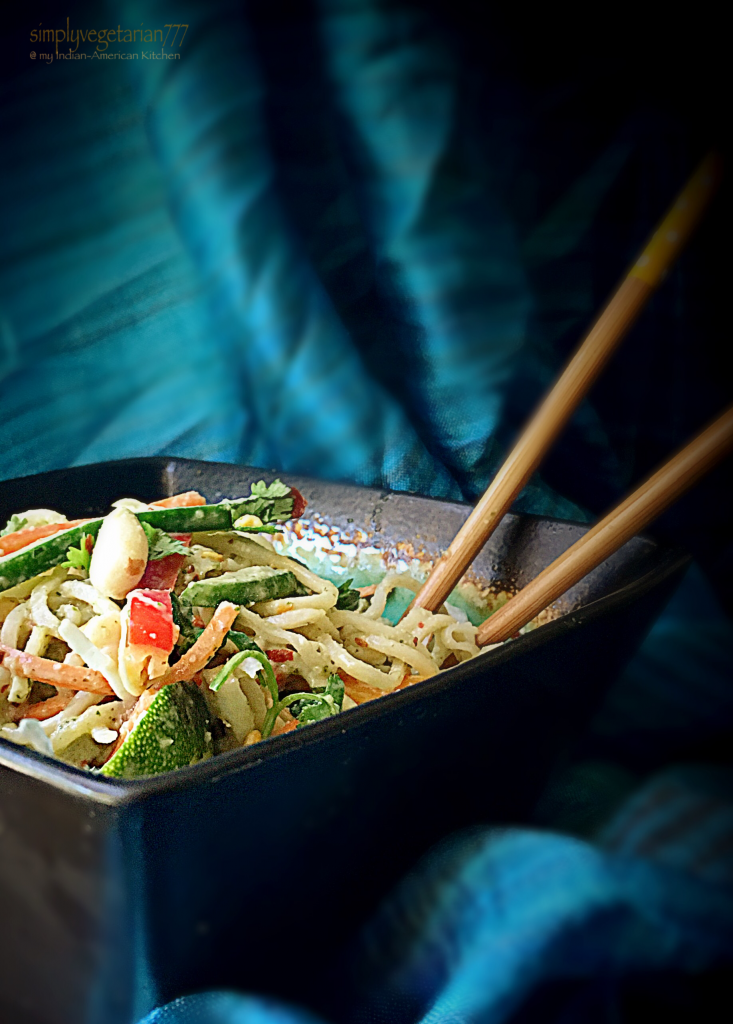 It was so much fun tossing the Cold Noodle Salad with Asian Dressing in my Indian American Kitchen. You have to try it out to find out how indulging can this be and so so so nutritious at the same time.
Eat Happy! Stay Happy!
Sonal