Meatless Monday : Vegetable Thukpa, A Curried Noodle Dish from the land of Nepal and Tibet
As an Amazon Associate and member of other affiliate programs, I earn from qualifying purchases.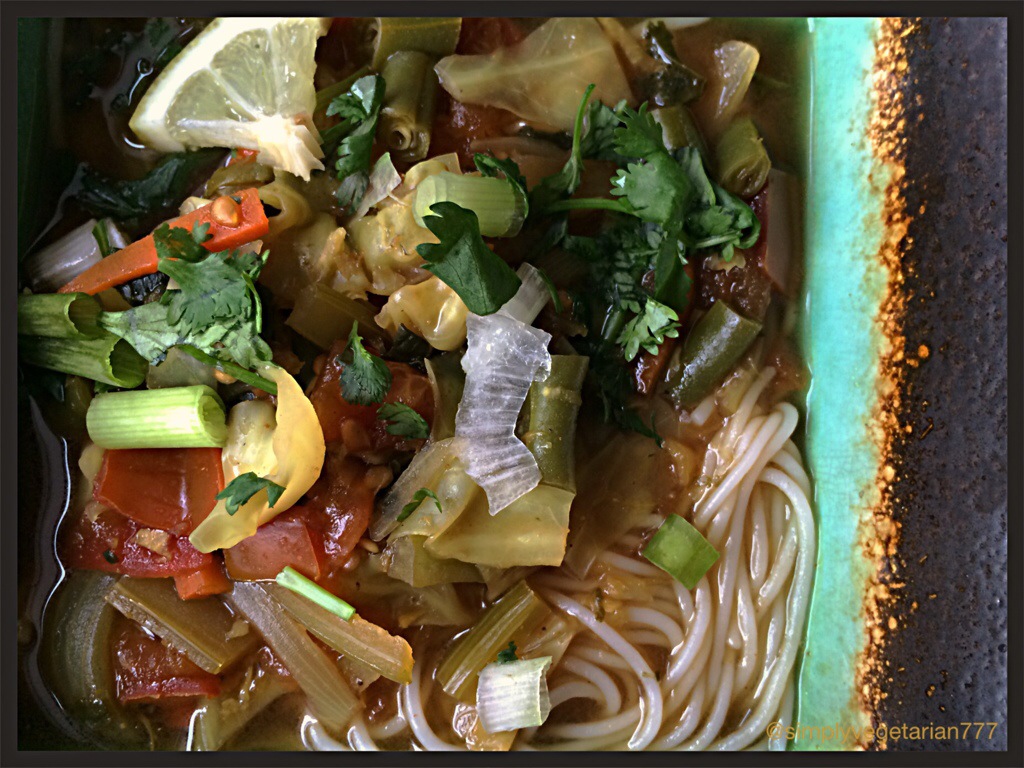 First time that I ever tasted this dish was in the year of 2000, in McLeod Ganj, a small hilly town in beautiful Himachal Pradesh of India. Himachal Pradesh is a state in the North of India amidst the tall Himalayas. It's just gorgeous. Inhabited by a large population of Tibetan immigrants, it is also called Little Lhasa.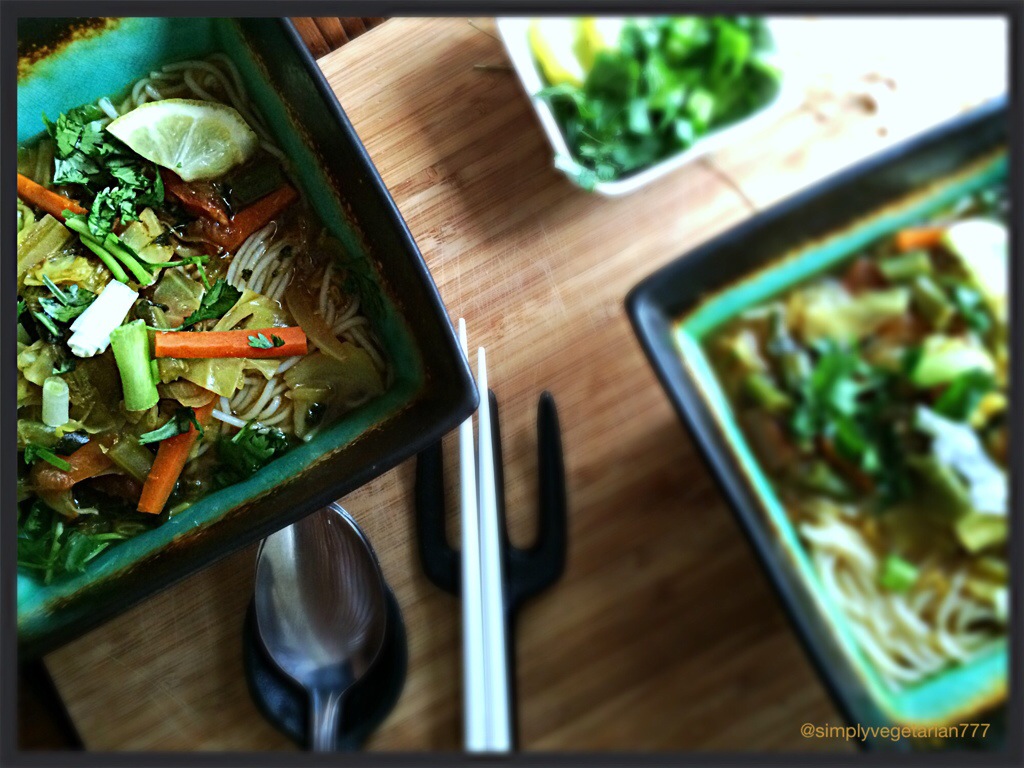 That was the first and last time that I ate it in a small diner and gosh that was delicious, so much so that I had to recreate it this weekend after much research and the taste that still lingered in my mouth from the one that I had, almost in last life :). Sometimes the word "authentic" becomes "adapted" since thukpa is a common dish which is prepared in almost all the households of Nepal and Tibet and it is prepared to their family recipe. For example, some spike with chilies, some add more garam masala, some add this kind of vegetable and some prefer that. So it becomes a unique to rant particular household. The dish I am going to present today is Gupta's household thukpa.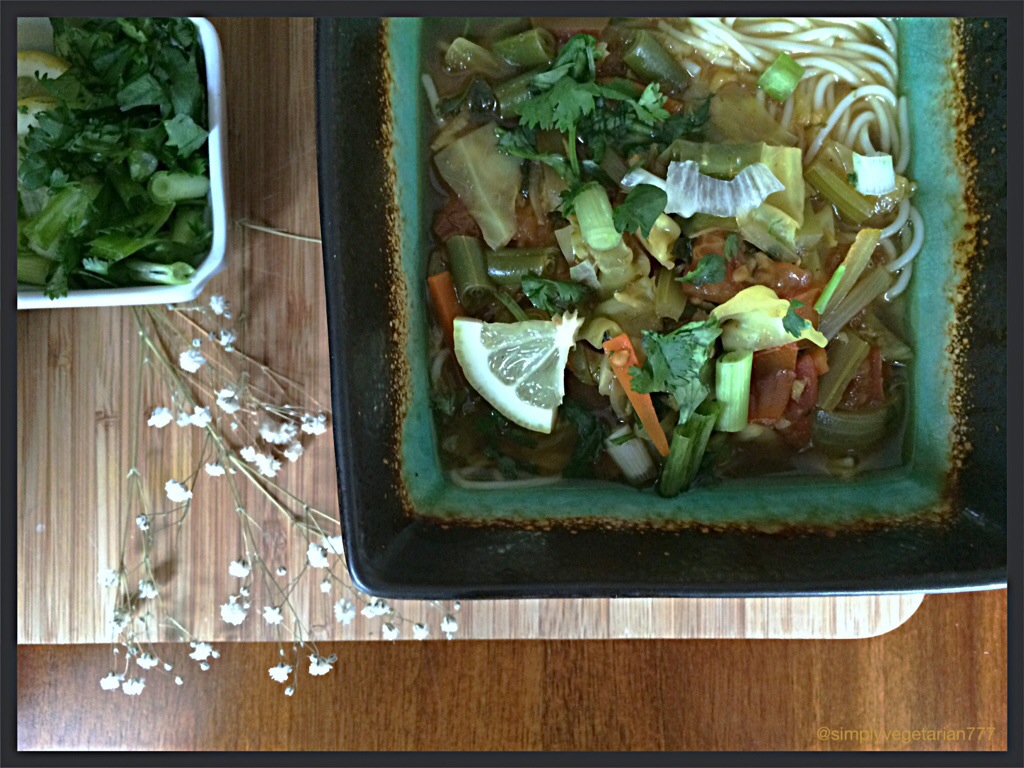 Is it authentic to the T? No! But it is very close to the original. After much research and reading at least 50 different recipes, I have concluded this recipe. And you know what? My family loved it. It's going to be a staple now. It was light and delicious. I didn't add any protein to it but you are more than welcome to add your choice of protein to this Curried Noodle soup.
Let's get on to the recipe now !

Vegetable Thukpa or Curried Noodle Soup
Servings: 4
Difficulty: easy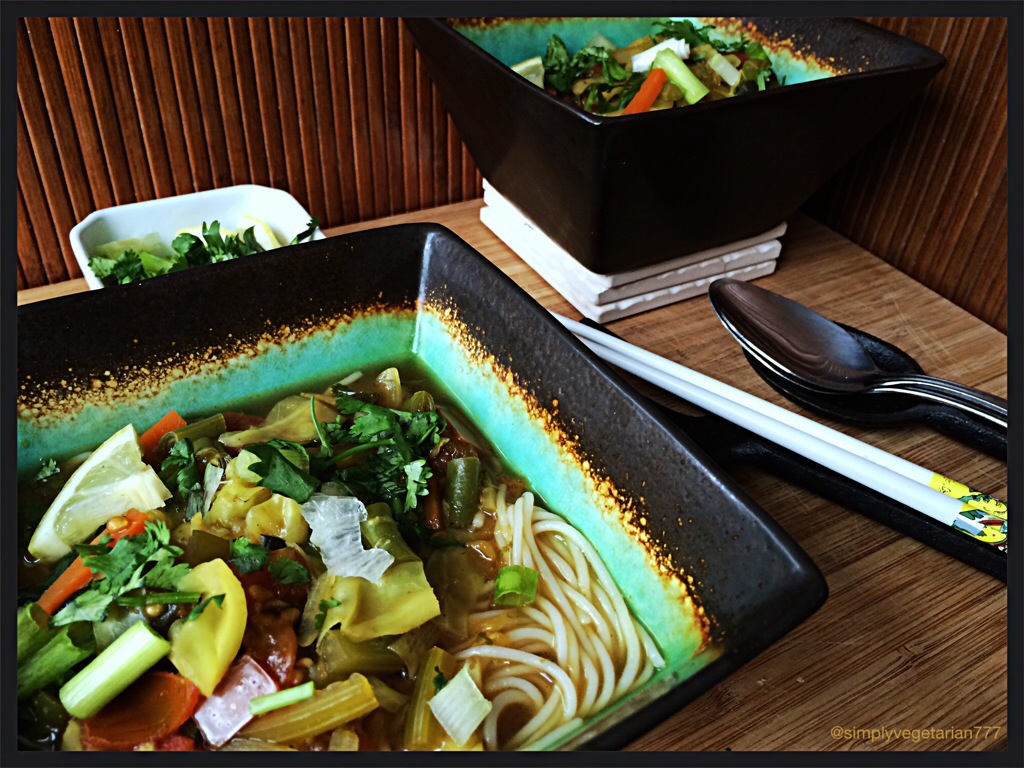 Kitchen Equipments Required : 2 big pots, colander or noodle strainer, chopping board, knife, ladle.
Ingredients :
Noodles : 2 cups, cooked. I used rice noodles. You may use any kind including egg noddles.
Vegetable Stock : 5 to 6 cups. You may use water too but stick gives more flavor.
Oil : 1/2 tbsp
Ginger : 1/2 tbsp, freshly grated or minced.
Garlic : 1/2 tbsp, freshly grated or minced.
Onion : 1 small, sliced thin.
Tomatoes : 1/2 cup, chopped fine
Carrots : 1/4 cup, peeled, washed and chopped in 3 inches matchstick shape.
Cabbage : 1 cup, sliced very thin or almost shredded.
Celery : 1/4 cup, sliced fine.
Green beans : 1/4 cup, chopped thin or sliced diagonally.
Spinach : 1/4 cup frozen or 1/2 cup fresh.
Green onions, Lemon wedges, Cilantro, bean sprouts and sesame oil to Garnish.
Note : Cabbage and spinach are important vegetables in the soup. You can use whatever vegetables are available with you. Another important vegetable is cubed potatoes which I skipped.
Spices :
Cumin powder : 1/2 tsp
Turmeric : 1/4 tsp
Garam masala : 1/2 to 1 tsp, as per taste.
Red chili powder : 1/4 to 1/2 tsp as per taste. You may use chili paste too.
Soy Sauce : 2 tbsp
Black pepper powder : a fat pinch
Salt : 3/4 to 1 tsp, as per taste.
Method :
1. Set the noodles to cook as per the packet instructions. Cook, strain and wash under cold water. Keep aside.
2. Meanwhile the noodles are cooking, take another big pot and heat oil in it.
3. Add onions and cook in medium heat for 4-5 minutes till they are tender and slightly reddish.
5. Add all the vegetables to the pot including ginger and garlic, besides tomatoes and spinach. Mix well and cook for 3-4 minutes on lower medium heat.
6. Add all the spices to the pot, besides soy sauce and stir well. Cook for 2 more minutes.
7. Now add tomatoes and spinach. Stir well. Add vegetable stock and soy sauce. Mix with a ladle. Cover and cook for 10-12 minutes. Switch it off.
8. Ladling : Take deep soup bowls. Add 1/2 cup of cooked noodles to the bowl. Now pour the curried vegetable Soup over the noddles. Garnish with cilantro/coriander leaves, green onions/scallions, bean sprouts and few drops of sesame oil and a squeeze of lemon juice. I didn't add any bean sprouts since I didn't have any.
A gorgeous, tasty and light soup is ready in no time. Do let me know if you try it!
Adding a quick snippet video to support the recipe.
http://magis.to/MTsxQURCAF06IXwBDmEwCXp9
Find the video on YouTube with recipe in comments here.

Sonal