Hakka Noodles – Meatless Monday
As an Amazon Associate and member of other affiliate programs, I earn from qualifying purchases.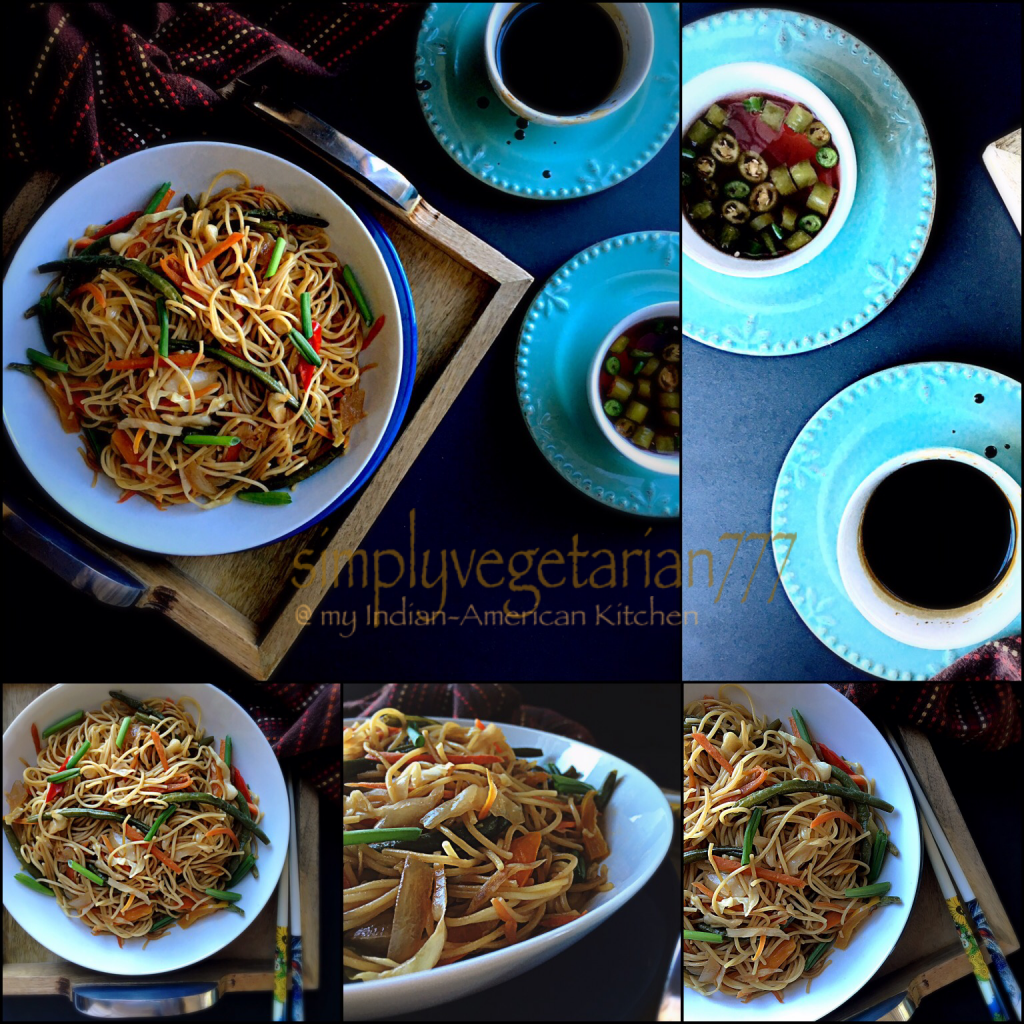 Such a popular Indo-Chinese dish and so much adored by all the noodle lovers. Once, you dig in, can't stop eating!!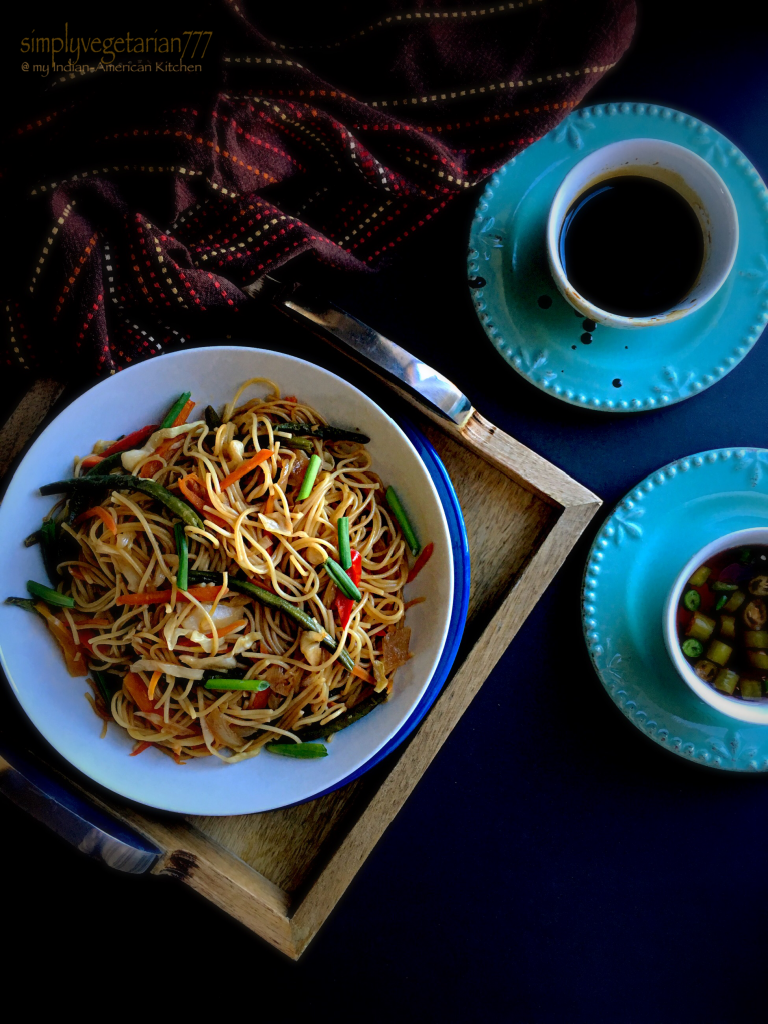 The medley of Chinese and  Indian cuisne is another wonder that amazes me to the nth extent, after the Mughlai and Middle Eatern medley with desi ingredients!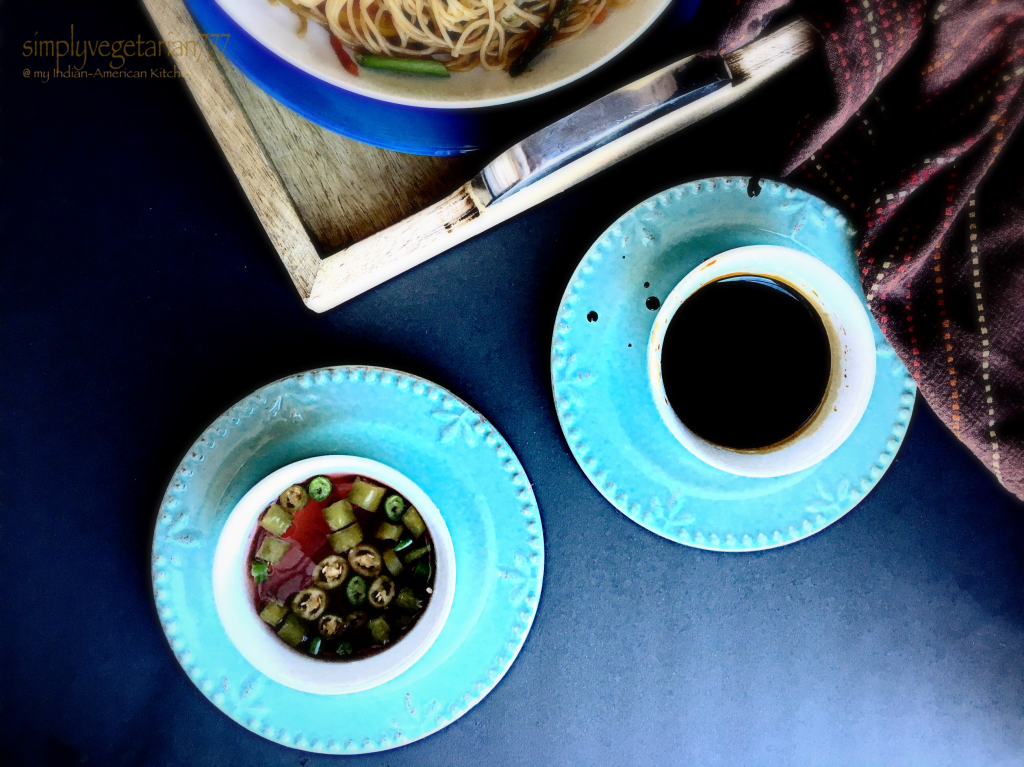 Served with regular condiments of soy sauce and chili vinegar on the sound, it's no less than the heaven in the mouth. A full on food-coma.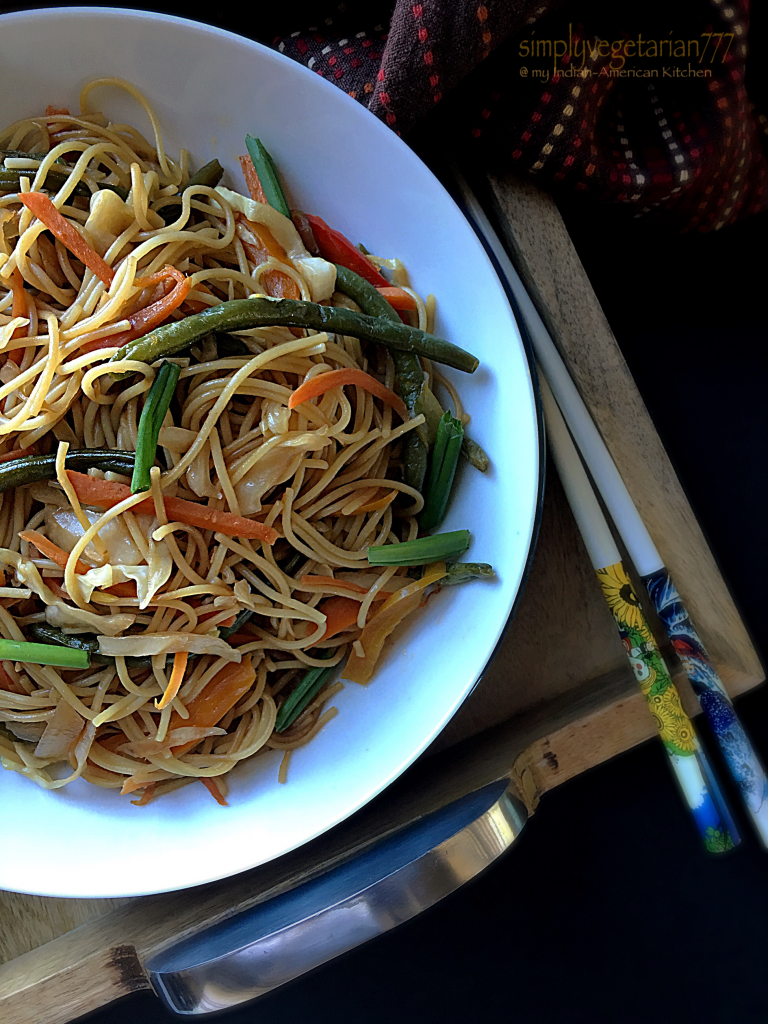 You may see umpteenth number of school and college kids feeding on this dish, from Chinese van street vendors and socializing with each other with some "Chinese food" in India. I have such fond memories from my time, involved in such an activity ;). When the boarding school mess served the Hakka noodles for dinner, that used to be the best meal of the month.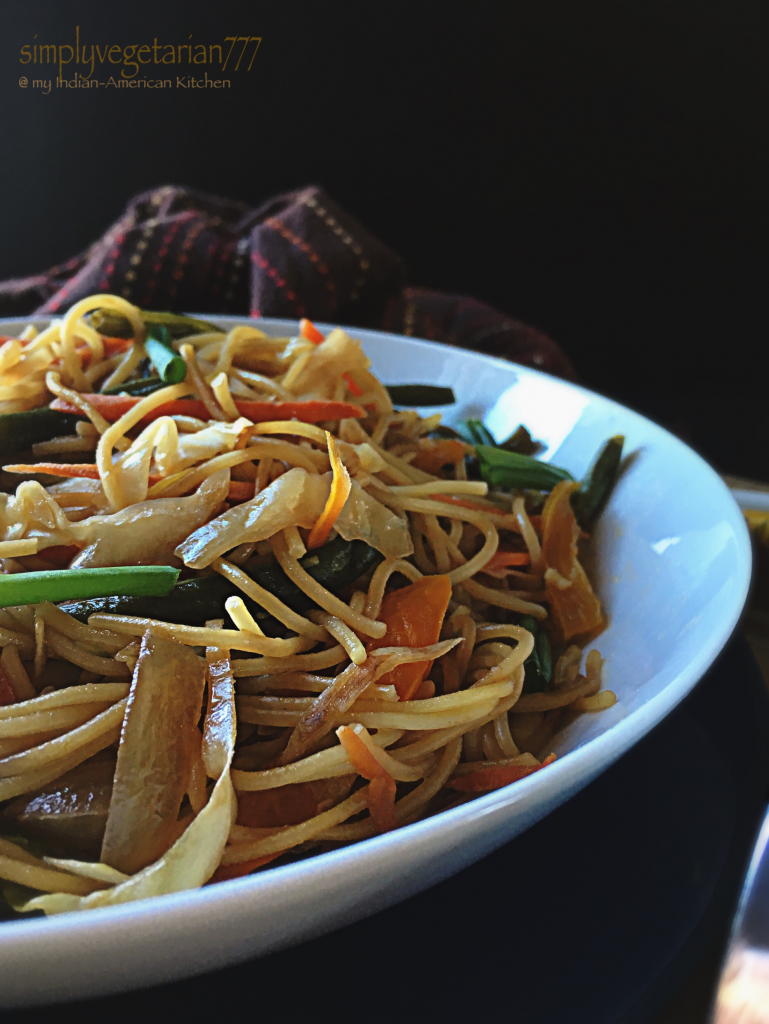 In America, we order this dish as Veg Lo-mein. But I have to say that it doesn't taste even closer to the Indo-Chinese Version. Boiled noodles tossed in loads of stir fried vegetables and seasoned with dark soy sauce and chili vinegar does the trick. It's a complete meal in itself or can be served with Veg Manchurian in Hot Garlic Sauce or Veg Manchurian in Sweet & Sour Sauce or Kung Pao Tofu  or a curry of your choice.
This is how I made it!
Hakka Noodles
Servings: 6-8
Difficulty: easy
Kitchen Equipments Required
Chopping Board, knife, colander or sieve to wash and drain the noodles, a big boiling pot to boil the noodles, a big wok or a pot to cook vegetables, a stirring spoon, a fork and spoon.
Ingredients
Noodles – 4 cups, cooked. See *notes for tips.
Garlic – 1 tbsp, finely chopped
Vegetables – 4 cups, either julienned or thinly or diagonally sliced. I used carrots, cabbage, spring onions, bell peppers and young tender green beans. You may use all or 1-2. See *notes for further tips.
Oil & Spices
Vegetable Oil – 1&1/2 tbsp
Dark Soy Sauce – 1&1/2 tbsp
Chili Vinegar – 3 tbsp. See *notes for more information.
Salt to taste
Method
Refer to the pictogram given at the end.
Boil the noodles in the big pot and wash them under cold water thoroughly. Always under cook your noodles a little. Set aside. Refer notes for more information.
Take the wok and heat oil in it. Add garlic in it and cook on high flame for few seconds till slightly golden.
Keep the flame high and add all the vegetables together. Keep tossing and stirring the vegetables continuously for 3-4 minutes. The point is to make cook them while keeping them crispy and not make them mushy and wimpy.
Now add the cooked noodles, dark soy sauce, little salt and chili vinegar to the wok. Toss and stir again on high flame for another 2 minutes.
Serve it hot along with the side of chili vinegar and soy sauce. An amazingly delicious meal is ready!
Notes
Noodles – Use the Hakka noodles as available in the market or egg or rice noodles or noodles of your choice. For other choices, udon and soba noodles can be used as well. I always use Angel Hair Pasta for making my Hakka noodles. This pasta doesn't get sticky like other noodles and uses less oil in overall recipe. The taste is still really good. Also, always always cook your noodles little less than the required time for 2 reasons – first, they retain their shape when cooked further with vegetables and second, when cooked under, their carb availability to your body is reduced.
Washing the noodles – If you are using the regular noodles which are starchy, after washing them in the cold water, toss them in 1tbsp oil so that they don't stick.
Vegetables – Make sure that all your vegetables are cut in even size and thinly sliced for even cooking. If you are using tender green beans, they can be added whole. If you are using bigger beans, cut them diagonally or matching to the other vegetables.
Chilli Vinegar – For a good kicking taste, rice wine vinegar or even wine vinegar is recommended. In case you don't have either, a regular distilled white vinegar would also do. To make chili vinegar, simply take 1/4 cup vinegar and add 1 long or 2 small chopped green chillies to it. Let it sit for 15 minutes before use.
Enjoy this dish as a lunch box, lunch or dinner. Treat your kids and friends over this comfort food. Take it as a potluck dish to picnics and get togethers. It's easy enough to whip over a busy weekday night too!
Enjoy some Hakka noodles from my Indian American Kitchen in yours!
Submitting this for my Meatless Monday!
Sonal