Asian Peanut & Cilantro Dressing
As an Amazon Associate and member of other affiliate programs, I earn from qualifying purchases.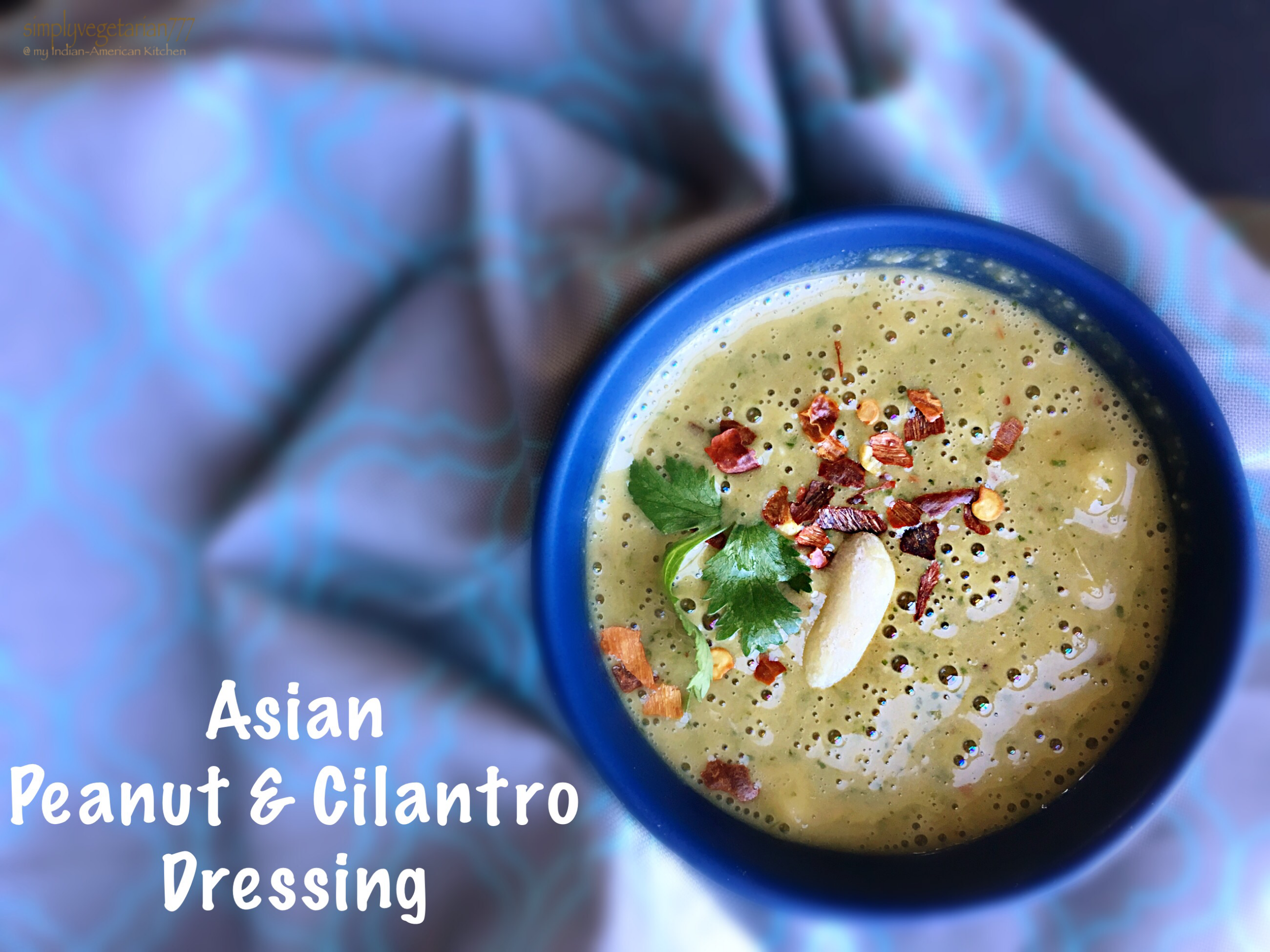 Asian Peanut & Cilantro Dressing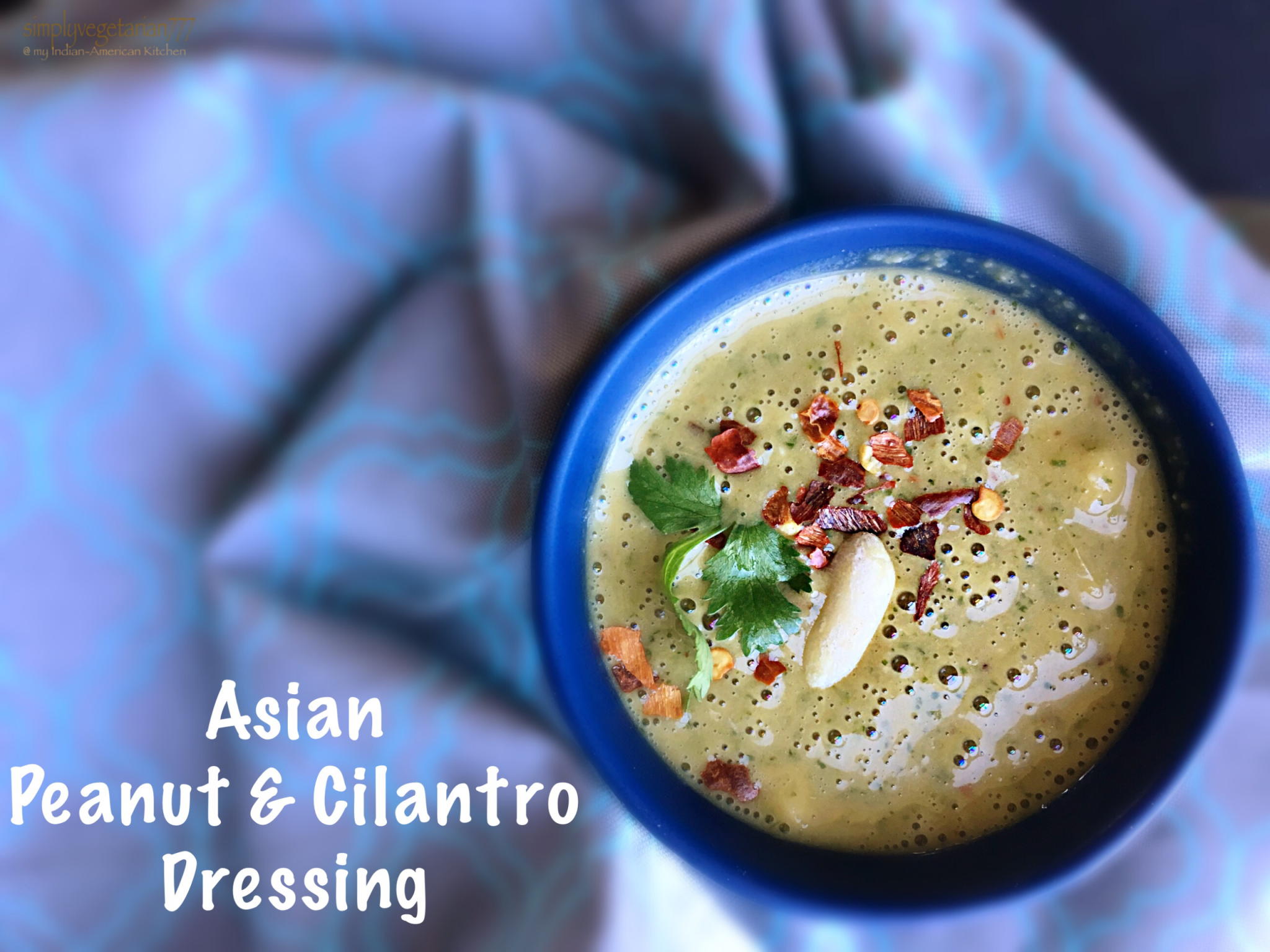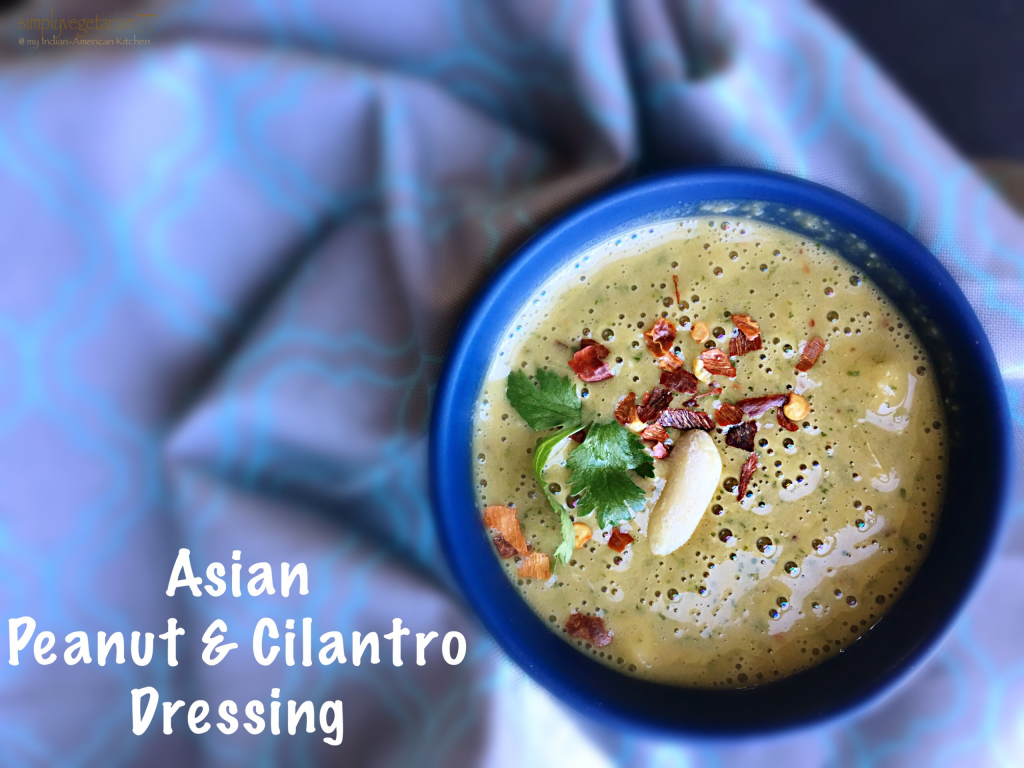 Asian Peanut & Cilantro Dressing is the most enchanting dressing that I have ever come across. Truth to be told, I am not a huge fan of creamy dressings like that of Ranch, Mayonnaise based and such. I would rather squeeze some lemon, some vinegar, few drops of oil and salt and black pepper to my salads than drenching it all in creamy mush. I always order a vinaigrette for my salads instead of ranch or ceasar dressing.
Do you know that I simply love Asian food. No…I am not talking about the Indian Asian kind, which I do, of course….but I am talking about the East Asian Cuisine. You may find a lot of Indo Chinese and Asian recipes on my blog like – Cambodian Vegetable Stir Fry, also known as Buddha's Curry, Thukpa from the land of Tibet and Nepal, Vietnamese Pho, Thai Basil Fried Rice and many more. Do check out the Asian and Indo Chinese Categories on my blog for numerous recipes.
Coming back to the Asian Peanut & Cilantro Dressing, it is loaded with flavors. The nuttiest of all, peanuts add an interesting depth to the salad sauce/dressing along with soy, lime juice and ginger, garlic, honey. I have adapted the Salad Dressing Recipe from here by Once upon a Chef. The original recipe calls for sweeter flavors along with a good amount of oil. I skipped the oil and believe me it was no less in taste or texture. Leveled the sugar out to desirable amount and bam….a very delicious Asian Peanut & Cilantro Salad Dressing is ready in no minute. It is a no cook, no whatever recipe. Just put the ingredients together in a blender and blend. blend and blend. That's it!
A very delicious Super umami, Cold Noodle Salad is on it way, using this salad dressing. I am telling you that you will eat this salad so more often, just because of this finger licking, kick ass delicious Dressing. Book mark this recipe, people. The best part is that this Asian Peanut & Cilantro Dressing can be served as a dip for your potstickers, dumplings, spring rolls, satays etc etc. Bring the party on.
Asian Peanut & Cilantro Dressing
An easy dressing / dip recipe from Asian Cuisine used in salads or for dipping.
Ingredients
Peanut butter - 1/4 cup. I used chunky. You may use whatever is handy.

Distilled White vinegar - 2 tbsp

Lime juice

from one lime - about 2 tbsp

Cilantro / Coriander leaves - handful

washed and chopped roughly

Soy sauce - 1&1/2 tbsp. If using dark soy

use 1 tbsp

Honey - 1&1/2 tbsp

Brown sugar - 1&1/2 tbsp. You may use regular sugar

Garlic - 2 large cloves

roughly chopped

Ginger - 1 small piece

peeled and roughly chopped

Salt - 1/2 tsp

Red chili flakes - 1/4 tsp
Instructions
Take a blender. Add all the ingredients and blend till all of them are pureed fine.

Store in an air tight jar and store in refrigerator till ready to use.

Whenever read to use, take it out and bring to the room temperature. Pour over salad or use as a dip.
Life is easy with some easy recipes at hand which can make you tap your happy feet and bring a bright smile on your face. Make a batch and save for "ready to use" moment, just like I did in my Indian American Kitchen.
Eat Happy! Stay Happy!
Sonal