This Chickpeas Greek Salad is a super delicious recipe. It can be eaten as is as a salad or can be stuffed inside a pita or rolled in a wrap to make a mini meal. The salad is so easy to put together. Also, learn how to make Greek Salad Dressing at home with ease.
Chickpeas Greek Salad – An Easy & Delicious Recipe
Getting back to work is so so tough after a fun-filled vacation. Am I right? I was on a 5 weeks long vacation traveling to different countries and continents. Paris, Hong Kong, and India to name a few. Met my family after 2 years. The nieces and nephews are growing up way too fast. Is there a STOP button to that part? No, I know. I feel like being around them all the time. My little M doesn't want to get back home in America since it is way too much fun being around cousins in India. That all made half of our summer go by in a jiffy.
After all the indulgent eating on the trip, my summer is calling for light lunches or filling citrusy salads. This salad is exactly what one needs to brighten up a summer meal. The citrusy Greek Salad Dressing adds the right punch to the salad. And the best part is that you can whip the dressing also at home.
I am a sucker for a good salad for my lunch and it has to be filling like a meal. One of my favorite flavors is Asian Salad with Peanut Dressing, like this Chopped Asian Salad which is bursting with flavors. I can eat it almost every day. Tex Mex is another flavor profile that tops my charts with all its frills and frenzies, like this Mexican Fiesta Salad. The bursting flavors of the vibrant produce and the dressings make these salads a worth the hundred times to keep them at the top of the charts.
What is this Chickpeas Greek Salad?
Mediterranean cuisine is fairly new to me. I discovered it only a few years ago and I have been a fan ever since then. The fresh ingredients, the dressings, the rice, the falafels, the pita and what not, it makes the cuisine so delicious. Have you tried the Mediterranean cuisine yet? If not, then you must. You can not go wrong with it.
There are many versions of Greek Salads floating on the web. The basic Greek salad has fresh produce like cucumbers, tomatoes, etc with a tangy dressing and some feta cheese added to it.
This Chickpeas version is super amazing and adds much-required protein and good carbs for the vegetarians. You must try it at home and I promise that it will become a regular on your menu.
There are 3 components of this Salad, which are –
Boiled Chickpeas (Find below the ways to prepare chickpeas in various gadgets)
Fresh Produce
Greek Salad Dressing (Find below the options to make it easily at home in case you can not buy it
Can I make it a Vegan Chickpeas Greek Salad?
Honestly, you can convert almost any recipe vegan these days. Since this is a salad, it can be easily done vegan. The only dairy product used in the recipe is Feta Cheese. You can totally skip it or use a vegan cheese instead. In fact, this tastes amazing even without feta.
How to prepare perfect Chickpeas for a Salad Recipe?
If you have noticed then the chickpeas used in a SALAD RECIPE are not soft or mushy in texture. They are kind of AL DANTE, with a bite to them. To be precise, these are par-boiled.
There are 3 ways to have those perfectly textured chickpeas for the salad.
First obviously directly from the CAN. Yes, CANNED CHICKPEAS are your easiest answer.
Prepare the perfect Salad ready chickpeas in your Instant Pot or Electric Pressure cooker. That way you can make a bigger batch and freeze in 1 cup measure until ready to use.
Use a Traditional Gas Top Pressure cooker with weight/whistle on top of it.
HOW TO COOK CHICKPEAS IN INSTANT POT FOR SALADS?
It is pretty simple. Follow these steps and enjoy the perfectly done chickpeas or Garbanzo beans for salads.
Soak 1-2 cups of chickpeas overnight or for 6 hours at least. Drain the water after soaking.
Place the inner pot of the INSTANT POT inside and plug the IP.
Put the soaked chickpeas in the inner pot. Add 2 cups of water to the chickpeas.
Close the lid of IP. Place the floating valve to SEALING.
Set the Instant Pot to MANUAL/PRESSURE COOK on MORE and High Pressure for 20 minutes. Follow NPR (natural pressure release).
Once the pressure is released, open the lid. Drain the water or collect it and use it as an AQUA FABA for your vegan recipes.
Cool and Use the parboiled or aldante chickpeas in your salad recipes.
How to Cook chickpeas in Gas Top traditional pressure cooker for salads?
Follow the similar instructions as given in Instant pot instructions. Once the weight blows off the steam for the first time, lower the heat and simmer the chickpeas for 20 minutes. Switch off the heat. Once the pressure is released, open the lid and use chickpeas as described above.
Can I use Store bought Greek Dressing for the recipe?
Yes, absolutely you can. The benefit of home made dressing is that you can control the amount of oil and acidity in it. The better reason is that the home made dressings are free of any colors or preservatives or any other additives. It is super easy to make. The only ingredient that you might not have handy at home is RED WINE VINEGAR. In that case, go for regular white distilled vinegar.
Find here some MORE SALAD RECIPES to inspire your light menu for the summers.
Here is how you make Chickpeas Greek Salad.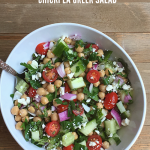 Chickpeas Greek Salad - All Vegetarian
This Chickpeas Greek Salad is a super delicious recipe. It can be eaten as is as a salad or can be stuffed inside a pita or rolled in a wrap to make a mini meal. The salad is so easy to put together. Also, learn how to make Greek Salad Dressing at home with ease.
Cuisine:
American, Mediterranean
Keyword:
chickpeas salad, garbanzo beans salad, greek salad dressing, greek salad,, light meals, mediterranean salad, vegetarian salad
Ingredients
Ingredients for Salad
1

cup

Chickpeas (cooked at home or canned)

1

cup

Cucumbers

chopped into small pieces

1

cup

Cherry Tomatoes or Regular size

chopped as the same size that of cucimbers

1/4

cup

Red Onion

thinly sliced or chopped the same size

1/4

cup

Parsley

chopped fine

1

sprig

Mint leaves

chopped fine

1/4

cup

Feta Cheese

skip for vegan option

Greek Salad Dressing
Ingredients for Greek Salad Dressing
2

cloves

Garlic

minced

1/2

tsp

Dijon Mustard

1

tsp

Dried Oregano

2

Tbsp

Red Wine Vinegar

or use regular white distilled vinegar

1

Tbsp

Lemon Juice

1/2

cup

Olive oil

3/4

tsp

Salt

1/2

tsp

Black Pepper powder
Instructions
Making Greek Salad Dressing
Take a small glass jar. Add all the ingredients as mentioned under dressing to the jar. Close the lid of the jar. Give it a vigorous shake till oil is well mixed with the other ingredients. Use as much as desired. Refrigerate the leftover upto a week.

For best results, let sit the dressing for at least 30 minutes before pouring over the salad. That lets the dressing absorb the best of the ingredients flavors to impart to the salad.
Making Chickpeas Greek Salad
Take a large bowl. Add all the ingredients as mentioned under the Salad Ingredients. Give it a good toss. Add dressing to the salad as required. Give another good toss. Chill the salad for sometime before serving.

NOTES - you may add some pitted black olives and colored bell peppers to the salad for more texture and flavor. Also add some lettuce to it and fill inside a PITA POCKET to make a complete meal.
This is a perfect salad to treat yourself on a hot summer day or pack for your lunches along with pita pockets or take it for your picnics or cook outs.
You may order the following from amazon to make this recipe. It won't cost you extra but would help my blog running.
Greek Dressing, if not making at home
Can't make it now? PIN IT FOR LATER!
In my kitchen, you will always EAT HAPPY & STAY HAPPY!
Sonal