Mexican Fiesta Salad with Creamy Fajita Dressing
As an Amazon Associate and member of other affiliate programs, I earn from qualifying purchases.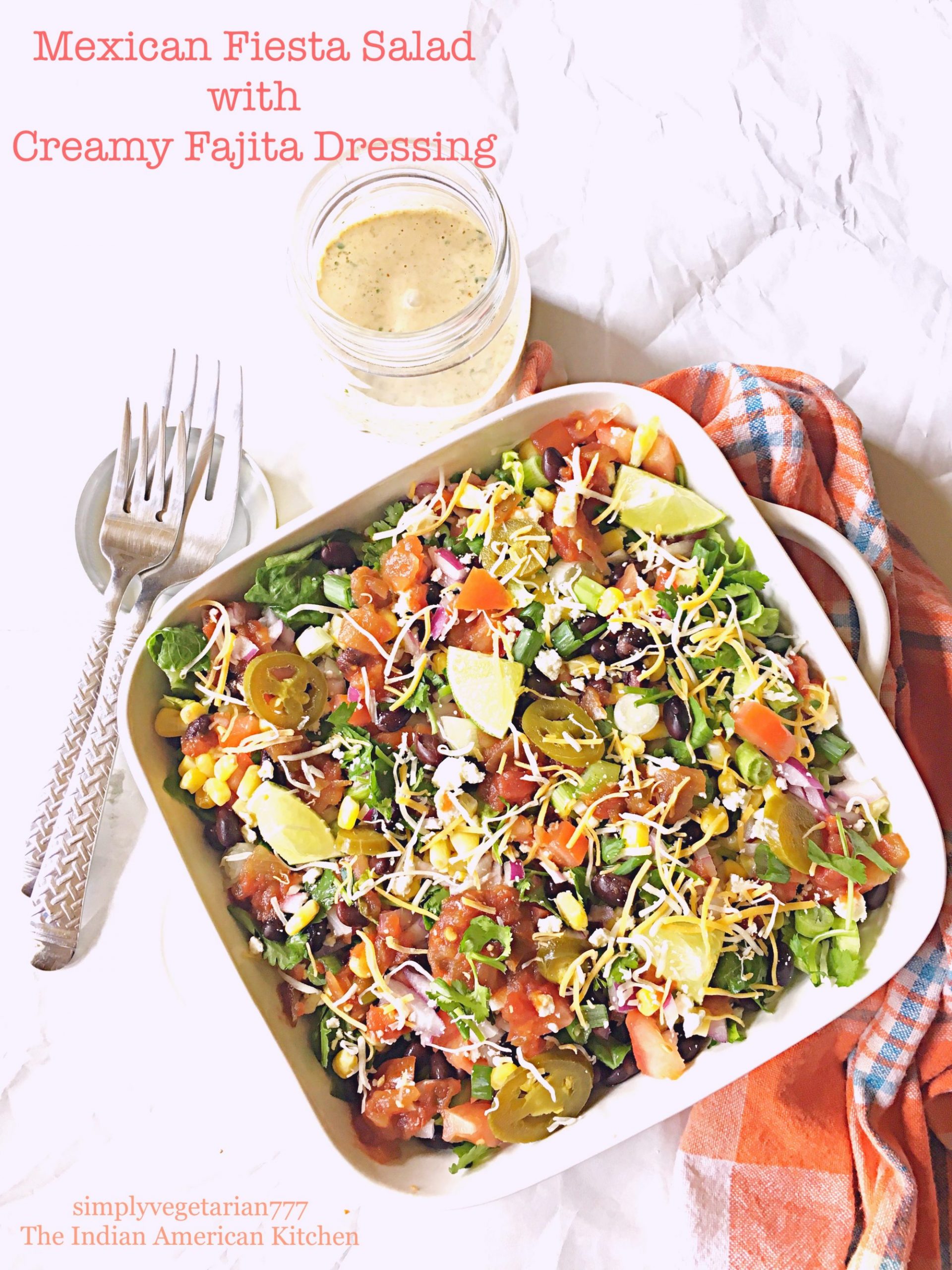 Mexican Fiesta Salad with Creamy Fajita Dressing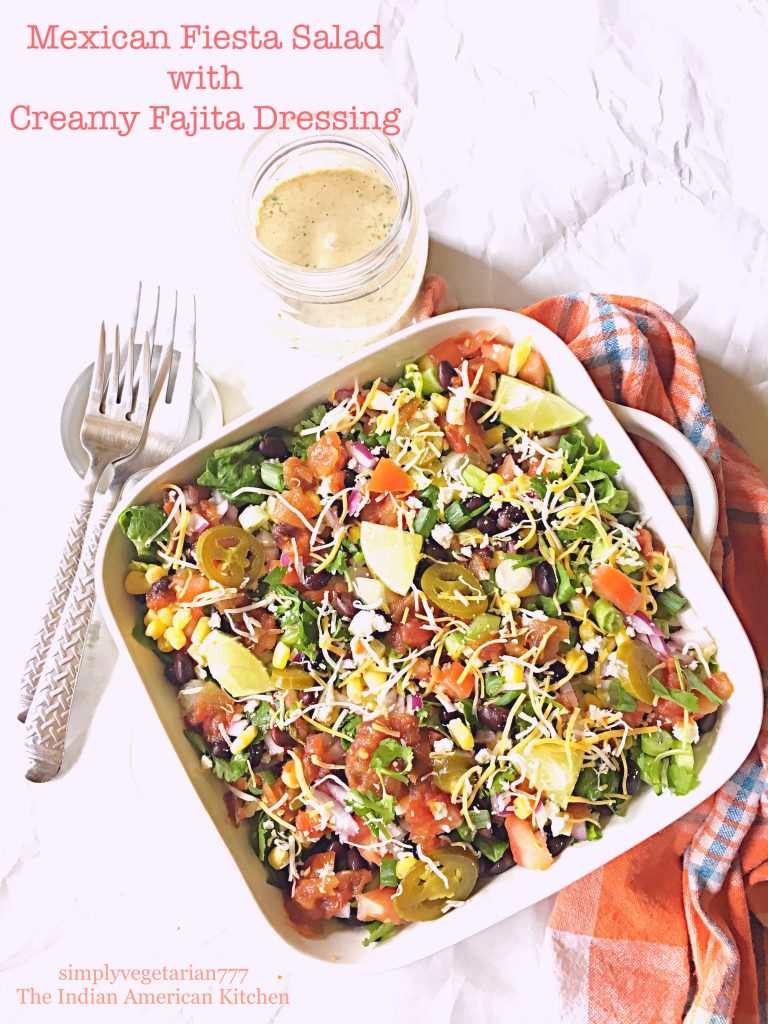 Folks, are you getting ready for the long weekend ? Well I am ! I would be making this yummy Mexican Fiesta Salad with Creamy Fajita Dressing for a park picnic.
I had recently made this Mexican Fiesta Salad with Creamy Fajita Dressing and I will be honest with you, that I finished half of the big bowl myself. I JUST COULDN'T STOP EATING! It was that delicious – robust and bold, bursting with flavors, enriching textures and that DRESSING….IS A KILLER ! What is there not to love about this dressing? I could have just drank it as is, but then I didn't since I had to add that to the salad too. 😉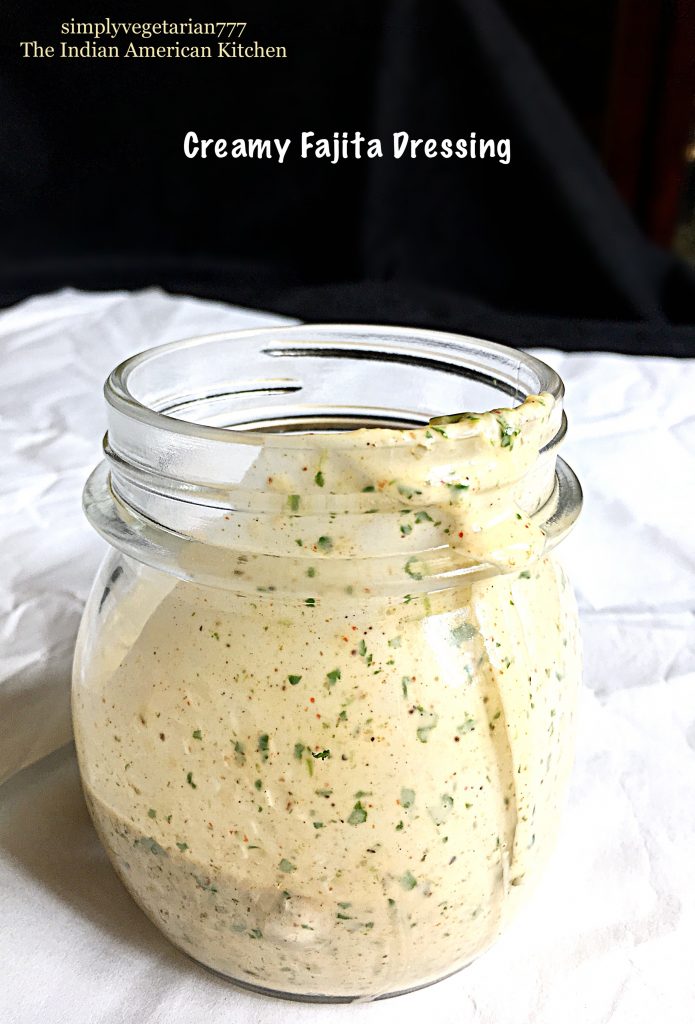 It is such a great salad for various reasons – it is vegetarian..yes no meat at all. It can be made ahead of time minus the addition of dressing and served the next day. It is perfect for any hot summer day as a complete meal when served with some soft tacos or nacho chips on the side. This salad will be a show stopper at any summer picnic or barbecue. Make it for the 4th of July picnic or get together. It is easy, filling, quick and best part – NO COOKING REQUIRED. Can you beat that?
Mexican Fiesta Salad with Creamy Fajita Dressing
A quick, easy, hearty and filling vegetarian salad with Mexican flavors, perfect for picnics and summer barbecues.
Ingredients
Salad Ingredients
Romaine Lettuce- 1 head

cleaned + washed + chopped coarsely. You may use iceberg lettuce instead.

Tomato - 1 medium

chopped fine

Onion - 2 tbsp

chopped fine

Corn kernels - 1 cup

thawed and microwaved for 1 minute

Black beans

canned or cooked soft - 1/2 to 1 cup, as per your like. Use Red kidney beans or pinto beans to substitute Black beans.

Cilantro/ Coriander leaves - 3 tbsp

finely chopped

Green onion / Scallion - 1 stalk

cut thin
Garnish
Salsa - 2 to 3 tbsp

as per taste

Cojito cheese

crumbled - 1 to 2 tbsp, optional. Use feta or paneer crumble to replace.

Shredded Cheese - 1 to 2 tbsp

Jalapeño

pickled - few slices

Lime wedges - few
Creamy Fajita Dressing Ingredients
Ranch - 1/4 cup. Use yogurt or sour cream in case you want to skip ranch.

Tajin or hot sauce - 1 tbsp

Taco or fajita seasoning - 1 tsp

Lime juice of 1 medium lime

Pickled Jalapeño juice/brine - 2 tbsp

Cilantro / coriander leaves - 2 tbsp

chopped
Instructions
Making the Creamy Fajita Dressing
Take a small bottle or bowl. Add all the ingredients as mentioned under Dressing in the bowl. Put the lid on and shake well to combine. Or stir all of the ingredients with a fork in a bowl and set aside.

Creamy Fajita Dressing is ready. You are going to love it, I promise.
Making the Mexican Fiesta Salad
Take a flat bowl or slightly deep serving dish.

Spread out the coarsely chopped lettuce in the serving dish.

Spread half the amount of corn kernels and black beans on lettuce.

Now spread half the quantity of onion, tomato, green onions and cilantro.

Repeat the layer of corn + beans and then onion + tomato + green onions + cilantro.

Spread the salsa, crumbled cheese, shredded cheese and jalapeno on the top of the salad.

Squeeze some lime juice and arrange some lime wedges on top.

Pour the Creamy Fajita Dressing over the salad.

Serve it and enjoy a crispy cool summer salad.
Do you agree with me at the ease of making this salad? It is like a fresh breeze on a sweltering summer noon.
You may buy certain products from Amazon.com to make this salad. It will not cost you any extra penny but will help my blog earn a little commission to keep it running. I try to post the products here that I would use that are quality and price efficient.
Tajin Sauce <—- love this !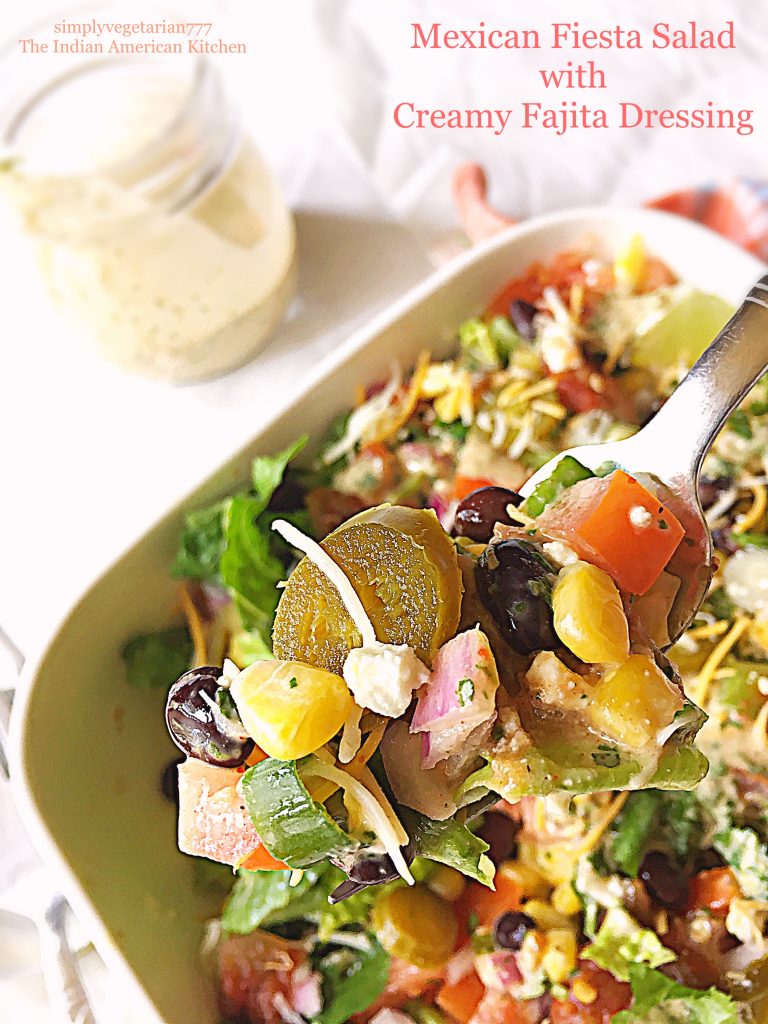 Some other Mexican dishes and Salads from the blog are – Spicy Mexican Poppers , Caramelized and black beans quesidellas , Mexican spicy bean and pasta salad , Spicy Mexican Skillet Potatoes , Mediterranean warm salad , Olive Garden style Garden Salad and many more.


As I always say, you will EAT HAPPY & STAY HAPPY in my kitchen.
Sonal