Fried Rice
As an Amazon Associate and member of other affiliate programs, I earn from qualifying purchases.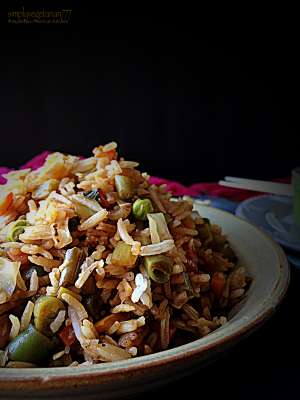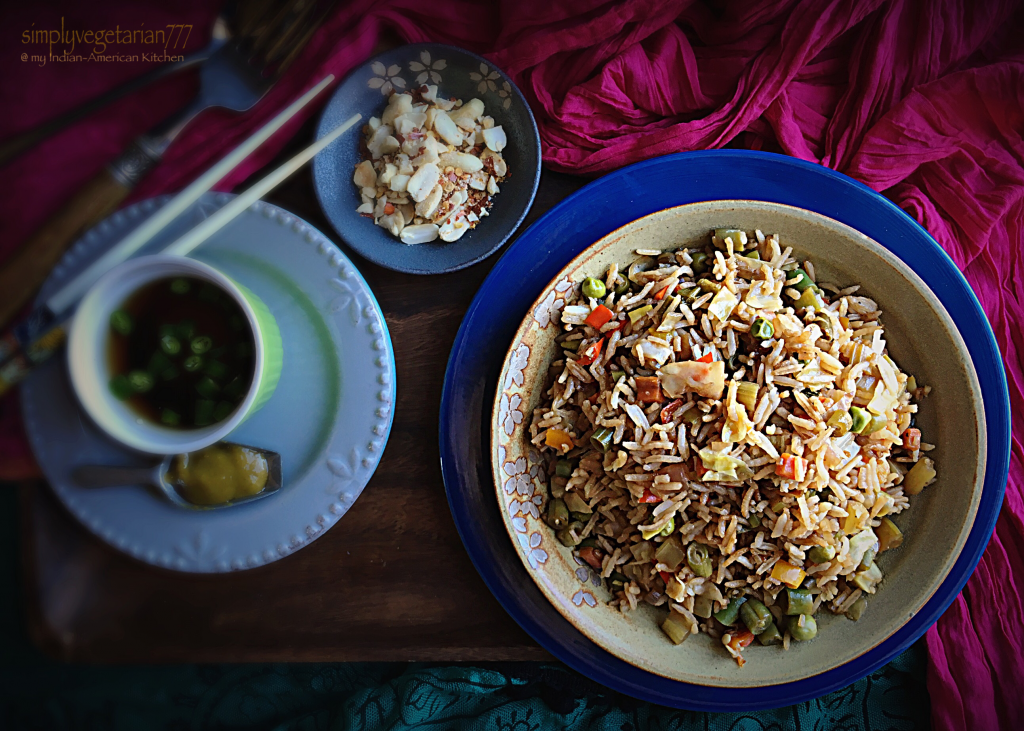 Raise your hands, if you "love" fried rice!!
Raise your hands, if you do not "love" fried rice!! Seriously? How could you?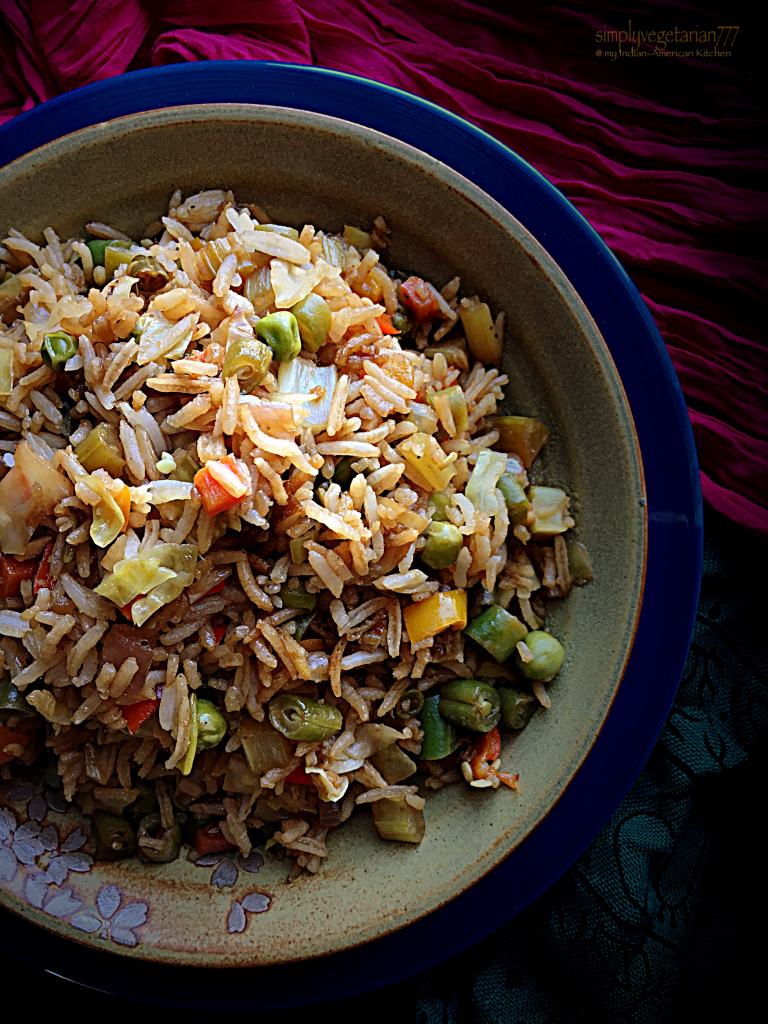 Fried Rice is one of the most known dish from the Chinese Cuisine, all over the world. I have eaten this in India as well as in America. One dish, which is prepared similarly in both the countries, without much difference. The only difference that I can think of is – in India, the Veg Fried Rice does not come with eggs in it. Whereas, in America, Basic Fried Rice is always, well almost, egg based. Veg Noodles , is another very popular dish from the cuisine which is equally loved, if not more!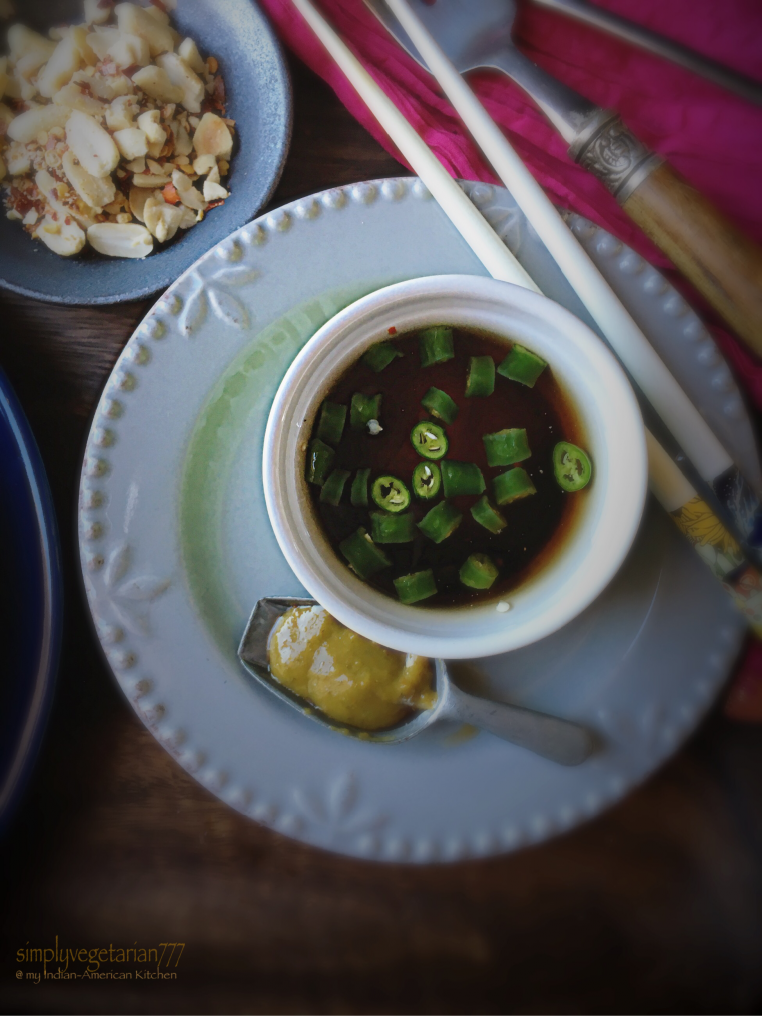 I remember, that in India all the Indo-Chinese dishes are served with a side of an array of sauces. The most common ones are the soy sauce, the green chili sauce, and the distilled vinegar with green chillies soaked in it. No matter how perfectly seasoned these were served, I would always add another dash or 2 of seasoned vinegar and other sauces in my dishes. The sizzling hot flavors that danced at the rim of my tongue, were unmatchable. Another side, that I have adapted from Thai cuisine here, from one of the Hole in the Wall, kinda restaurant in south Carolina, while vacationing is Roasted Ground Peanuts with Dry Raosted Red Chillies. Phew….Man…these add the heat and crunch to any dish. I always always always, have a little bit of this on the side of my noodles and rice in while cooking Asian food. Try it..you will love it.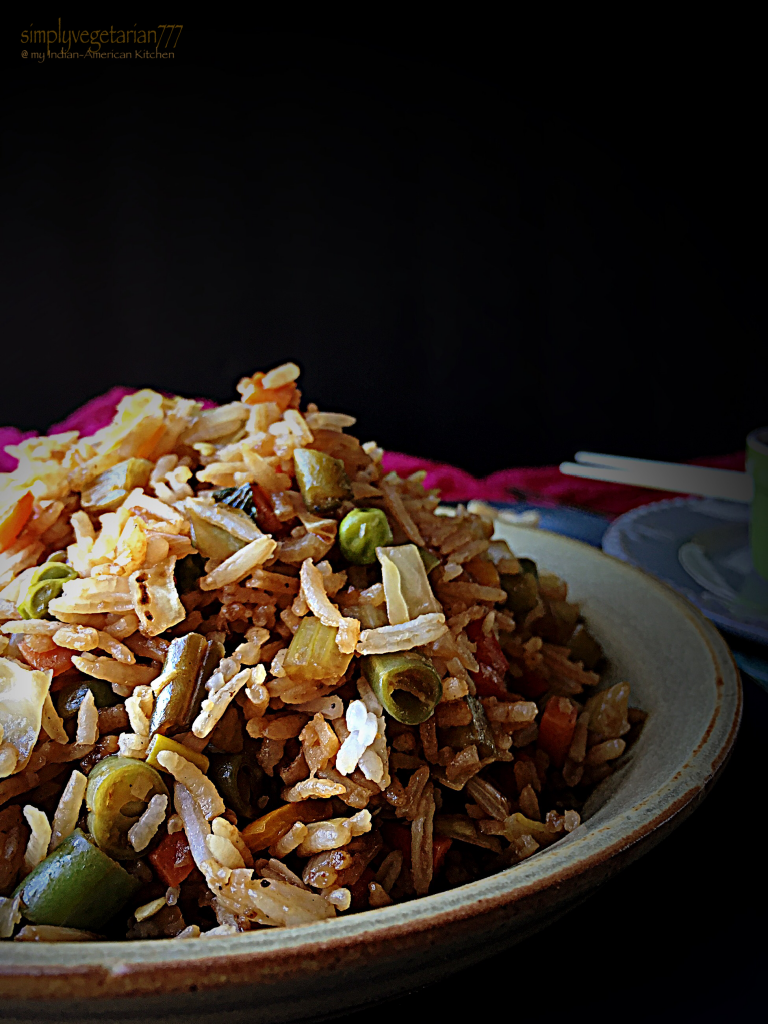 Making Fried Rice at home, is the easiest dish to prepare, I promise. So many times, I cook extra rice to make fried rice for the next meal or to pack for the lunch box for the kids. They just can't have enough of it. Also, when you make this at home, you can always make these healthier yet delicious. These do not have to be oil and sodium drenched. These are definitely MSG free, as compared to the restaurant ones or the frozen varieties.
This is how to make this dish!
Fried Rice
An easy rice dish from Asian Cuisine, which is perfect for busy week night meals. Easy ingredients, Quick to cook and Delicious to eat.
Ingredients
Mix Vegetables - 4 cups

finely chopped (including green beans, peas, carrots, bell peppers/capsicums, celery, green onions/scallions)

Rice - 3 cups

cooked (a day old and refrigerated preferred)

Onions - 1/2 cup

finely chopped

Ginger - 1 tsp

finely grated

Garlic - 1 tsp

finely grated
Oils & Spices
Oil - 1&1/2 tbsp

Soy Sauce - 1 tbsp

Green Chilli sauce - 1 tsp

Distilled Vinegar - 1/2 tbsp

Black pepper powder - 1/4 tsp. If you have white pepper powder

then use that.

Salt to taste
Vinegar Mix
Distilled White Vinegar - 1/4 cup

Soy Sauce - 1/4 tsp

Green Chillies - 2

thinly sliced
Instructions
Making Vinegar Mix
Add all the ingredients together, as mentioned under the Vinegar Mix. Stir well and set aside.
Making the Fried Rice
Make sure that all the vegetables are cut in the similar size and shape. This is very important step in making the fried rice, for even cooking and good texture of the dish. Keep the size of the pea as the base of the size for others.

Heat oil in the pan in a wok or heavy bottom hard anodized pan or kadhai. Add onions, ginger and garlic to the pan.Toss for 1-2 minutes till onions soften a bit.

Add the mixed vegetables all together in the pan and keep the heat high. Toss and saute on high heat for about 4-5 minutes. We want the vegetables cooked, still crunchy. Do not overcook the vegetables.

Add soy sauce, vinegar, chilli sauce, salt and pepper to the pan. Mix.

Separate the cold rice with your hands or fork. Add this rice to the pan with mixed vegetables. Toss, fold gently and cook on high flame for another 2 minutes till the rice is well heated through.

The Vegetarian Fried Rice is ready to be served.
Serving Suggestion
Serve the fried rice hot with vinegar mix and peanut mix on the side.
Notes
You may use brown rice or wild rice also for better nutrition. You may use low sodium soy sauce. You may use any seasonal vegetable available.
I had a great time creating this dish in my Indian American Kitchen and feeding my family. I am sure that you will enjoy it too.
Sonal