Instant Pot Asian Quinoa Salad Easy Recipe
As an Amazon Associate and member of other affiliate programs, I earn from qualifying purchases.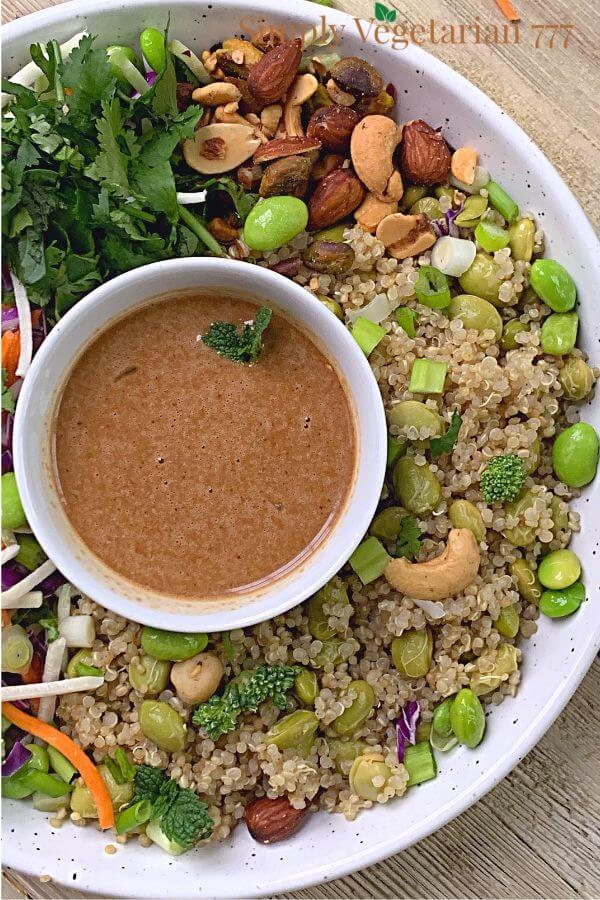 This Instant Pot Asian Quinoa Salad is a yummy vegan quinoa recipe. Asian Quinoa salad is a refreshing & crunchy salad. It includes Super Easy Peanut Dressing Recipe.
Important – Scroll down to the bottom the COMPLETE RECIPE. I have provided Recipe related tips and information in between.
Can't make it now? Pin this Instant Pot Quinoa Recipe for later.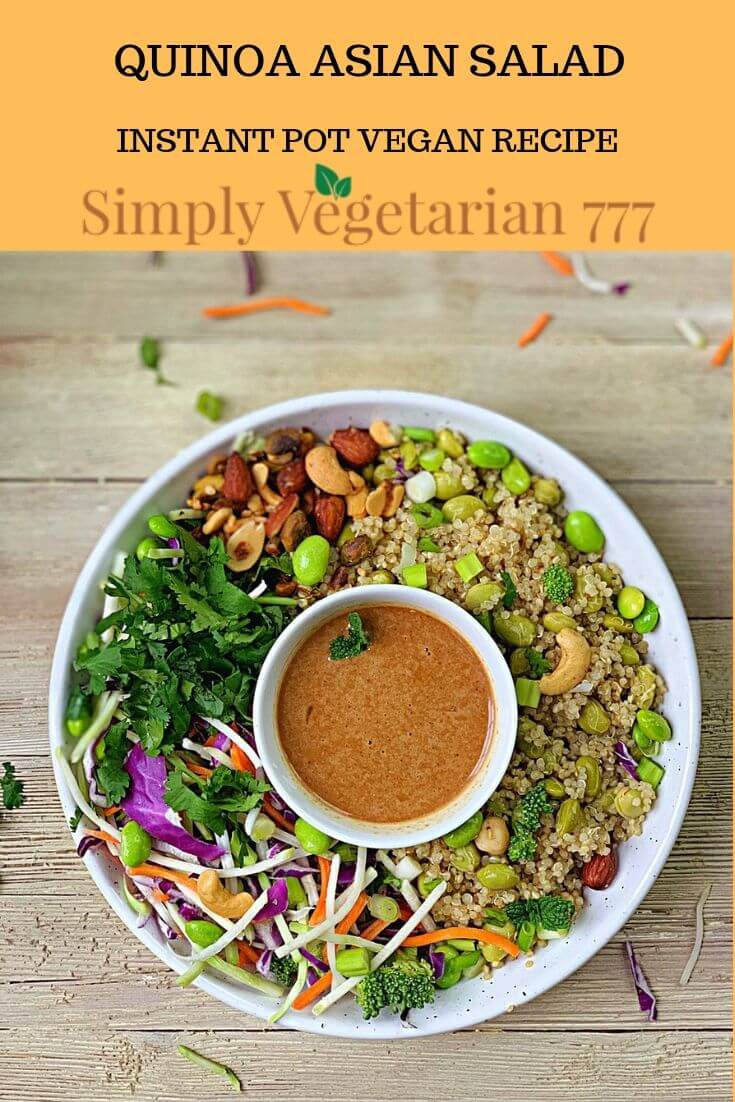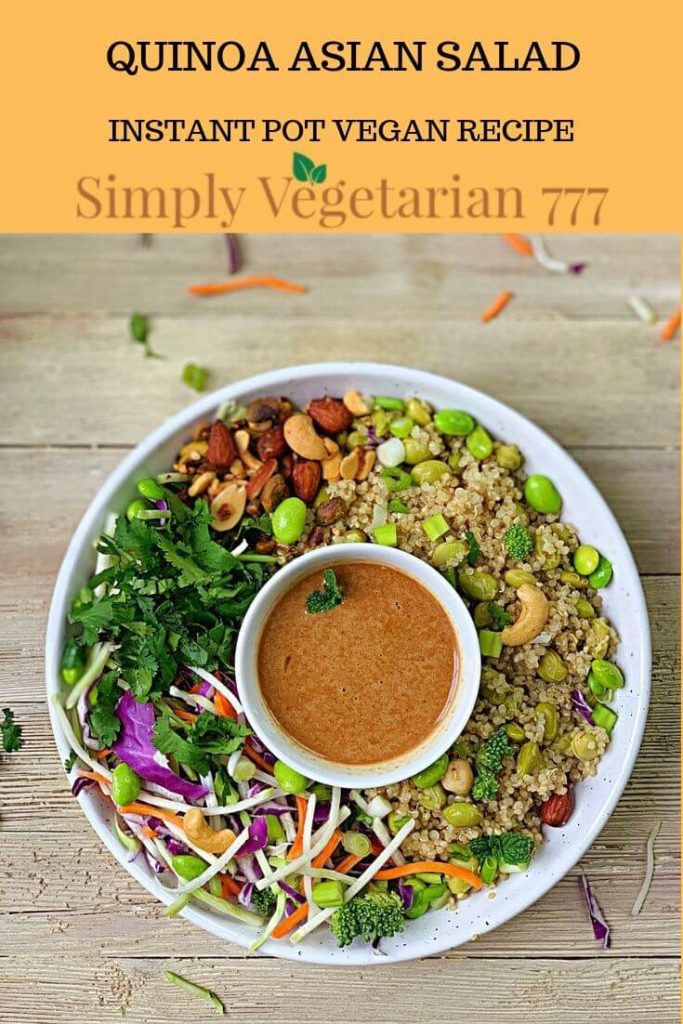 Easy & Delicious Instant Pot Asian Quinoa Salad
Since we as family are huge on ASIAN FOOD, I thought of creating a refreshing Crunchy Salad for the family. And that is how this Yummy Vegan Quinoa Asian Salad happened.
You know this is what I like about Quinoa. It blends so well with any recipe and any cuisine. Quinoa just absorbs all the flavors of a recipe without lending its own. To me, it is bland like rice and much nuttier in taste.
Probably you have noticed a pattern in my recipes recently. If not then here it is –
Lately my recipes are focused on Easy & Healthy Recipes.
These recipes are simple to follow but filled with TONNES OF FLAVOR.
If it is still not obvious, then yes QUINOA is the star of my recipes. It is so easy to play with and cooks faster than any other grain.
Therefore, you must subscribe today to get Easy and Delicious recipes directly in your mailbox. You can follow us on Facebook, Instagram, Pinterest & Twitter for regular updates.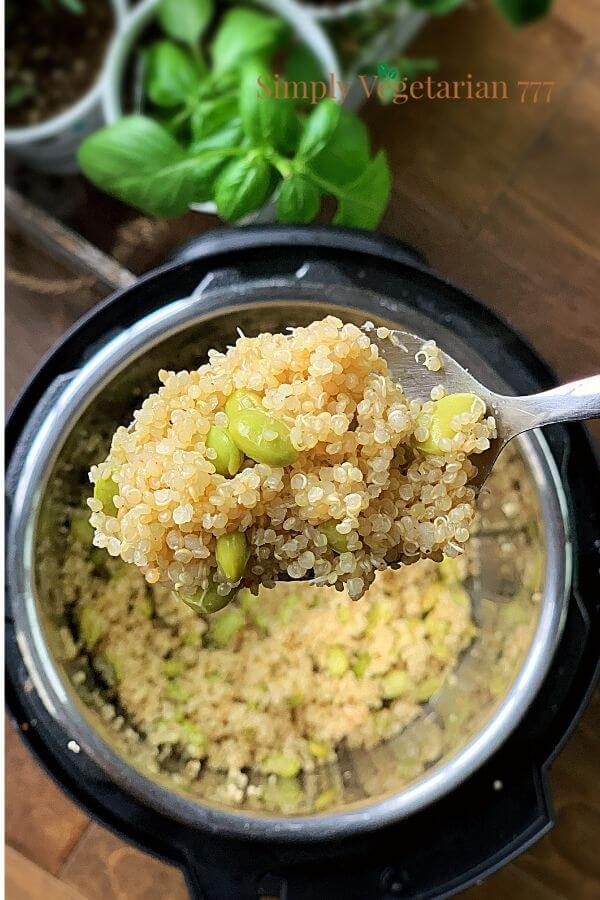 Vegan Instant Pot Quinoa Recipes from Simplyvegetarian777
Since I have already mentioned above that I am a huge QUINOA FAN, I have quite a few popular quinoa recipes on the blog. Check it out and do make it for your SUMMER PARTIES or GET TOGETHERS. I bet these will become your regular meals on the Electric Pressure Cooking Menu.
The best part is that these all are VEGAN QUINOA RECIPES.
VEGAN INSTANT POT ASIAN QUINOA SALAD INGREDIENTS
Important – We use Amazon Affiliate Links to suggest the purchase. Please read out Privacy Policy if needed more info.
The Basic Ingredients used in Asian Salad are pretty simple. Rest are add-ons and can be easily modified to your choice. Do check out the Recipe for my SIMPLE ASIAN DRESSING.
Mukamame Beans – These are the soy beans commonly known as Edamame Beans. These are easily available in the frozen vegetable section.
Asian Salad from the fresh produce section. Or you can chop your own Cabbage, Purple Cabbage, Carrots, Broccoli slaw for that extra crunch and bulk in the salad. Check out my CHOPPED ASIAN SALAD for the reference.
Substitute for Mukamame Beans – If you can not spot a bag of frozen mukamame beans or edamame beans in your local grocery store. Then you can easily use Extra Firm Tofu grilled or baked or fried to substitute the Beans.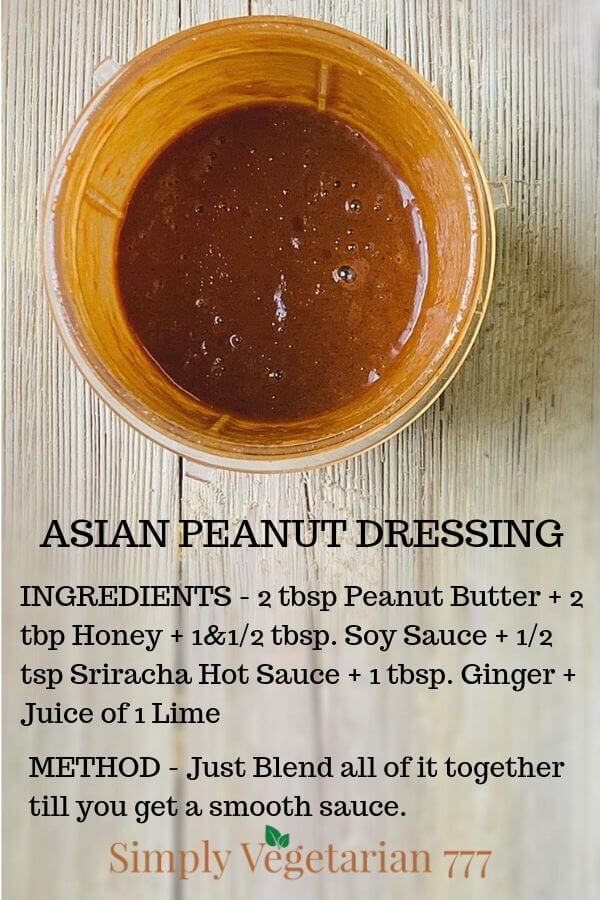 Asian Peanut Dressing Ingredients
If you are like me then you probably can drink all of your peanut dressing. Call me crazy, but that's me. The flavors are so bold and bursting and balanced that it is just amazing.
Here are the ingredients for the Vegan Asian Dressing –
Ginger
Lime Juice
Soy Sauce – You may used light or dark soy sauce. I like using Dark for more depth in the flavor. If you are gluten-free, use TAMARI SAUCE.
Sriracha – You may use any Asian Hot Sauce or sub with some chili flakes.
Kitchen Gadgets Needed to make ASIAN INSTANT POT QUINOA SALAD
You will need these Kitchen Equipment to make Asian Quinoa Salad in Electric Pressure Cooker –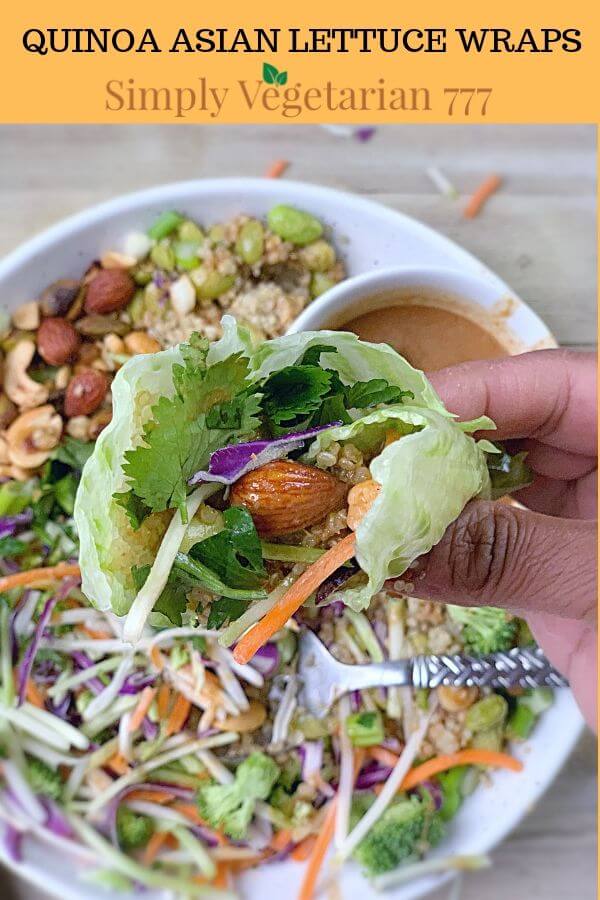 How to make VEGAN LETTUCE WRAPS from ASIAN QUINOA SALAD?
You guys – you will thank me million times for fixing this OIL FREE + GLUTEN FREE + VEGAN & HEALHTY RECIPE.
It is perfect for your –
Summer Potlucks
Barbeque Get togethers
Asian Themed Meals
Make Ahead Meal ideas
Lunch Boxes
Busy Weeknight Meals
These Vegan Lettuce Wraps are so easy to put together. This is how –
Take a large Ice-burg Lettuce or lettuce of your choice. Wash it thoroughly and dry it in SALAD SPINNER.
Separate the leaves. Put the Asian Quinoa Salad together.
Then take a Lettuce Leaf and place a tablespoon full of quinoa salad in the middle. Roll it up and crunch.
I am telling you that if you take this to your next get together, YOU WILL BE THE STAR of the show.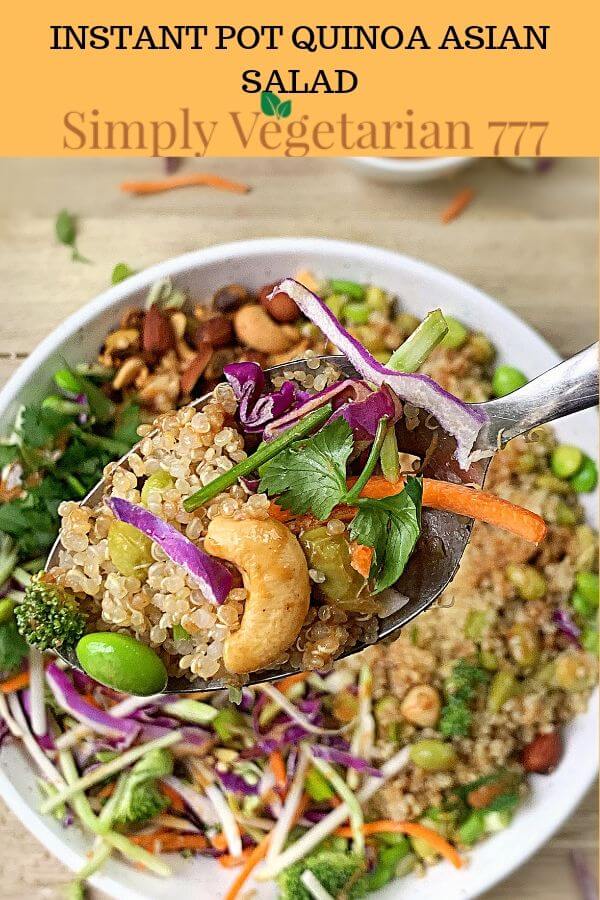 How to cut out the After Taste of Quinoa?
Honestly I get this question asked every-time I post a Quinoa Recipe. I never find any after taste. But that is me. I am not that sensitive to so many after tastes or rather enjoy those. For those of you who do get that after taste, then here are 2 things that you can do to get rid of-
Wash your Quinoa thoroughly under COLD RUNNING WATER. Place it in a sieve or strainer and wash.
Use a good brand of Quinoa. I use Simply Organic from Aldi and am pretty happy.
How to Cook Perfect Quinoa in an Electric Pressure Cooker?
I use 1:1 ratio of water & quinoa when I cook it in my Instant Pot or MEALTHY MULTIPOT. It never has disappointed me for that EVERY GRAIN SEPARATED TEXTURE. Cook it for 2 minutes in your electric pressure cooker and let NPR (natural pressure release).
Simplyvegetarian777 INSTANT POT VEGAN ASIAN RECIPES
Red Thai Curry, Green Thai Curry, Kung Pao Noodles, Thai Curry Noodles, Tom Yum
Simplyvegetarian777 INSTANT POT CAKES
Mason Jar Cakes, Red Velvet Cake, Banana Bread,Confetti Cake, Chocolate Cake
Siplyvegetarian777 INSTANT POT INDIAN CURRIES
Chana Masala, Saag Aloo, Red Kidney Beans Curry,Potato & Eggplant Curry, Pav Bhaji
Check out this detailed video for the recipe.
How to make Instant Pot Asian Quinoa Salad?
Instant Pot Asian Quinoa Salad
This Asian Quinoa Salad made in Instant Pot is so refreshing & easy to put together. Perfect for your summer get togethers and potlucks. Pack it for your lunch box or make it for dinner. It is always going to be great & delicious.
Ingredients
1

cup

Quinoa

1

cup

Mukamame Beans

Edamame Beans without the shell

1

cup

Water

1

small bag

Asian chooped salad bag or Rainbow Slaw

you may chop your own by combining cabbages, carrots and broccoli. Need about 3 cups

1/2

cup

Roasted Nuts

salt & pepper

2

tbsp

fresh herbs chopped like mint, thai basil or cilantro leaves

Toppings

4

Green Scallions

chopped
Asian Peanut Dressing
1&1/2

tbsp

Soy Sauce

dark or light or low sodium or Tamari sauce - your choice

1/2

tsp

Sriracha

2

tbsp

Peanut Butter

2

tbsp

Honey

1

tbsp

Ginger

1

Lime Juice
Instructions
Place the inner pot inside the Instant Pot. Plug it in. Wash the Quinoa under cold running water.

Add washed quinoa and 1 cup frozen mukamame beans in the pot. Add 1 cup water and little salt and pepper to it. Close the Lid. Set the Valve to Sealing. Press the Manual / Pressure Cooker Mode and set on HIGH/MORE. Set the time for 2 MINUTES. When the Time is up, follow NPR (natural pressure release). Open the lid carefully. Fluff up the Quinoa gently with a fork or spoon.

Let it cool down before you make a salad out of it. You can make it ahead of time and refrigerate. I refrigerated mine for 2 minutes and it was ready to be used.

Meanwhile Make your ASIAN PEANUT DRESSING.
ASIAN PEANUT DRESSING RECIPE
Take a high speed blender. Add all the ingredients as mentioned under the Asian dressing. Blend on high speed till you get a smooth sauce. You may dilute it a little bit with water. It is a pretty thick sauce.
Putting Asian Quinoa Salad together
Take a large bowl and add cold quinoa+beans mix. Add either the rainbow slaw mix or chopped cabbage & carrots mix plus some small broccoli florets. Add dry roasted nuts and the fresh herbs. Pour the Asian Salad Dressing and Toss it together. The salad is ready.
How to make Vegan Lettuce Wraps with this Salad?
You will love making Lettuce Wraps with this Salad. We ate it for our sncak yesterday and I packed it for my girls lunch today.

To make Lettuce Wraps, use a large ice burg lettuce and wash it thoroughly. Dry it and cut into 2 halves. Separate the leaves. Take a lettuce leaf and place some asian salad in between. Roll it up and crunch on it. It is just out of this world
How to pack Lettuce Wraps for Lunch Box?
Pack the Salad and lettuce leaves separately. They can make their own wraps at the school. How cool is that?
If you try this recipe, then please share your feedback on Facebook, Instagram, Pinterest, Twitter.

In my kitchen, you will always EAT HAPPY & STAY HAPPY!
Sonal