Instant Pot Confetti Cake – Easter Cake Recipe
As an Amazon Associate and member of other affiliate programs, I earn from qualifying purchases.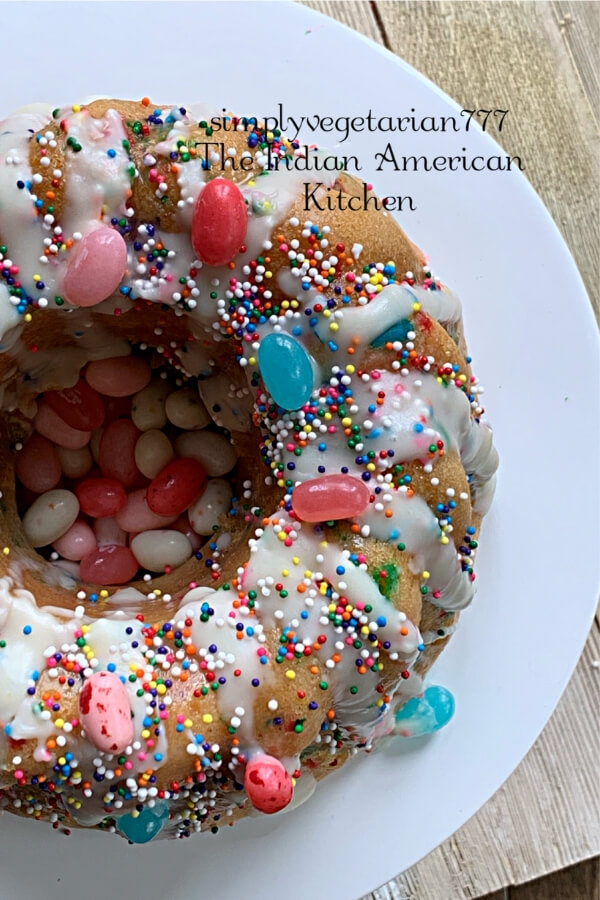 Instant Pot Confetti Cake is super moist & really delicious. It is perfect to make this cake for Easter Brunch or any occasion. And It does not taste like pudding at all.
Complete recipe is at the end of the Post and before the comments section. Scroll down for the recipe. In between, there are tips and tricks to make a Cake in Instant Pot.
Pin this EASTER CAKE RECIPE for Later to try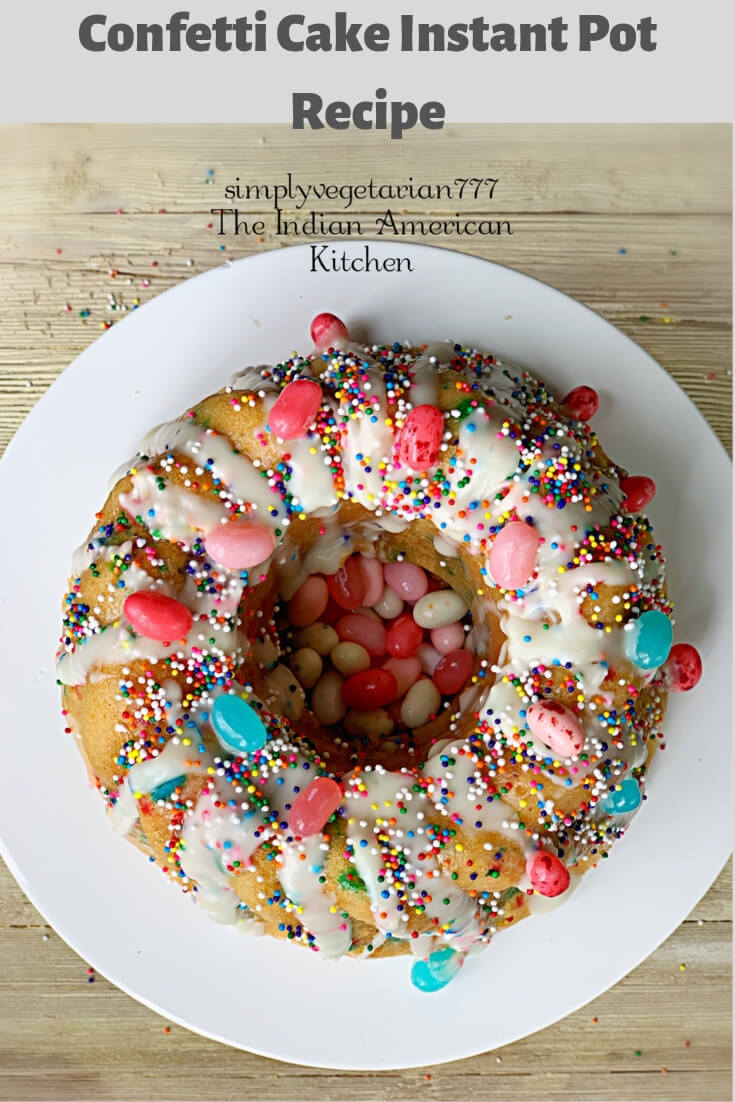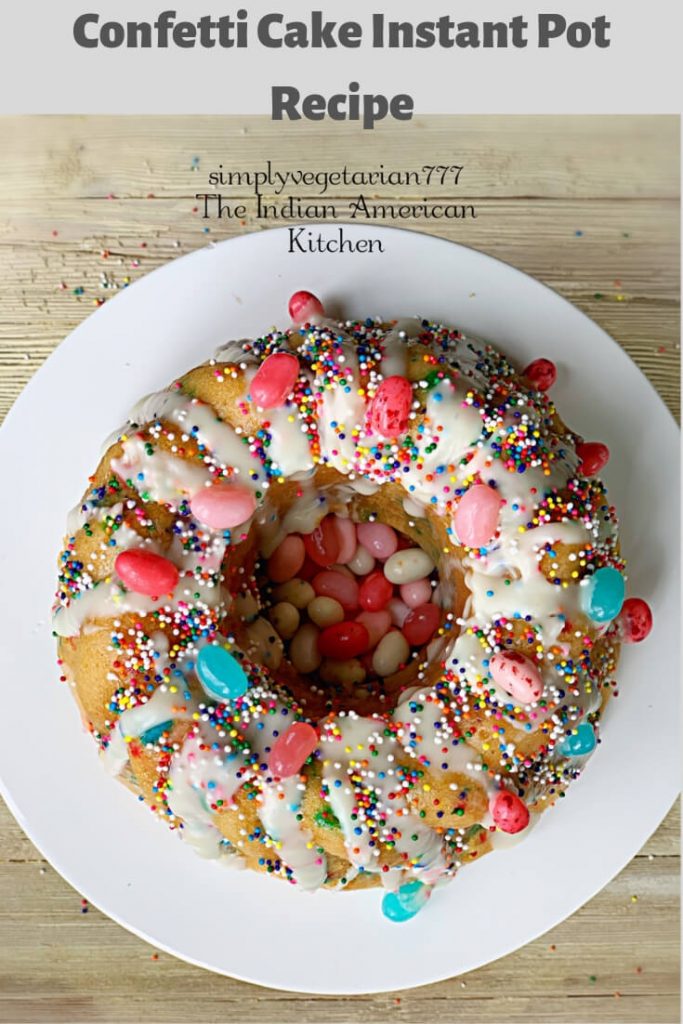 Easy & Yummy Instant Pot Confetti Cake Recipe
Tell me you are drooling! Are you? I am sure you are. LOL 😀
Well this is not a cake recipe that will disguise you into something pretty looking and taste like a blah!
I have made this Confetti Cake in Instant Pot and that too from a Boxed Funfetti Cake Mix.
Confetti Cakes are known as Funfetti Cakes also.
It is okay to not make everything from scratch sometimes. Hence this Instant Pot Funfetti Cake from the Mix.
Check out SO MANY EGG-LESS CAKES & COOKIES on my blog. These are all made from scratch.
Since this Cake looks full of Spring and so pretty, I am making this cake again for EASTER BRUNCH. Decorate it well and it can be your UNICORN CAKE or MERMAID CAKE as well. Let your imagination work.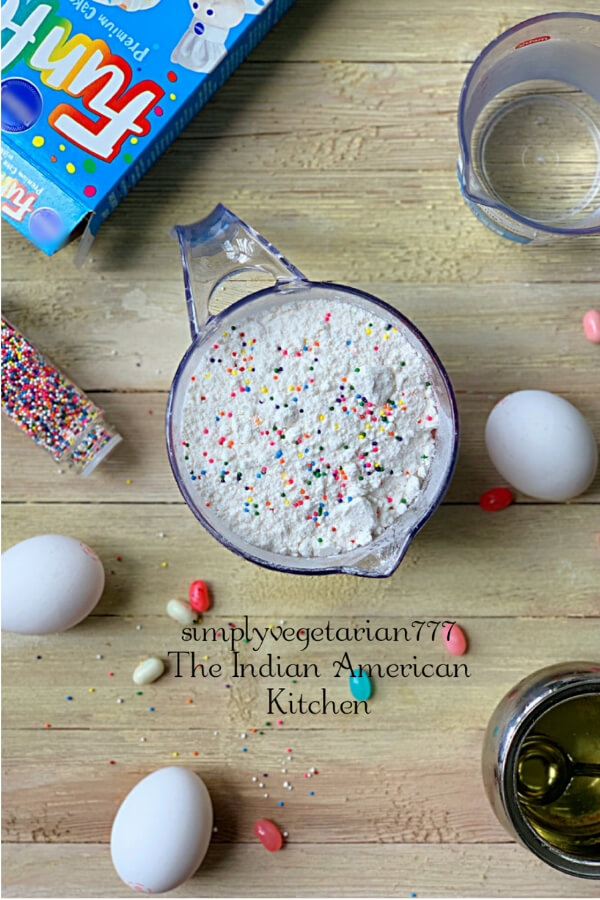 What kind of Cake Pans to use for Instant Pot Cakes?
The Cake pans used for Instant Pot Cakes are not the regular size.
Mostly 6-7 inches (diameter) pans work well with Instant Pot Baking. I use Bundt pans more frequently than the others. Spring Form Cake Pans are commonly used for Cheesecakes. Regular 6 inches wide and 3 inches deep circular pans are also used for cakes in IP.
Also, use only 6 quart or 8 quart Instant Pot for cakes. Mini 3 quart is too small to fit a cake pan.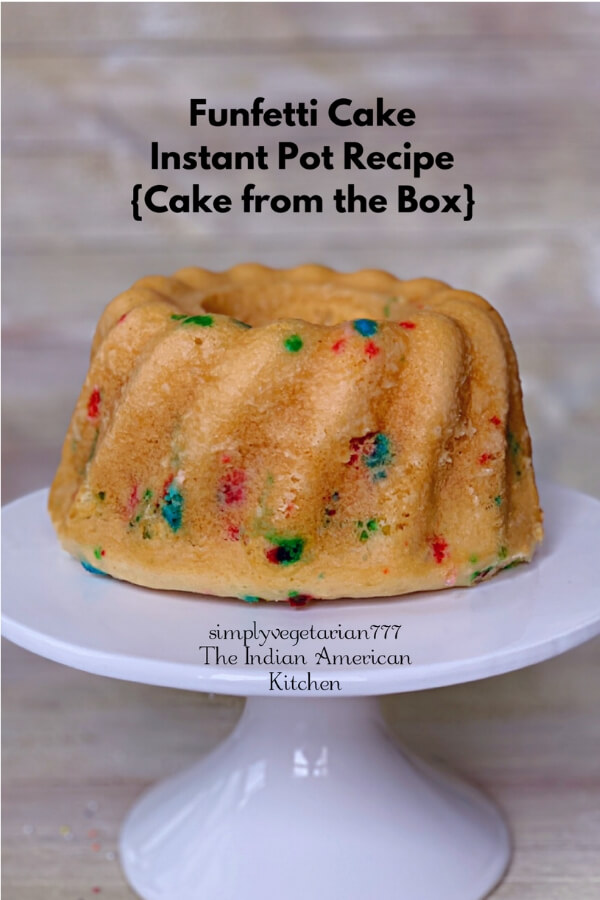 WHAT ARE THE IMPORTANT TIPS WHEN MAKING CAKE IN INSTANT POT?
Use your 6 quarts or 8 quarts Instant Pot when making a cake in it.
Make cake in 6 inches or 7-inches pan. Fat Daddio is a great brand to bake a cake in IP. I used 6 inches pan for this recipe. 7 inches would work great too. 6 inches pan fitted perfectly inside the instant pot. Also it is a deep pan with 3 inches depth.
Always place the cake pan on a trivet. A trivet always comes with the 6 quarts and 8 quarts Instant Pot. It generally has loose handles on the side. Use that trivet and let its handles rest inside the inner pot's walls.
Always add some water at the bottom of the inner pot. Many recipes call for 1 cup water. I used 2 cups and it worked well for 40 minutes.
Make sure that you cover the cake pan after pouring batter in it. Use good quality Aluminium Foil to cover it. Please do not wrap the aluminum tightly around the pan. Create a DOME-SHAPE in the center to leave space for the cake to rise.
Always Fill the Cake Pan little more than the half of the depth of the pan. Level it out.
Use Normal Mode on Cake option for cooking it.
Follow NPR – Natural Pressure Release.
Remove the lid and aluminum after being done and place in BROILER to air dry the excess moisture on the top.
Do Not Touch or cut the cake till completely at room temperature.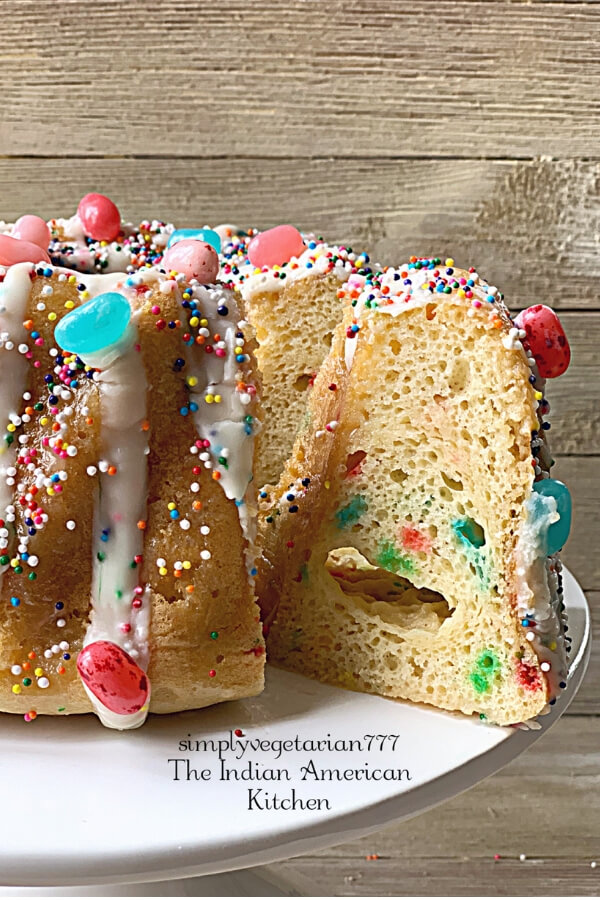 How to Make a Cake from a Boxed Cake Mix in Instant Pot?
Although a cake from scratch is always enticing and sounds like a sweet fruit of hard labor. But a Semi Home-Made is no less of an achievement, especially when it is done right & received perfectly.
A regular size Boxed Cake Mix is 15.25 OZ/432 grams, which is approximately 3 cups of cake mix. There is no way that your 6×3 inches cake pan can carry all of that.
For me, 2 cups of READY TO BAKE FUNFETTI CAKE MIX or any other cake mix is just enough quantity for Instant Pot Cake Making. That is 2/3rd of the whole quantity and therefore I have 2/3rd all of the other ingredients quantities, required in the recipe. Check out the recipe in the RECIPE CARD BELOW.
Also bookmark it for your future reference when you use a Boxed Cake Mix to Make a Cake in Instant Pot.
2 WAYS TO SUBSTITUTE EGGS IN A CAKE
Though this is not an egg free cake, but here is what I often do when I am baking an Egg-Less Cake.
1 Egg is approximately 1/4 cup in liquid quantity. Here are 3 ways to substitute Egg in a Cake –
Use Plain Non-Fat GREEK YOGURT. For every 1 egg, measure 1/4 cup of Greek Yogurt. It retains the moisture and softness of the cake.
Use Flax Meal and make Egg like Jelly. For 1 egg, use 1 tbsp Flax Meal dissolved in 3 tbsp water. Mix and set aside for a minute. That jelly-like substance is perfect to substitute eggs in a recipe.
Read this Article that I had written some time ago on SUBSTITUTING EGGS IN A BAKING RECIPE.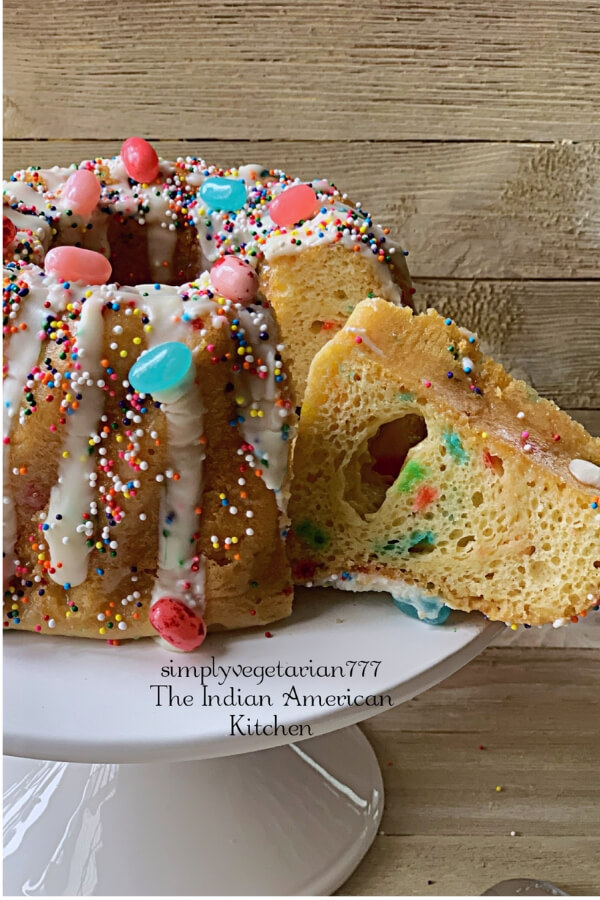 Simplyvegetarian777 Instant Pot Cakes
Red Velvet Cake, Banana Bread, and Chocolate Cake.
Check out this INSTRUCTIONAL VIDEO to make EASTER CAKE in Instant Pot.
How to make Confetti Cake in Instant Pot?
Refer to the RED VELVET CAKE INSTANT POT RECIPE for detailed post with pictures.
Instant Pot Confetti Cake - Easter Cake Recipe
Instant Pot Confetti Cake is super moist & really delicious. It is perfect to make this cake for Easter Brunch or any occasion. And It does not taste like pudding or gooey at all.
Ingredients
2

cups

Funfetti / Confetti Cake Mix from the Box

I used Pillsburry brand

2

Eggs

1/2

cup

Water

2&1/2

tbsp

Cooking Oil
Garnish
funfetti or confetti sprinkles

Jelly Beans
Instructions
Making CONFETTI CAKE in INSTANT POT - watch the instructional video above.
Take out your 6 quarts Instant Pot. Place the inner sleeve of the pot and plug it in. Pour 2 cups of water in the inner pot. Press the SAUTE MODE on High for 15 minutes. Warm the water in the pot till it starts steaming and then switch it off. It is like pre-heating the oven. Meanwhile Prepare the CAKE BATTER.

Take 6 inches Bundt Pan. Grease it lightly and set aside.

Take a Large Bowl. Add 2 cups of FUNFETTI CAKE MIX to it along with 2&1/2 tbsp cooking oil + 1/2 cup water + 2 eggs. Follow the instructions at the back of your box. It says beat the cake batter on medium speed for 2 minutes. Please do that exactly for 2 minutes for the perfect texture.

Now pour this batter evenly in the bundt pan. Make sure to tap the pan few times on the counter to avoid air pockets. I forgot and I got a giant air pocket. Take a spoon and level out the batter on top as well.

Now take a large piece of foil and cover the bundt pan tightly from all the sides. P

lace the pan on the trivet/stand. Now carefully pick and slide the pan on the trivet inside the inner pot of the Instant Pot.

Close the lid of the Instant Pot. Set the Valve to Closed. Press the CAKE BUTTON on your Instant Pot and set it for 40 MINUTES NORMAL MODE & HIGH PRESSURE. This is the automatic setting for cakes on CAKE MODE.

If you do not have CAKE SETTING on your IP, then you may use PRESSURE COOK/MANUAL MODE on your IP. Set it for 40 minutes on HIGH PRESSURE & NORMAL MODE.

Once the timer goes off, follow NPR (natural pressure release). As the safety valve drops down, open the lid. Take out the Trivet holding its handles carefully. Remove the foil carefully as some water will be on top of it. Make sure that there is no water dropping back inside the cake pan.

Let the cake sit inside the pan for 15 minutes. Now run a knife along the edges and loosen the cake a bit. Flip the pan on a CAKE PLATE carefully. The best way is to invert the pan on plate. Tap the bottom of it few times. Then gently slide it out.

Let the cake stand and cool down before you decorate it.
White Chocolate Ganache
Warning - This makes a lot of White chocolate ganache. You may use it all or a little, as you desire. It can be refrigerated well. Just warm it up again in microwave before re-using.

Take a large microwave safe bowl. Add chocolate chips and heavy cream. Heat it in the microwave at few 30 seconds cycle. Take out after every 30 seconds and stir with a spoon or stirrer till it is mixed well. It might take 3-4 30 seconds cycles.

White Chocolate ganache is ready.
Decorating the Easter Confetti Cake
Place your cake on a cookie rack. Spread out the white chocolate ganache while it is still warm on the cake. Make strings or spread it out like a frosting. Now sprinkle the confetti sprinkles and Jelly Beans on it.

Your gorgeous EASTER CONFETTI CAKE IN INSTANT POT is ready.
I am sure you are going to try it soon. If you try it then keep me posted with your feedback under the comments section.
In my kitchen, you will always EAT HAPPY & STAY HAPPY!


Sonal