Instant Pot Vegan Quinoa Breakfast Recipe
As an Amazon Associate and member of other affiliate programs, I earn from qualifying purchases.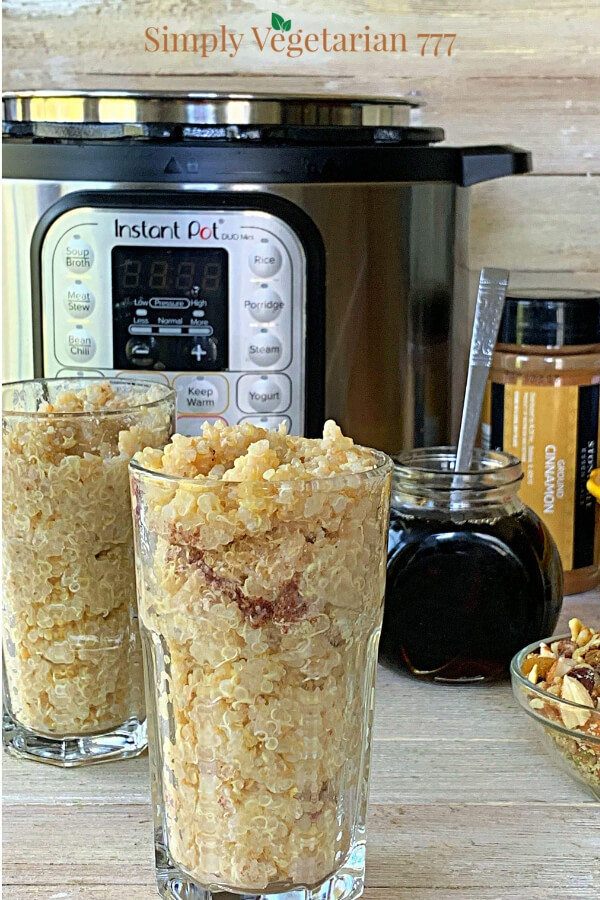 Instant Pot Vegan Quinoa Breakfast Recipe is super yum & easy to put together. Vegan Quinoa Porridge is a quick make ahead recipe for breakfast or brunch.
Important – Scroll down to the end to get the complete recipe. You can find more information and tips to personalize the recipe in between.
Subscribe today to get Easy and Delicious recipes directly in your mailbox. You can follow us on Facebook, Instagram, Pinterest & Twitter for regular updates.
Can't make this Easy Quinoa Porridge for Breakfast now? PIN IT FOR LATER.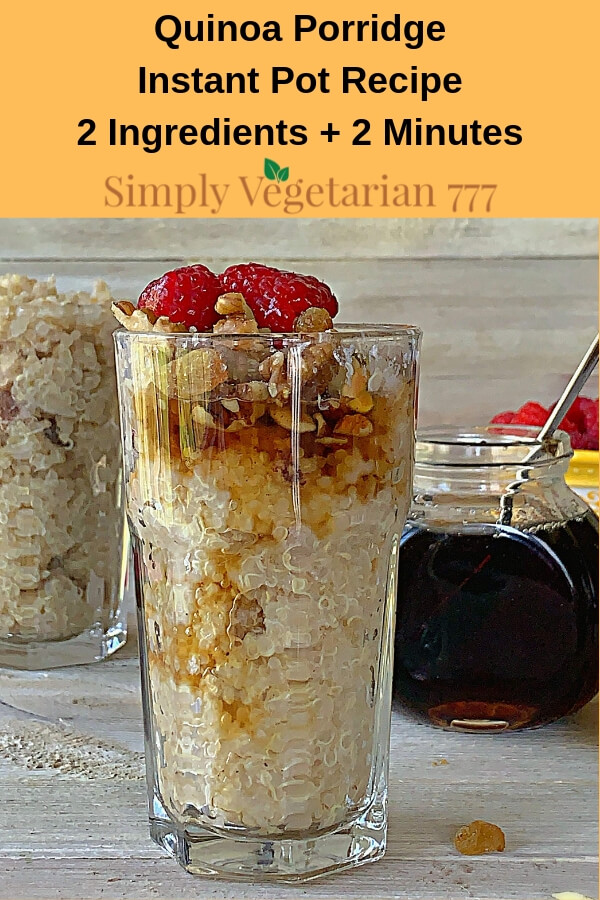 Easy & Quick Instant Pot Vegan Quinoa Breakfast Recipe
If you have been following my blog closely, then you must have noticed my obsession with QUINOA lately.
Instant Pot Quinoa & Black Bean Salad and Instant Pot Quinoa Mediterranean Salad are already making a huge wave with my readers. They are loving it. And I am loving it all the more.
Summers and whole grains go hand in hand. Quinoa is perfect for your hot summer needs.
Since it is so convenient to prepare QUINOA in Instant Pot ahead of time, there are numerous amount of possibilities to create QUINOA RECIPES. It is perfect to be included in a cold QUINOA SALAD or a warm bowl of QUINOA PORRIDGE for BREAKFAST or BRUNCH.
It sure is my hot favorite for my complex carb, protein rich & other nutrient needs.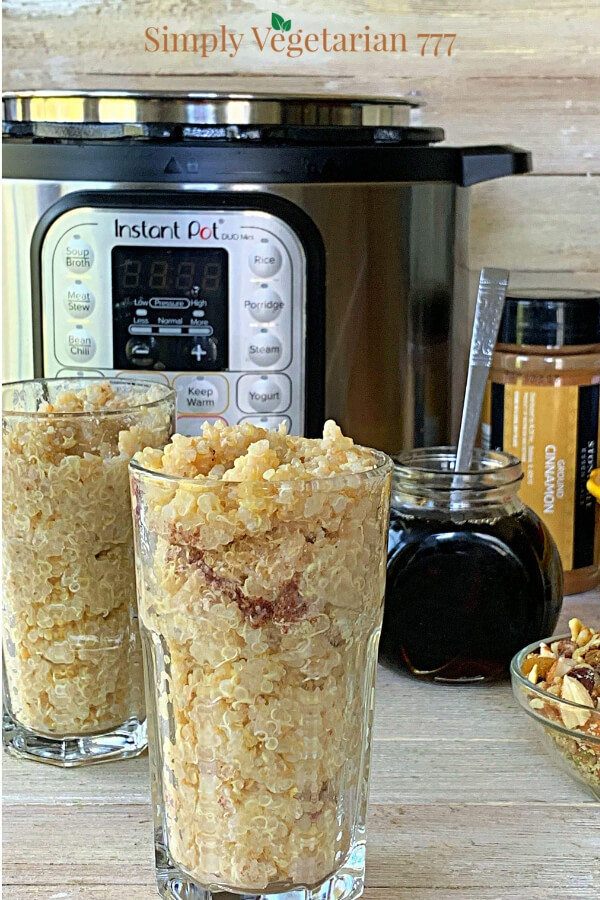 How to make Quinoa in Instant Pot or Electric Pressure Cooker?
Quinoa cooks the fastest in Instant Pot or any other Electric Pressure Cooker like Mealthy. It is the easiest thing to cook in the Electric Pressure Cooker.
This is what I do and has always worked well with me.
ALWAYS WASH QUINOA in a strainer before using it.
I always take equal parts of Quinoa and Liquid. For 1 cup Quinoa, I take 1 cup water. You may choose Vegan Broth or Plant Based Milk to cook it.
Cook Quinoa for 2 minutes exactly

in Instant Pot. Follow NPR (natural pressure release).

Either you are making it savory or sweet, the time and proportions remain the same.
Unless you are making a Porridge, you add more liquid for the right consistency.
Why Should I try this Vegan Quinoa Recipe?
Since this recipe is so amazing, you must try it. My reasons are fairly simple.
It is a VEGAN QUINOA RECIPE. Plant Based Milk makes it much lighter on digestion.
This Quinoa Porridge is made in INSTANT POT. I have used 3 quart but you may use any model that you have. Also you can make in any model of Electric Pressure Cooker that you might have like MEALTHY Multipot.
This recipe needs only 2 MAIN INGREDIENTS. Brilliant, right?
Also, Vegan Quinoa for Breakfast needs only 2 Minutes in Electric Pressure Cooker.
You can make it AHEAD OF TIME and consume it over the period of one week.
Vegan Quinoa Porridge is a complete healthy Breakfast to start your day.
I have made it SUGAR FREE QUINOA PORRIDGE RECIPE. You can later sweeten it with sweetener of your choice. I used Organic Maple Syrup.
You can adjust the consistency of the Porridge to your liking.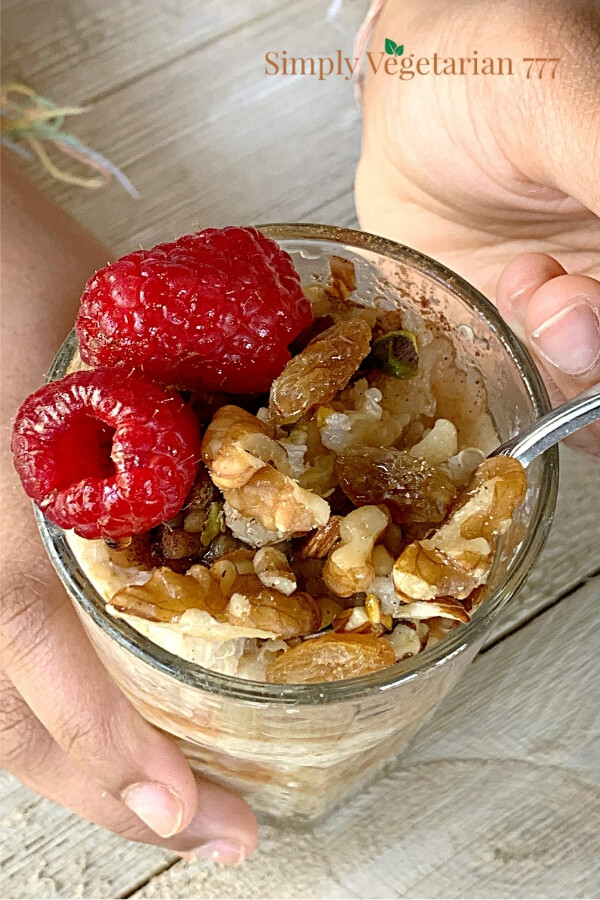 Kitchen Gadgets used to make Breakfast Quinoa in Electric Pressure Cooker
If you have an ELECTRIC PRESSURE COOKER like INSTANT POT or MEALTHY MULTIPOT, then these are the must have supporting gadgets needed to make meals in it.
Shallow/Inverted Trivets or this High Trivet
Stackable Pots for PIP cooking
Or check out this complete SET OF INSTANT POT ACCESSORIES.
Vegan Quinoa Breakfast Porridge Ingredients
Breakfast Vegan Quinoa Recipe Options to personalize
This is a simple straight forward recipe with just 2 main ingredients. Now this recipe can be easily personalized to your taste.
I have used almond milk in the recipe. You may choose to use any plant based milk like coconut, oats, soy etc.
This porridge is a sweeter version. If desired you may make it savory as well. Add salt and pepper and may be throw some frozen vegetables with it while cooking in IP.
Maple syrup is used to sweeten it. You can use any sweetener like coconut syrup, agave, Splenda, brown sugar, jaggery, etc.
I have used raspberries in it. You may use any fresh or frozen fruit to serve with it.
Cinnamon is used to flavor it. You may use any mix like pumpkin spice, chai spice mix etc for flavoring.
My porridge consistency is thick. You may add more milk to make it slightly more liquidy.
It can be easily warmed up with some more milk or water. Just add hot plant based milk or water to loosen it up.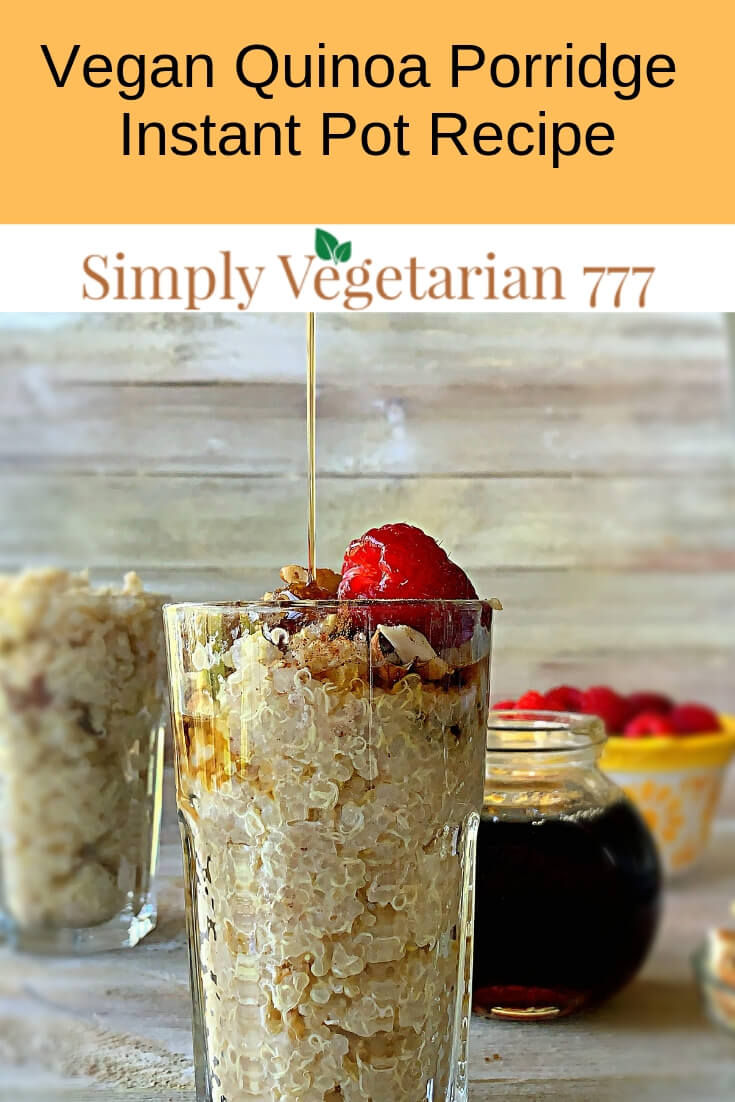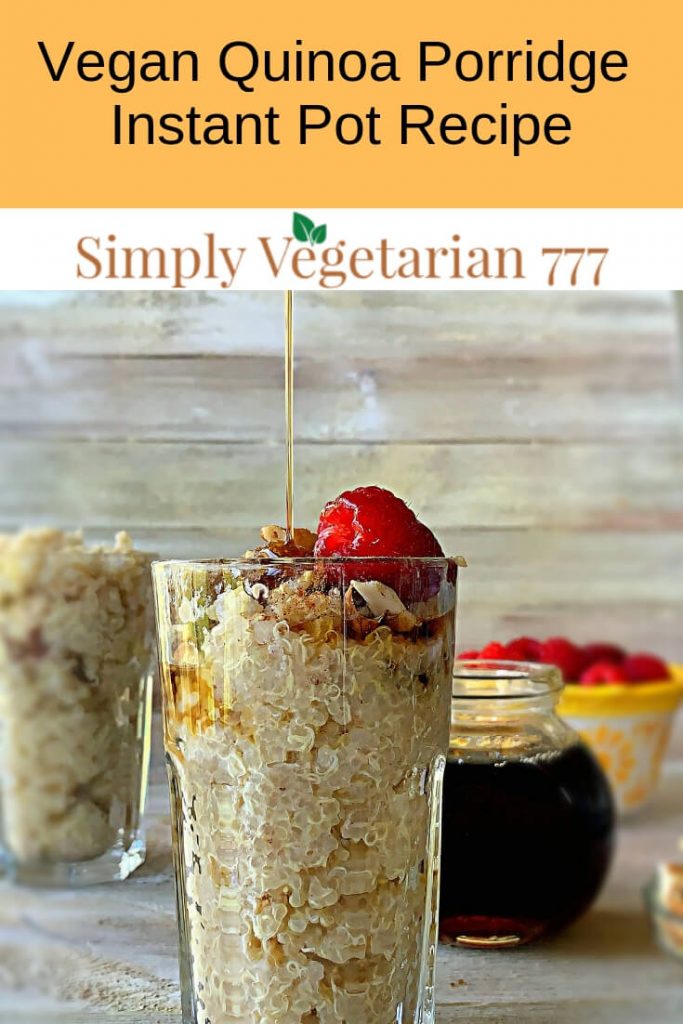 Simplyvegetarian777 INSTANT POT VEGAN RECIPES
Quinoa Burrito Bowl, Quinoa Mediterranean Salad, Tom Yum Soup, Red Thai Curry, Green Thai Curry, Thai Curry Noodles
Simplyvegetarian777 INSTANT POT VEGETARIAN COLLECTIONS
20 plus Instant Pot Vegetarian Mexican Recipes, 20 plus Instant Pot vegetarian Soup Recipes, 20 plus Vegetarian Pasta Recipes
Check this quick instructional video for the Vegan Quinoa Recipe
Instant Pot Vegan Quinoa Breakfast Porridge Recipe
Yield: 6
Vegan Instant Pot Quinoa Porridge Recipe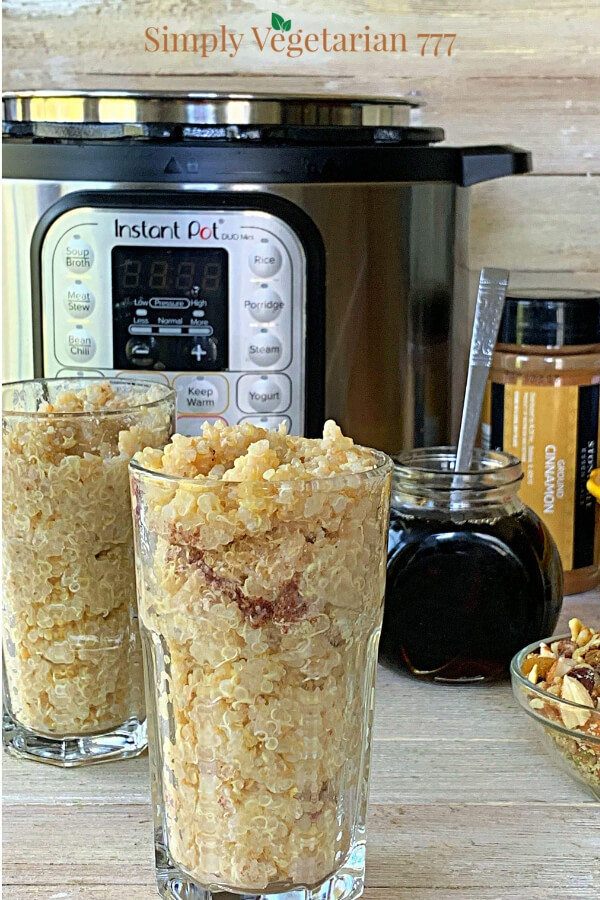 Learn how to make Easy & Quick Vegan Instant Pot Quinoa Porridge for easy breakfast or Dessert. Just 2 ingredients and done. Top with nuts & fruits of your choice and sweeten with Maple Syrup. It is the best thing.

Cook Time: 2 minutes

Total Time: 2 minutes
Ingredients
1 Cup Quinoa
3 Cups Almond Milk, unsweetened
Toppings & Garnishes
1/4 cup Maple Syrup, original
1 Tbsp Walnuts chopped, plain
1/2 Tbsp Pistachio chopped, plain
1 Tbsp Rasins
2 Tbsp Almonds chopped, plain
1/2 Cup Fresh Berries of Choice
Instructions
Place the inner pot inside the Instant Pot. Plug it in.
Wash the quinoa under running cold water till water runs clear. Set aside.
Place the washed quinoa and 3 cups of Almond Milk inside the Inner Pot. If you want slightly more liquid consistency, then add 5 cups of almond milk. You can also add more milk later once it is cooked to adjust the consistency to your liking.
Place the Lid and lock it to SEALING. Select the Pressure Cook/Manual Mode and set it on HIGH for 2 MINUTES.
Once the timer goes off, follow NPR. Once the safety valve drops down, open the lid carefully. You will get the porridge of THICK CONSISTENCY.
I liked this consistency. If you like little more runny porridge, then add more almond milk to it. Just warm the almond milk and add and stir. Use as required.
Top your Quinoa Porridge with Maple Syrup, Fresh Berries and Dry Nuts. Enjoy a hearty Breakfast. It is a perfect example of Dessert for Breakfast too.
Notes
You may choose to use any other plant based milk to make this Porridge. I prefer Almond Milk since it has no after taste or strong smell.
If you are not vegan or Lactose intolerant. then you may use regular Cow Milk as well.
You may use any kind of dry nuts to top this porridge.
Even any kind of fruits can be used in this porridge like banana, peaches, strawberries, mango etc.
You may make it Sugar Free and sweeten it with Splenda or zero sugar sweetener.
You may also use any other kind of sweetener if you do not like Maple syrup, like Honey, Agave, coconut syrup etc.
Recommended Products
As an Amazon Associate and member of other affiliate programs, I earn from qualifying purchases.
Nutrition Information
Yield 6 Serving Size 1
Amount Per Serving Calories 124Total Fat 4gSaturated Fat 0gTrans Fat 0gUnsaturated Fat 4gCholesterol 0mgSodium 21mgCarbohydrates 20gFiber 2gSugar 10gProtein 3g

I am not a Nutritionist. The numbers given are estimated. Please consult your Doctor for expert advise. You may use stevia or splenda to make it Sugar Free and skip the raisins.

Do not forget to share your feedback on my Facebook, Instagram, Pinterest & Twitter.

In my Kitchen you will always EAT HAPPY & STAY HAPPY!

Sonal