Instant Pot Mason Jar Cake from Boxed Mix
As an Amazon Associate and member of other affiliate programs, I earn from qualifying purchases.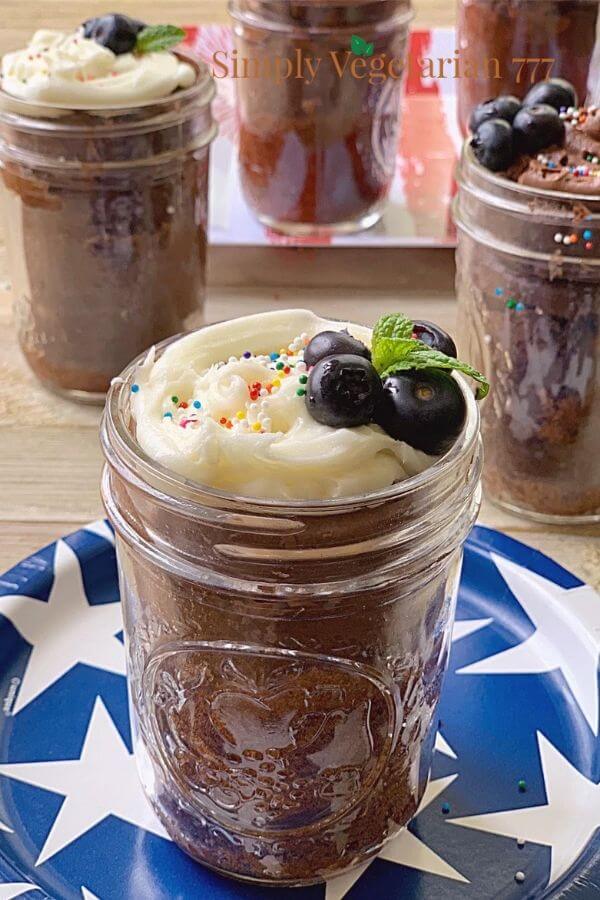 Instant Pot Mason Jar Cake is so easy to make and super moist in taste. Made from Boxed Mix, it is so easy to put together for any occasion. A small instructional video is attached for step by step understanding.
Important – Please scroll down towards the end for the complete recipe. In between, there are tips and other recipe related information shared. Although I recommend reading the whole post.
Subscribe today to get Easy and Delicious recipes directly in your mailbox. You can follow us on Facebook, Instagram, Pinterest & Twitter for regular updates.
Can't make it now? PIN MASON JAR CAKE for LATER.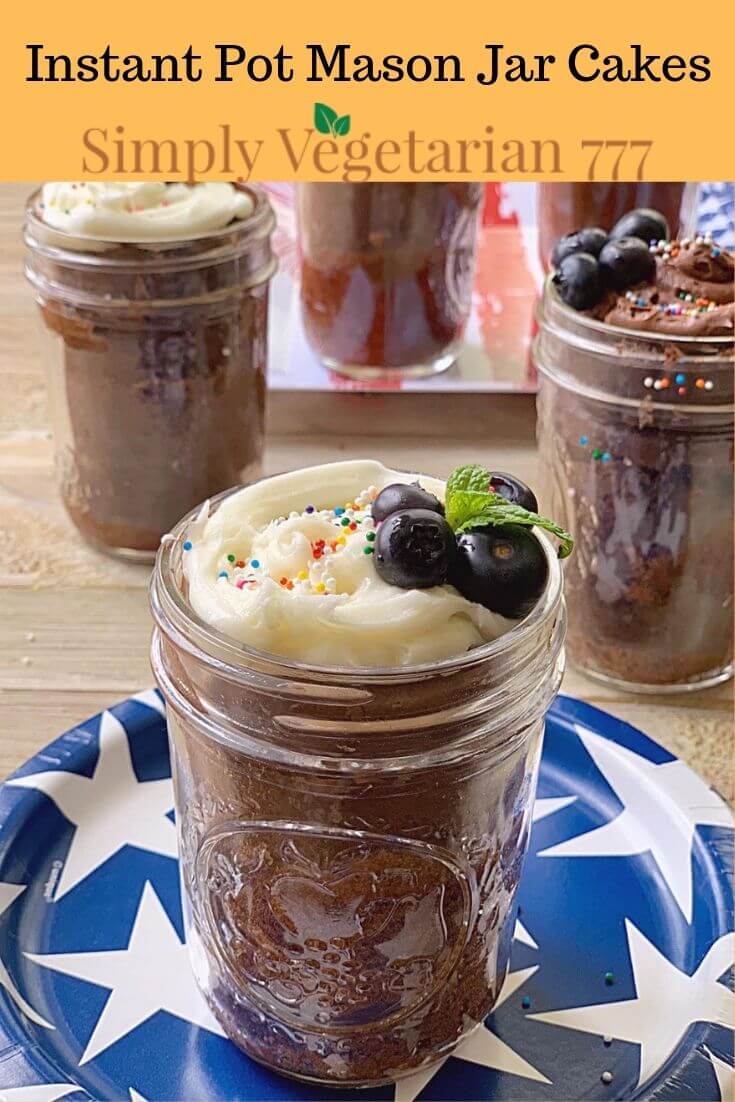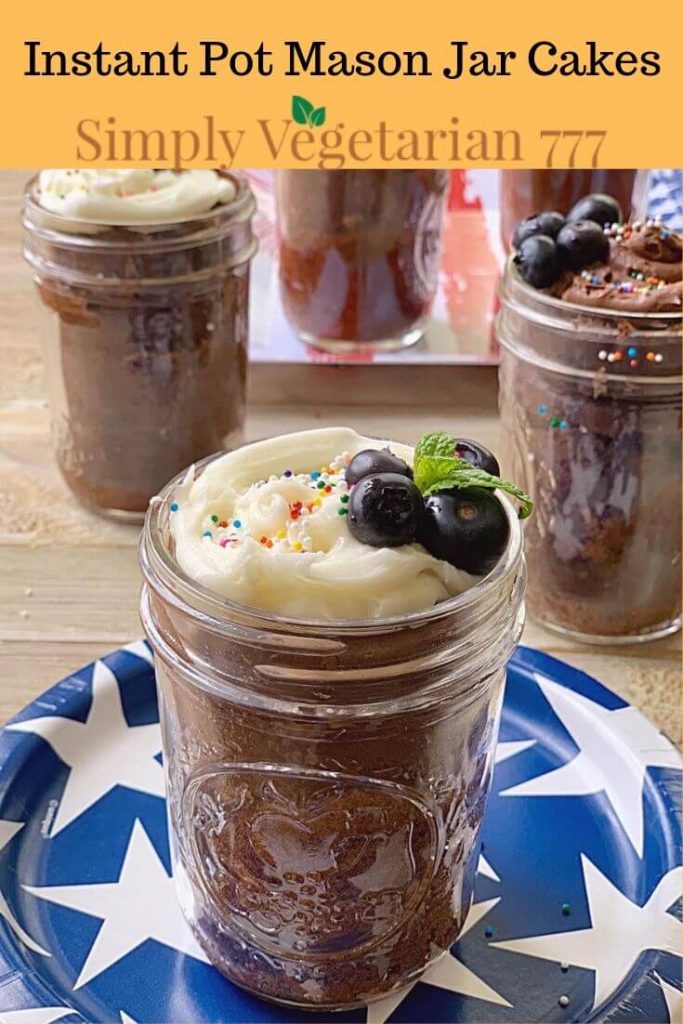 The Best Instant Pot Mason Jar Cake Easy Recipe
Summers are approaching with many hot days. And with that conking up the oven seems like a necessary evil for most of the times.
Baking doesn't stop. Does it? Kids still demand their cake every now and then. I love baking for them but that heat from the oven in summer……drives me crrrrazyyy. It takes the kitchen for ever to cool down.
Thanks to the Electric Pressure Cooker Technology that making Cake is such a breeze now. You get soft moist cake without heating up your kitchen.
I didn't believe in Instant Pot Desserts till I started making mine with success. Red Velvet Cake, Banana Bread, & Chocolate Cake, Funfetti/Confetti Cake are some of my delicious moist cakes made in Instant Pot.
It is a perfect dessert to share with family and friends on Memorial Day Long Weekend or 4th of July. I made it for our Memorial day Long Weekend.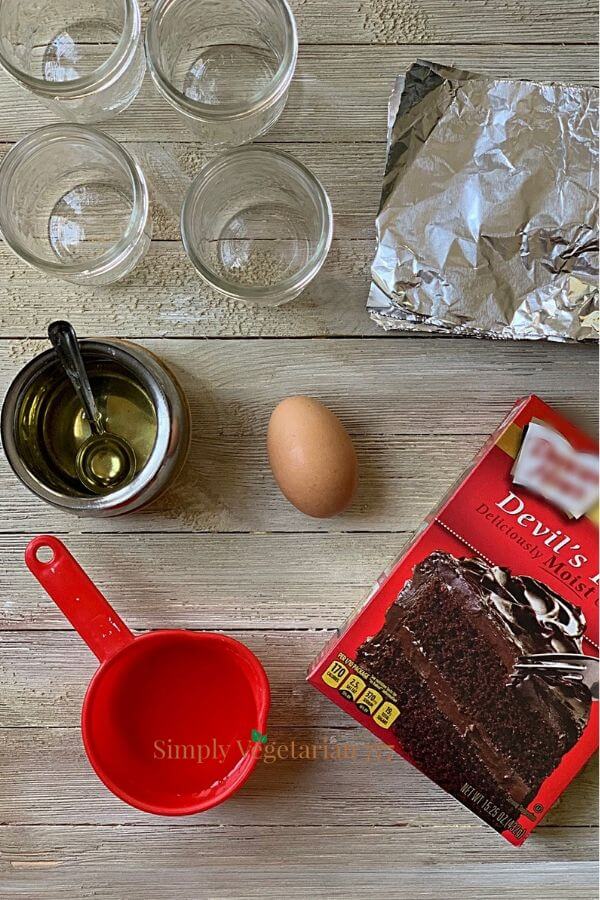 Ingredients for Jar Cake in Electric Pressure Cooker
Store Bought Boxed Cake Mix – I have used Duncan Hines Devil's Food Cake Mix. My guess is that this recipe should work great with any kind of Boxed Cake Mix.
Eggs
Water
Kitchen Equipment used in making Jar Cakes in Electric Pressure Cooker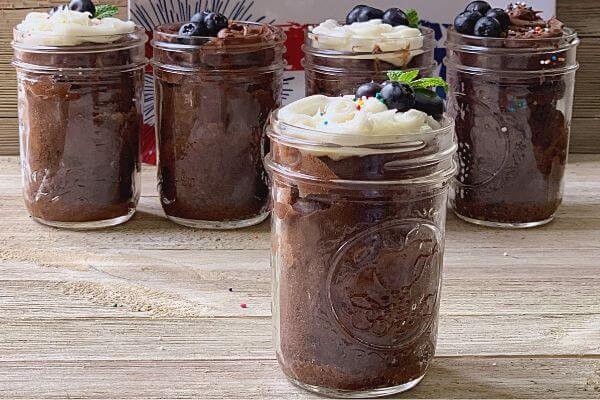 Reasons to make Cake in Instant Pot or Mealthy Multipot
Unlike the myth, you can actually make the CAKES IN INSTANT POT successfully. I didn't believe it either till I tried it myself. My reasons are fairly simple –
Since cooking in Instant Pot or Mealthy Multipot is really hassle-free & mess-free, it leaves more time on hand to spend with your family.
IMHO, it is a great tool on hot Summer days. Especially when Oven can be challenging on hot days, making cake in Instant Pot is fun, easy and doesn't heat up the house either.
It is Much more Energy Efficient too.
Unlike the myth, cakes made in electric pressure cooker are not dense or pudding like. They actually come out soft and moist.
Check out this INSTRUCTIONAL VIDEO showing how to make Jar Cakes in INSTANT POT.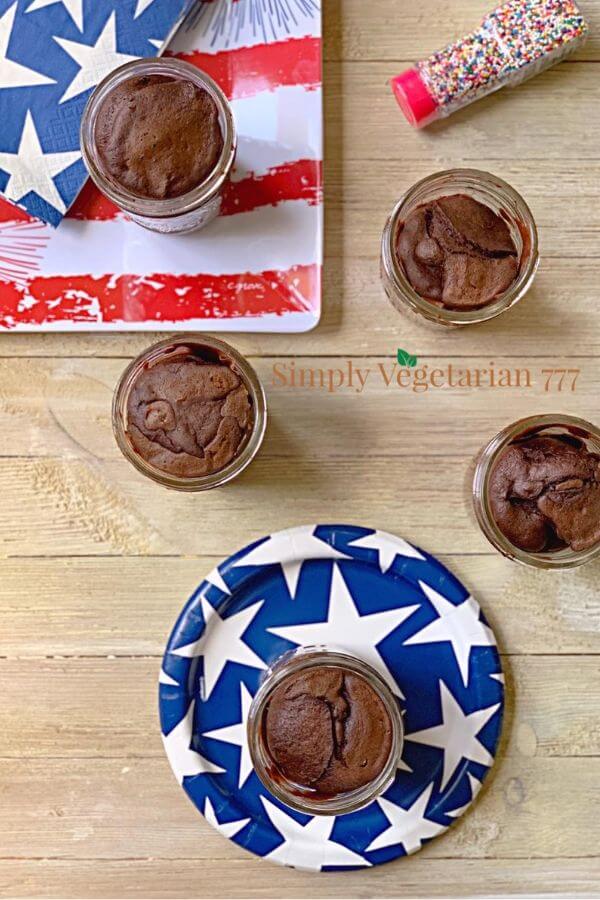 Tips to make Jar Cakes in Instant Pot or Electric Pressure Cooker
The Jars that you choose should be CANNING JARS, so that they can sustain the pressure built up in the Instant Pot while cooking.
I have used 8 ounce jars. This cake can be made in 4 ounce jars as well. The directions for 4 ounce are given in the recipe card below.
I have used DUNCAN HINES DEVIL's FOOD CAKE boxed mix. The instructions given shall work for any boxed cake mix like regular chocolate cake or confetti or vanilla etc.
The Boxed Cake Mix has about 3 cups of Cake Mix. I have always used 2 cups of cake mix for making IP cakes. The rest of the 1 Cup gets used in as QUICK MICROWAVE CAKE whenever kids demand it. Amazing, right? Will mention the instructions for that too in the Recipe Card.
You can easily bake it in the OVEN as well. Just follow the directions given at the back of the box. It is that simple.
You can easily make a regular BUNDT CAKE in Instant Pot with Cake Mix, using my CONFETTI CAKE RECIPE.
I have used Duncan Hines Vanilla and Chocolate Frosting to frost these cakes. You may frost these to your choice.
What do I do if I do not have Cake Button on my Electric Pressure Cooker?
In case you have a model that doesn't have the CAKE BUTTON on it, then this is what you do –
You follow the Recipe as is and MAKE THE CAKE ON PRESSURE COOK/MANUAL MODE on High Pressure Setting. The TIME remains the same as of Cake Mode. Check the complete recipe below for the details.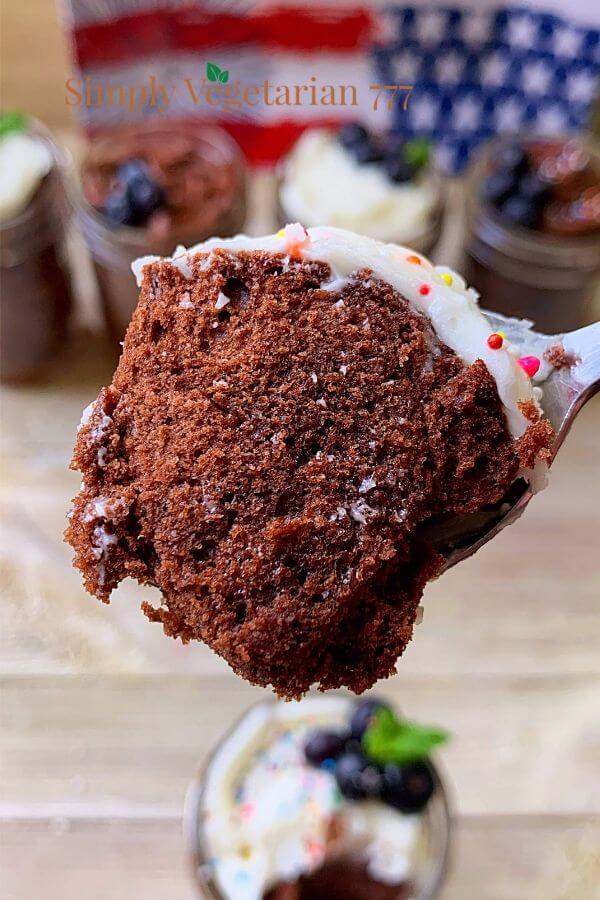 Simplyvegetarian777 Instant Pot Cakes
Red Velvet Cake, Chocolate Cake, Confetti Cake, and Banana Bread
Check out my Popular Collection of Eggless Bakes
Simplyvegetarian777 Popular Vegetarian Instant Pot Recipes
Chana Masala, Madras Lentils, Saag Aloo, Red Thai Curry, Green Thai Curry, Taco Soup, Tuscan Soup, Vegetarian Tikka Masala, 3 Ingredients Refried Beans, Spicy Mexican Pinto Beans and more.
Instant Pot Mason Jar Cake Recipe
Instant Pot Mason jar Cake
A delicious cake made in Instant Pot from the boxed mix. Easy & Super Moist.
Ingredients
2

Cups

Devils Food Cake Mix

I used Duncan Hines. You may use any. Also you may use any kind of cake mix like vanilla etc.

2&1/2

Tbsp

Cooking Oil

2/3

Cup

Water

room temperature

2

Eggs

preferably room temperature
Toppings
Vanilla Frostig

Duncan Hines

Chocolate Frosting

Fresh Fruit of Choice

Sprinkles
Instructions
CHECK OUT THE COMPLETE VIDEO POSTED IN THE POST FOR BETTER UNDERSTANDING.

Place the inner pot inside your 6 quart or 8 quart Instant Pot. Plug it in. Place Trivet inside the Inner Pot. Pour 2 cups of water inside the inner pot. Press Saute and set on High. Warm up the water till it starts steaming. Then cancel when it steams. This speeds up the process of bringing the IP on pressure. Meanwhile work on the Cake Batter.

Now distribute the batter evenly in 5-6 Jars. I used 5 Mason Jars But I could have easily used 6 as well.

IMPORTANT - Do not fill more than 2/3 of the jar. You would be actually filling sligjtly less than 2/3rd of the jar for enough room for the cake to rise.

Cover the mouth of the Jars with Aluminum Foil. Now carefully place these jars on the trivet inside the Instant Pot. Set them closely next to each other. A 6 quart IP can easily accomodate 6 jars of 8 ounce on a trivet.

Now place the lid of the IP and lock it to SEALING. Press the CAKE BUTTON and set it for 22 minutes on Normal cake and High Pressure. And if you do not have Cake Mode on your Electric Pressure Cooker, then select the Manual/Pressure Cooker Mode and set it on High. The timing will remain the same.

Once the timer goes off, follow NPR (natural pressure release). As the safety valve drops, open the lid. Take out the Mason Jars carefully. Place them on the counter. Remove the foil. Let it sit down till it cools down. Your mason jar cakes are ready.

Once these cool down enough at the room temperature, frost these vanilla or chocolate frosting. Place some berries. Add some sprinkles. Enjoy with the family.
How to make Jar Cakes in 4 ounce jars?
The process for 4 ounce remains the same. You will use 10-12 canning jars of 4 ounce each. Fill these with cake batter till 2/3rd of it. Cover with foil and stack them carefully. You can probably make 10-12 jar cakes for 4 ounce.

Make these 4 ounce cakes in jars for about 12 minutes. Follow NPR and then follow as stated above for 8 ounce jars.
What should I do with leftover 1 cup Cake Mix?
Use the remaining 1 cup of Cake Mix to make MICROWAVE CAKE. I do it all the time.

Take the 1 cup Cake Mix and add 1 egg + 1 tbsp Cooking Oil + 3 tbsp Water to it. Blend till smooth for about 1 minute. Grease a small 6x4 inch PYREX BOWL. Add batter to it. Microwave in high for about 2 minutes. Check for doneness in the middle. If required, then microwave further for 30 seconds at a time till done. It should take somewhere between 2&1/2 to 3 minutes. It gives the best SOFT & SPONGY MICROWAVE CAKE.

you try this recipe, then please share your feedback on Facebook, Instagram, Pinterest, Twitter.
Or Leave your feedback under comments section. Also do not forget o rate the recipe if you like it.
In my kitchen, you will always EAT HAPPY & STAY HAPPY.
Sonal