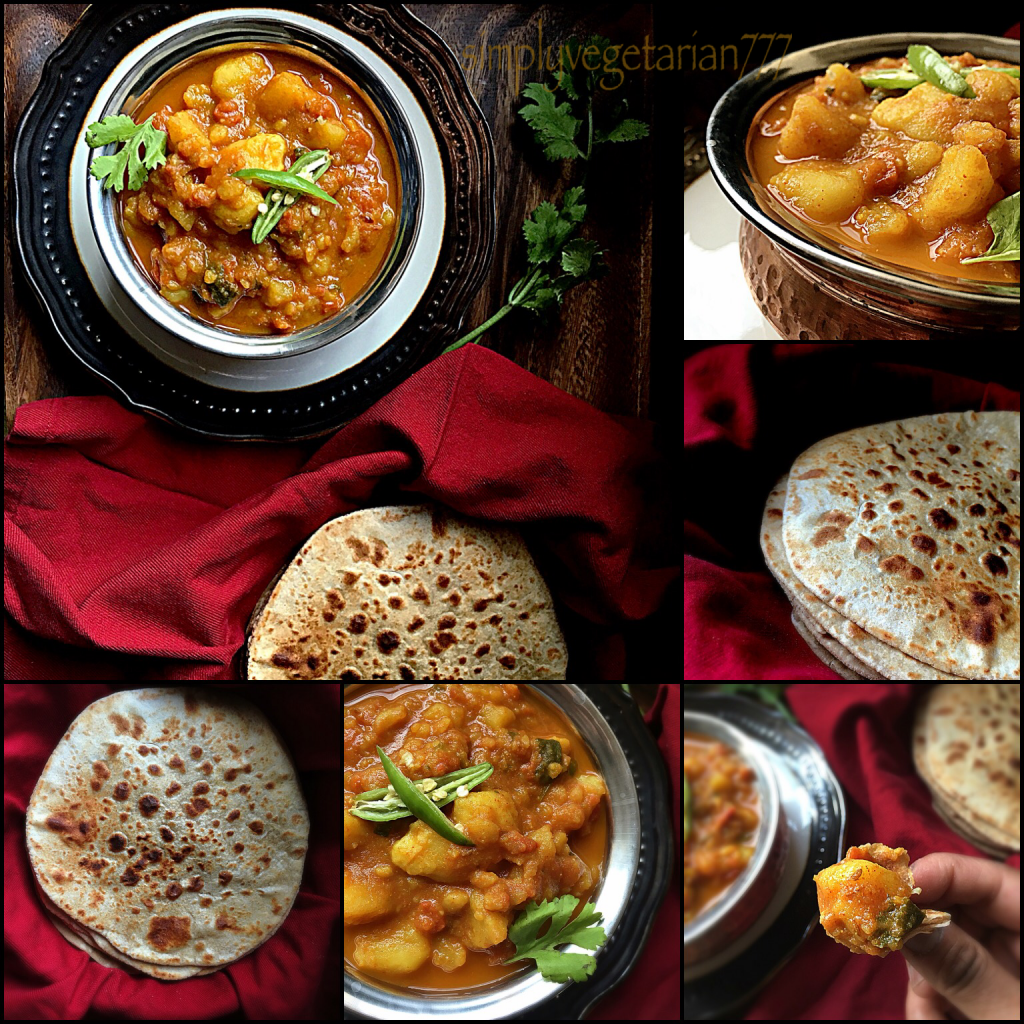 Are you drooling yet? NO? Well see some more then :). It is one of the most common food affair in the households of Uttar Pradesh. A no garlic and no onion recipe, which is just bursting with flavors and so easy to make with only few ingredients.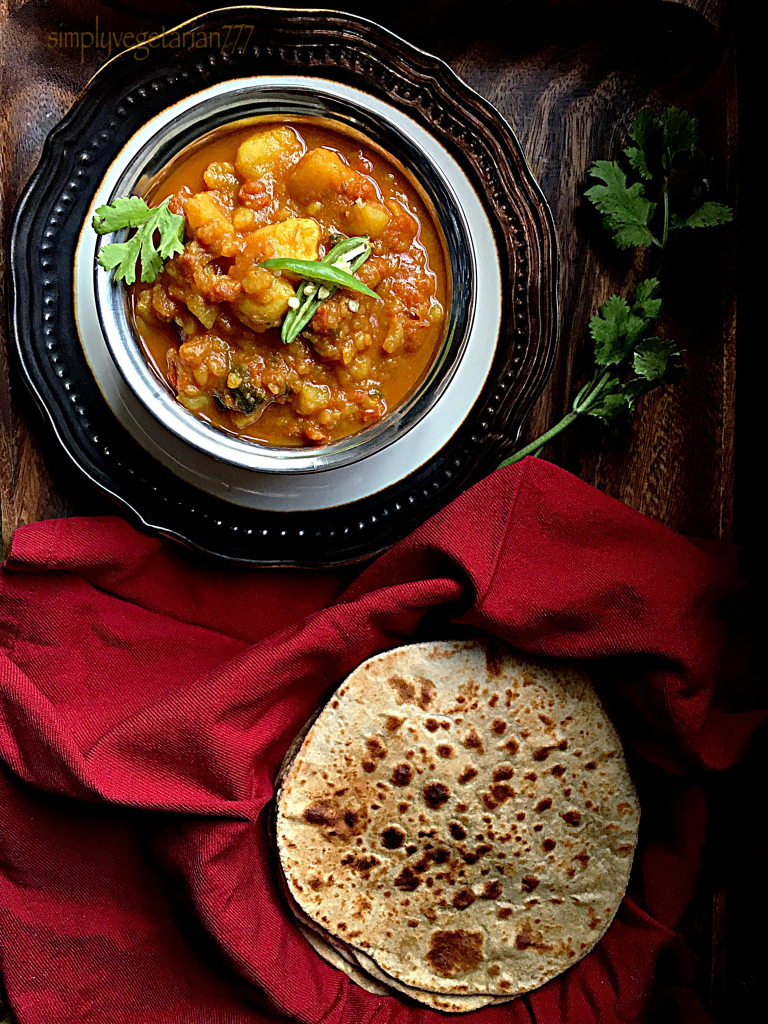 It is funny that where the rest of the Indians yield for soft rotis and paranthas, the UP-walas want their rotis karari (crispy) and paranthas khasta (flakey and crispy). Actually khasta is a word which can be described by lot of textures at the same time. Flakey like pie but crispy at the same time.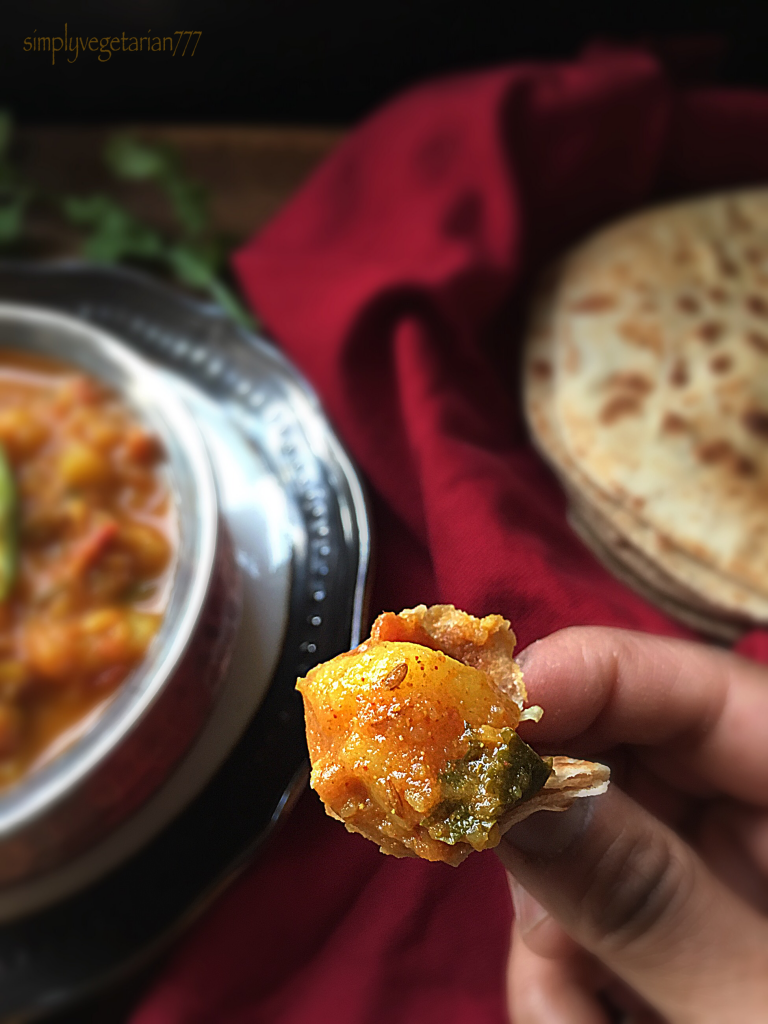 Aloo is Potato and Tamatar is Tomatoes. A very simple, basic yet delicious dish, so commonly made in Indian homes. Aloo Tamatar ki sabzi is childhood for me. Mum made it often, especially when there were no other vegetables at home. The food cooked in my mom and dad's home was often garlic and onion free since my grandmother would not eat it. This was also made at the last minute when we had unexpected guests.
Taking it to Angie's Fiesta Friday, co-hosted by Mila and Kaila. I hope you all will enjoy it as much as my family did!❤️
This is how I make it at home!

UP style Aloo Tamatar ki Sabzi
Servings: 4
Difficulty: easy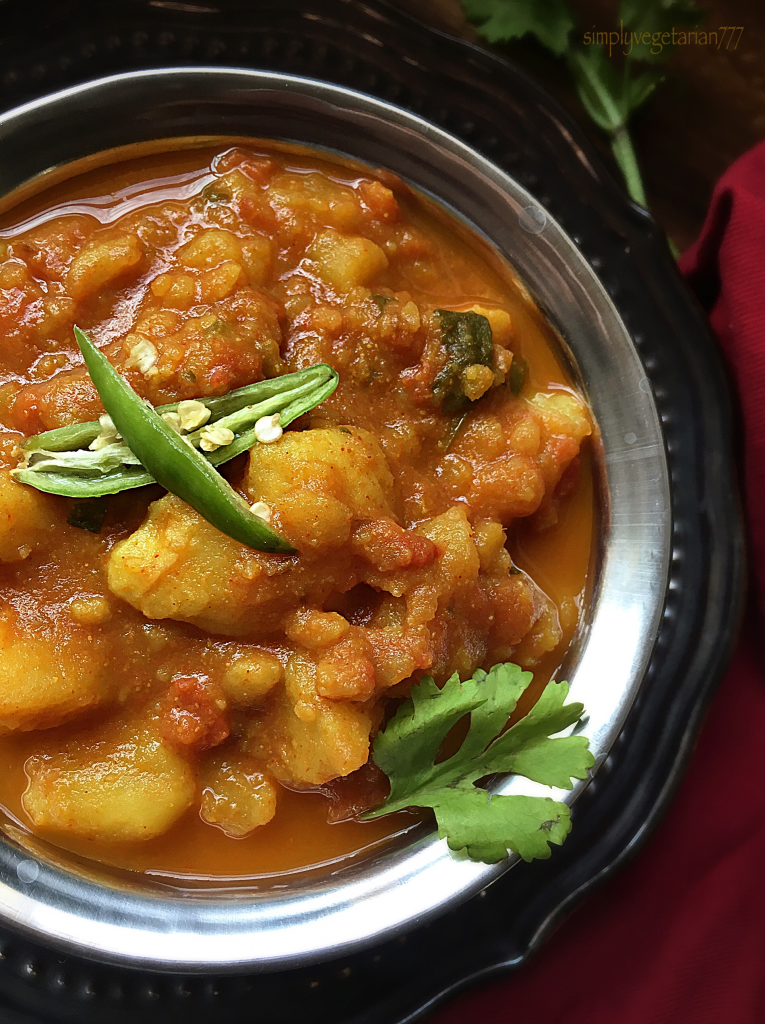 Kitchen Equipments Required
Chopping board, knife, a non stick pan or heavy bottom pan with lid, stirring spoon.
Ingredients
Potatoes – 2&1/2 cups, boiled and mashed coarsely with hands into uneven pieces
Tomatoes – 1&1/2 cups, chopped fine
Ginger – 1/2 tbsp, grated fine
Green Chili – 1, small, chopped fine
Coriander/Cilantro leaves – 1 tbsp, chopped fine
Oil & Spices
Oil – 1 tbsp.
Cumin seeds – 1 tsp
Coriander powder – 1 tbsp
Turmeric – 1/2 tsp
Red chili powder – 1/4 to 1/2 tsp, as per taste
Dry mango powder / Khatai – 1/2 tsp
Salt – to taste
Water – 2 cups
Method
Heat oil in the pan. Add cumin seeds and lower the flame. Once the cumin seeds crackle, add ginger and chili to the pan and saute for few seconds.
Now add chopped tomatoes to the pan. sauté for a minute on medium flame. Add turmeric, coriander powder, red chili powder and salt. Stir well. Lower the flame. Cover with lid. Let it cook for 5 minutes till tomatoes are all mushed.
Now add coarsely crushed potatoes to the tomatoes along with khatai and coriander leaves. Give a nice stir and cook on high flame for 2 minutes.
Add water. Adjust the salt if needed. Bring it to a boil. Lower the flame to medium. Cover with lid. Let it cook for 7-8 minutes.
Garnish with some coriander leaves and serve with some khasta paranthas. Recipe given below.
Paranthas are shallow fried flat breads which are made with out leavening. There are various kinds of paranthas. This is more crispier and flakey version.
Khasta Paranthe
Servings: 4
Difficulty: Medium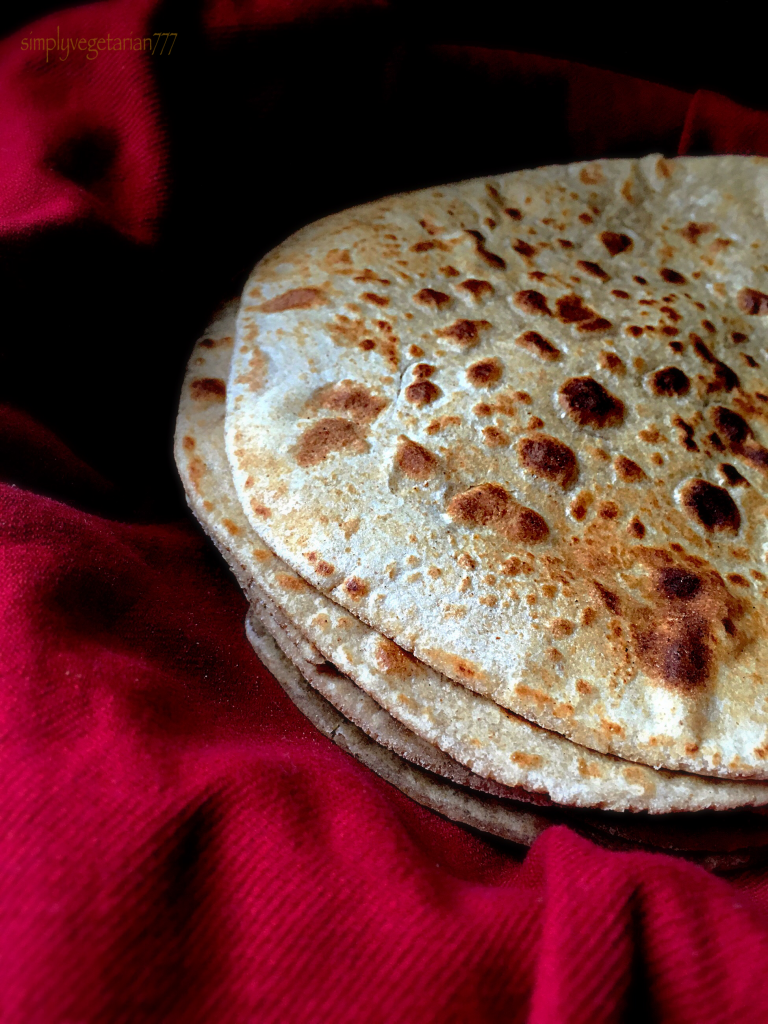 Kitchen Equipments Required
A broad mouth bowl for kneading the dough, a cup for water, a plate to cover the resting dough, rolling pin, rolling board or clean counter, a flat griddle or flat pan, flat spatula, a bowl for oil, a spoon to spread the oil.
Ingredients
Whole wheat flour – 2 cups + 1/2 cup for rolling
Water – 1 cup + 2 tbsp
Salt – 1/2 tsp
Oil – 1 tbsp + more for shallow frying
Method
Refer to the pictograms attached at the bottom for more clarity.
1. Making the Dough
Take a broad bowl. Add 2 cups flour to it and mix salt in it. Make a well in between and add 1 tbsp oil in it. Mix well with the flour. Now add little water at a time and bring the flour together to a tight dough. We do not want a soft dough at all. It needs to be tight. When the dough is formed. Leave some wet marks on it. Cover it and leave for 5 minutes. After 5 minutes, get back to the dough and knead it well for 5 minutes using your heel of the palm for stretching and fingers to fold it back. a regular kneading motion for any bread. This is crucial for the gluten formation in any bread. Cover the dough and let it rest for 15 minutes. When ready, knead again for a minute and get started.
2. Preparing for the Paranthas
Pinch large lemon size balls from the dough. Roll them tight between palms. Flatten them slightly and set aside, covered. In the meantime, heat the griddle or pan or tawa to high. Set the rolling board, rolling pin, a bowl with 3 tbsp oil with spoon in it. Also set a plate with paper napkins to keep the cooked paranthas.
3. Making the Paranthas
a. Take one flatten piece of dough. Roll it in the dry flour. Put it on the rolling board. Roll it into 3 inches disc.
b. Dab a little oil in the middle of the disc. Now bring the sides towards the center closing it in a flat disc again.
c. Dab it in the dry flour again. Roll out a 5-6 inches wide disc with rolling pin. Do not apply more dry flour. Do not roll it too thin.
d. Lower the heat of the pan to medium high. Pick the rolled out disc and place it on hot griddle with face side down.
e. Let it cook on medium heat for 1&1/2 minutes. Flip it with flat spatula. Apply 1/2 tsp of oil to the top and spread it out gently. Press with the spatula and cook for another 1 minute on medium flame.
f. Flip it again. Apply 1/2 tsp oil to this side now and spread it with spoon. Press it down with spatula and cook on low heat for about 1 minute.
g. Flip for the last time. Roast it on slow flame for another minute while pressing down with flat spatula.
The khasta Parantha is ready. The more oil you apply, the crispier and flakier it will be.
Pictogram 1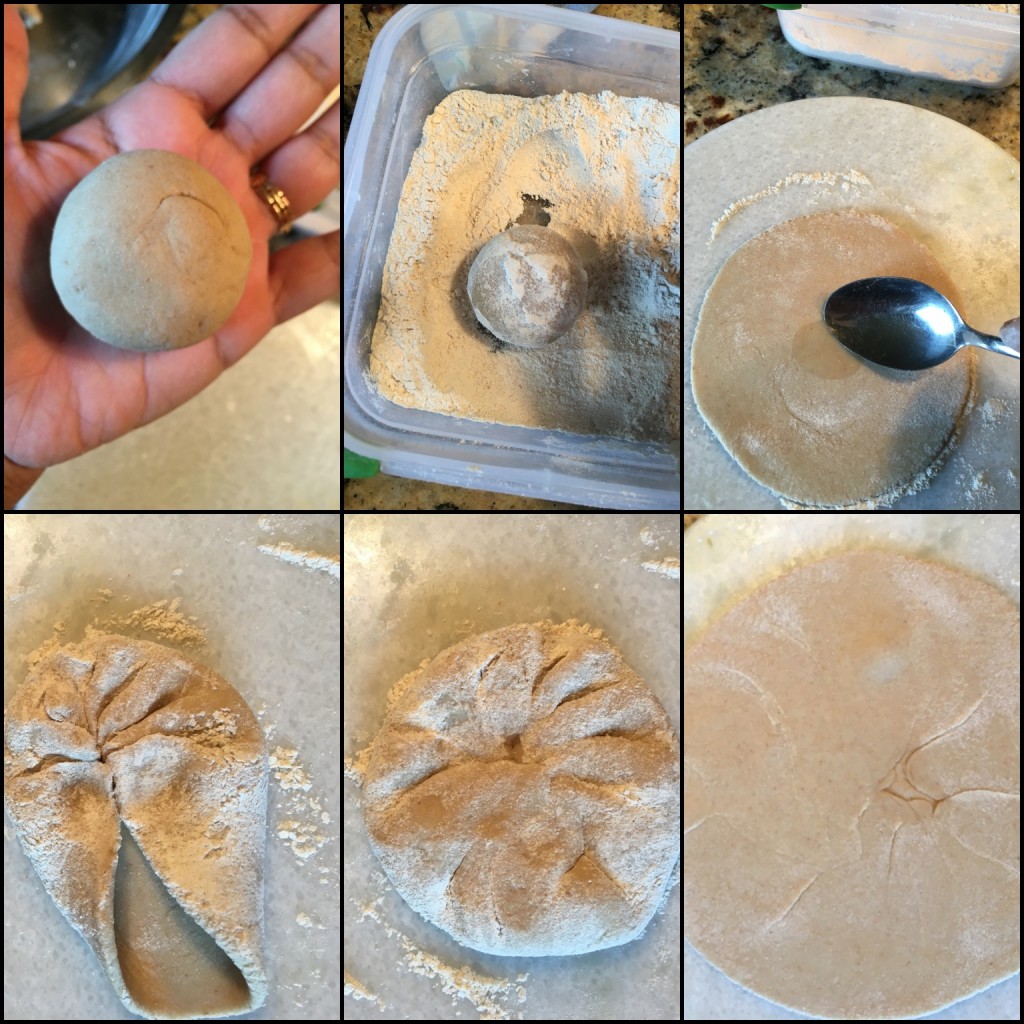 Pictogram 2
Make it for the family and friends this weekend and enjoy some delicious Mere ghar ka khana in yours :).
Sonal