Instant Pot Pizza Dough Recipe Easy
As an Amazon Associate and member of other affiliate programs, I earn from qualifying purchases.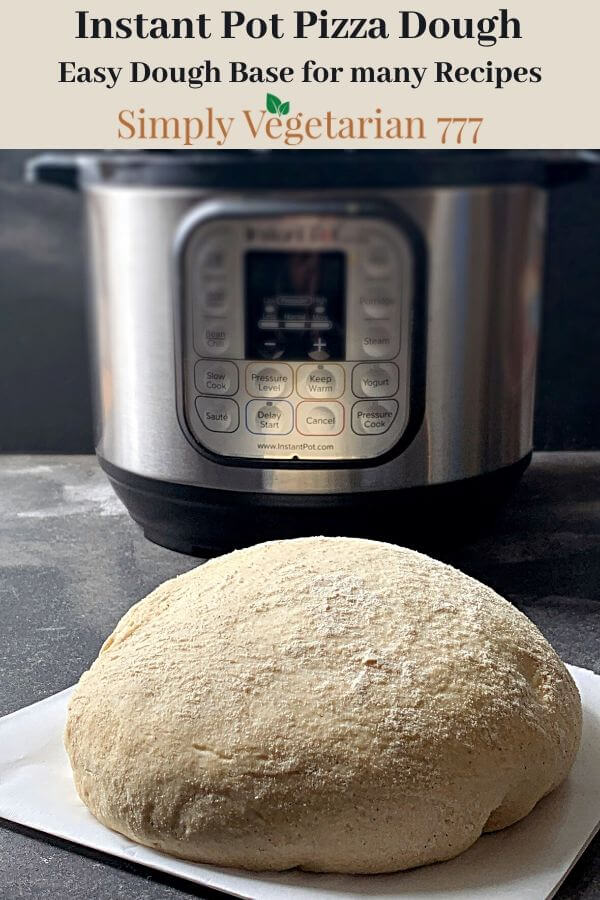 This Instant Pot Pizza Dough Recipe is super easy and fail proof. It has a quick prep & rise time and is perfect for Family Pizza Night.
Detailed Video is included in the Post.
Important – Please scroll down to the end of the post for COMPLETE DOUGH RECIPE. In between, I have included tips & other information regarding the recipe.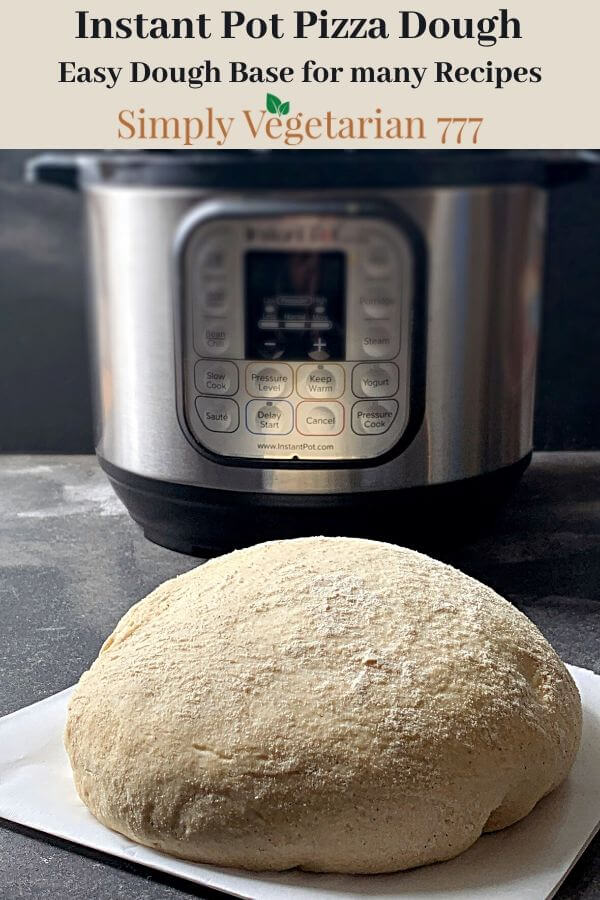 Easy Instant Pot Pizza Dough Recipe – Vegan Dough
Since I have been making pizza dough from scratch for almost 6-7 years, I don't know what took me so long to post it. Finally, it is here now.
Most importantly, this recipe is a fail-proof recipe. It works the best for my family. So much so, that the fam-jam loves the crust made out of this dough. IT IS JUST PERFECT.
Have you checked our Instant Pot Focaccia Bread and Instant Pot Dinner Rolls Recipe yet?
Another important thing that I forgot to mention is that I use this recipe as a base for many other recipes.
Here is a list of other things that I have used this recipe to bake some deliciousness.
These recipes need only single proof.
Focaccia Bread and Focaccia Rolls
Perfect for Pita
Calzone
Thin Crust Pizza or Thick Crust Pizza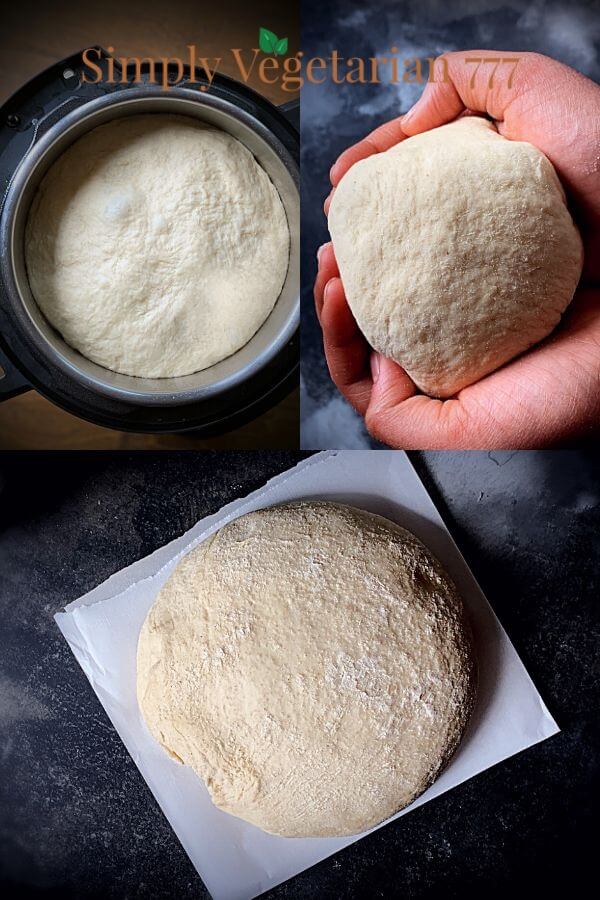 Ingredients of Pizza Dough
Since it is a fairly easy recipe, it requires only few ingredients.
Luke Warm Water between the temperature 105*F – 115* F
Why should I use Instant Yeast? Can I use Dry Active Yeast?
Since there is no strings attached to Instant Yeast, I love using it. There is no blooming needed and you can add it directly to the flour with other ingredients.
If you have been using Dry Active Yeast in your bread baking recipes, then go for it. First bloom it in lukewarm water with sugar in it. Once it bubbles up, it is ready to be used.
IS YEAST VEGAN?
Yeast is a single celled organism that is classified as a fungus. That makes YEAST 100% VEGAN. If you can eat mushroom as vegan, then you can easily consume Yeast.
WHAT IS THE BEST TEMPERATURE TO WORK WITH YEAST?
The Yeast acts best at the lukewarm temperature which is 105-110*F. I highly recommend keeping this under 10 bucks KITCHEN THERMOMETER at home. It comes very handy for all your kitchen needs where the temperature of the liquid matters.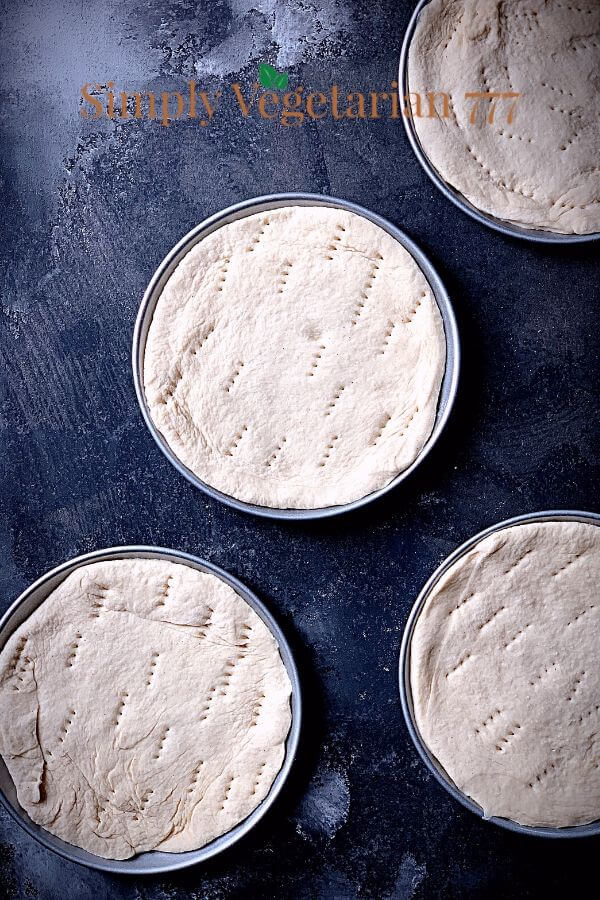 Kitchen Gadgets used in the Recipe
To Proof the Bread – Although, I used my MINI DUO 3 QUART INSTANT POT to proof the dough. You may use 6 quart Instant Pot. Or You can easily make it in MEALTHY MULTIPOT as well. This recipe works with the IPs with yogurt button. See below for options if you do not have Instant Pot.
If you would like, you must check out Mealthy Crisp Lid. It works as an air-fryer and broiler over your 6 quart lid of IP as well.
Kitchen Thermometer – I highly recommend to use it. Rather you must have it in your kitchen if you are a cooking enthusiast. I have this and this one is really cheap and works as efficiently. Of course you can buy an expensive one too. If you do not want to use a kitchen thermometer, then the simple test is – put your finger in the lukewarm water and if you can keep it inside till the count of 5, it is good to go.
Kitchen Aid Stand Mixer with Hook Attachment – I love using mine on daily basis and would highly recommend it. You may use this Cuisinart electric stand mixer with the dough hook attachment. If you do not have one, then use your hands to knead.
Set of 4 Pizza Baking personal pans or Pizza Baking Sheet or Rectangular Pizza Pan or use simple Baking Sheets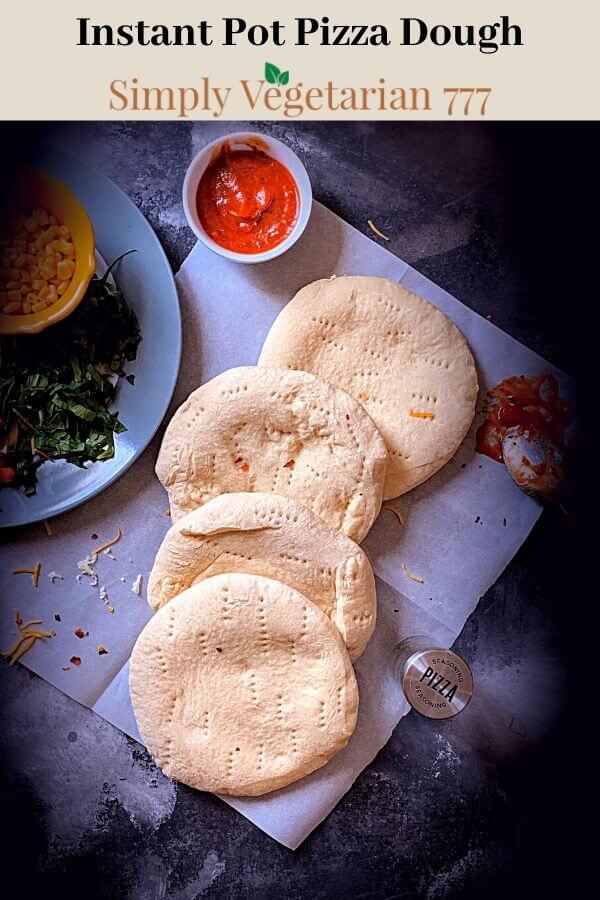 Few Tips & Info for Home-made Pizza Base
You can make the pizza dough by kneading it for good 10 minutes by hand or 5-7 minutes in standing mixer. As a result you will have a nice chewy & light texture of the pizza base.
Also, you can make the pizza dough without kneading. Just mix, gather & rise. But, in return the texture will be different. It will be dense. It will still taste good.
Though I love using Instant Rise Yeast, but it does not mean that you can not use the active dry yeast. Use whichever is handy. Since Instant Yeast is easy to use, it is added directly to the flour. On the other hand, you have to bloom/activate the Active Dry Yeast with lukewarm water and sugar.
Always remember to fork the pizza base thoroughly before baking so that it does not fluff up like PITA.
It is good to have a Pizza dough that is slightly tight and easy to roll.
Water should always be between 105* – 115*F.
This recipe gives enough dough to make either 4 PERSONAL PAN PIZZA (6 inches) that are thick crust like Pizza Hut. Or you can make 6-8 thin crust pizza. Basically, you can take out as many pizza as you want from this dough, depending upon the thickness and the size.
Use the same dough to make CALZONES. Roll, stuff, seal and bake.
I have made Pizza base using the whole wheat flour with the same method and it works really well. The water to flour ratio will differ.
The best part is to enjoy the baking process. It is a great joy and therapy.
How to Proof the Bread if I do not have Instant Pot or Yogurt Button on it?
If you do not have Instant Pot to proof the bread, you can easily proof the dough without it.
Take a steel or glass container and make dough in it. Cover with a damp cloth/kitchen towel and place a lid. Place it in the warm spot of your kitchen. Closed oven is the best bet. Wait for 2-3 hrs till it doubles up. And then follow the instructions as mentioned above.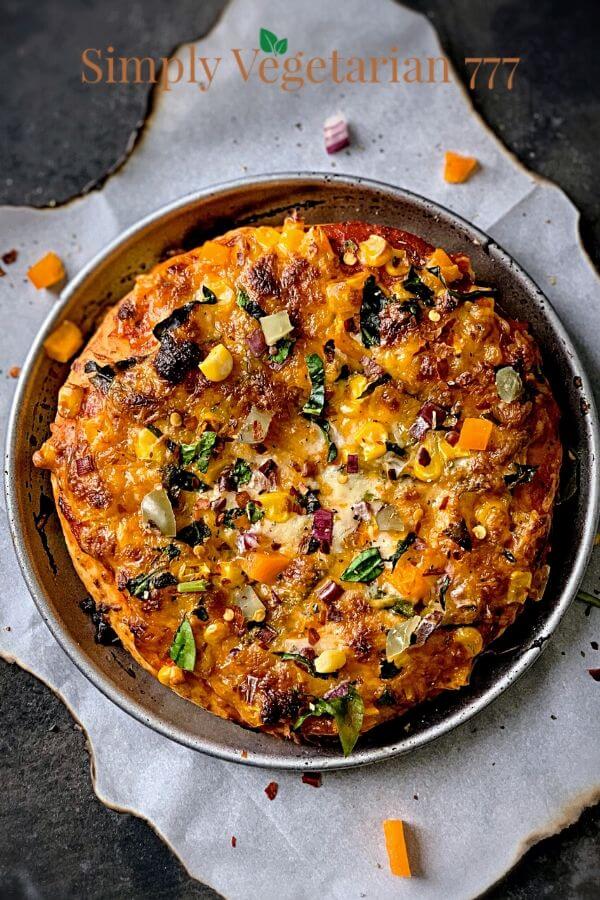 Simplyvegetarian777 IP Vegan Recipes
Focaccia Bread, Dinner Rolls, Mexican Pinto Beans, Burrito Bowls, Red Thai Curry, Kung Pao Spaghetti and more.
Simplyvegetarian777 IP Desserts
NYC Cheesecake in Jar, Chocolate Cheesecake in Jar, Red Velvet Cake, Pumpkin Cheesecake and more.
Instant Pot Pizza Dough Recipe Video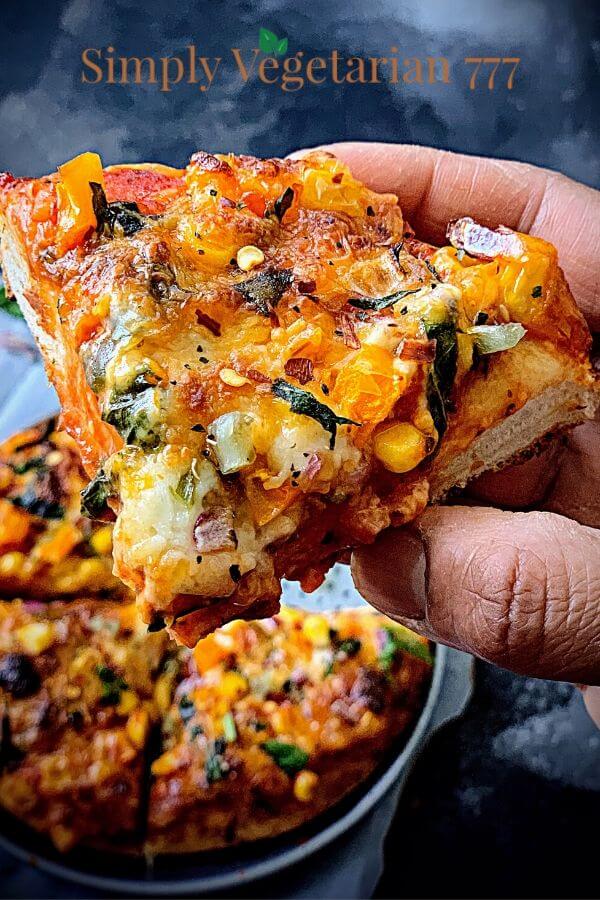 How to make Pizza Dough in Instant Pot?
Yield: 4 Personal Pan Pizza Base
Instant Pot Pizza Dough Recipe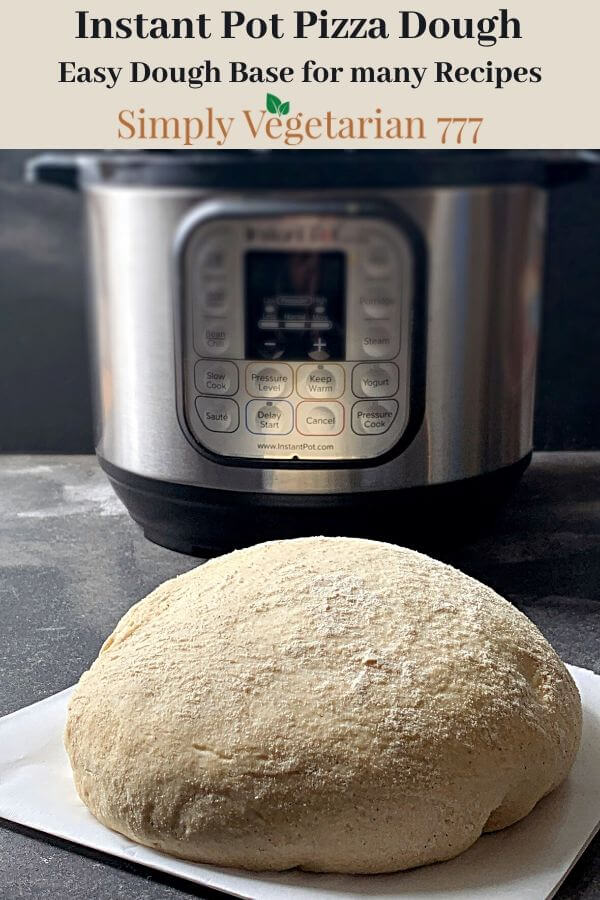 An easy recipe to make Pizza Dough at home in your Instant Pot. Fool proof and fail proof Pizza dough to bake at home.

Prep Time: 1 hour 30 minutes

Cook Time: 10 minutes

Total Time: 1 hour 40 minutes
Ingredients
3 cups All Purpose Flour (plus 2-3 tbsp more)
1 tsp Salt
1 tbsp Sugar
1 packet / 7 grams Instant Yeast
1 cup Luke-warm Water (105*-110*F)
2 + 1/2 tbsp Olive Oil
Instructions
WATCH THE VIDEO ATTACHED FOR BETTER UNDERSTANDING.
Prepping for the Dough
Firstly, Warm up the water between the temperature 105*-110*F. Check it with the Kitchen Thermometer. Then add olive oil to it and Set aside.
Now take your standing mixer bowl (Kitchen Aid or any other) and add Flour, Salt, Sugar + Instant Yeast to it.
Place the bowl on your electric mixer and mix the flour with other dry ingredients using the dough hook. Keep the speed at 2.
Add the lukewarm water with oil in it to the flour. Keep the speed at 6 and knead the dough for about 5-7 minutes till it combines and make a smooth ball of dough.

What if I do not have Electric Standing Mixer?
If you do not have electric standing mixer, then you prepare the dough with hands. Knead the dough for about 10 minutes with stretching and gathering motion.
Proofing the Dough in Instant Pot
Now lightly grease the inner pot of the IP using your hands. Gather the dough and tuck it in from all the sides.
First place the dough inside the inner pot. Then plug in the IP and close the lid. Set the Valve to SEALING.
Press YOGURT BUTTON and set it at 1:00 hour at Normal Mode.
Once the timer goes off, open the lid. You will notice that the dough has risen up to its double quantity or more.

What if I do not have Yogurt Mode on my IP?
If you do not have yogurt mode on your IP, then proof the dough in a warm place for about 2 hrs or till it doubles in size. Cover the bowl with a damp paper towel and place a heavy lid on it.
Preparing & Baking the Pizza Base

PREHEAT THE OVEN AT 425*F.

Firstly flour the surface of your clean kitchen counter lightly. Then dump out the proofed dough onto the surface. Gently press it down and roll in the flour.

Size & Thickness of Pizza Base - Now you may either divide it into 4 equal parts like I did, to make thick crust PERSONAL PAN PIZZA of 6 inches each. Or you can divide the dough into 6-8 parts for thin crust pizza. Furthermore, you can use the whole dough to create one large baking sheet size rectangular pizza. Choice is yours.

Rolling Pizza Base - First, roll each part into a ball. Then Roll them out into circular discs. If you are using the personal pan pizza sheets, then place the rolled out pizza base on these sheets. Fork it through out the base so that it does not puff while baking.
Baking the Pizza Base
Place the pizza base inside the oven for baking. Bake it for 5-7 minutes each till it puffs up slightly. We are not looking to bake it completely or brown it. The idea is to create a soft base where the raw-ness of the dough is gone. Take it out once it is baked slightly.

The above is the timing for a thick crust small pizza. If you are making thin crust pizza, the timing will vary from 4-5 minutes. For a large pizza, time will increase to 7-8 minutes.

If your pizza dough is sticky, then spread some flour at the base of your baking sheet before placing the pizza base on it.
Making Pizza
The Pizza base is ready to be baked further with your favorite toppings.

Splatter some pizza/pasta sauce on it. Add some of your favorite toppings. Sprinkle cheese. Bake at 400*F till cheese melts and the crust gets slightly golden at the sides. It takes about 10-12 minutes. I like to broil mine towards the end for 1 minute to get that charred and crispy taste & texture.

We made Veggie Supreme Pizza for the family.
Storing the Pizza Base
You can prepare the base in advance. Once it cools down to the room temperature, store in an air tight container or ziplock and refrigerate till ready to use.

It stays good for about 1-2 weeks if stored properly.
Nutrition Information
Yield 4 Thick Crust Pan Pizza Serving Size 1
Amount Per Serving Calories 389Total Fat 4gSaturated Fat 1gTrans Fat 0gUnsaturated Fat 3gCholesterol 0mgSodium 587mgCarbohydrates 75gFiber 3gSugar 3gProtein 10g

The provided nutrition information is an estimate. Please confirm with your doctor or nutritionist before attempting this recipe if you are on a special diet.

I am sure you are going to try this recipe soon. Please share your feedback in comments section if you try it.





Sonal