Mint and Garlic Butter Naan
As an Amazon Associate and member of other affiliate programs, I earn from qualifying purchases.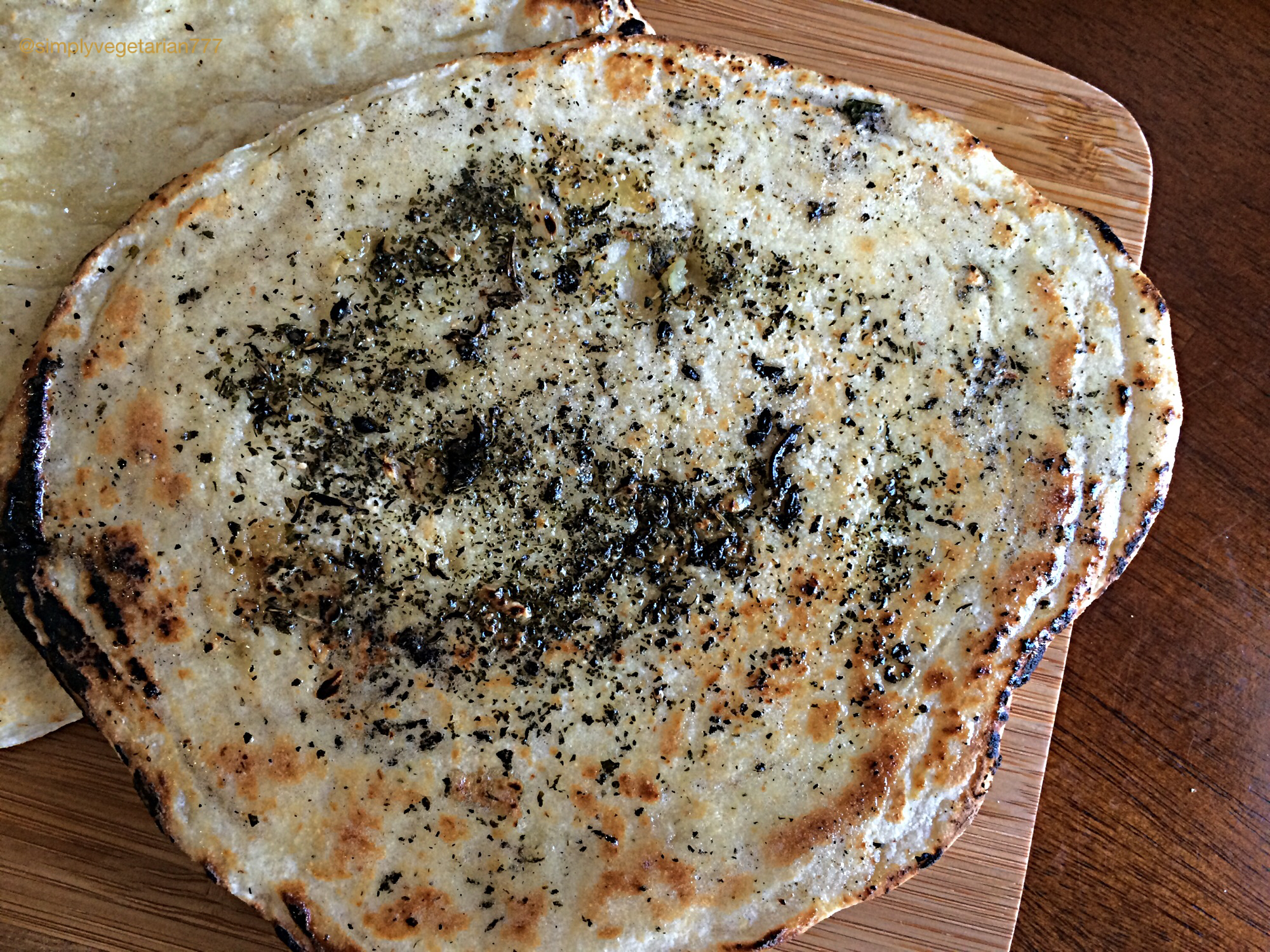 Ventured more into sole All purpose flour category but all in the name of the guests this time. When I cook for the family, I don't indulge with all purpose flour much. I normally use whole wheat flour and if required then add APF, just a bit. But this time, I went brave with my naan. Used APF and a bit of WWF !
My "high on naan" kind of husband too loved it this time. After all it was unadulterated, well kind of ;). He would otherwise make a face on my whole wheat naan which my readers have loved it! I guess it's just being a man. Lol ! Meat, potatoes and real bread ! Ha! The guests loved it too. Yay :).
Kitchen Equipments Required : 2 Bowls, damp kitchen towel or plastic cling wrap, tawa/griddle, rolling pin, rolling board(optional), chop point board and knife, a bowl with cold water.
Ingredients :
All purpose flour / maida : 2 cups + some more for kneading
Whole wheat flour : 1/4 cup
Instant Yeast or dry active yeast : 1 tsp or 7 gms
Water : 1 cup + 2 tbsp (More than like warm in temperature so that when you dip your finger in, it can't stay for more than the count of 4-5).
Sugar : 1 tsp
Salt : 3/4 tsp
Oil : 1 tbsp
Nigella seeds / Kalonji : 1/2 tsp
Mint : 1/2 tsp if dry or 1 tbsp if fresh
Garlic : 1 tsp, fresh and minced
Butter / Ghee : to slather on top
Read the Foot Notes for sure, given below !
Method :
Proofing the yeast if you are using the dry active yeast : Add the yeast to the 1/4 cup of warm with sugar in it. Stir gently and let it stand for 5 minutes till you see it foaming up or bubbling up. This 1/4 cup of water is from the total quantity mentioned above. So measure the water and keep aside and use from that. You might have to warm up that 3/4 cup + 2 tbsp of water when ready for the dough. If you are using the instant yeast, it will go directly in the flour.

Making Dough :Take a bowl. Add flours, salt, sugar and instant yeast. Mix gently. Make a well in the middle and add oil and warm water. Mix everything together and bring it in a dough. Sprinkle little dry flour. Dip your hands in cold water and start kneading the dough. Knead for 5 to 7 minutes.
Note :If you are using the active dry yeast, then add the proofed yeast and warm water in the well made in the middle of the flour and then follow the above steps.

Proofing the Dough : Take another bowl. Grease it lightly. Transfer the kneaded dough to this bowl. Cover with damp towel or cling plastic wrap. Keep it in a warm place and let it proof for 1&1/2 hrs till the dough doubles.
Note : In winter it takes more time to proof and in summers it proofs faster. So keep an eye.

Making Naans :.
• Take the dough out after proofing. Punch it down gently. Don't apply force. Divide the dough in equal 6 to 8 portions. Roll them gently into balls. If it's too sticky, dip your hands in little oil and then roll.
• Heat the griddle. Take a ball of dough. Roll it into either circular or oblong shape. Use little dry flour if required, while rolling.
• Spread a pinch of each of mint, garlic and nigella/Kalonji seeds evenly. Press them down with hand in the rolled out naan dough!
• Put the rolled out naan on hot tawa / griddle, with toppings side down. Lower the flame to medium.
• Grill it for 2 odd minutes. You will see the surface bubbling. Lift gently and see if the bottom layer is browned well. If not, then grill a bit more. Flip it and grill it on the other side similarly.
• The naan is ready. Smear it with butter and serve warm.
Notes :
You may skip the toppings and make them plain butter naans.

You may use any toppings like sun-dried tomatoes, Italian herbs, Zaatar etc and make these more exotic.

For more grill marks, you can put it on open flame on the gas stove and grill for few seconds each side, on low flame and then smear with butter. You may grill these on the outside grill too or indoor tandoor too!

To make the Yeast Free Naan, skip the yeast and instead of that, use 1 tsp baking soda and 1/4 tsp baking powder in the dough. Knead with 1/4 cup whipped yogurt and 1/2 to 3/4 cup warm water or as required to make a soft pliable dough. Keep aside for 1-2 hrs for proofing and then use as per the instructions given above.
Storage : Store in Foil layered with a paper towel.
Serve these delicious naans with your favorite curries or cut them and serve as appetizers with chutneys and dips.
Enjoy with friends and family !
Sonal