Bhindi Masala or Okra Fry
As an Amazon Associate and member of other affiliate programs, I earn from qualifying purchases.

Bhindi is also known as Okra and LadyFinger in some countries. There is a funny incident associated with Okra. When I relocated to USA, almost 13 years ago, went for grocery shopping one day. I was looking for bhindi and the only other name I knew of bhindi was LadyFinger. I could not see it in fresh produce so asked the associate at the store, "where can I find LadyFinger?" She took me to the dessert section and showed me the ladyfingers (a kind of baked crispy cookie used to make tiramisu, an Italian dessert). Hardly did I know that Bhindi is Okra in America. Learnt my lesson the hard way :). Won't go into the details anymore. Atleast I was not lost in the translation. 🙂
Coming back to the dish, bhindi masala is a very commonly made dish in Indian household. If you are a fan of weekend Indian restaurant buffet affair, you will find it served in buffets. Often, it is cooked with lot of oil to make it crisp and to get rid of slimy and sticky strings, which is bhindi or okra infamous for. In southern states of USA, okra is often used in gumbos and deep fried in batter as a side. I have finally found a way to use minimum oil and still get tasty bhindi masala without any slime.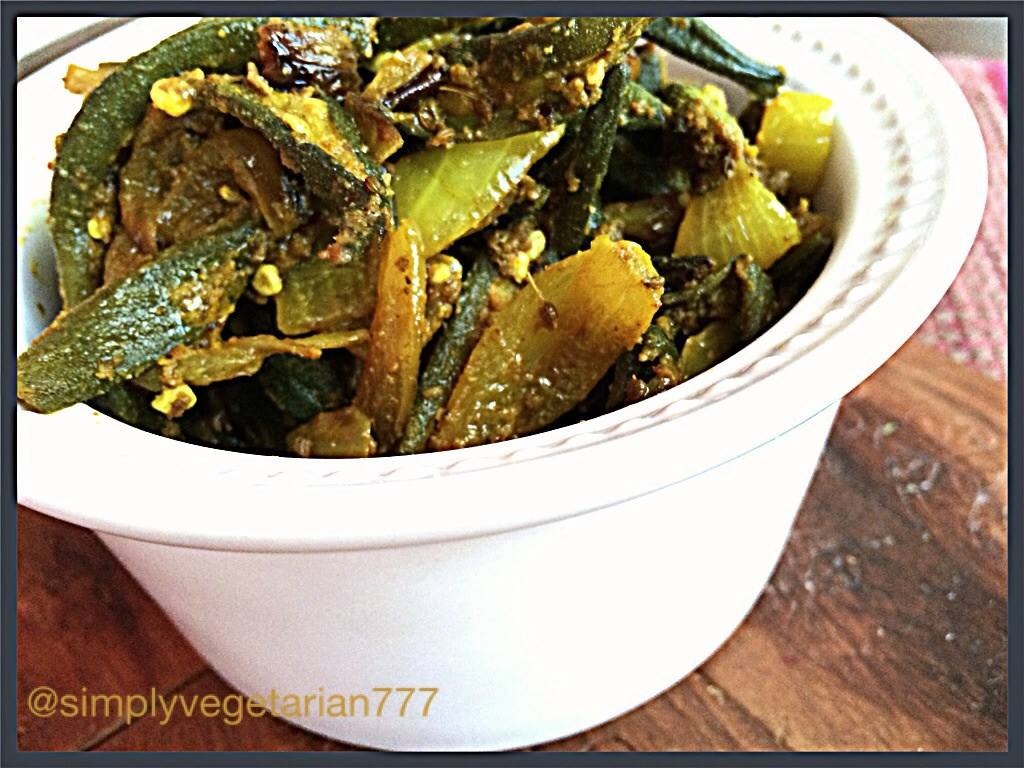 It goes very well with rotis or paranthas. It will be great as a stuffing inside a tortilla. Combination of Bhindi masala along with Pigeon peas (toor/arhar daal) and hot rotis, is a much desired meal in my household.
Here is how to make it:
Serves : 4
Ingredients :
Oil : 1&1/2 tbsp
Okra / Bhindi : cut vertically, 3 cups approx. I used frozen baby bhindi/okra. Fresh is always better. Make sure it is not over ripe and woody.
Onions : One big onion or 1&1/2 cups, sliced
Carom seeds or Ajwain : 1/2 tsp
Asafetida or Hing : a pinch
Salt to taste
Turmeric : 1/2 tsp
Coriander powder : 2&1/2 tsp
Red chili powder : 1/4 to 1/2 tsp
Fennel powder or saunf : 1/2 tsp
Dry Mango Powder or Amchoor : 1 tsp heap full. In case you dint find dry mango powder, use 1 tsp lemon juice in the end when the dish is cooked. Never cook dish with lemon juice or it will turn out bitter.
Here is the Secret : Microwave the slit bhindi or okra for 5 minutes in a microwave safe plate. This will not only dry out the bhindi/okra off its sliminess but also the vegetable will be ready in no time. It took me less than 10 minutes to put this one together because of microwave step.
Method :
Meanwhile the okra is in microwave, Heat the oil in a broad pan. Add carrom seeds/ajwain and asafetida/hing. Lower the flame. Then add sliced onions. Sauté on medium flame till onions are slightly golden, for about 4 minutes.

Add microwaved okra/bhindi to the onions. Mix well. Add all the spices on top of the bhindi.Mix everything gently, with a spatula. Let it cook uncovered on medium flame for 5-7 minutes. Keep stirring often.
It is done. Enjoy with your kind of bread. I eat my leftover okra (if any) with a toast and it is a simple pleasure well received :).