Easy Quick Black Forest Cake Recipe
As an Amazon Associate and member of other affiliate programs, I earn from qualifying purchases.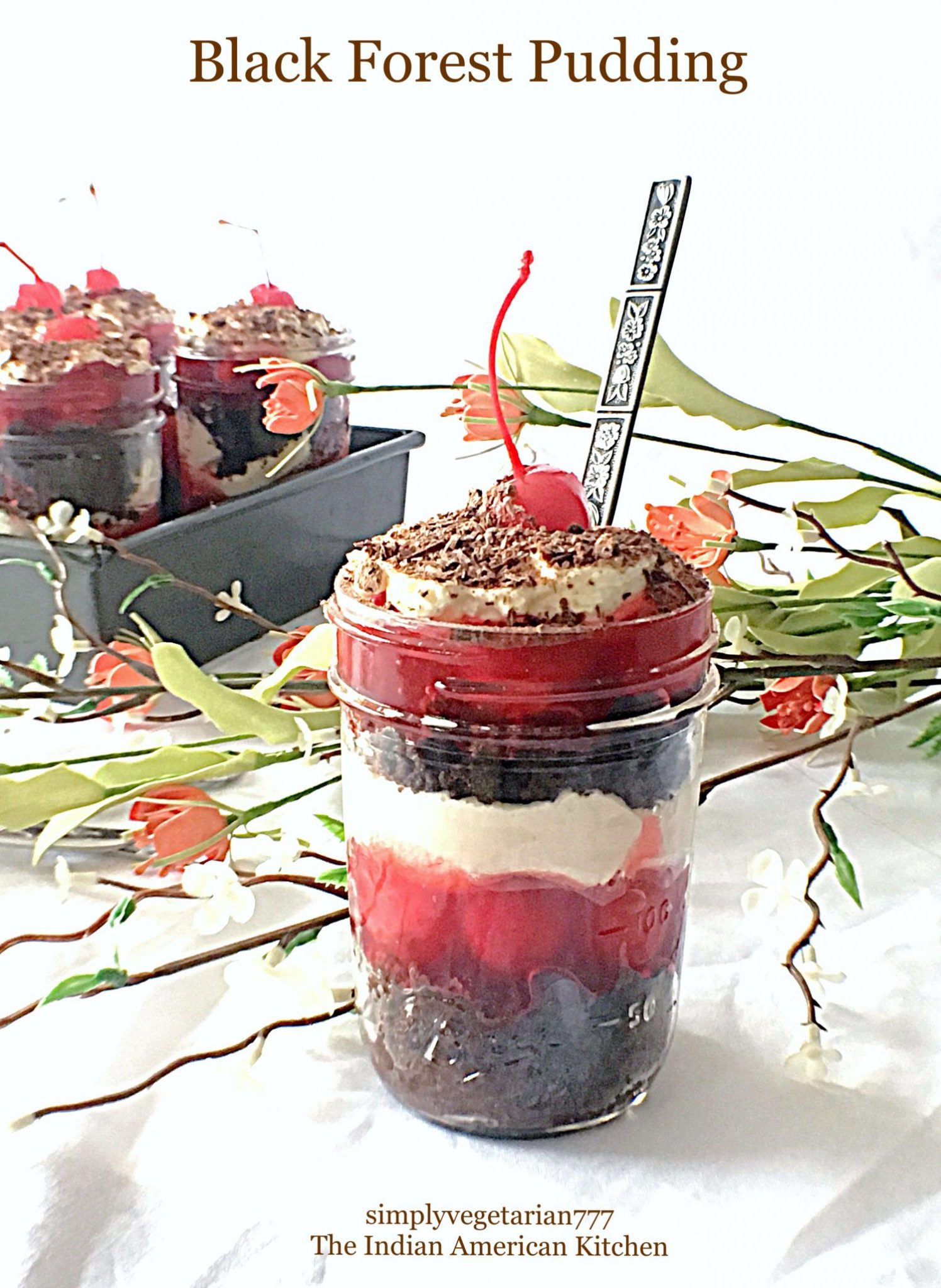 The Easy Quick Black Forest Cake Recipe is actually a Black Forest Trifle Pudding. It is a cheat sheet recipe that is easy and efficient & 100% approved by the kids. You can not go wrong with this pudding to celebrate the New Year or any other party.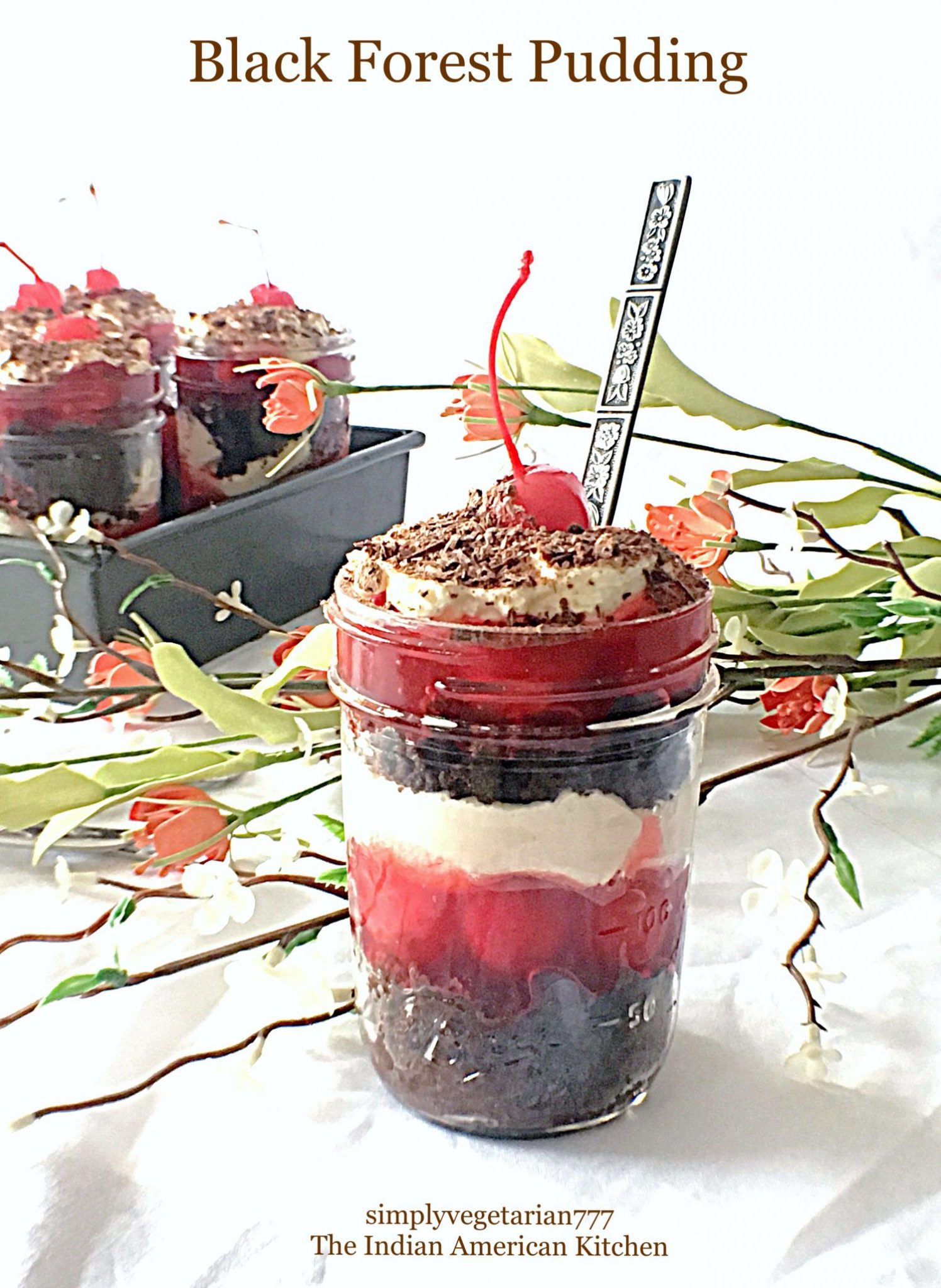 Easy Quick Black Forest Cake Recipe
How is it going people? As we are now in 2018, I am hoping that all of you partied hard and had a great time welcoming the NEW YEAR with your loved ones. I hope you hugged not only your family and friends but also the strangers. Wishing you all a SUPERB and MAGICAL 2018.
All right now, tell me honestly what all you cooked and Baked for the New Years? I am sure the feast was finger licking delicious and dessert was a cherry on the top. Well mine was.. 😀 , as you can see.
Kids wanted me to bake their all time favorite Chocolate Cake, which is Super Easy Blender Egg free Chocolate cake. But I wanted to do something more than the cake and not too complicated. If you know me, then you probably know that I love single portion desserts. Also, I love easy desserts. Plus, I excel in quick yummies as well. Agree?
You can check these desserts from my blog, to confirm the same – Chocolate & Vanilla Pudding, No Bake Cheese Cake, Mocha Pudding , No Bake Chocolate Cheesecake and much more.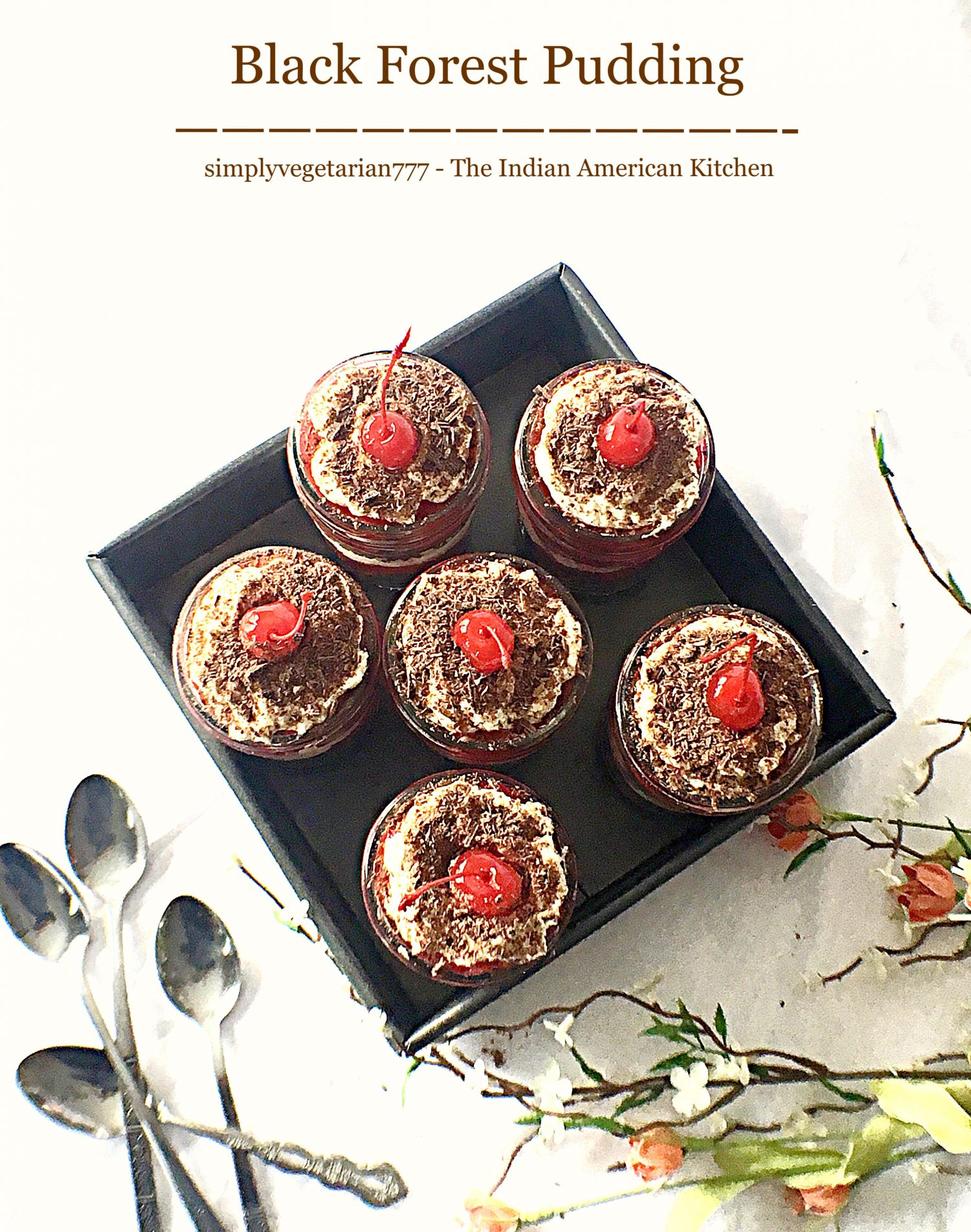 Easy Quick Black Forest Cake Recipe
I created these cute Single Portion + Mason Jar Black Forest Cake Trifle/Pudding. Not only did these look pretty and such pick me ups, they were very easy to put together and almost mess-free.
Isn't that a bonus when you have kids around you? Now that is another story, how my little one still manages to spill things all over her without failure, every single time.
Few things that you will need to make this Easy Quick Black Forest Cake Recipe into Pudding/Trifle are – MASON JARS. You may make this pudding in a large pudding/Trifle bowl also or small dessert bowls and even those small 8 ounce juice crystal glasses. Pick any option that suits you the best. The taste won't disappoint you at all.
Another important thing – This recipe is very forgiving. If you do not wan to bake your cake then buy chocolate cake also from the bakery along with other ingredients and assemble effortlessly.
This is how to make Easy Quick Black Forest Cake Recipe.
Easy Quick Black Forest Cake Recipe
The Easy Quick Black Forest Cake Recipe is actually a Black Forest Trifle Pudding. It is a cheat sheet recipe that is easy and efficient & 100% approved by the kids. You can not go wrong with this pudding to celebrate the New Year or any other party.
Ingredients
1

loaf

Chocolate Cake

home baked or store bought

20 oz OR

500 grams

Cherry Pie Filling, canned

You may use Cherry Jam or Strawberry Jam

8 fl oz OR

230 ml

Heavy Whipping Cream

1&1/2

tbsp

Powdered Sugar

6

Macerated Cherries

You may use fresh pitted cherries, instead

1

block

Semi Sweet Chocolate

You may use any brand (cold)milk chocolate, instead

1/4

cup

Milk
Instructions
3 Stages of the Quick Easy Black Forest Cake Trifle/Pudding
1. Chocolate Cake - either bake it at home or get a store bought.

2. Whipped Cream Layer - Whipping heavy cream till it makes stiff peaks.

3. Layering the cake in Jar or Dessert Bowl.
Chocolate Cake
You may bake my egg free chocolate cake in blender for this recipe OR bake a cake from the box or buy a plain chocolate cake loaf from the store. If you are baking the cake, then make sure that it is completely at the room temperature before using it. You may bake a cake in advance and use it later.
Whipped Cream
Take the chilled Heavy cream in a bowl. It is about 1 cup in general measurement. Add 1&1/2 tbsp powdered sugar to it. Whip with an electric beater or hand beater for about 3-4 minutes on high speed, till cream makes stiff peaks. Do not over beat it or else you will end up with sweet butter. Alternatively, you may use cool whip or Ready Whip in the recipe. You may do this step in advance and chill it covered, inside the refrigerator.
Layering the Black Forest Cake in Mason Jars or Pudding Bowls
You may add 1 layer of every thing or 2 or more layers. You may make the layers thick or thin, it is up to you. So you see, you can totally adapt and personalize this recipe.

Take the chocolate cake and crumble it coarsely. For 6 servings, the whole cake might not be used. So crumble half of it first and then go as required. If the cake is slightly dry, add milk to it, 1 tbsp at a time to make it slightly moist.

Take a Mason Jar or Dessert Bowl. Add a layer of Moist Chocolate Cake at the bottom and press it down gently with a spoon.

Now add a single layer of Cherry Pie Filling. I used Light filling. You may use the regular filling. In case you can not find Cherry Pie filling, you can use cheery jam or even strawberry jam. Just dilute the jam with little warm water so that it can spread nicely, and use.

Now add a layer of Whipped Cream. I added the layer with pastry bag for even filling. You may use a ziplock bag and cut the edge to pipe it out. Or just use a spoon to add the layer.

Add another layer of cake, then cherry filling and top with whipped cream.

Take the semi sweet chocolate block and make the curls out of it with the help of your Fruit peeler. Just peel the chocolate, starting from the sides and collect the curls in a plate or bowl.

Add these chocolate curls on the top of the whipped cream.

Add Macerated Cherry on the top.

Repeat the process in all the remaining jars or bowls. You can create a large pudding bowl also, instead of single serve.

Chill the pudding for 40-50 minutes and Serve Chilled.
I am sure that you are going to make it for your upcoming party or get together. If not, then make it for your family, for sheer pleasure.
I promise that you will be making this pudding again and again. My girls have declined to eat the chocolate cake any other way now. The pudding can be made in advance and chilled (covered) till ready to serve the next day or at the party.
I would rather eat my Black Forest Cake as a Pudding or Trifle. No mess, easy & quick to assemble, few ingredients…what is there not to like.. It makes for one amazing Mason Jar Desserts. To top that, it can be made egg free by baking the cake with my Blender Chocolate Cake Recipe.
It is a quick Pudding recipe that comes together in no time. You may create an actual Easy Black forest cake with the same ingredients  by using 2 chocolate cake rounds and layering similarly.
 Can't make it NOW? PIN IT FOR LATER!

Last but not the Least, A Heartfelt Gratitude to all my readers and followers, who have showered so much of love, warmth and support through out. Wishing you all an AMAZING 2018.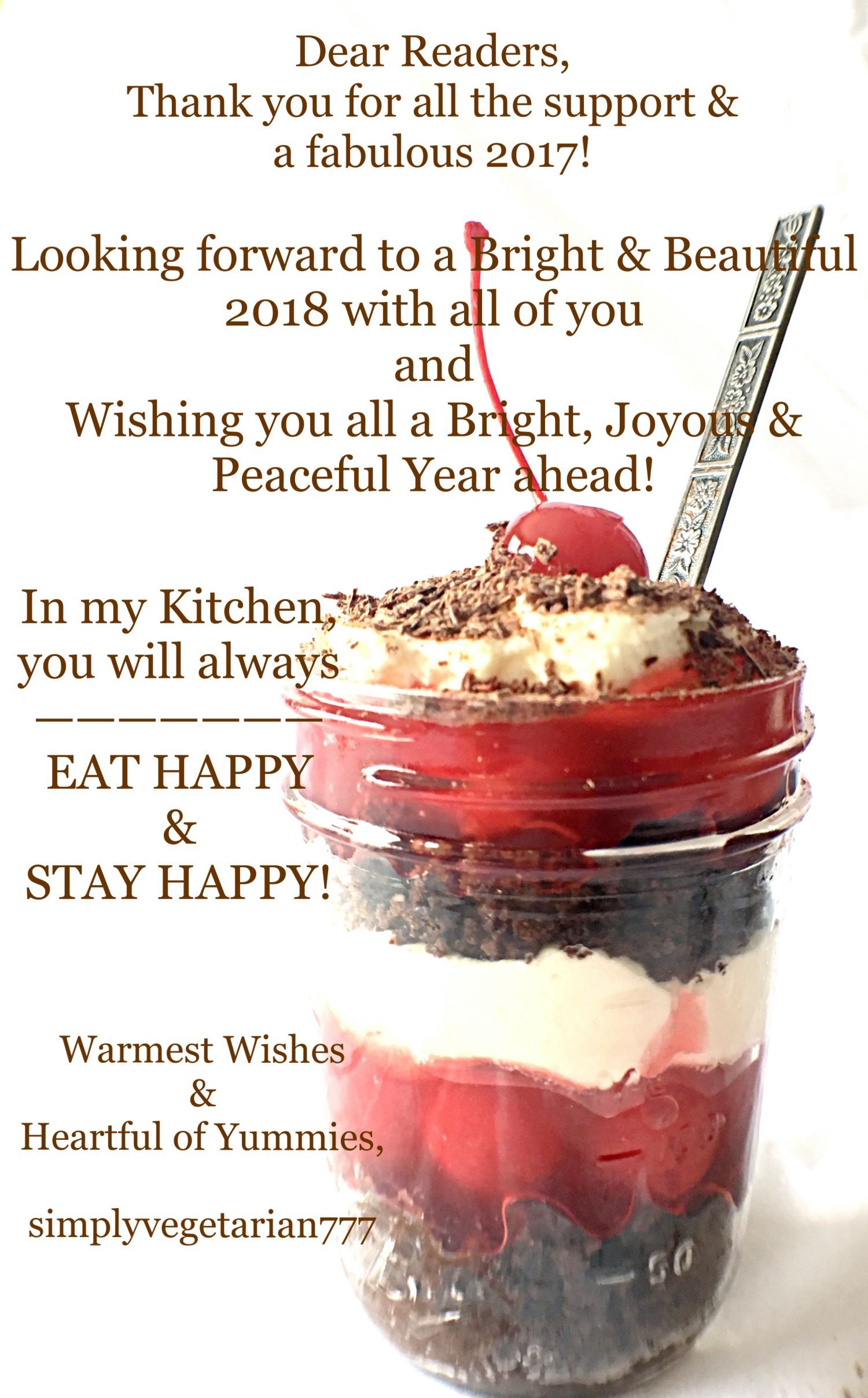 As I always say, in my kitchen, you will ALWAYS EAT HAPPY & STAY HAPPY!
Sonal